We use affiliate links. If you buy something through the links on this page, we may earn a commission at no cost to you. Learn more.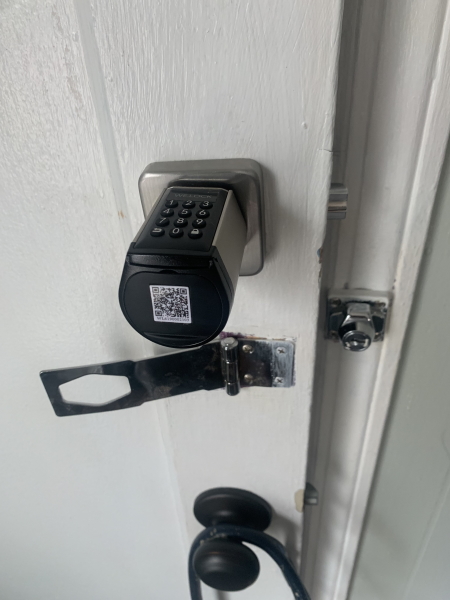 REVIEW – Ever since I moved into my new office/studio space, I have been looking for a couple of digital electronic locks to secure the main door to my space and to secure an equipment closet. The first couple of locks that I tested were not quite what I was looking for either because they were made of plastic or because they did not perform as described or in the way I need. Now  I get to test the WE.LOCK Keyless Entry Digital Keypad Door Lock. Hopefully, I will get better results this time around.
What is it?
The WE.LOCK Keyless Entry Digital Keypad Door Lock is a digital smart lock with no deadbolt. It is designed for easy installation and use on doors around the home, office, and even hotels. You can also set up 10 programmable codes for temporary use.
What's in the box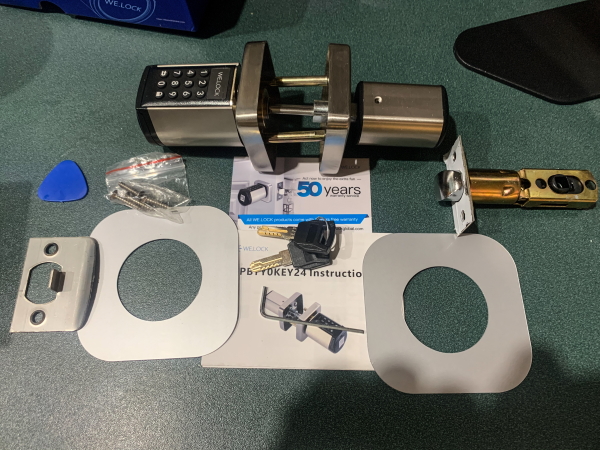 1 x WE.LOCK Keyless Entry Digital Keypad Door Lock
1 x User Guide
1 x Set of Installation Hardware
1 x Set of 2 Keys
Design and features
Features
Keyless Entry Door Lock: Unlock your door without a mechanical key, no need to hidden your key under mat or grass, more convenient to open the day when your arms full of groceries.
Customized User Code: Set up to 10 user codes for different users, for a cleaner,short-time worker, pet sitter or Air b&b tenant, office meetings. Codes can be programmed or deleted.
Easy to Install: Replaces existing doorknob all by yourself with just a screwdriver; no costly locksmith required, no hard wiring needed. Instructional video for your reference.
AUTO Lock for Safety: This electronic door lock can lock the door by itself after 1-9 seconds, the auto-lock time can be programmed. 4AA batteries are required but not included in the package.
Worry-Free Warranty: Get free replacement within 2 years, WE.LOCK offers lifetime worry-free technical support. Contact us if you have any questions.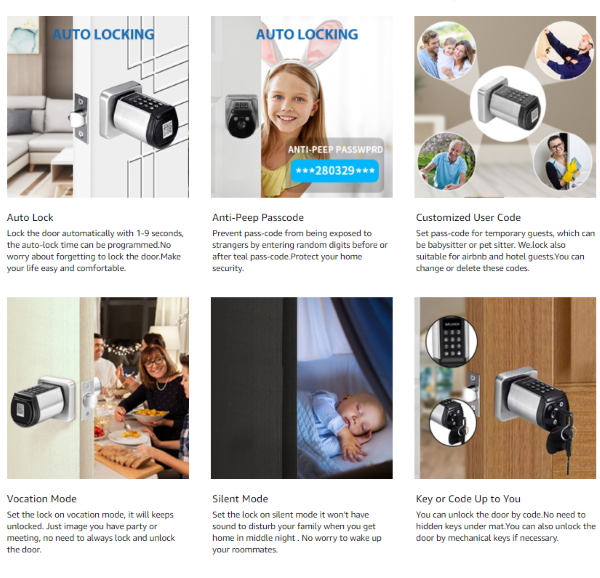 This lock is silver in color and made from stainless steel. There is a keypad on one handle and the internal mechanism is similar to most conventional locks. There is a QR code on the side of the handle that links to an online guide.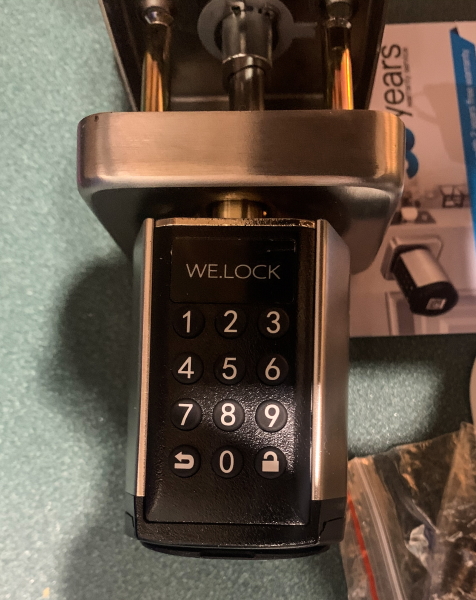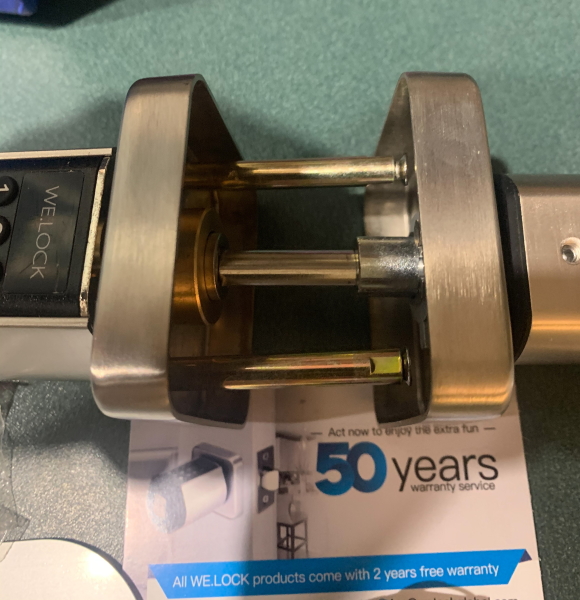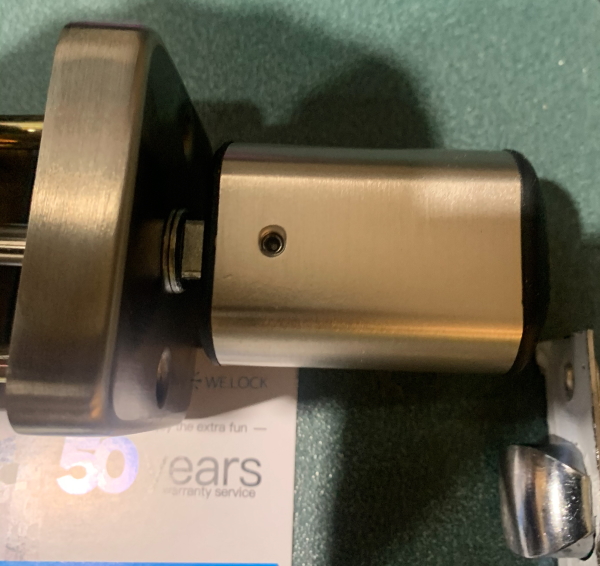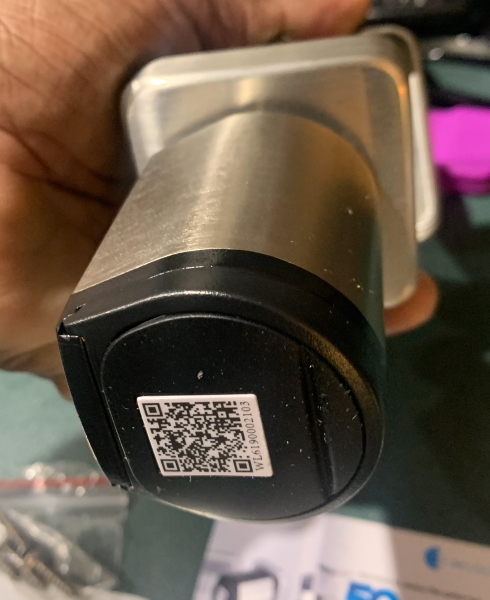 Performance
Installation Guidelines:
Door Thickness: 1-3/8″(35mm) to 1-3/4″ (44.5mm)
Backset: Adjustable Backset 2-3/4″ (70mm) to 2-3/8″ inches (60mm)
Latch: Deadlatch 1/2″(13mm) throw
Bolt: 1″(26mm)throw-round cornered
Note: Need to install 4 AAA batteries to work. (Batteries not included in the package)
The installation process for this lock is similar to any conventional lock with the addition of programming required to set up personal access codes. The following photos are snapshots from my installation process: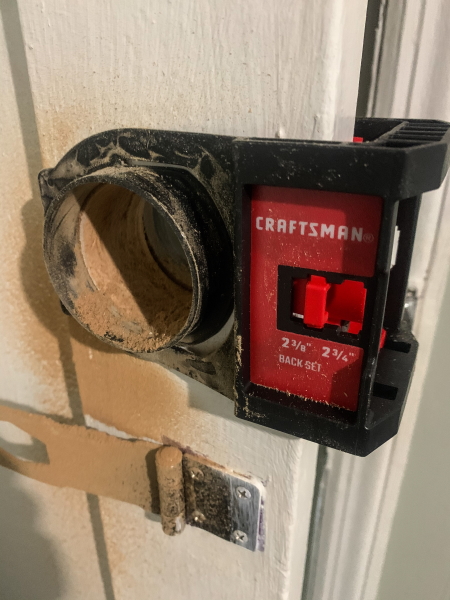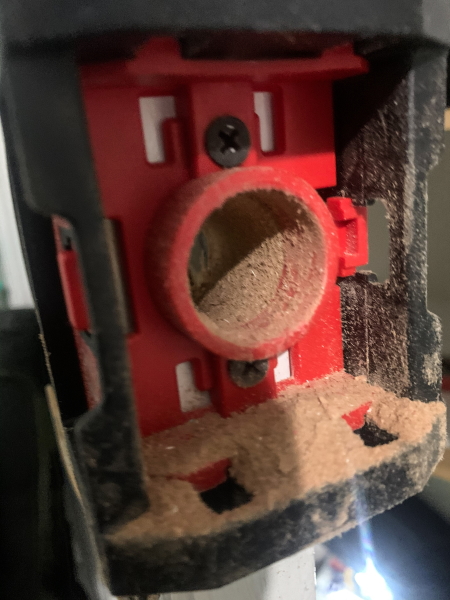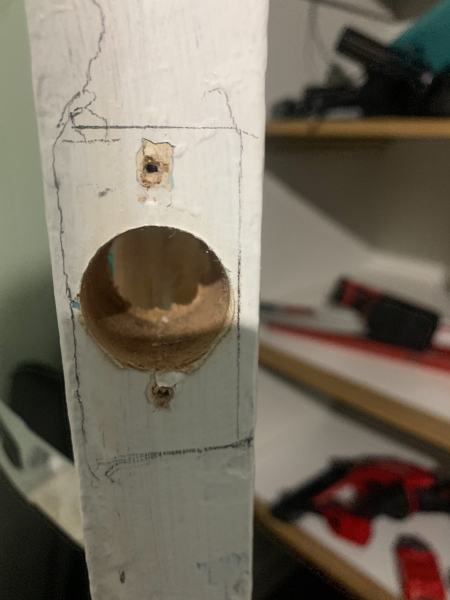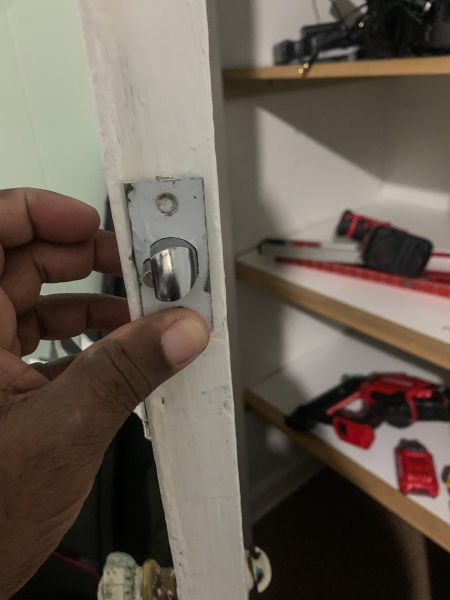 Once the lock is installed, the next step is to pull back the rubber cover to gain access to the screws that secure the battery compartment. In addition, there is a keyhole for access via the physical keys, and there is a micro USB port that you would use to power and open that lock if the batteries are dead. The Allen key is small and with my big fingers, it took me a bit of effort to get them off. The screws are also small, so care must be taken to ensure that they are not dropped and lost. The blue plastic pick that is included in the set of hardware, it used as a pry tool to open the battery cover once the screws have been removed. While this extra step might seem to be a pain, I like it because it makes it much more difficult for someone to tamper with the lock.
Despite the fact that the lock's interface with the door is square, it covered the hole that I drilled so I did not have to use the included covers to hide any part of the hole.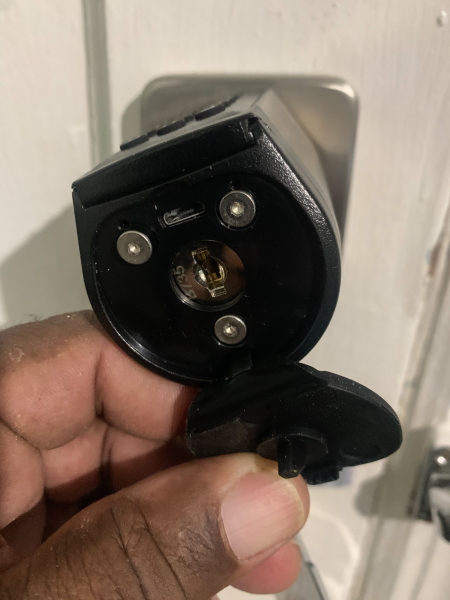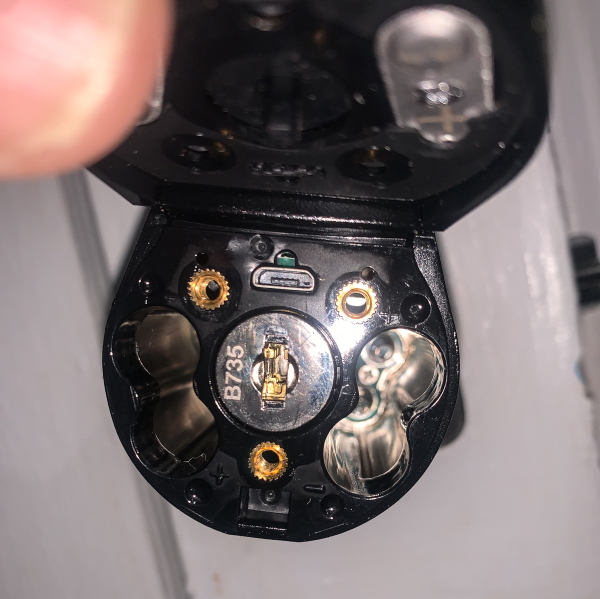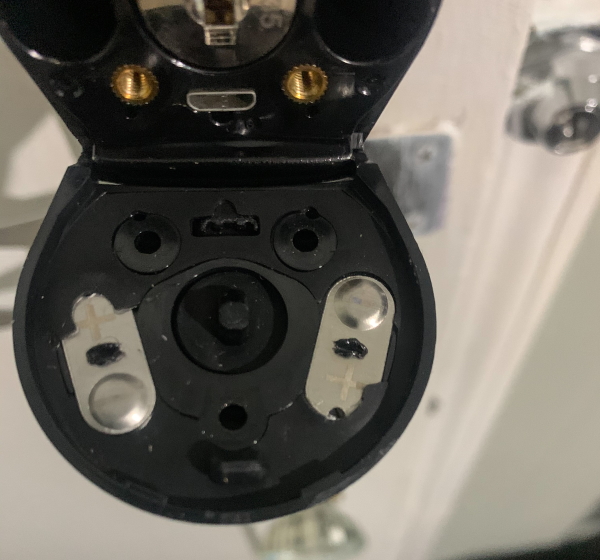 Once the batteries are installed, the instructions provided are easy to follow and the lock has worked flawlessly. Some might find the smooth and cylindrical handle more challenging to turn especially if the door presents any resistance. While this design might not be ideal for the elderly or people with arthritis, it is great as an additional deterrent for small kids 🙂
Take a look at the easy operation:
What I like
The build quality
The easy to see keypad that has bright blue LEDs
The ease of installation
That it works as described
What I'd change
Changing the door hole cover from square to round would eliminate the need to include square covers in case parts of the hole show after installation
Final thoughts
While the We.Lock does not follow the conventional design of locks, I like it. I think that its design also makes it harder for young children to try to turn the handle. I have it installed on a closet with tools and electronic equipment and it meets my needs. In addition, unlike some other similar locks that I have tested, this one is metal. IMHO, if you have no issue with the style, it is a good lock at a good price.
Price: $52.00
Where to buy: Amazon
Source: The sample for this review was provided by We.Lock