We use affiliate links. If you buy something through the links on this page, we may earn a commission at no cost to you. Learn more.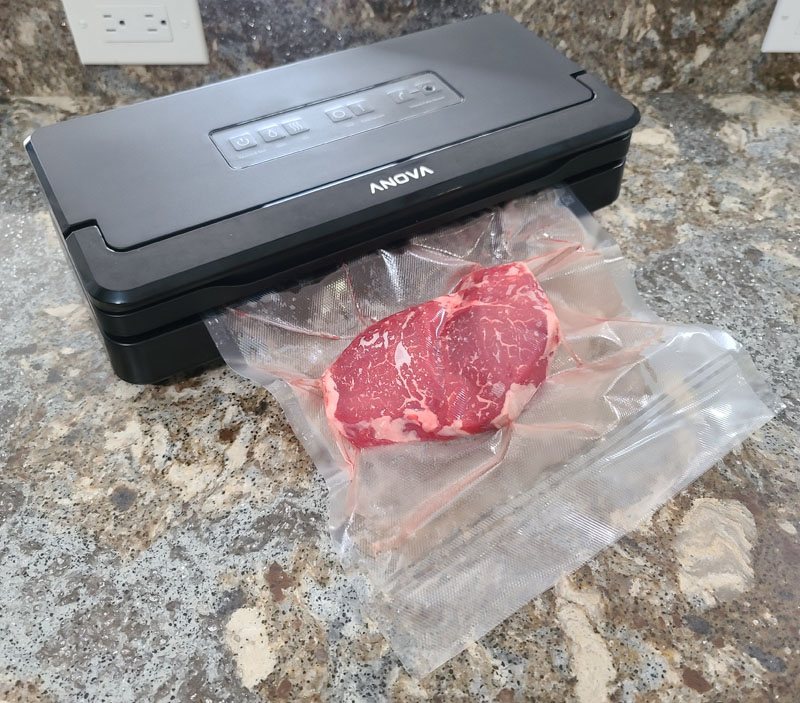 REVIEW – Here at The Gadgeteer, we review a lot of vacuums.  Stick vacuums, robot vacuums – they all do the same thing.  They suck – but in a good way!  I had the opportunity to review a different kind of vacuum – the Anova Precision Pro food sealer vacuum.  Let's see if this sucks as well as the others!
What is it?
The Anova Precision Pro vacuum sealer is a food sealer.  It is designed to evacuate the air from food bags and vacuum food storage containers.
What's in the box?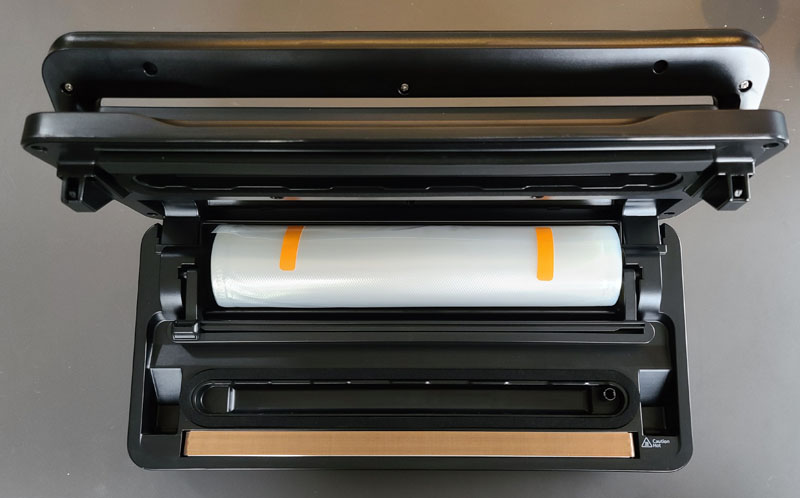 Precision Pro vacuum sealer
One roll of precision vacuum bags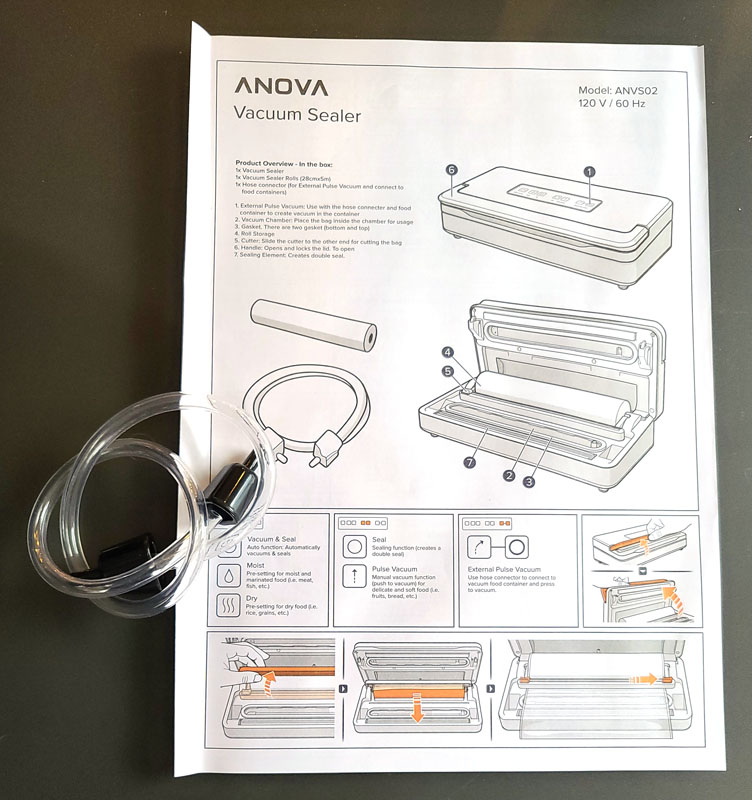 User manual
Vacuum container hose attachment
Hardware specs
Power: 120 volts / 60Hz 110 watts
Dimensions: 400 x 180 x 108.5 mm / (14.75 x 7 x 4.3″)
Weight: 2.3 kg / (5lbs)
Case material: plastic
Hose attachment length: 48 cm / (18.9 in)
Operational modes:

Vacuum & Seal
Moist
Dry
Seal
Pulse Vacuum
External Pulse Vacuum
Design and features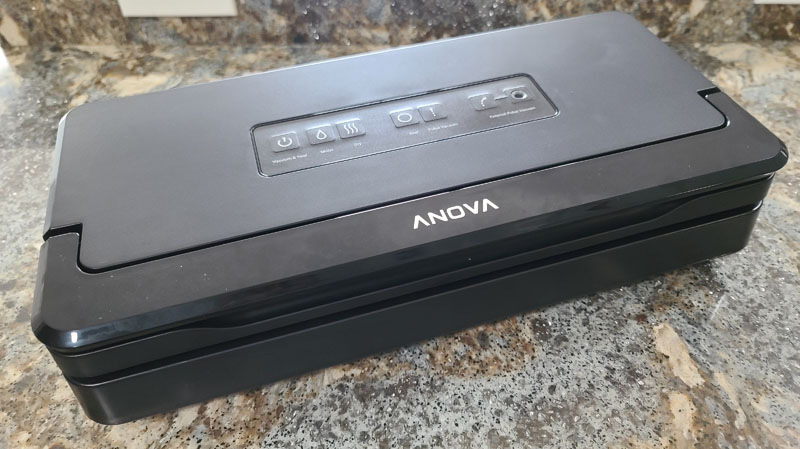 The sealer is nicely designed, all in black plastic.  All controls are located in a center panel on the top.

The controls from left to right are:
Never miss one of our posts again. Sent MON, WED, and FRI with the latest gadget reviews and news!
Automatic vacuum and seal – one touch
Moist mode – reduces suction so that moisture in the food is not sucked into the vacuum system
Dry mode – for sealing dry food like grains, beans, and such
Seal – seals a bag without vacuum mode – for sealing the bottom of a bag roll
Pulse vacuum – allows you to control the amount of vacuum for delicate food like bread
External pulse vacuum and hose port – for sealing vacuum storage containers
Here, we see the top of the unit with the control in the center.  The glossy bar with the Anova logo is the locking arm that closes the unit to prepare for sealing.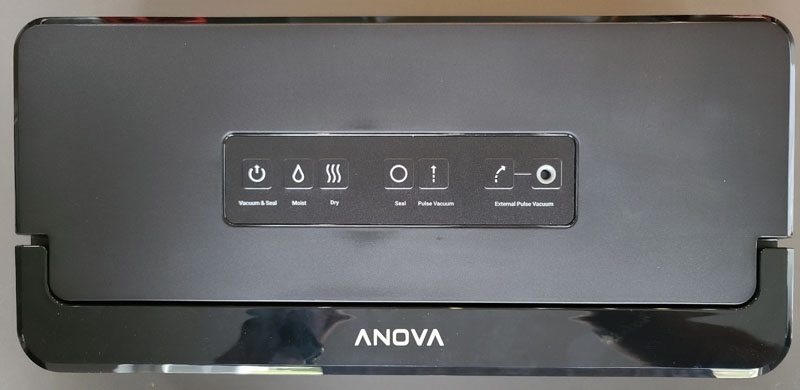 Pressing that arm down closes the unit by extending the latches under the cover.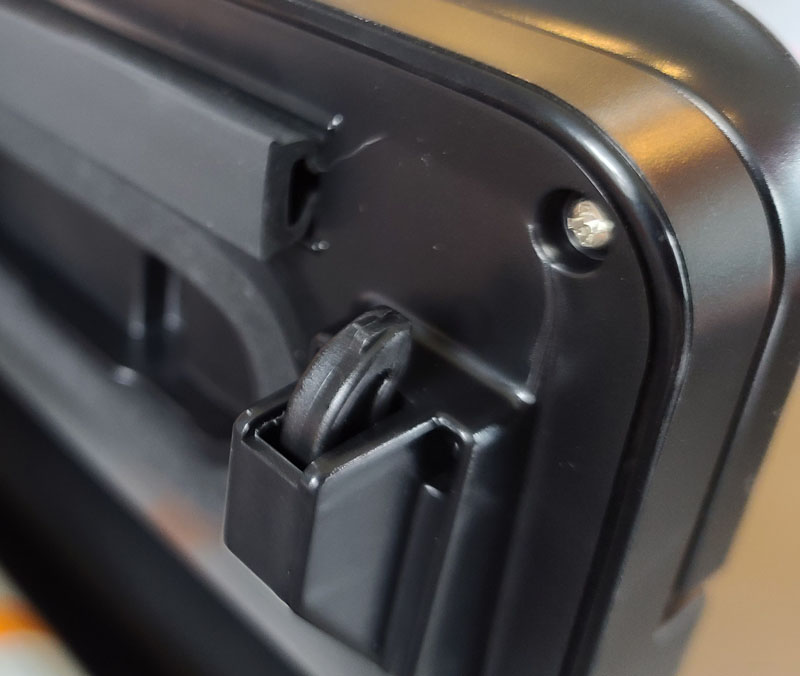 When you select a mode or an operation, the selected buttons light blue.  When an operation completes, the operational light goes out.


Underneath the sealer, we find convenient power cord storage.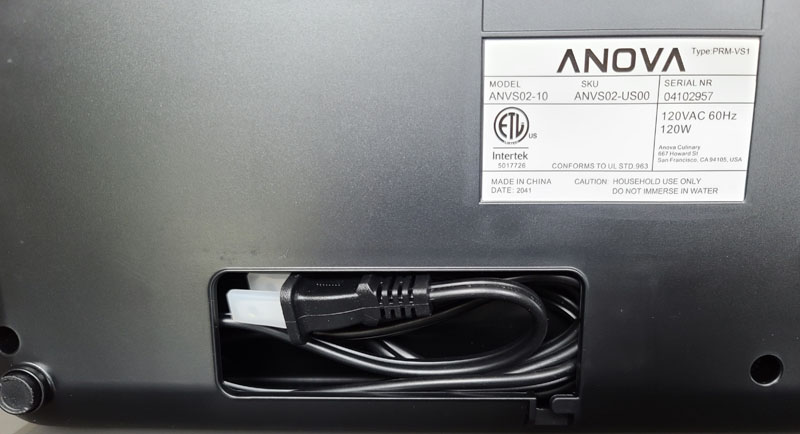 Under the lid, we see the business portion of the sealer.  Here, we see the sealing heat strip with the requisite warning label.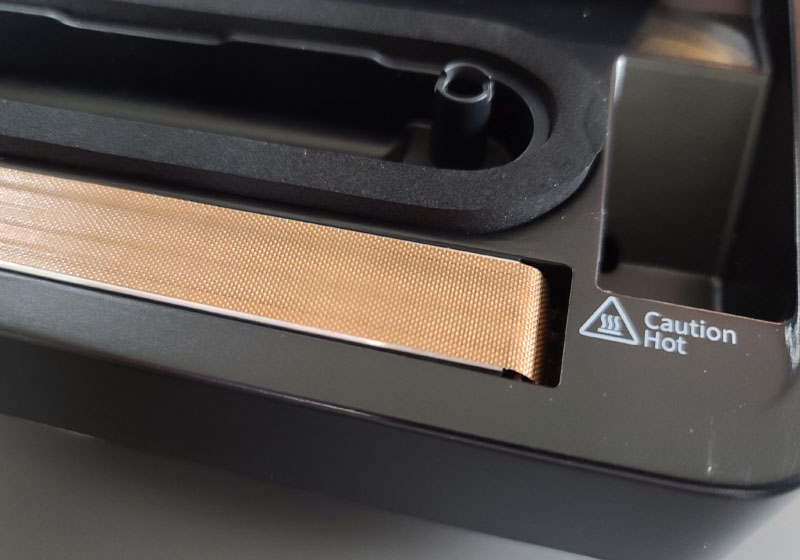 Above that, there is an oval gasket that clamps down on the bag, and the suction tube that pulls the air out of the bag.
Speaking of bags, you can use either individual bags or roll bags that you cut to size.  The sealer includes a convenient built-in sliding bag cutter.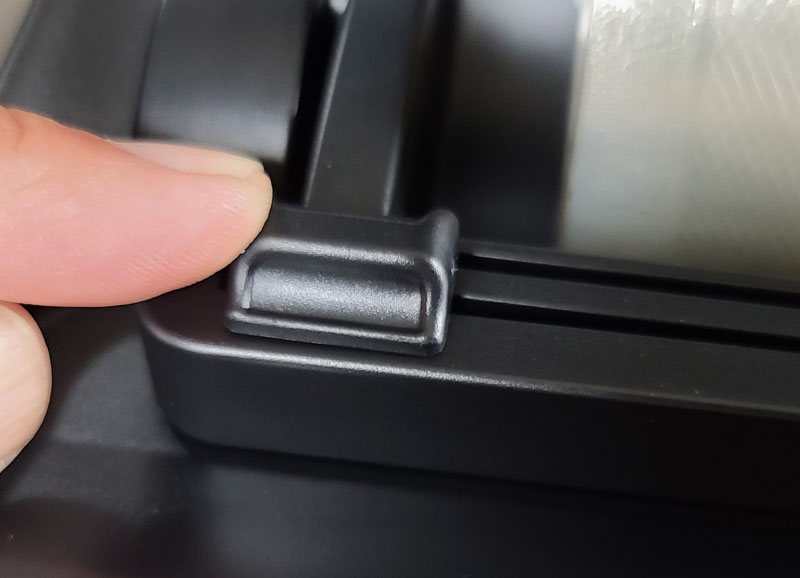 Setup
If you are using roll bags, you can insert the bags into the unit and under the cutter. A full roll can be stored there and used on-demand.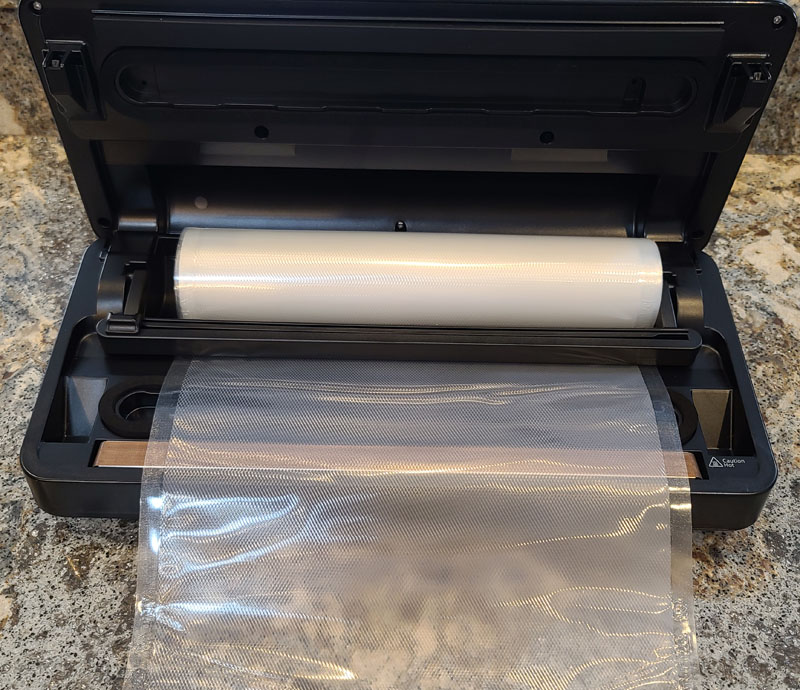 If you are going to use sealing jars or containers, you can install the accessory tube in the port on the top.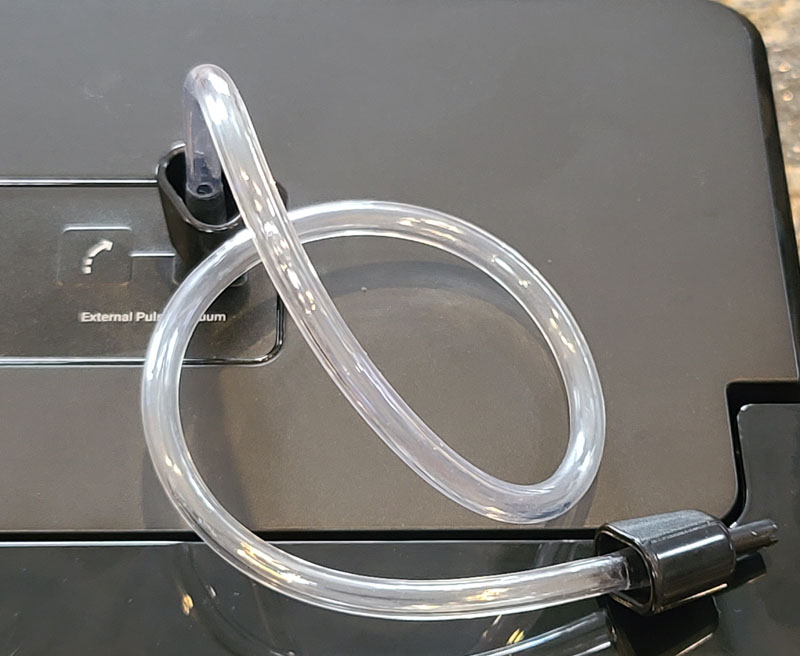 Other than that, there is no setup.
Performance
I'll start with a minor quibble.  The bag roll comes with two pieces of tape holding it together.  You need to peel that tape off.  It doesn't peal well!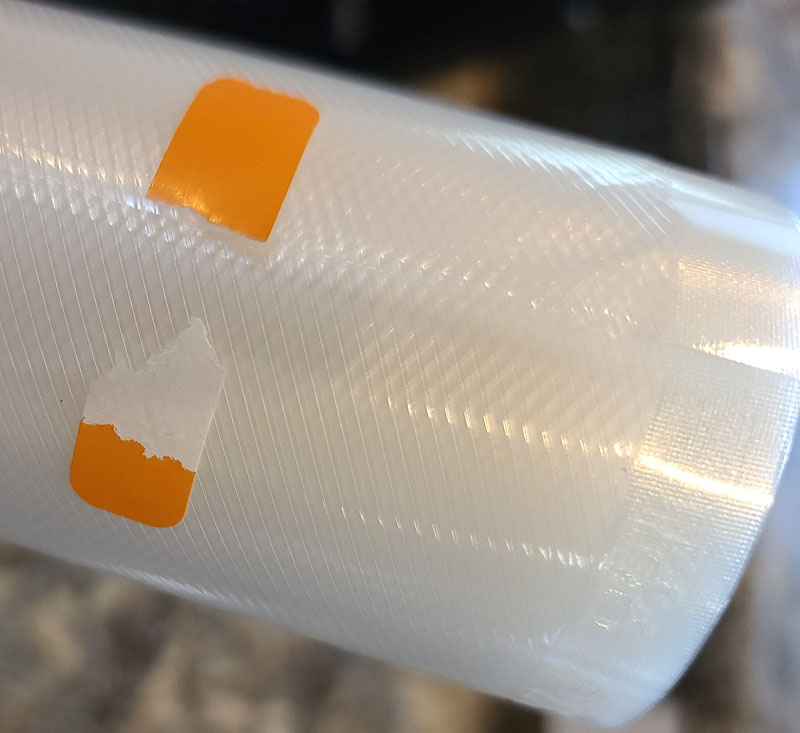 If you peel it really, really slowly, the tape comes off.  Peeling it off like most people do results in shredded tape.  Not a big deal unless that part will sit on the heating element for sealing the bag.  Not a big deal, but still – use a better quality tape!
To seal up some food, you start by measuring a length of bag from the roll and cutting it from the roll.
Once you have your bag cut to size, you seal up one end.
Next, insert your food and then vacuum and seal the bag.
In a few seconds, the food is vacuum-sealed and ready for the freezer.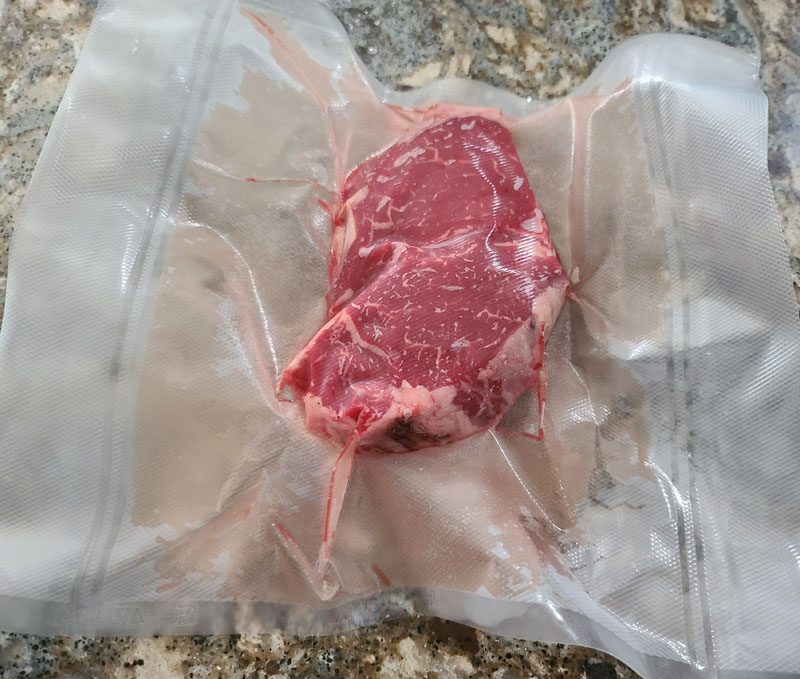 The sealing process actually double-seals the bag.  That's a nice touch and improves the reliability and durability of the vacuum seal.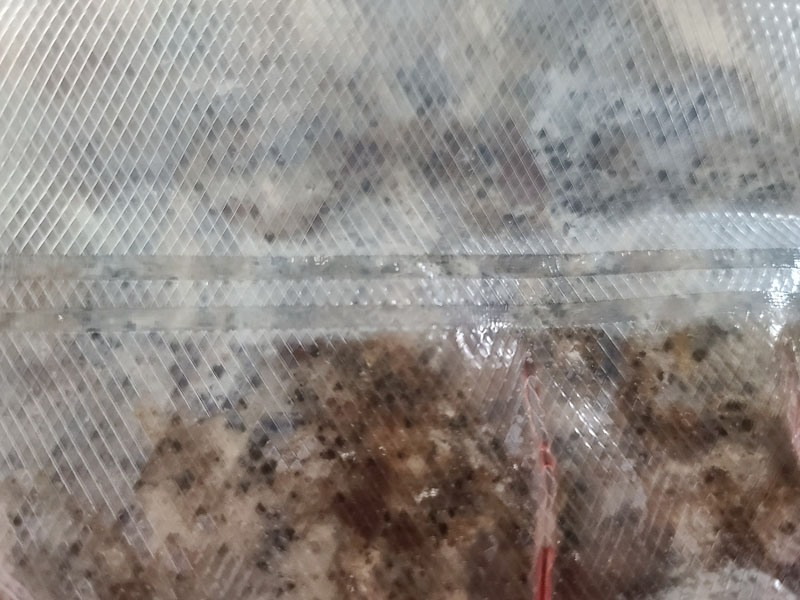 A nice touch is the selectable moist/dry mode for sealing.  A major issue for vacuum sealers is sucking fluid from the food into the vacuum system.  The Anova Precision Pro's moist mode reduces suction pressure so that the bag seals, but fluid in the bag does not get sucked into the system. This means you can seal marinated food without issue.
Part of the system that prevents that is the oval gasket that clamps the bag in place.  If it gets dirty, you just peel it out of the unit, wash it off, let it dry, and put it back in place.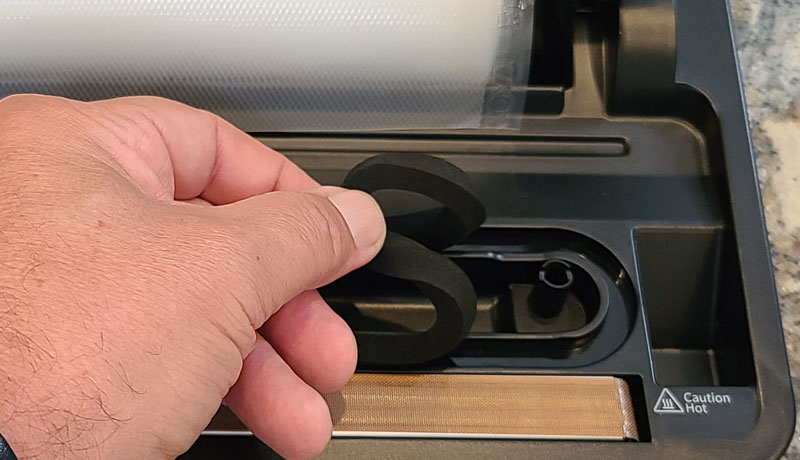 The sealer can work with both roll bags or individual vacuum bags as well as storage containers with vacuum seal tops. It is designed to be fully operated using only one hand.  That's important when you're trying to seal messy food and have a hand all mucked up with messy food goo.
This pro model is designed for heavy use and should successfully seal at least 100 consecutive vacuum bags without a rest.
Unfortunately, I don't have and vacuum seal storage containers, so I couldn't test the accessory hose, but I have no expectations other than it would seal up those containers perfectly.
Another great reason to vacuum seal food is for use in sous vide cooking. Sous vide is French for under vacuum and is a method of cooking vacuum-sealed food to extremely precise temperatures.
I seasoned the steaks, cut a new bag from the roll, and vacuumed sealed the two remaining steaks.  We were planning to leave to play water volleyball at 2:25 pm, returning home around 5:30 pm.  I filled a stockpot with water, clipped the sealed steaks in the water, and fired up the Febote sous vide cooker.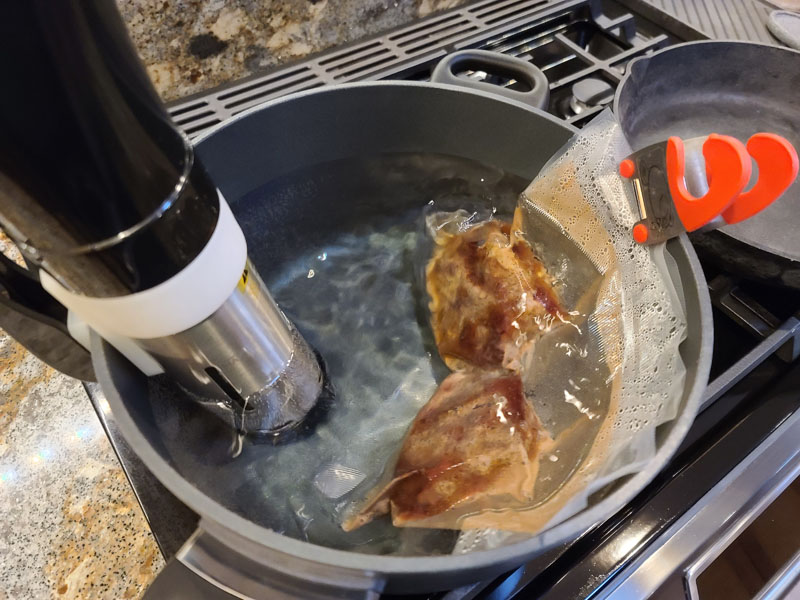 I set it for 135-degrees and 3.5 hours and we left. When we got home, there were about 15 minutes left in the cooking time.  We really only needed a little over an hour to fully cook, but that's the benefit of sous vide cooking – you can't overcook.
After my lovely wife popping a potato in the microwave to bake and some onions in a frying pan to sautee, I fired up the cast iron fry pan and put in a little olive oil.  When it was smoking hot, I cut open the vacuum bag and plopped the steaks in the pan to sear.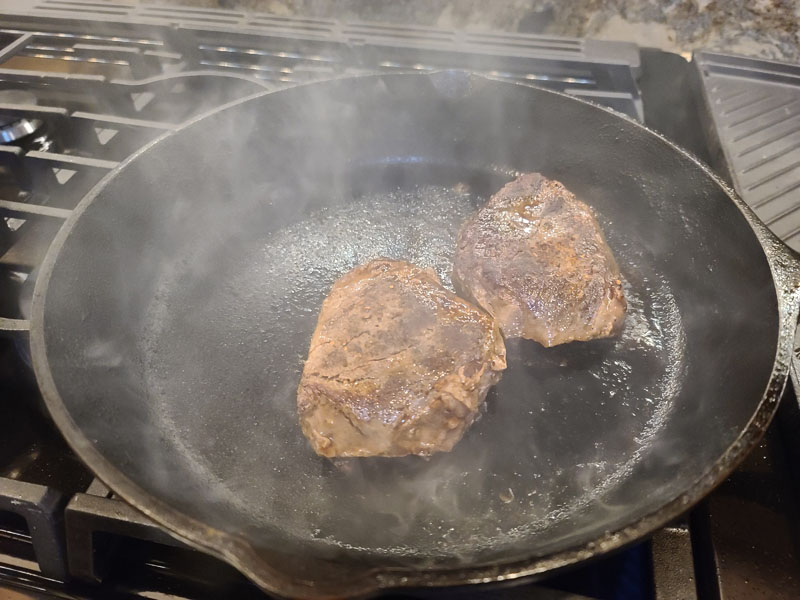 A couple of minutes later, and we had perfectly cooked and seared steaks, thanks to sous vide cooking made possible by the Anova vacuum sealer! A pat of butter on top, sauteed onions, and a nice glass of wine, and we were eating good!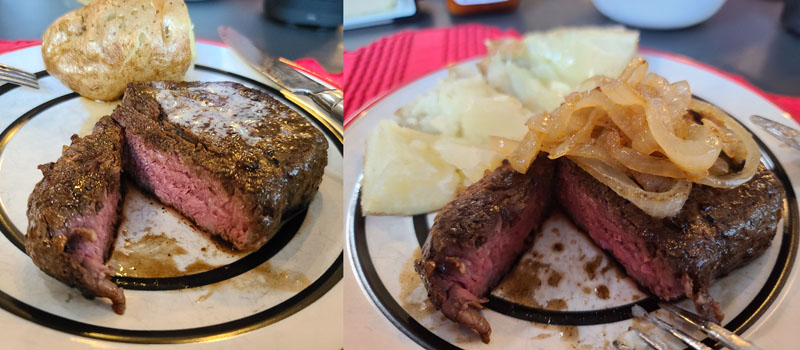 What I like
Simple, one-handed operation
Bag roll can be stored right in the unit
Power cord storage built-in
One-touch double sealing
Supports pre-cut bags and roll bags
What I'd change
Final thoughts
Since we're retired, cooking means cooking for two. But, we like to buy in bulk and save some cash.  At our local warehouse club, when we buy meat, it typically comes in packages of four or more servings.  While we already split packages up and freeze some, they don't always fare well in the freezer.  By vacuum sealing them, it will extend the food's practical life and eliminate freezer burn.  No matter how you slice it, that will save some cash. We also live in a land of perpetual humidity.  I will look into some food storage containers
With our busy retirement schedules of fun, fun, fun, there are days when it's hard to find time to fit in cooking.  But, with vacuum-sealed food that we can sous vide while we're not home, that opens up a lot of potential culinary options.
I can confidently say that after testing the Anova Precision Pro vacuum sealer, it really sucks, and that is a great thing for your food and your cooking.
Price: $149.95
Where to buy: Amazon; $149.99 direct from Anova Culinary
Source: The sample of this product was provided by Anova Culinary.