We use affiliate links. If you buy something through the links on this page, we may earn a commission at no cost to you. Learn more.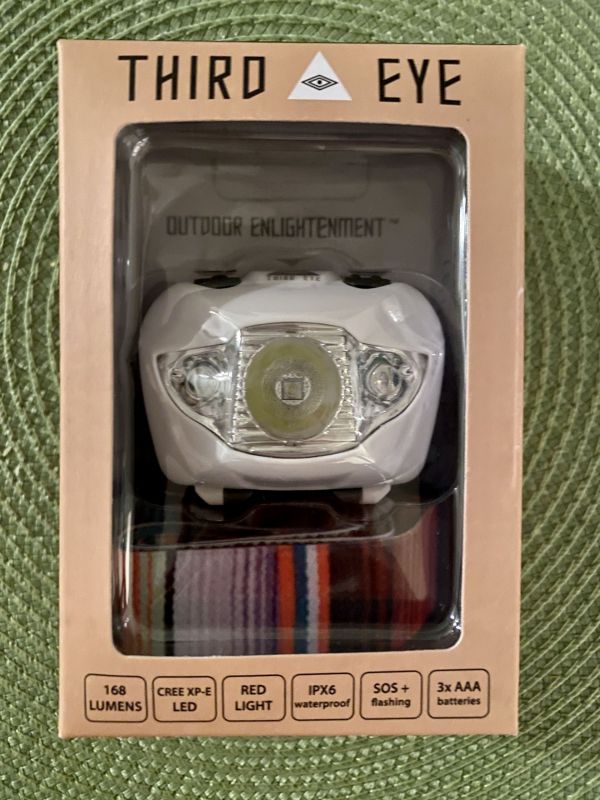 REVIEW – I do a lot of work on my motorcycle myself.  I have added all sorts of accessories and replaced existing parts with newer and better ones.   I have done all of this while lying on the floor in the garage with really bad lighting.  I have added can lights to my garage ceiling and even used flashlights to try and improve the lighting situation.  However, when it comes to working in tight quarters underneath the bike, I have not found the perfect solution.   So when the chance came up to review the Third Eye TE14 headlamp I jumped at the chance to see if I could see better while working on the bike.
What is it?
The Third Eye TE14 Headlamp is the newest headlamp created by Third Eye.  It has a plethora of headband choices and offers six different levels/types of illumination.  It is also adjustable with a plate that allows you to put the headlamp at an angle.
What's in the box?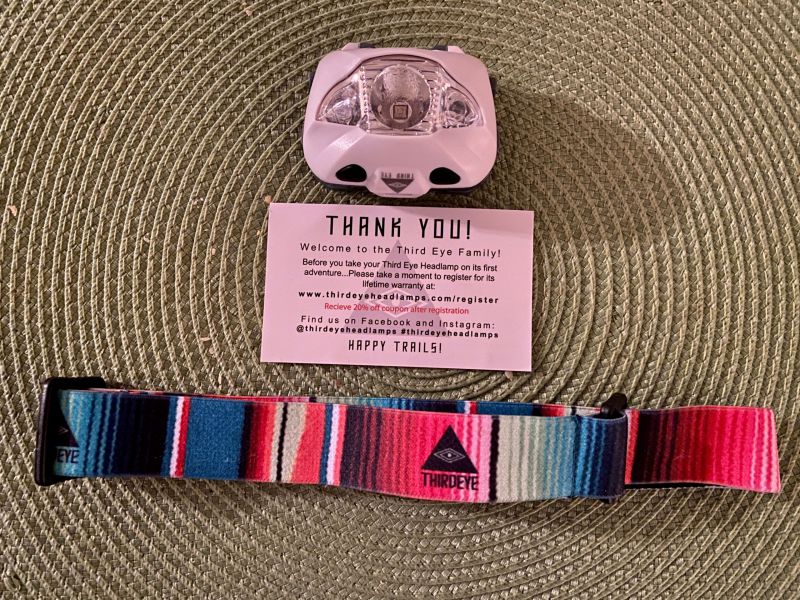 TE14 Headlamp – requires 3 AAA batteries not included
Thank you card with site to register for a LIFETIME warranty
Headband – I was sent the serape band
Hardware specs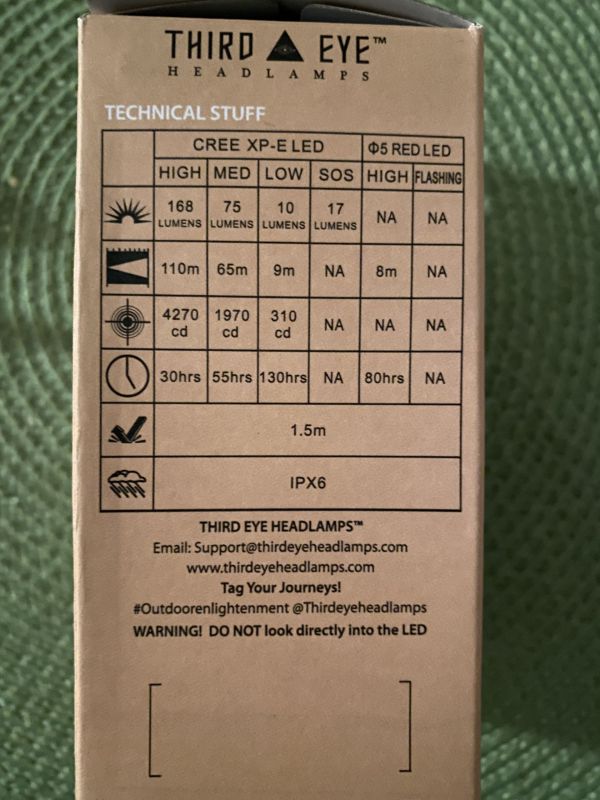 I took a picture of the back of the box to show the specs on this headlamp.  It works for a ton of hours on three triple A batteries.  Even at its highest setting, it will run for 30 hours.  It is also IPX6 waterproof and can be submerged up to 1.5 meters.  The weight of the headlamp is 1.76 ounces without the batteries.
Design and features
The TE14 headlamp has two different sets of LED lights.  The main lighting is created by using a CREE XP-E LED.  There is also secondary red LED lighting provided by one 5 Red LED on either side of the CREE bulb.  You can see in the picture below the main CREE bulb is in the center of the unit with the two RED LED on either side.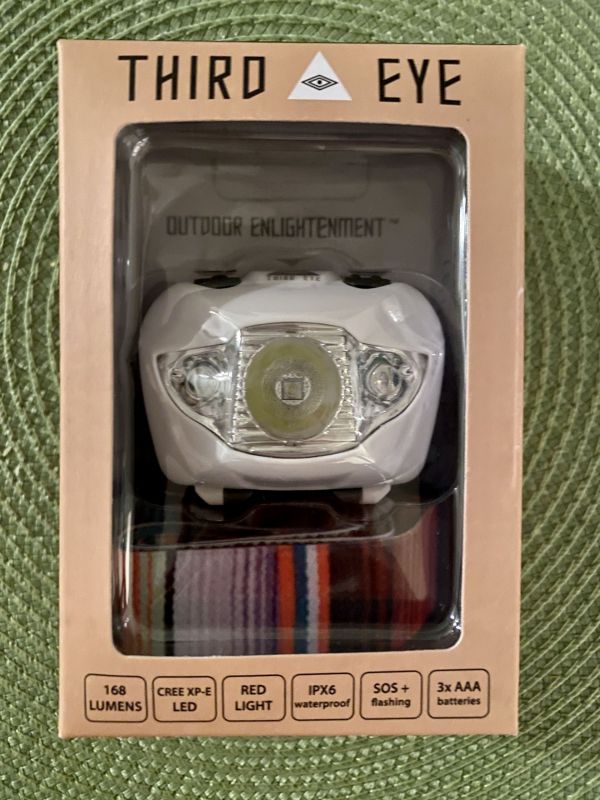 The picture below shows the back of the headlamp.  It has two side notches for sliding the headband inside.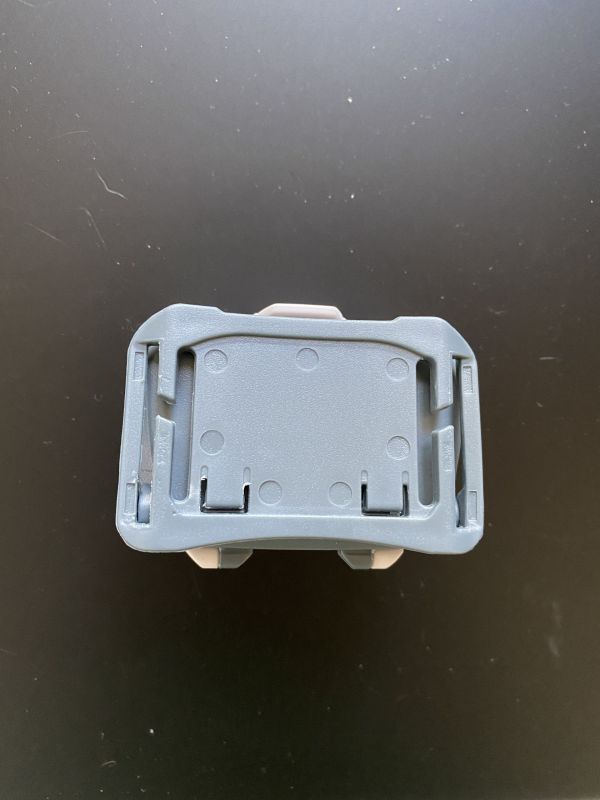 This next picture shows the top of the headlamp.  I apologize for the dog fur on the left button!   That left button with one knobby on it s the main switch for the CREE light.  If you press it once and let go it will display at its highest intensity.  If you wait about 3 seconds then press it again it will turn off.  Pressing it once again will turn on the main light at the highest intensity.  Pressing a second time within a second or two will give you the second level and again will give you the lowest level.  Pressing a fourth time will make the CREE bulb blink in an SOS pattern.  Pressing it a fifth time will turn it off.
The button on the right with two knobby controls the red LED bulbs.  Pressing it one time with turn on the red LED.  If you wait three seconds and press it again it will turn it off.   If you press the left button twice in a row you will get a red blinking light.  Pressing it a third time will turn it off.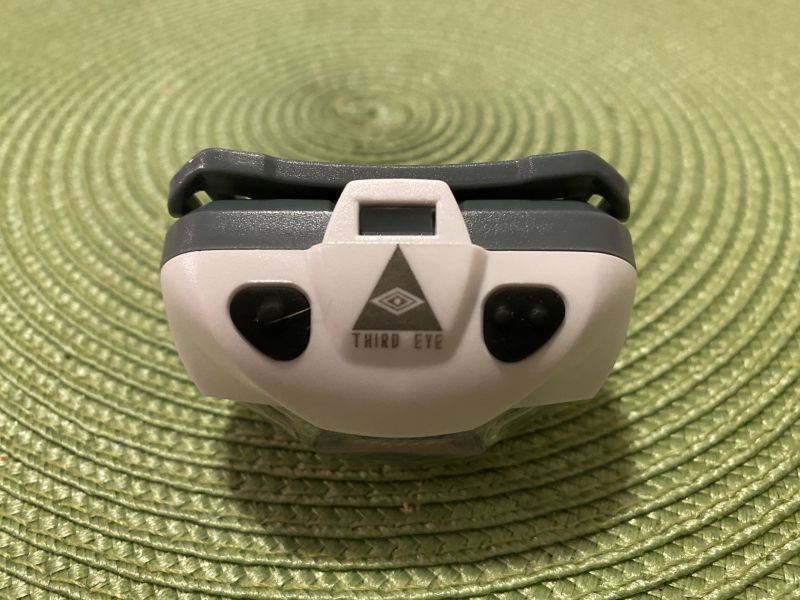 This next picture shows you how the backplate will flip down to provide a stand for the headlamp.  It has several positions that will allow you to tilt the light.  You can also do this while it is mounted on the headband since the headband is slipped through that backplate.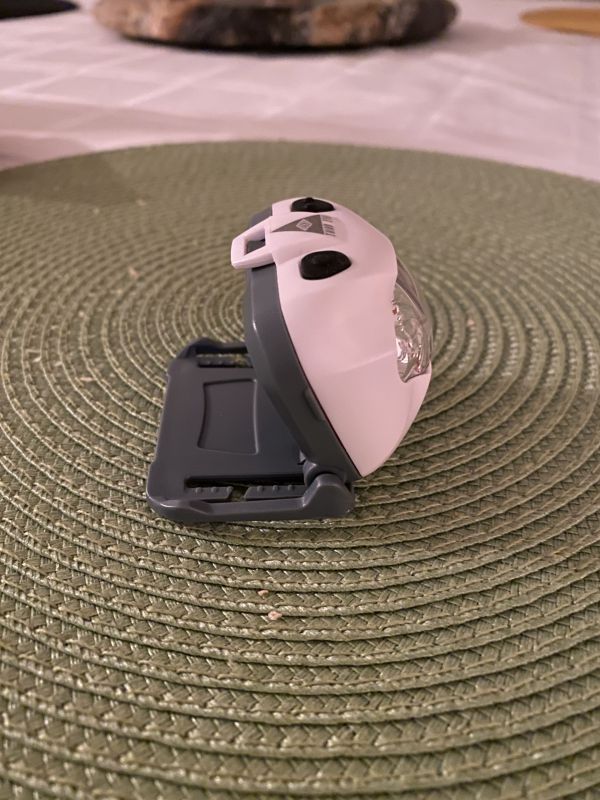 I took a picture of the headband from a top-down position to demonstrate how large you could actually make the headband if you wish.  It is very adjustable.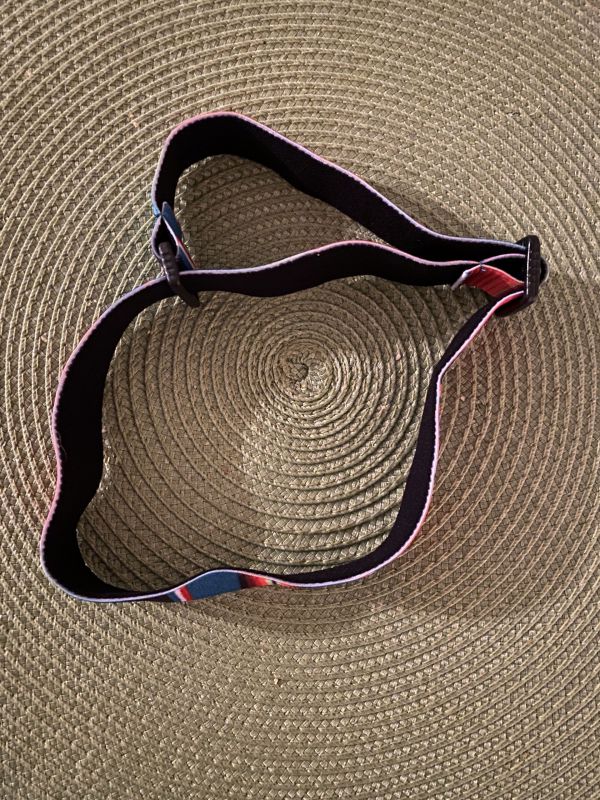 Setup
The setup was very simple.  You open the headlamp by pulling back the notch that was between the two power buttons at the top of the headlamp.  Doing this will present you with a compartment in which you insert three double-A batteries.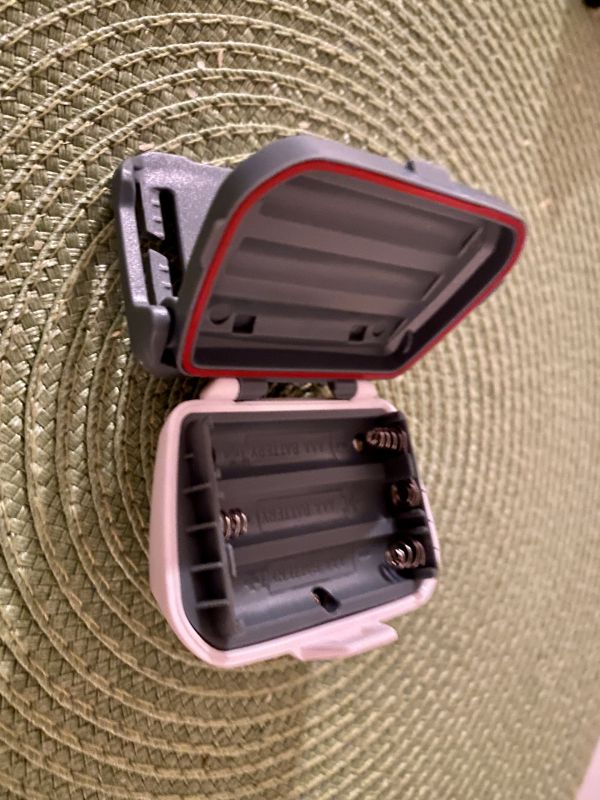 Here is a picture of the headlamp with the batteries inserted.  I appreciate that this headlamp takes standard easy to find batteries.  I was in the great 'Snovid' snowstorm in Texas last week and I would have loved to have access to this headlamp back then.  We had no power for three days, so recharging a battery would have been tough.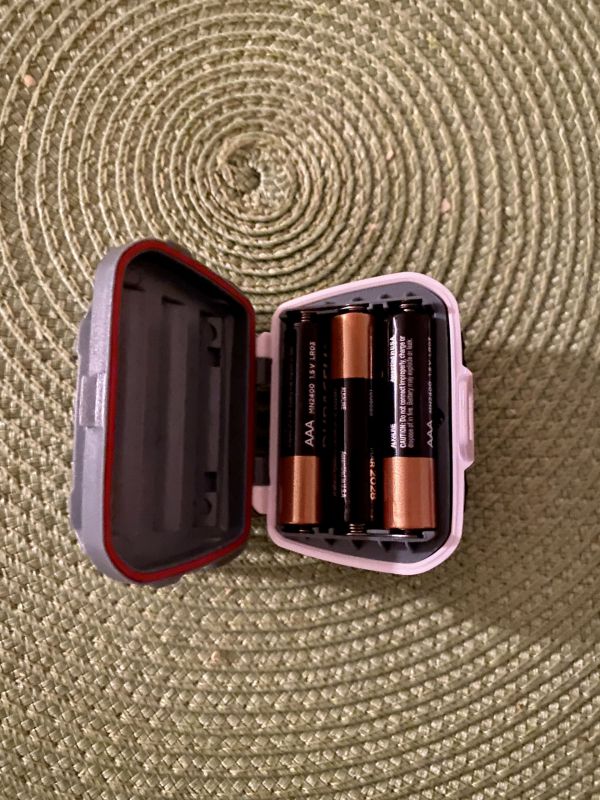 I threaded the headband into the back of the headlamp as pictured below.  It was a bit tricky and I was nowhere near as talented as the guy they have doing it on the demo video on their website.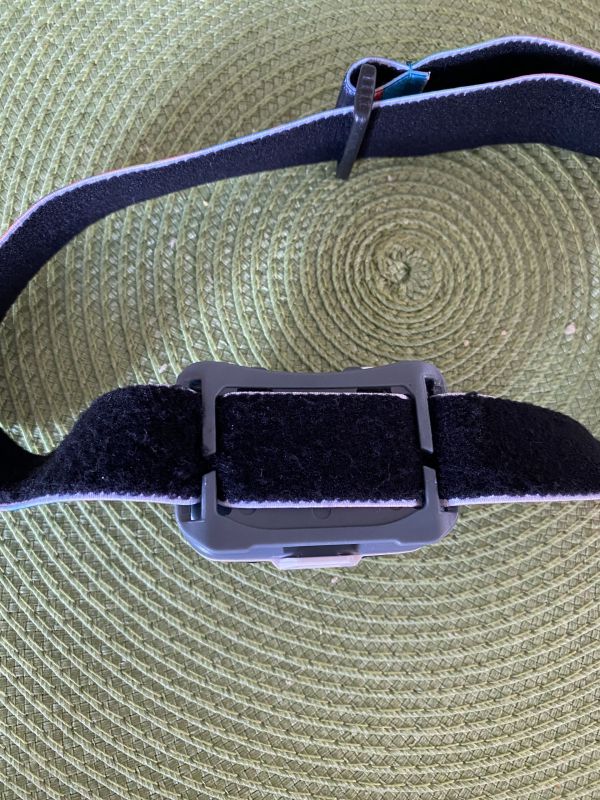 Finally here is a top-down picture of the headlamp mounted on the headband.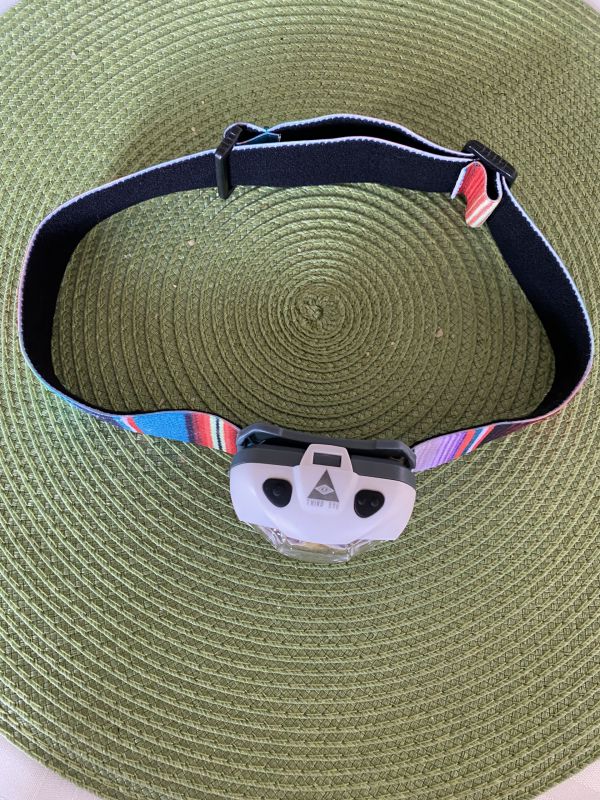 Performance
To test the effectiveness of the headlamp, I decided to use my pitch black garage as the demo site.  This first picture below is with the CREE bulb on its brightest position.  This sucker is quite bright and I find it impressive that it can maintain this level of light for 30 hours.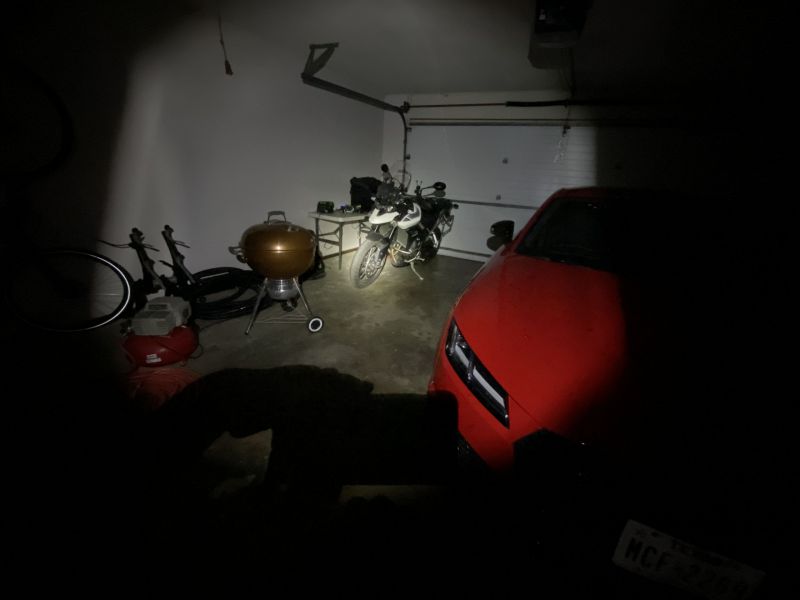 This next picture is at the medium light level.  Things are a bit dimmer, but stuff is still really well lit.  It would be perfect for walking around a campsite at night and not stumbling over things.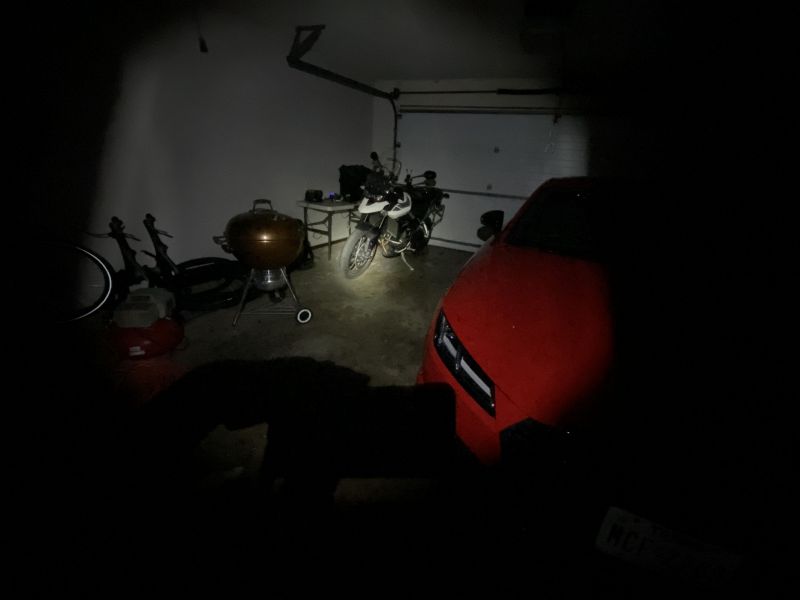 Finally, this is the lowest light setting.  You can see the field of coverage has narrowed way down along with the intensity.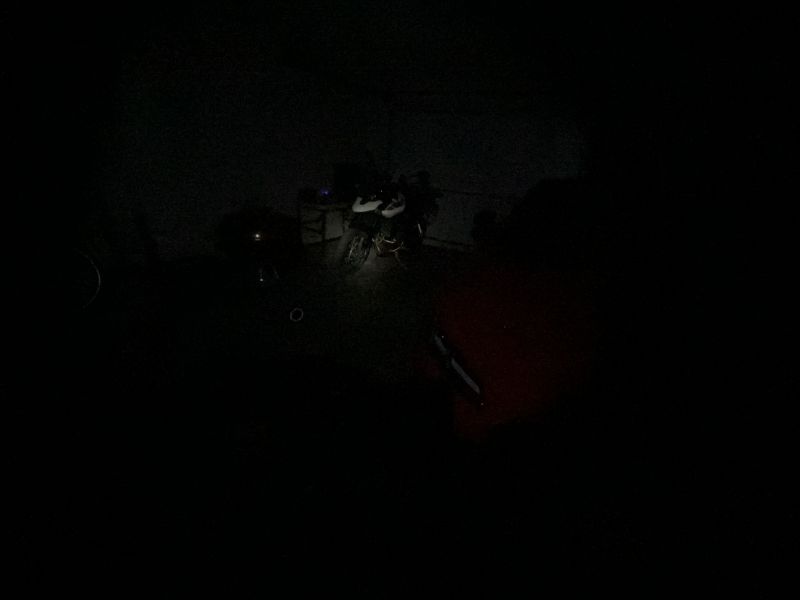 Using that same low beam I got close to the bike like I was going to work on it.  It lit up nicely!  This would also be perfect for using in a tent or other close up activities.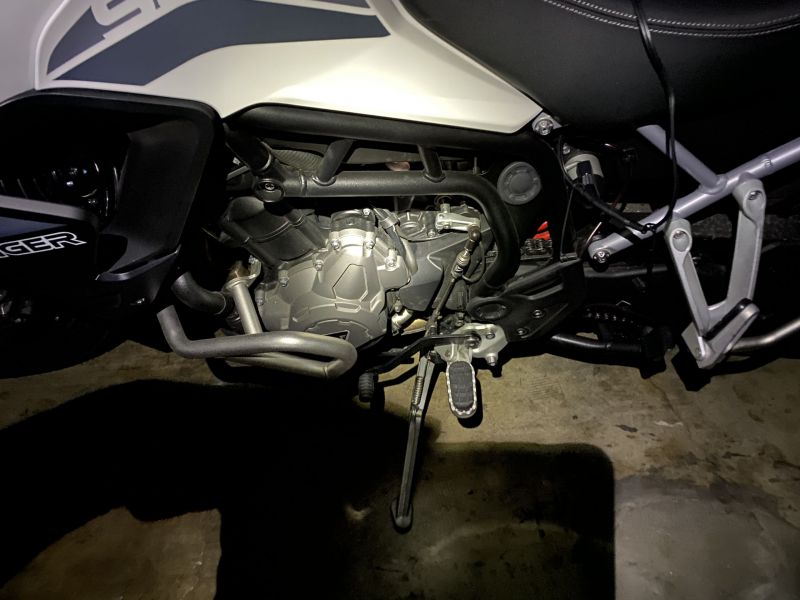 This is a picture of the red light.  It does light things up pretty well.  I would think this would be perfect if you were using a telescope or doing some other nighttime activity where you did not want to lose your night vision.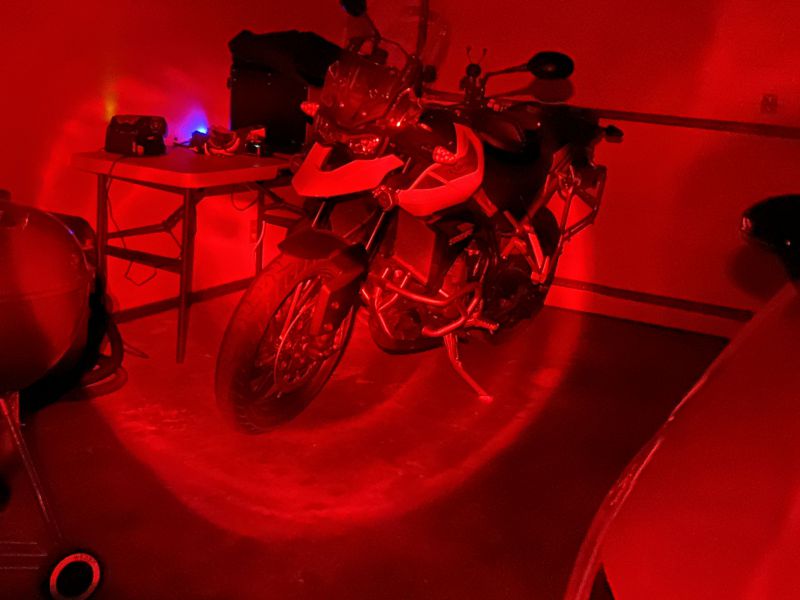 What I like
Uses three AAA batteries.  No cables to recharge it or plug needed.
Long battery life
Lights up the area really well.
Has adjustable stand built into the headlamp.  You can use it on a headband or as a stand-alone light.
Has a red light option to keep your night vision.
They offer a plethora of headband choices.
Made from 100% recycled plastic.
Waterproof up to 1.5m.
What needs to be improved
Final thoughts
I really like this headlamp.  It lasts a super long time on a single set of three AAA batteries.  It has several lighting levels along with some flashing light options in case of emergency.  If you are looking for a good solid and reliable headlamp I can't recommend this one enough.
Price: $49.99
Where to buy: Third Eye and Amazon
Source: The sample of this product was provided by Third Eye