We use affiliate links. If you buy something through the links on this page, we may earn a commission at no cost to you. Learn more.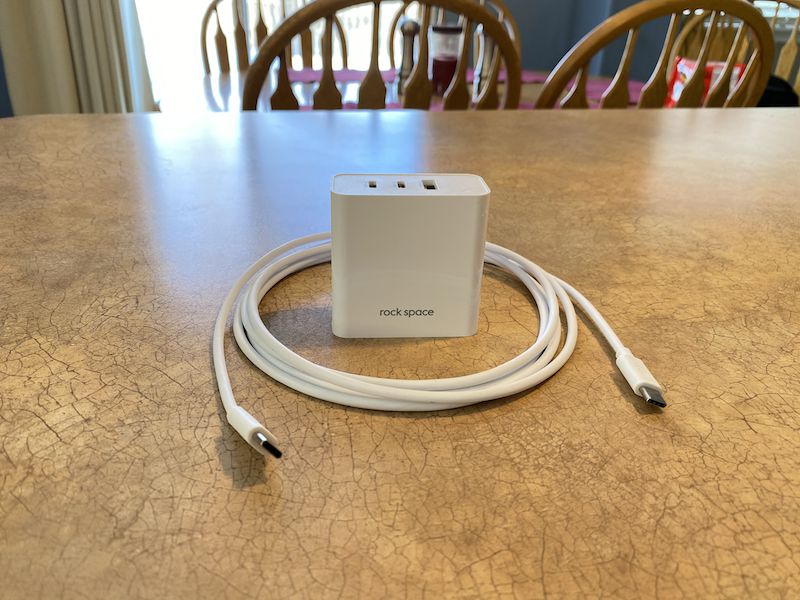 REVIEW – I have a lot of devices to charge. Between phones, iPads, laptops, several bluetooth headphones and earbuds, portable battery packs, flashlights, etc., I estimate that I have about 3,264 devices to charge. I may have missed a decimal place somewhere but suffice it to say that I have a lot of things to keep powered up. Most of these devices came with a charger but recently a lot of devices have just been coming with a USB cable (if even that) which the manufacturer expects you to use with an existing charger or purchase a new one. This makes multi-device chargers a nice option because they can charge several devices at once, reducing the need to purchase a separate charger for every device you own, and reducing clutter at your outlets as well. Enter the Rock Space GaN Super Fast Charge Set.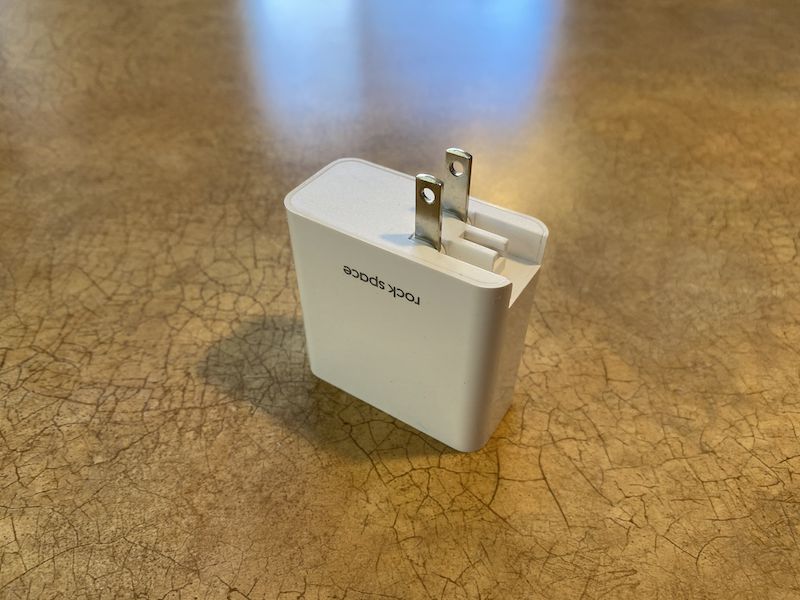 What is it?
The Rock Space GaN Super Fast Charge Set (which I'll refer to as the Rock Space charger) is a device with 2 USB-C and 1 USB-A outputs, which features a foldable plug, helping protect the charger and other items nearby for storage or travel. It also comes with a 2 meter USB-C to USB-C cable. The Rock Space charger is able to put out a maximum of 65W, which is enough to charge most laptops at their full speed, and even more power-hungry laptops at a slower speed.
What's in the box?
65W GaN charger
USB-C to USB-C cable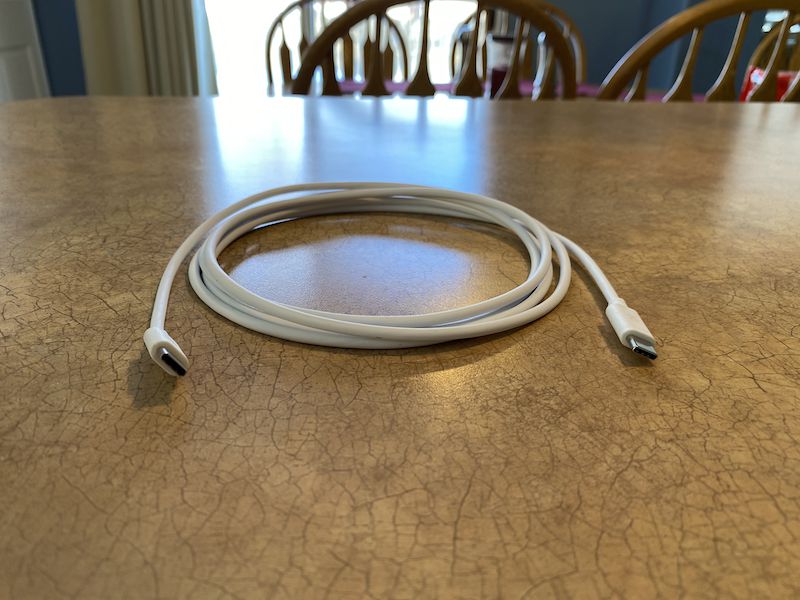 Hardware specs
Output:

USB-C1: up to 3.25A, depending on voltage output
USB-C2: up to 3A, depending on voltage output
USB-A: 3A, depending on voltage output
USB-C Cable: Supports up to 3A

Material: Fireproof ABS + PC
Dimensions: 2.39″ x 2.36″ x 1.14″
Weight: 4.66 oz
USB-C Cable Length: 78″
Color: White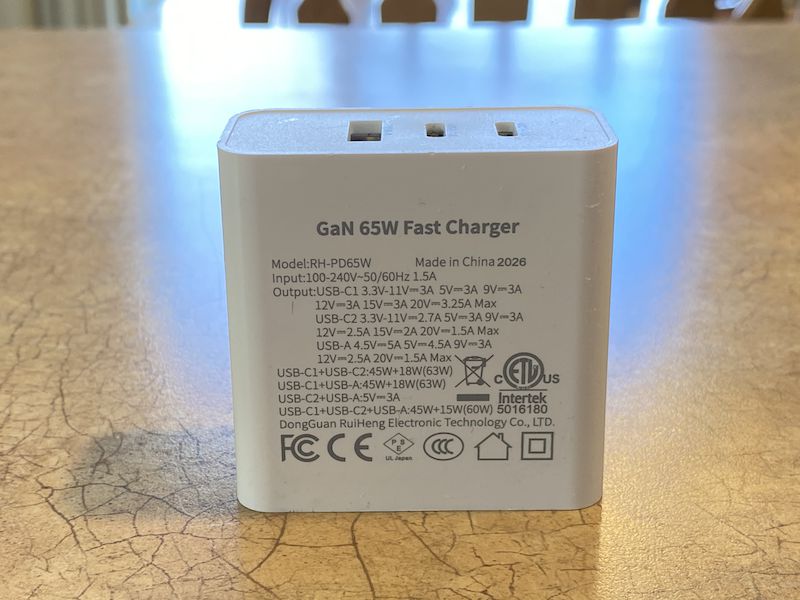 Design and features
The Rock Space charger is a small, white, rectangular power brick, which is able to put out as much current as a much larger traditional charger through the use of GaN (gallium nitride), which enables companies to make powerful chargers in much smaller packages than before. This charger is encased in a fireproof ABS plastic case, meaning it is lightweight and doesn't get super hot while charging. There are no LEDs or any other indicators on the charger, except for the output connector labels, the Rock Space logo, and some specification and regulatory information.
Each output is capable of a different output voltage and current, depending on how many devices are plugged in. Using only the USB-C1 output, it can deliver the full 65W to the connected device. I use a MacBook Pro 16″, which requires 96W for full speed charging, but I have been able to use this as a spare charger, although at a slightly slower speed. Unless I'm streaming video or doing other demanding work, this speed has been more than acceptable for me. If you use both USB-C connectors, the power is split so that USB-C1 gets 45W and USB-C2 gets 18W, for a total of 63W. Using all three outputs, 45W is split between the two USB-C connectors and the USB-A connector gets 15W, for a total of 60W.
This charger supports iPhone PD 3.0, Huawei SCP/FCP, Samsung AFC, and Mi QC 4.0/3.0 fast charging specs, meaning you'll get the fastest possible charging speed available for those devices. The Rock Space charger is compatible with input voltages from 100V to 240, so it can be used just about anywhere with a simple plug adapter rather than needing a voltage converter.
With any electrical device, safety is an important consideration. You don't want the charger to melt, or to send too much voltage or current to the devices you're charging, potentially damaging them in the process. The Rock Space charger supports over-current, over-voltage, anti-interference, short-circuit, and over-temperature protection, so you should be able to charge your devices with peace of mind.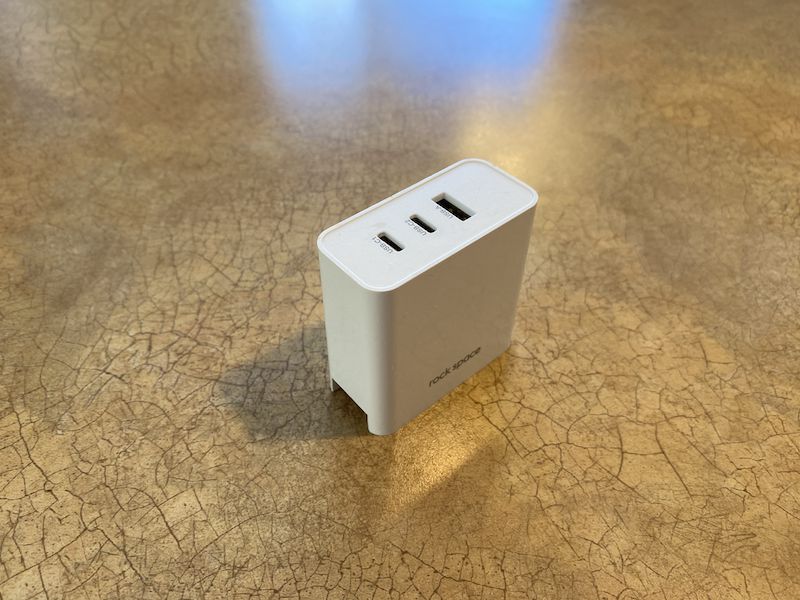 One minor complaint I have about this charger is that sometimes the cable comes loose, meaning it's no longer charging. It feels to me like the connectors inside the charger are slightly loose, so they don't always make electrical contact, so I can't always be sure it's charging. This isn't as much of a problem when I'm sitting near the device I'm charging so I can check it periodically, but if I leave something charging overnight or while I'm out to lunch, I need to be more careful to make sure it's actually being charged. This may just be an issue with my review unit, I don't know for sure.
Installation and setup
There isn't much to set up. Just unfold the power plugs, plug the charger into the wall outlet, and plug the included USB-C cable or another cable compatible with your equipment, and let it go. As long as you have the right cables you should be up and running in no time.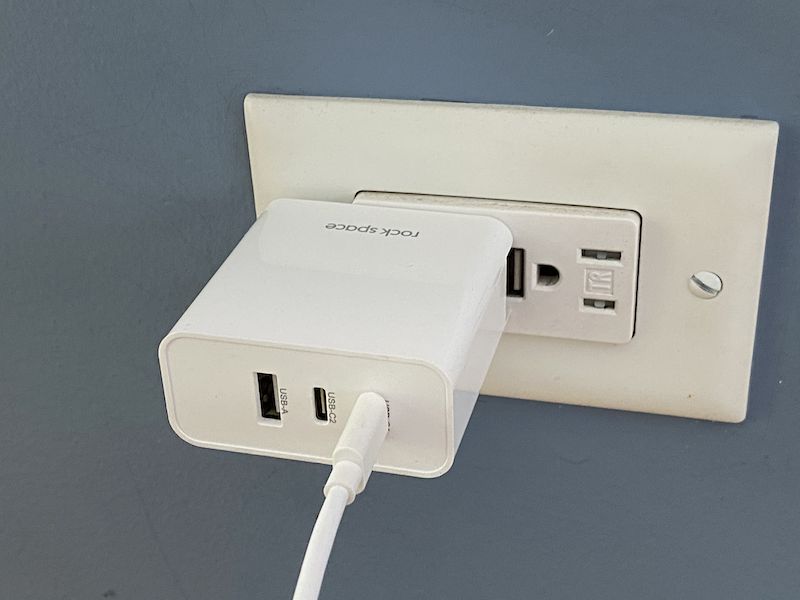 What I like
I always try to find extra utility in devices like this. I like the fact that this charger is capable of charging up to three devices at one time, but can also put out a large amount of power to a single device when necessary. I also like the fact that it uses GaN technology, which helps reduce the size and weight of what would normally be a large, heavy brick.
What I'd change
Tighten up internal contacts so I can be sure it's always charging.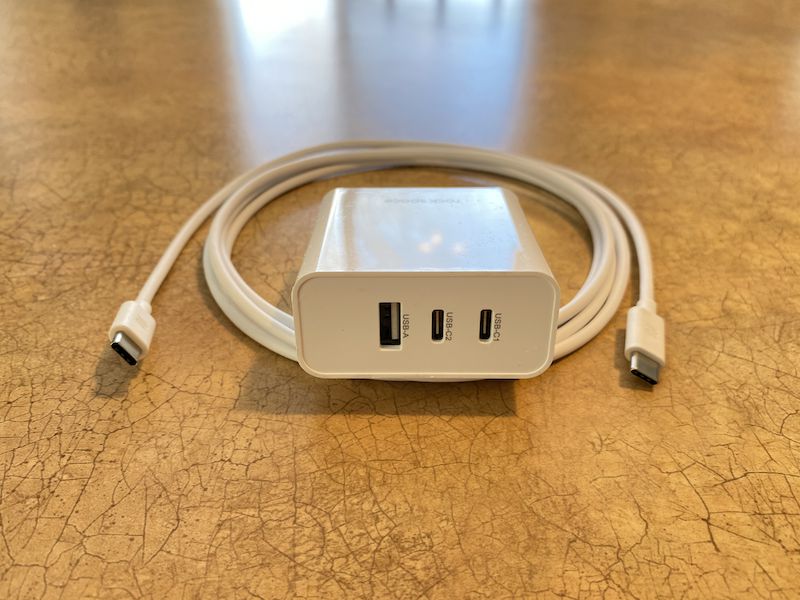 Final thoughts
Overall the Rock Space GaN Super Fast Charge Set is a great charger, especially with the ability to charge multiple devices with high power output simultaneously. Not needing so many chargers at my desk, bed-side table, or while traveling has been a real convenience.
Price: $39.99
Where to buy: Amazon.com
Source: The sample for this review was provided to Rock Space.