The Gadgeteer is supported by readers like you! If you buy something through links on our site, we may earn an affiliate commission. Thank you! Learn more.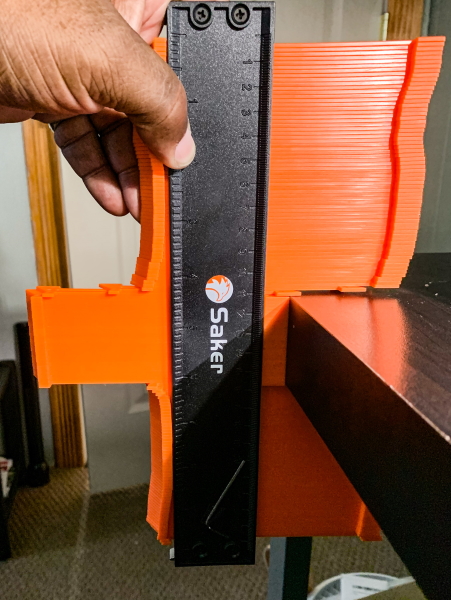 REVIEW – I am a DIYer, and I believe that there is a tool for every job. Anyone who sees my collection of tools will verify my ideology. Sometimes there are tasks that require a unique tool that is not a part of the usual tools available in the hardware store. Sometimes there is a need for someone to design a tool for a specific/unusual task. Enter the Saker Contour Duplication Gauge!!
What is it?
The Saker Contour Duplication Gauge is designed to accurately copy irregular shapes and make measuring and cutting easy. Its features include an adjustable lock to maintain the replicated shape. 
What's in the box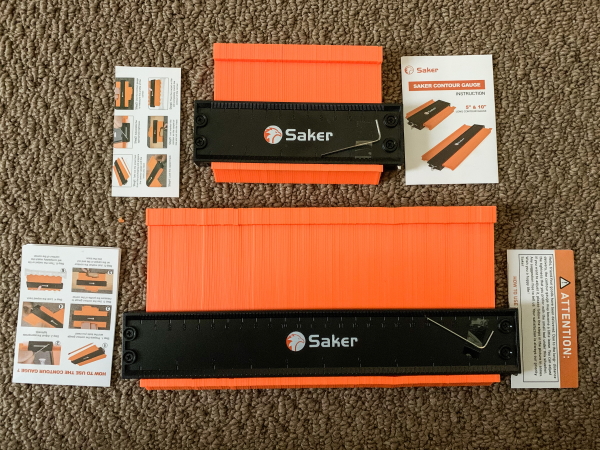 1 x 10 Inch Saker Contour Duplication Gauge with Allen Key
1 x 5 Inch Saker Contour Duplication Gauge with Allen Key
1 x Instruction Guide (Each Tool)
1 x Use/Informational Guide (Each Tool)
Design and features
Features
PRECISE SHAPE DUPLICATION: Saker Contour Gauge designed for winding pipes, circular frames, ducts, and many objects, Ideal for fitting tiles, laminate, carpet, checking dimensions, molding, etc.A useful tool for operations on car bodies, carpentry, and all kinds of modeling.
ADJUSTABLE AND LOCKING FEATURE: Saker contour gauge can adjust the tightness according to your needs. After using the contour ruler for a period of time, you can easily adjust the tightness; Once an object has been contoured, lock contour gauge teeth in place for perfect traces every time.
GOOD MATERIAL AND PORTABLE: The contour gauge is made of high-quality ABS plastic, high strength, rustproof and durable.
EASY TO USE: Our contour gauge measures 5 inches & 10 inches, can be used to measure the shape of irregular objects,instant template for marking precise tile cuts. You just press the contour gauge on one of the shapes. Trim outline and cut into shape.
EXTENSIVE APPLICATION: Contour gauge is used to locate profiles or edges and accurately transfer them to the material to be cut. For any kind of work needs the contour duplication. In woodworking, auto body, auto metal sheet, stainless steel, or any job of contour duplication.

The Saker gauges come in separate boxes. An Allen key for adjusting the tension is included, and the rails on each side are rulers with inch, centimeter, and millimeter measurements.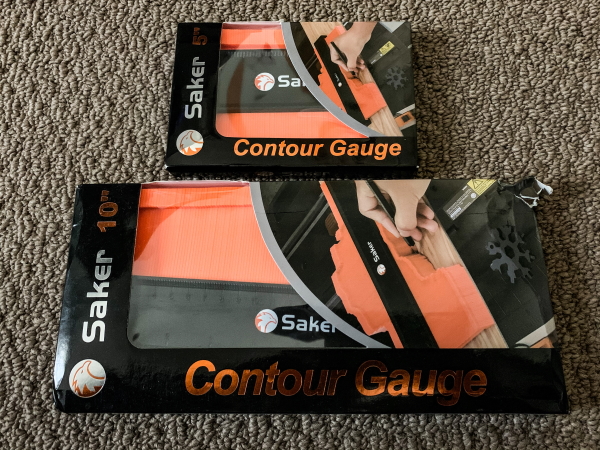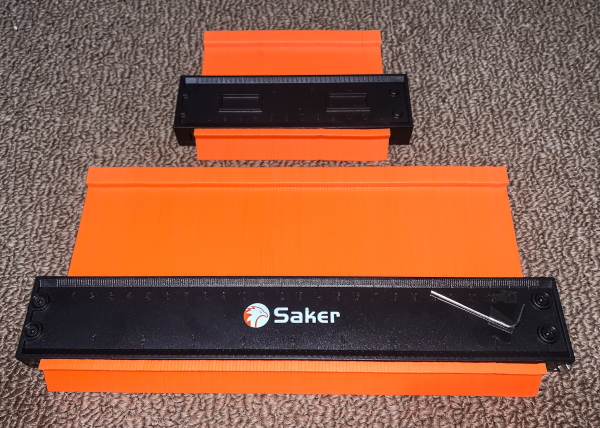 The gauges have a lock on one side that looks the replicated shape into place so that you can trace it without accidentally changing the shape.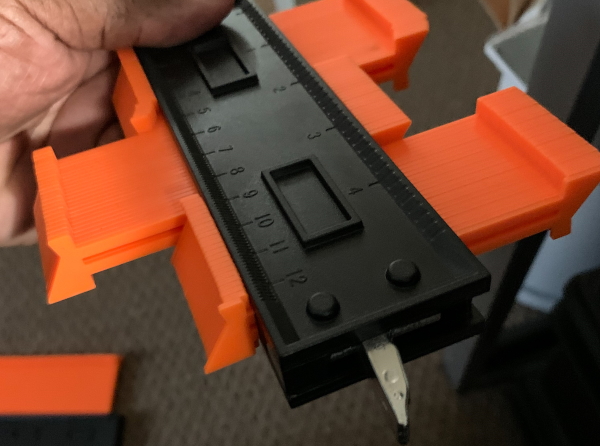 Performance
The Saker gauges are easy to use. Simply make sure that the tension of the contouring blades is good to maintain shapes and then press against the desired surface to replicate the shape. You use the provided Allen key to adjust the tension. The following is the first test that I did on the sort of oval leg of one of my desks.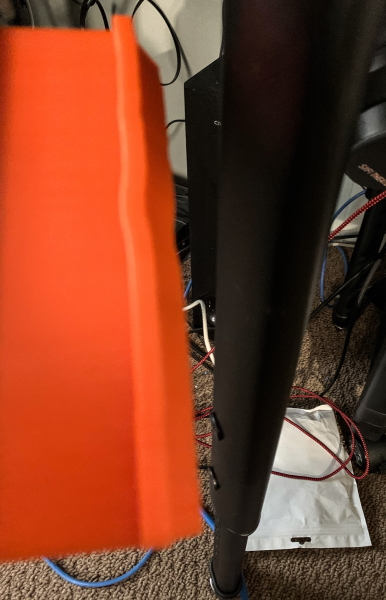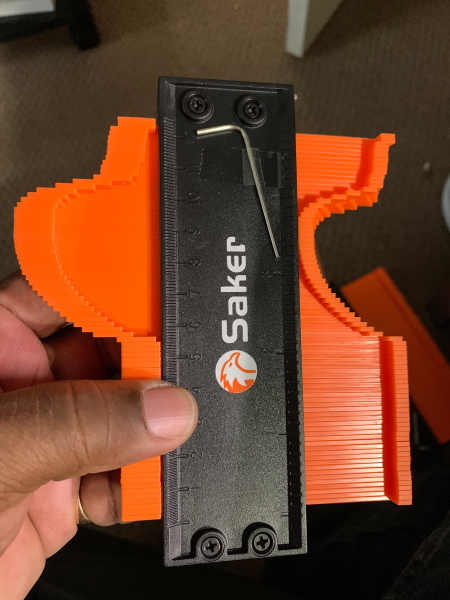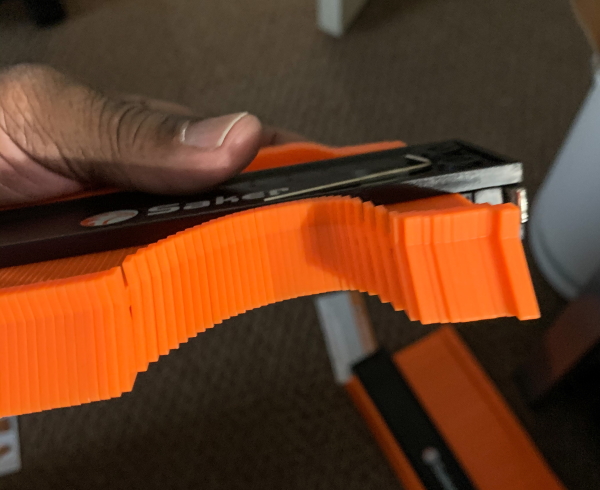 The next test I performed was on the side of a door with a digital lock: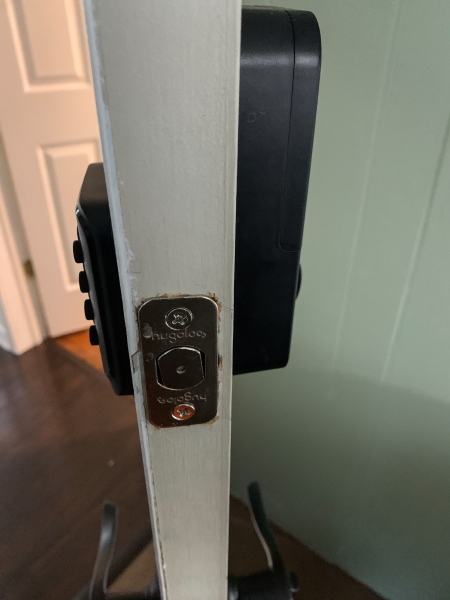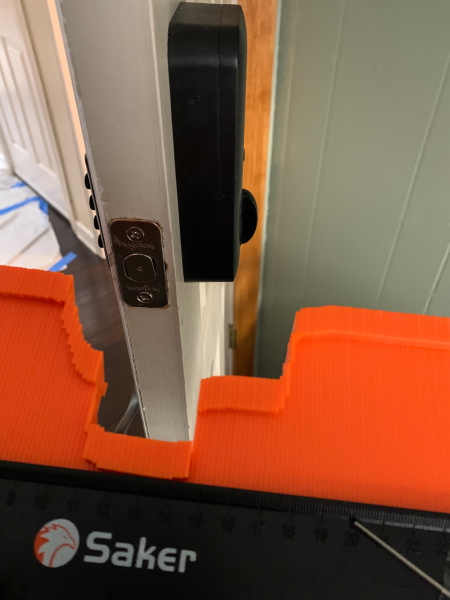 The following is a test on a basic rectangular shape: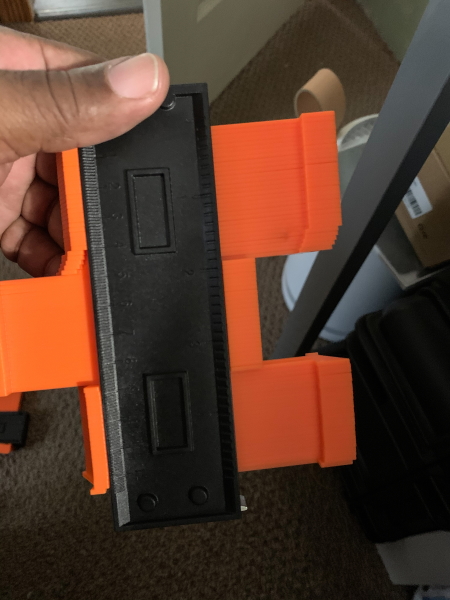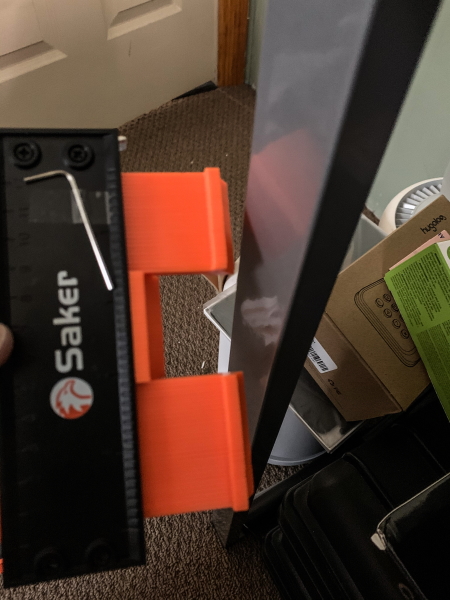 The Saker tool in action:
The photo below shows the result of using the tool to replicate the pipes on a heating radiator to cut the flooring to fit: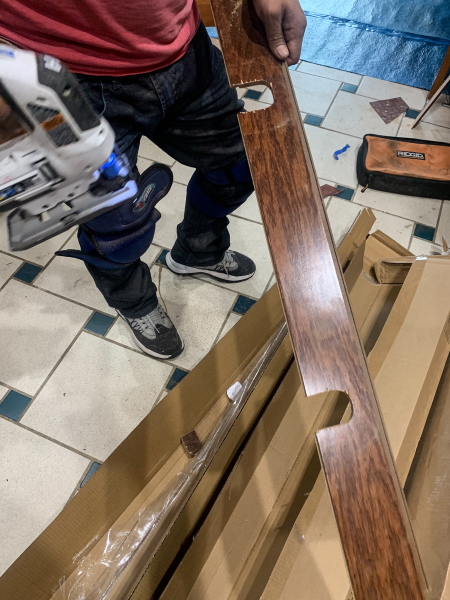 What I like
The design and concept
The build quality
The effective functionality
What I'd change
Include carrying/storage pouch/hard case
Final thoughts
As a DIYer, one of the dynamics that would cause me to procrastinate working on a project would be if it involves the tedious task of cutting out shapes in my material to properly fit oddly shaped locations or just simply cutting out the right round or oval shape to fit around a pipe. The Saker Contour Duplication Gauge simply makes the job so much easier, that I am actually re-energized to tackle several projects that were stalled as I looked to other easier or less challenging tasks. IMHO, this is a great tool to have, and the fact that it comes in 2 sizes makes it applicable to so many situations. I give it a well done and two thumbs up!!
Price: $49.99
Where to buy: Amazon
Source: The sample for this review was provided by Saker
Support The Gadgeteer
:
The Gadgeteer is supported by readers like you! If you buy something through the links on our site, we may earn a small affiliate commission. Thank you! Learn more.