We use affiliate links. If you buy something through the links on this page, we may earn a commission at no cost to you. Learn more.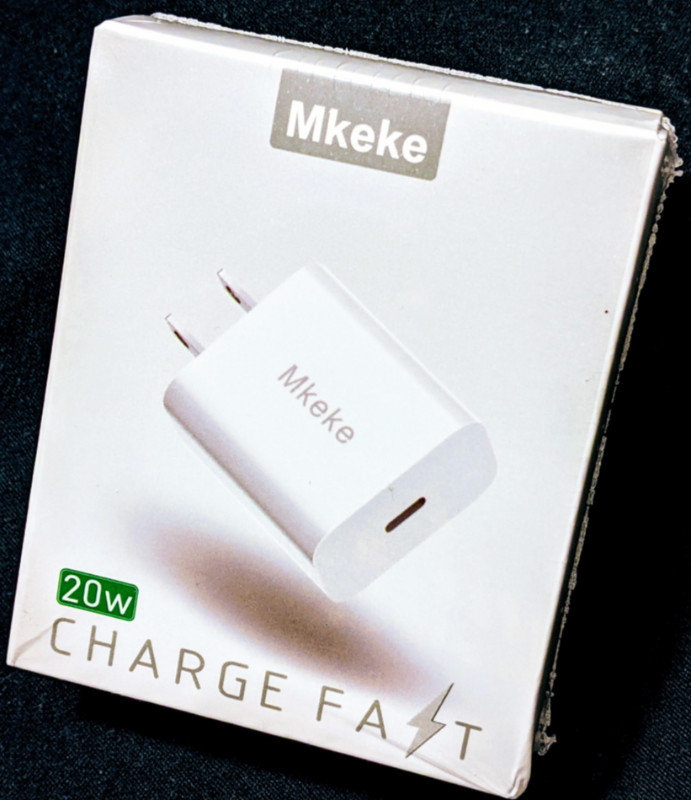 REVIEW – The Mkeke 20W USB C Charger is manufactured by Shenzhen Aoda Power Technology Co. Ltd.  This economy-priced charger might stack up nicely to more expensive competitors.  Since phone manufacturers seem to be moving toward shipping with no charger, knowing where to get an effective quick charger may be useful.
Let's see how it performs as it charges several devices. (One at a time.)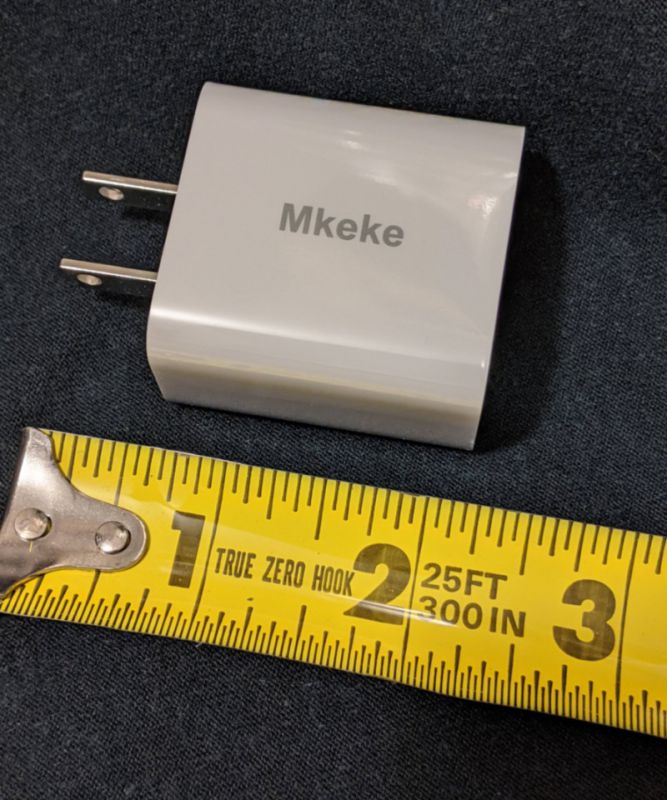 What is it?
The Mkeke 20W Charger is just that, a charger 'wall wart' with no cord.  It will require a cord that has a USB C plug on the charger-end, or you'll need a converter plug.  I have a converter plug that shipped with my Pixel phone but your favorite shopping-shipping services have several in the $10 range.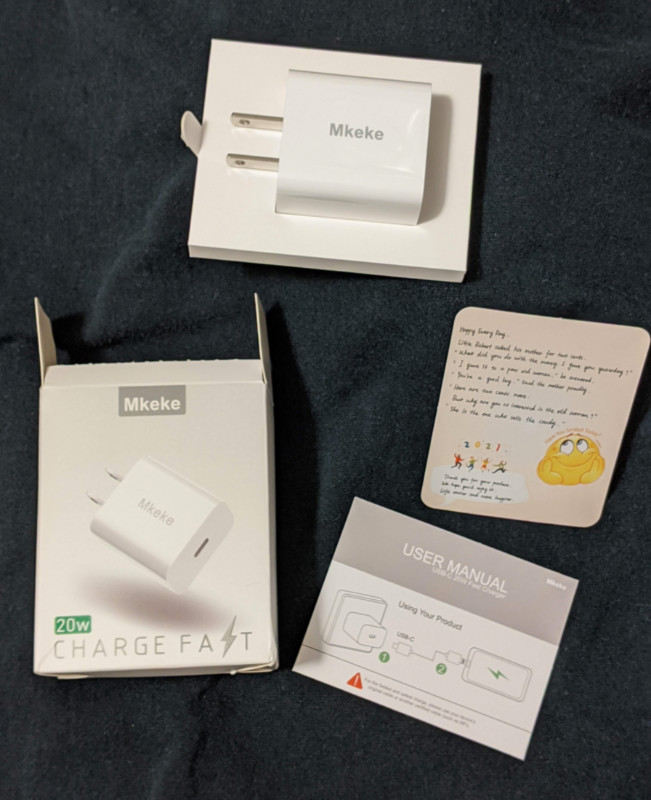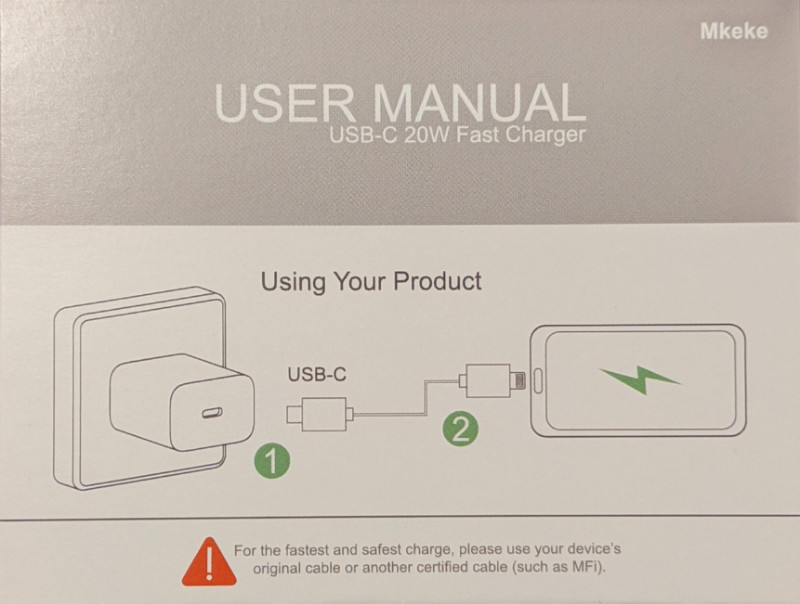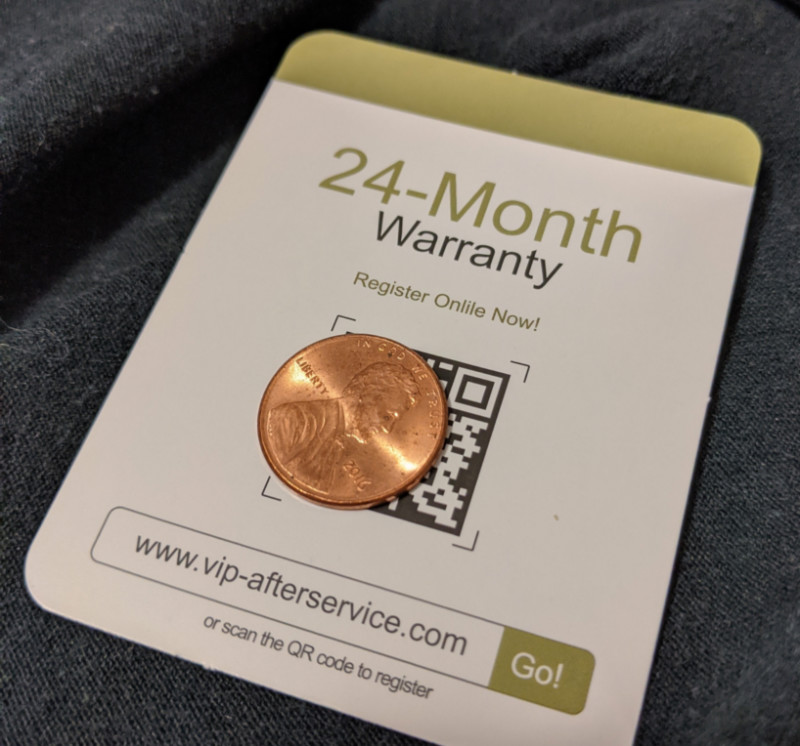 What's in the box?
One charger
2 year warranty card, with a joke on the back.  (Cute touch.)
User manual (one card)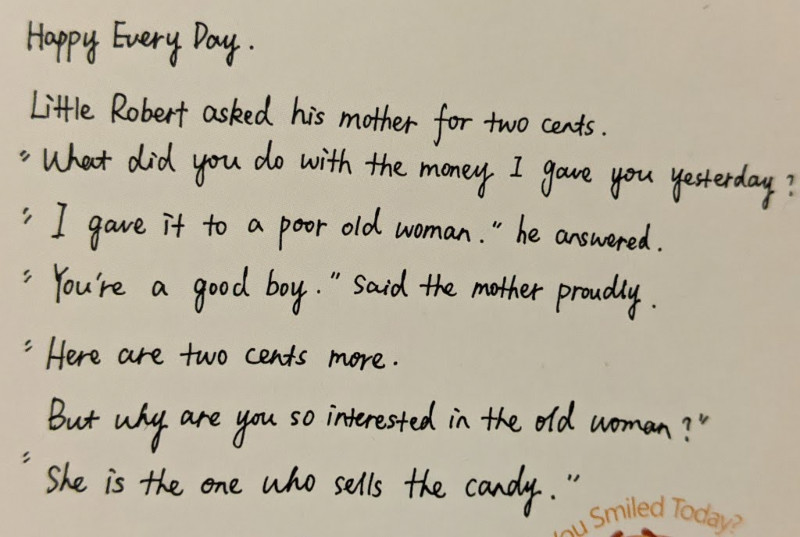 Never miss one of our posts again. Sent MON, WED, and FRI with the latest gadget reviews and news!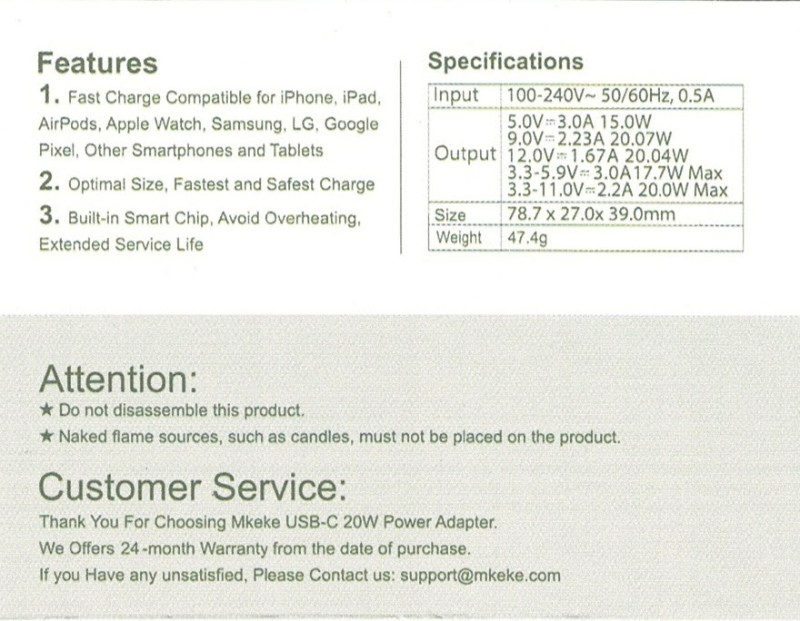 Hardware specs
Dimensions:  1.61 x 1.54 x 1.06 inches
Weight:  1.67 ounces
Model number:  A829-120167C-US1
Manufacturer:  Mkeke / Shenzhen Aoda Power Tech. Co.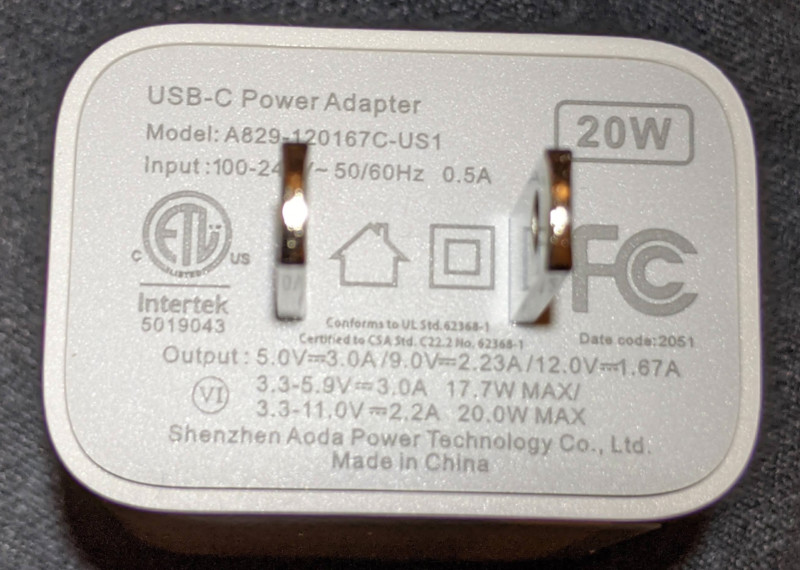 Design and features
The charger is available in white plastic.
It has a well-made feel, is 'tight' in that nothing rattles inside it or creaks when it's squeezed.
The charger has the usual two, U.S. style AC prongs on one end and a single USB C port on the other.  The AC plug is not polarized (plug prongs are the same width) so it won't matter which side of the charger is 'up' when plugged in to a wall socket.
The product details indicate it has a 'smart chip' that prevents overcharging and overheating.  Given that it can produce 20 watts, if devices are designed for quick charging, the Mkeke will deliver.
Testing
Normally we discuss 'Installation and setup' right about here. This device truly is plug and play.  Given the absence of bench quality electronics lab testing equipment around my house, and, thinking you might prefer a practical review of such a simple device, I opted for the latter.
I tested the charger by noting the amount of time it took to charge the devices to 100% full charge, from a 50% battery reading.  I charged a Pixel 3a XL with 3700 mAh battery, a Samsung S8 with 3000 mAh battery, an iPad Air 2, and an 8th gen. Kindle book reader.
Results
Pixel 3a XL:   58 minutes to 100% (device indicated 'Rapid charging' on-screen)
Samsung S8:   56 minutes to 100% (device indicated 'Fast charging')
iPad Air 2:   95 minutes to 98% *
Kindle:   2 hours to 100% (normal)
* The iPad has a replacement battery. Since the installation, when using Apple chargers, it has always gotten quickly to 93% then slowly trickles towards 100%.  This is not any fault of the Mkeke charger.
What I like
The stock charger supplied with the Pixel and Samsung were designed to quickly charge the phones.  Other chargers I have produce a slower charge.  It was good to see the Mkeke charger delivered fast charging to both phones.  The charger barely warmed when charging the phones. It warmed a bit more when charging the iPad, but our Apple chargers get almost hot when charging.  At $12, a well made rapid charger seems a good value.
What I'd change
The USB C port on the charger may limit some interest in the device because buyers will need a cord that terminates with a USB C tip, or will need to spend ten more dollars to obtain a 'USB to USB C' converter plug.
The Amazon details state "Charge your iPhone 12 up to 50% capacity in just 30 minutes with the original cable."  I have neither an iPhone 12 nor its original cable, so, all I can say is 'maybe'.

Final thoughts
The price is right for this solidly built quick charger from Mkeke.  It simply worked as advertised, and that's what a buyer expects.  The User Manual (card) warned "Naked flame sources such as candles must not be placed on the product."  I do not normally put candles on my chargers, so in this case, I happily complied.   The QR code took me to the registration site and I tried to register for the warranty but an Amazon order number was necessary so I backed out of the process.
I can recommend the Mkeke charger if you need a standard or speed charger for a very fair price.
Price: $9.99
Where to buy: Amazon
Source: The sample for this review was provided by Mkeke.