We use affiliate links. If you buy something through the links on this page, we may earn a commission at no cost to you. Learn more.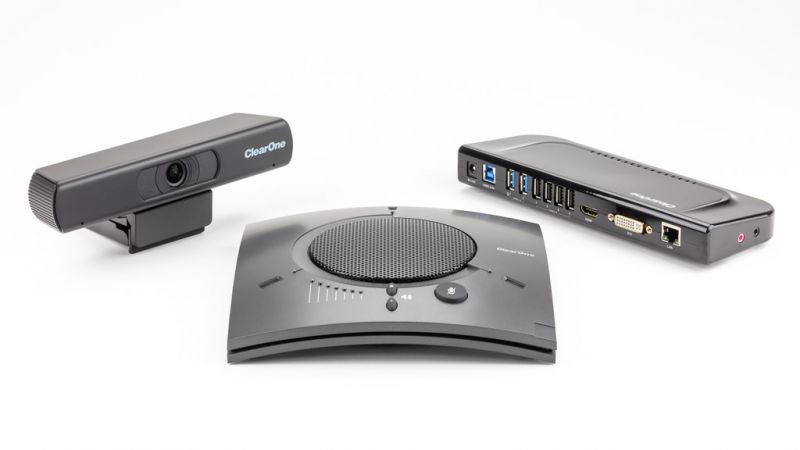 REVIEW – With more people working from home nowadays, audio and video meetings have become commonplace. Being no stranger to the video meeting, I jumped at the chance to review the ClearOne Aura Versa 50 camera, hub, and speakerphone system.
What is it?
The ClearOne Aura Versa 50 is a plug-and-play system that includes the UNITE 50 4K ePTZ Camera, CHAT 150 USB Speakerphone, and the Versa USB Hub.
What's in the box?
UNITE 50 4K ePTZ Camera
CHAT 150 USB Speakerphone
Versa USB Hub
USB Cables
Quick Start Guides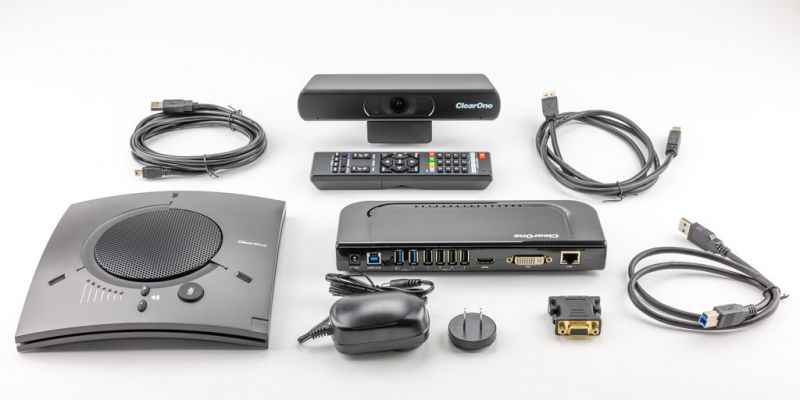 Hardware specs
UNITE 50 4K ePTZ Camera
VIDEO FORMATS: 4K30, 1080p30, 1080p25, 720p30, 720p25, 960x540p30, 960x540p25, 640x360p30, 640x360p25, etc. 

4K: down-compatible with 1080p30 and 720p 

Sensor: 1/2.5'', CMOS, Effective pixel: 8.29M 

Scanning mode: Progressive 

Lens: Focus: f=2.8 mm, FOV: 120° 

Minimal illumination: 0.05 Lux @ (F1.8, AGC ON) 

Shutter: 1/30 s – 1/10000 s 

White balance: auto, indoor, outdoor, One-push, manual 

Backlight compensation: Supported 

Digital Noise Reduction: 2D & 3D  

Horizontal angle of view: Wide-angle up to 120° 

Electronic Pan Tilt Zoom

Built-in microphone array 

USB interface: 1xUSB 3.0: Type B, female
CHAT 150 USB Speakerphone
Speaker: Bandwidth: 190 Hz – 20 kHz, Max output level: 85 dB SPL @ 1 meter 

Microphone: Bandwidth: 100 Hz – 12 kHz, Full-Duplex Acoustic Echo Cancellation (AEC)

Noise Cancellation (NC) 

Automatic Level Control (ALC)

USB Mini B port Version 2.0 compatible

Keyed RJ-45 (8 conductor)

USB-powered
Versa USB Hub
Ports: – 1x USB 3.0 (Type-B) for laptop (Requires Display Link driver on laptop)

2x USB 3.0 (Type-A) for UNITE camera & CHAT Speakerphone

4x USB 2.0 ports

1x HDMI out

1x DVI out 
Design and features
I've worked from home for over 20 years. I've had many webcams and even wrote some video chat software. Over the last few years, I started having daily video meetings with the rest of my team. I'm no stranger to low-quality cameras and microphones.
Before Coronavirus, only around 7% of U.S. workers worked from home, whereas that number is now much higher, with 29% working from home at least three days per week, and 21% working five days per week from home. Many companies are now embracing the work from home method. The bank that my wife works for even saw a large increase in productivity. 
The ClearOne Aura Versa 50 is a suite that includes the UNITE 50 4K ePTZ Camera, CHAT 150 USB Speakerphone, and the Versa USB Hub. This suite of audio and video peripherals provide a high-quality means of communicating from your home office or workspace.
The Camera
The ClearOne Aura Versa 50 suite's first item is the UNITE 50 4K ePTZ Camera, which provides an ultra-wide 120-degree view in 720p, 1080p, or 4K. The camera is a bit large, but its width also contributes to providing distance between its microphones, which are also used for noise reduction.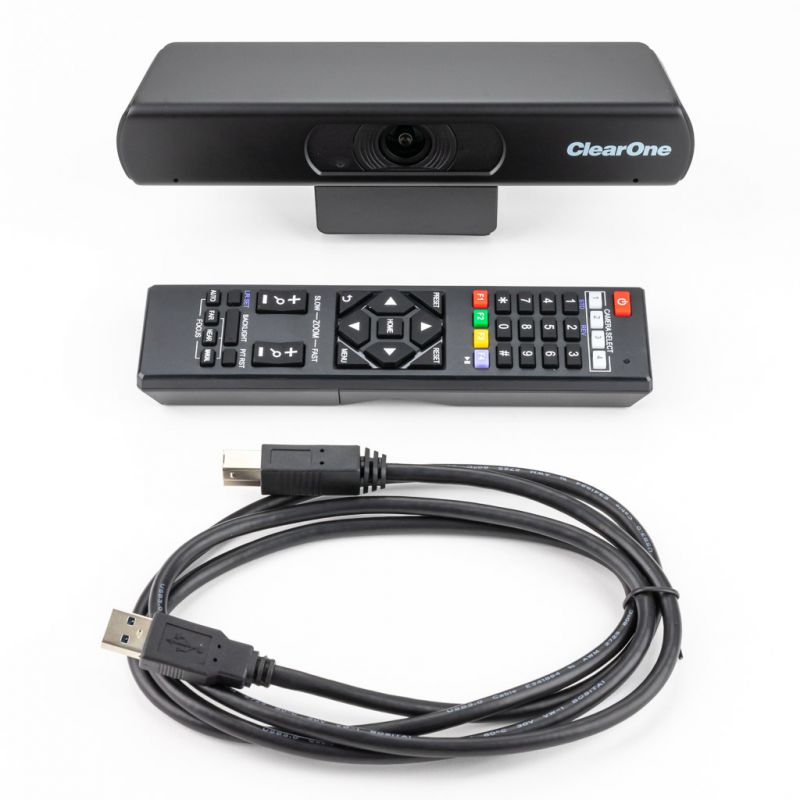 The image from the 1/2.5″ sensor provides an impeccable image regardless of the resolution selected. The ultra-wide 120-degree field of view is quite a bit wider than most webcams, which is advantageous when used in an office setting where you may have more than one person, such as at a conference table.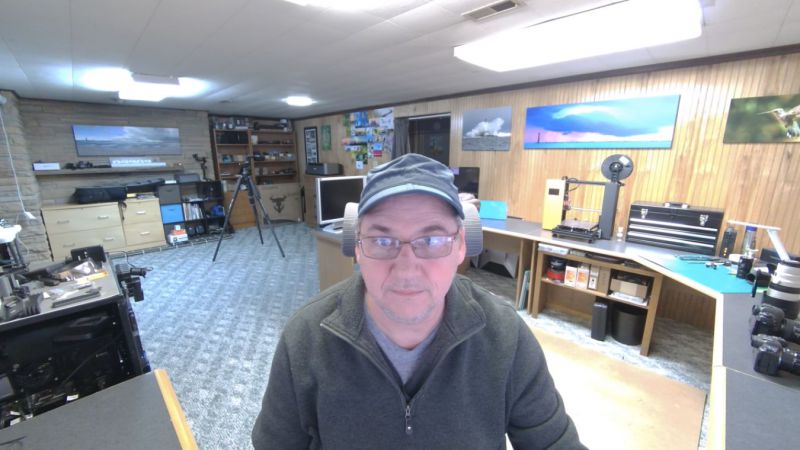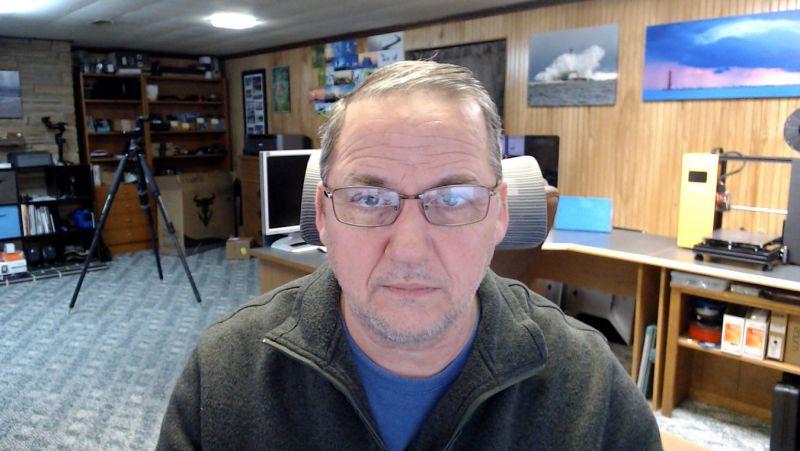 The UNITE 50 4K ePTZ Camera also comes with a remote. The remote allows for many different functions. The most useful of those functions is the ability to pan and zoom. If you don't like the camera view being as wide as the default, you can just zoom in to your liking.
The Speakerphone
Pairing the CHAT 150 USB Speakerphone with the camera provides for an incredible audio and video experience. If you've ever had feedback while on a video call you'll know what I mean. The CHAT 150 USB Speakerphone can be used with unified communications, Web collaboration, instant messaging, and any other applications requiring high-quality full-duplex audio.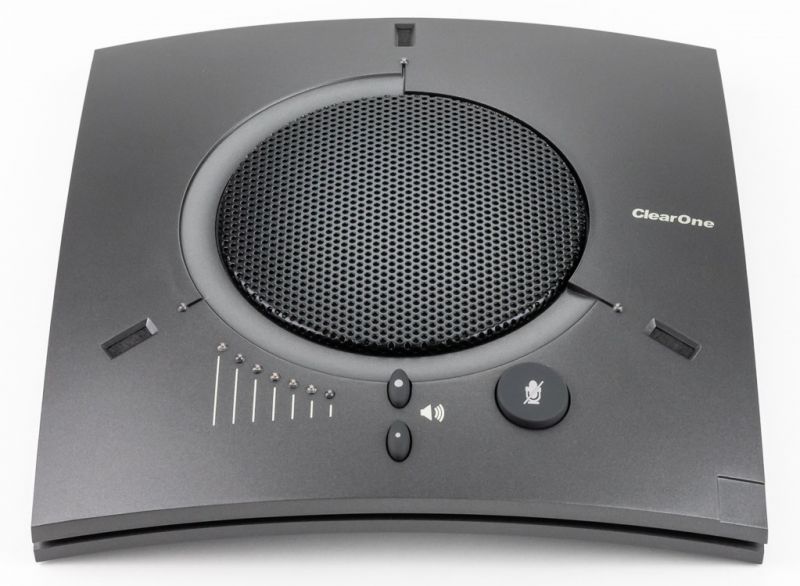 Three microphones provide for use in an office setting where people may be sitting around a table. First-mic priority intelligently activates only the microphone closest to the person speaking, preventing the amplification of ambient noise and room reflections. 
The daisy-chainable design of the CHAT 150 USB means that it can expand up to two complete speakerphones to cover medium-sized rooms.
The CHAT 150 USB Speakerphone includes distributed Echo Cancellation and noise cancellation technology. Combined with full-duplex performance and automatic level controls, your conference calls will sound natural and free of noise distractions.
With only a mute button and volume buttons, the CHAT 150 USB Speakerphone is easy to operate. Bright red LED's indicate that the speakerphone is muted, so there's no forgetting that you're muted or wondering if you are.
The Versa USB Hub
The Versa USB Hub is included in the ClearOne Aura Versa 50 suite but is only required if you don't have enough USB 3.0 ports on your computer or if you want to use the display output for additional monitors in your office or meeting room.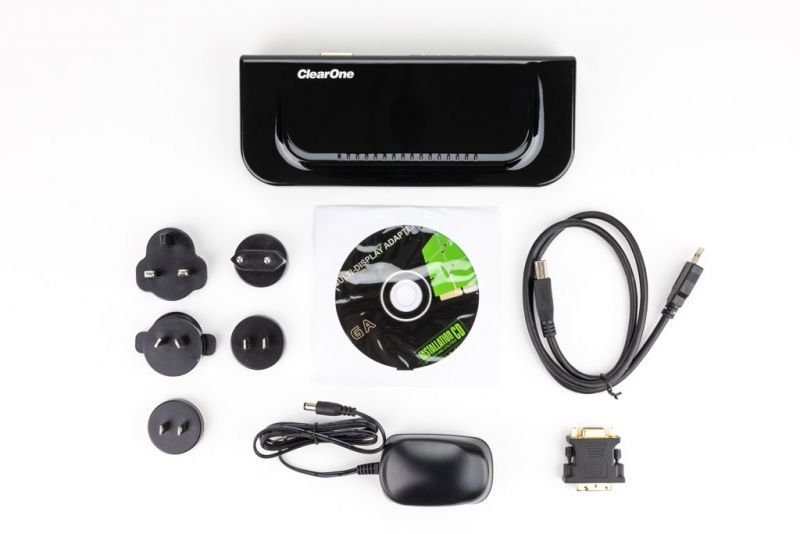 The hub features two USB 3.0 ports, four USB 2.0 ports, HDMI and DVI-I video ports, and a Gigabit Ethernet port. The display ports support resolutions up to 2048 x 1152. On the side of the hub is an audio mic port and a line-out port.
The hub also enables you to have a single USB connection to your computer when the camera and speakerphone are connected to the hub. Using the hub can make cable management much easier.
One of the hub's USB 3.0 ports is also capable of smartphone charging.
FREE COLLABORATE® Space lifetime subscription
These also come with a free lifetime subscription to COLLABORATE® Space — ClearOne's high quality, award-winning cloud-based video collaboration application.
I did find the COLLABORATE Space application to be pretty nice. I liked that the files you send and receive are accessible from the Storage & Data section of the settings; there's no need to search through chats to find them.
The one minor thing that I did find that I think needs to be improved with the chat is that when you send a file and type text to go along with it, the chat text shows up, but there's no indication that a file is being downloaded until it shows up.
The ClearOne camera and speakerphone are compatible with popular applications such as COLLABORATE Space, Microsoft Teams, WebEx, Zoom, Google Meet, and more.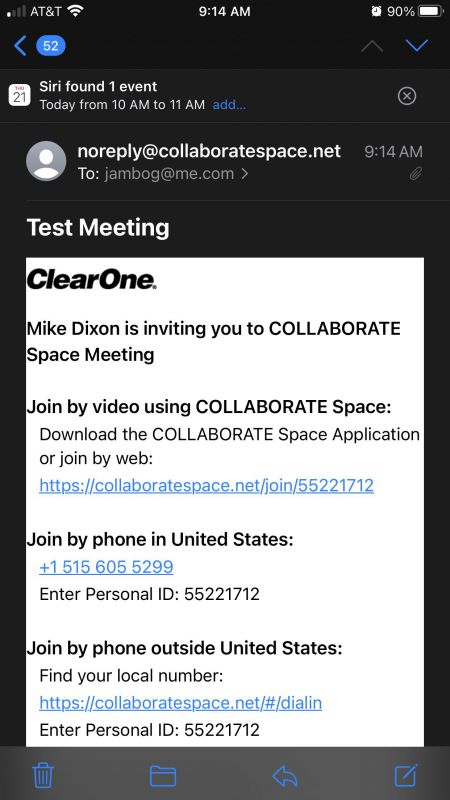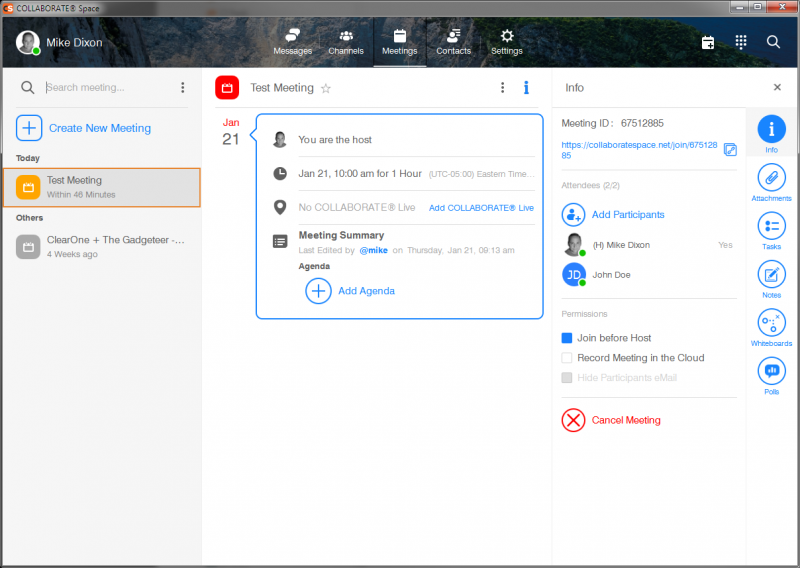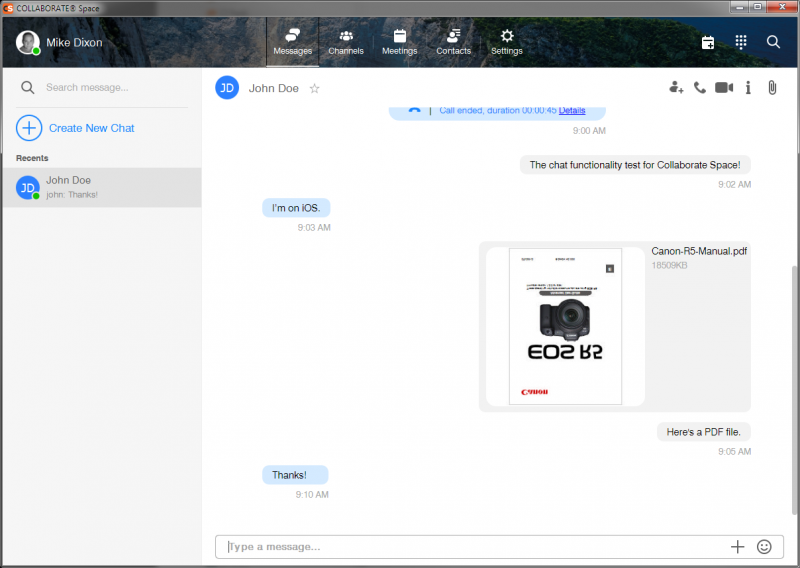 What I like
Quality of hardware
Quality of audio and video
What I'd change
COLLABORATE Space should indicate that a file is being uploaded
Final thoughts
The ClearOne Aura Versa 50 camera, hub, and speakerphone system is a top-notch solution for professionals working at home or those that want excellent audio and video communications.
Price: $1,110.55 (Camera, speakerphone, and hub also available separately)
Where to buy: ClearOne
Source: The sample of this product was provided by ClearOne.