We use affiliate links. If you buy something through the links on this page, we may earn a commission at no cost to you. Learn more.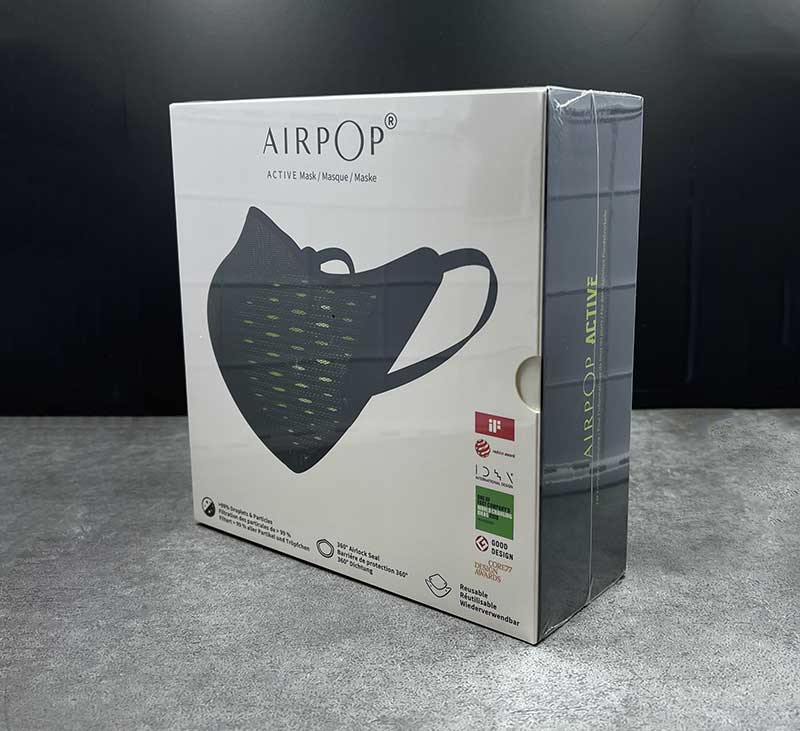 REVIEW – Who could have predicted that we'd need to/should be wearing a mask whenever we venture from our homes? Well, here we are. Thanks COVID. I don't know about you, but I have a lot of problems getting a mask that fits well and doesn't fog my glasses. That's why I was interested in testing the AirPop Active mask when it was offered to me. Let's take a closer look.
What is it?
The AirPop Active is a reusable mask with replaceable filters that has been designed to help protect you and others from transmitting viruses like COVID-19 and for protection against pollutants.
What's in the box?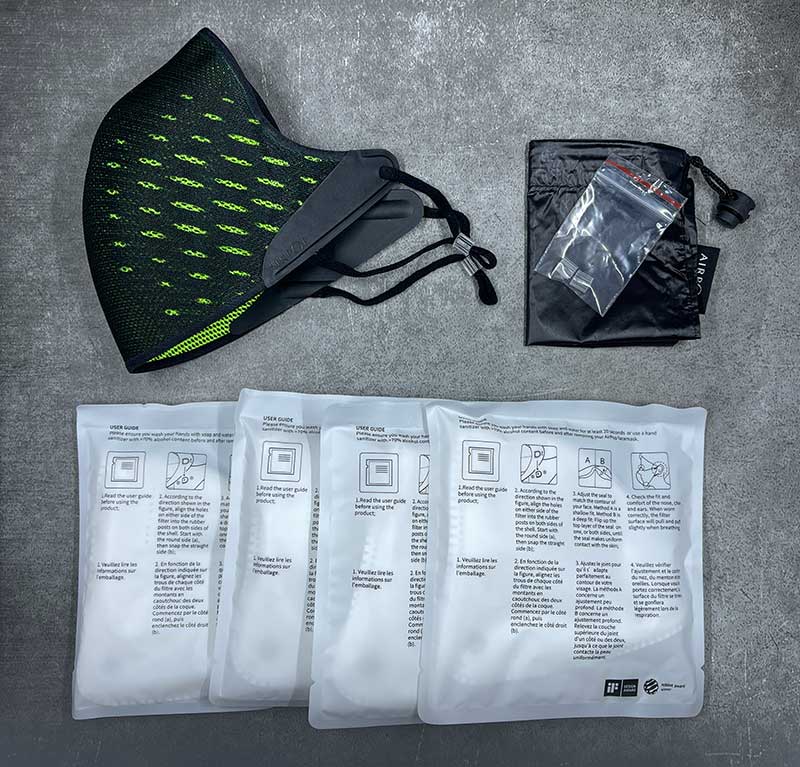 AirPop mask
4 filters
Pouch
Strap adjusters
Design and features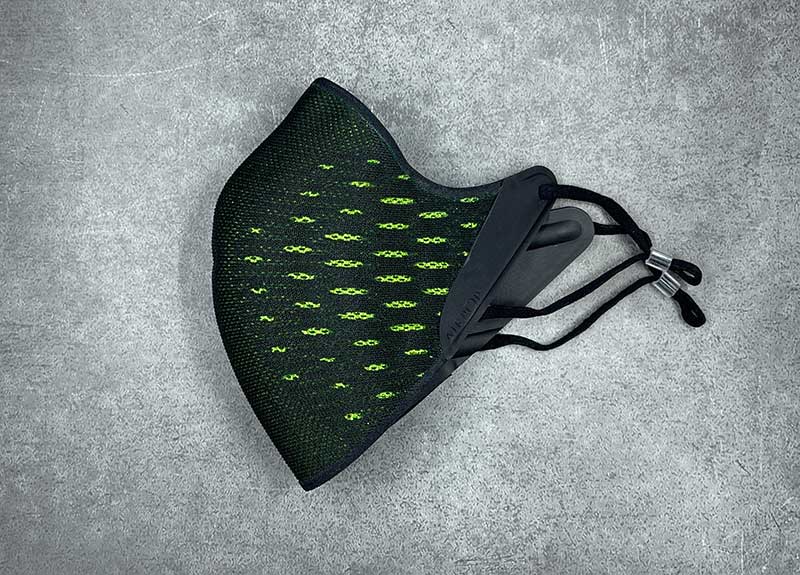 The Airpop Active mask is made of jacquard knit, polyester, PP, and TPE and features a contoured fit folding design and is available in three colors and a one size fits all for adults. The main color of the mask black, with the contrasting color showing through small holes in the mesh covering.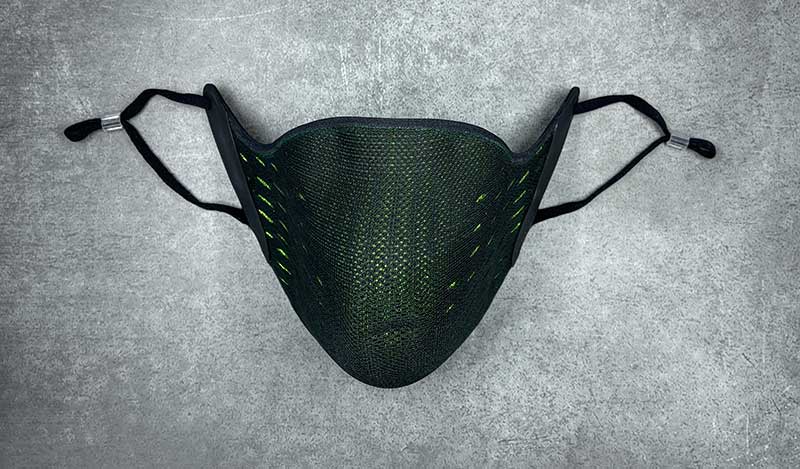 The mask is very lightweight and has some rigidity to it to form a cup-like shape (is it just me, or does it look like a… ok, nevermind) that helps provide room to breathe/talk while wearing the mask.
It has elastic loops that go over your ears and there are small size adjusters on these loops to help customize the fit.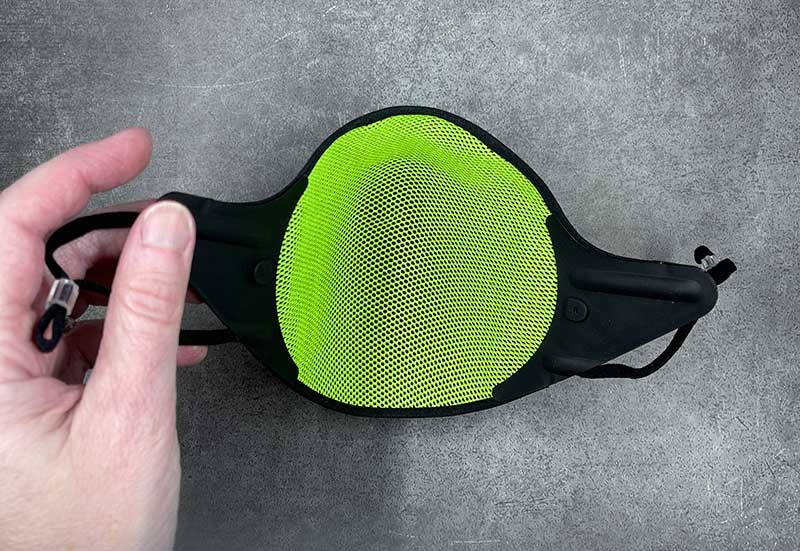 The interior of the mask is made of what Airpop calls "airknit". This material has moisture-wicking properties and there are flaps that fit against the sides of your face.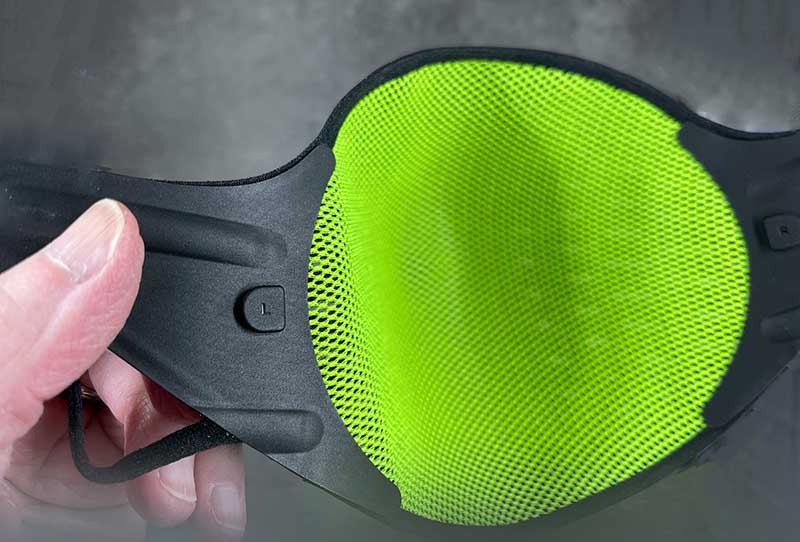 Each flap has a tab for the included replaceable filters that provide 4 layers of protection. According to Airpop's website, this mask has 99.3% particle filtration (PFE) and 99.9% bacterial filtration (BFE) plus fluid resistance. Exceeds Community face coverings CWA 17553:2020 guidelines.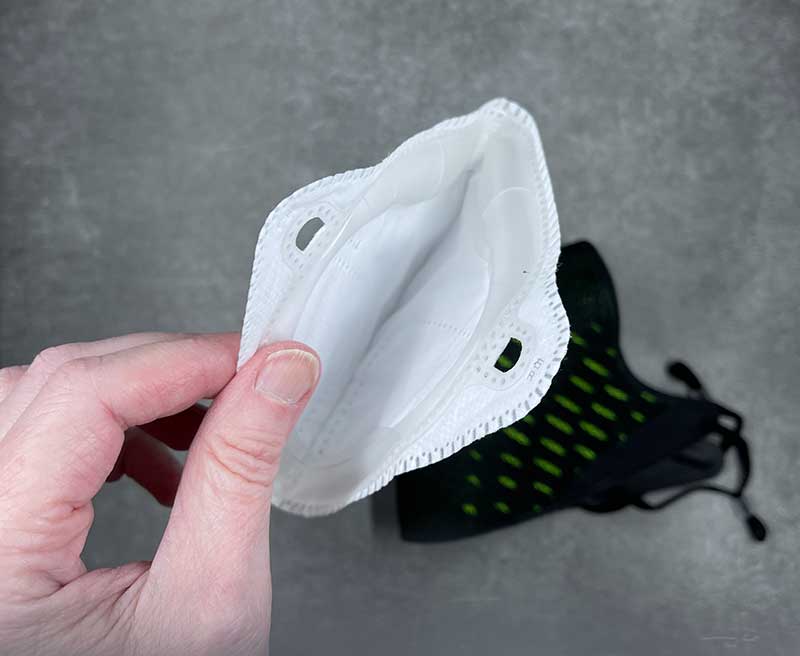 The filters are individually packaged and provide up to 40hrs of use before you should replace them.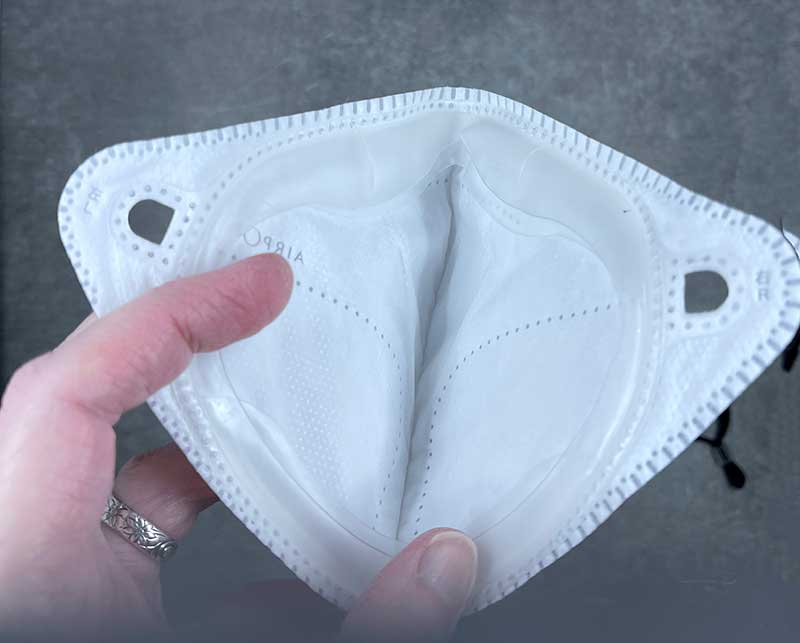 Inside the filter is a soft/flexible silicone seal that is designed to provide a 360-degree airlock around your nose and mouth.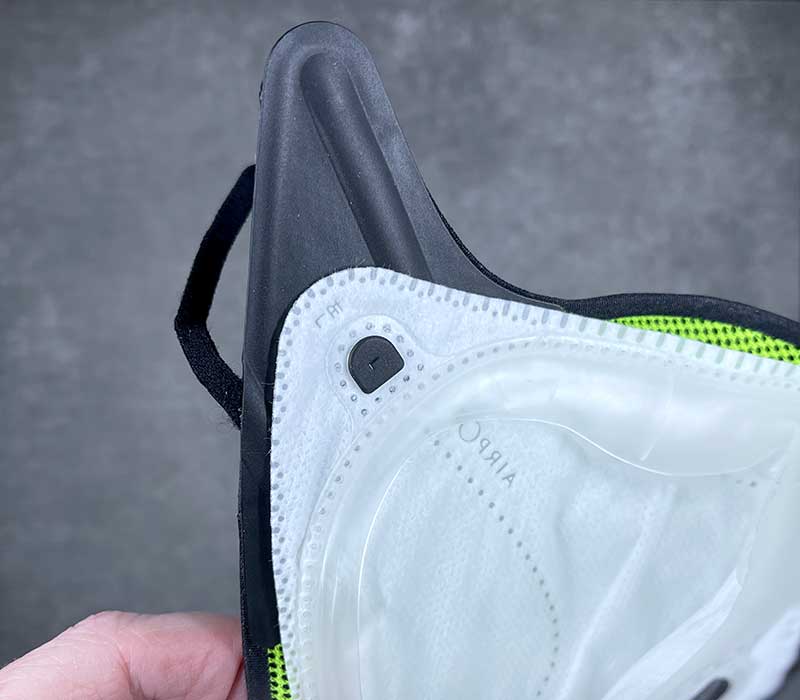 Attaching the filter to the interior of the mask is quick and easy.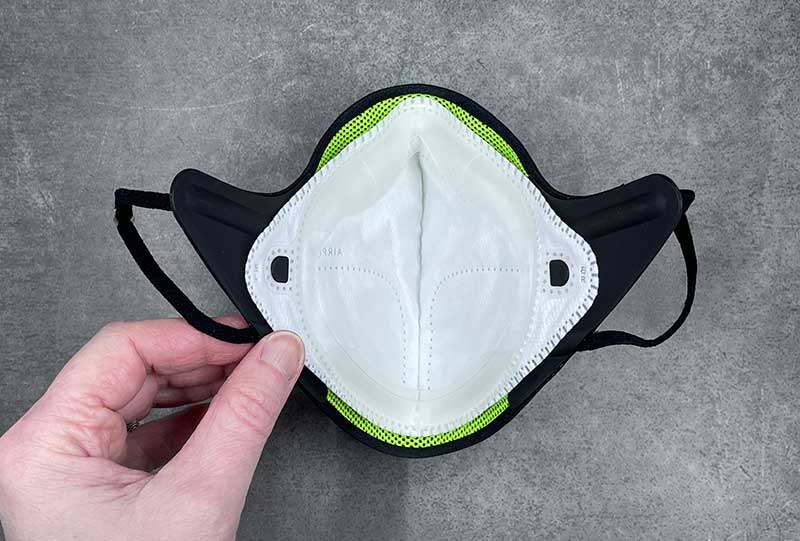 Here we see the mask is ready for use. Now to put it on…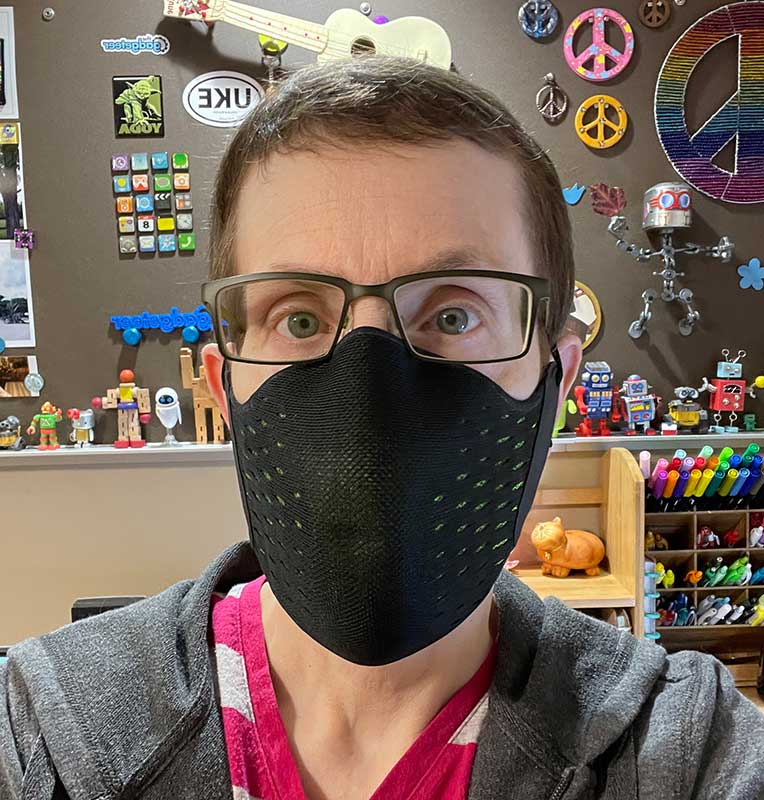 I like that the mask fits around the bridge of my nose so that my breath doesn't fog my glasses. So score 1 for Airpop.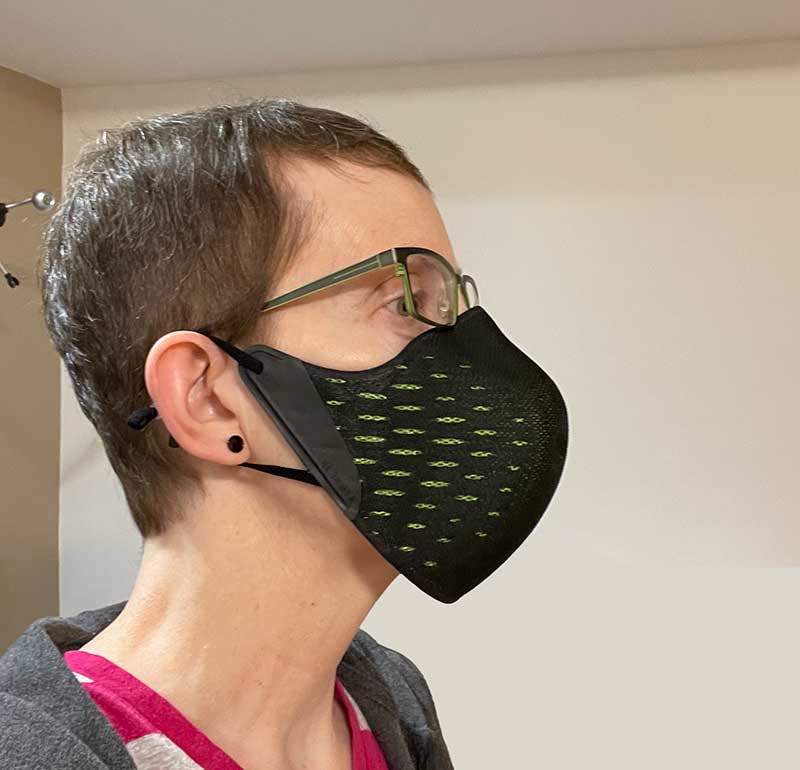 In the image above, it appears that the fit around the bottom of my chin is extremely gappy which would not be a good thing. Even I thought this mask was a no go for me just from seeing the picture. BUT, the special filter inside the Airpop mask with the 360-degree silicone seal is actually sealing that "gap" – you just can't see it. I won't say that the seal is 100%, but it's close. The problem with me is that I have a small head/face. But having said that, I would say that this mask seals much better than many other masks that I've tried so far. I just wish it didn't look so HUGE. And is it just me, or are you also getting a Hannibal Lector vibe…
What I like
Easily replaceable 4 layer filters
Includes adjustable ear straps
The shape allows for easier breathing that most masks I've tried
What I'd change
Too expensive for the mask itself and extra filters
Final thoughts
To me, the best parts of the Airpop Active mask is the filter with the 360-degree seal and the shape that makes it easier to breathe and talk. On the other hand, the biggest problem I have with the Airpop mask is the price. Most people are not going to spend $55.99 for a mask and then an additional $19.99 for a package of replacement filters when they can buy a box of 25 KN95 masks for less than $40 from Amazon. I understand that the Airpop masks look more stylish than KN95 masks, but the price is a big issue for me. I think you're just paying for an expensive stylish cover over the "real" protective mask/filter.
Price: $55.99 for the mask, $19.99 for a pack of 4 filters
Where to buy: Airpop and Amazon
Source: The sample for this review was provided by Airpop.