We use affiliate links. If you buy something through the links on this page, we may earn a commission at no cost to you. Learn more.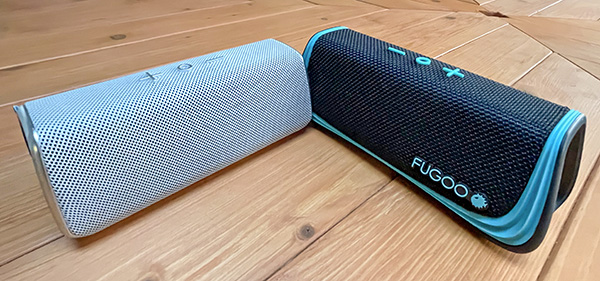 REVIEW – Way back in 2014, I was introduced to Fugoo, a new Bluetooth speaker maker named after a Japanese blowfish. The portable Bluetooth speaker market was smaller than it is today—and with a few exceptions, the audio quality was not as good. It's now 2021 and boy, have things changed. Speakers have gotten cheaper, they're better made and they (usually) sound better. This brings us full circle back to where it began—the original Fugoo speaker lineup: Fugoo Style, Fugoo Sport, and Fugoo Tough—now in 2.0 versions. Are the Fugoo 2.0 speakers better than their 2014 ancestors? Yes and no.  

What is it?
The Fugoo 2.0 portable Bluetooth speakers are revised and updated versions of the three original Fugoo speakers. Although they look identical to the originals, there are some significant changes to the specs, performance, and prices.

In the Box
2.0 Bluetooth speaker
USB charging cable
Start-up guide

Specs:
Five acoustic drivers
Frequency response: 60Hz – 20KHz
10 hours continuous play at 50% loudness
Lithium-ion rechargeable battery
3.5 hours to fully recharge
Bluetooth 5.0 33 ft. range
3.5mm stereo input for wired connection
7.5 in. L x 2.5 in. W x 3 in. D
14.1oz.
Built-in microphone
Wind & background noise reduction with digital signal processor (DSP)

Design and features
The Fugoo 2.0 speakers come in three flavors: Sport, Style, and Tough. Fugoo sent both the Style and Sport model for review. I did not receive the slightly more expensive Tough 2.0 speaker. I tested the Sport and Style both alone and together. I was also able to compare them to the original Fugoo speakers.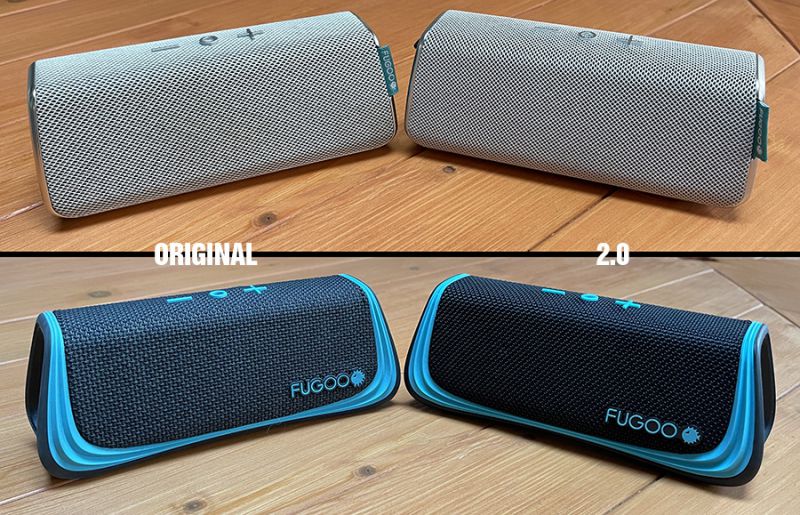 Note that almost no one who purchases a Fugoo 2.0 speaker will have an original for comparison, but it's interesting to see what changed between the two versions.
Unless you have both the original and 2.0 versions of the Fugoo trio of speakers, you'd swear that they are identical—until you look closely. That's where the similarity ends.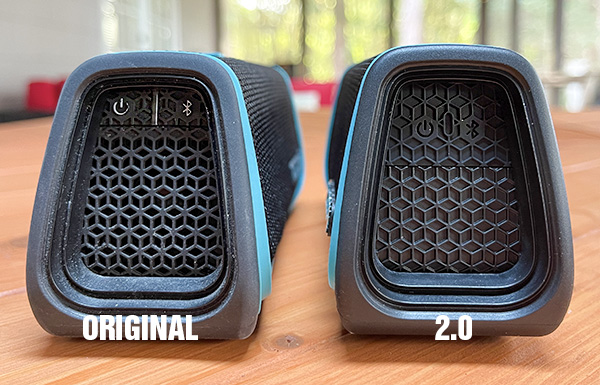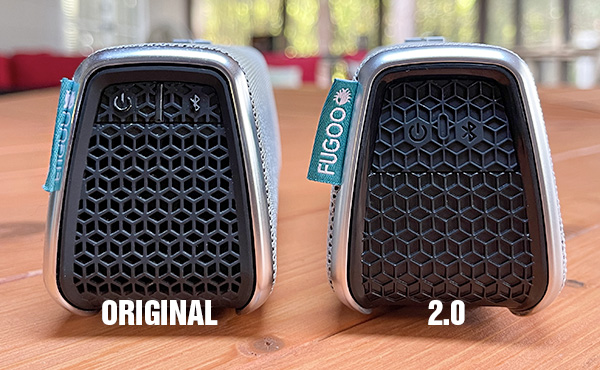 One of the big advantages of the original Fugoo speakers was their quality. They were heavy for their size, solidly built, and had an unheard of 40 hours battery life. You could manhandle the speakers with little worry about them breaking. Heck, I shoved them into the mud, threw them into the salty Cocoa Beach surf, and dropped them repeatedly during use. All three speakers still work as well as when they were new. Pretty impressive for a (then) new speaker maker. 
Despite those advantages, the original speakers were prohibitively expensive for their small size. Flash forward to 2020 and Fugoo took what they learned and adapted the speakers to a more cost-conscience time. In fact, the 2.0 versions are less than half the cost of the originals—but not without some serious compromises.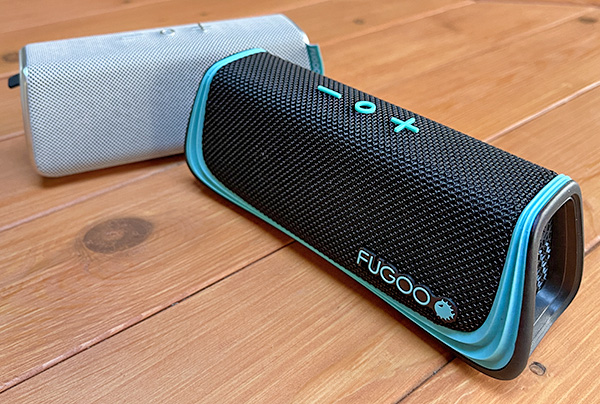 Let's start with the good stuff: The 2.0 speakers are IP67 waterproof rated at 3 feet underwater for 30 minutes. They float, so if dropped into deep water, the speaker won't sink to the bottom. Unlike the original, the 2.0 ports are protected from water intrusion with a thick, rubberized cap. Bluetooth has been upgraded to 5.0.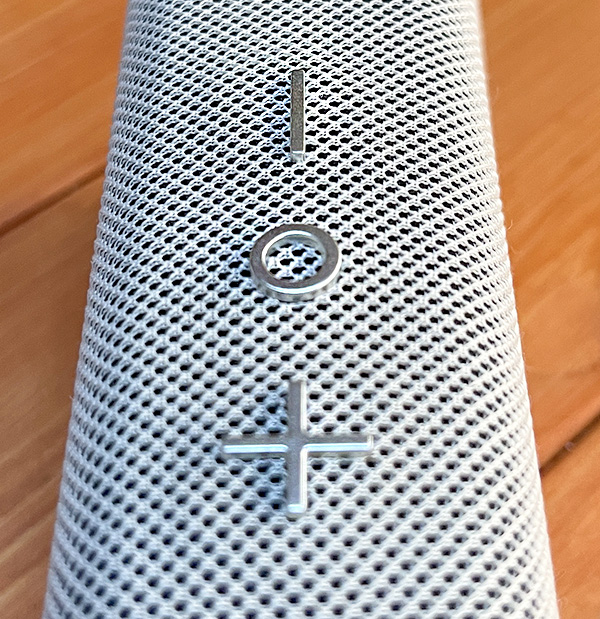 Fugoo claims that each 2.0 speaker is "Loud as Hell" (their words). While each speaker can get loud, I wouldn't go that far in the volume description—until you pair two speakers together. Then, the volume increases exponentially and they become as loud as "you-know-what". I only clicked the volume up button 4 times on each speaker and it was plenty loud for my ears. Impressive. 
Note that the dual speaker pairing is not true left/right stereo.
The speakers can double as speaker-phones with their built-in mics. I only tried this feature once. As with most other Bluetooth speakers with mic functions, the person I talked with said I sounded bad on their end. This is why I never use my Bluetooth speakers for making calls.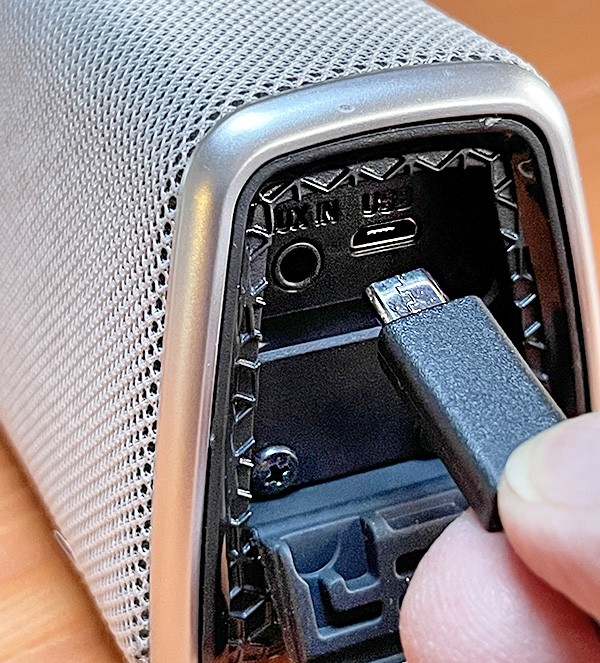 Now the not-so-good stuff: To save weight and costs, battery life has dropped from 40 hours to 10 hours (12 for the Tough 2.0 speaker)—a huge drop. Charging is via the ancient Micro USB, not the newer (and much faster) USB-C.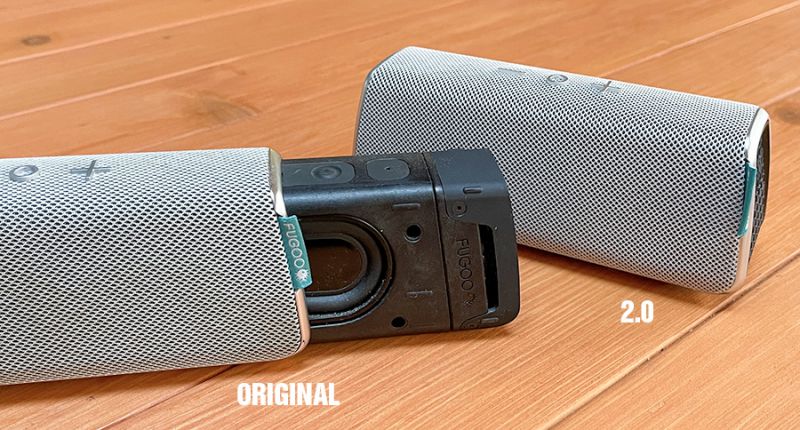 Each 2.0 speaker is one piece instead of inter-changeable. See, one of the unique features of the original Fugoo speakers was the ability to swap "shells". A sport, Style or Tough model could become a different one just by sliding the inner speaker from one shell and inserting it into another shell design. It was all very clever—and probably ignored, because it was even more expensive to buy an additional shell. So as cool as it was, Fugoo killed that feature. 
Because of their reduced weight (smaller battery, probably), the 2.0 speakers don't feel as substantial as the originals. However, because of the weight reduction, they are much easier to carry around. As I said; compromises were made.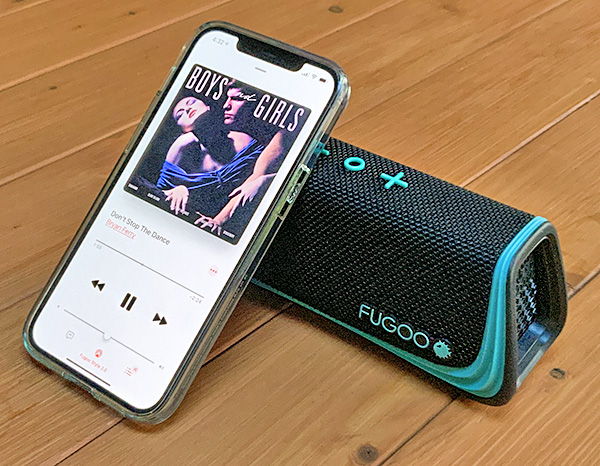 While Fugoo states that the 2.0 speakers are 20% louder, that doesn't equate to 20% better. I placed the original Style speaker next to the 2.0 version for a direct comparison. Was it 20% louder? I don't have a decimal meter, so my observations are anecdotal, at best. And no, I wouldn't say it was louder. However,  when playing a 125 Hz tone at full volume, the original Fugoo speaker buzzed and rattled all over the place. The signal sounded smooth and pure with the 2.0 speaker—no distortion. Note that when I lowered the tone down to 80 Hz, there was some buzzing and clipping, but that was an extreme (and not fair) test on these small speakers. It did show that the newer 2.0 versions are an audio improvement over the original speakers. Except …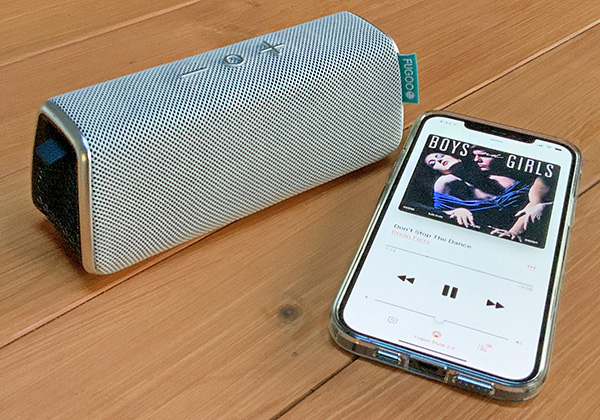 I played a variety of songs and genres over the speakers and noticed that despite the big differences shown in the tone tests, some songs sounded better on the original speakers and some sounded better on the 2.0 speakers. The original speakers tended to sound fuller and exhibited more bass than the 2.0 speakers. The newer speakers had more life and clarity in the audio, especially in the vocal ranges and higher frequencies. Bass was tamer with the 2.0 speakers—sometimes too tame—depending on the song. Despite these reservations, I would choose the 2.0 speakers over the original—every time.

What I like
Much less expensive than the original Fugoo speaker
Good sound for this size speaker
Much louder when two speakers paired together
It's waterproof and floats
Protected ports

What I'd change
No true left/right stereo when two speakers paired together
Much shorter battery life compared to original
No USB-C charging

Final Thoughts
Although I understand Fugoo's reasons, the 2.0 speakers are two steps forward and one step backward. Yes, they sound better, are much more affordable, and can now pair together, but you'll be plugging them in way more often to recharge.
Price: $69.99 (Style); $79.99 (Sport); $89.99 (Tough)
Where to buy: Amazon
Source: The sample of this product was provided by Fugoo.