We use affiliate links. If you buy something through the links on this page, we may earn a commission at no cost to you. Learn more.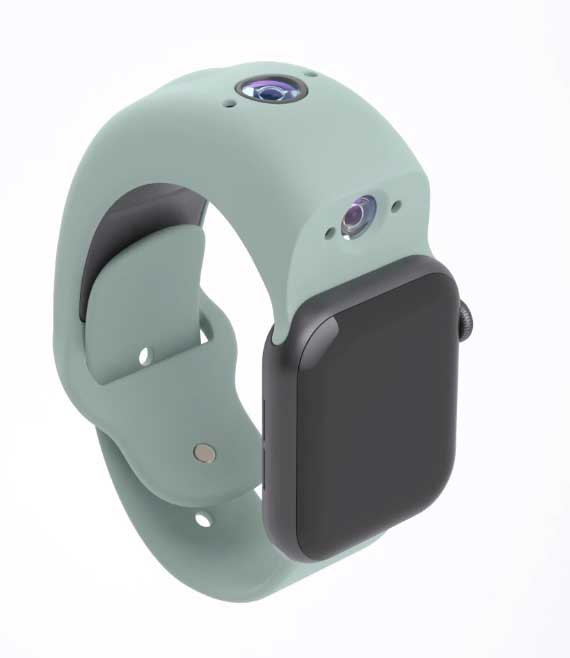 NEWS – I strap my series 6 Apple Watch on my wrist every morning. Even I'm surprised by how quickly it has become my all-time favorite watch. Could it be better? Sure! And one way it could be better is if it had a built-in camera for quick Facetime calls or for live streaming. Until Apple decides to bake that functionality directly into the watch, we have a way to add it to existing Apple Watches. It's Wristcam, a smart band that adds a camera to Apple Watch that features photo capture, video capture, and live-streaming.
Wristcam features:
Interchangeable bands: Wristcam's modular band design makes swapping band styles and colors quick and easy
Watch App: See what each camera sees, snap photos, record videos, review captured moments, and share with friends, all directly from your Apple Watch
Quick Capture: Wristcam includes a quick capture button – Press once to snap a photo; Long press for video; Double-tap to switch cameras
Live Video: Unique live or later video walkie talkie experience lets you video chat in real-time with friends and family, on Apple Watch or iPhone
Instant Sharing: Share photo and video immediately from your wrist, or edit and share later from iPhone
Wristcam specs:
Dual-camera: 8-megapixel world-facing and 2-megapixel self-facing Sony cameras capture high-definition photo and 1080p video
Battery + Storage: With moderate to heavy use, Wristcam's battery lasts all day and the 8GB of built-in memory holds over an hour of video or thousands of photos
Water Resistant: Tested to a depth of 1 meter for up to 30 minutes
Ultra-compact: At just 23 grams, the Wristcam camera is super lightweight
Magnetic charging: USB charging cable seamlessly connects and rapidly charges
The somewhat clunky looking Wristcam is available now for $299. The first batch is sold out, but new orders will be shipping in February so head over to wristcam.com for more info.