We use affiliate links. If you buy something through the links on this page, we may earn a commission at no cost to you. Learn more.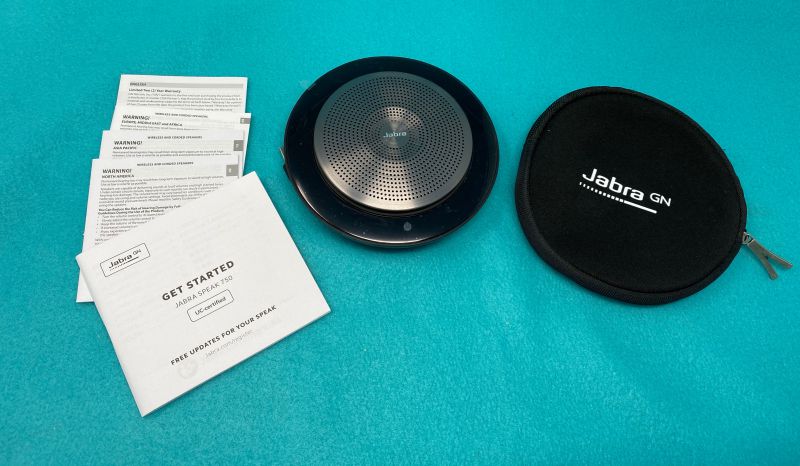 REVIEW – Raise your hand if you're quite over the fact that every meeting and relationship that used to take place in person is now a video-conference. The fuzzy video, poor lighting, and Carl, who can't ever seem to keep his mike muted are grating on everyone's last nerve. (You hear that, Carl!!) Well, one aspect of using your laptop for conferencing is able to be improved on your end – the sound. Jabra has released a new version of their Speak system of teleconferencing speakers, and it's quite nice. Dubbed the Jabra Speak 750, it's a flying saucer-shaped discus that can provide plenty of sound for music, podcasts, or even conversing as a group with far-flung relatives this holiday season. Sadly, you'll hear Carl chewing with his mouth open in all its glory, too. (Frickin' Carl!)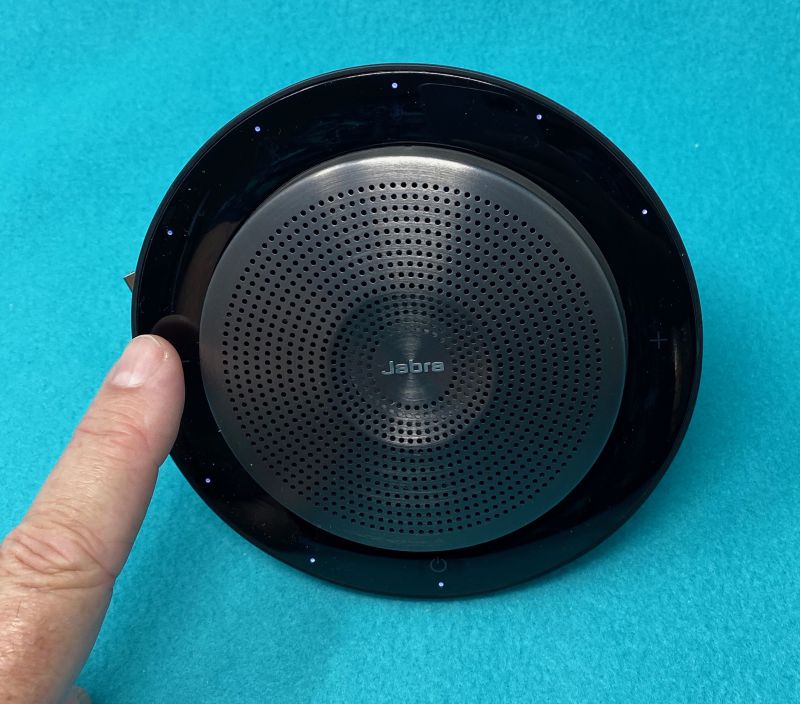 What is it?
A speaker that can connect to BlueTooth that also has a full-duplex microphone and a captive charging cable.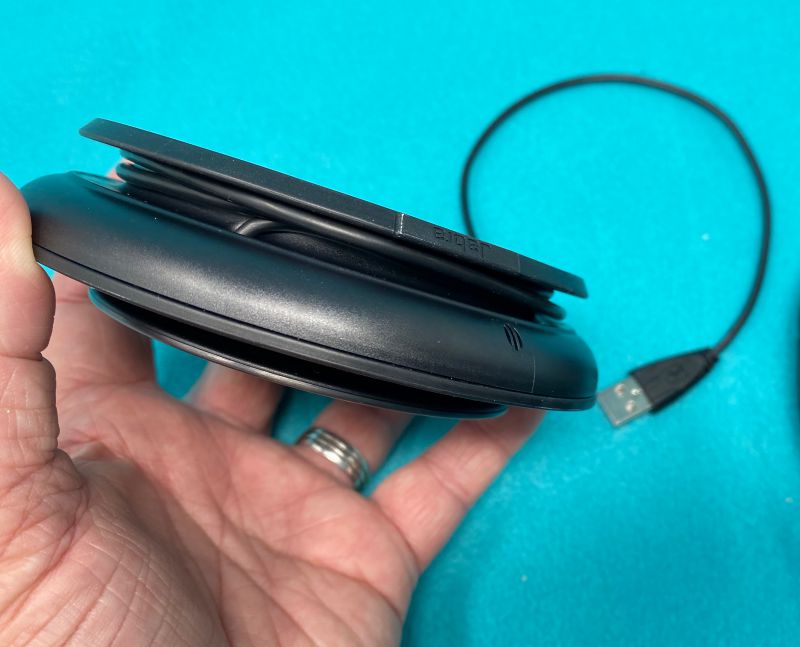 What's in the box?
Speak 750 speaker itself
Neoprene zippered travel cover
Bluetooth USB "dongle" to use with devices that do not have built-in Bluetooth
Paperwork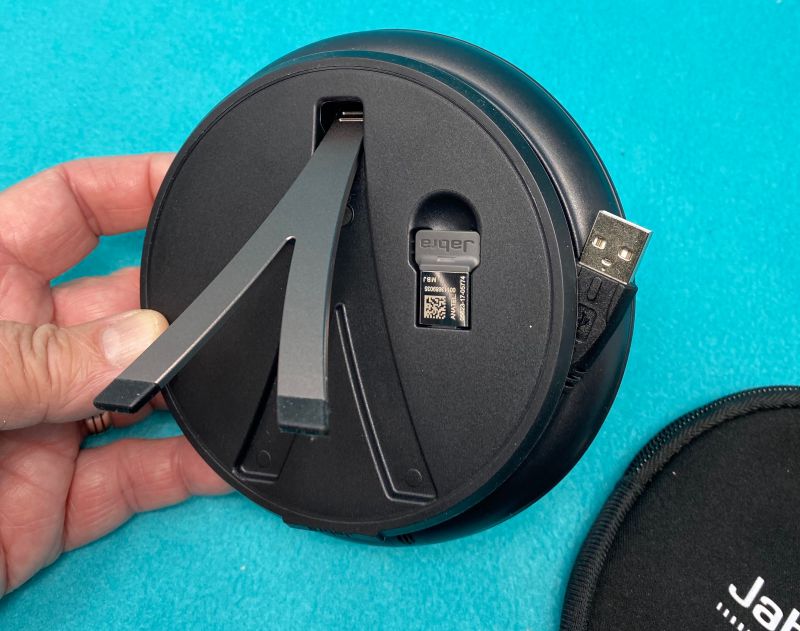 Hardware specs
USB 2.0 & Bluetooth– USB cord ~90 cm
Bluetooth4.2 – BluetoothLow Energy (BTLE)
Wireless range
Up to 30 m/98 ft (between speakerphone and Bluetooth Adapter)
Up to 10 m/32 ft (between speakerphone and smartphone/tablet)
Supported Bluetooth profiles: Headset profile v1.2 , hands free profile v1.6, A2DP v1.2, AVRCP v1.5
Talk time up to 11 hours
PC USB Bluetooth dongle (Jabra Link 370)
USB BT audio device/HID dongle
Charging – USB 5V / 500 mA
Charging time – 3h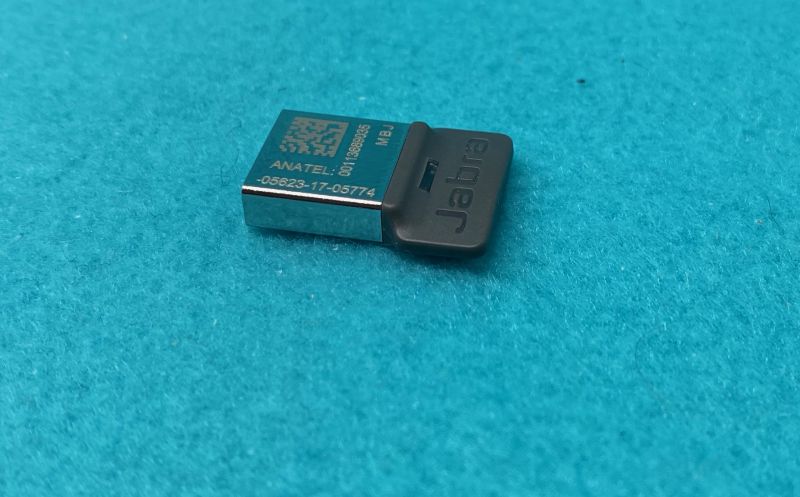 Design and features
Jabra is a well-known name in telecommunications hardware. The Speak 750 follows in a line of similarly designed units that combine speakerphone capability with pleasing visuals and simple solid-state touch controls. (The UFO similarity cannot be downplayed, especially when you turn it on – all the sensor-buttons around the rim light up. I expect it to say "We come in peace" or "Take me to your leader" like something from a 1950's SciFi movie.)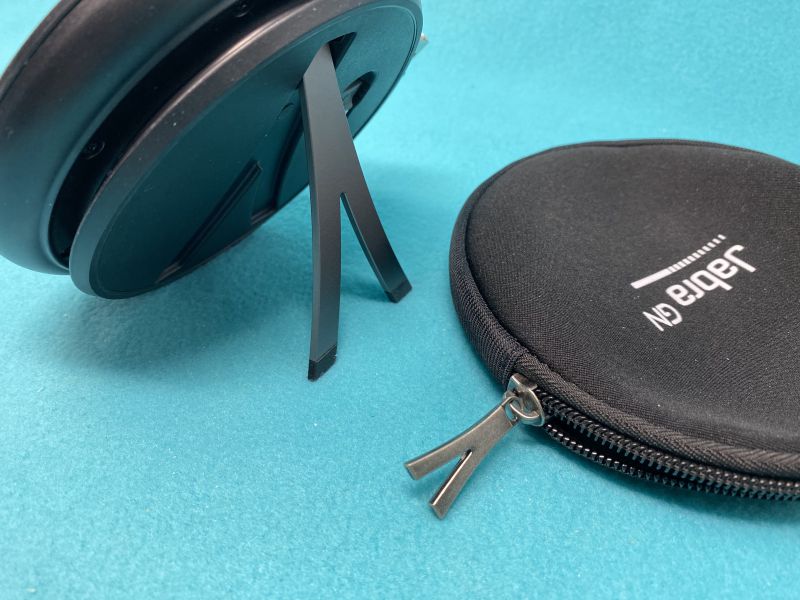 The Speak 750 is a disc 5" in diameter, and about 1.5" thick. The outer edge of the disc has controls spaced around it in an analog clock fashion. At 9 and 3 o'clock positions, there are volume up and down buttons. The 6 o'clock position has the on/off toggle. At 5 and 7 o'clock are the on-hook and off-hook buttons. Bluetooth and battery indicators are at 11 and 1. Twelve pin-point indicators around the rim indicate volume level. When in use, all the indicators time out except the single power-on light at 6 o'clock. As soon as anyone is tapped, all wake up. The unit weighs 10.6 ounces, so it's noticeable, but won't weigh down your travel bag.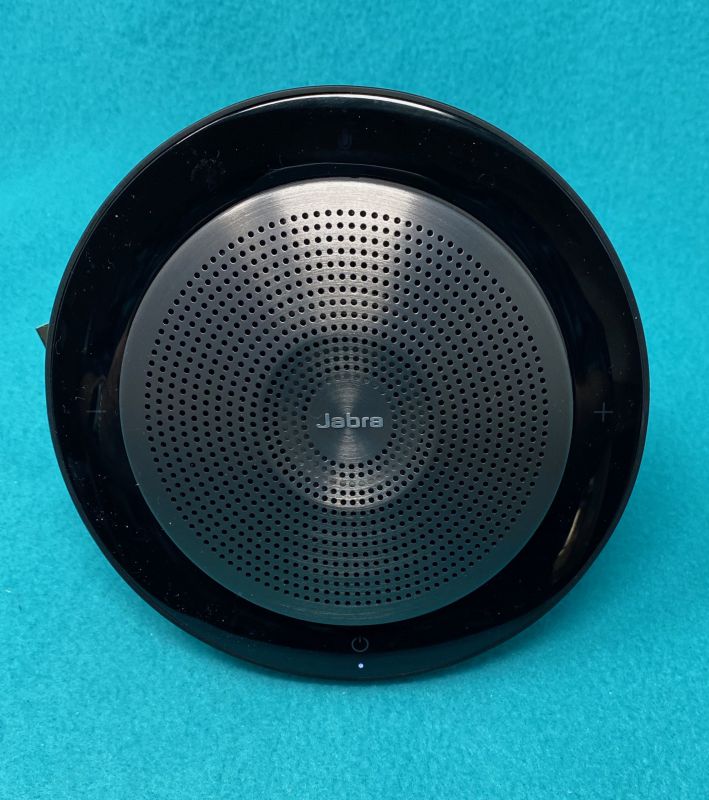 Sound is pleasant and well-modulated, but tends to not have crisp high notes when listening to music. Voice is very nicely done, however, and I suspect, will be the primary reason most folks would get this unit.
The audio is full duplex, which means the speaker and microphone can both operate at the same time. Many portable speaker systems have only half-duplex audio, which may mean you have to wait until someone has stopped talking before you can talk to them. (A polite thing to do, of course, but sometimes in conference calls, there can be overlap. Half-duplex blocks this.)
Setup
Setup is pretty straightforward – charge it with the captive USB cable, turn it on, and tap the Bluetooth icon to put it in pairing mode. (If your device doesn't have Bluetooth, there is a USB-A dongle that snaps into a place in the back for storage. I don't have access to any devices without Bluetooth, so couldn't test this.)
What I like
Linking means a larger soundstage (I assume – could not test)
Easy to pack with travel case
Captive cable means not losing it
What I'd change
Sound is a bit bass-heavy
Make Linking work between models
Final thoughts
Speaker phones on mobile phones are becoming better every generation, but duplex mics are not something most of them have. In conference settings with a computer, especially a laptop, external speakers are usually much better than what folks are generally using. The Jabra Speak gives you both options in a slim package with an attached 35" charging cable and a travel pouch. Easy to set up, hard to leave behind in a hotel room. It's a little pricier than many speakers, but I've never had a Jabra product stop working or break, for what that's worth. Of course, Carl may sound like he's right beside you, which could be a drawback!
Price: $329.00
Where to buy: Jabra, Microsoft, or Amazon
Source: The sample of this product was provided by Jabra.