We use affiliate links. If you buy something through the links on this page, we may earn a commission at no cost to you. Learn more.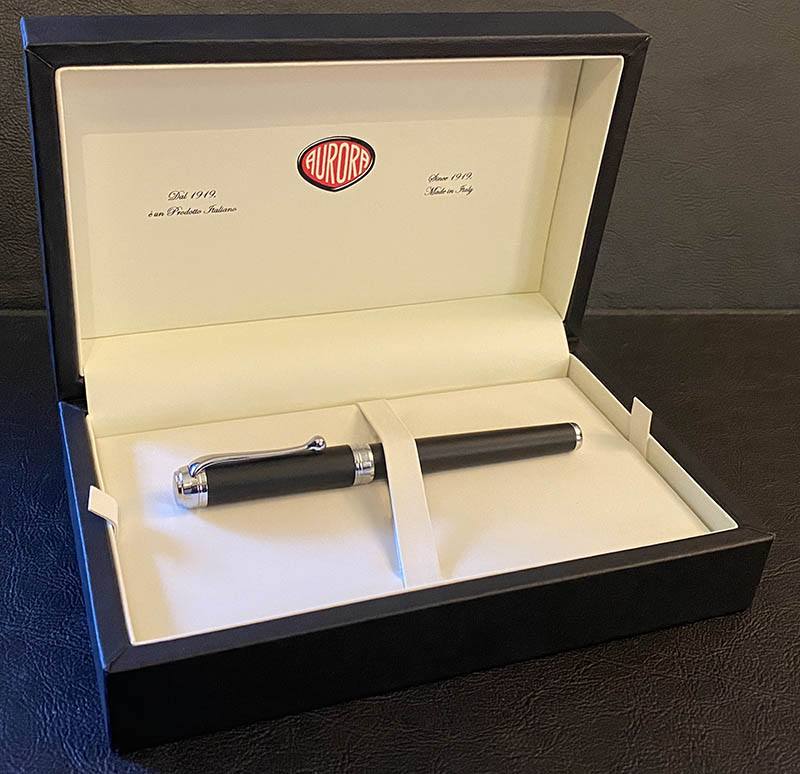 REVIEW – The Aurora Talentum Finesse is the second fountain pen I have ever used. I originally reviewed the Namiki Falcon fountain pen way back in 2013 and to be honest, have only used it occasionally to handwrite a letter or note on special occasions. Really no fault of its own, I really like it and just didn't want to damage it by adding it to my usual gear. Well, the folks at GoldSpot have reached out and offered another fountain pen with a bit of a more modern EDC flare…let's take a look. 
A bit of background: Aurora is an Italian based manufacturer who has been around for over a century and is looking to the future. Keeping their old world craftsmanship while adding a modern design to their creations. The Talentum series of pens is a prime example of this "contemporary balance for the new millennium. Past and future, tradition and innovation blend together in an instrument of modern design and extraordinary technical precision".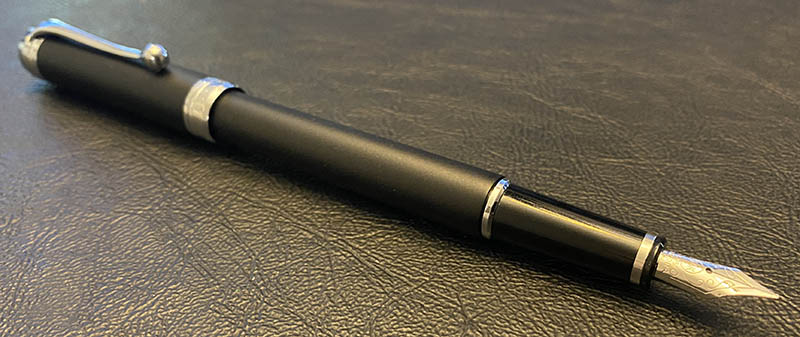 What is it?
The Talentum Finesse in rubber is a very nice, well made fountain pen. The designers at Aurora have done an excellent job creating a sleek and slim writing instrument with modern yet classic lines. The resin barrel is narrow and coated in a soft-touch rubber. The pen has a white gold nib and chrome highlights along the barrel and on the its cap. 
What's in the box?
Talentum Finesse Fountain Pen
Aurora Fountain Pen Screw-In Converter
Fancy gift box
Hardware specs
The Talentum Finesse is a great size and weight. When closed it's 5.25″ long and 0.45″ along the barrel. With the cap off the pen is only 4.6″ and with the cap on the end approximately 6.4″ in total. The pen with cap and full of ink weighs an ounce.

Finish: Black rubber surface over resin barrel
Trim: Polished chrome
Nib: Solid 14k gold
Filling System: cartridges/ converter
Gift boxed
Design and features
As I've stated above, the sleek, slim, minimalistic yet elegant design of the Talentum series is excellent IMO. Aurora has definitely succeeded in combining their old world craftsmanship and classic lines with a more modern look and styling. The matte black rubber finish and high polished chrome look great together.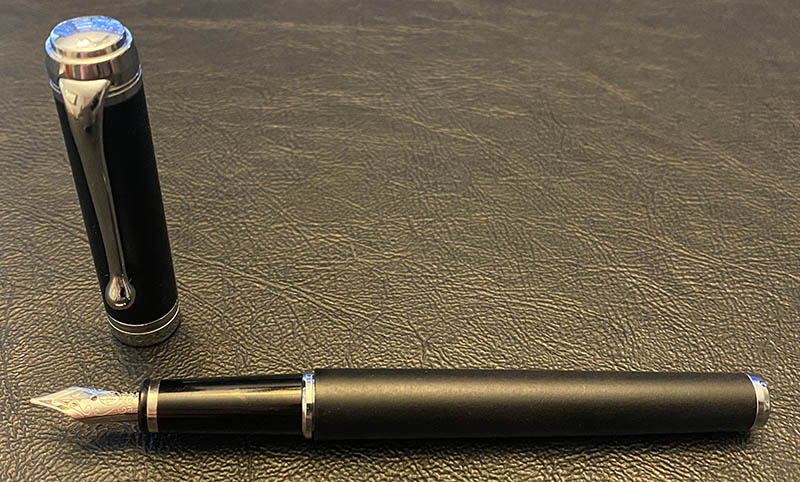 The Aurora Talentum Finesse fountain pen has a very nicely done chrome accented cap that clicks on the front of the pen to protect the nib.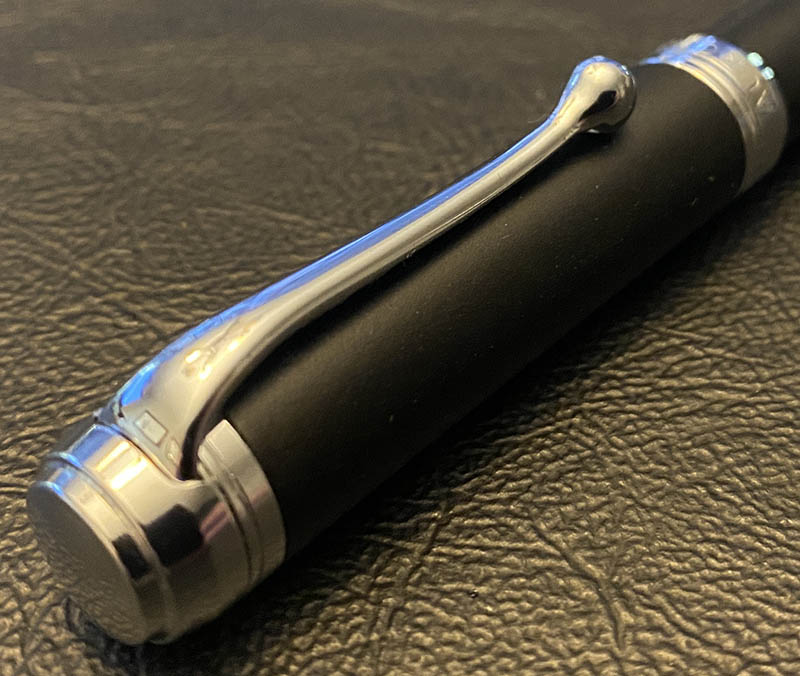 Like the main barrel, the cap is also made from resin with a black rubber coating. Here is a closeup of the chromed curved clip and hardware that all works very well with the handle's dark matte rubber finish. The belt clip is stiff and does a good job of keeping the pen securely in your pocket or EDC bag.

When writing, the cap can be stored/held on the top of the pen.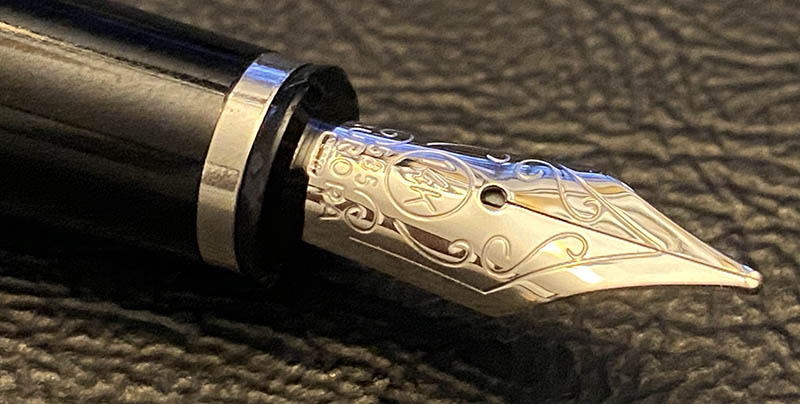 The nib is made from 14k white gold. And as you can see, the nib has finely etched decoration and definitely shines in the light. I received the medium sized nib that is ideal for how I write.
Setup

The Talentum Finesse Rubber "filing system" is compatible with either Aurora's proprietary ink converter or ink cartridge. Aurora includes their ink converter but you'll need to order the cartridges separately costing approximately $10 for 5 in a box.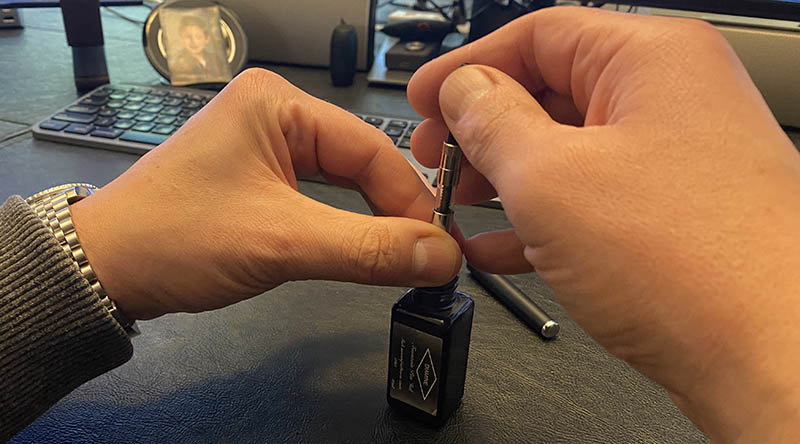 The ink reservoir you see here is a piston converter, where you pull the ink from a bottle via vacuum. Since I have not done this often, filling the reservoir can be a little bit messy, but not horribly so. Let's just say the first attempt involved a few paper towels. Though I believe I have the process figured out. I have also ordered a box of Aurora's ink cartridges to tryout as well. 
Performance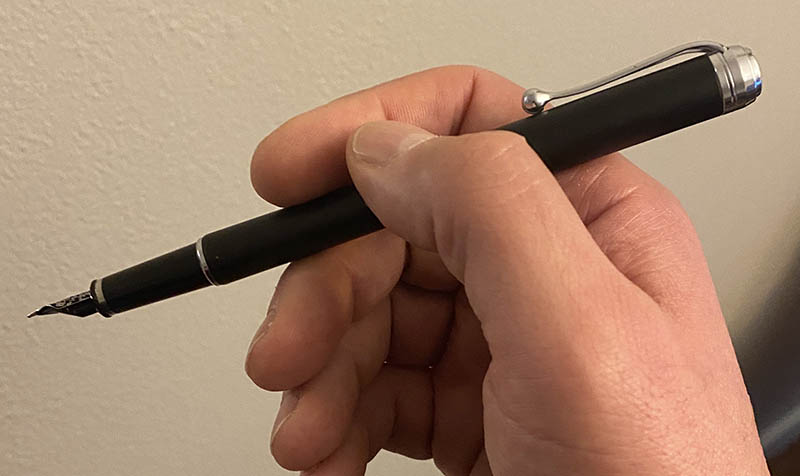 The writing experience with the Talentum Finesse is wonderful. Its weight and form factor are excellent in the hand.

Once you get used to how to hold, angle and the ideal pressure to apply the ink flows onto the paper perfectly. As long as you use quality ink, you should have zero issues on the writing performance front. 
What I like
Very well made from high-quality materials
Old world craftsmanship with a sleek and slim modern style
Lightweight, minimalistic design
Excellent feel and writing experience
Choice of ink converter or cartridge
What needs to be improved
Uses a proprietary ink converter and cartridge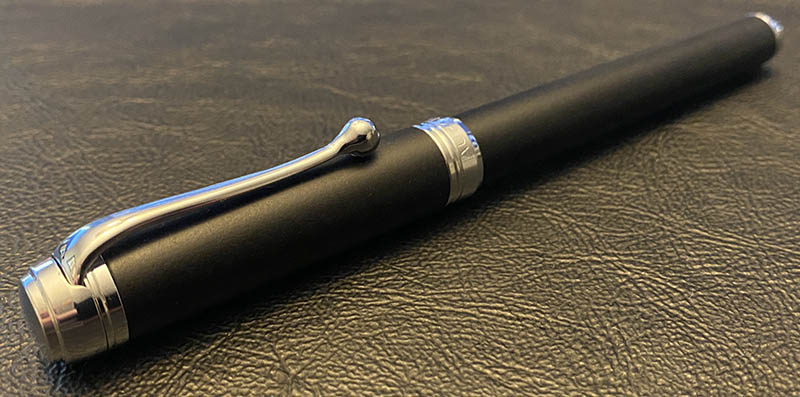 Final thoughts
The Aurora Talentum Finesse in rubber is an excellent fountain pen. This pen is very well made from high quality materials, combining old world technology "with a futuristic style that combines a tactile pleasantness with a modern and energetic character". I love its size, weight, and minimalistic design…a perfect addition to my gear. I grant you fountain pens are in the same class as mechanical watches these days but there are definitely those who prefer "the old ways" 😉 . This pen does a great job bridging the old and the modern worlds.
Price: $350 (currently on sale for $279.95)
Where to buy: The Aurora Talentum Finesse Fountain Pen is available from GoldSpot.
Source: The sample of this product was provided by GoldSpot.