We use affiliate links. If you buy something through the links on this page, we may earn a commission at no cost to you. Learn more.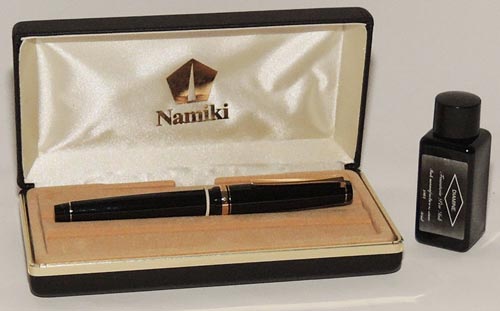 I have always wanted to try an actual fountain pen but have never had the chance. I wanted to see if something worthwhile has been lost overtime with the advent and widespread use of the ballpoint pen. So when the folks at GoldSpot.com offered to send the Namiki Falcon Fountain Pen, I totally raised my hand at the opportunity to try a bit of Old World style and function that for most has been left in the decades gone by.

The Namiki Falcon Fountain Pen comes very well presented, in (what appears to be) a leather clad, silk lined, clamshell box. The Falcon collection has a black lacquered barrel and cap. The nib and metal accents are coated in 14 karat gold. The nib is available in fine, medium or broad. According to the GoldSpot website, "The nib was designed by Namiki engineers with input from the association of pen shop owners in Japan who recommended a soft, flexible writing feel."

I should backup a bit; if you are like me, I had an idea of how a fountain pen worked but had never seen one up close. Like many/most other pens, the Falcon has a cap (screw on in this case) and barrel. But instead of screwing a ballpoint assembly into the barrel, it has a nib and ink reservoir. The ink reservoir you see here is a piston converter, where you pull the ink from a bottle via vacuum. You can also use a pre-loaded cartridge and/or ink bladder.
The quality of the Falcon fountain pen is excellent. I was given a Mont Blanc ballpoint pen a few years ago and the Falcon's black resin body and metal accents are just as nicely constructed and finished. I have received many comments about it from some of the old-timers at work asking where I got it and if they can give it a try.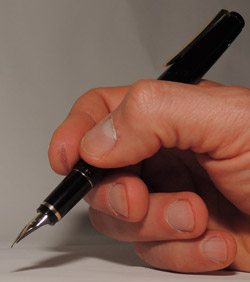 Writing with the Namiki fountain pen was definitely a new experience. I quickly found out that unlike a ballpoint pen, the nib has to be angled correctly for smooth writing. Being a fountain pen rookie, I also found that filling the reservoir can be a little bit messy, but not horribly so. The Falcon writes as the Namiki engineers envisioned: it has a smooth, soft feel with a bit of flex as you move along the paper.

I really like the Namiki Falcon and have enjoyed the (new) experience of writing with a nibbed fountain pen. Due to it being so nice and relatively fragile, I doubt I will carry it with my in my EDC bag; I'll stick with one of my hardened aluminum SureFire pens. But I will most definitely keep it at my desk to use when I am in the office in a more controlled environment, where I won't have the worry of it being damaged during my travels.