We use affiliate links. If you buy something through the links on this page, we may earn a commission at no cost to you. Learn more.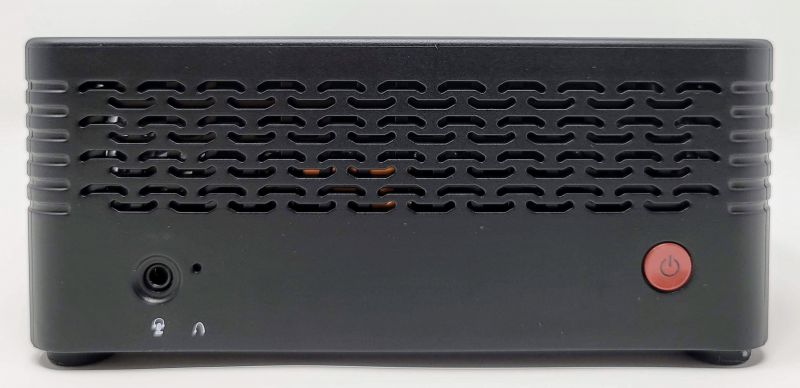 REVIEW – It seems the most neglected category of computer these days is the desktop.  In a mad rush to put everyone into a laptop or tablet, manufacturers have left the desktop market to those who want to build their own custom rig or to bland offerings that do little to distinguish themselves from the pack.  Minisforum has jumped into the fray with its EliteMini line of desktops.  Can they rekindle interest in the category or will this be just like the rest?  Read on to find out…
What is it?
The EliteMini H31G is a desktop computer that is reminiscent of the Intel NUC (Next Unit of Computing) series.  It is a little bigger and heavier than the NUC, but there is a pretty good reason for that.  The NUC is on the left and the EliteMini on the right.

What's in the box?
The EliteMini H31G configured to your specifications
A massive power brick(!)
An HDMI cable
A mini-DisplayPort to DisplayPort cable
A VESA mounting plate and screws to attach the EliteMini to the back of a monitor
Design and Function
The main reason the EliteMini is larger than the NUC is that Minisforum has included an NVidia Geforce GTX1050ti graphics adapter with a dedicated 4GB of RAM.  Looking through the top vent you can see the twin fans that help keep the graphics card cool.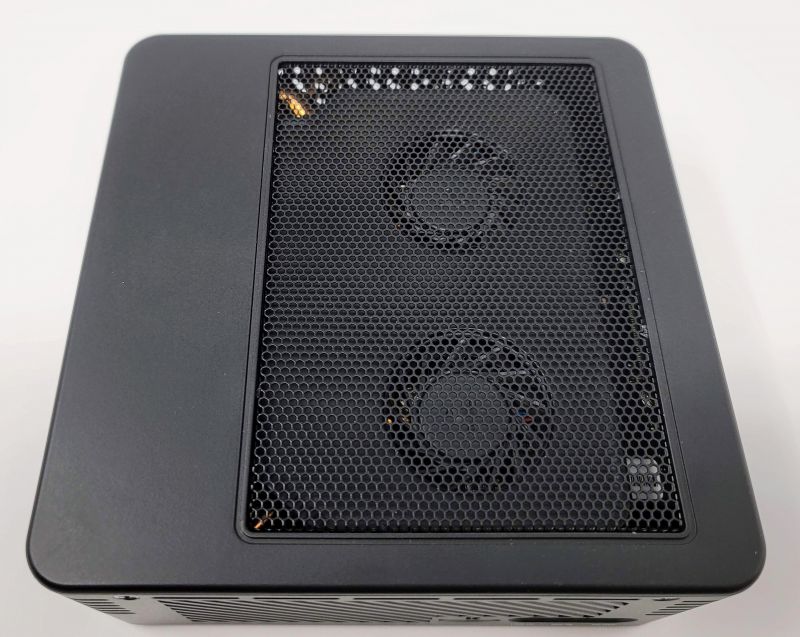 The front panel of the EliteMini has the power button and a headphone jack.  On the left side there is a mini-SD card reader, a line-in and mic-in jack, and an HP out jack in case you want to plug in to wired external speakers that are not headphones.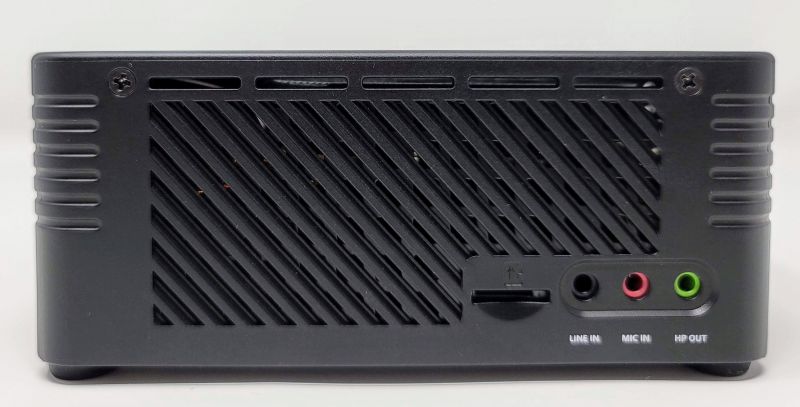 The back of the EliteMini is where most of the business takes place.  There are 4 USB 3.0 Type A ports, a gigabit ethernet port, a mini-DisplayPort and an HDMI port.  Oh, and the power connector.  There is also a Kensington lock connector to prevent your EliteMini from growing legs and walking away.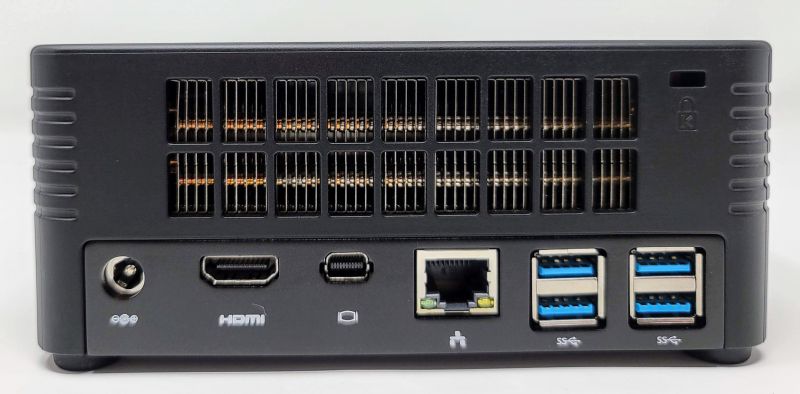 According to Minisforum's web site, if you buy a configuration with storage, Windows 10 Pro will be pre-loaded.  The review unit I have came with Windows 10 Home, however.  If you are looking to use the EliteMini in an office environment and are concerned about security, you will want to verify the OS version with Minisforum as Bitlocker is not included in the Home edition.
The EliteMini also comes with a VESA mount that you can use to attach the computer to the back of a monitor.  Note, though, that unlike the NUC mount kit (which is an extra charge) you will not be able to use a monitor arm simultaneously with the EliteMini as the mount takes over the monitor mount.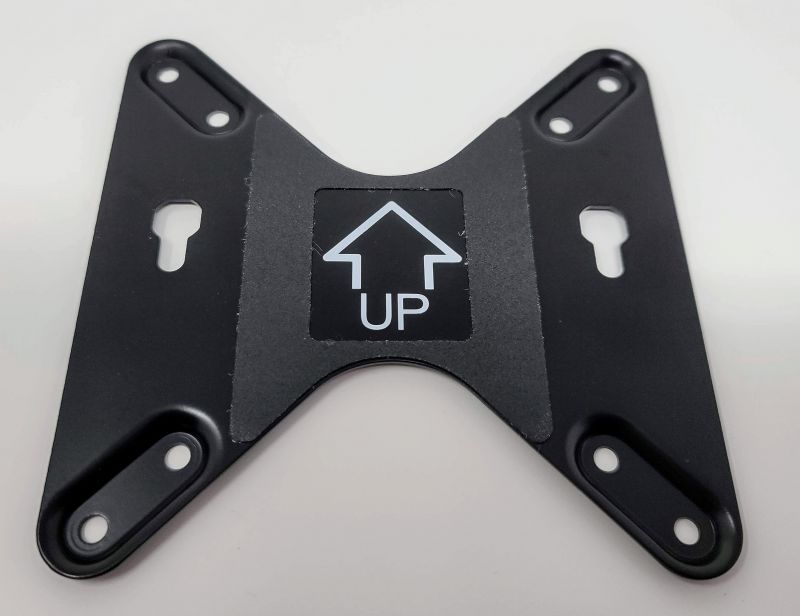 Where the EliteMini really shines, though, is in configurability.  There is an M.2  slot for your favorite SSD and a sled/connector for attaching a 2.5 inch drive (preferably an SSD as well, SATA 6).  There are 2 memory slots that take DDR4 2666MHz sticks, so you could take this up to 64GB of RAM.  When you order your EliteMini you can get the base configuration which is pretty much the case, motherboard and power adapter – and that's all.  From there you can add an Intel 9th generation i3 (9100F), and i5 (either 9400F or 9500F) or an i7 (9700F).  Storage options include the M.2 at either 256 or 512GB, and RAM comes at either 8 or 16GB.  Here's a peek inside the EliteMini, accessible through 4 screws on the bottom of the computer.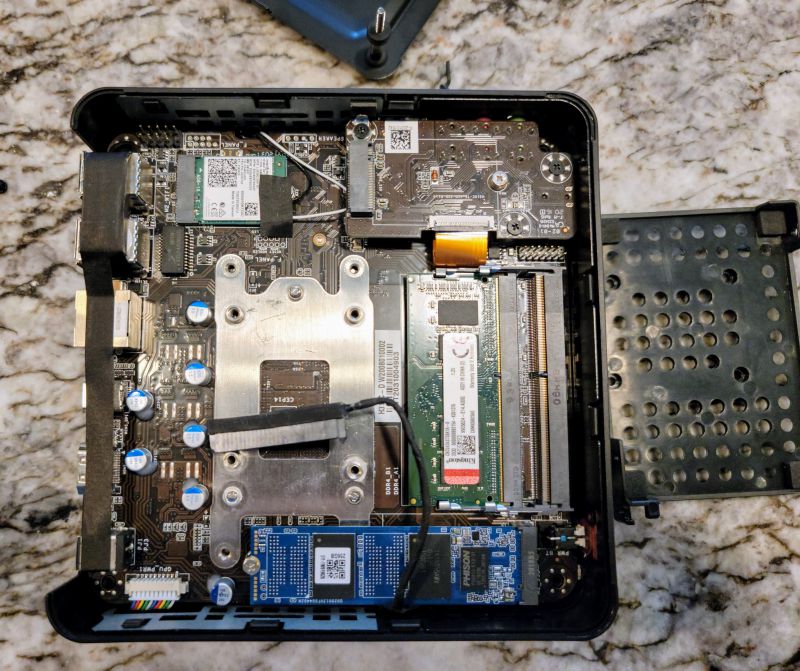 When I purchased my NUC, I was a little disappointed in the performance.  I bought an i7 with 16GB RAM and a 512GB M.2 stick, but it just seemed sluggish at best.  I was very surprised by the EliteMini's performance – this is a little powerhouse.  The review computer came with the i5 9500F, 8 GB RAM and a 256GB M.2 stick, but even with the lower specs it blew the doors off the NUC.  Plus the EliteMini comes with the latest Intel WIFI 6 card which also includes Bluetooth 5.1.  I can finally use my Logitech Bluetooth gaming keyboard without random disconnects or dropped keys, something the NUC could never handle.
Who is this for?
That's a great question.  The answer is pretty much anyone.  With the inclusion of the Nvidia card, this makes an excellent budget gaming rig.  It has all the chops needed to play most games at a respectable frame rate.  It isn't going to drive two monitors 4k@60, but then if you are looking to do that, you would probably build your own rig.  If you're a casual gamer like me, then this is a great choice.
On the other hand, this would also make a great, low cost machine for your home or office.  Mounted on the back of a large monitor, this is a space-saving solution that has enough power to drive multiple spreadsheets, documents, web pages, email and custom apps, all at the same time.
Then there is the home entertainment setup.  Towards the end of the review period, I set the EliteMini up as a Plex server in the living room.  With another Logitech wireless keyboard with trackpad, we can now surf the web via our not-so-smart but still in its prime TV.  Plus we can watch our content stored on the NAS devices, watch Netflix or pretty much anything else out there without relying on the limited interfaces a lot of streaming devices use (I'm looking at you, Roku).  The EliteMini can decode 4k H265 video without breaking a sweat.
What I like
This is a beast of a mini computer – performance and size, it outshines most of its competition
It's versatile enough to handle most any workload, gaming or general computing
You can easily upgrade memory or storage at any time
What I'd change
The power brick gives new meaning to "brick" – it is large and heavy, weighing almost as much as the EliteMini
Final Thoughts
These days everyone seems to be looking for laptops even when the need for a computer is not one that necessitates mobility.  Entry level laptops tend to be underperformers, and because you get that mobility you pay a premium price for a device that is locked into the configuration you purchased it in.  The EliteMini breaks that chain and delivers better than budget performance along with the ability to grow as your needs do.  And it does so at about 2/3 the price of a budget laptop.  If you are in the market for a good computer for any reason and don't see the need to take it to your local Starbucks, you can't go wrong with the EliteMini H31G.
Price: Configurations start at $399.00
Where to buy: Minisforum
Source: The review unit was provided by Minisforum.