We use affiliate links. If you buy something through the links on this page, we may earn a commission at no cost to you. Learn more.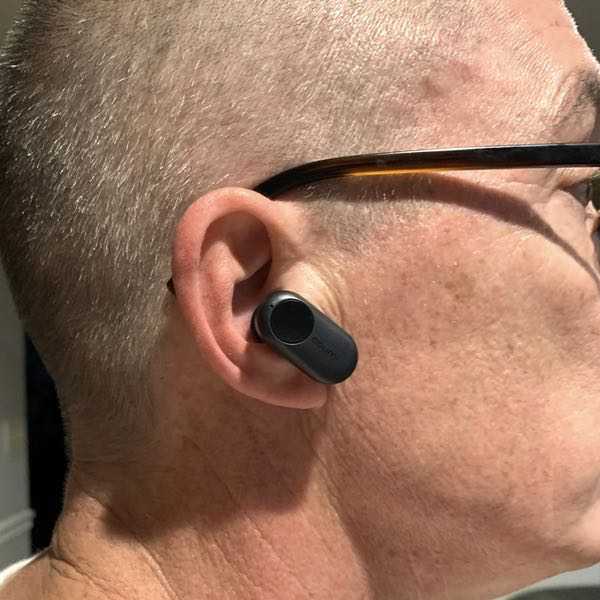 REVIEW – The Coumi Wireless Earbuds are intended for active lifestyles. A rugged design, snug fit, and IPX7 waterproofing (along with active noise canceling) check all the right boxes. How do they work when you're doing the work? Fire up the music and podcasts. To the review!
What is it?
They're wireless earbuds that come with a portable case/charger to extend your life between power-ups.
What's in the box?
You'll get the earbuds, the charging case, and extra silicone earbud covers in multiple sizes.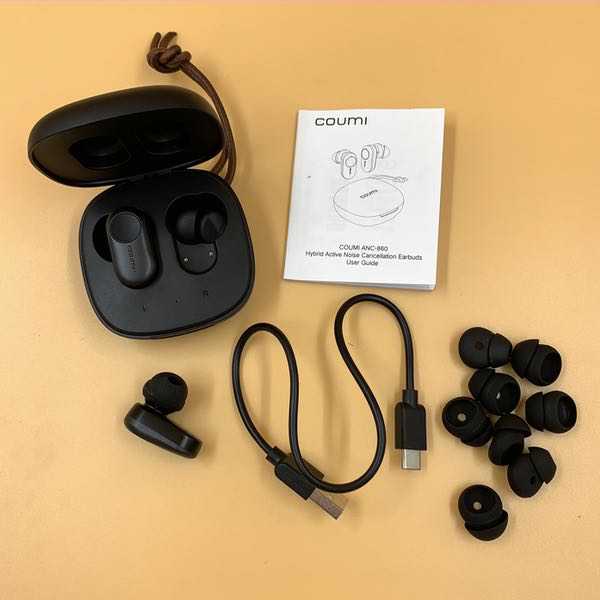 Hardware specs
Active Noise canceling, Maximum 28 dB reduction

Transparent Mode

Dual-mic Noise Cancelling for Calls

IPX7 Waterproof & Customizable Eartips in 3 Sizes

Bluetooth 5.0 & Touch Control

12.5mm Large-Aperture Speaker Drivers

Type-C Charging Case

 5.5 hours (ANC ON) / 7.5 hours (ANC OFF) playing time on a single charge
USB-C charging case provides an extra recharge, extends playtime for a total of up to 30 hours (ANC ON) / 41 hours (ANC OFF)
Design and features
The Coumi Wireless Earbuds come with a tough little combination charging/storage case. It's even got a lanyard to help you fish it out of your pocket or bag.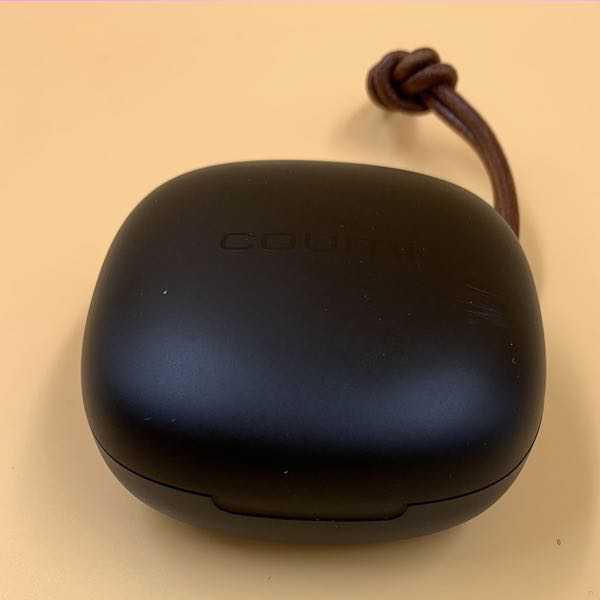 You'll charge the case, then the case will charge your earbuds whenever you pop them in to extend the life of your earbuds between power ups. You'll get 7.5 hours of play on a single charge of the earbuds (or 5.5 if you are using active noise canceling) and the charging case gives you 40+ hours of power between charges (30 hours if you're using ANC). I've been using the earbuds for my daily walks, and can go for weeks between charges. When power is required, the charging case comes with a USB-C port and a USB to USB-C charging cable to get your juice.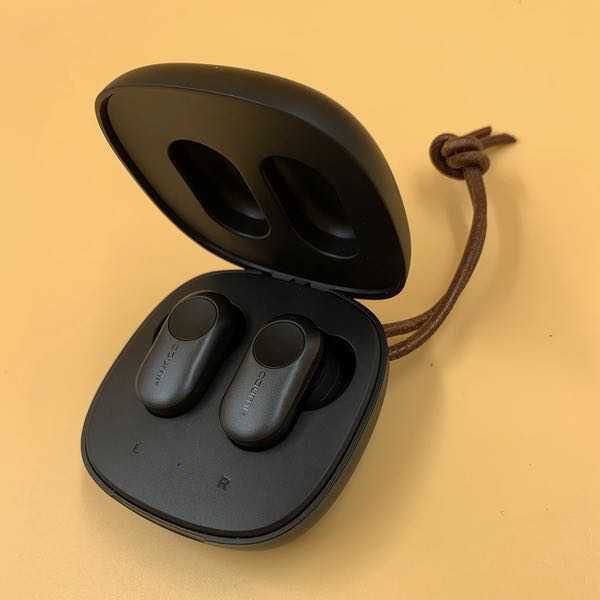 The earbuds turn on by default when you pop them out of the case, automatically pairing with your device. They'll disconnect and turn off when inserted back in the case. This is a pretty standard feature these days and works well with this set.
These earbuds are rugged little beasties, designed as in in-ear buds. That means that you have deep nodules covered with a silicone sleeve that is inserted into your ear canal for an immersive audio experience.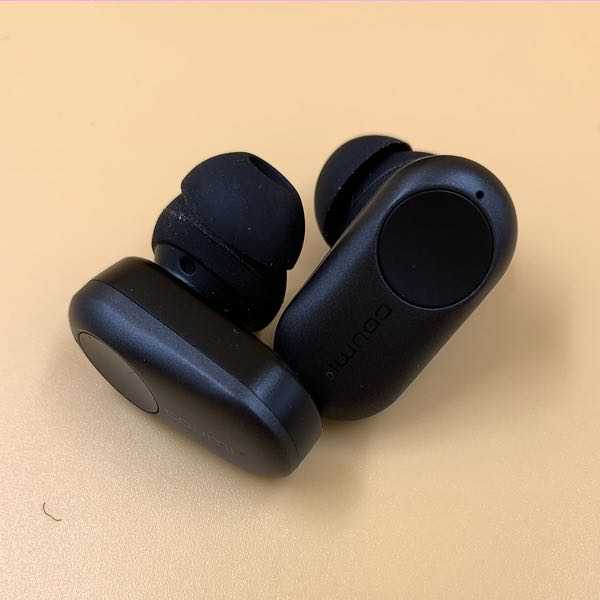 Here's a closeup of that nodule/sleeve insert. The instructions emphasize picking the right size sleeves to ensure a snug fit in your ear, and the kit comes with multiple sizes of sleeves to match your ear. Once you jam 'em in there, they stay put even during active maneuvers.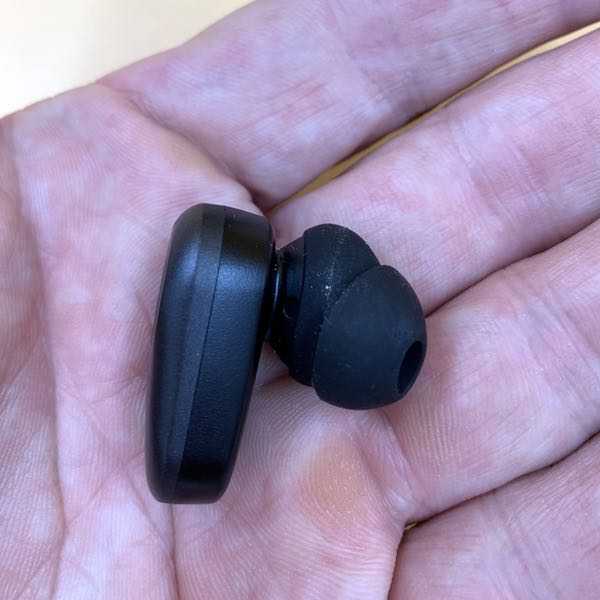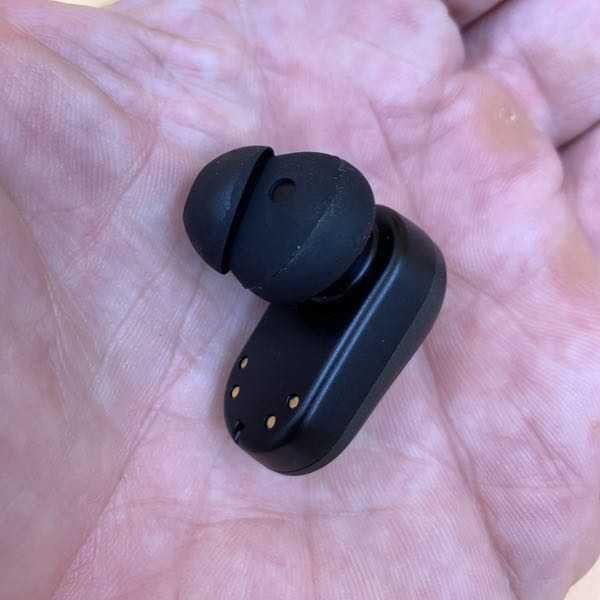 Here's what it looks like inserted. Note how the external pod drops into that spot next to your earlobe.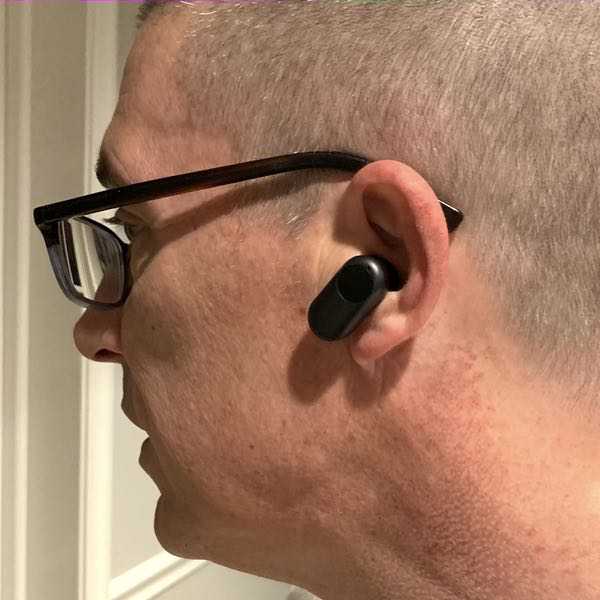 That round button on the pod is your contact point to manage your controls. There's one on each bud, and you tap it with your finger to engage different functions.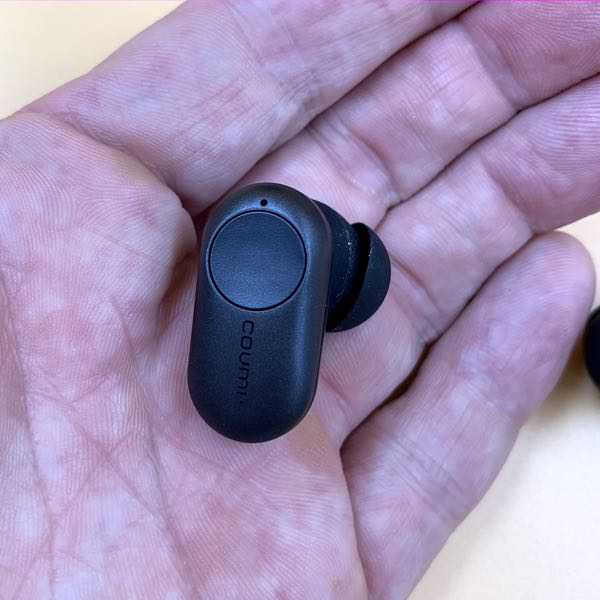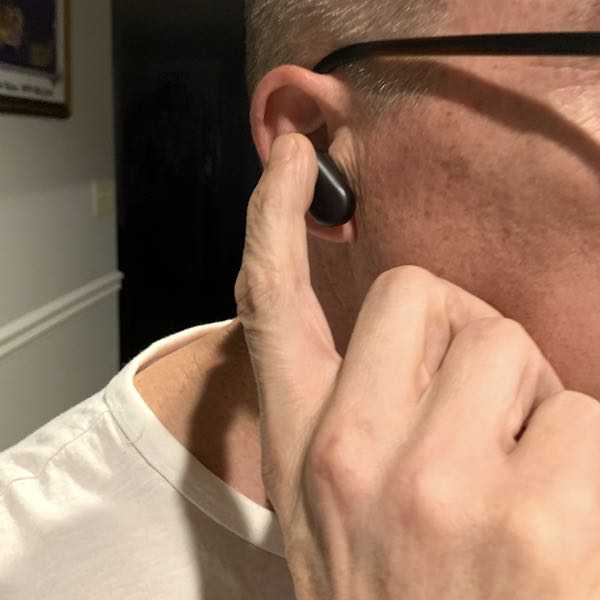 Like all wireless earbuds, activating functions comes from a combination of taps on the pods that takes some practice to get over the learning curve. Tap the right bud for volume up, and the left for volume down. Double tap the right bud for pause/play, and the left to manage your active noise canceling modes. Tap either side to answer/hang up calls, press and hold for voice assistant or to reject calls. It takes some getting used to, but it's no worse than other earbuds I have played with. The tap sensitivity is not overly sensitive, so you don't find yourself accidentally triggering functions if you graze the earbuds (a pain in the neck during a workout).
Performance
These earbuds are rated with IPX7 waterproofing, which means that they can get wet. You won't be able to swim with them, but you'll be fine for sweaty workouts or getting caught in the rain. I have been using them for daily walks and workouts, and I've never had an issue with slippage.
Audio quality is excellent, with nice stereo sound. No issues to report here. The Active Noice Cancelling feature is hit or miss, though. The Coumi Wireless Earbuds offer three modes: complete ANC, "transparent mode" to hear all ambient noise, and "normal" mode. To be honest, I had a hard time noticing a discernible difference between the three. Methinks that the deep earbud nodules are the culprit here. Most ambient sound is already cut out by their design. There's a little difference, but it's not as significant as over-ear headphones.
The Coumi Wireless Earbuds sport multiple microphones on the body of the pods for call quality. I'll be honest, however: I found that others had a hard time understanding me every time I used them. This is pretty typical of my experience with other earbuds. Maybe I just have an odd-shaped noggin.
My biggest issue with these earbuds is overall comfort. They are a snug fit, which is great… but I found those pods rubbing my earlobes to the point where it was irritating. See the shape of the area that rubs against your skin in the pic below?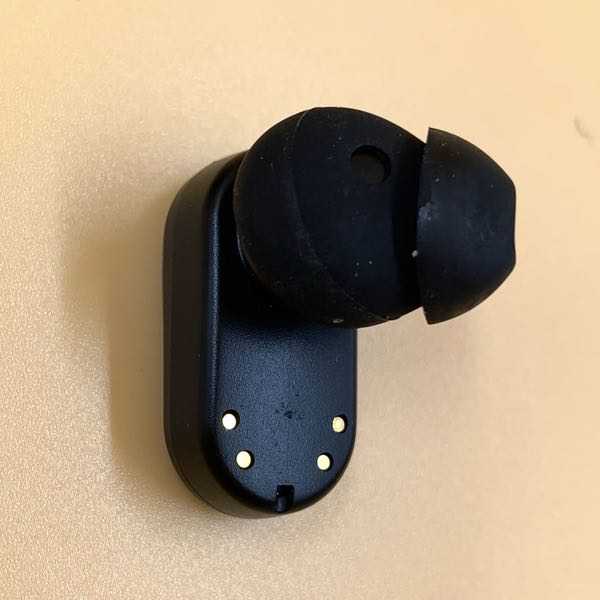 I found those little ridges were scratching my outer ear. And whacking on those buttons to activate different functions didn't help matters. This may be something that could be the result of my ear shape, but I have found these earbuds to be uncomfortable with regular use. Which is a shame, because the audio quality and snug fit are really good.
What I like
Nice charging case that adds protection and allows for extended periods of use between charges.
Great audio quality.
Water-resistance is great for active outdoor use.
What needs to be improved
Uncomfortable fit for my ears.
Active noice canceling mode is not significantly different from normal modes.
Microphone quality is OK at best.
Final thoughts
I like the sound quality & rugged design of the Coumi Wireless Earbuds, but I have a hard time recommending them based on the uncomfortable fit. The ergonomics lead to a lot of rubbing and general discomfort with regular use, which is a shame because the features are great for workouts and outdoor activities. That may be my ears though, and your results may be different.
Price: $59.99
Where to buy: Go to the Amazon product page to get 'em!
Source: The sample of this product was provided by Coumi.