We use affiliate links. If you buy something through the links on this page, we may earn a commission at no cost to you. Learn more.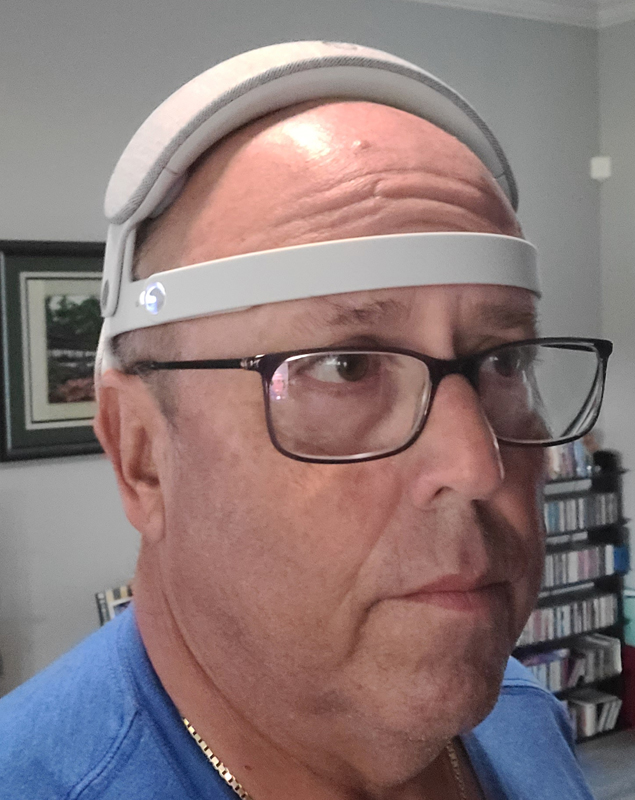 REVIEW – How many of you can honestly say that you always get a good night's sleep?  It turns out that a lack of good sleep is a bit of a problem. In fact, a CDC study in 2016 showed that one in three adults do not get enough sleep.  Studies have shown that specific types of brainwaves, SMR (Sensorimotor Rhythm) waves, help the brain protect the act of sleeping. What if there was a way to get feedback to help you train your brain to be more adept at producing these SMR waves in the hopes that it would help you get a better, deeper, and more productive sleep?
URGOnight promises just that. Let's see if URGOnight is a dream come true, or just a nightmare.
What is it?
URGOTECH, a 2015 startup is part of the century-old URGO Group. URGOTECH's mission is to adapt solutions that have long been practiced by healthcare professionals and make them simple and accessible to everyone.
URGOnight is the world's first daytime sleep training program based on neurofeedback technology to train your brain to produce the brainwaves clinically associated with sleep, SMR waves.
What's in the box?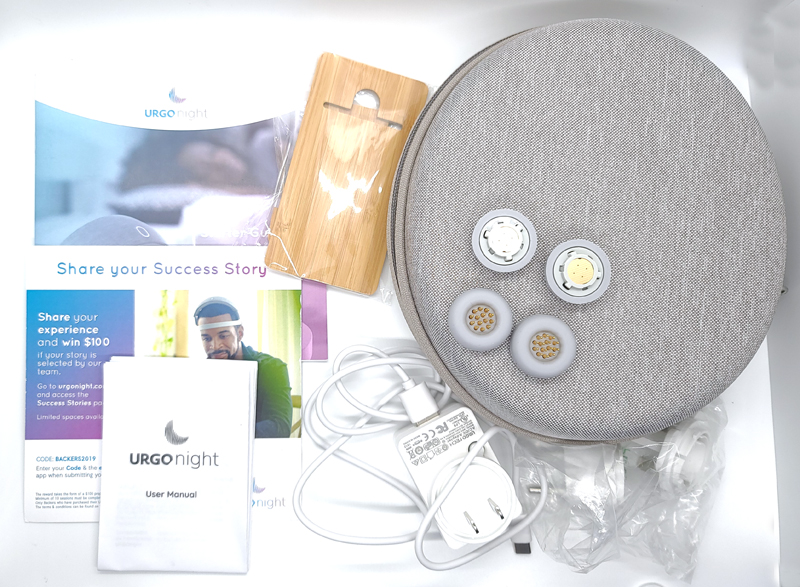 URGOnight headband
Power cord with international adapters
Info card
Share your success card
User manual
Four pin-style contacts to be installed (sitting on the case)
Carry case
Phone stand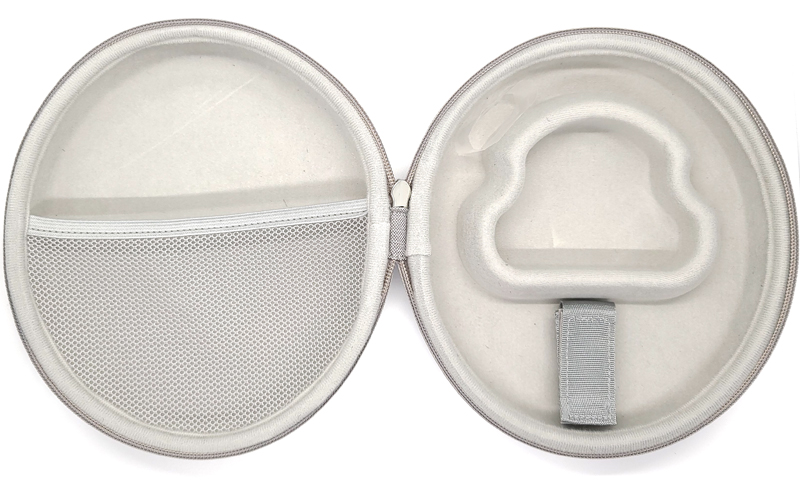 The Carry case is designed to hold the headband, power cord, and adapters.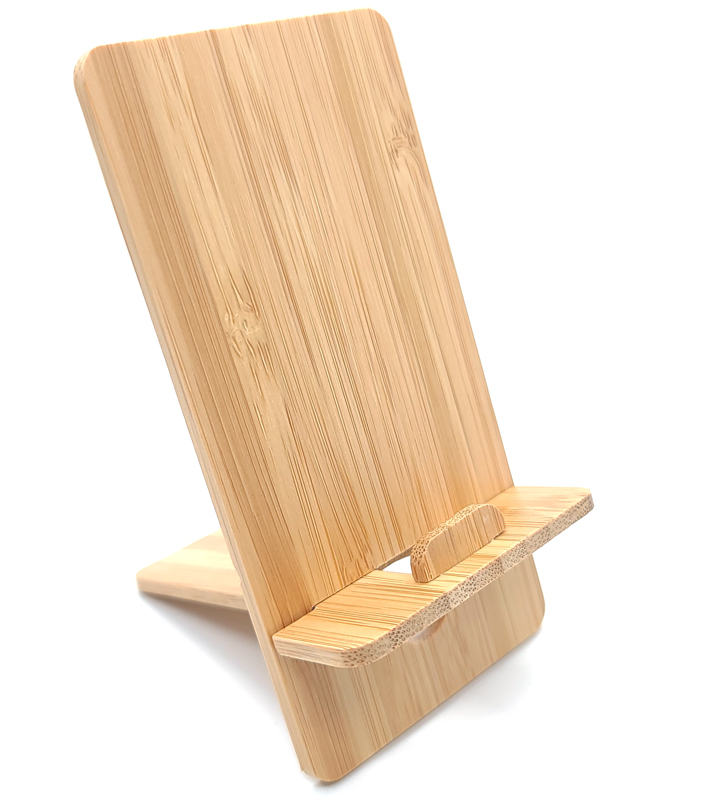 The phone stand assembles easily and should hold most smartphones.  It also disassembles easily for storage.
Hardware specs
Measurement method: Electroencephalogram (EEG)
Size: One Size Fits All, adjustable (520 mm to 620 mm or 20.47″ to 24.40″)
Weight: 160g/5.6oz, portable with a travel case
Languages: English, French
Battery: Up to six hours, equivalent to two weeks of recommended use, USB-C chargeable

Connection:

Bluetooth 4.0 low energy

Application compatibility: Apple iOS 11 and later or Android 5 and later
Design and features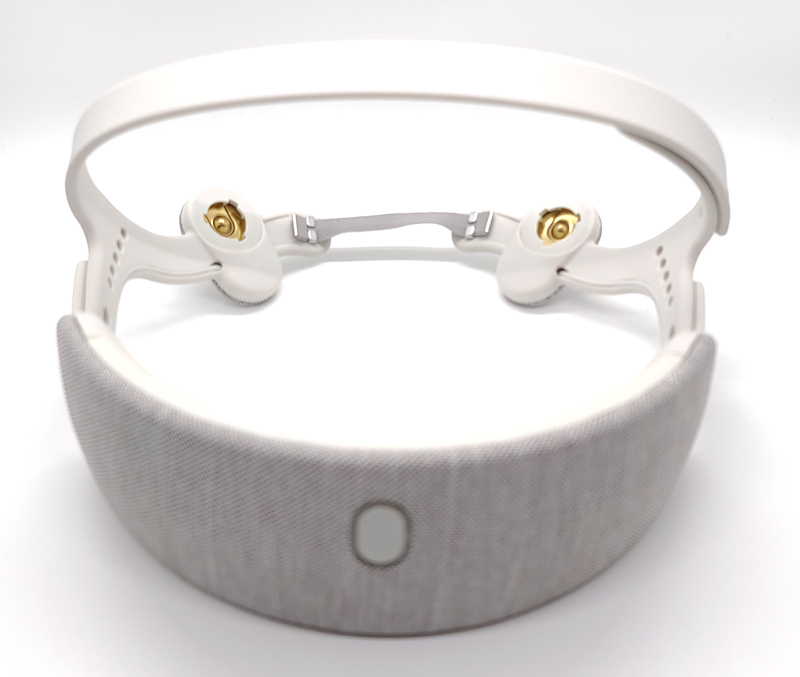 The headband is a little unwieldy at first.  You'd think that the big part of the band with the cloth cover and power button would go on your forehead, at least I did.  But then I did the unthinkable and looked in the manual and discovered that it sits on top of your head.  The thin white band goes just above your eyebrows and the elastic back band goes behind your head.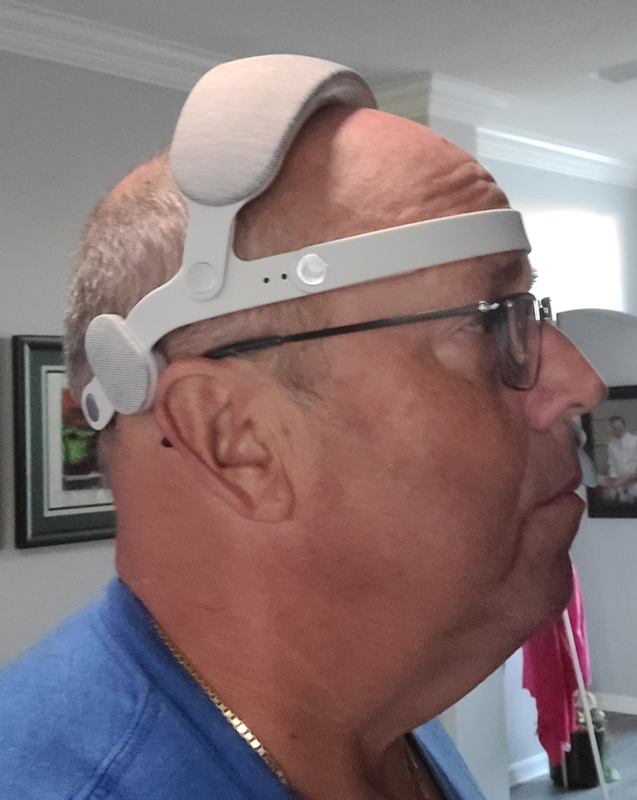 The contacts sit on both sides of the top of your head and just behind each ear.  When you put it on, you wiggle it a little so the pins make contact with your scalp through your hair.  Obviously, this wasn't an issue for me.
The button on the large part of the band is the power button.  The rim lights up when the band is powered up.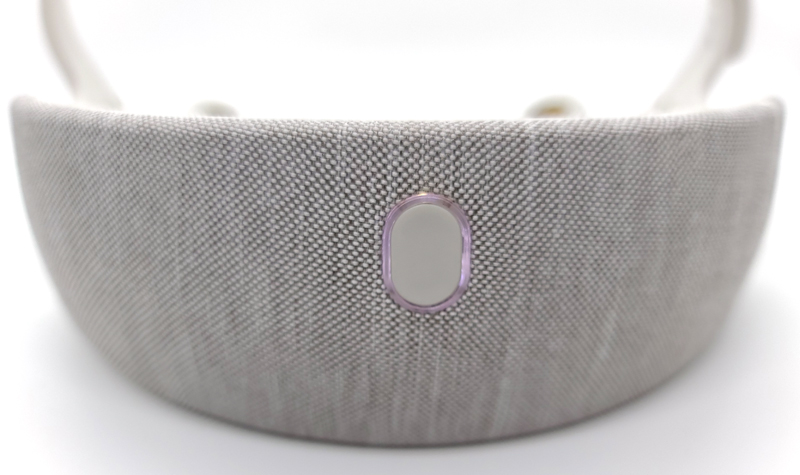 Here's a look from the back.  The four gold areas are where the electrodes attach.  The band is nicely adjustable on both sides and across the front on one side.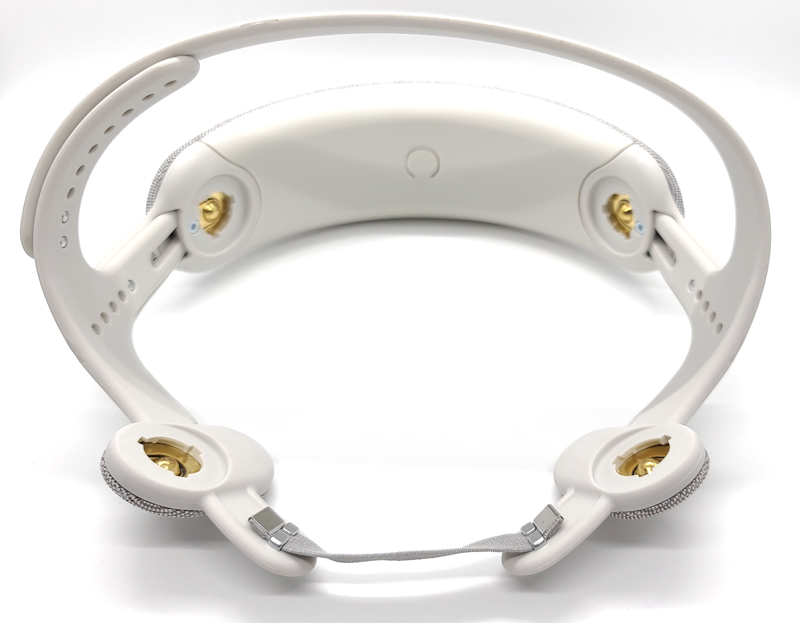 There is a small flap that covers the USB-C charging port.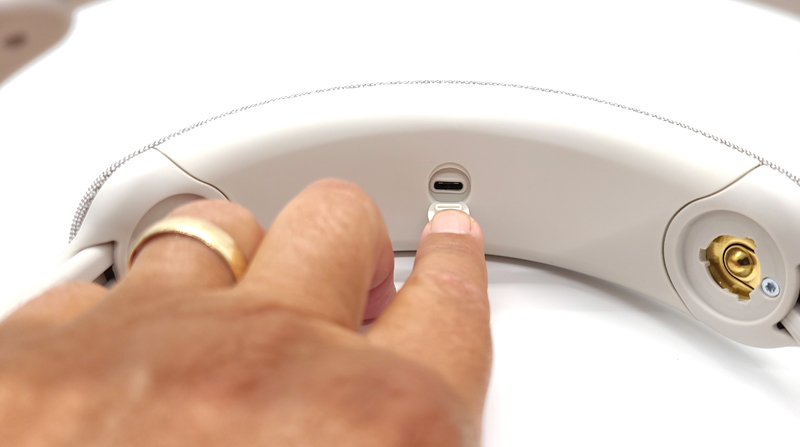 Setup
You need to install the URGOnight app for iOS or Android and set up an account.
After charging the headband, you install the four probes. They are keyed and twist/lock. The front side of the probes has 14 spring-loaded pins that make contact on top of your head and behind your ears.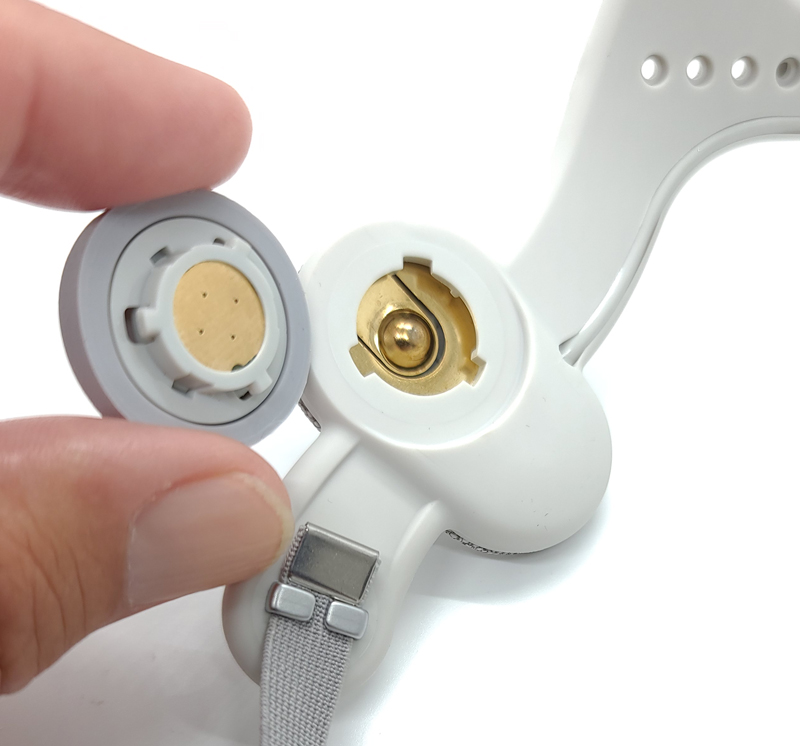 To size the band, you slide each of the three bands and pish the attached knob/pins into the sizing holes.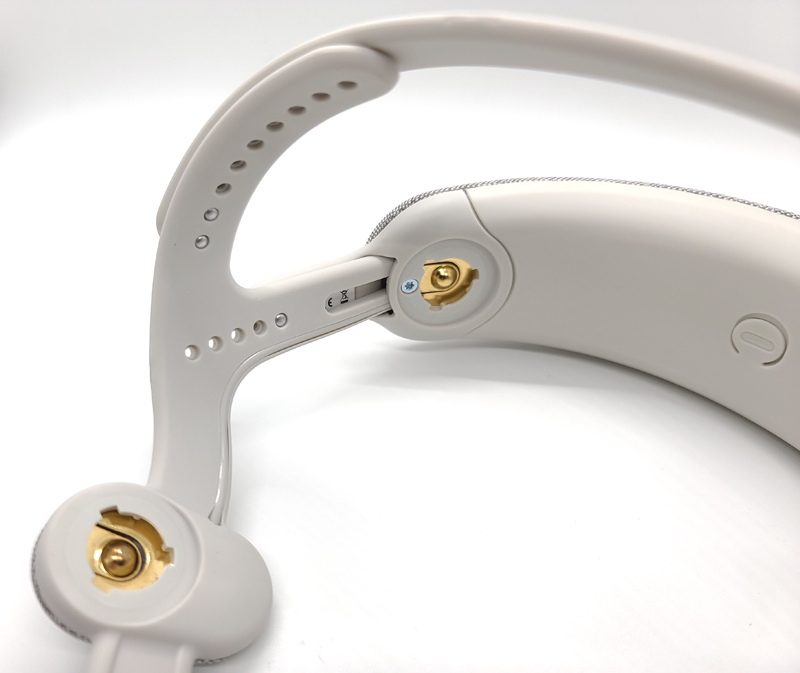 Performance
When you fire up the app for the first time, it leads you through a nice training session.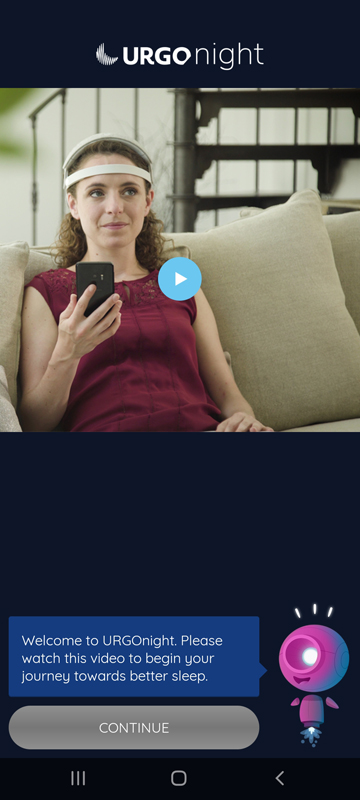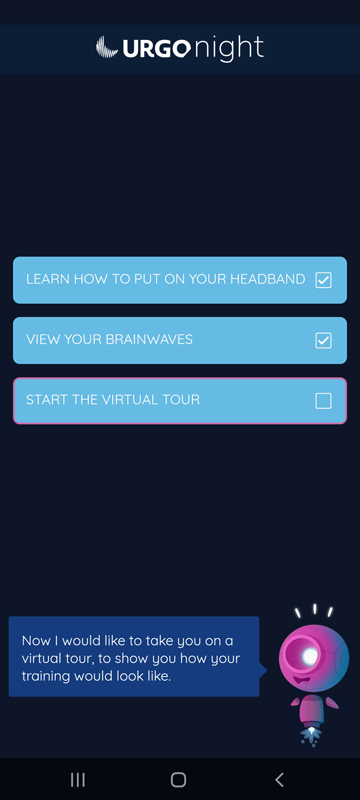 After the video, you are stepped through an introductory session.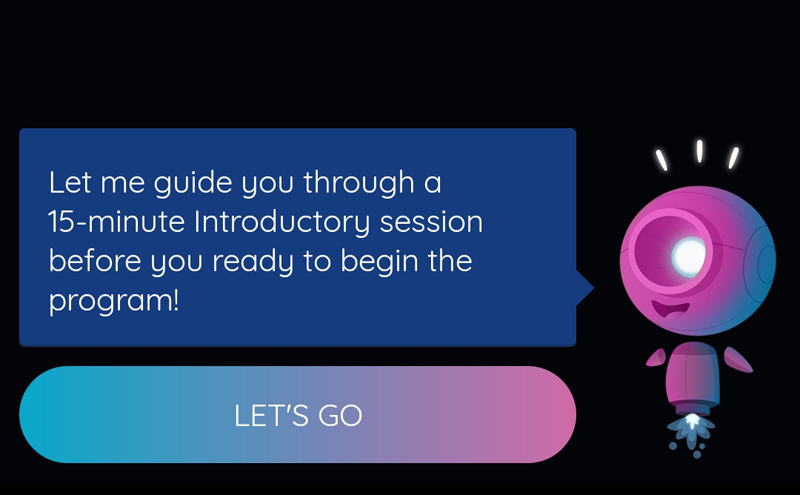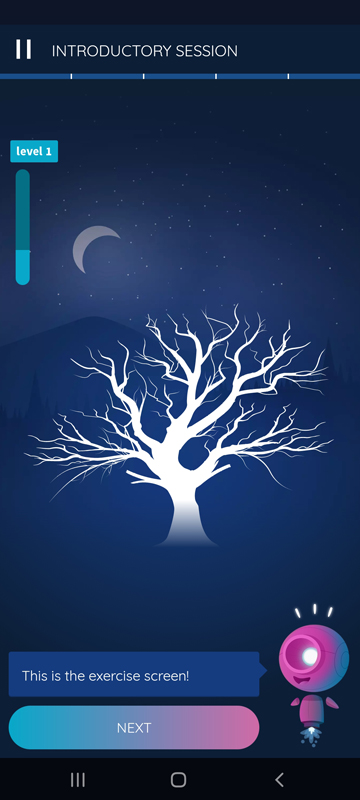 Also, after creating your account, you will receive ten emails, one per day, explaining different aspects of the training program as well as the science behind it.
Let's talk about the science behind it for a moment.  From the first training email:
We are all born with the natural ability to sleep well. However, our hectic lifestyles, work rhythm, stress, poor sleep hygiene, or other environmental factors can deregulate our brains, which no longer knows how to "power down" and go to sleep. This impairment can be caused by a weakened neural network that is in charge of safeguarding our sleep. URGOnight helps you strengthen this neural network and produce more Sleep Spindles.
Sleep Spindles are brainwaves produced while you sleep. They play an important role in preserving and improving the quality of our sleep, by disengaging our brains from external stimuli (noise, light, temperature, etc.) that can disrupt our sleep. Indeed, having a higher density of Sleep Spindles is shown to facilitate falling and remaining asleep.
A proven way to increase the density of your Sleep Spindles is by training other brainwaves called SMR (Sensorimotor Rhythm) waves. By producing SMR waves during the day, you activate the region of your brain that produces Sleep Spindles, called the thalamus. This daytime activation of the thalamus, in turn, increases Sleep Spindle density at night, thus improving the quality of your sleep.
The big thing is that it takes around 40 sessions to start to realize benefits.  The training materials recommend training three to four times per week – essentially every other day.  That means that for this review, I will only get 10-15 sessions in, so I won't be able to draw complete conclusions.
Now, back to our regularly scheduled review…
After putting on your headband, the app connects to it and validates it can read signals from all four electrodes.  Then it measures a baseline level.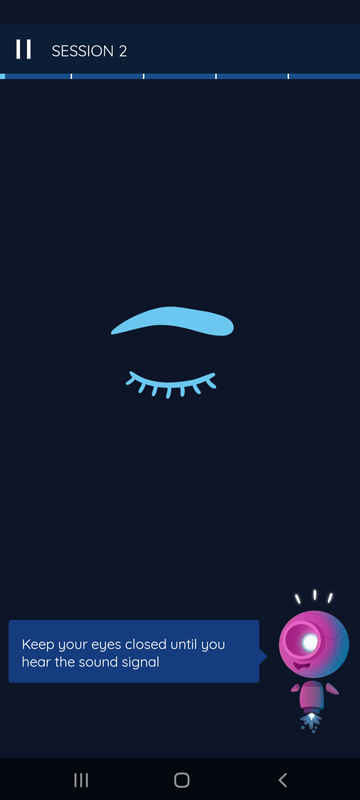 It does this by having you close your eyes for 30 seconds, then open them for 30 more seconds.  Once that measurement is done, you're ready to train.
Each session consists of five, three-minute segments.  For each segment, you can choose a different visualization.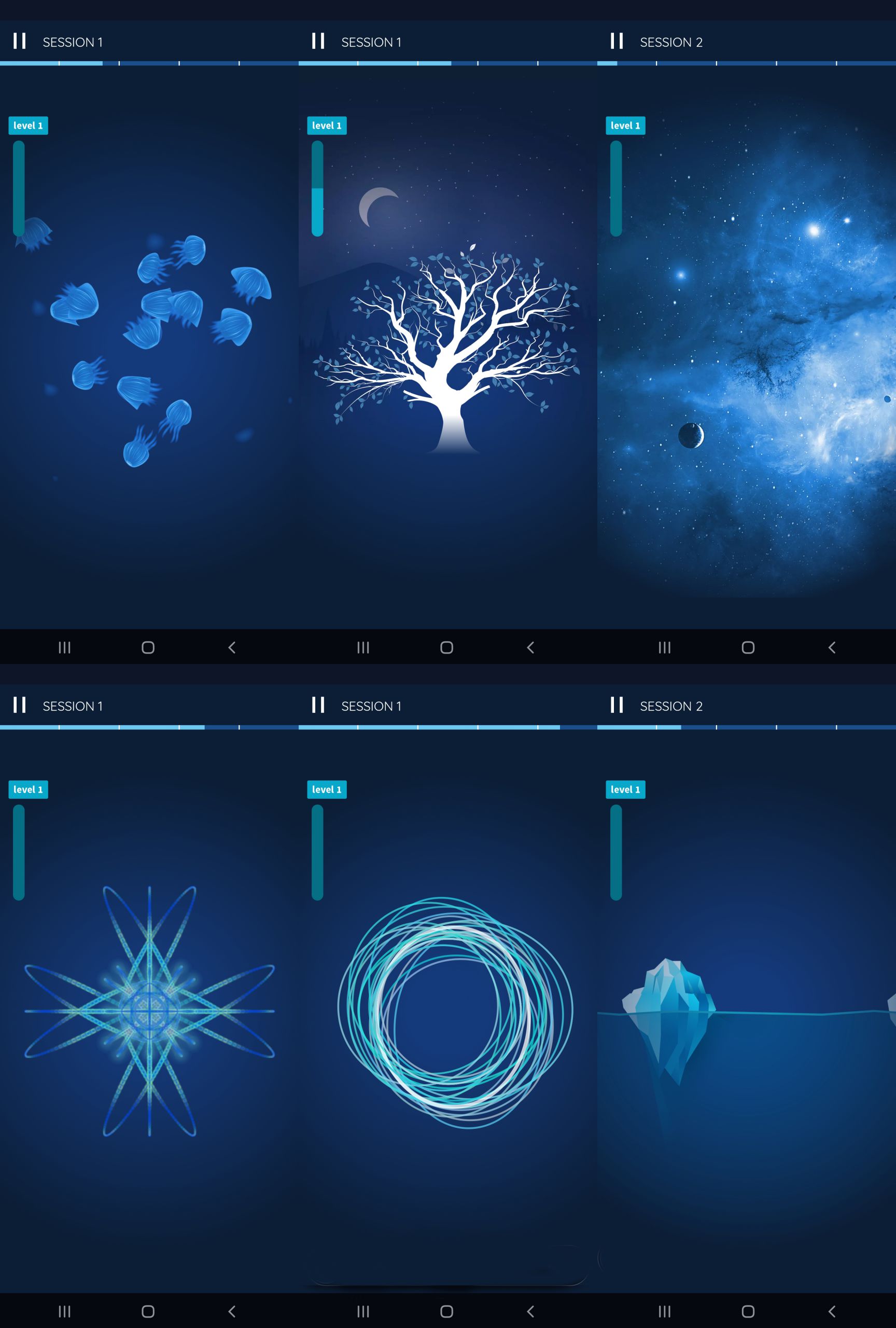 These are six of the eight available visualizations.  Each acts differently and has slightly different feedback sounds.
For example, from upper left to lower right, you stare at the screen and as you produce SMR waves, the jellies disappear, leaves appear on the tree, the planet comes closer, the pattern shifts, the rings disappear, and the icebergs float closer and pass by.  All are designed to get you to focus and help you to activate your thalamus.
After each of the three-minute segments, you are shown results as a score and relative level. You then choose the visualization for the next session and are asked to take a one-minute break.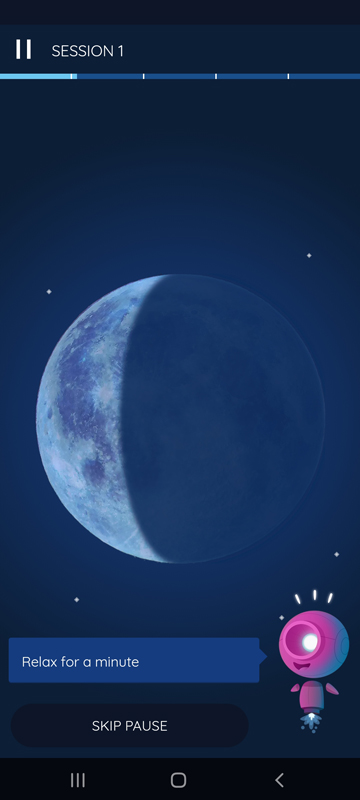 After you complete the entire session, you are given session feedback.  You can also indicate the methods you use that were successful, like focusing on breathing, letting your mind wander, and so on. The entire session lasts about 20 minutes.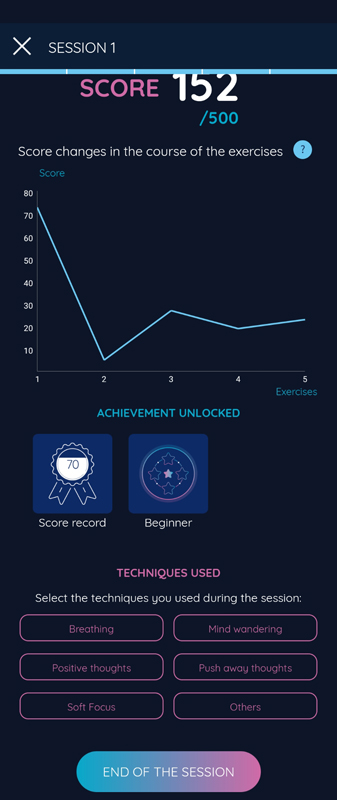 Finally, you can record information about your sleep daily, creating a sort of journal.  You can record your subjective rating 1-10 on the quality of your sleep, your sleep and waking times, number of sleep interruptions, and so on. This should allow you to evaluate when you see benefits from the training.
Interestingly, for me, I seem to generate more SMR waves when not watching any of the visualizations.  I've found that staring out the window at the deep green leaves of a magnolia tree behind our house produces the best results.  Whatever produces results, I guess.  I also found that visualizing pleasant things helped me produce more SMR waves.
This leads me to a complaint.  When you're training, there is no audible cue to indicate that a segment is complete.  That isn't an issue if you're watching the screen, but if you're like me and get better results looking elsewhere, nothing indicates a segment has ended, other than the lack of feedback noise.  Since that feedback noise can drop to nothing during a segment, you may not realize the segment has ended.  The same is true for the end of the rest period. If you aren't watching the screen, you will jump right into the next session.  I'd add a small audio cue – a beep or buzz at the end of both the segment and the rest period. There is a beep at the end of the baseline session when you are supposed to have your eyes closed.  I'd just use that sound again.
The app also has a real-time visualization tool that gives you the ability to see the types of waves your brain is producing.
What I like
Initial training emails provide good information
The variety of visualizations should allow everyone to find something that works
App reminders for training and logging help keep your training on track
What I'd change
Add an audio cue at the end of each segment and rest period
I still don't know if this will work for me as it takes 40 sessions or more to realize the benefits
Final thoughts
I'm not sure what to think about URGOnight.  It does provide me feedback and seems to be helping me train my thalamus to produce SMR waves and the science is there suggesting that URGOnight should produce results.  Am I sleeping better?  No, not really, but then I'm only a little more than a third of the way through the recommended 40-session program.  Given that many of my nighttime sleep interruptions involve a trip to the bathroom, it will be interesting to see if I am eventually able to sleep through the night, even given that the morning trip may need to be in a hurry.
So, for me, the jury is still out on URGOnight. I expect that I will report back in another couple of months after I get through the whole program. This isn't an overnight process – well, sleep is an overnight process, but the training isn't – you know what I mean!
Price: $499.00
Where to buy: URGOnight
Source: The sample of this product was provided by URGOTECH.