We use affiliate links. If you buy something through the links on this page, we may earn a commission at no cost to you. Learn more.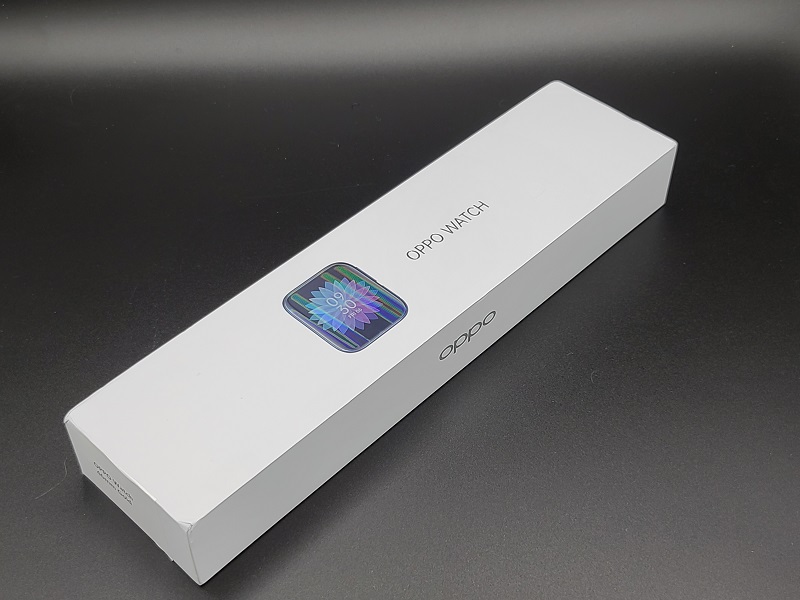 REVIEW – There are more smartwatches these days than I can shake a stick at, but if you ask people on the street to name models from memory I would bet you would get "Apple Watch" and "Fitbit", and that's about it.  I've used quite a few different models of smartwatches over the years, from the early e-ink Pebble, various Fitbits, and a handful of others like the Amazfit T-Rex I reviewed last year.  Some of these try to mirror the Apple Watch's style and/or functionality, while others try to carve out a niche of their own with features like battery life a degree-of-magnitude-better at the expense of some functionality.  The Oppo Wear OS watch is interesting in this crowded market as a device that's trying to be the best of both worlds – a near-clone of the Apple Watch's design and functionality, while also offering a super-long-battery-life limited-function option.
What is it?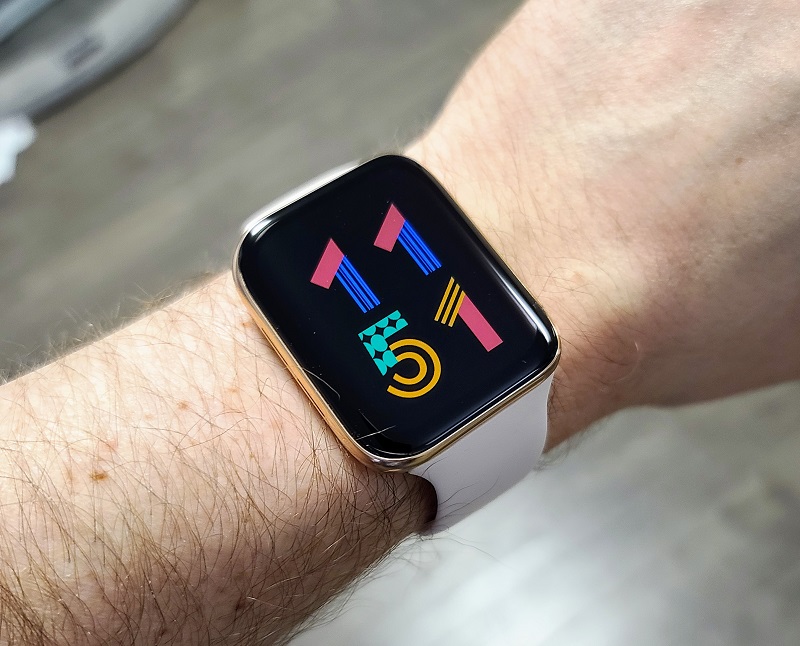 The Oppo Wear OS powered watch is a smartwatch with a big beautiful screen that connects to an Android or Apple phone to offer interactions right from your wrist.  You're able to make and take calls, view and respond to texts and notifications, have fitness, sleep, and heart rate tracking, as well as install and use apps directly on the watch through the Google Wear OS platform.
Hardware specs
Connectivity: Bluetooth and WiFi (LTE model also available)
Screen type: AMOLED "dual-curved" display
Screen size: 1.91″ (46mm)
Processor: Snapdragon 3100 and Apollo 3 Wireless SoC
Battery Life: up to 36 hours in Smart Mode, up to 21 days in Power Saver mode
Charging: 15 minutes from 0% to 46% (VOOC Flash Charging), 75 minutes from 0% to 100%
Location Technology: GPS + GLONASS
Water Resistance: 50 Meters water resistance / 5 ATM
Heart Rate technology: 4 sensors, all-day/on-demand
What's in the box?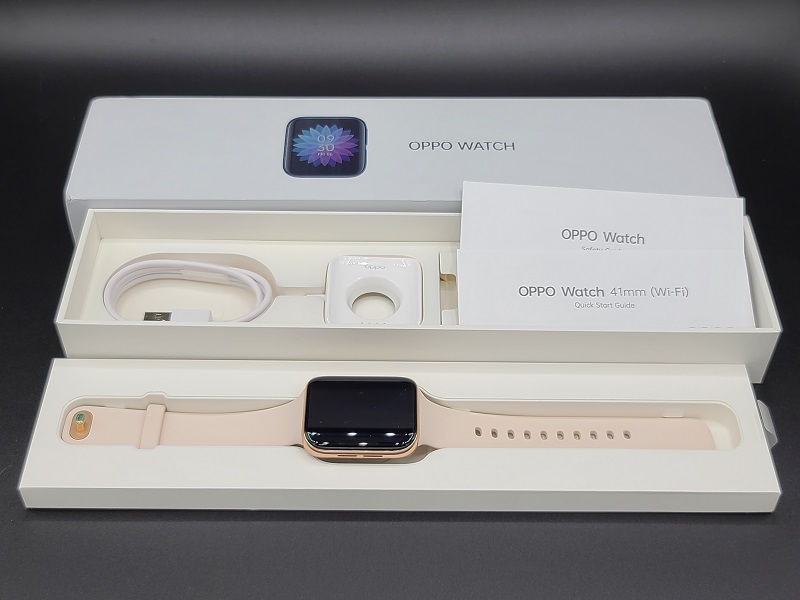 Oppo Wear OS powered watch
Proprietary magnetic charger (USB-A connection to power)
Manual/quick-start guide
Installation and setup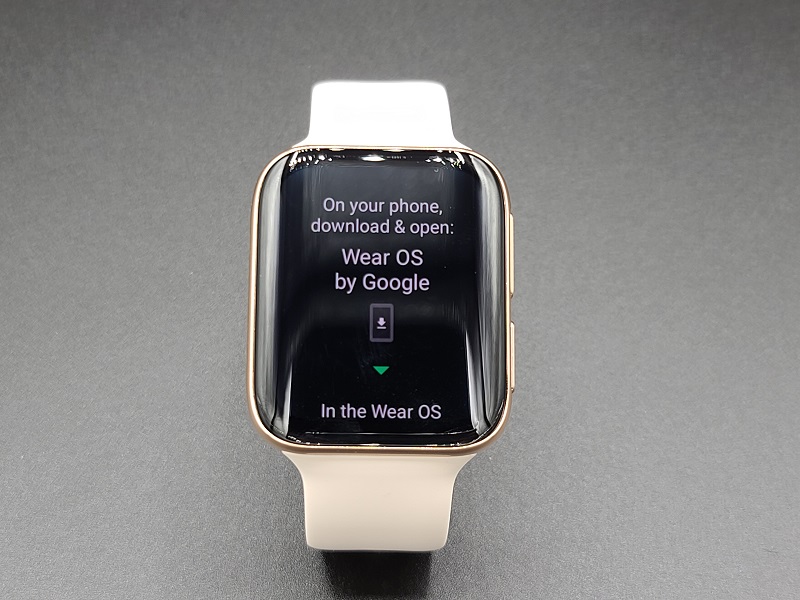 The watch prompts you to download and install the Google Wear app when you first start it up.  Upon installing this application, I immediately had a push notification on my phone prompting me to set up the OPPO Wear OS powered watch.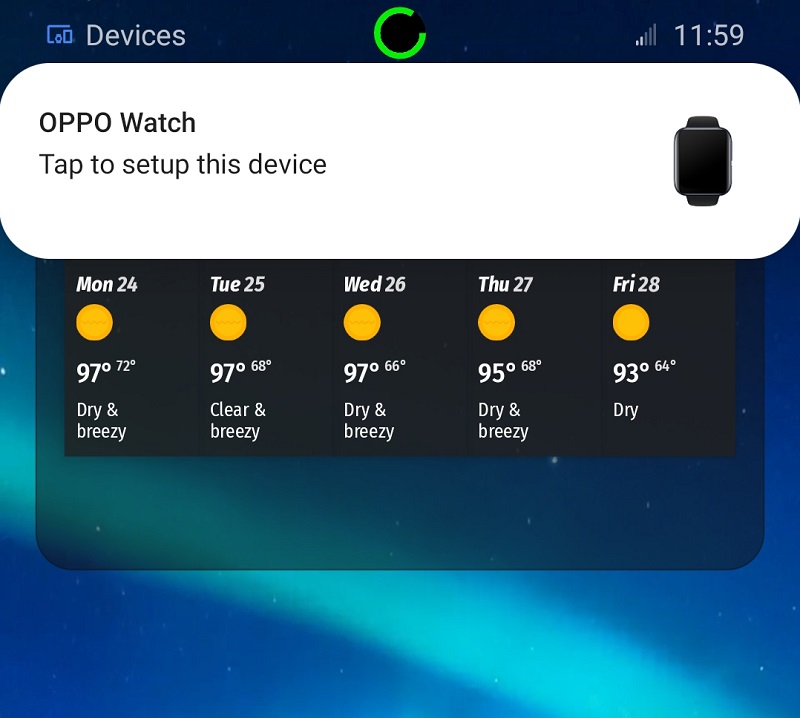 This process was quick and easy.  When finished, the OPPO Watch appears in the Google Wear app.  The app includes controls for which notifications you want to appear, which watchface is selected, and which Tiles are selected (Tiles are like widgets, accessible from quick swipes on the watch).  The Google Wear app is very simple and easy to use, while still offering a degree of customization.  I think that power users may feel limited here, but for most it is adequate.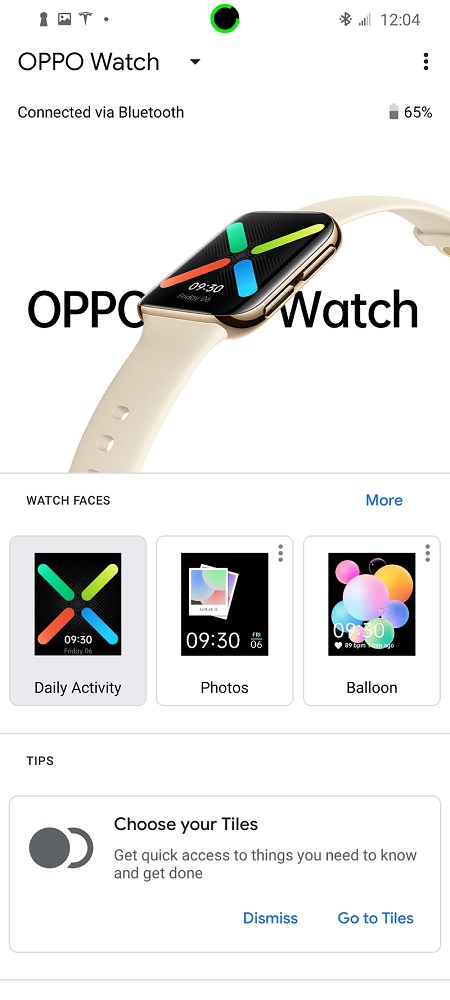 Oppo also offers a "Heytap Health" app which can control notifications and has health tracking built-in if you prefer not to use Google Wear OS / Google Fit.  This app adds a single feature I didn't find in the default Google Wear application:  the ability to take a picture and generate a watchface ("powered by AI") that matches your outfit (or whatever you want to take a picture of).  The feature worked fine, but overall just seems to be a color-matching process more than anything else.  The Heytap Health app is not required, and was full of metric-only measurements.  It's possible they'll add US/Imperial units in the future when Oppo fully launches this product in the North American market, but who knows.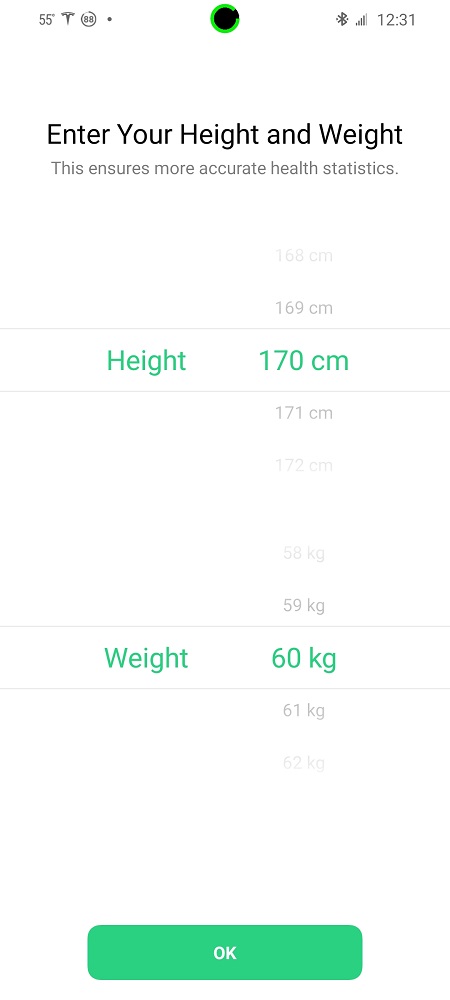 Design and features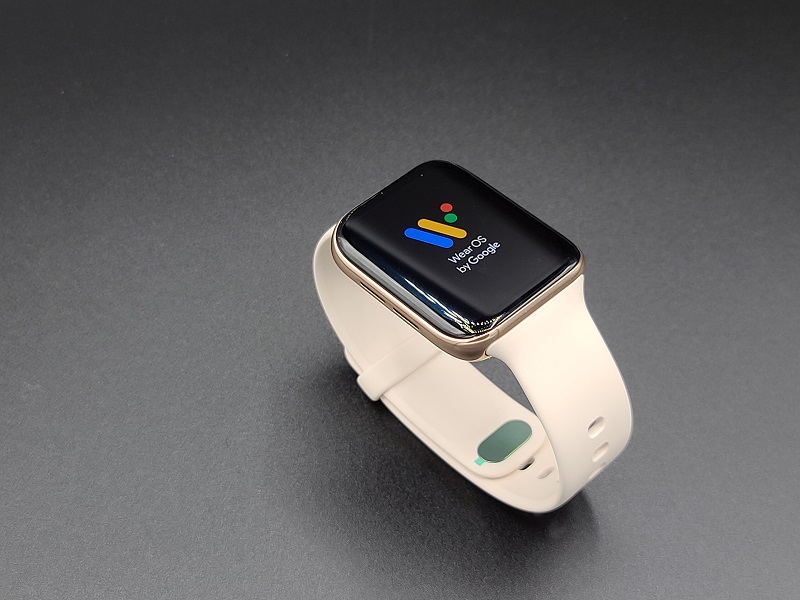 The first thing you notice about the design is how similar it is to the Apple Watch.  The two main differences are the "dual-curved display" and the lack of the "crown".  The display itself is beautiful and can get very bright, especially outdoors.  I found it easy to read in all situations.  It has a high-pixel-density and is AMOLED, so it looks sharp and vibrant.  The unit I was sent to review is a rose-gold body with a light pink strap.  They have other color options as well, and a smaller-sized version of the watch.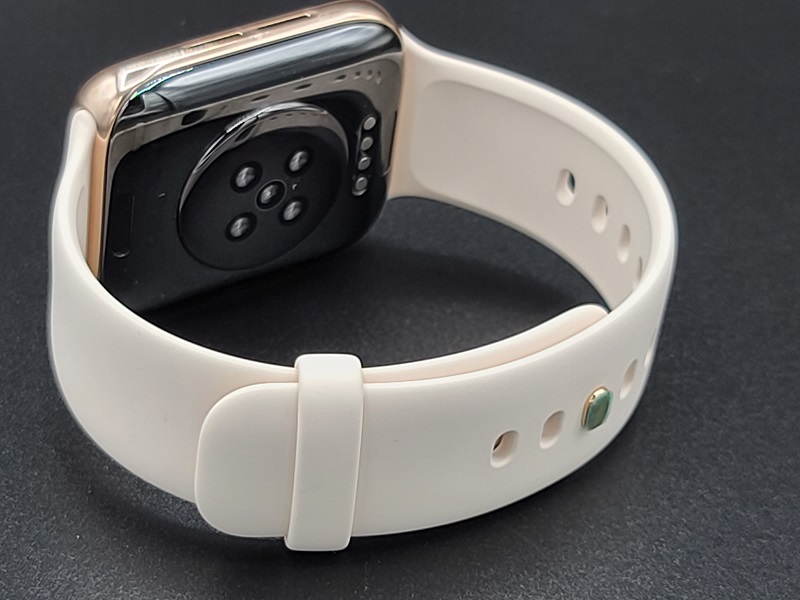 The strap seems to be a nice soft silicone, secured in place by simply pressing a strap-hole onto the metal button, then securing the loose bit of band.  I much prefer the style where you tuck the excess band under the strap, this was harder to put on though I did get used to it over time.  It is a proprietary watchband which is disappointing as it requires you to buy alternate styles and colors from the manufacturer  (or whatever companies decide to make other options).  This limits the aftermarket options significantly, I wish they'd gone with a standard watchband connection.  An alternate size half-strap is included in the box for smaller wrists, I think the combination of the two options will fit nearly everyone.  I have big wrists, and the larger one is comfortable at a small setting, so people with much larger wrists will still be able to wear it.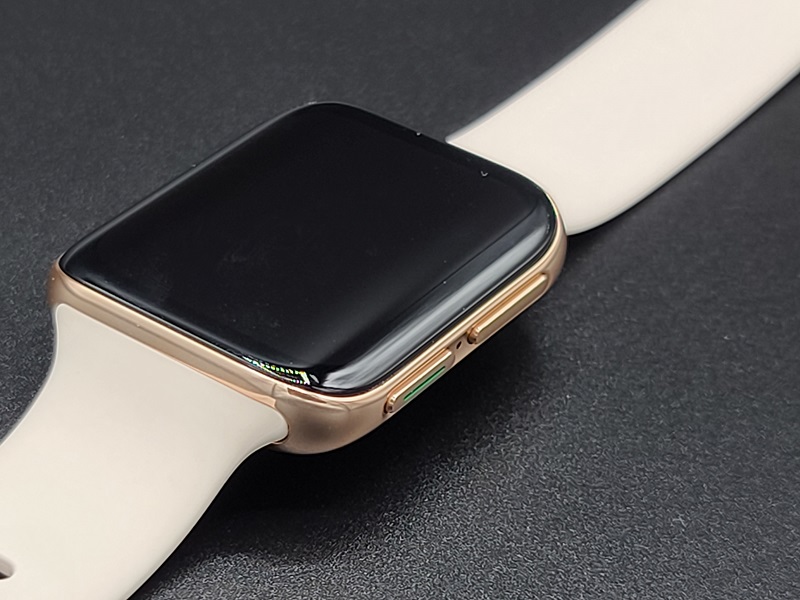 There are two buttons on the right side of the watch.  The top one functions as a Home/App-Drawer button, while the bottom can be mapped to whatever app/action you prefer (which I found really handy, I use my watch most often as a timer as I cook so this button is much faster than navigating an app list every time).
The watch displays text messages by default, and you can toggle other app notifications in the Wear app.  I appreciate being able to select per-application which should appear.  There are also do-not-disturb settings and the ability to disable notifications entirely.  Some notifications even send pictures over to the watch, but others were fairly unhelpful and contained a bit of text and an "open on phone" button.
The Oppo Wear OS powered watch has a built-in speaker and microphone, so you can take and receive calls from it, Dick Tracy style (what an excellent well-known reference in 2020!).  The feature was adequate, the speaker is nothing spectacular, and in noisy environments would be harder to hear than your phone's earpiece.
Battery life was enough to get me through a day with all but the heaviest use.  On the first day, after setup and a lot of screen-on time interacting with the watch I just about drained it by nighttime.  Luckily it supports fast charging, and the "0 to 46% battery in 15 minutes" promised by Oppo seemed about right though I didn't time it.   When the battery does get low you are prompted to enter the power-saving mode (which you can also invoke manually from the settings whenever you'd like).  I did this a few days into the review when the watch hit 33% battery.  After 3 days in this mode, I switched back to normal, and still had 30% battery life left!  The power-saving mode still alerts you to calls and notifications, displays time, and can take heart rate readings on-demand.  The only quirk I found in this mode was that you only have the choice of a few watchfaces, and the digital ones were all stuck in 24 hour time.  I reached out to Oppo, and they said this is controlled by your phone's date/time settings (mine is set to 12 hr), there are no settings/controls on the watch or apps to change this.  You could select an analog watchface or get used to 24 hour time, but if you're used to 12 hour, this takes getting used to.  As of the time of this review, the watch hasn't been officially launched in the United States yet so perhaps they'll change/update this behavior in the future.
I set up Google Pay on the watch, but wasn't able to test out the NFC payment during the review period.  The limited store runs I was doing during the COVID-19 plague resulted in no places where Google Pay was accepted.  If the store/retailer does support Google Pay tap-to-pay, the watch should work great for this.
Being a Google Wear OS based watch, Google Assistant is naturally baked in.  You can turn on "OK Google" detection so it's always listening, or access the Assistant with a simple swipe.  Accuracy was good, but voice-to-text was one of the few areas that felt a little slow to me.  Often I would speak to the assistant or use voice to enter text and there would be a moment where I wasn't sure it was working due to a delay in the text hitting the screen.  This makes using the feature feel less natural and easy, I'd guess it's latency from the watch sending data to the phone then to Google's servers then back, but I'm not sure.  Everything else on the watch felt speedy and fluid, this was the one interaction that I repeatedly was annoyed with (though I'm sure you'd get used to it if you used it heavily, I have had to get used to how long to wait before talking to Alexa, Google Assistant, Siri, etc. so maybe it's just a personal problem?).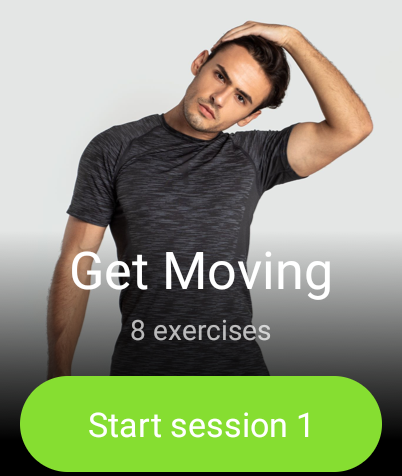 I tried out various fitness tracking and features with the Oppo Wear OS powered watch during my review period.  There are a couple built-in quick bodyweight workouts with video guides that would be good for beginners.  Through the Google Fit app you can track many other workout types.  I liked the outdoor running workout tracking, it gives useful data and seems to track things fairly accurately (readings were similar to my Amazfit Trex, so either they're both wrong together or they're both somewhat accurate).  Indoor treadmill tracking was problematic though, a 2-mile walk only registered as .15 miles on the watch.  There's also a breathing-guide app built-in, which is helpful in stressful times.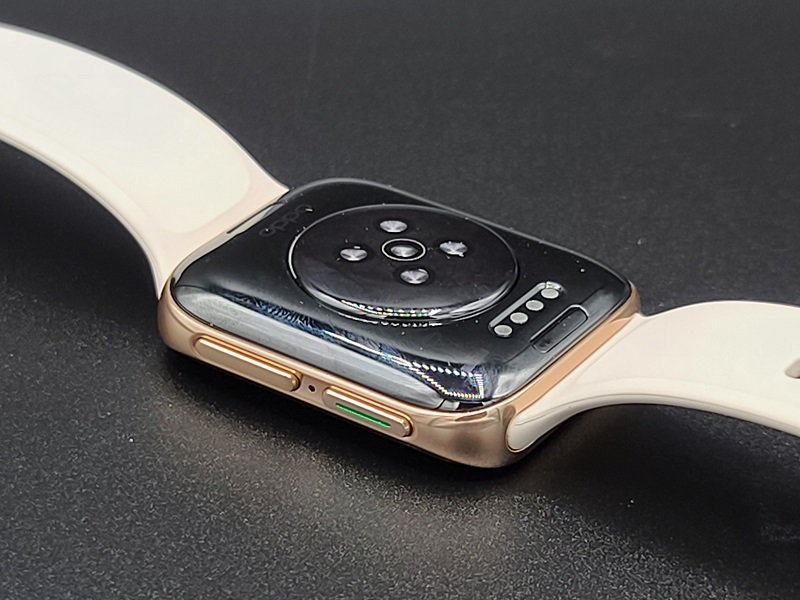 On the back of the watch are the various sensors used to detect heart rate and blood oxygen levels, as well as the charger connection pins.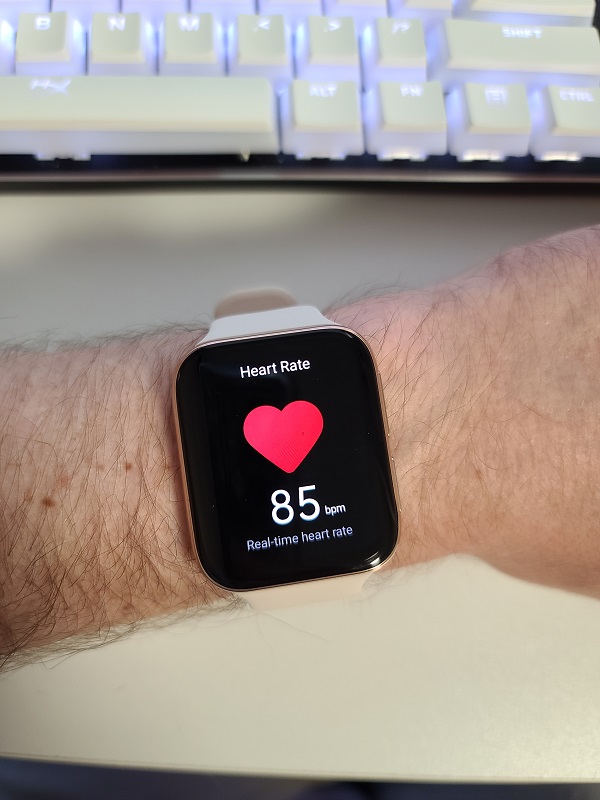 Like the fitness tracking, the heart rate tracking was similar to my other available smartwatch.  You can enable all-day heart rate tracking in settings, and this didn't seem to have a big impact on battery life for me (despite a warning to that effect).  The on-demand heart rate readings were pretty quick and easy.  Some devices take a long time and jump all over the place on heart rate reads, but the Oppo Wear OS powered watch was consistent and faster than average.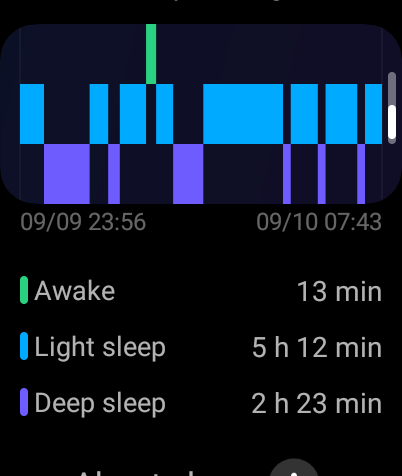 Sleep tracking was good.  It picked up middle of the night wake-ups and even detected when I was laying down but not sleeping (I often "doom-scroll" through news/Reddit while laying in bed).  Speaking of, I had the tilt-to-wake function on and it would splash light towards my partner late at night.  Instead of permanently turning it off, I discovered the "movie-mode", which disables the display until you press a side button again, which was perfect for late-night time-wasting.
What I like
Excellent performance
Chock-full of functions
Best screen I've seen on a watch yet
Long battery life mode option plus full day capability
Fast charging
What I'd change
Proprietary watch bands
Too close a clone to the Apple Watch
Newer processor
Clasp is awkward
Availability in question
Final thoughts
I think the Oppo Wear OS powered watch is a compelling smart watch for buyers looking for lots of functionality, great looks, and a brilliant screen.  I think Oppo has done a good job of sprinkling in just enough of their own software tweaks and enhancements to where the watch isn't just another clone, but instead is a good option for many people.
Price:  $266 (and the 41mm option is available for $200)
Where to buy: (currently not available for purchase in the US or UK)
Source: The sample for this review was provided by Oppo.