We use affiliate links. If you buy something through the links on this page, we may earn a commission at no cost to you. Learn more.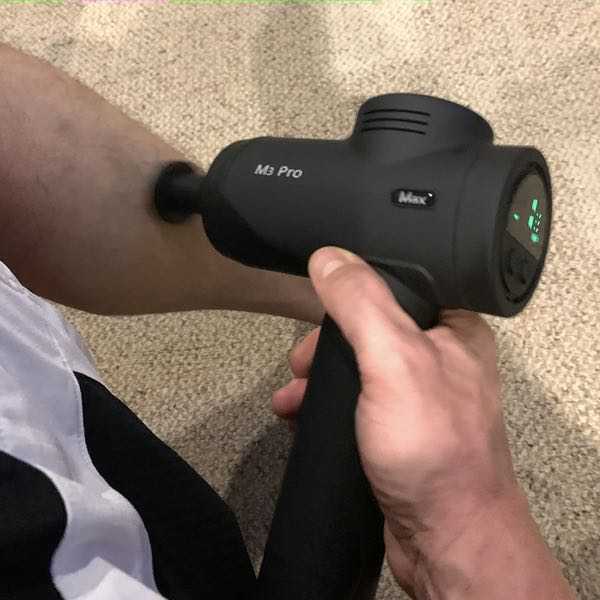 REVIEW – Got sore muscles? The Opove M3 Pro Max Massage Gun is a percussion therapy tool designed to help work out those kinks and strains. It's kind of like taking a jackhammer to your muscles… but in a good way (really). Let's find out more. To the review!
What is it?
It's a deep tissue massage gun.
What's in the box?
Opove makes several different models, but the one I'm testing is the M3 Pro Max version. You'll get the base unit with 5 different massage heads, along with a charger.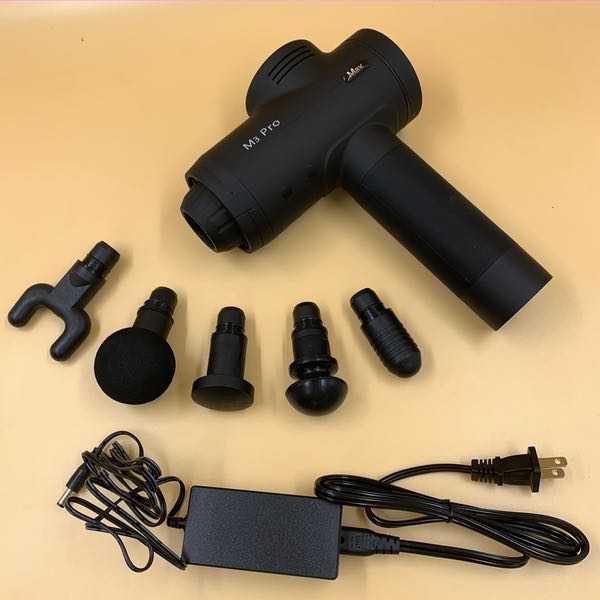 Everything comes in a portable case for storage and travel.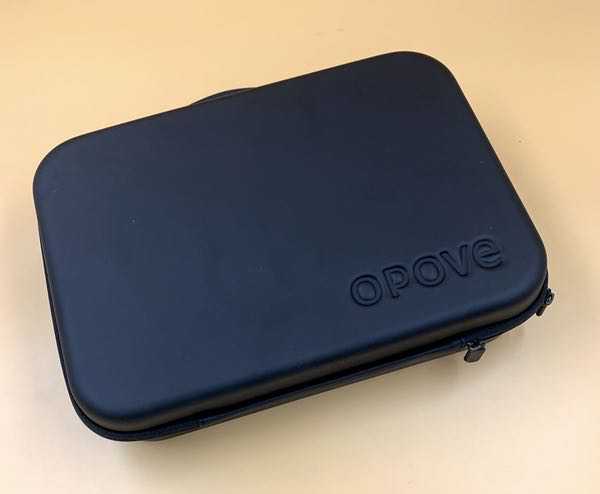 Hardware specs
13.4 x 9.8 x 4.1 inches & 4.95 pounds (total kit; massage gun weighs 2.3 pounds)
Lithium ion non removable battery
240 minutes of function on a single charge (3-4 hour recharge time)
55 pound stall force
15 mm stroke length
4 speeds
5 attachments
Design and features
Before I even started playing with the massage gun, I was impressed with the package. Opove provides a rugged case that keeps all your components and parts in order. It's made for portability if you're taking it to the gym or the track, or you just want to stash it in a closet without the parts being kicked around.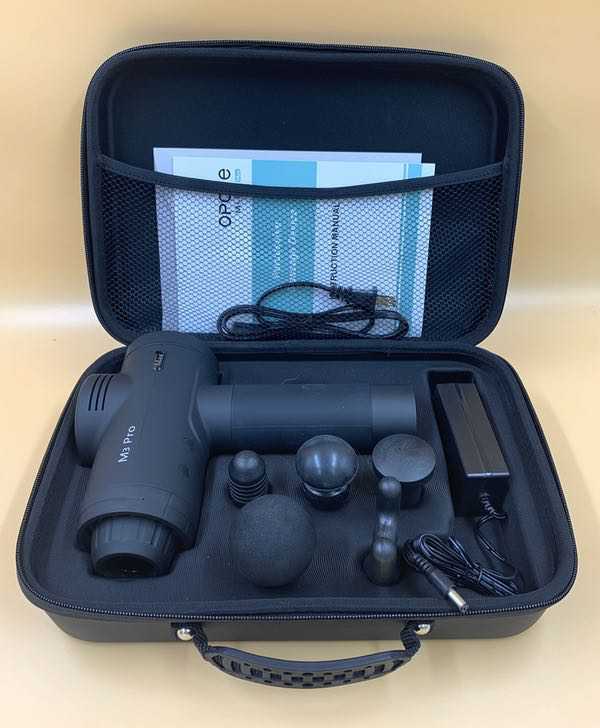 The beefy build is made for extended use. The unit itself weighs in at 2.3 pounds, and all the surfaces are rubberized for a non-slip grip. Your charging port is on the base of the unit, but you can go for up to four hours of continuous use between charges which is ideal for portability.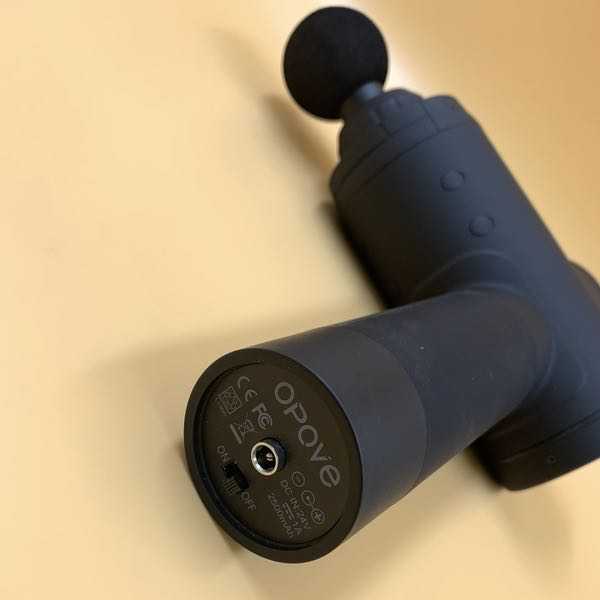 Here's the business end of the massage gun, without an attachment in place. That heavy build is important since this thing provides a max speed of 3300 percussions per minute.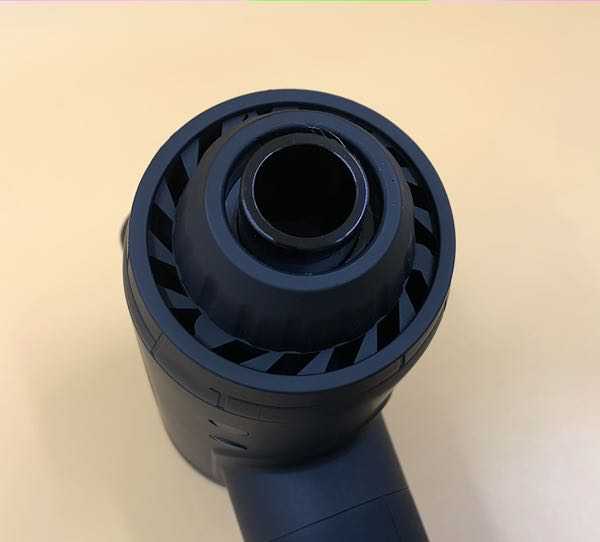 You'll get 5 interchangeable attachments for the gun. These range from hard plastic nubs to softer rubber tips each designed for different muscle groups or body parts. Like the gun itself, each attachment is made from reinforced materials to ensure long-lasting use.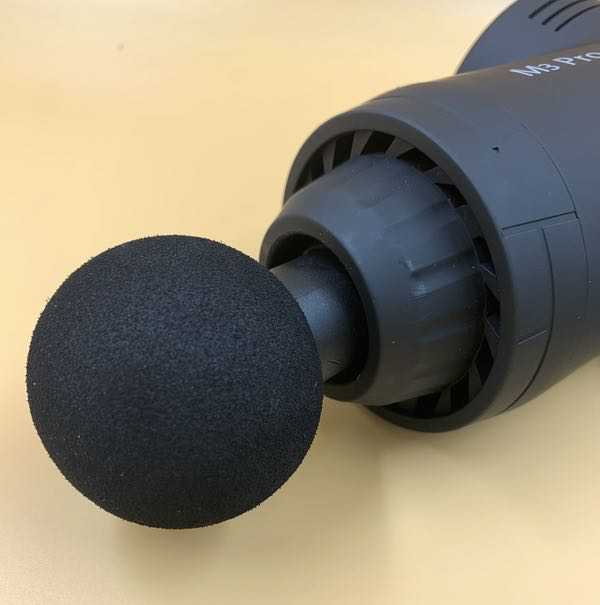 Your controls are on a panel on the back side of the gun along with your status readouts. Two big buttons allow you to select your mode and/or increase the intensity of the massage.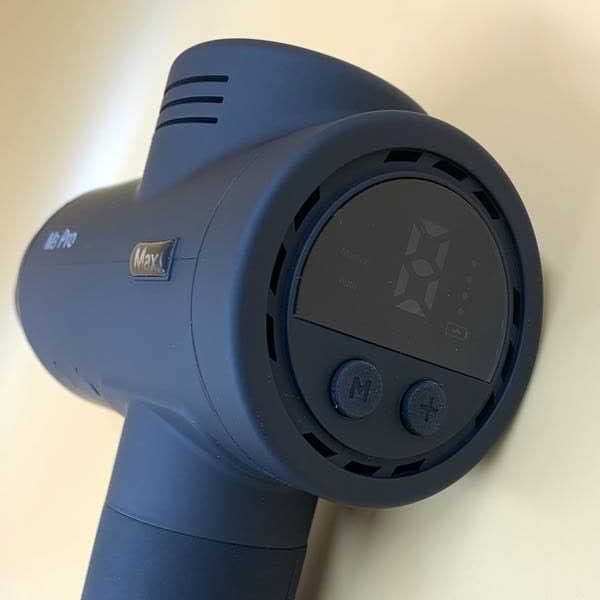 To get going, you'll insert the desired attachment with a push and twist to lock it in the chamber.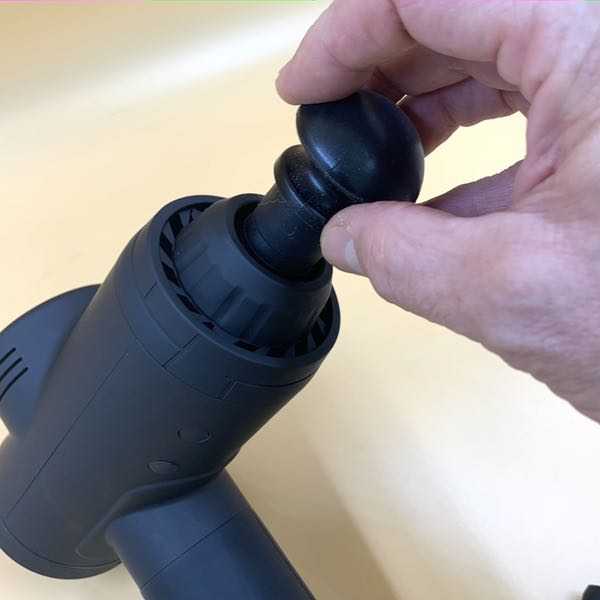 Flip the power switch on the bottom of the unit, and the LED screen shows your mode, the intensity, and the remaining charge on the device.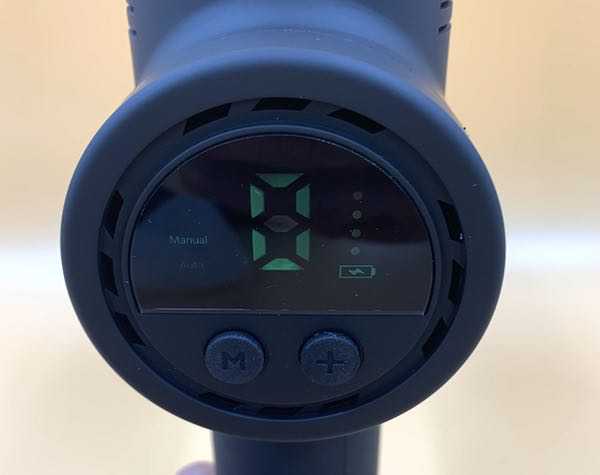 Here I have the unit set to manual mode, which means I am choosing the intensity level. The plus button increases to intensity to 1 in the pic I am showing here. That's when things get moving.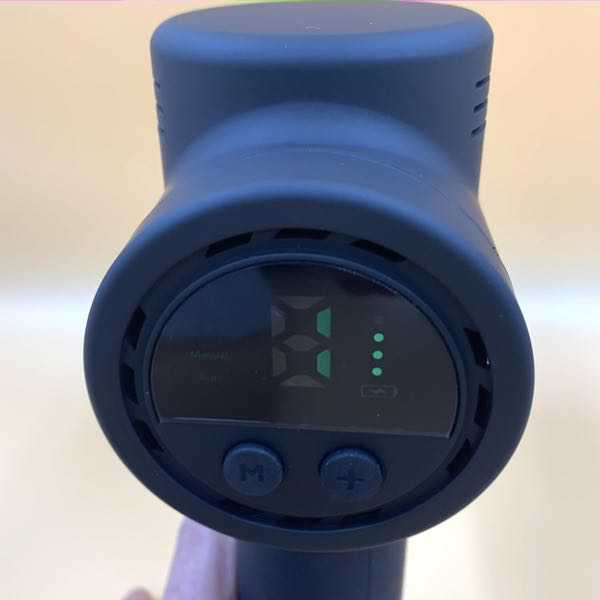 You'll then get to work on the different muscle groups you're trying to treat. I tend to get sore legs after workouts, so here I am applying the gun to my inner calf muscle. You'll hold the gun about an inch from the skin and let the gun do its work.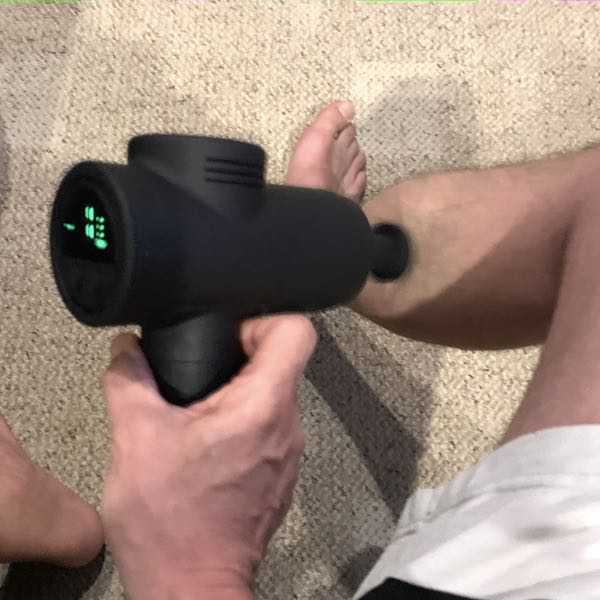 Here I've switched to the other leg, but I am in "Auto" made. Press the "M" button when you turn it on to start that up (the LED indicator tells you which mode you're in), and press the plus button to get the desired level of starting intensity. The gun now measures the pressure you're putting on the area, and automatically increases or decreases the percussions per minute to adjust to the pressure.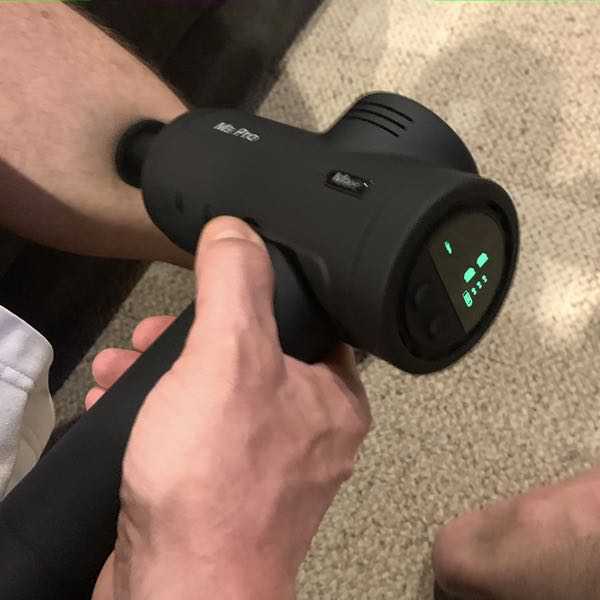 That's really all there is to it. The operation is simple and straightforward. It's a well designed, durable, simple piece of gear for getting the job done.
Performance
Before we get into discussion performance, we should talk about percussion therapy for a minute. The whole concept is that you apply intense pressure to the muscle groups, loosening up tight muscles and stimulating blood flow to both speed up recovery and reduce the pain associated with overworked muscles. This used to be the kind of thing that you would only get from a professional trainer or therapist, but now I'm seeing a lot of articles about the benefits of doing deep-tissue therapy at home. That said, you should absolutely make sure that you do your research before starting to use a device like this. You can cause some damage to the wrong conditions, especially if you have medical issues or if you apply the device to the wrong areas. Check with your doctor or trainer first!
Using the Opove M3 Pro Max Massage Gun can be a seriously intense experience. Even at the lowest settings, it can be uncomfortable until you get used to it. Jumping to the higher settings in manual mode was like hitting my muscles with a jackhammer, and not always in a good way. Athletes and fitness enthusiasts who have experience with these things may not have those issues, but I think those that are new to this sort of treatment should be aware of this.
Here's the recommended use for each attachment right out of the manual. #1 (the big ball) and #5 (the soft head) are the ones that we've found to be the most comfortable. The other three are hard plastic heads. Again I admit that I am a newbie to this sort of treatment, but I have found those hard plastic attachments to be way too intense for regular use.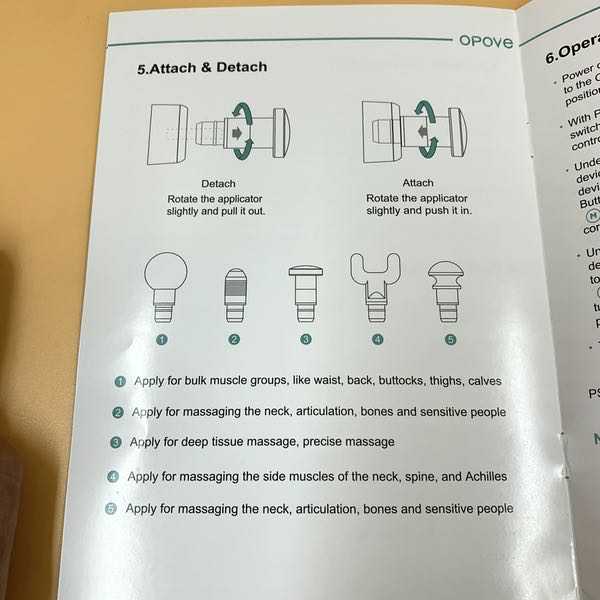 The device is also pretty large and heavy, which could make it difficult to maneuver if you're doing it by yourself. My wife has noted that the big bulky unit can be hard to handle with her smaller hands. 
Speaking of locations and use… you'll want to do a little research into this sort of therapy before you get started. This is not a low-impact massager, and applying it in the wrong area (like below your ribs) can be quite painful and potentially harmful.
I do find that the deep-tissue massage has been very effective for me in the right spots. I tend to have issues with soreness in my legs, and the Opove M3 Pro Max Massage Gun has been great for sore calves and legs. It's quite uncomfortable when you first apply the thing and during use as the intensity increases, but it does result in less post-workout pain a few hours down the road.
One final note regarding the design: I have had experience with the largest attachment (the big round one) randomly popping loose during sessions. I don't see this with the other attachments, however.
What I like
Easy operation
Very portable
Long battery life between charges
Beefy and durable for long-term use
What needs to be improved
It takes some getting used to if you've never used one before
Big, heavy device may be tougher some to use
Have seen some issues with the largest attachment popping off during use
Final thoughts
Overall I've found the Opove M3 Pro Max Massage Gun to be very helpful for muscle recovery, particularly in my legs. I think experienced fitness enthusiasts will appreciate the rugged durability, portability, and powerful massage settings this specific model offers. If you're new to this sort of therapy, however, this device may be a bit too intense for you as a starting point.
Price: $219.99
Where to buy: Amazon
Source: The sample of this product was provided by Opove.