We use affiliate links. If you buy something through the links on this page, we may earn a commission at no cost to you. Learn more.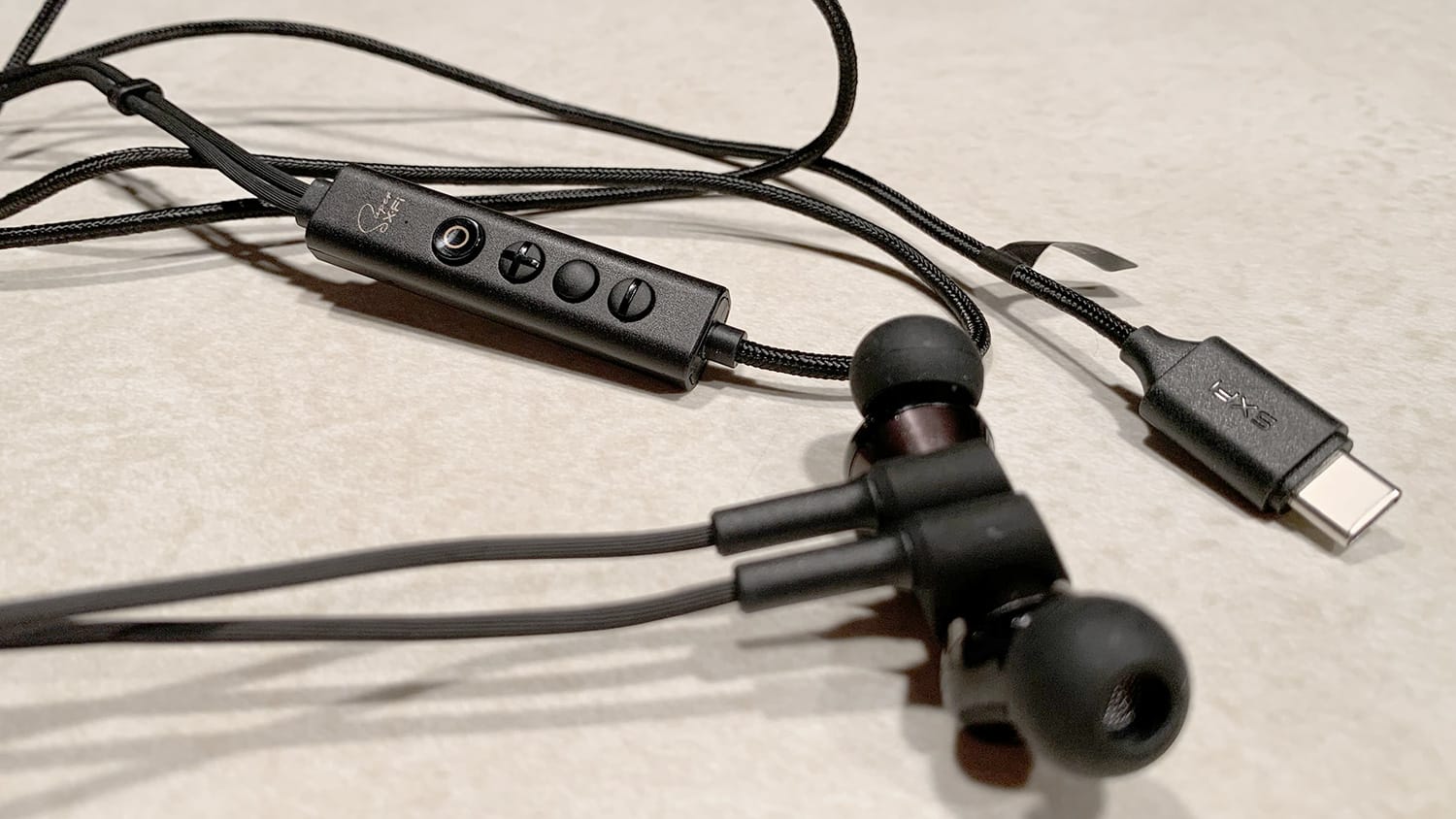 REVIEW – In an engineering feat, the Creative SXFI TRIO Earbuds manages to pack an entire 7.1 surround sound system — or at least the impression of one — into a tiny package.
What is it?
The Creative SXFI TRIO are USB-C powered earbuds, featuring award-winning Super X-Fi headphone holography. They are imbued with a hybrid triple-driver system to deliver clear acoustics performance and powerful bass.
What's in the box?
SXFI TRIO earphones
6 earbud sizes from 10mm to 16mm
Carry Pouch
Secure Clip
Quick-start guide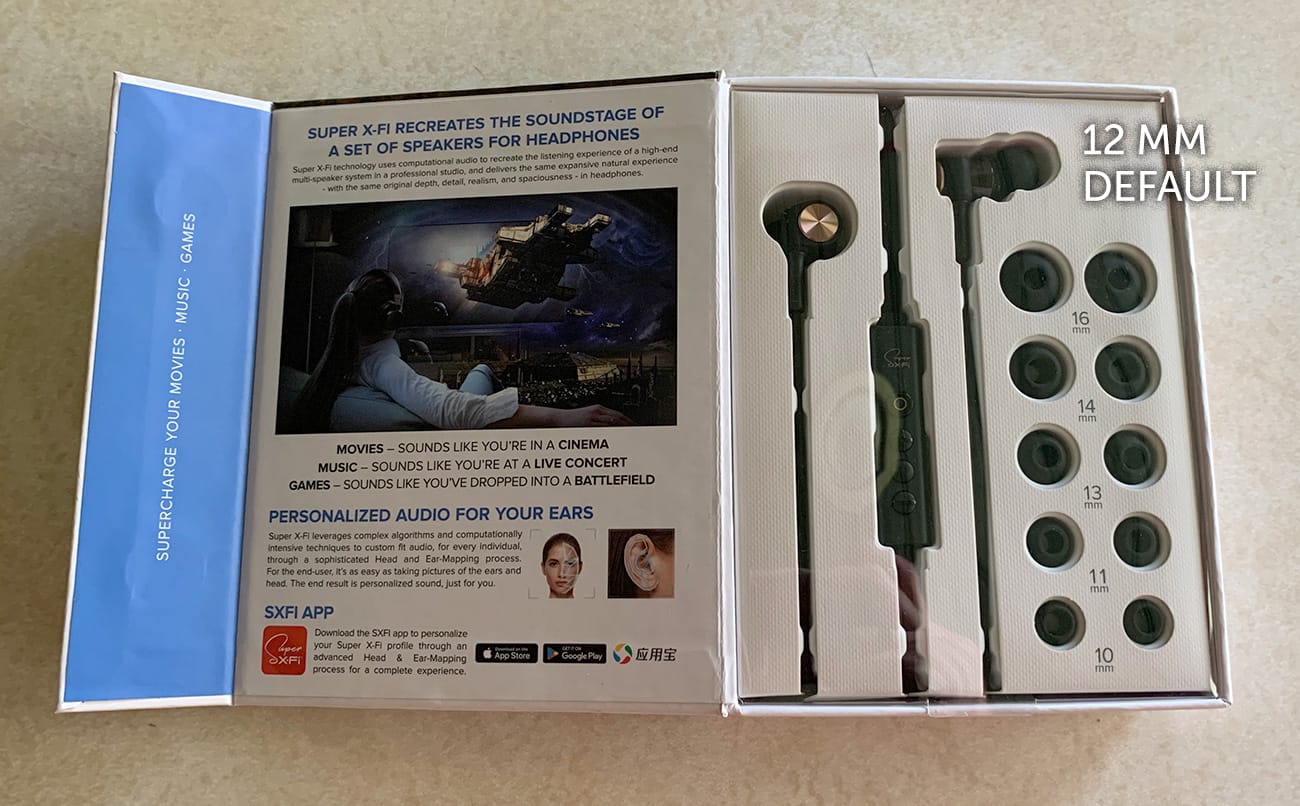 Hardware specs
Noise-isolation earths
USB-C connector
Inline mic
Built-in amp with volume and playback controls
Kevlar USB-C cable
Black color
Dual Balanced Armature Drivers, 10 mm Bio-Cellulose Dynamic Driver
In-ear
0–45°C operating temperature
IMD (inter-modulation distortion): < 0.008%
Crosstalk: < -90 dB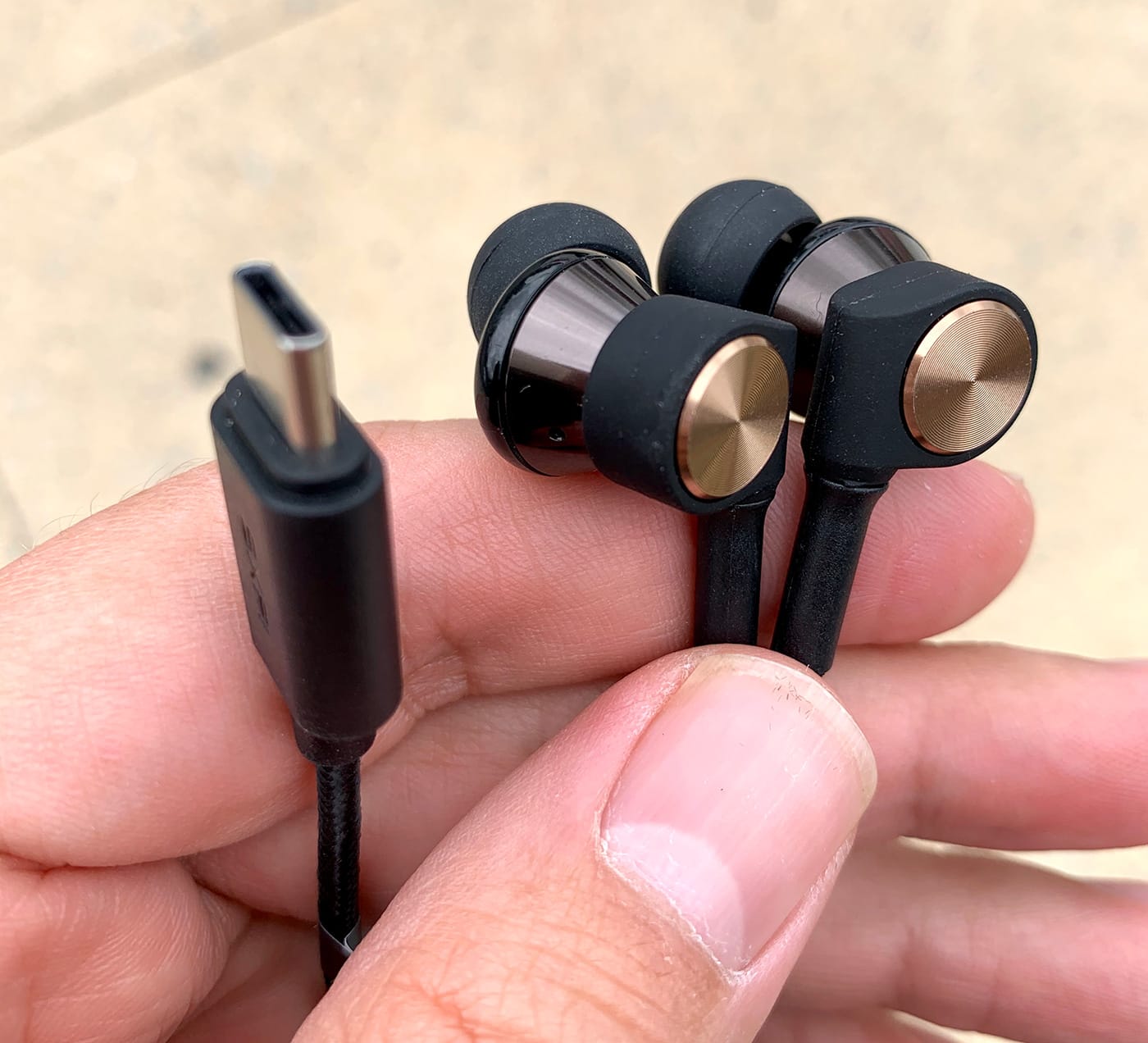 Design and features
The SXFI TRIO is a really handsome set of earphones. I appreciate that they're not very large, despite the 10mm drivers in them, and the mini-amp embedded in the control stick keeps things compact.
They're all black, except for the magnetic drivers on the outside of the earpieces. The cable is double wrapped in copper and kevlar and feels extremely durable. They have a premium look and feel.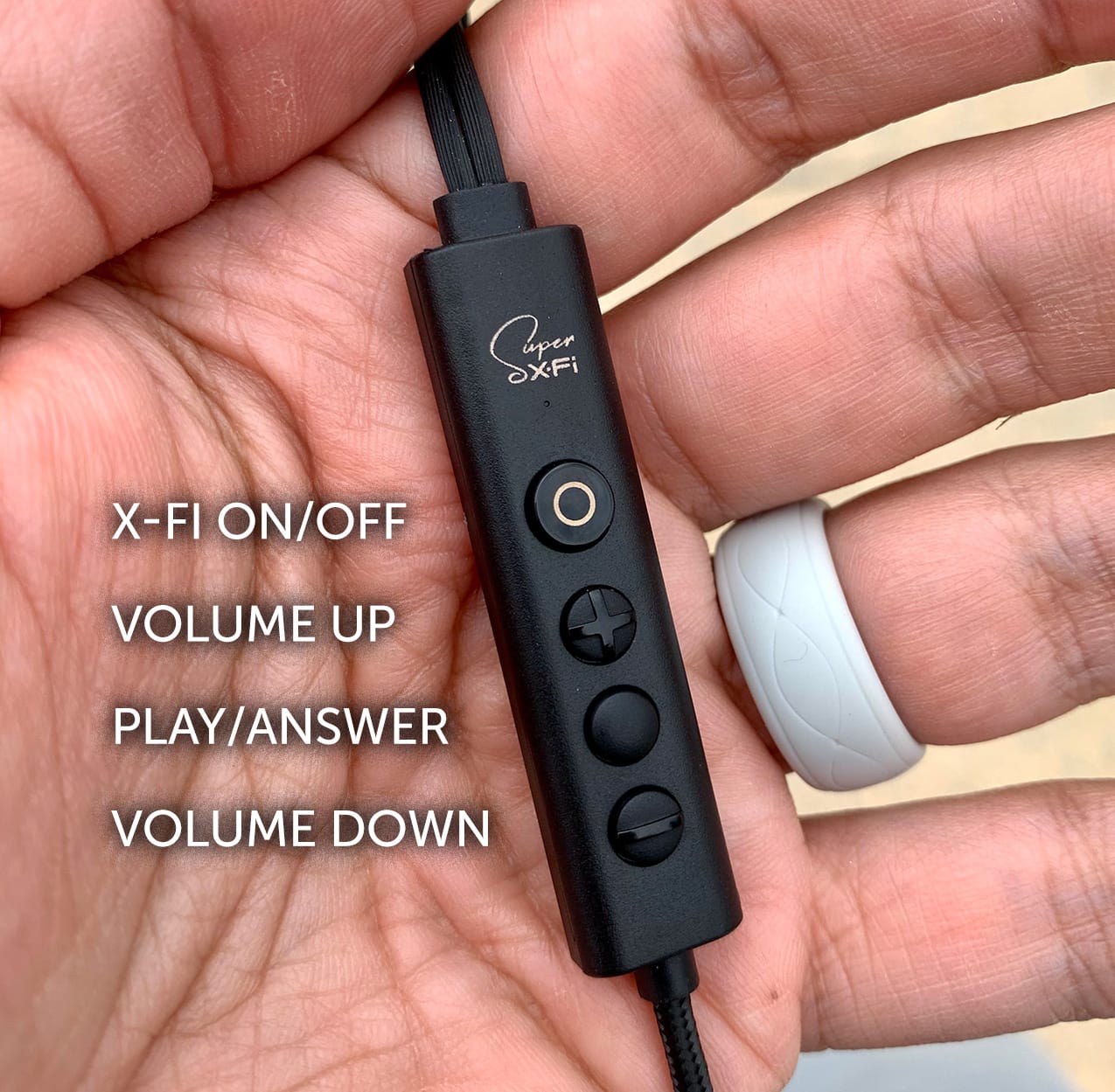 The rubber earbud tips are firmly rooted in place, it takes some doing to get them off and attache replacement tips.
There is a mic located on the right wire, and the control "stick", I'd call it, is located just below where the left and right wires join. On this stick is the SXFI on/off button, volume controls, and a play/answer button. There is also a tiny LED light that glows green and orange if the SXFI effect is turned on or off, respectively.
Setup
Normally, the only setup you'd have to do with the pair of earbuds is taking them out of the package, maybe swapping earbud tips, and plugging them in. Boom, all set.
The SXFI TRIO comes with 6 earbud tip sizes to ensure a secure fit. A good seal is imperative with earbuds to make the best use of the natural acoustics of your ears. I really appreciate the TRIOs come with twice as many earbud tips as a normal pair would… instead of small, medium and large, you get a full array of sizes from 10mm to 16mm diameters. I ended up being good with 13mm.
Wouldn't you know it that despite the granularity in tip sizes, my ears are a size in between 13mm and 14mm, but the smaller size still provided a good seal and didn't hurt after an hour.
The TRIO has a USB-C connector, which limits the number of devices it can connect to. I could use them with my MacBook Pro, iPad Pro and Nintendo Switch, but not my iPhone.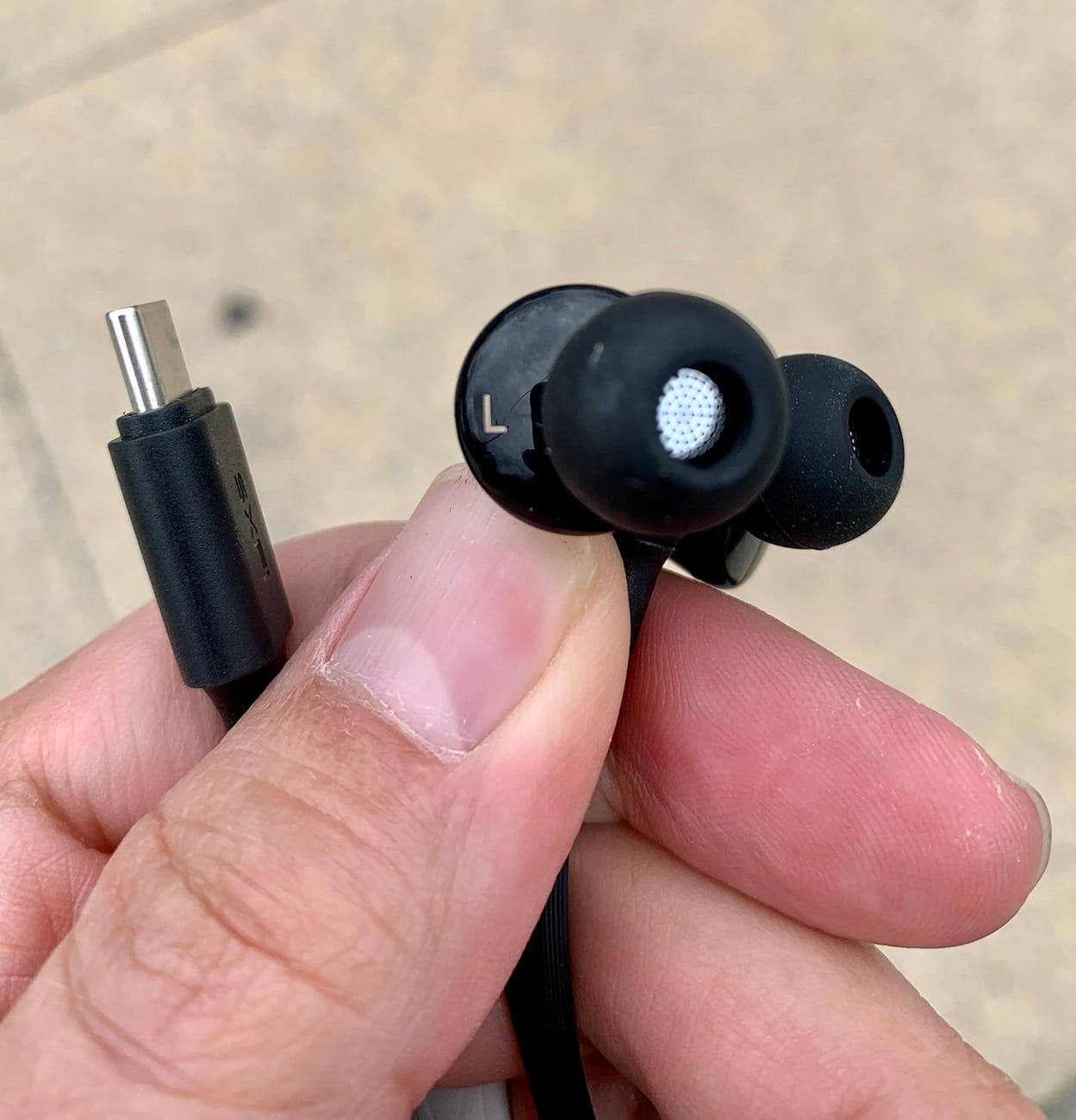 It's worth mentioning that the number of non-iPhone smartphones these headphones work with seems small. Maybe the Google Pixel series. It doesn't seem compatible with micro USB phones, anyway, according to the site.
As mentioned directly on Creative's website:
The SXFI TRIO has been designed to work with fully compliant USB-C Android phones, for example, the Google Pixel series. Some phones display partial compatibility with the SXFI TRIO, and may have limited mic functionality.
Most Samsung phones implemented their USB-C differently from the Android standard, and thus exhibits mic compatibility issues. The music playback function is not affected.
The SXFI TRIO is not compatible with iPhones and older USB Micro-B phones.
Provided you have something you can actually use with the headphones, great! We can get to the last step in the process.
Creative makes a smartphone app that scans your ears that head to calibrate the audio, customized to your face and ear shape. I haven't the slightest clue how this works, or if it does anything at all. According to Creative's site:
… complex algorithms and computationally intensive techniques to custom fit audio, for every individual, through a sophisticated Head and Ear-Mapping process.
I have to assume it does something, but it sounds so farfetched, and there was nothing on the site that says how or why it works, so I'm a little skeptical.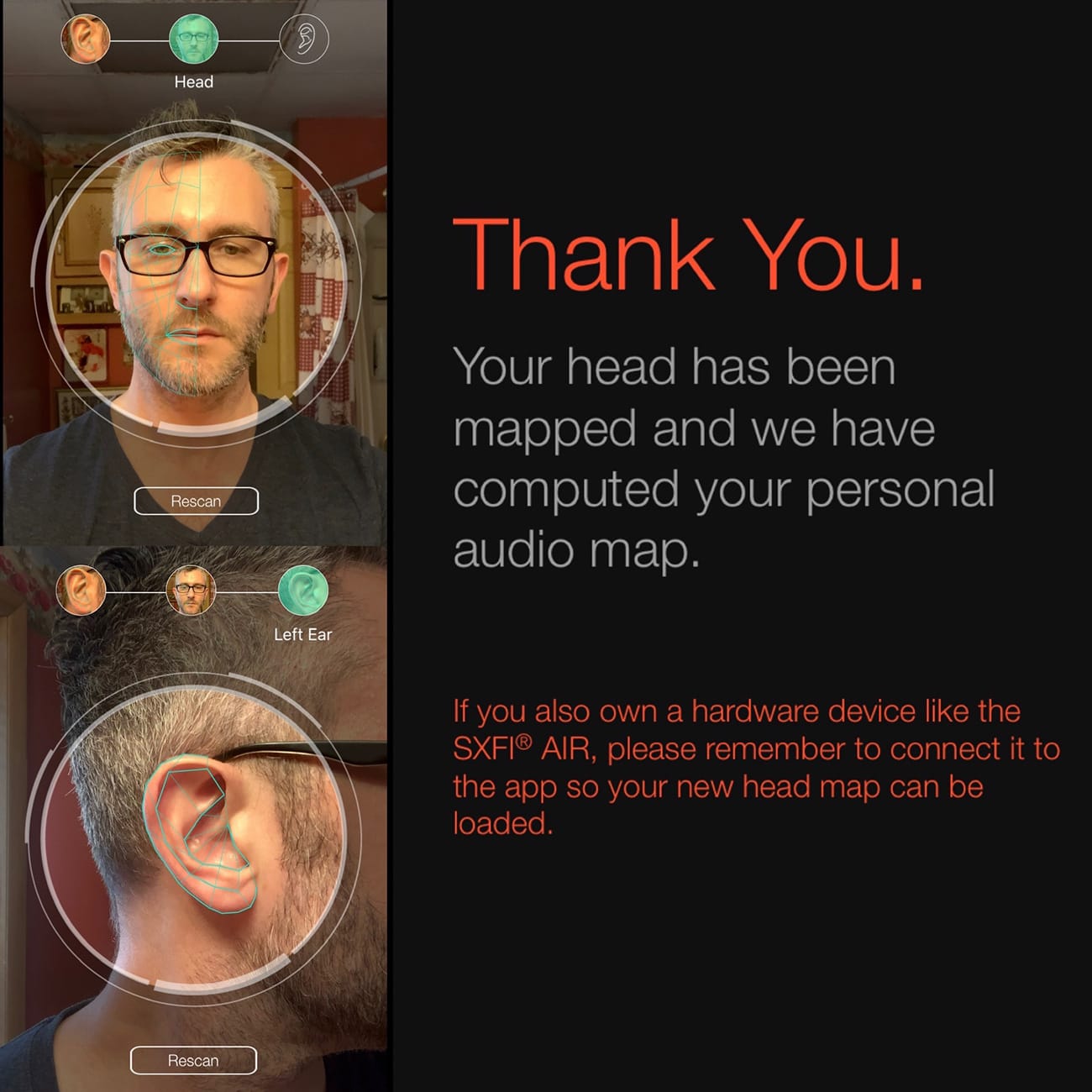 Pro tip: you might want to get someone else to help you with this process, as you have to take a picture of the sides of your head, lining up an overlay of an ear with your own.
I managed to do it, and running the iPhone app on an iPad Pro, no less, because I didn't have a phone with a USB-C connection. I'm a little confused why there even was an iPhone app, unless you can get some sort of USB-C to Lightning adapter. I don't see how you'd connect the TRIO.
After the photos were snapped and the analysis was complete, the TRIO updated itself through the app, installed the latest firmware, and saved the settings in the earphones themselves. That's awesome. Because I don't want to have to do that setup ever again.
Performance
Finally, we get to what really matters in any set of earphones. How do they sound? And what's up with this Super X-Fi technology, anyway?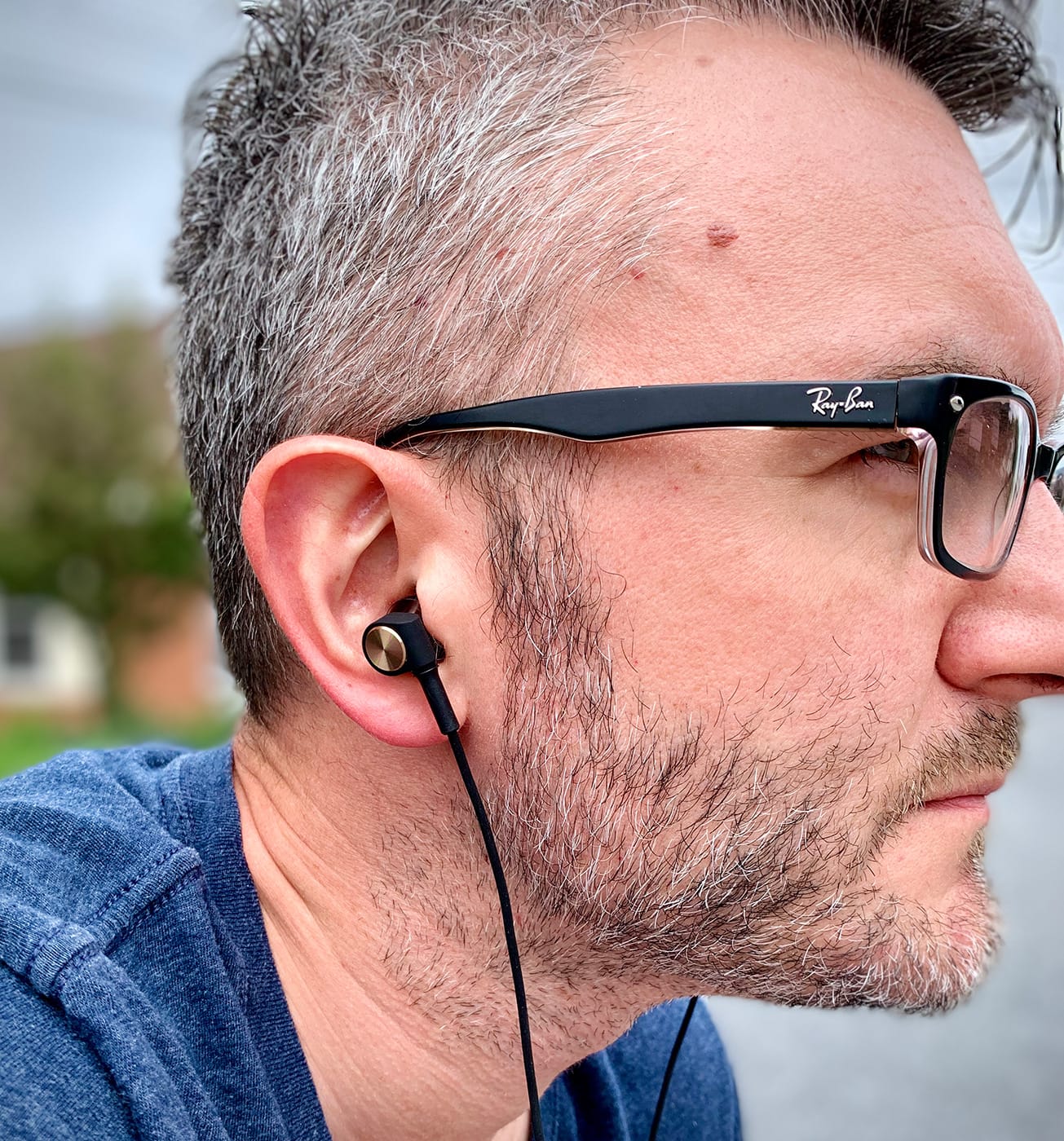 First off, these TRIO headphones really trick your brain into hearing an expanse of sound. Typically, earbuds sound a little bassy, and have what almost feels like a claustrophobic sound. They're close and personal and sort of feel like listening to a radio in a closet.
The TRIOs sound like listening in a concert hall.
I imagine that's why they put that button on the control stick that switches the X-Fi on and off. It's a pure gimmick to flip back and forth between "normal" and X-Fi modes, just to hear how much more open and airy it feels. I imagine it has something to do with how the earphones mix and balance the channels and frequencies, but honestly, it's really something to hear, the difference between these and, say, my AirPods Pro.
And if you're listening to media that utilizes 7.1 surround sound, that's exactly what these little TRIOs were made for. Throw on an action scene from a recent Star Wars or Marvel movie, and the TRIOs do a great job of throwing the sound all around you, not just left and right channels, but front, back and center as well.
If you have access to an equalizer in the app you're using, it's worth messing with the settings a bit to find that sweet spot for the type of music you're listening to. Boosting the bass a bit would be my suggestion, as X-Fi mode seems to lean away from the low end sounds to ensure the spatial effect isn't weakened.
Bass is usually a bit weak on earbuds, anyway, to keep the drivers down to a manageable size and weight.
One thing that I wish I could have changed was the wire. Let's face it, with the explosion of Bluetooth 5 earphones and the ubiquitous AirPods, having to deal with a wire again felt just plain awful. I get that they're necessary to drive that much power to the amplifier and all… but it actually made me glad that I couldn't use the TRIOs with my iPhone, and instead had to be fitted to a more permanent device like a laptop or my Switch.
Speaking of which, I played through several games, and they all sounded great. I decided to plow through a couple levels of violent rhythm game, Thumper, which relies heavily on sound, and the driving, pounding soundtrack engulfed my mind.
Every test I threw at it … video streaming, music apps, gaming … everything felt wide and atmospheric. It's a wonderful little engineering trick, but it really does present layers of depth, and amazingly well for such a tiny package.
What I like
Full-surround sound in a tiny package
Very clear, sharp spacial sound
Settings saved to the headphone memory after initial setup
What needs to be improved
Not compatible with many phones
The "ear mapping" seems pretty bogus
Final thoughts
The Creative SXFI TRIO presents a pleasing pastiche of expansive audio space. It's an interesting illusion, an impressionist painting version of surround sound, that comes close enough to a full 7.1 audio system in a tiny, portable package. If you're looking for some fantastic-sounding earbuds and have the devices to handle it, these TRIOs come highly recommended.
Price: $139.99
Where to buy: You can pick up a pair of SXFI TRIO In-ear Headphones directly from Creative's website.
Source: The sample of this product was provided by Creative.