We use affiliate links. If you buy something through the links on this page, we may earn a commission at no cost to you. Learn more.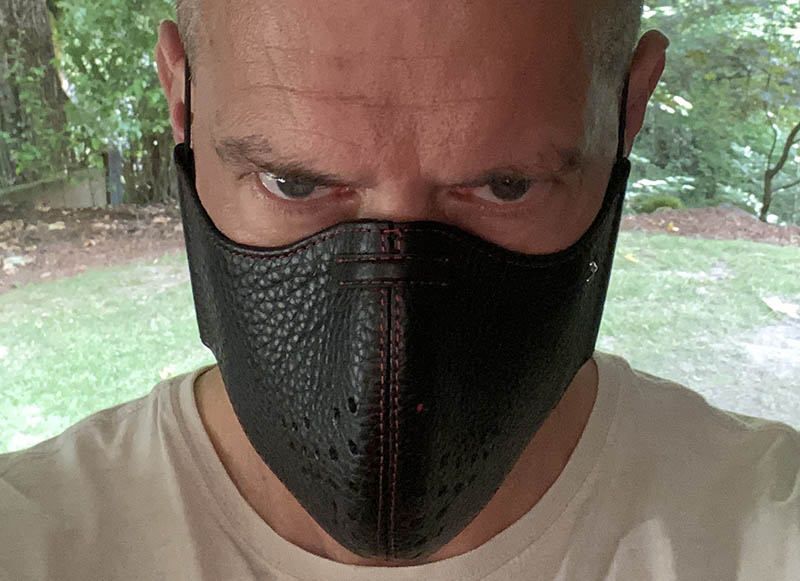 REVIEW – Who would have thought in 2019 that in less than a year hand sanitizer, disinfectant wipes, and face masks were going to be some of the most sought after items in 2020. To help with this demand, many manufacturers have jumped in and are now producing these critical products. Some folks are embracing the moment and are wearing some pretty fancy, imaginative, and expressive masks…and in these times every little bit helps. Well, the designers at Vaja have gotten into the mask making game too. Using their decades of experience creating fine leather goods for our precious tech gear, their craftsmen have designed a mask that will definitely turn heads. They sent a few of their recently released Pro-Mask 1.0 for this review…so let's check them out.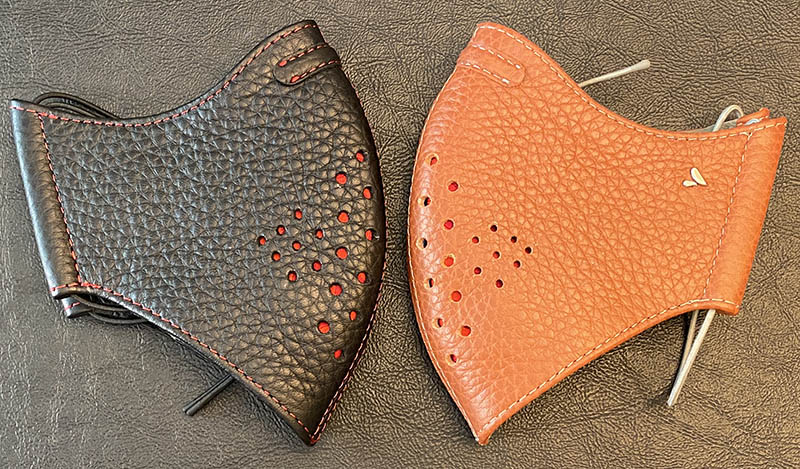 What is it?
The Vaja Pro-Mask 1.0 is a handmade leather form-fitting face covering designed to cover your nose and mouth. The Mask has vent holes cut into the leather with a replaceable inner fabric liner/filter to breath thru that is held magnetically in place.
What's in the box?
Mask 1.0
Replaceable inner liner/filter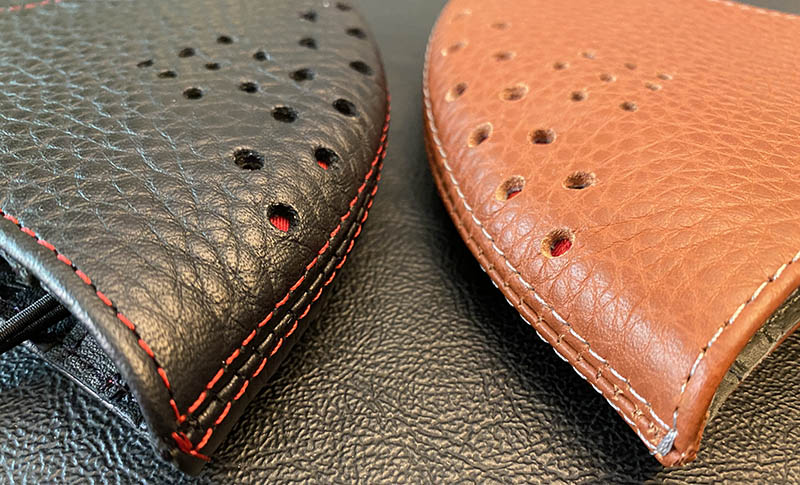 Design and features
The exterior of the Pro-Mask is made from Vaja's Floater all-weather leather with accent stitching throughout.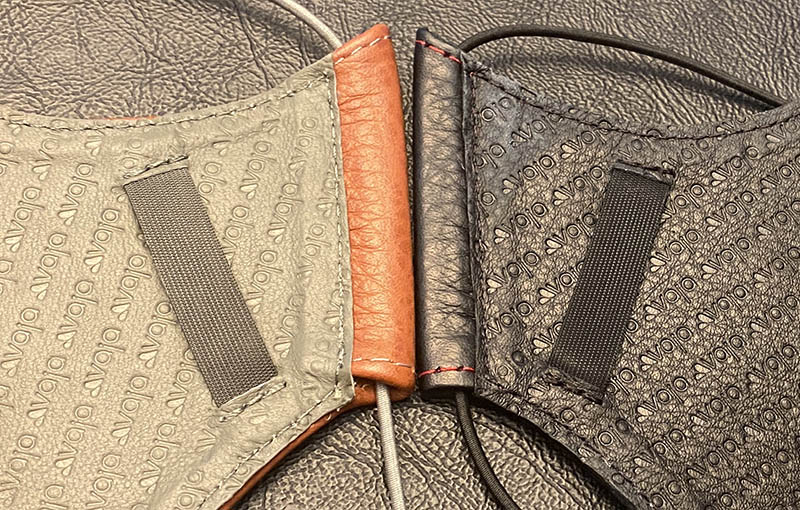 The interior is lined with their embossed soft Caterina leather making for a very nice feel when worn.

As you can see, the Mask has holes cut into the front to allow airflow and better breathability.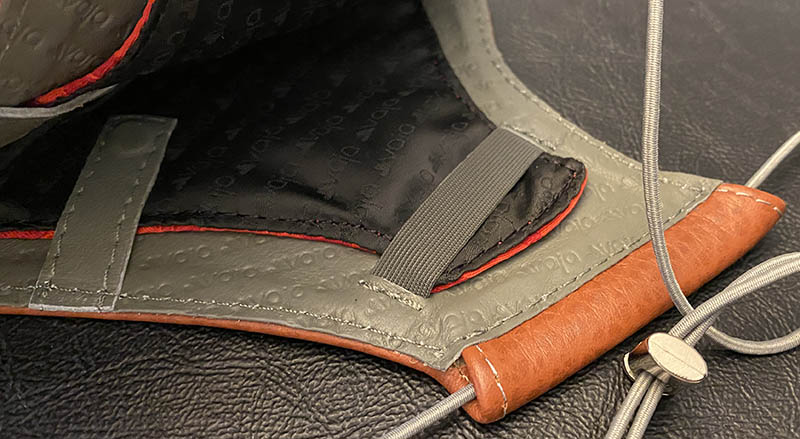 Inside the Pro-Mask there is a detachable/washable/reusable fabric liner held in place by embedded magnets and elastic straps. This multilayer liner is meant to (obviously) breath thru.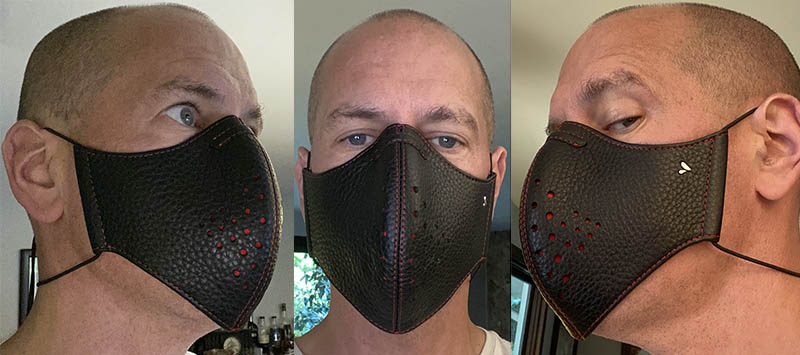 Fit and comfort
The Pro-Mask 1.0 is form fitted, very comfortable to wear, and contours nicely to your face. The mask completely covers a majority of your face including your mouth and nose. Stitched into the top of the mask is a replaceable aluminum nose clip for a snug fit. The adjustable elastic bands sit on the back of your neck and up over your ears behind your head.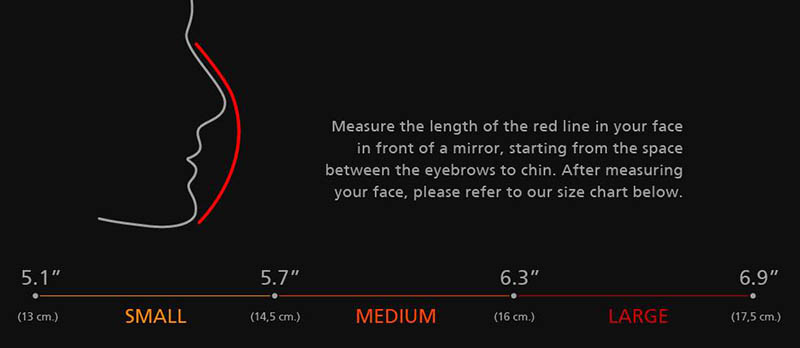 The Pro-Mask comes in three sizes and Vaja does a good job helping you determine which size will fit you best. I wear a medium and the sizing and fit is spot on. The mask is very comfortable but does get a little warm on a hot day or when out in the sun. That said, it will be very nice during the winter/cooler weather.

Quality and finishing
The Pro-Mask 1.0 is handcrafted by Vaja leather artisans and is as nicely finished as any of their cases I have tried over the years. The leather and edging are very well done. The leather smells awesome making the mask great to wear. Though no guarantees on how long the new car smell will last.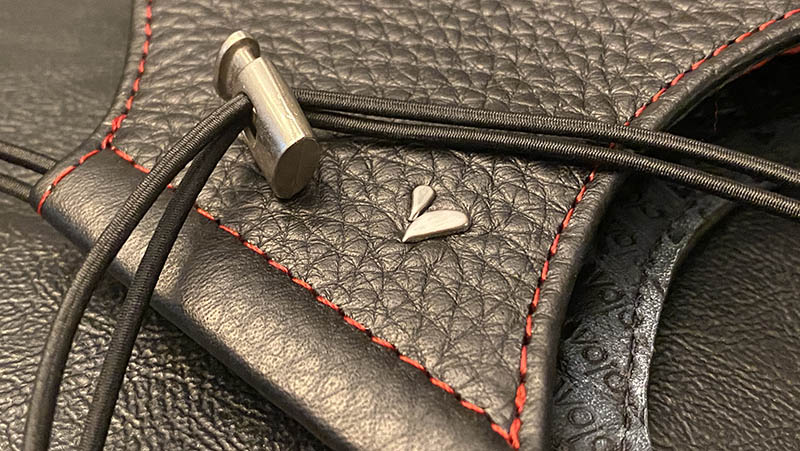 The Vaja logo and headband tie in metal are both well done and a nice touch. The stitching is perfectly executed with high grade nylon thread. 
What I like
Excellent craftsmanship and leather quality
Fits nicely
Leather smells very nice as you breathe thru it
Removable washable inner liner
Liner securely held in place with embedded magnets
Comes in 3 sizes and colors
What needs to be improved
Gets hot during warm weather
As sold, the Vaja Mask 1.0 is not "medical grade" but neither are a majority of the face coverings you see out in the wild. Though Vaja says you can use a medical grade mask inside the leather exterior if you wish.

As I mentioned above, the Pro-Mask 1.0 comes in three sizes and three color schemes: Floater Black, Floater Saddle Tan, and Floater Dark Brown.

Like most other Vaja leather products, you can design and special order a mask uniquely your own. Where you can choose the colors of each side, stitching, nose clip, elastic band, liner, etc. Enabling you to create a mask with your school, team, business, or even Harley Quinn colors.
One more thought…
I do have to say, Vaja's Pro-Mask does get quite a few looks/double takes as you walk down the street or go shopping in Costco. My wife has more or less told me not to wear it when we're out and about. Personally I do not think the black mask looks all that different, out of control, or over the top when compared to other masks. So, I wear it often when flying solo. I can honestly say, it is the nicest, best fitting, and most unique mask I have used so far.
Final thoughts
Like it or not, face masks are required or highly encouraged in many places around the world and will be for the foreseeable future. The folks at Vaja are embracing this moment, providing us a unique face covering that show off a bit of their and/or your personality. I really like the Pro-Mask and as I've said, will be continuing to wear it when I'm out foraging for food or needed supplies. 
Price: $89.00
Where to buy: the Mask 1.0 is available on the Vaja website.
Source: The sample of this product was provided by Vaja.