We use affiliate links. If you buy something through the links on this page, we may earn a commission at no cost to you. Learn more.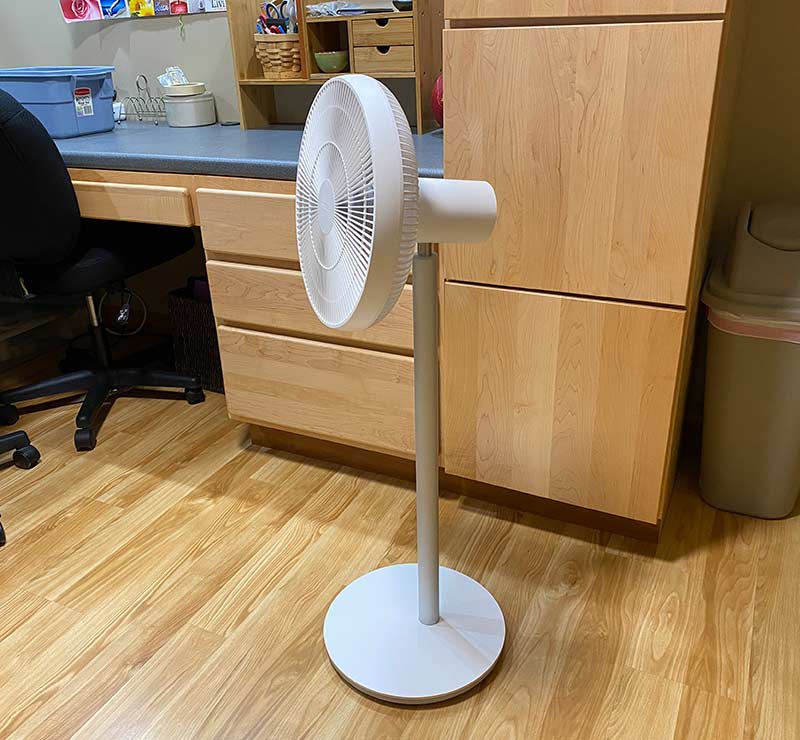 REVIEW – Winter will be here soon enough, but right now we're still having days in the high 80s F here and other areas of the country are over 120 degrees F. Brutal! I would seriously melt if we didn't have central air in my home. But even though we do, the upstairs bonus room in my house is up to 10 degrees warmer than the rest of the house on hot days. We use that room is a craft, sewing, art, journalling room, so how can we enjoy that space without sweating? With a fan! And the smartmi 2S Standing Oscillating Pedestal Fan is a cool (see what I did there?) solution. Let's check it out.
What is it?
The smartmi 2S is an oscillating fan on a pedestal that's also rechargeable and it can be controlled with an app on your phone.
What's in the box?
smartmi 2S Standing Oscillating Pedestal Fan
Power cord
User guide
Assembly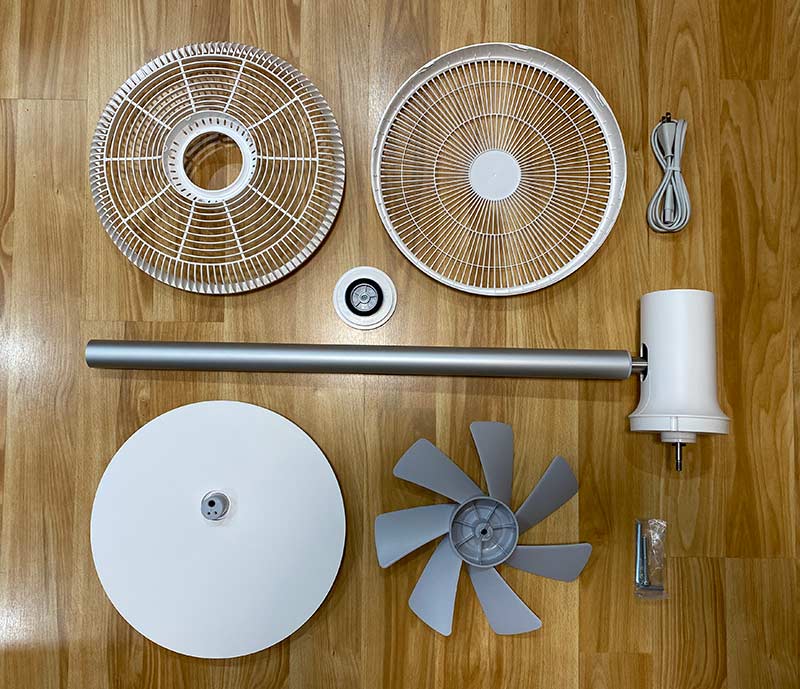 The fan doesn't come assembled, so that's up to you. Don't worry though, there are step by step instructions and it takes just a few minutes.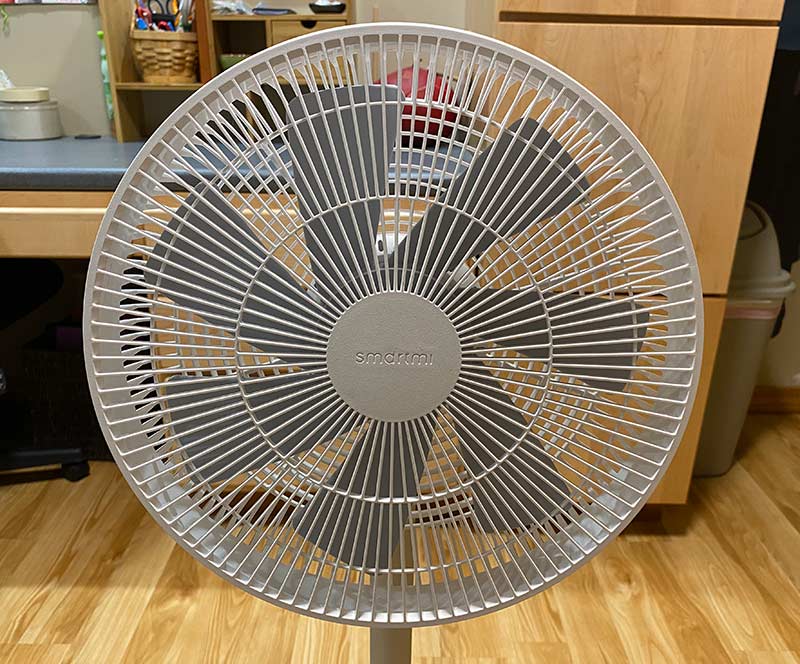 Once assembled, the smartmi's fan blade is protected by a white plastic cage that you can easily open to clean the blades and grill without needing tools.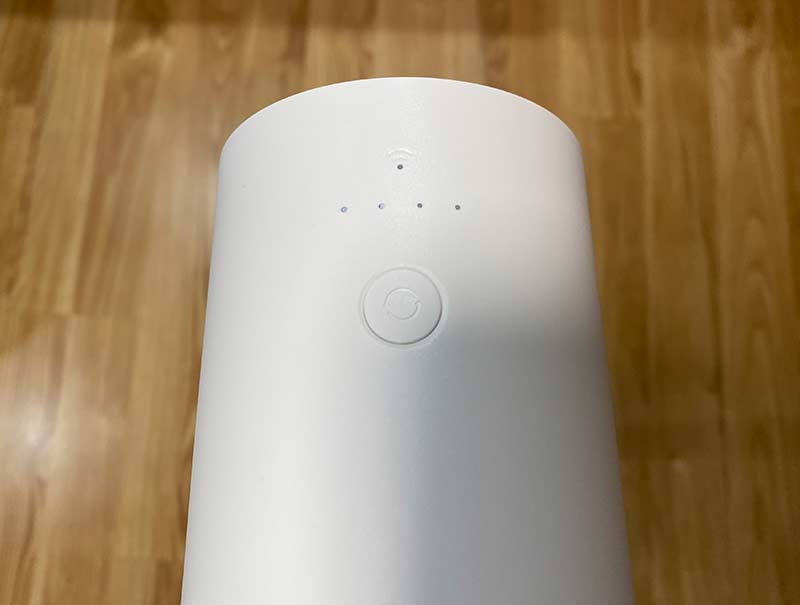 The top of the fan module has a power button and an array of status LEDs. The row of 4 LEDs that show the fan's speed and the other LED shows the WiFi status. Yes, this fan has WiFi. Crazy right?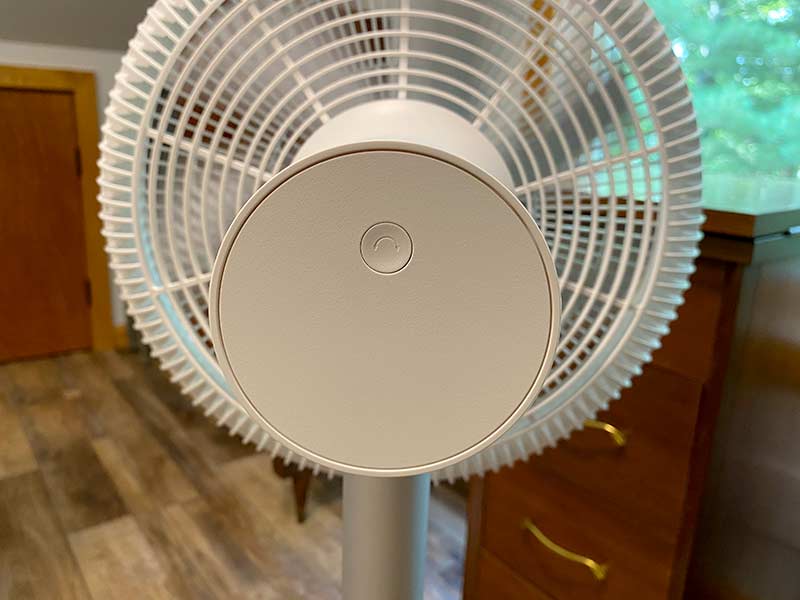 On the back of the fan is a button that toggles oscillation on and off. That just means that the fan head will move horizontally from left to right while the fan is running.
Also note that the angle of the fan can be manually adjusted.
The base of the fan is weighted enough that the fan doesn't sway or vibrate even when on the highest settings.
The app
Although the fan works fine without it, if you want to be cool (literally), you can install the Mi Home app which will allow you to control the fan's speed, mode, angle, set timers, parental controls, and more from your phone and the comfort of the couch or bed.
Is it really cool tho?
Yes! The smartmi 2S fan is small but mighty without a lot of fan noise. I really enjoy how easy it is to move around the house without worrying about finding a wall outlet to plug it into. That's right, this fan has a built-in rechargeable battery that will keep it running for up to 20 hours on a single charge.
If you are worried about the life expectancy of its lithium-ion battery, you'll be happy to know that the fan works just fine plugged into a wall like any other fan.
The smartmi fan has 4-speed levels that can be set to standard or natural. Natural is tech that is engineered to mimic the feeling of a natural breeze. About this, Smartmi says:
No more harsh "wall of air" from across the room, this fan's design is based on a thorough understanding of the characteristics of natural wind speeds, turbulence levels, and airflow to create a cool, soothing environment.

The 2S Fan's innovations don't just stop with smart convenience features. Smartmi's engineers set out to fundamentally reinvent the way fans operate by combining an advanced 7-blade design with a proprietary algorithm that creates a unique cooling experience mimicking the feeling of a soft, natural, delicately changing breeze. This was achieved by Smartmi's engineers gathering and analyzing climatological field readings to better understand the characteristics of natural wind speeds, turbulence levels, and airflow – allowing them to design a system that eliminates heavy-impact clusters of air.
I found this tech to be a breath of fresh air. Sorry, I couldn't resist. Seriously though, the natural fan mode does kinda feel like you're outside because the fan will speed up and slow down to mimic a breeze.
Also note that even though there are just 4-speed levels if you use the fan manually if you use the app, there are 100 different adjustable fan speeds.
It's also great that this fan so quiet (as low as 28.6dB). It's perfect for use in the bedroom because it won't keep you awake at night. At the two lowest settings it is so quiet that you might forget that it's on and not remember to turn it off when you leave a room.
What I like
Battery-powered
Quiet
Controllable through an app
What I'd change
No way to see battery level
Final thoughts
The smartmi 2S Standing Oscillating Pedestal Fan is easy to assembly, works without a power cord, cools with very little noise, and can be controlled with your phone. It's a bit expensive when you compare it to other pedestal fans, but those other fans aren't battery-powered, controllable through an app, or have a fan blade as large as the smartmi 2S, so there is some justification in the price.
Price: $129.99
Where to buy: Amazon
Source: The sample for this review was provided by smartmi.