We use affiliate links. If you buy something through the links on this page, we may earn a commission at no cost to you. Learn more.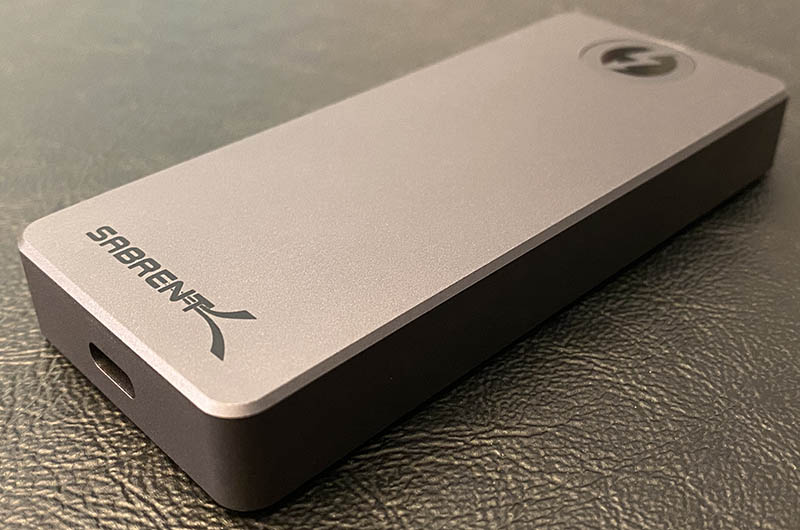 REVIEW – Remember way back in the day when solid state drives were measured in dollars per megabyte? And it wasn't that long ago the measure was dollars per gigabyte. Though while still relatively expensive, today's default order of magnitude is well into the terabytes range. This all adds up to solid state drive capacity, speeds, and reliability continuing to increase; while physical size and cost keep decreasing. I have been considering getting a high capacity SSD for a while now to backup our entire digital world to carry it with me in case something catastrophic/unrecoverable happens to the original files. So, when Julie offered up Sabrent's latest portable solid state drive, I quickly raised my hand to see if it's up for this very important task…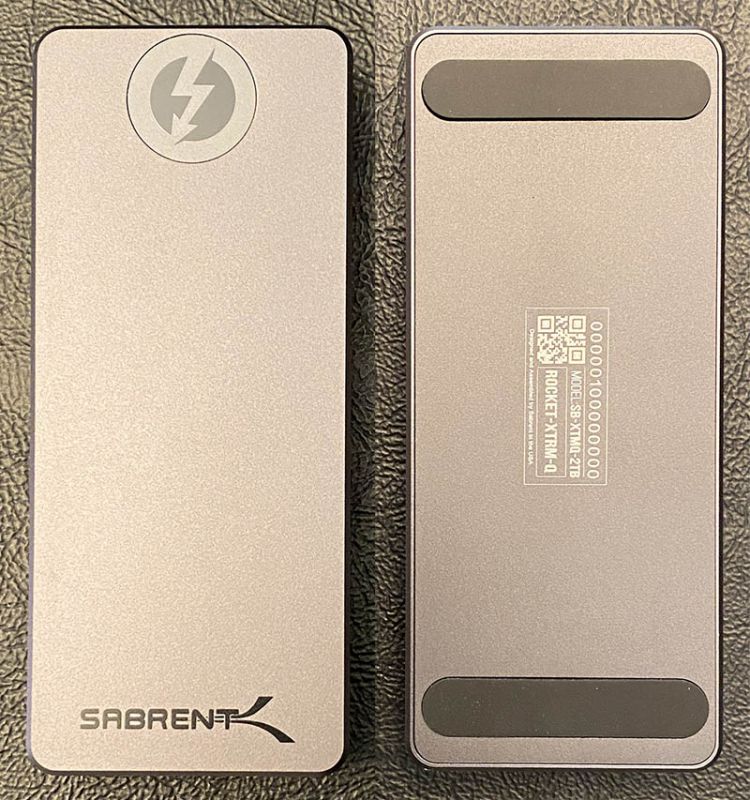 What is it?
The Sabrent Rocket XTRM-Q is a well made external NVMe solid state hard drive engineered to work with both Thunderbolt 3 and USB 3.2 port protocols. This compact drive is constructed from high grade aluminum to not only to make it ruggedly good looking but to optimize heat dissipation during extended, high speed data transfer.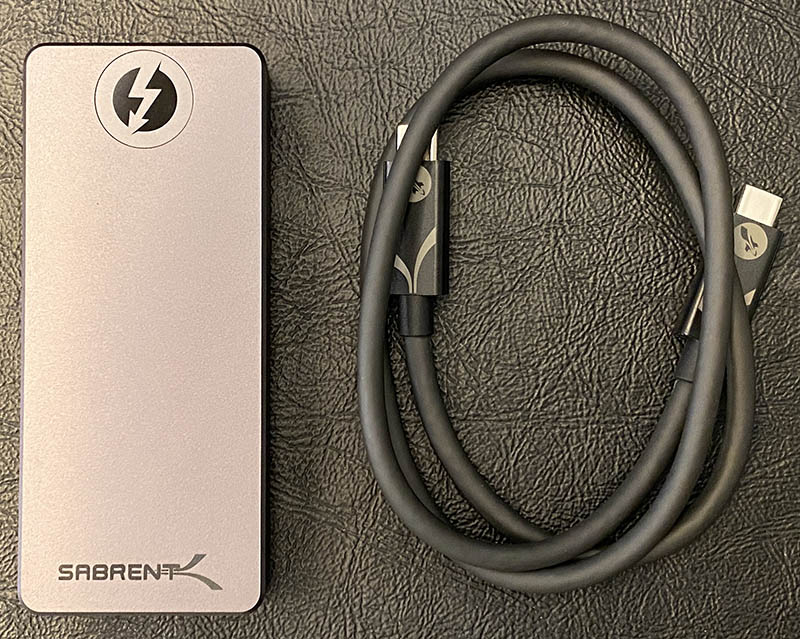 What's in the box?
Rocket XTRM-Q 2TB External NVMe SSD.
Thunderbolt 3 cable.
Quick user guide.
Hardware specs
The Sabrent Rocket XTRM-Q is a high performance SSD compatible with Thunderbolt 3 and USB 3.2 data transfer. The aluminum housing is very nicely machined and finished which gives it greater durability and more efficient heat dissipation.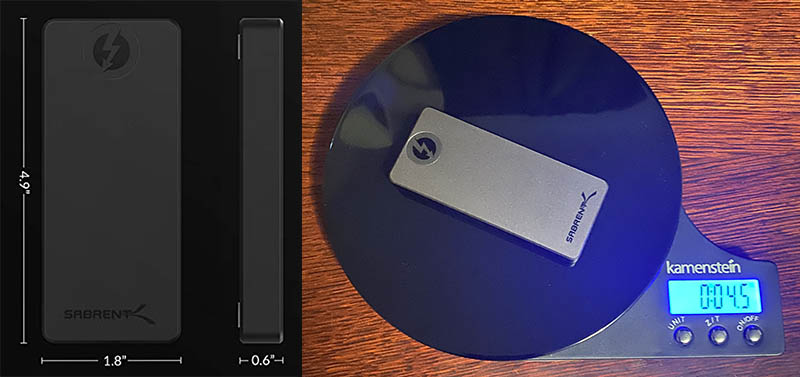 The Rocket XTRM-Q measures  4.9″ x 1.8″ x 0.6″ and weighs in at 4.5 ounces.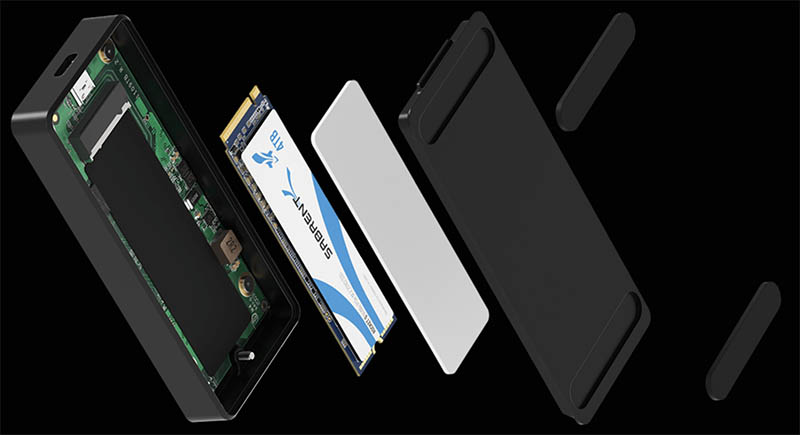 Design and features
The Sabrent Rocket XTRM-Q is shaped like an old Nokia candy bar cellphone or medium sized pack of gum. Sabrent's drive technology keeps getting smarter…they've combined their previous two Rocket drives (you had to choose between Thunderbolt 3 or USB 3.2) where the XTRM-Q has the ability to autodetect what type of port it is connected to, giving the drive much more verticality. The drive also has an integrated temperature and health monitoring system to make sure the drive does not over heat under heavy/extended data transfer.

Its simple, minimalistic design and machined aluminum casing are very well done with an excellent quality feel. The main face of the drive has the Sabrent name and Thunderbolt logo etched into its matte gray finish. The sides of the case are beveled with no sharp edges anywhere on the enclosure. 

The top of the Rocket XTRM-Q SSD has a small hole with a LED indicator that illuminates when the drive is connected and data is being transferred. The base of the drive has a Type-C port that accommodates both Thunderbolt 3 and USB 3.2 cables.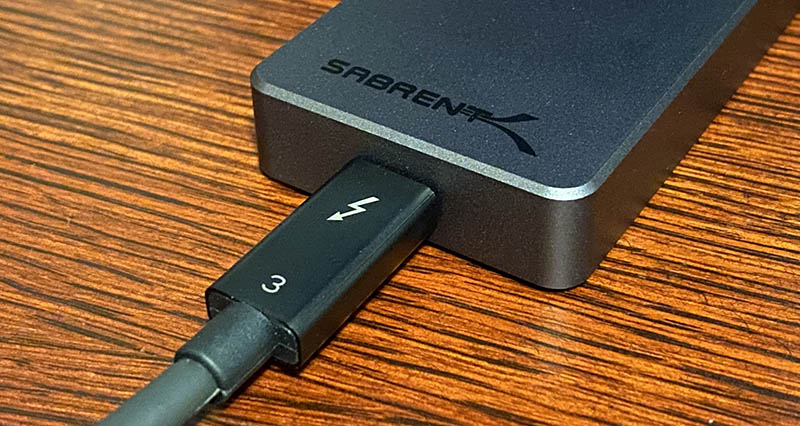 Sabrent includes a Thunderbolt 3 cable but no USB cable.
Along with being well made, the Rocket XTRM-Q SSD is nicely sized and would be great in anyone's EDC gear. While bigger than Sabrent's Rocket Nano SSDs, the XTRM-Q still fits nicely in my gear bag.
Setup
The Rocket XTRM-Q SSD is 100% plug and play, no drivers and no external power supply needed. I was able to plug the drive into my 16″ MacBook Pro, 15″ Dell XPS, and iPad Pro and all three immediately recognized the drive. Though I should say, it works with the provided cable and with modern computers. When I tried other USB-C cables or USB-C to USB-A cables none of them worked nor did connecting the drive to any of my USB-C dongles or Thunderbolt dock work either.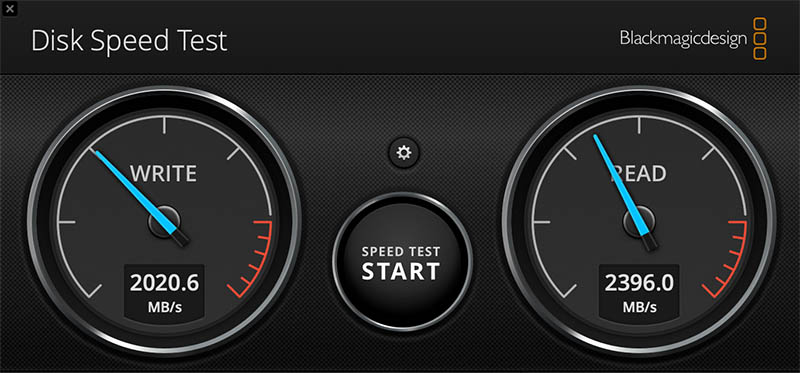 Performance
The performance of the Rocket XTRM-Q solid state drive is impressive and lives up to speeds Sabrent promises. I used Blackmagic Disk Speed Test on my MacBook Pro with the Rocket SSD connected using the included Thunderbolt 3 cable. Both the write and read speeds were a zippy 2+ GB/s. I also did a few real world tests — I transferred a 9GB folder from my MBPro to the Rocket drive in mere seconds. I also downloaded 100GB of files from my NAS thru my wireless hub to my MBPro to the SSD in about 30 minutes. The bottlenecks being my NAS drive read speeds and wireless connections in this effort. The SSD drive did get warm during this transfer but not painfully so. 
What I like
Type-C port: Thunderbolt 3 and USB 3.2 compatible
No drivers or external power needed
Extremely fast data transfer
Excellent heat dissipation
Small compact design/form factor
Well made from quality materials
What needs to be improved
Somewhat finicky on what connection cable I used
Did not work with any of my USB 3.2 or TB3 docks
Wasn't compatible with my wife's 5 yr old iMac or the Gadgeteer Kid's 4 yr old gaming PC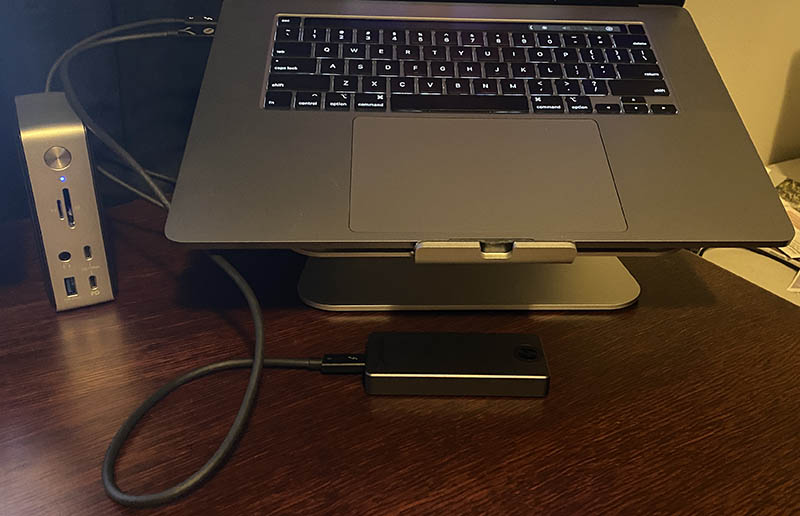 The Rocket XTRM-Q SSD comes in a variety of capacities: 500gb/1TB/2TB/4TB/8TB. The 4 and 8 terabyte versions definitely get pricey, at $800 and $1600 respectively. Sabrent backs the Rocket series of SSDs with a 2 year warranty. As I mentioned above, the XTRM-Q is truly plug and play (as long as you're using the provided cable with a modern computer 😉) and is compatible with Windows / Mac / Linux / iOS.
Final thoughts
Overall I really like the Rocket XTRM-Q solid state drive, definitely a keeper. Its build quality, transfer speeds, and compact form factor makes it a great addition to my EDC gear. I say that since it worked well with all my primary computing hardware (though surprisingly didn't with my wife's 5 yr old iMac or the Gadgeteer Kid's 4 yr old gaming PC). But if you have the right computer gear, Sabrent's latest SSD is an excellent choice for high speed, high capacity storage on the go . 
Price: $449 MSRP ($360 on Amazon)
Where to buy: the Rocket XTRM-Q is available on Amazon or directly from Sabrent. 
Source: The sample of this product was provided by Sabrent.