We use affiliate links. If you buy something through the links on this page, we may earn a commission at no cost to you. Learn more.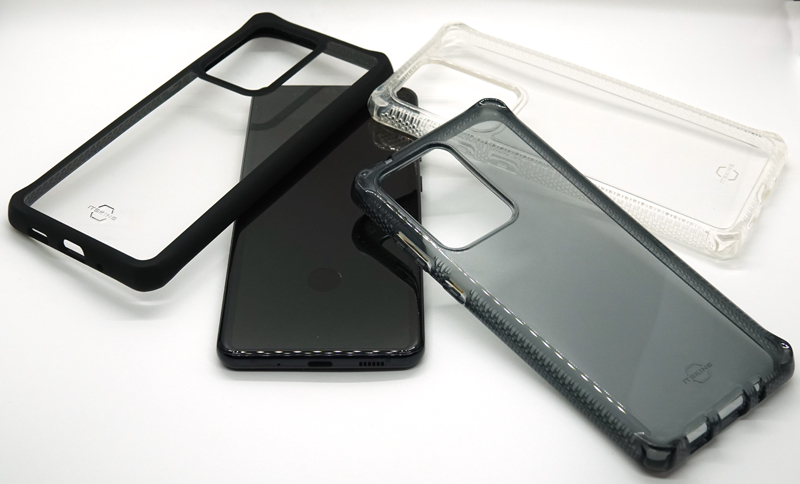 REVIEW – You just picked up that shiny new smartphone – you know, the one that was just released?  The same one you just dropped, shattering the front and back glass and denting the corner?  Kind of makes you shudder, doesn't it?  The thought of your precious new tech going from new hotness to old and busted in one second is terrifying.  That's why there is a huge aftermarket for phone covers.  Every time a new flagship phone is released, the market is flooded with covers.
ITSKINS manufactures a line of high-quality, drop-rated phone covers for a wide variety of phones from Apple, Samsung, LG, Google, and Motorola.  Let's take a look at their offerings for the Samsung Galaxy S20 Ultra.
What is it?
I was sent three ITSKINS cell phone covers specifically designed to fit the Samsung Galaxy S20 Ultra.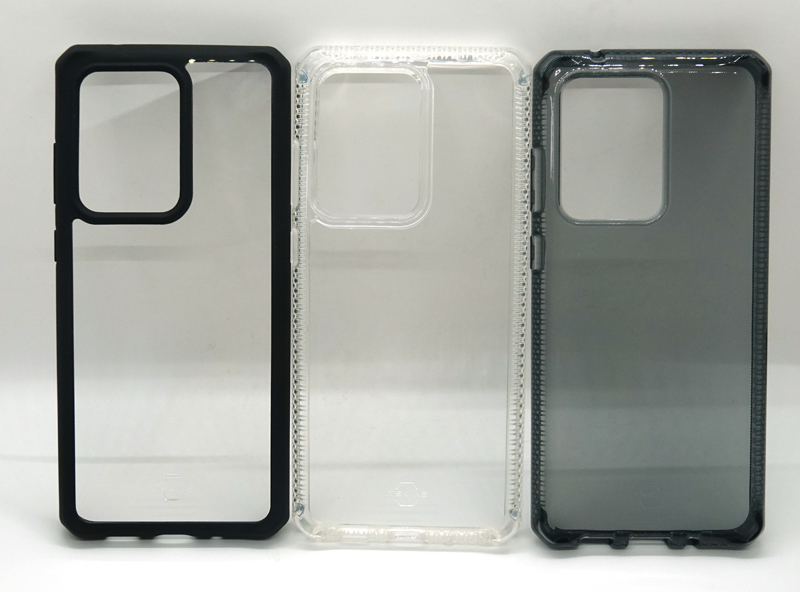 Left to right:
Hybrid // Solid in plain blank / transparent color
Hybrid // Clear in transparent color
Spectrum // Clear in smoke color
Hardware specs
Hybrid
Optical grade clear solid polycarbonate back
Soft and flexible thermoplastic polyurethane (TPU) sides available in clear or black (website only shows clear)
1.1 ounces
Spectrum
Soft and flexible single-piece TPU design
Available in transparent, smoke, and light pink
1.2 ounces
Both models
2m/7 ft drop certified
Raised corners front and back
Engineered shock-absorbing honeycomb hex design
IMPACTHANE+ antimicrobial material
Design and features
Phone cases essentially serve two purposes.  For many, they serve as a fashion statement.  People augment their phones with cases that reflect their personality with color and design.  The second, and arguably more important from a safety standpoint, is to protect the phone against drops.  ITSKINS has designed a family of cases that provide very good protection while looking good.
From the ITSKINS website:
Our honeycomb shock absorbing technology now features has DUAL HEXOTEK LAYERS for the most effective shock protection on the market.
HEXOTEK 2.0's patented honeycomb structure is the most effective drop absorption technology ever integrated into a case.
IMPACTHANE built-in microbial defense protects from many common germs and reduces microbes by up to 99.99%
All three covers share this honeycomb design with air spaces in the corners to absorb impact.  They all have raised corners on the front and back to protect the front and back glass as well as a raised edge around the camera. They all share the IMPACTHANE antimicrobial material.
All the detail photos are of the Hybrid // Clear model as it shows the details the most clearly.
Here's a look at the raised corner and raised edge around the camera.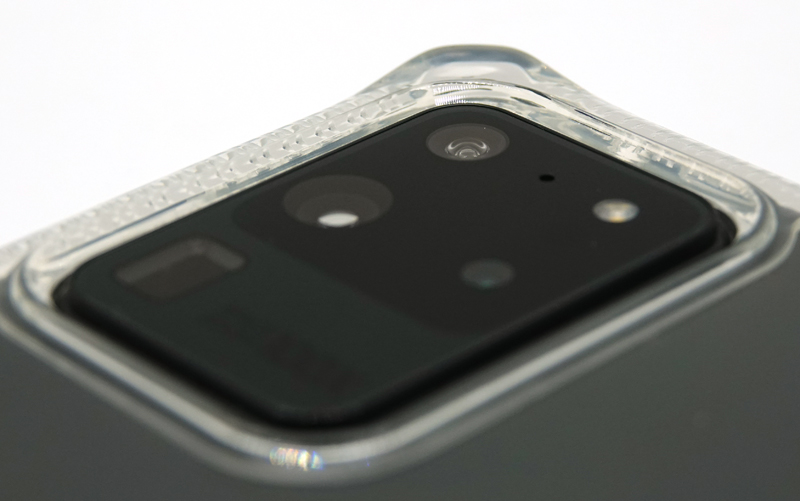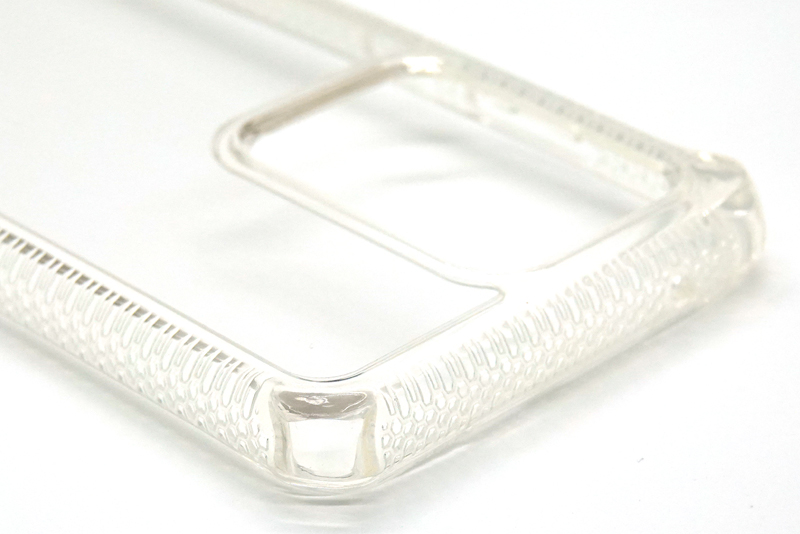 All four corners are raised in front and back.  This means that if you set your phone down, you will never rest on the phone itself.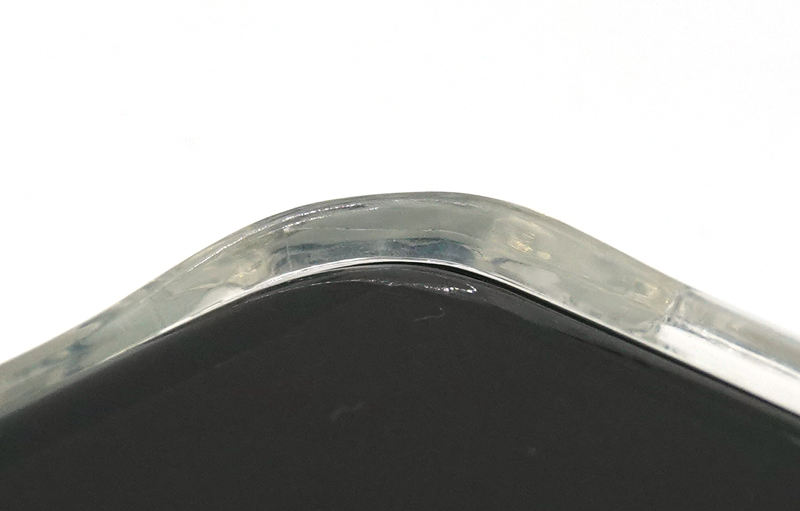 Here we see the top of the phone.  All cutouts and buttons are perfectly aligned with openings and buttons on the phone.

Looking at the back, you can see the raised corner as well as the camera protection.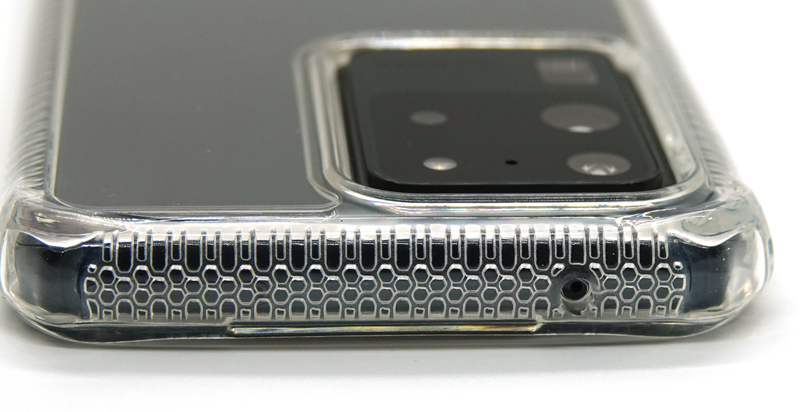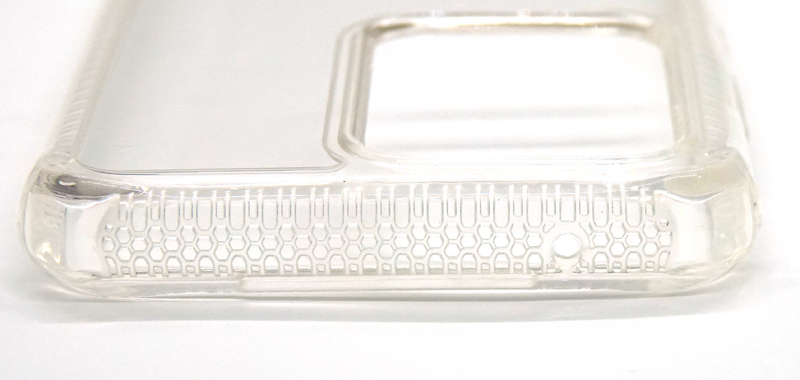 Taking a closer look at the corner, you can clearly see the air pocket in the corner and the honeycomb design that helps to absorb and distribute impact force through the case and not through the phone.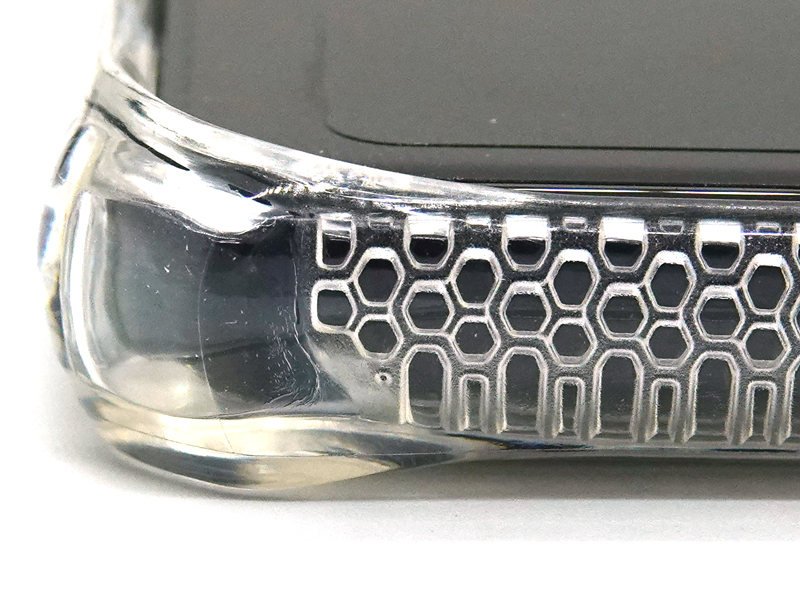 The side is fully lined with honeycomb shock absorption.


The bottom openings are all accessible via perfectly placed cutouts.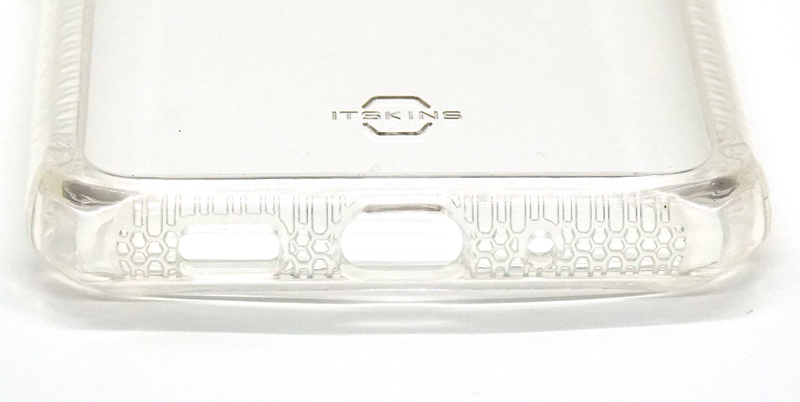 The button side is similarly lined with honeycomb.  The buttons are easy to use through the flexible TPU sides.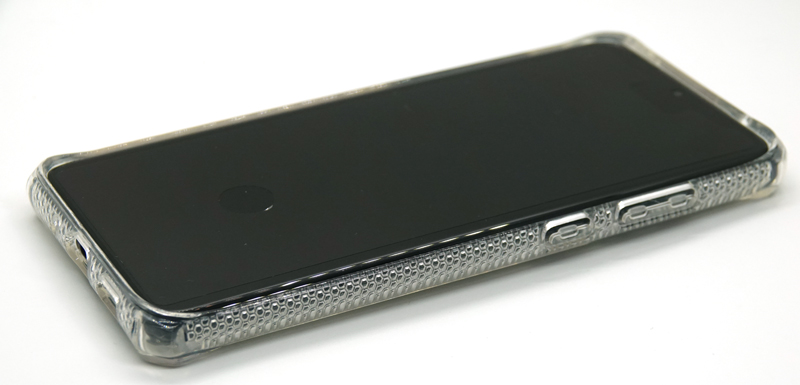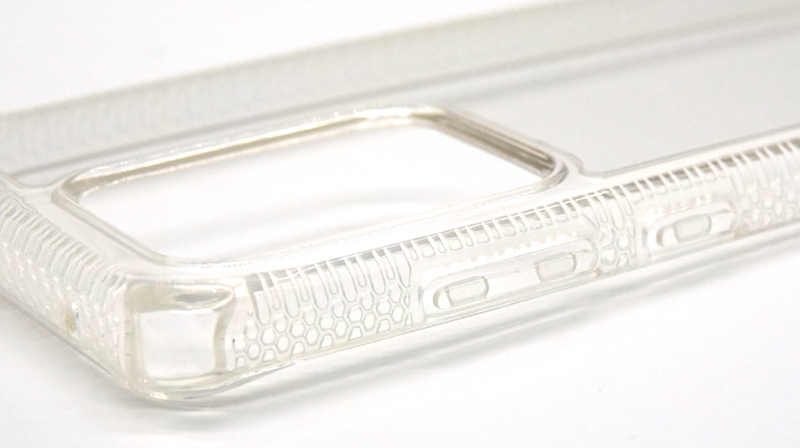 The back of the Hybrid series is optically clear polycarbonate.  It is rigid and designed to disburse impact, protecting the glass back of the phone.  I blurred the barcodes – the case itself is crystal clear.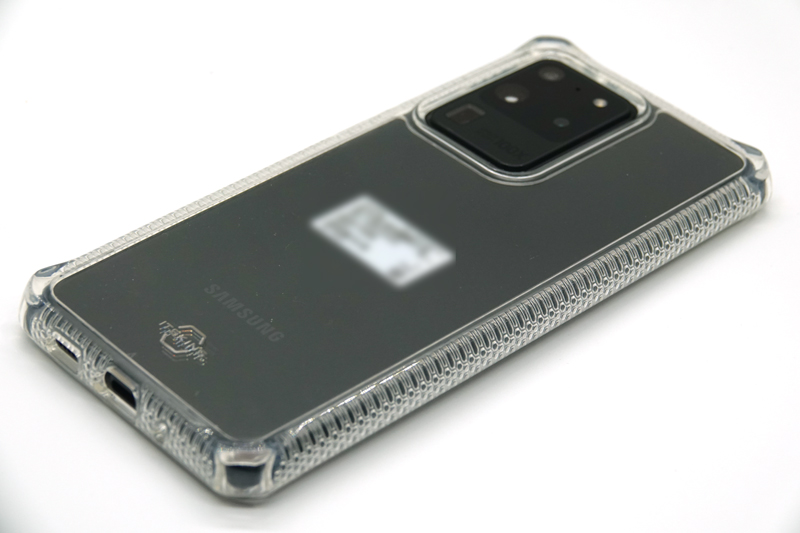 Here is a look at the Hybrid in black with its transparent back.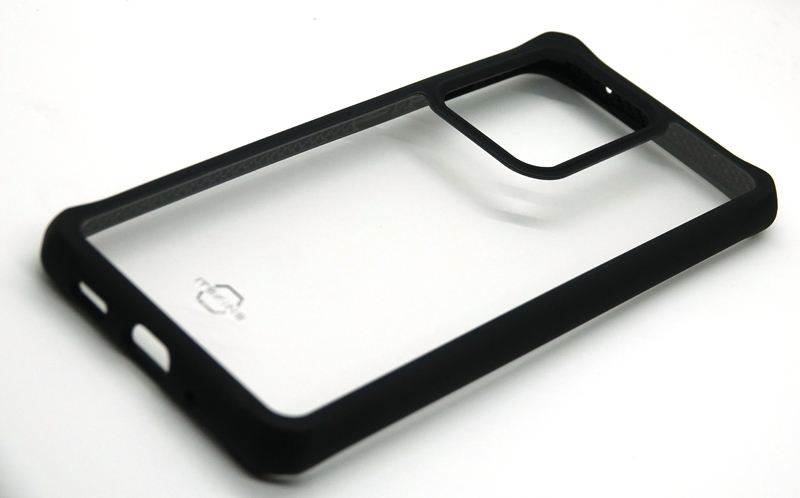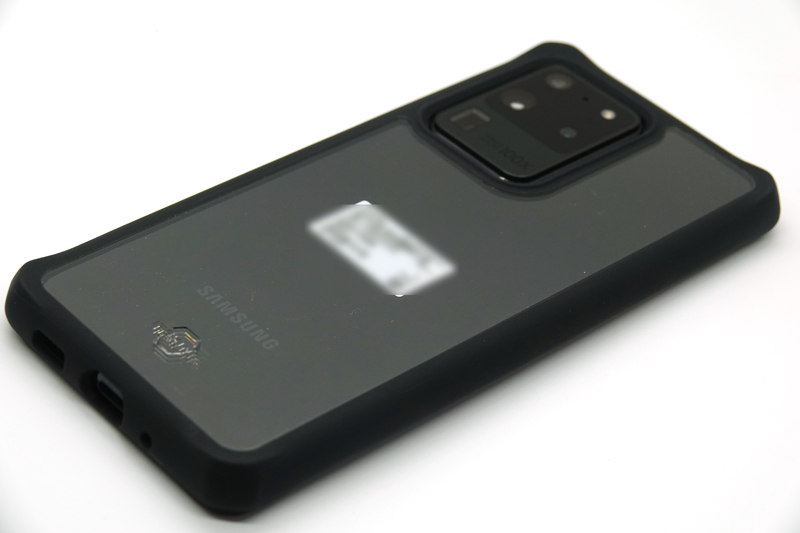 And here is a look at the smoke Spectrum model. The Spectrum model is fully flexible and made from molded TPU.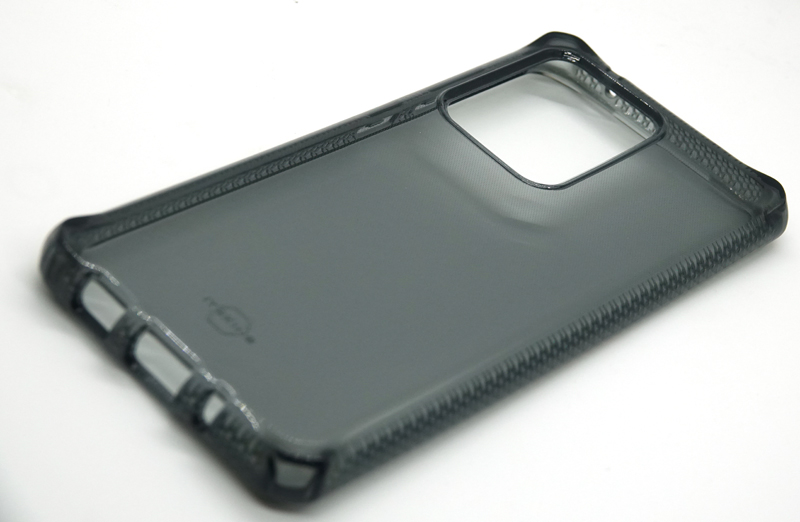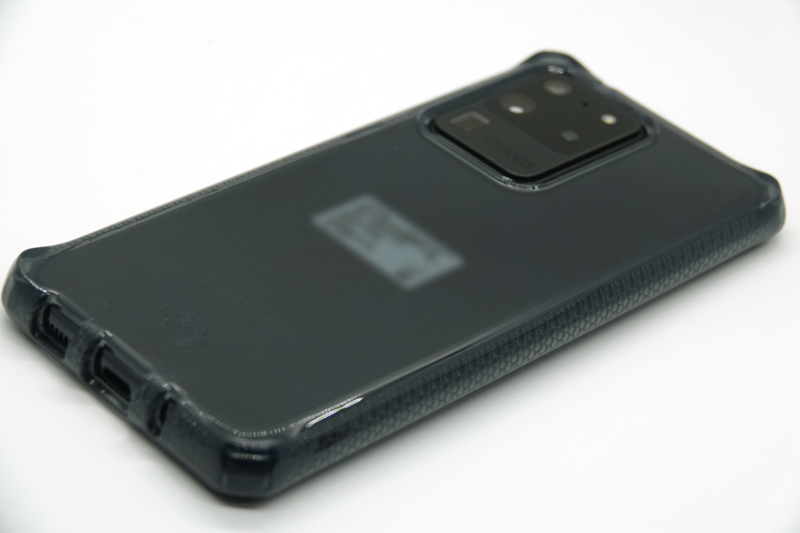 All of the models have a subtle ITSKINS logo embedded into the back of the cover.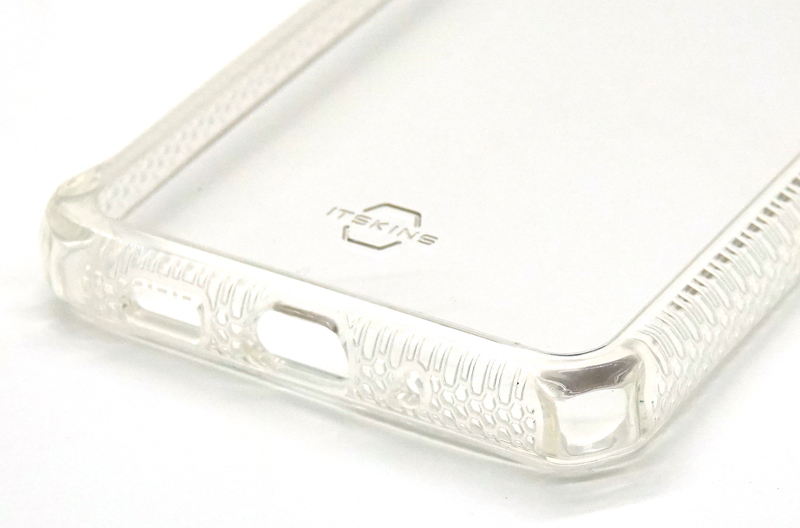 Performance
I can only address looks and fit because while it looks like the cover will provide very good protection against a drop, and even is certified to do so, I'm not willing to drop my very expensive phone to find out.
Be aware, this is not a life-proof case.  It adds no water protection.  It also offers no direct protection for the front glass.  If you drop your phone so that the front glass contacts a rock directly, the case won't offer any protection.  But for most drops, especially indoor drops onto floors, the honeycomb design, and shock-absorbing air pocket corners will certainly offer protection.  ITSKINS certifies that the case will protect the phone from 2-meter drops. To me, that's pretty impressive for a fairly slim case.
I was impressed with how these cases felt like nothing when I slipped the phone into my pocket. They are so light and thin, they don't add any appreciable bulk to the phone.  That's a great thing, especially on a monster like the S20 Ultra.
Phones are one of the scummiest things we own.  While the cover doesn't offer any germ elimination from the front glass, ITSKINS' IMPACTHANE material is said to offer some level of defense for the cover.  That's a bonus.
What I like
Good looks
Quality fit and feel
Raised corners front and back protect the glass
TPU sides provide a very positive grip
Antimicrobial material
What I'd change
If I'm going to whine, the Hybrid back fingerprints easily
Final thoughts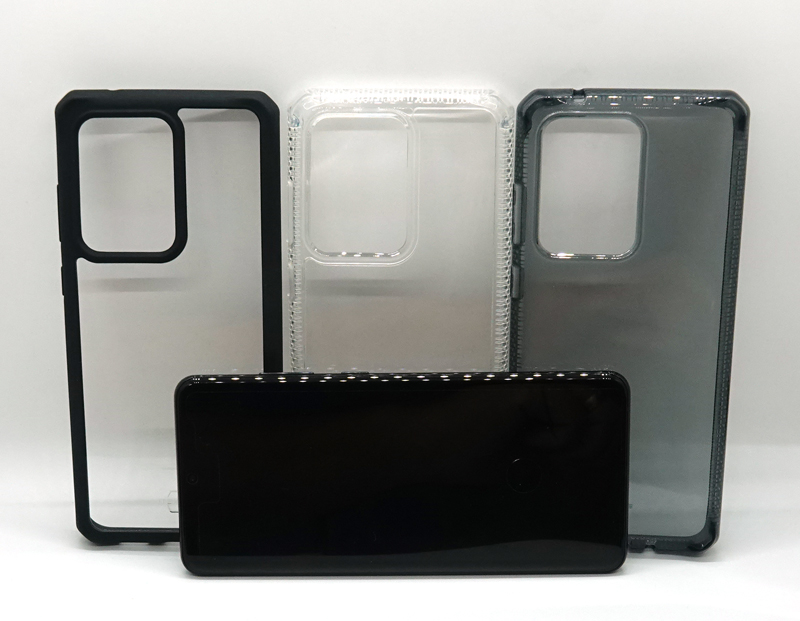 With the cost of cell phones these days, having some sort of protective cover is pretty cheap insurance against life's inevitable accidents.  ITSKINS offers a nice set of covers that look good and offer very good protection and a fair price. If these match your design aesthetic, and they make a cover for your phone model, I think you will be happy with an ITSKINS cover.
I think the Hybrid in black and transparent is the best looking model.  My lovely wife will get her choice of the other two, or the black/transparent if she wants it.  I'm not stupid.
Price: $19.99 for the Spectrum; $24.99 for the Hybrid
Where to buy: Direct from ITSKINS.
Source: The samples of this product was provided by ITSKINS.