We use affiliate links. If you buy something through the links on this page, we may earn a commission at no cost to you. Learn more.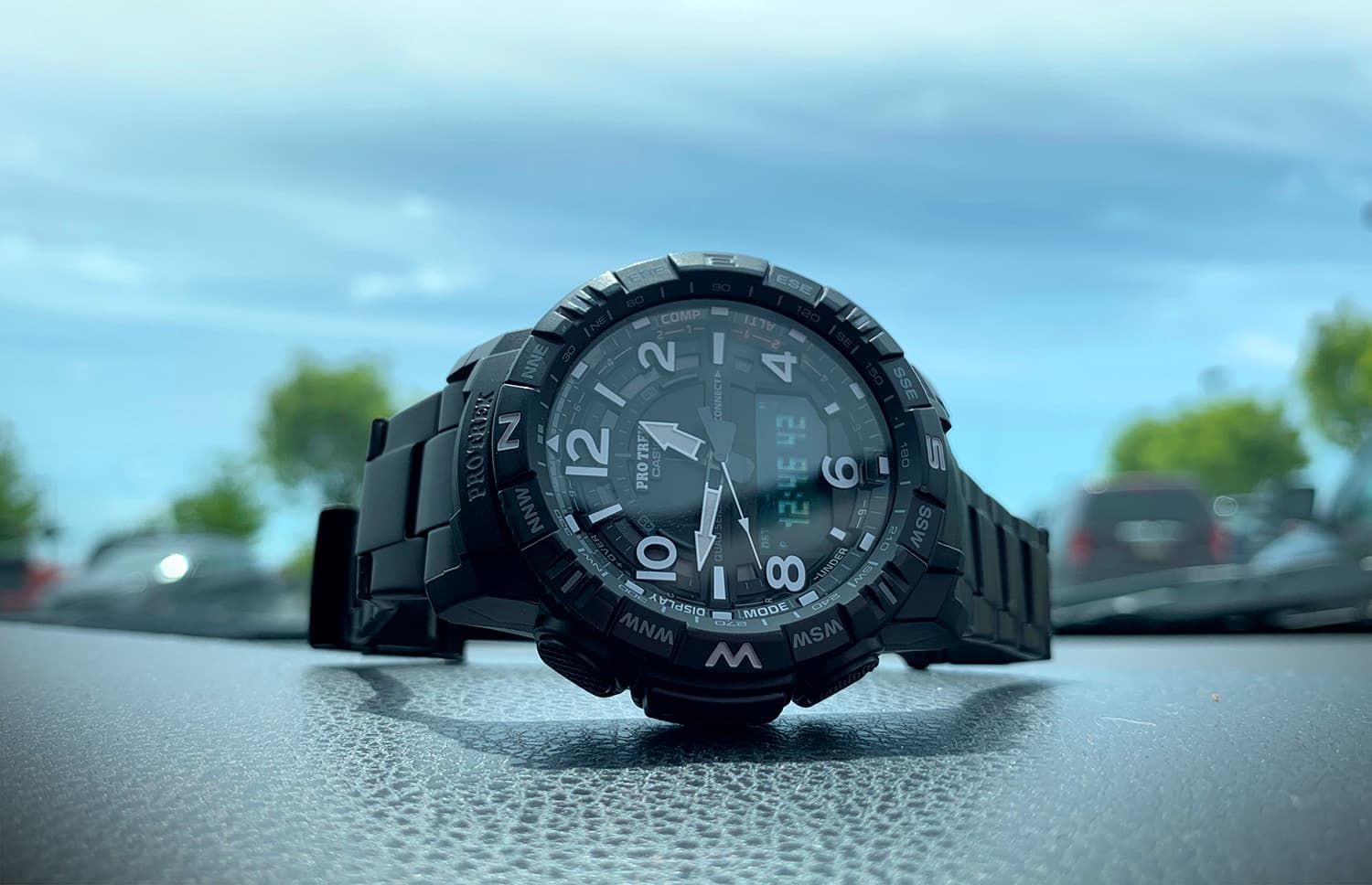 REVIEW – World-class watch manufacturer Casio has been churning out reliable timepieces for decades, and their PRO TREK line manages to pack an incredible amount of trail-ready tools into a small, rugged package. Let's dive right in.
What is it?
The PRTB50YT-1 model of Casio's PRO TREK line of watches features 100M water resistance, a black resin case with large white numerals for easy reading, black ion plated titanium band, combo analog/digital display and a quad sensor with thermometer, altimeter/barometer, digital compass and step counter. This model also features Bluetooth connectivity with a smart phone via their app.
What's in the box?
Casio PRO TREK Watch
Band link removal tool
Instruction booklet
Quick start guide
Also, it's a nice wooden watch box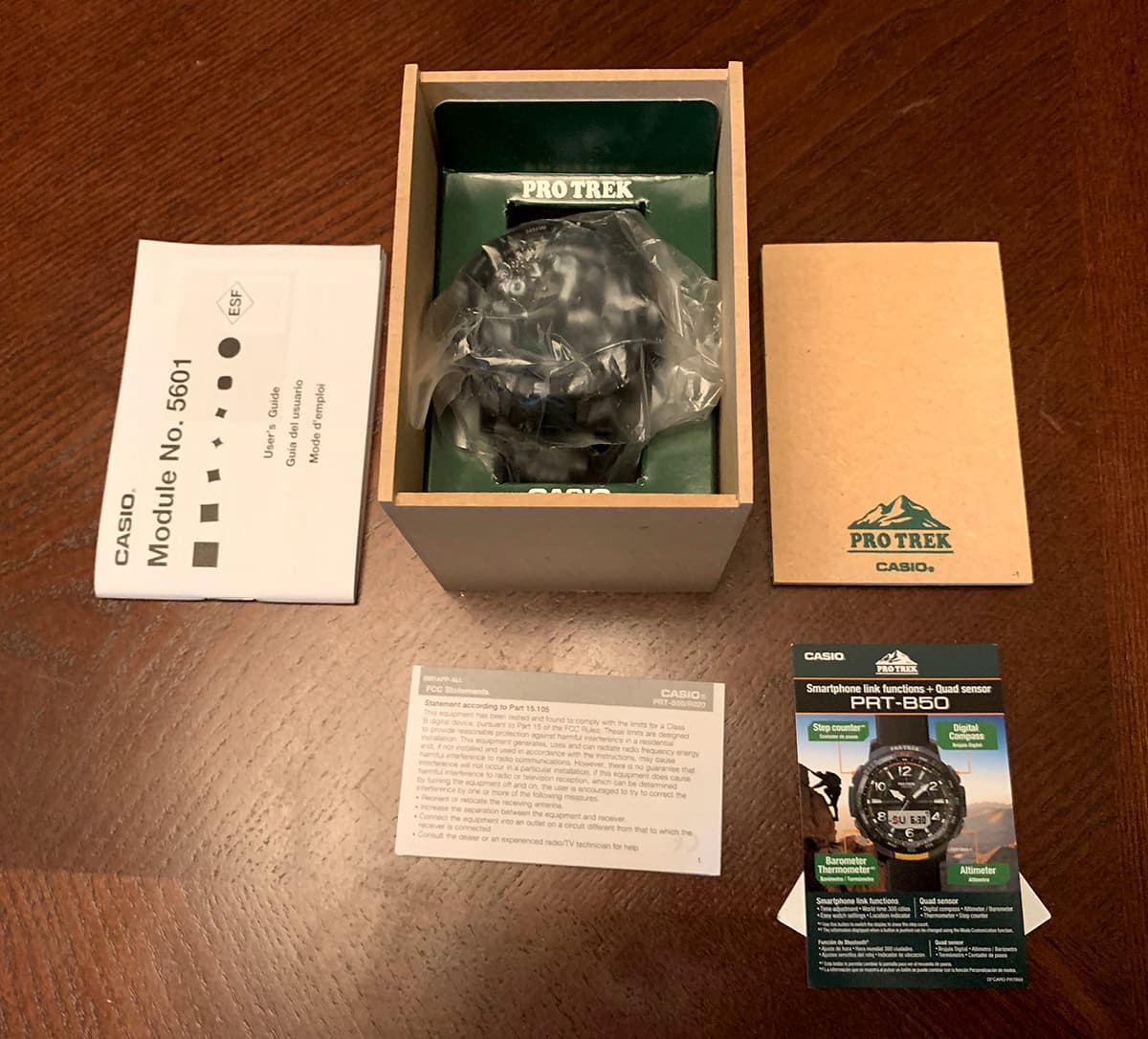 Hardware specs
Double light for easy illumination at night, backlight for the LED and neon light to illiminate the analog hands
Analog hands also glow in the dark
Mobile Bluetooth link
Altimeter with -700 to 10,000m range
Barometer with 260 to 1,100 hPa range and significant pressure change alarm
Thermometer with 14º to 140º F range
Step counter with 3-axis acceleration sensor
Power saving sleep state after extended inactivity
38 time zone world time
Sunrise/sunset time
1/100 second stopwatch
Countdown timer with 24-hour range
5 daily alarms
Hourly time signal
Full auto-calendar to 2099
12/24 hour format
3-hand analog timekeeping (hour, minute, second)
Digital timekeeping: hour, minute, second, month, date, day
Accuracy of ± seconds per month (but auto-syncs time over Bluetooth mobile link app, also has a button to manually sync time)
CR2025 batter lasts approximately 2 years
Mineral glass and resin black case with 5.8cm diameter bezel
Size of case: 57.5×50.8×15.8mm
Total weight: 96g
23mm wide black titanium band with 3-fold clasp
Design and features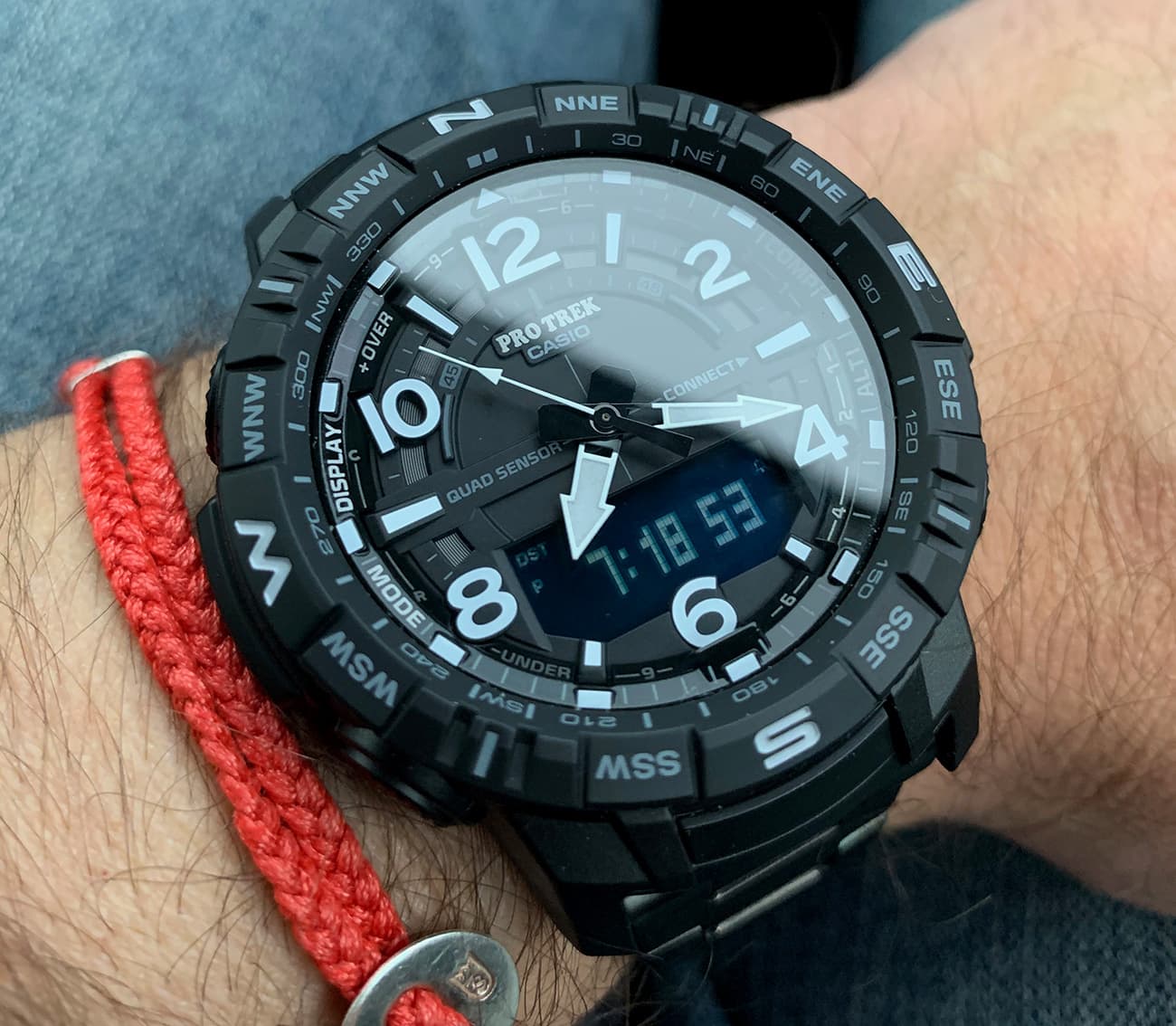 Straightaway you can get the sense of style Casio is going for with this variant of their PRO TREK watch line. With the black resin case, black titanium band, large numerals, thick glow in the dark hands, and reverse LCD display, it's very reminiscent of military watches. The six operation buttons on the sides are large, textured and hard to push, so triggering an accidental press is difficult.
The reverse LCD display is pretty easy to read in the daylight but has an LED backlight that can be triggered with a press of the wide button below the bezel. This light also triggers a tiny neon light that shines on the analog hands, giving it a cool purple glow in complete darkness. The hands also have afterglow paint on them so in extremely dark conditions the illumination tends to last for many hours after sunset.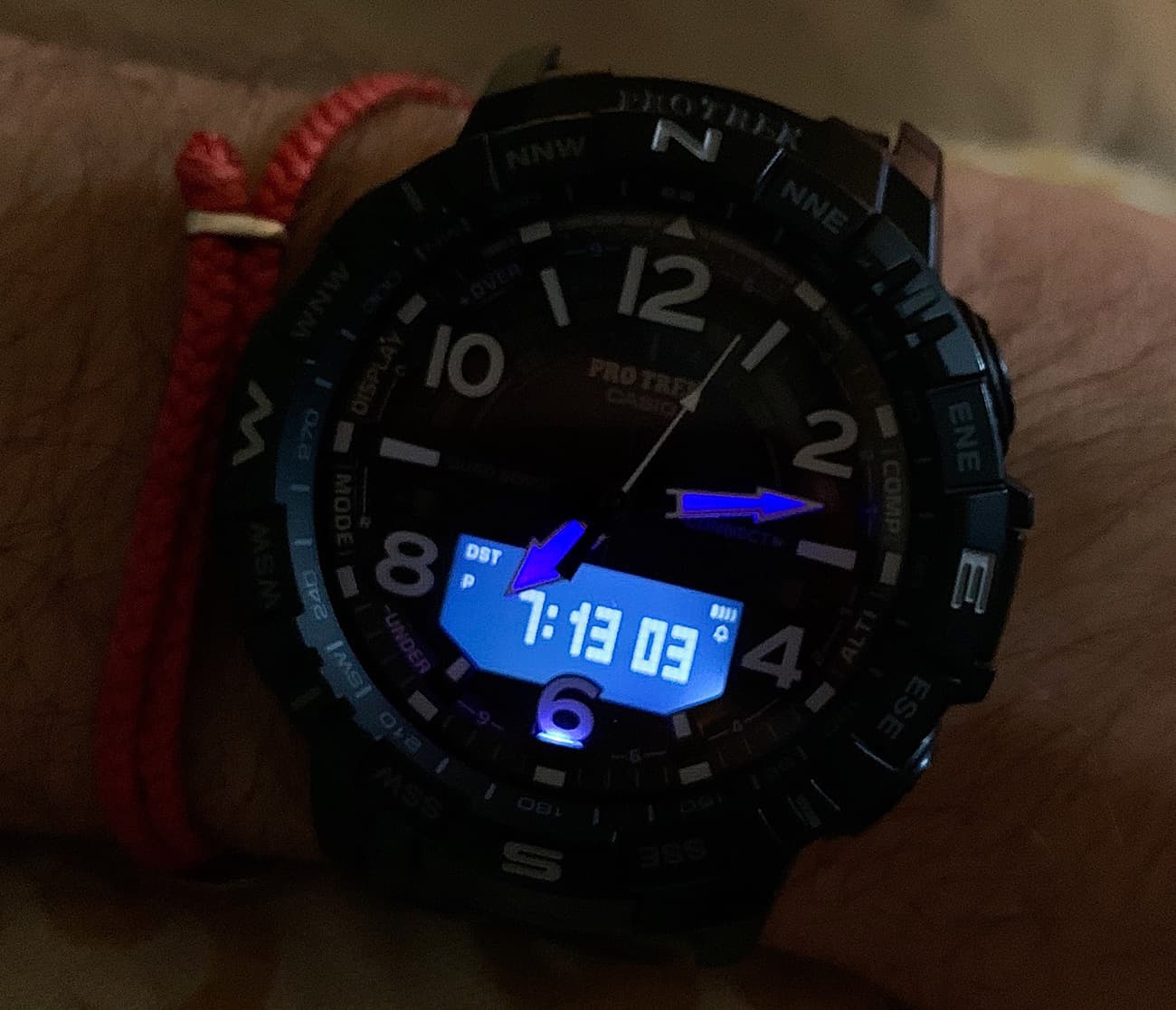 The PRO TREK is rated at 10 Bar, which is 10 atmospheres of water resistance. This actually delves into snorkeling territory. Not suitable for diving, but it can certainly survive extended dunking.
The outer compass area on the bezel rotates for advanced orienteering. And lastly, the face has several helpful indicators that the second hand points to during operation modes like the barometer and altimeter, as well as a large PRO TREK logo right below the 12.
SETUP
I'm sure the first thing that most people will need to do is size the band. The initial configuration has all of the links installed, so it's sized correctly out of the box for burly lumberjacks, weightlifters and other human giants. Fortunately, for those of us with much smaller (and daintier, I'll say it) wrists, the removal of individual links is very simple due to a unique pressure pin system.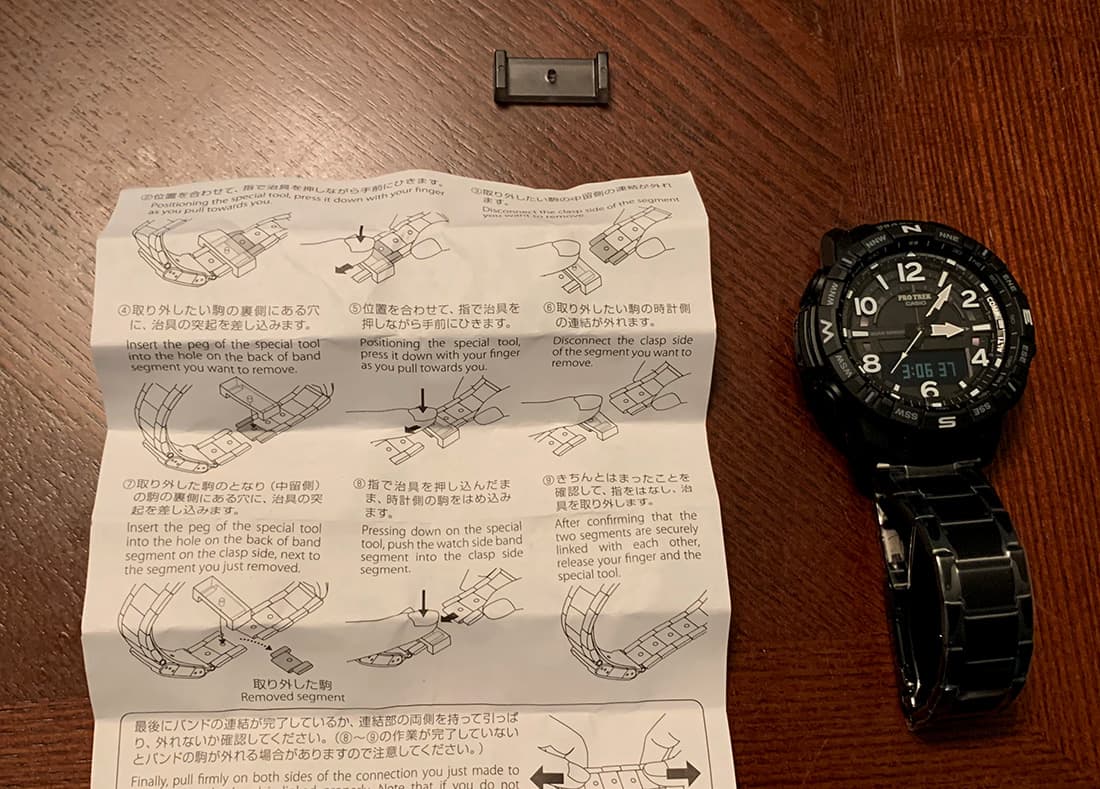 I have only one other metal bracelet band, and removing links from that involved an improvised jewelers tool (basically a hammer, a pushpin, and a small paper clip) to pound out the pins that held the links together. It felt barbaric compared to Casio's system. All you have to do is press their special plastic link tool against the hole in the link you want to remove and the pins contract, and the bracelet opens right up. Once you do this a few times, using the tool to reconnect the band where you had removed the links, you can achieve the correct size in mere minutes.
I believe I had to remove about 5 links for a snug fit.
Once the 3-fold clasp clicks into place, it's firmly locked on your wrist. To unlock the clasp, simply push in on both sides and it opens right up. It doesn't feel pinchy or sharp, which is what I usually fear on bracelet type bands like this. Very nice.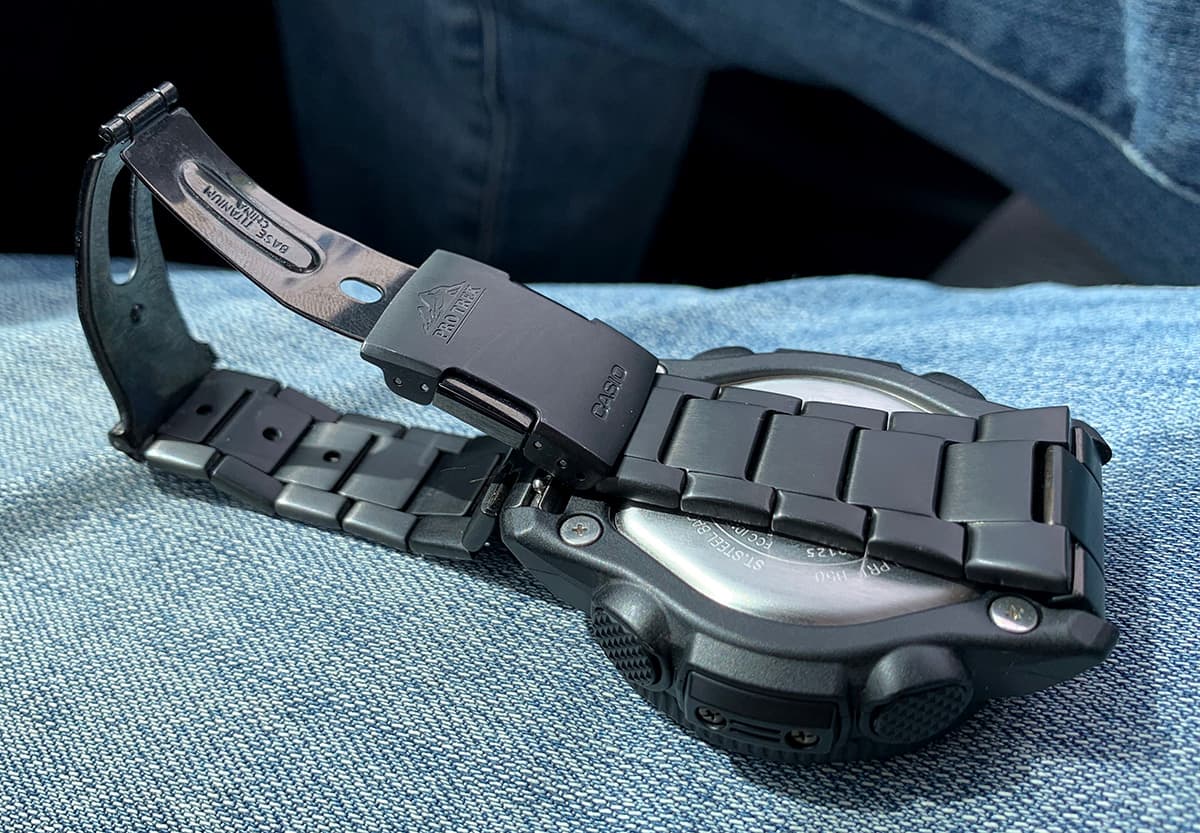 With the handy addition of Bluetooth and app connectivity, time setup is a breeze. You simply download the app, hold down the side button for a few seconds to connect your watch via Bluetooth, then sync your settings, such as time zone and alarms. The watch will then periodically ping your phone to set the time, or it can be synced manually by pressing that same side button. While not as ubiquitous as a radio-controlled atomic clock sync, it's still very nice to have.
PERFORMANCE
There are so many useful tools packed into this watch that it's probably best to break out the rest of the review into their individual features.
First and foremost, as a timepiece, both the analog and digital time are easy to read at a glance, in daylight or darkness. I love the dual illumination, it makes the analog hands glow for a while after they're light fades, which is great for total darkness.
The LCD area at the bottom of the watch face is easy to read as well. I've seen a lot of reversed displays (white on black) but this one seems much easier on the eyes than others. But one tap of the illumination button makes it very easy to see. The inclusion of the analog face makes the LCD area difficult to read for about 15-20 minutes out of the day.
There is a special combo of buttons you can hold down for a few seconds which makes the analog hands rest at 3 and 9, fully exposing the LCD area, which might be nice if you need to access that area while using other tools for extended periods of time.
Stopwatch/Timer
Exactly what you'd expect, but no less useful. You can set a timer for up to 24 hours and when it hits 0:00, the watch starts beeping. Fair enough. The stopwatch is able to keep time down to the 100th and also has a lap counter. Pretty standard stuff.
Step Counter
Initially I thought the inclusion of an accelerometer to keep track of steps would be a really useful feature, but it seems like, for me at least, the steps recorded were much higher than I have recorded with other tracking devices. I was always surprised to see my daily steps in the 6-7 thousand range, despite feeling like I haven't walked that much at all that day. Meanwhile, my phone would display 4-5 thousand steps.
To put it to a more exact test, I went on a walk with my phone and the PRO TREK. The starting steps on the watch and my phone, respectively, were 194 and 155. At the end of the walk, which was close to 1 mile loop I walk/run often, my steps were recorded as 2,660 and 2,157 steps. Given my gait, I've measured 1 mile at right around 2,000 steps. So the iPhone is much closer to that number, the PRO TREK registering close to 500 more steps, which if you think about it, is like 25% more steps.
I sort of wish I had a third wrist-borne tracker to test the PRO TREK against, but when I used to own an Apple Watch, the step counter seemed to be fairly close to the iPhone step counter. Overall, I'm accepting of the step counter, but I think it's a little ambitious in its count. If I were to use it to actually track distance accurately, I'd have to do more testing to get a consistent number per mile and then multiply by that.
The manual does say that extraneous arm movements can register steps, but it's not like I was flinging my arms around. Something is better than nothing.
Digital Compass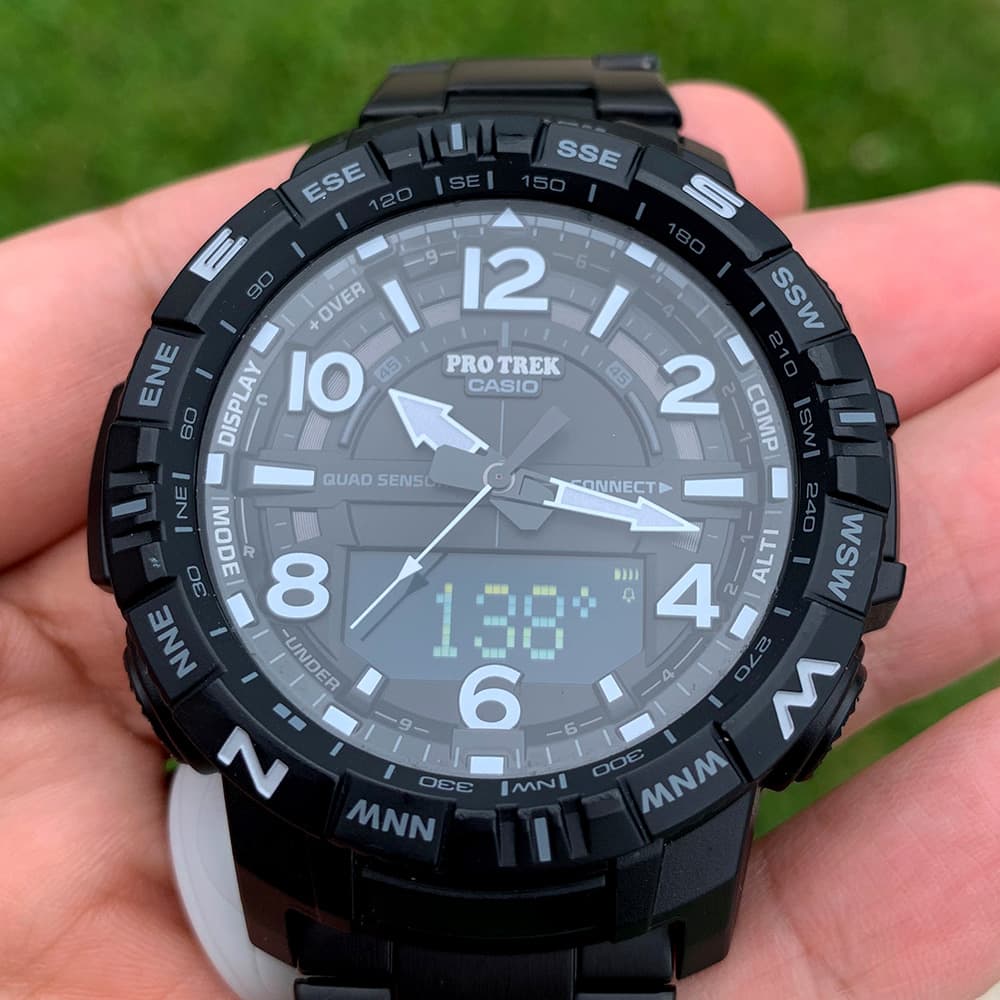 Now this is a neat feature. One push on the upper right button and the second hand becomes a digital compass, pointing toward magnetic north. This feature may require some setup, a specific figure-8 pattern you should wave your watch around to initialize the compass. I found that the needle pointed north-ish… consistently enough to be accurate if checked often enough.
I did get several different readings if tilted slightly. It's probably best used off the wrist, after the figure-8 initialization, and often, for proper orienteering.
Barometer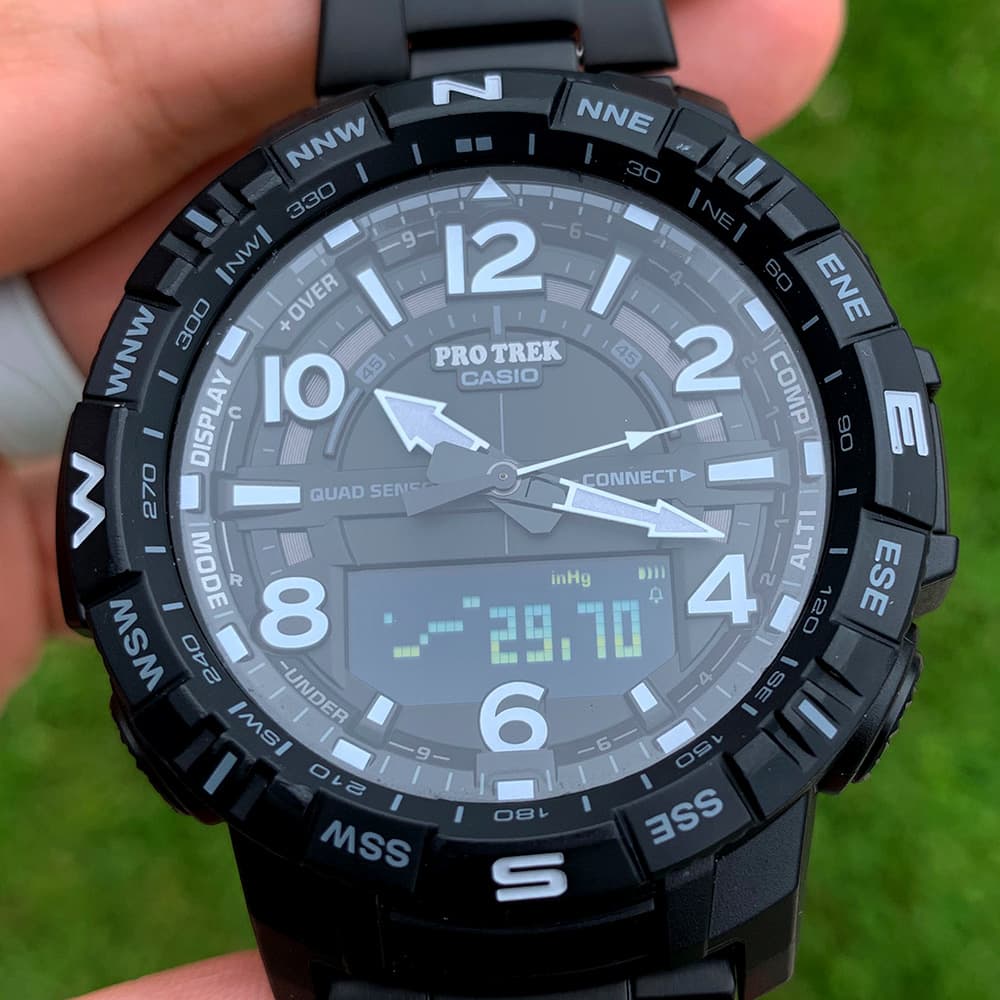 I've never actually owned a barometer, so this tool took a bit of reading up on exactly what a "good" or "bad" reading entails. I suppose there's no real good or bad, but rather indicators of clear or rainy weather. For example, right now, the reading is 29.70 Hg, which is generally considered low pressure, and it's steady to slowly falling, which indicates rain in the future.
This is very handy for hiking and camping, as a rapid change in the air pressure could let you know well ahead of time whether or not you need to seek shelter. It's been really fun to check this out and see ahead of time if there is clear or stormy weather coming.
Altimeter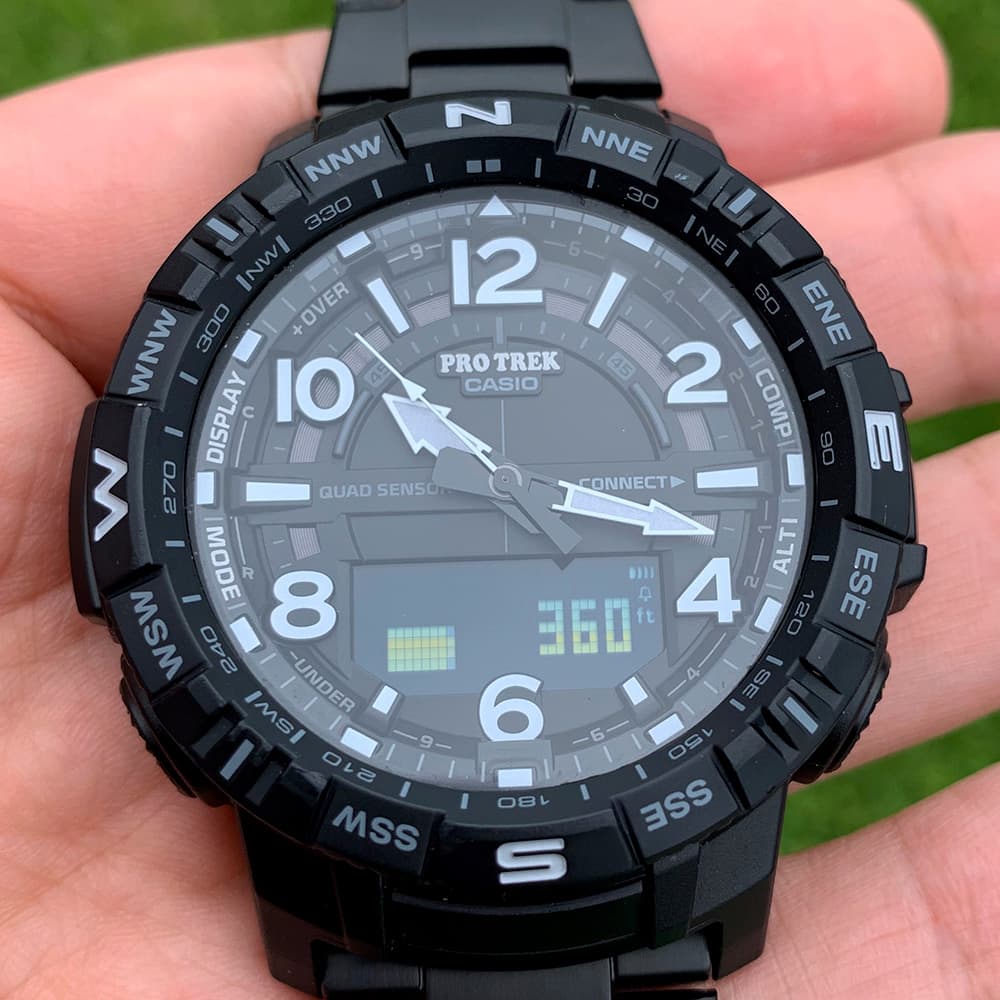 Another very useful tool while hiking is knowing your altitude to see how close you are to the summit of your hike. The altimeter uses the same air pressure sensor as the barometer to tell within 5 feet how high you are above or below sea level.
Currently as I write this, in the Susquehanna Valley, I'm a mere 360 feet above sea level, whereas last weekend while traveling to a more mountainous area of PA, I could watch that level rise steadily as we drove toward Schuylkill Haven.
With some advanced planning or a topographic map, you can use the altimeter and compass to pinpoint how close you are to a mountain or ridge.
Temperature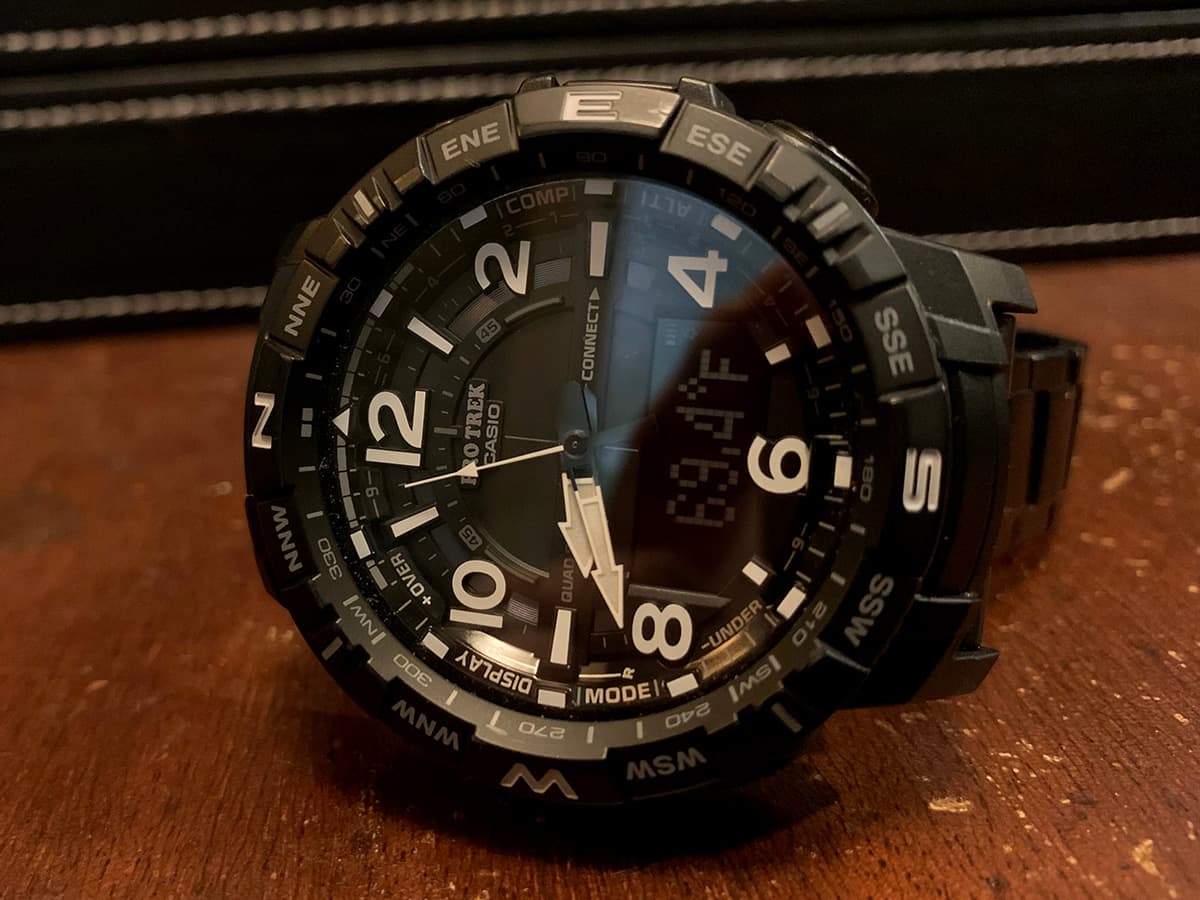 Like the accelerometer, this is another feature that's less useful but still nice to have rather than not. Obviously, you'd be able to know if it's cold or hot just by feeling the air, there's not a lot of use in knowing the exact temperature. In order to get an accurate reading, you have to take the watch off for about 30 minutes so the heat from your wrist dissipates. After that, it's quite true to the ambient temperature (as long as the watch isn't sitting in direct sunlight. It was a fair 69.4º in my closet.
Alarm
You can set up to 5 separate alarms daily alarms. None of them have a "snooze" feature, and the alarm beeps for maybe 20 seconds, and that's it. It might be good enough to wake you up if placed close to your head while sleeping, but to be safe, I'd set at least 2 alarms spaced apart by a few minutes, for heavier sleepers.
The PRO TREK also features an hour signal that beeps once on every hour. I like to keep this on because, to be honest, it's great to be able to keep track of the hours creeping by in quarantine.
Sunrise/Sunset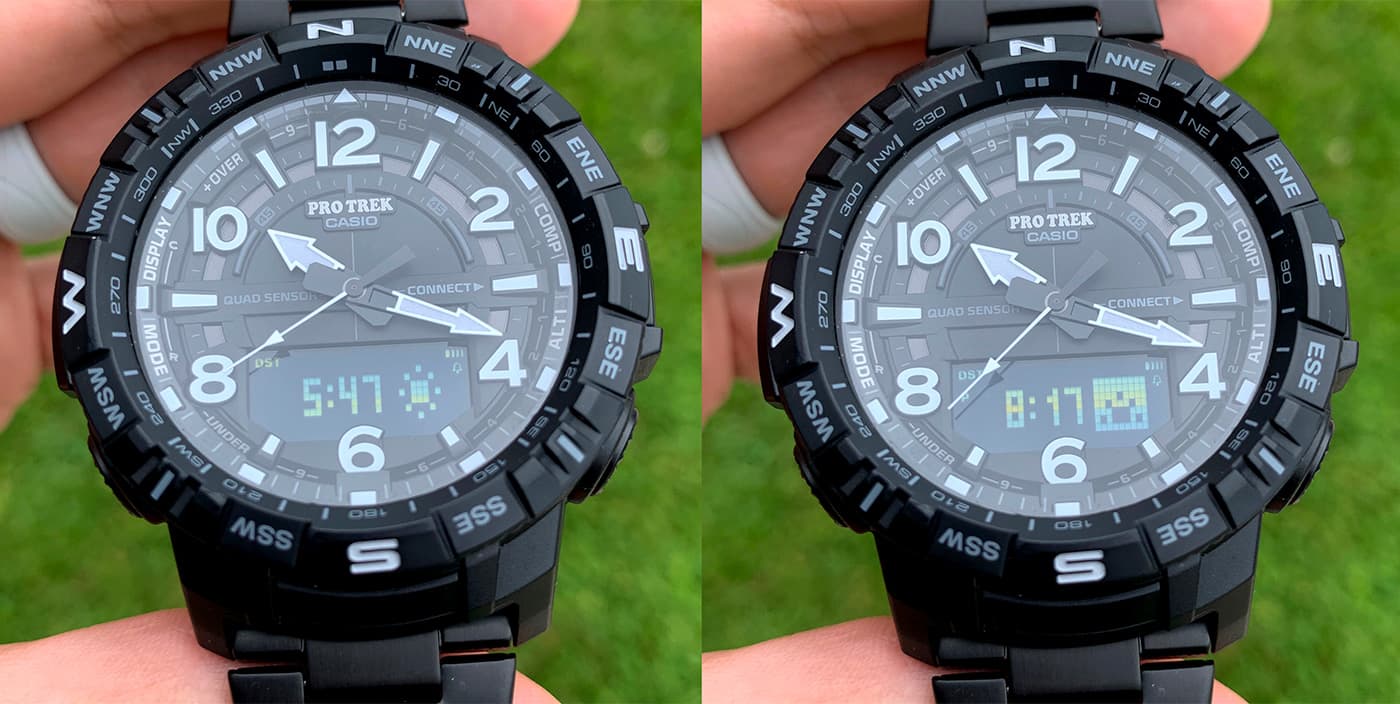 Tied to the auto-calendar is sunrise/sunset function, which, again, is very nice to have so you can know when to start heading back down the trail before dark. Speaking from experience, things start to get dark quick when you're on your way down a steep trail, and it's certainly not a place you want to get caught in the dark.
The App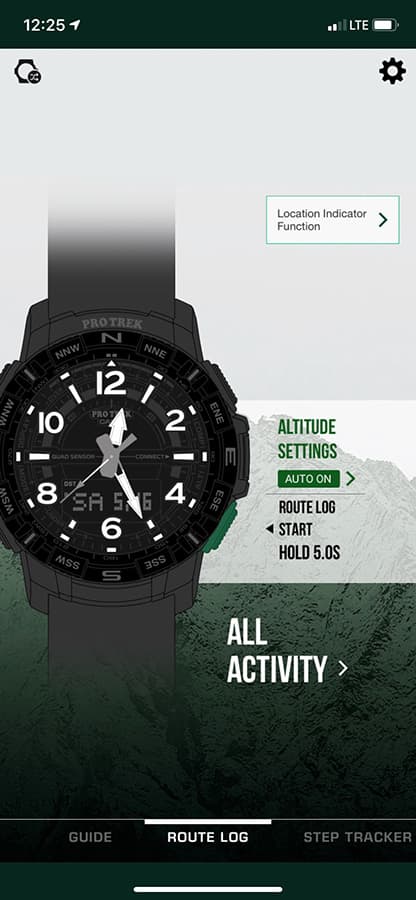 Lastly, the PRO TREK app expedites the setup of some of the watch's functions. After the initial connection to the app, you can quickly set the time by hitting the side button anytime you're within reach of your phone to automatically set the time. Super easy. Holding down this side button for a few seconds opens up communication to the app itself, which allows you to sync your 5 alarms and hourly signal function.
I believe the time and the steps auto sync periodically, and those steps are stored in the app, but curiously not in the Health app.
Within the app there's Route feature, that can apparently track the steps and altitude and using your phone's GPS, can be useful in logging your trek.
One fun note is the watch display on the app matches the model and the current time and LCD display. Just sort of a neat meta feature.
What I like
It's like the Swiss Army knife of watches
Time is always correct thanks to the app
Very rugged yet comfortable and lightweight
It's fun to check the barometer and altitude!
Unique bracelet band link removal/addition system
What could be improved
Step counter was a bit off for me
Compass is a little finicky
Some advanced functions might take a while to commit to memory
Could look large on smaller wrists (like mine!)
Final thoughts
The Casio PRO TREK packs a ton of useful features and tools into a lightweight, rugged and stylish package. It will offer everything you need for a day on the trail or an extended camp out, and with some experience using the watch, I'm sure you'll find it as indispensable as your pocketknife, hiking boots or canteen.
Price: $380
Where to buy: Casio's website and check out Casio on Amazon
Source: The sample of this product was provided by Casio.