We use affiliate links. If you buy something through the links on this page, we may earn a commission at no cost to you. Learn more.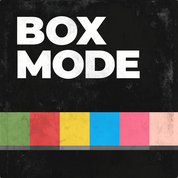 SPONSORED – Do you need a fresh, professional website for your business, nonprofit, church, blog, or hobby group? Try Boxmode. It's an easy to use online website builder that lets you create a site within minutes.
You don't need any coding or design experience to get impressive results. Boxmode's interface is drag and drop, so it's easy to build your dream website. After signing up for an account, just follow these seven steps:
1. Choose your template
If you have logged in to your Boxmode dashboard, you'll see the Create New Project button near the top right corner of your screen. Click it to start building a new site. You'll then be asked to pick a template. A template gives your website a distinctive look and feel. It provides you with a readymade layout that you can then adjust to make a website that is uniquely yours.
With dozens of templates on offer, you're sure to find one that suits your needs. You can see a brief description of each template by hovering over it and clicking Details. If you'd prefer to create your pages from scratch, pick the Blank template.
Alternatively, you can start working on a project without creating an account by clicking Start for Free on the Boxmode website. You'll need to make an account if you want to save and publish your site.
2. Start customizing your site
Your chosen template will open in the Boxmode editor. To edit any of the design elements or widgets, click on it and then click Edit. You can also move or delete any elements and make your vision come to life. For example, you can change colors, fonts, images, and add visual effects.
If you make a move you don't like, click the back arrow in the top right of the screen. You don't need to worry about saving your work; Boxmode's auto-saved function ensures it is backed up. If you are comfortable using CSS, access the CSS panel from the left-hand side of the screen.
3. Add or remove widgets
Think of widgets as the building blocks of your site. Boxmode offers many types of widgets, including slideshows, social media integration, buttons, content boxes, and other interactive elements. Boxmode's editor lets you drag and drop widgets and takes care of all the code for you.
When choosing widgets, think about what you want people to do after visiting your website. For example, if you are a keen photographer, a slideshow widget would be the perfect way to showcase your latest work and encourage visitors to book your services. If you run a brick and mortar business, adding a map widget is the perfect way to help your customers find your store or office.
4. Add pages
To add a new page, click on the Home icon in the top left-hand corner, then click Add Page. If you want your new page to use the same template as your other pages, you can duplicate an existing page by clicking the three dots next to its name and clicking Duplicate. The Duplicate function ensures that your website has a consistent style, which is important if you want your website to have a professional appearance.
5. Check that your website displays well on mobile devices
At the top of the screen, you will see three logos. Click them to preview how your site will appear on desktop computers and mobile devices. Boxmode templates are designed to be fully responsive, so you shouldn't need to make any major adjustments.
6. Tweak your SEO settings
Click the Home button in the top left corner of the Editor, then the three dots next to the Home icon that appears in the drop-down menu. From there, you can access Settings, including SEO options. Enter the page title, description, keywords, and adjust other SEO settings as appropriate. You can publish your site without following this step, but it will help improve your site's SEO performance, which boosts your online visibility.
7. Publish your website
When you are happy with your website, hit the Publish button in the top right corner of the screen. You'll be asked to choose a free Boxmode domain name. If your preferred Boxmode domain name is already taken, you'll be prompted to choose another. Try to choose something memorable, relatively short, and easy to spell. Make changes whenever you like
You're done! Your website is now live and accessible to anyone who knows its URL. You can log in and make changes to your site's content and structure at any time using the editor as often as you like. If you run a business, a visually appealing, mobile-friendly website isn't a luxury—it's a necessity. A Boxmode website will leave a positive impression on your target audience and keep them engaged with your brand, ideas, or community.