We use affiliate links. If you buy something through the links on this page, we may earn a commission at no cost to you. Learn more.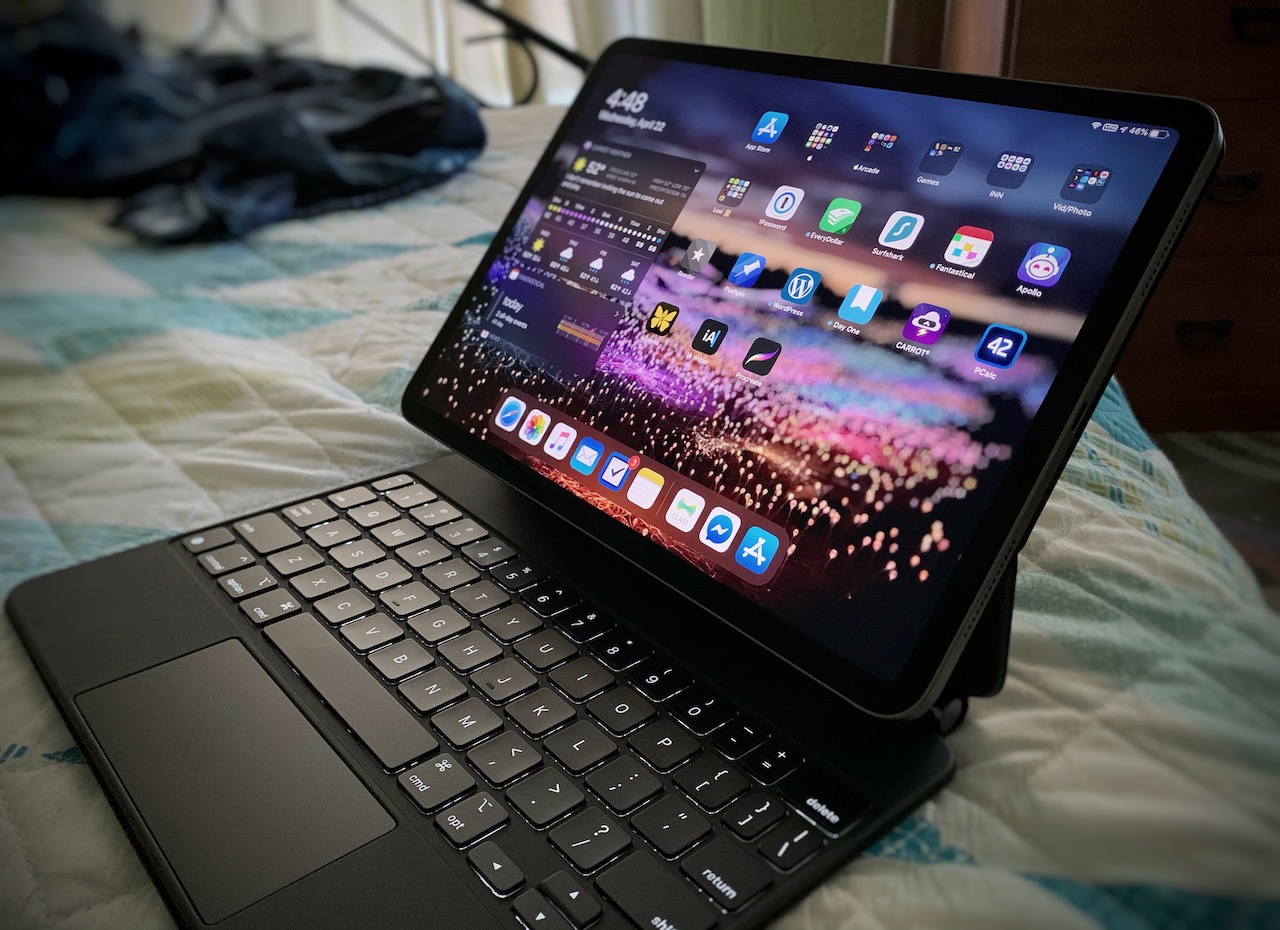 ARTICLE – Nearly as soon as it was announced, I ordered one of Apple's Magic Keyboards for my recently-acquired 11" iPad Pro (first generation). And when it arrived today, I eagerly got it set up and started typing out my first impressions.
Previously, I had been using a spare Mac Magic Keyboard and a Twelve-South Compass Pro stand, sometimes in conjunction with a spare Bluetooth mouse, which iOS now supports.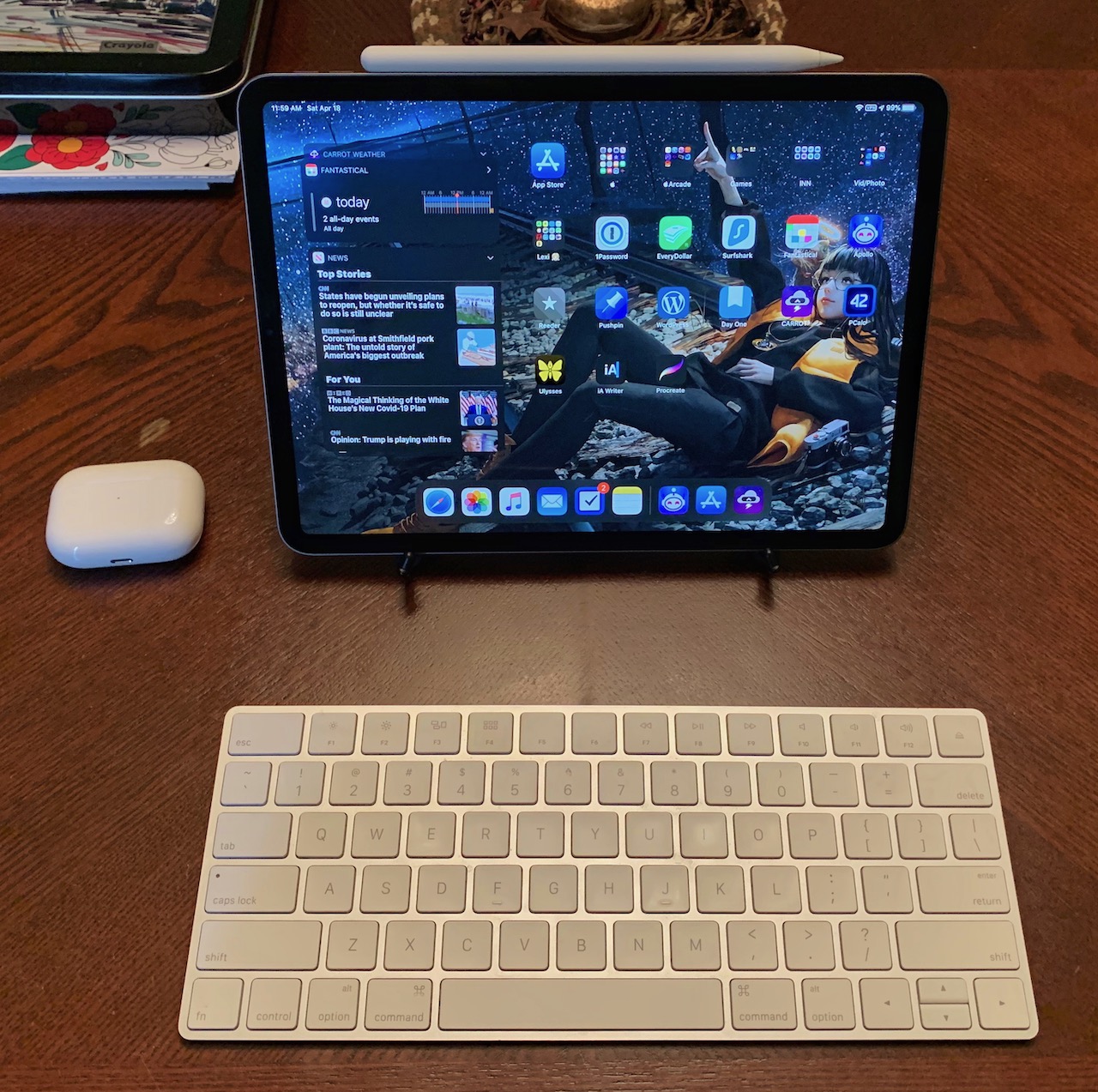 And while I quite like that setup, having to pull out an iPad, stand, keyboard and mouse all at once — especially when I already own a Macbook Air — seemed ridiculous. Plus, it's not really lap-friendly.
I couldn't help but be curious what an all-in-one keyboard/case/trackpad solution would look like, especially coming from Apple itself.
So having spent a portion of the day with this Magic Keyboard, I can safely say I love it, overall. The build quality is amazing. The time from folded to typing is insanely fast. The keyboard is, at the very least, on par or better than their latest laptop keyboards, with good travel and key spacing. I got accustomed to it in a matter of minutes.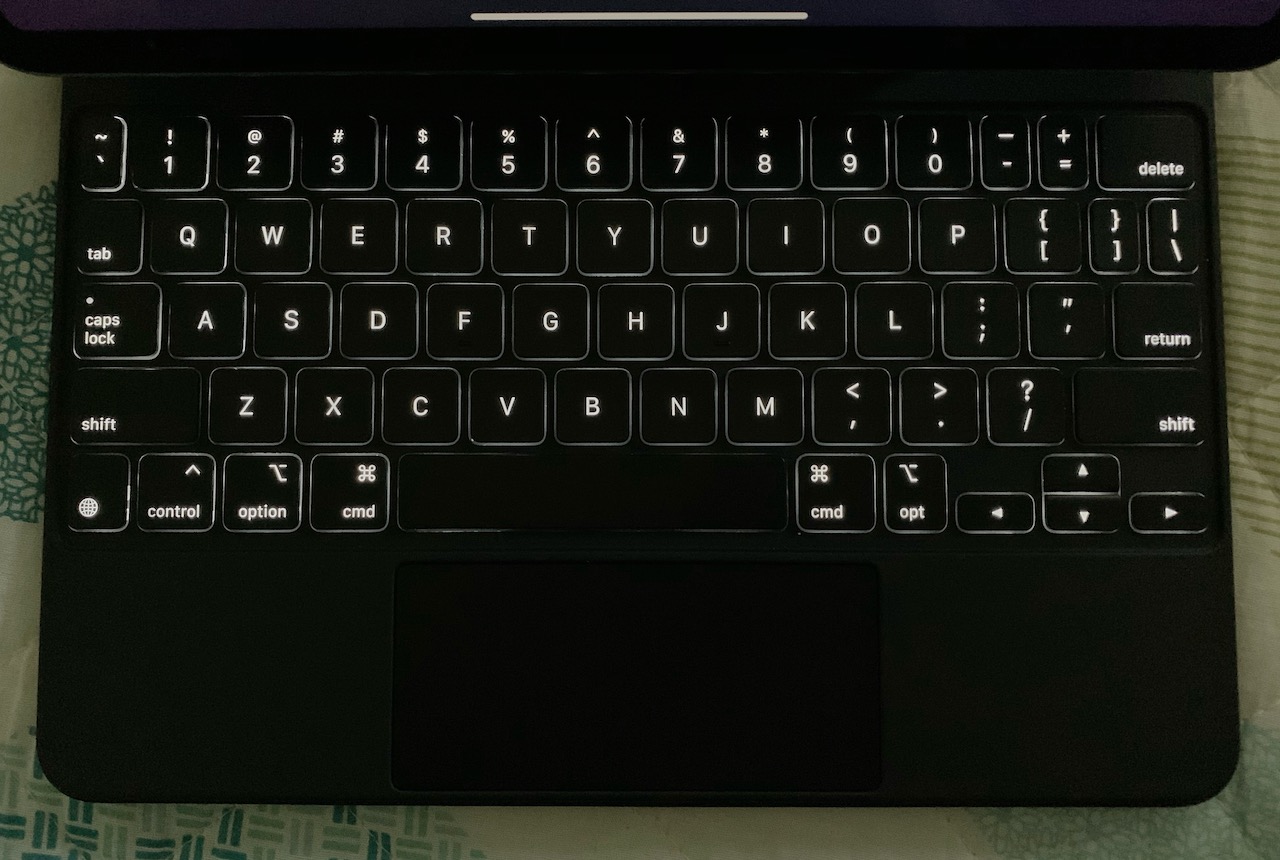 Rather than type out a full review, which seem to be literally everywhere I look as of yesterday, I'll just assemble a list of random early observations, below.
The extra weight is noticeable, for sure, but when folded up, the entire package feels solid.
The magnets that hold the iPad in place are quite strong. There's no accidental slipping or falling. The iPad simply stays in place, but can be quickly detached pulling up from the bottom corner.
Speaking to the above point, the Magic Keyboard encourages that modular use … it could very well be more of a permanent fixture on a desk while the iPad remains a mobile screen/CPU for use elsewhere in the house.
There's a USB-C port on the left side of the keyboard, which can trickle-charge the iPad while in use. While attached, the iPad USB port is on the right… so whichever side your cable or plug is on can work with this setup, or you can keep your iPad cable free for other peripheral use.
The keyboard backlight is awesome, like all their other laptop keyboards. The brightness is ambient controlled as well as adjustable in the iPad settings.
The trackpad, while smaller than I'm used to, is smooth and feels extra-clicky. The whole surface is equally clickable, instead of some older laptops trackpads that feel sort of like they're levered in the center.
Trackpad/mouse support on an iPad is immanently usable. It just works. And I'm amazed it took this long to arrive.
The keyboard light turns off after a few moments of inactivity. It turns back on with a keystroke, screen tap or trackpad touch.
When opening, the iPad screen doesn't turn on until the second, back hinge is moved. Odd.
Both hinges are easy to move but thunk into place quite sharply. The main, central hinge glides smoothly and snaps into place with a good sense of security. It's difficult to open with one hand, though. Sort of like trying to open a laptop upside down, with the screen against the table.
Fully opened, the angle seems pretty much perfect, even sitting on the bed in front of me, lower than it should be for long-term typing.
The camera hole on the back is sized for the newer iPad Pro with the fancy triple camera, but the first-gen iPad Pro works and fits perfectly as well.
There are no F keys, so no bonus volume or brightness keys, either.

 

The keyboard connected instantly, using the solid connections on the back of the iPad rather than Bluetooth. It also disconnects instantly, so you don't get that weirdness of having to manually turn off your Bluetooth keyboard in order to use your iPad's keyboard.
It balances just fine on my lap.
$300 (or $359 for the 12.9" version!) is a lotta cabbage. But this is a premium accessory.
I'm sure I'll stumble across some other niceties or eccentric features, but at first blush, the new Apple Magic keyboard for the iPad Pro is my new favorite thing… adding an even better typing experience to my preferred writing apparatus. Full-hearted recommendation!