We use affiliate links. If you buy something through the links on this page, we may earn a commission at no cost to you. Learn more.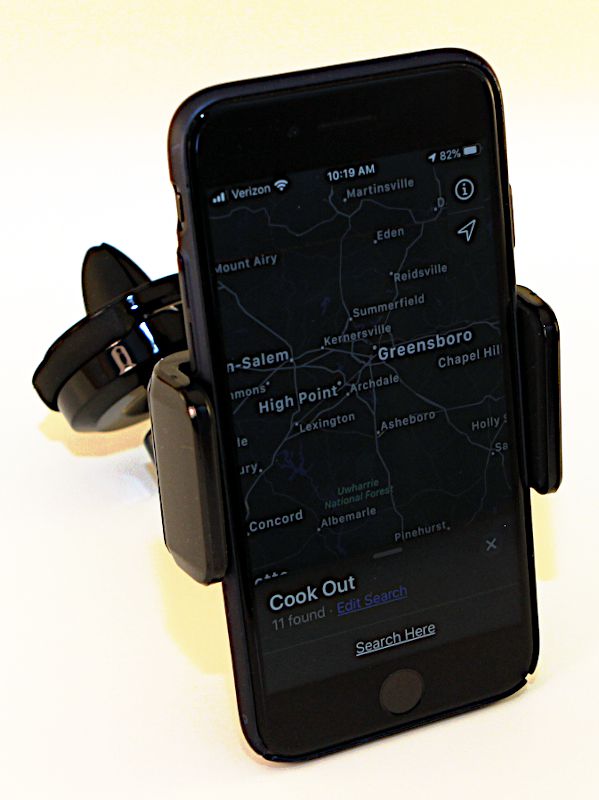 REVIEW – I have a 2019 Ford Mustang that supports Apple's CarPlay.  It's fabulous.  Once I plug in my phone, I can navigate with Apple Maps, send texts, and answer calls without ever having to touch my phone.  I also have a 2016 Toyota RAV4.  While I love the car, it doesn't support CarPlay, which means when I'm using Apple Maps to navigate, I either have to hold my phone or set it down in a cupholder.  Neither of these options are very safe or smart.  What I really need is something to hold my phone for me up near my steering wheel, and this is exactly what Scosche's phone mount is intended to do.
What is it?
The Scosche Fresh Scent FreeFlow Vent Mount is a universal phone mount designed to be attached to one of the vents in your car to allow hands-free operation.  It includes a built-in slot for an air freshener.
What's in the box?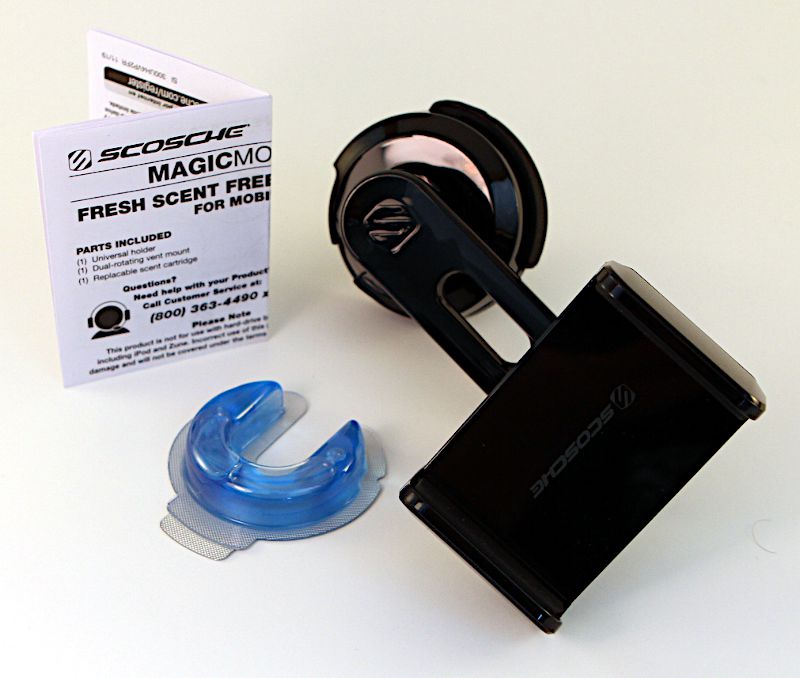 The phone mount
1 air freshener cartridge
1 manual with 4 pages of terse instructions
Hardware specs
Supports phones that are 3.5" wide
360-degree adjustable head
Air cartridges last up to 30 days
Design and features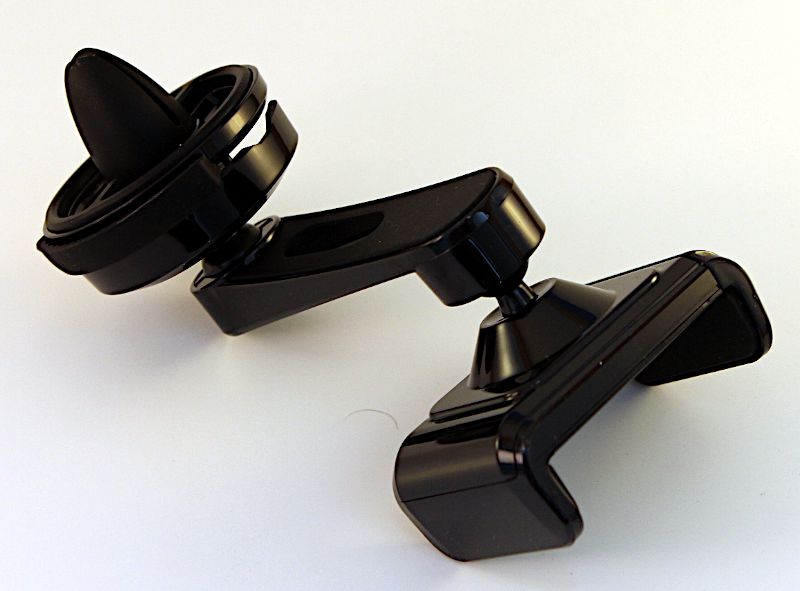 The FreeFlow is made of glossy black plastic.  It's about 4 inches long.  One end is an extendable C-clamp-looking mechanism that holds onto your phone, and the other end is a pair of rubbery grips that slip onto one of the vanes in your car's air vents.  In between is a rod that has a ball-and-socket joint on both ends, offering a lot of flexibility on how you arrange your phone to get an optimal viewing angle.
Installation and setup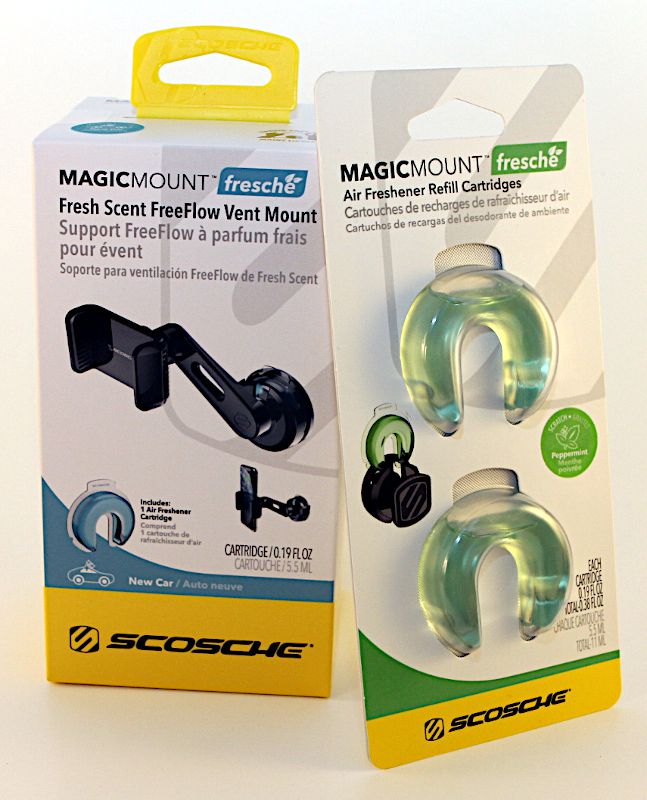 The FreeFlow arrived in a bright, cheerful little box along with a slip of cardboard containing an extra pair of air fresheners.  Once removed from its packaging, there are only three steps for installation, all of which are done when sitting in your car.  First, determine where in your car you want to place your mount and how you want your phone to be.  Given how very flexible the FreeFlow is, you can place it in almost any position you want.  As the sockets are initially very stiff, it's best to arrange things how you want before attaching it.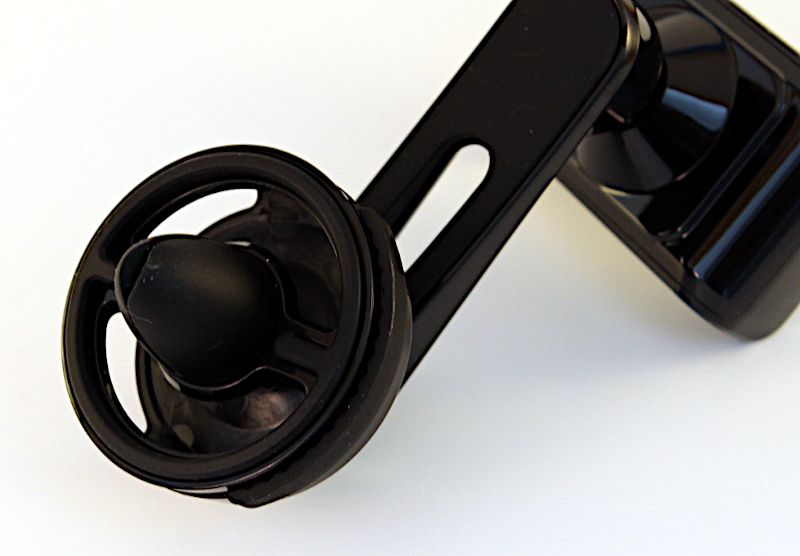 Second, attach the mount to an air vent.  The rubber grips on this end are tight and designed to be slipped onto on a vane.  In my RAV4, the vanes near the steering wheel come in a set of 3 that run vertically.  Initially, I installed it on the center vane, but I found that as the vanes could pivot left and right, so could the FreeFlow.  Due to gravity, it tended to pivot left and rest on my steering wheel, a bad idea.  Next, I placed the FreeFlow on the leftmost vent, and because the grip was on the side, it wedged against the vent housing and kept the vents from pivoting.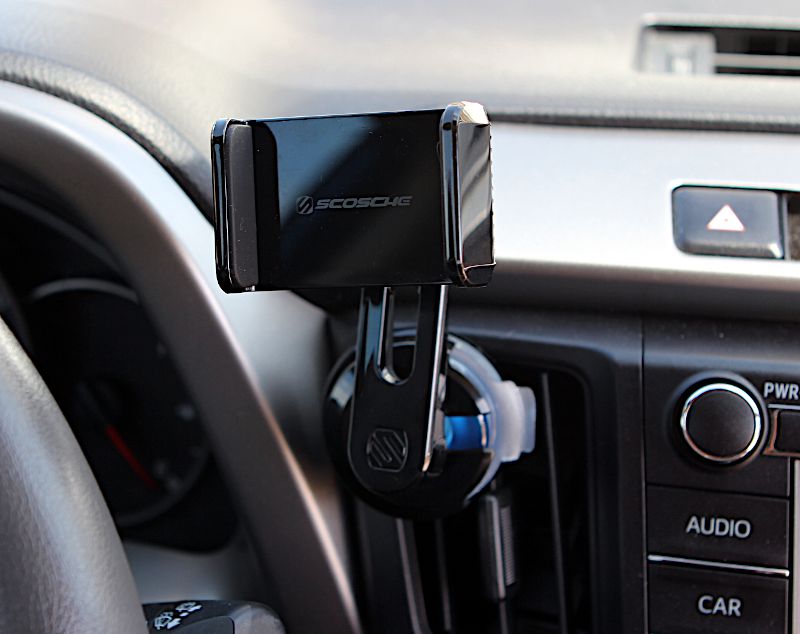 Third, attach the phone.  If everything works, it's at a perfect angle for seeing your maps while driving.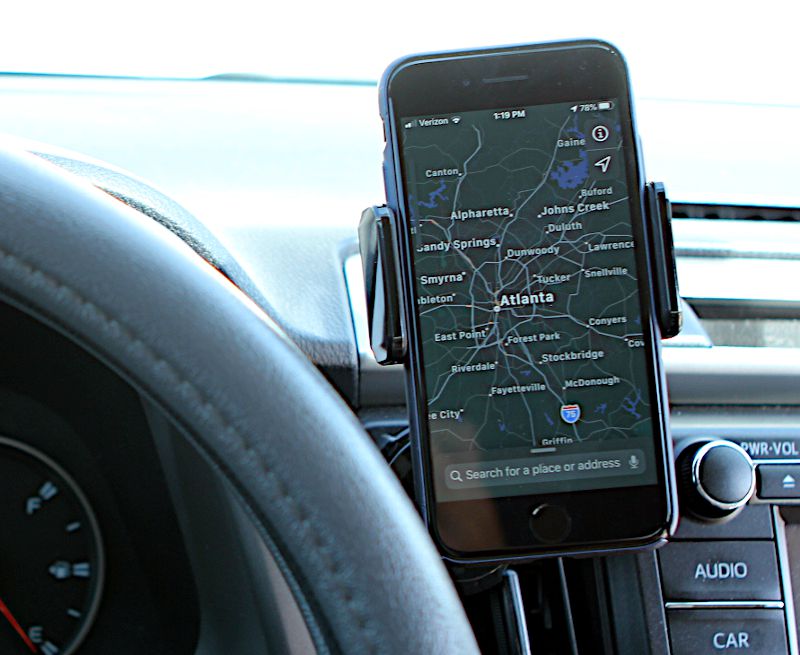 Performance
The FreeFlow arrived at the perfect time, only 3 days before we took a 12-hour road trip from South Carolina to Texas (and back) to visit family.  I set everything up the day before we left, then put my iPhone 8 into the mount just before pulling out of the driveway.  Once we hit the interstate, I realized that the position that looked good while sitting in my driveway was not very practical while driving.  My phone pretty much covered up the lever that controls the windshield wipers.  My son had to experiment with various locations until he found one that worked.  The good news is the flexibility of the FreeFlow pretty much guarantees that you can find some position that works!  Here's where we wound up: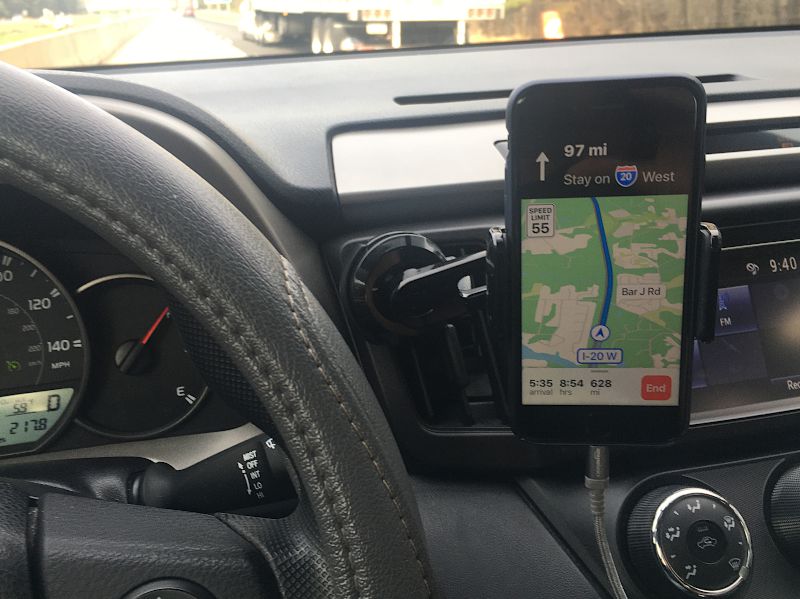 As a complete package, this phone mount is a bit wobbly, not so much because the FreeFlow itself is wobbly but because it's attached to an air vent.  Still, it's stable enough, and I was able to use my iPhone for navigation without any problems.  Overall, I consider Scosche's mount to be a success as it reduced the stress of navigation on the trip, especially during chaotic places like downtown Atlanta.
If I could improve upon it, I might add something like an adjustable clamp to hold it even tighter to the vane.  If I wasn't careful, I could pull the entire mount off the vane when adjusting something on the phone or when I took it off the mount at a rest stop.
Extra Features
This phone mount doubles as an air freshener.  If you look closely, you can see that base of the mount has a slot for a freshener.  The FreeFlow comes with one "new car smell" freshener, and additional cartridges are available in a variety of scents (e.g., peppermint, lemon, and pine) from Scosche's site for $8.99 a pair.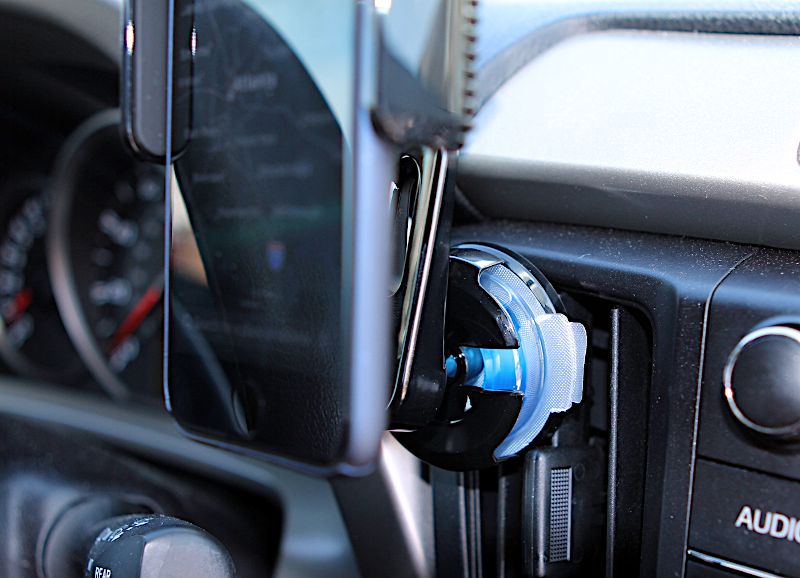 The "new car smell" was not a particularly amazing scent, neither good nor bad, and it wasn't very strong.  I could smell it for about 5 minutes, and then it faded into the backend.  Even when we left the car for a restroom break and then came back, I couldn't smell it.  For me, the freshener is not a good reason to buy (or not buy) this gadget.
What I like
Hands-free operation of my phone
Flexible design of the mount
What I'd change
Stronger clamps for attaching to the air vents
Final thoughts
I like Scosche's FreeFlow Vent mount.  It's exactly what I needed for navigating via Apple Maps on a long trip.  I especially appreciate the flexible design with a pair of ball-and-sockets that allowed us to find just the right place to position the phone.  If you're also looking to add a fresh scent to your car, then that's an extra bonus.
Price: $24.99 for the FreeFlow, $8.99 for a pair of refill cartridges
Where to buy:  Scosche's online store and Amazon
Source: The sample for this review was provided by Scosche.