We use affiliate links. If you buy something through the links on this page, we may earn a commission at no cost to you. Learn more.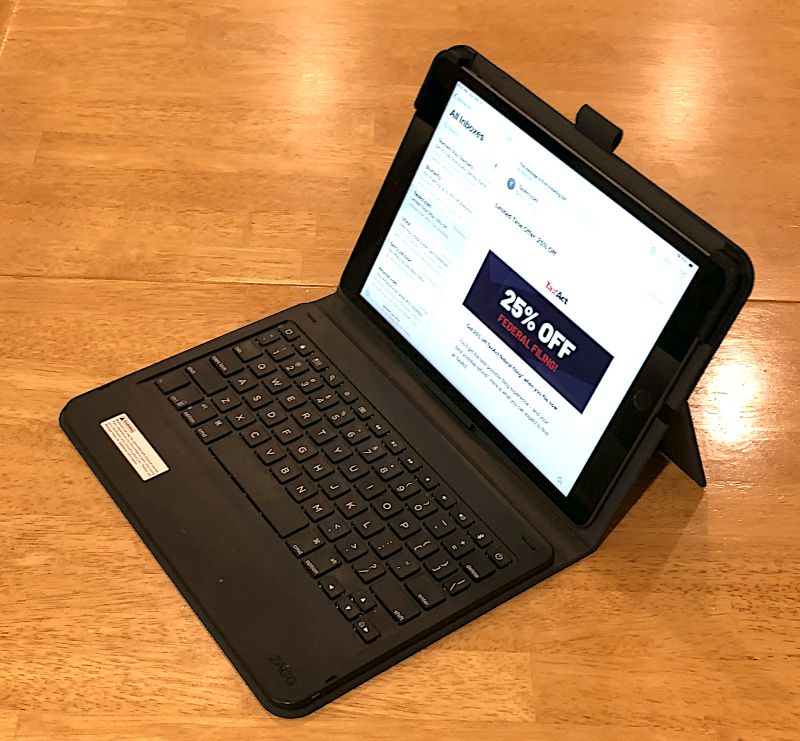 REVIEW – For the most part, I think the optimal input device for an iPad is one's fingers.  Some people, however, have a need to enter a lot of text.  While the built-in, virtual keyboard on an iPad is serviceable, having a real, physical keyboard makes typing so much easier.  My wife teaches English online, and she has to provide feedback for every student she teaches.  Oftentimes she does this using her iPad, especially when we are traveling; this is why so she was excited to have the opportunity to test ZAGG's new Messenger Folio with the new 10.2-inch iPad that she got for Christmas last year.
What is it?
The Messenger Folio is a tablet case with a built-in keyboard designed for the 10.2-inch iPad (2019), the 10.5-inch iPad Pro, and the iPad Air 3.  It sports its own battery, a tab for an Apple Pencil, and magnetic locks.
What's in the box?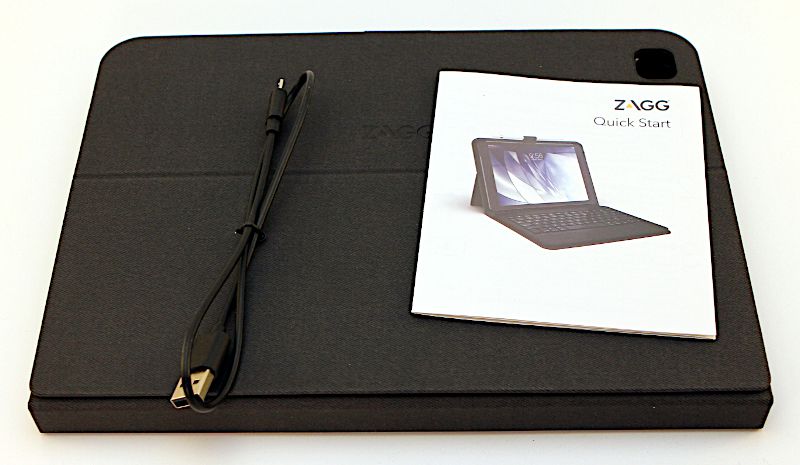 The folio
USB cable for charging
A quick start guide with 2 sparse pages of English instructions
Hardware specs
12.17 x 9.09 x 0.91 inches
2 pounds
Bluetooth support
2-year battery life
Design and features
The Folio is a black, hard case that is wrapped in fabric, which protects the iPad.  The keyboard is built into the case and cannot be pulled out.  It's a minimalistic design that is very functional.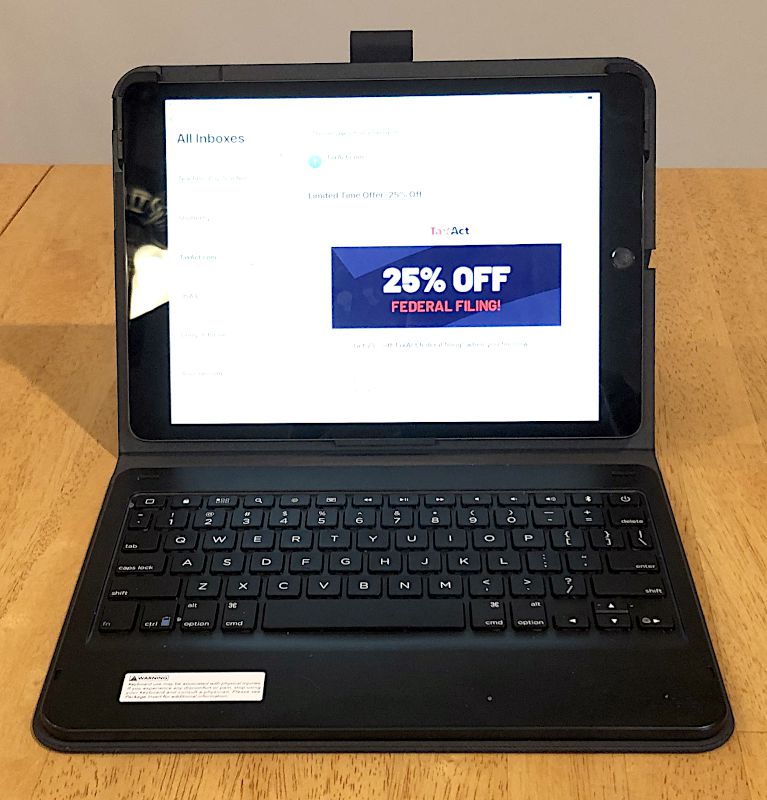 Installation and setup
The quick start guide describes the three steps required to set up the Folio.  First, open the Folio and press the Power key.  The LED built into the key will flash green to indicate that it's powered on.  To power it off, hold this key for 3 seconds and the LED will flash red twice.  Second, insert the Folio into the guides and snap it into place.  There are two guides for the upper corners and one in the middle for the bottom.  Together these hold the iPad snuggly in place.  This case is not designed to pop your iPad in and out; it's meant to put it in and leave it.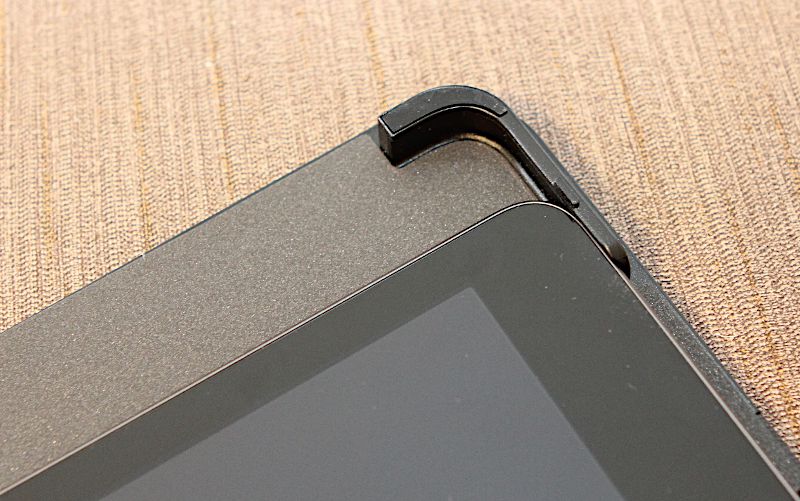 Third, pair the keyboard with the iPad.  On the iPad, select Settings and then Bluetooth.  On the keyboard, press and hold the Bluetooth key for three seconds.  The LED on the Power key will flash blue, and "ZAGG Messenger Folio" will appear in the list of "My Devices."  Overall, setup was super easy and took about a minute.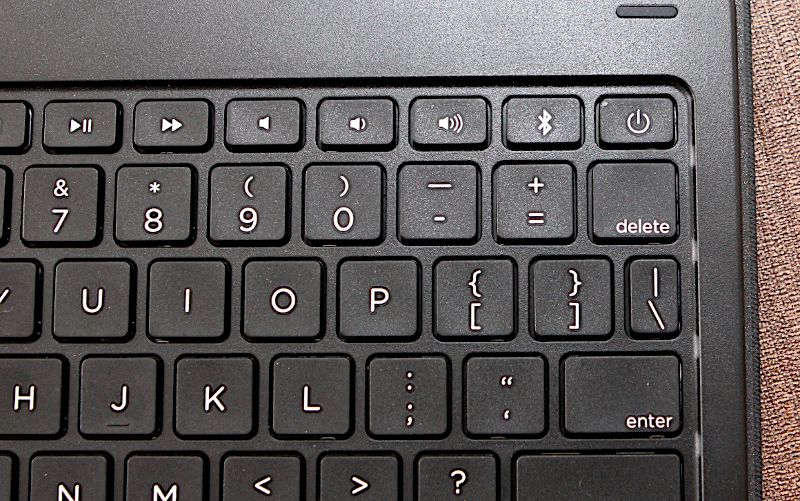 The Folio appears to comes pre-charged, but the guide doesn't say if it's fully charged.  To be safe I connected the USB cable to the keyboard and then plugged it into our trusty Anker charger.  As we already use this charger as our base for charging our iPads, it's a convenient way to charge both the keyboard and the iPad at the same time.

Unfortunately, the guide doesn't mention any way to determine whether or not the Folio is fully charged or when it needs to be re-charged.  There's a blue battery icon on the CTRL key and pressing FN-CTRL makes the LED on Power key flash, but without any help from the guide, we have no idea what it means.  I feel like this is a major omission, as the primary purpose of this gadget is to provide a physical keyboard, and that keyboard needs to be charged in order to work.  I suppose we'll just have to charge it periodically and hope that we don't run out of juice at a critical time.
Performance
The first thing that we noted about the Folio is how it changes the very nature of the iPad.  If you follow Apple at all, you know that for years they have worked hard at making all of their devices, including their tablets, lighter and thinner.  The Folio reverses that in a big way.  When placed in the Folio, iPad becomes more than twice as thick and more than twice as heavy.  It feels blockier and clunkier.  It's like we've transmogrified the tablet into a laptop.  It's a chance that you have to get used to.

Because it's so big and heavy, it works best on flat a surface, like a desk or a table.  It doesn't work well in your lap while sitting on the couch or reclining in bed.  It is, somewhat ironically, a laptop replacement that's not ideal in your lap.
If you can get used to this change, you gain something significant:  A really nice keyboard in a solid, protective case.  After a couple of weeks of heavy use, my wife had nothing but praise for this keyboard.  The keys worked great, just as well as the keys on her MacBook.  They were light and responsive, and she was able to touch type without any problems.  It worked with every app she tried, including Apple Mail, Pages, and Facebook Messenger.  It effectively turned her tablet into a laptop replacement.  During the virus, she even let her niece use her iPad to play some educational games, and her niece never realized that it wasn't a normal computer.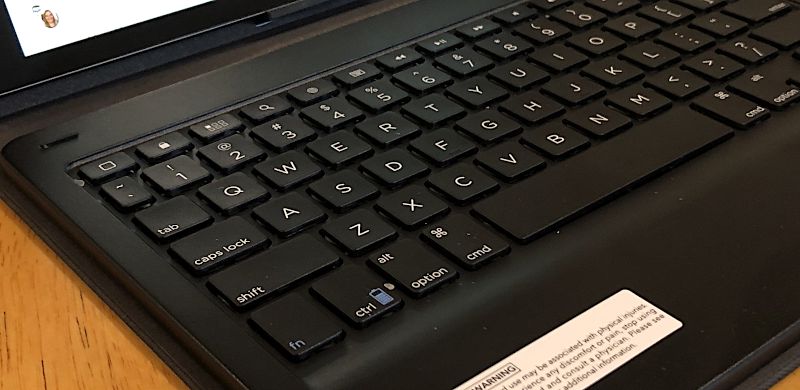 The battery in the keyboard seems to last a long time, at least a week during heavy use.  The Bluetooth connection between the iPad and the keyboard was rock solid.  It never went out and always picked right up when she woke her iPad up.  The ribbon that is used to keep the iPad in an upright position appears to be a bit fragile, but my wife never had any issues with it.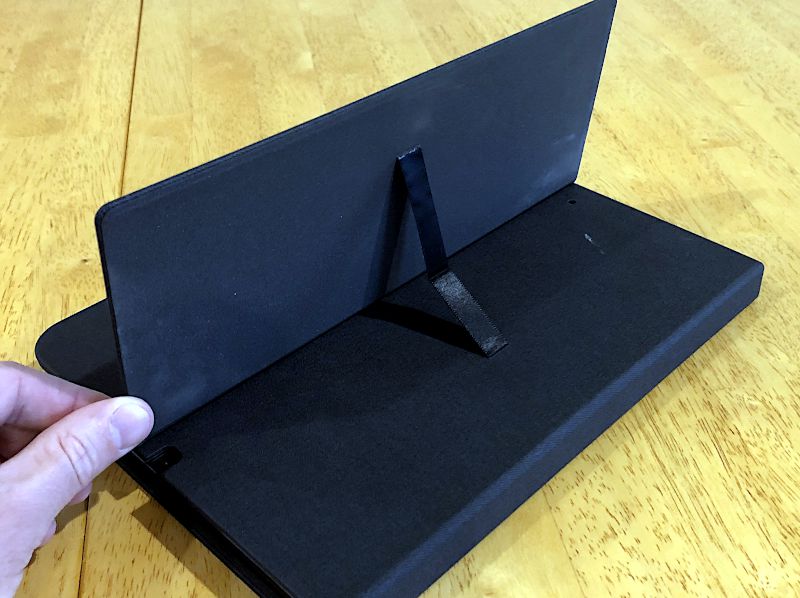 Despite how well it works, there are a couple of small issues.  One, the keyboard itself is a bit squishy; that is, when you press a key, you can see the entire board sink down a bit.  It doesn't seem to impact typing, but I wonder if the stress will eventually cause problems.  Two, the magnetic closure, which keeps the lid closed and puts the iPad to sleep, doesn't work perfectly.  My wife always has to close the lid just right, otherwise, the magnets don't quite line up, causing the iPad to stay awake and her battery to drain down.  If you're the kind of person who doesn't pay attention to detail, you may unexpectedly find yourself without any power.
Extra Features
The Quick Start Guide notes four keys on the keyboard that are of special interest.  The Home key functions just like pressing the Home button on the iPad itself, making it easy to exit an app or display the recent set of used apps.  The Lock key turns sleep mode on and off.  The Keyboard Hide/Show key hides or shows the virtual keyboard.  The Search key brings up the iOS search window.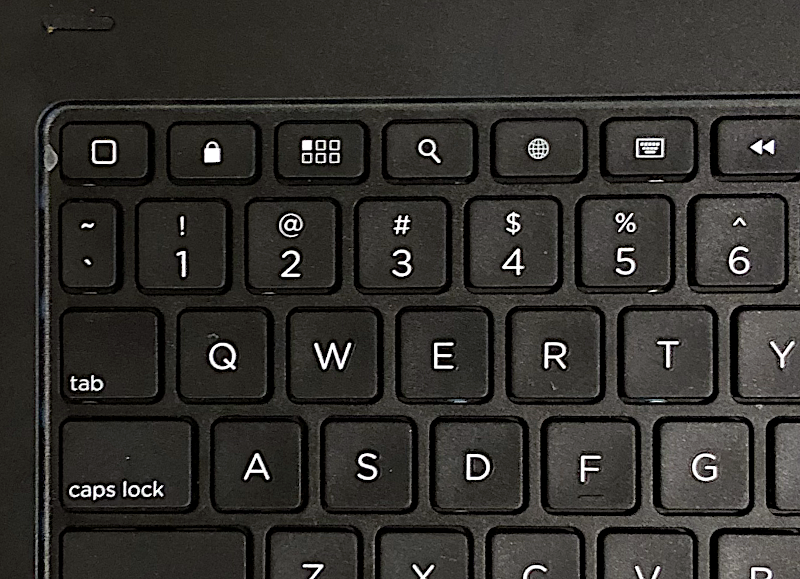 What I like
Great keyboard
Good battery life
Solid, durable construction
What I'd change
Clarify how the battery life indicator works in the manual
Adjust magnetic clasping system to make it always line up and close and turn iPad off.
Final thoughts
If you need to enter a lot of text into your iPad and you're ok with turning it in a "laptop" of sorts, then my wife and I agree that the ZAGG Messenger Folio is an excellent solution.  It's solid, reliable, and functional.  Admittedly, it turns your iPad into something that is (comparatively) big and heavy, but so long as you keep it on a desk or table it will be just fine.  If you're looking for a tablet case with a built-in keyboard, put ZAGG's Messenger Folio on your shortlist of choices.
Price: $59.99
Where to buy:  ZAGG's online store and Amazon
Source: The sample for this review was provided by ZAGG.