We use affiliate links. If you buy something through the links on this page, we may earn a commission at no cost to you. Learn more.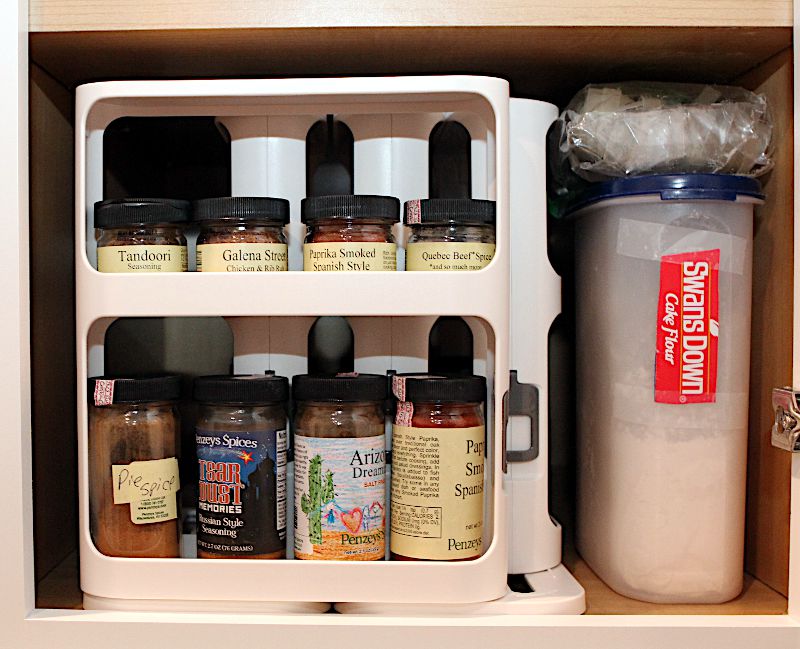 REVIEW – We recently moved into a new house, and it has a butler's pantry instead of a traditional pantry.  This means we have a lot of shelves, some of which are very deep, and my wife and I are trying to figure out how to organize everything.  In particular, it's a challenge to organize the spices.  My wife's a great cook and has a ton of spices; by my last count, she has 92 of those little bottles and jars.  We've tried a number of organizational solutions.  I bought her some lazy susans, which make it easy to see the spices but waste space in the corners.  I installed a drawer box, which gives good access to the back of a deep shelf, but the edges are too high for most spice jars.  My wife even filled one of the drawers with spices, which made it super easy to see, but she has to give up a precious drawer.  All of these solutions are good, but I don't think any of them are great.  This is why I was so excited to have an opportunity to test the Cabinet Caddy!
What is it?
The Cabinet Caddy is a rotating, modular, pull-out organizer designed to make it easy to access spice jars and other small containers.  It maximizes vertical space by having two shelves, one for taller items and one for shorter.
What's in the box?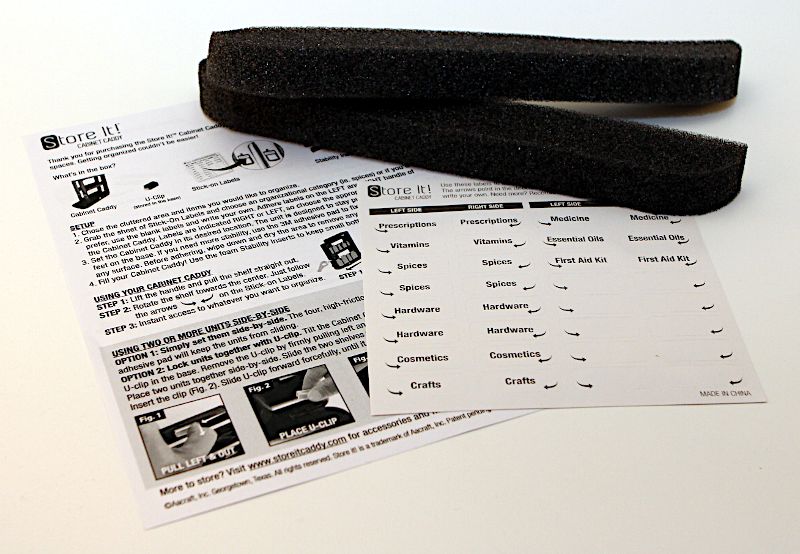 The caddy, which includes a base and an integrated pair of double-decker shelves
A U-clip, designed to hold two caddies together
A sheet of stick-on labels
A pair of stability inserts
A setup & use sheet with 1 page of English instructions
Cabinet Caddy was kind enough to send us a pair of caddies, but one of the boxes did not have any stability inserts and had a pair of setup & use sheets instead.
Hardware specs
Dimensions: 10.75″ H x 5.25″ W x 10.75″ D
Before you purchase a Caddy, measure your cabinets.  We found that it was too deep for some of our shelves, but thankfully there was a deeper one where it fit very well.
Design and features
The Cabinet Caddy is made out of plastic and comes in white or black.  Its design is neither hi-tech nor beautiful; it's purely utilitarian.  As I pulled it from the box, my initial impression was that it was a bit too flimsy, an impression that I never quite got over.  Despite this, it's certainly very functional.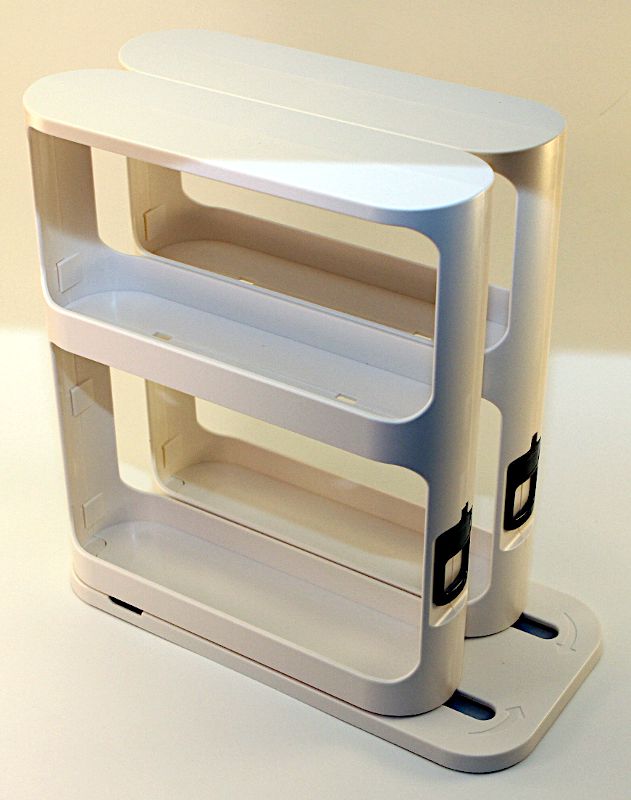 Installation and setup
Installation is super simple.  All I had to do was remove the Caddy from the bag, put it where I want on the shelf, and then put some spice jars on it.  As we have a pair of caddies, I used the U-clip to secure them together. Unfortunately, there is only one clip, located near the back, and it really wasn't very strong and thus didn't do much to hold them together.  This is an area where I think an improvement could be made by using a pair of connectors that are stronger and lock the organizers together better.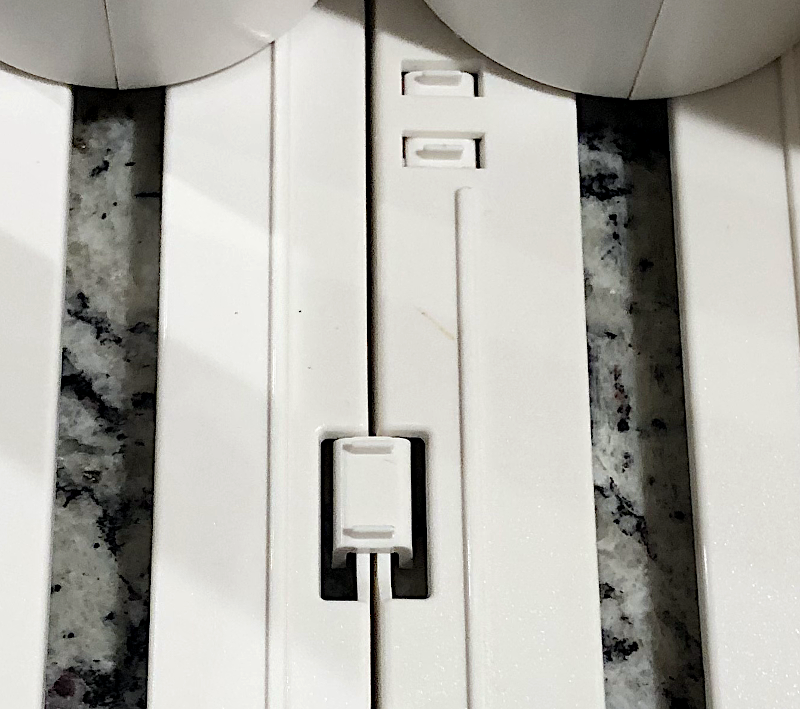 If your shelves slip and slide around, there's a 3M adhesive pad built into the bottom of the Caddy.  You can peel the strip off and then "tape" your Caddy into place.  We chose not to use this feature, because it limits our ability to pick up the Caddy and move it to another shelf.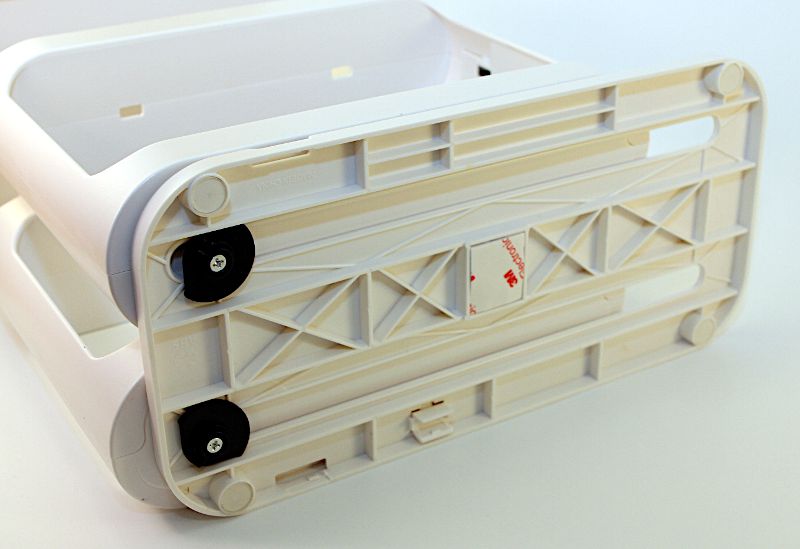 Performance
When the shelves are in their "closed" position, they fit snugly into the cabinet and make good use of the space.  In our setup, the pair of caddies hold 32 spice bottles.  The upper shelf holds smaller containers and the bottom shelf larger ones.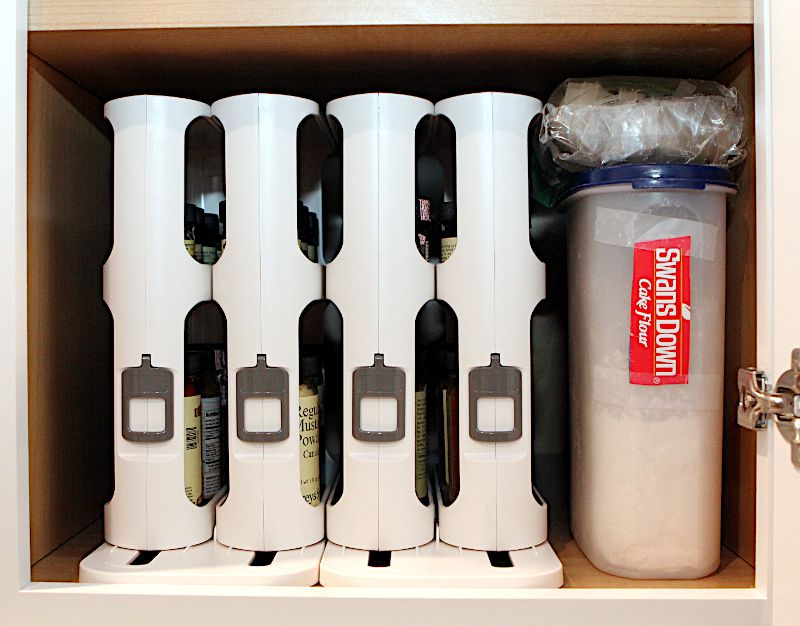 To retrieve a spice, simply pull out a shelf and rotate it either left or right.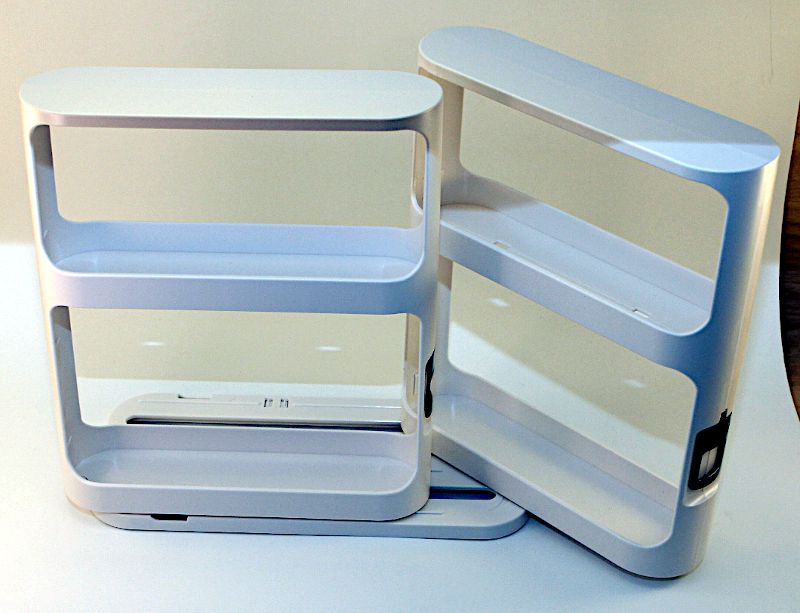 The outer shelves are able to rotate out completely (see the picture at the top of the article); the inner shelves are only able to partially rotate, as they are blocked by the edge of the cabinet.  The design feels a bit strange in this regard, as the environment causes the two shelves to not work exactly the same way.  The good news is that despite this unevenness, it does work.  The spices can be easily seen and retrieved, though only one shelf can be pulled out and rotated at a time.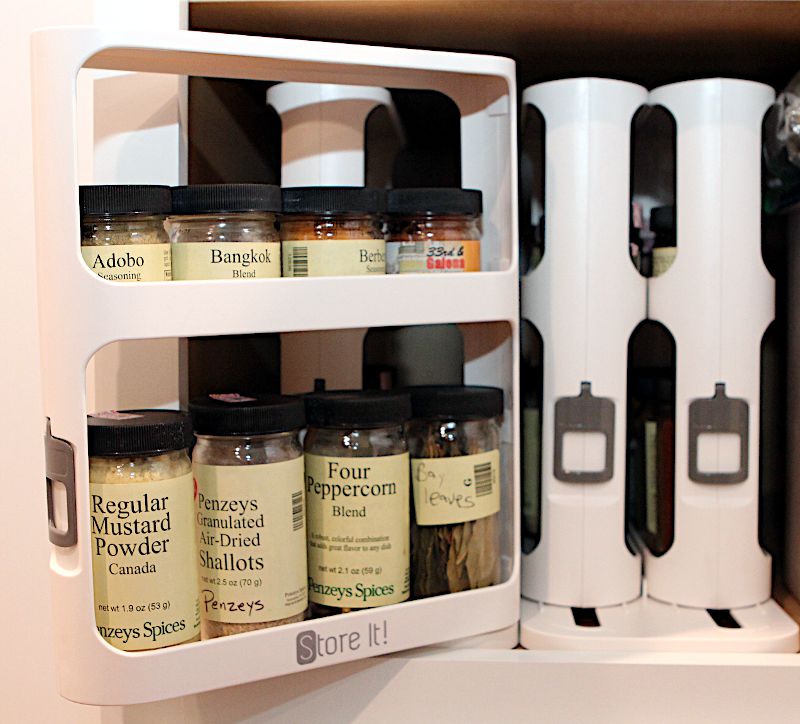 The "pull out" mechanism reveals the plastic, somewhat flimsy construction of the Caddy.  When the shelf is fully extended, it sags down.  The plastic is simply not strong enough to hold it horizontally in position.  I'm a bit fearful that it will eventually pop and break.  It would be nice if the tracks, the part of the Caddy where the shelves slide in and out and rotate, were made of a stronger material, such as aluminum or stainless steel; unfortunately, I think this would drive up the cost too much.  Each Caddy currently costs $40; for us to hold all 92 spice jars would require 12 caddies that would cost $480.  That's a lot of money, so a sturdier material is probably not economically feasible.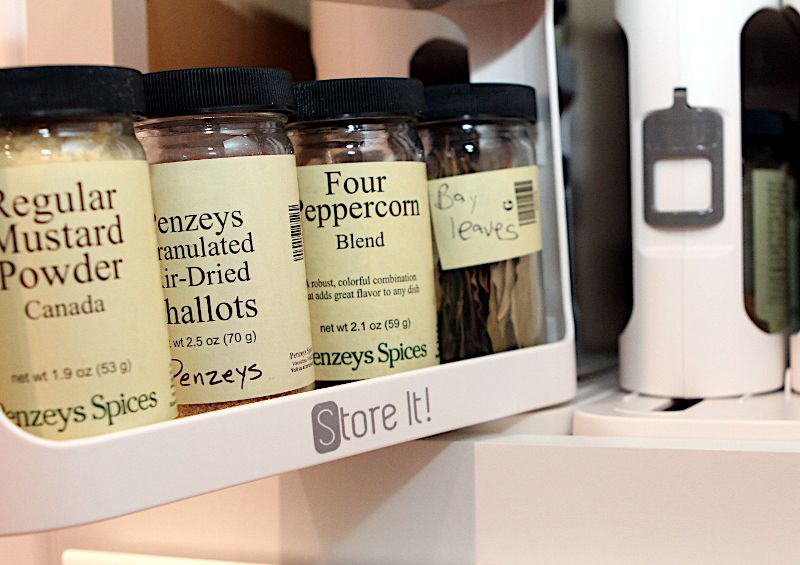 The cabinet in which we tested the Caddy was fairly narrow and had room for only 2 caddies.  If your cabinets are wider, you can connect together as many caddies as you want.  The modularity of the design is very nice.
Extra Features
Each shelf on the Caddy has a nice little tab that lifts up and makes it easier to pull out.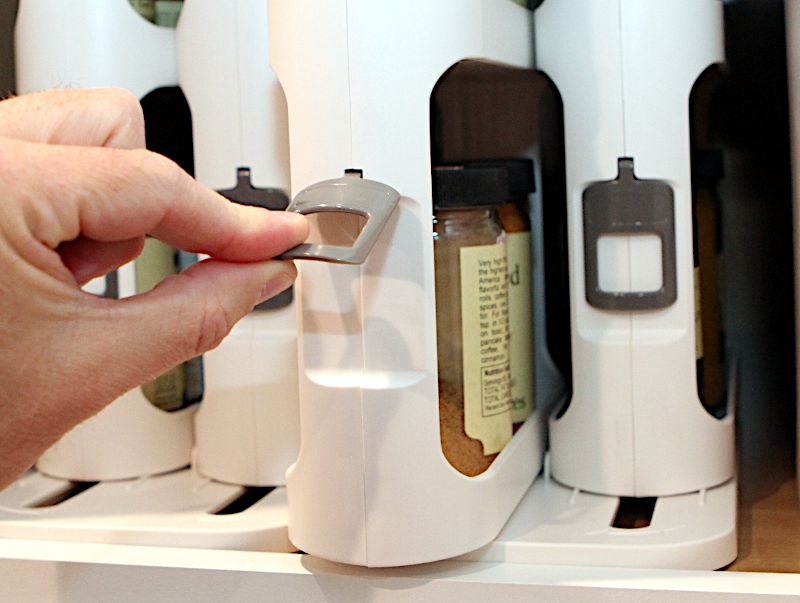 Each Cabinet Caddy comes with a helpful sheet of small stickers that can be put on the tabs to indicate the contents of the shelf and the direction to rotate the shelf.  There are labels for prescriptions, vitamins, cosmetics, essential oils, and others.  It even has some blank ones so you can write your own label.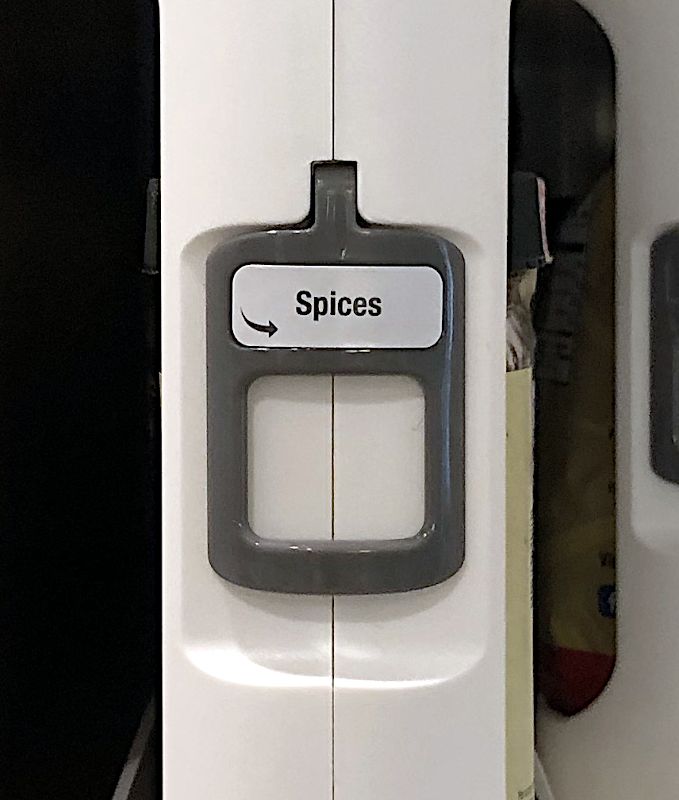 Finally, each box should come with a pair of stability inserts, strips of foam that you can put behind skinny containers to hold them in place on the shelves.  None of the spice jars that we have are this skinny, so we never used these.
What I like
Efficient use of space
Modular design
What I'd change
Final thoughts
The Cabinet Caddy solves a common problem:  It's hard to organize cabinets that are full of small jars and containers.  It does so with a unique, space-efficient design.  It caters to those who want good organization and are willing to pay for it.  The material could be a bit sturdier, but it's sufficient for the task at hand.  If you've been looking for a solution to organize your cabinets, you should take a look at the Cabinet Caddy.
Price:  $39.99
Where to buy:  Cabinet Caddy
Source: The sample for this review was provided by Cabinet Caddy.