We use affiliate links. If you buy something through the links on this page, we may earn a commission at no cost to you. Learn more.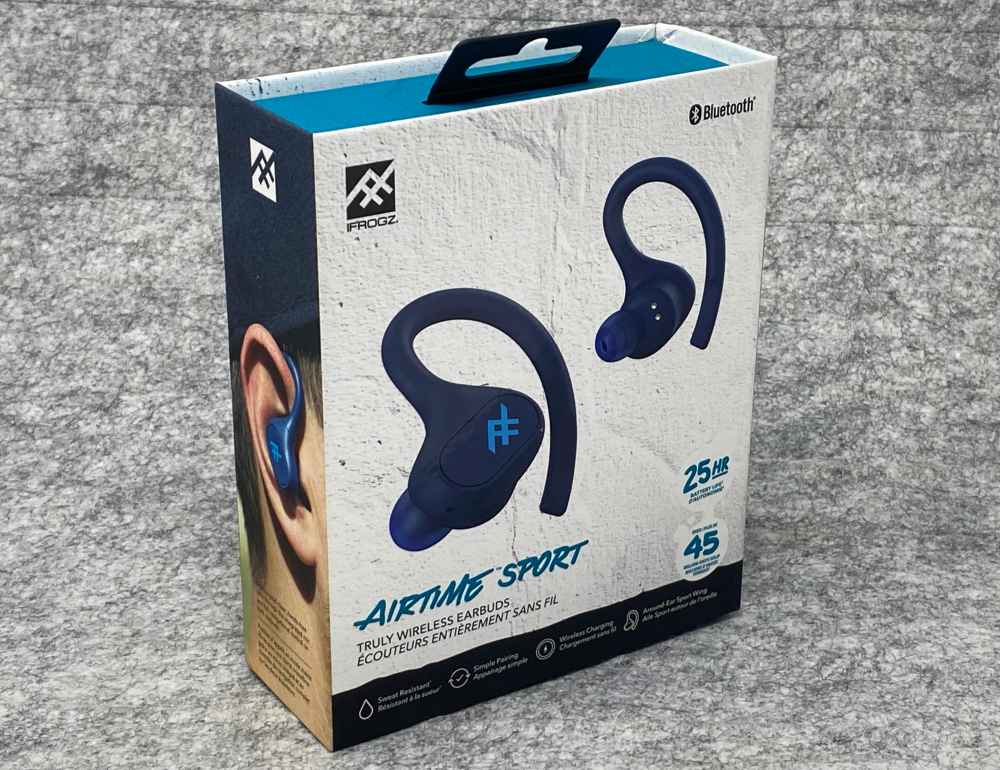 REVIEW – Wireless earbuds are clearly here to stay but not all are created equal or even a one-fits-everyone affair. True wireless earbuds without connecting wires push those statements even further as losing one can wreck your day and dent your wallet. Many companies have added ear hooks to their true wireless solutions to help keep them in place and be better for health and fitness activities. iFrogz sent out their Airtime Sport earbuds for review and I was excited to check them out.
What is it?
The Airtime Sport earbuds from iFrogz are truly wireless earbuds with an active sport ear hook, touch controls and a wireless charging case.
What's in the box?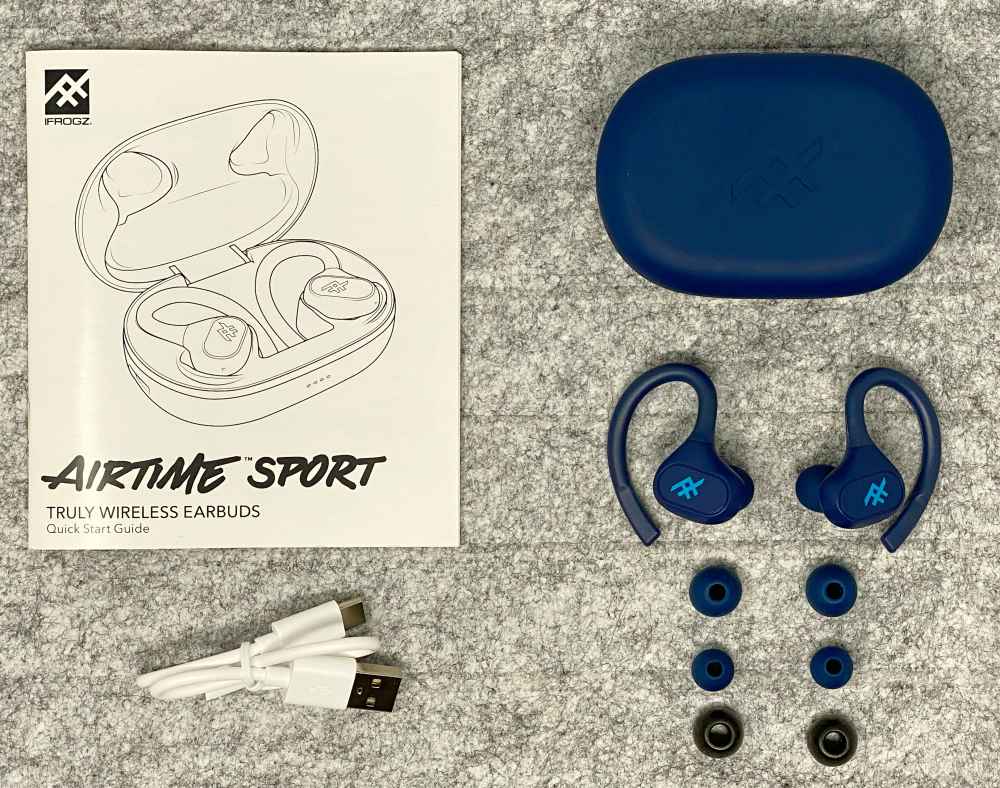 Airtime Sport earbuds (L&R)
Charging case
S,M,L eartip pairs
Foam eartips (1 pair)
Charging cable (USB-A to USB-C)
Instruction manual
Hardware specs
Case
Battery: 600mAh, 3.7V, 2.2Wh
Earbud Charging: ~4 charges on a full battery
Power: 5V~1A, USB-C input
Indicator: 4 stage LED
Dimensions: 90 x 60 x 30mm oval
Earbuds
IPX: IPX5 – Sweat and water resistant
Drivers:6mm neodymium
Battery: 45mAh, 3.7V, 0.167Wh
Runtime: Up to 5 hours of playback
Indicator: Single LED per earbud

Design and features
The Airtime Sport earbuds feature a sweat resistant athletic design with built-in silicone ear hooks.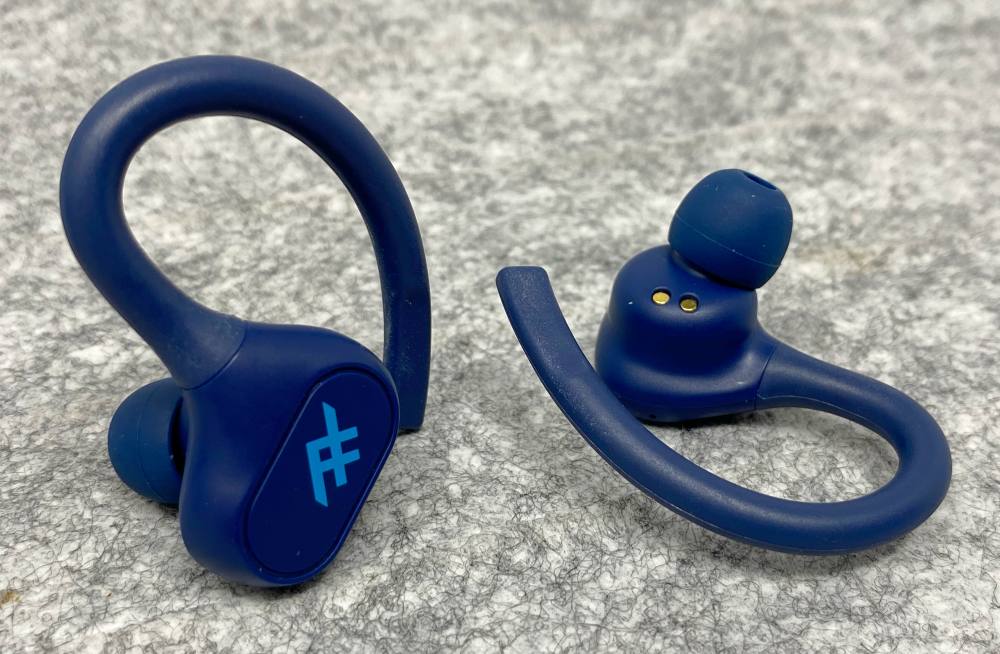 Interchangeable tips let you customize the fit, with the memory foam ones being the most adaptable. Touch controls let you start, stop, adjust volume, change tracks and answer/reject calls.
The charging case has wireless charging (designated with a nice little bright blue logo) as well as a USB-C charging port. A 10-minute charge provides an hour of listening time.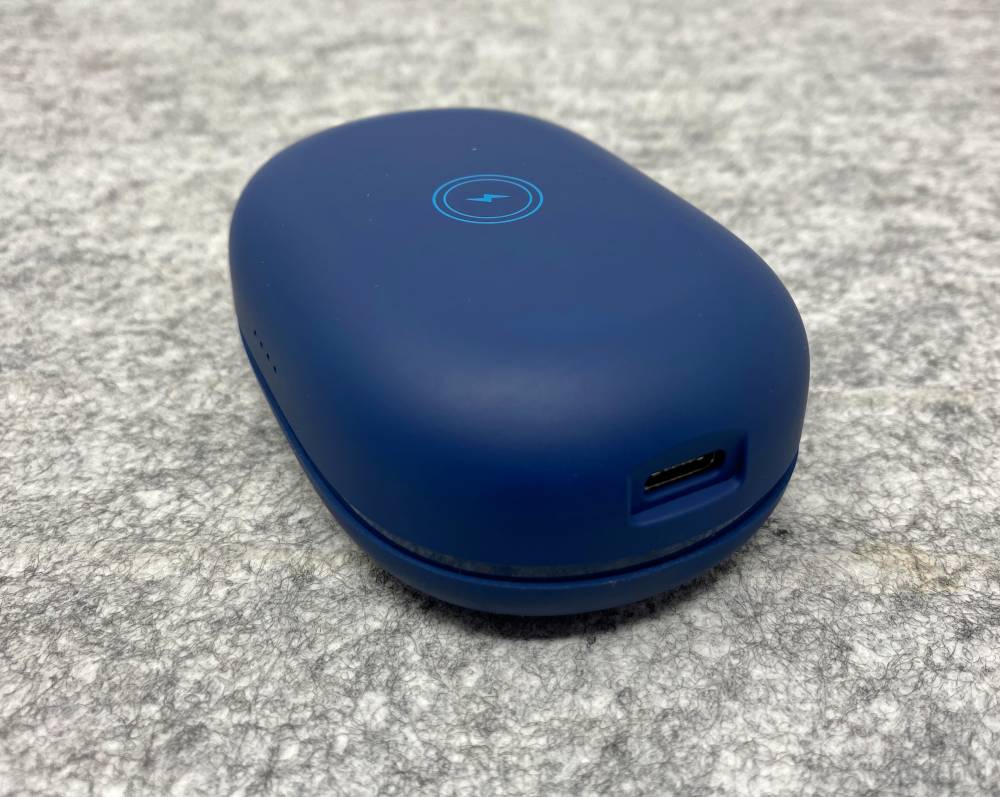 LEDs on the front of the case will show amount of battery in the case.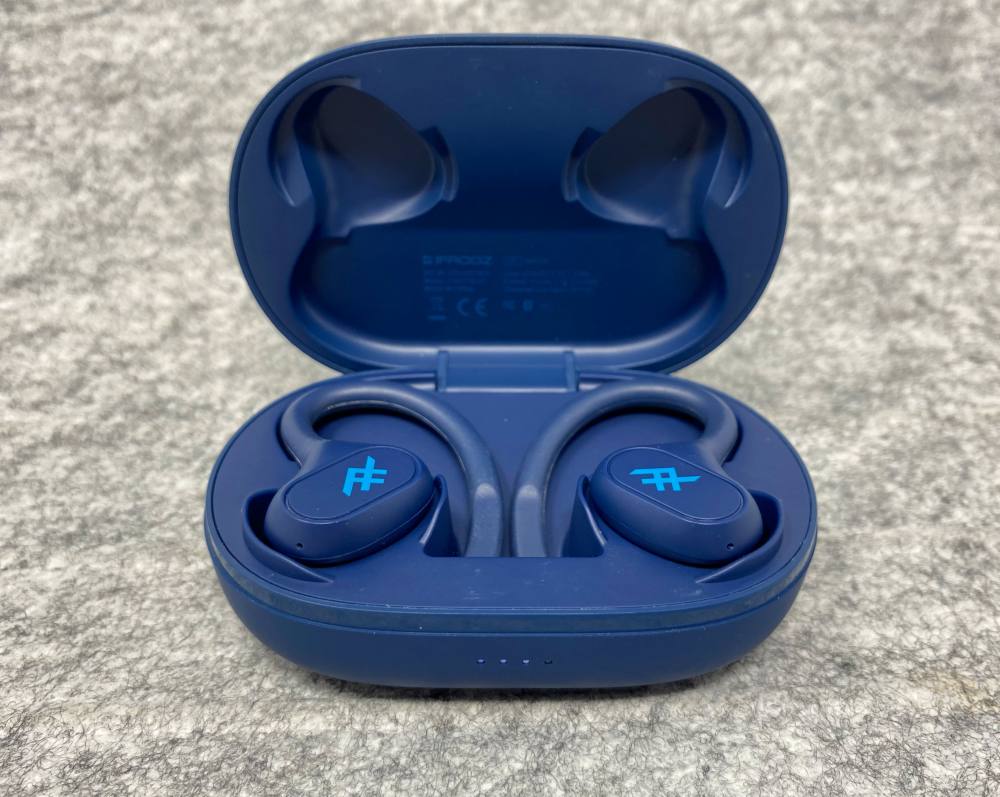 LEDs on the earbuds will show charging status within the case.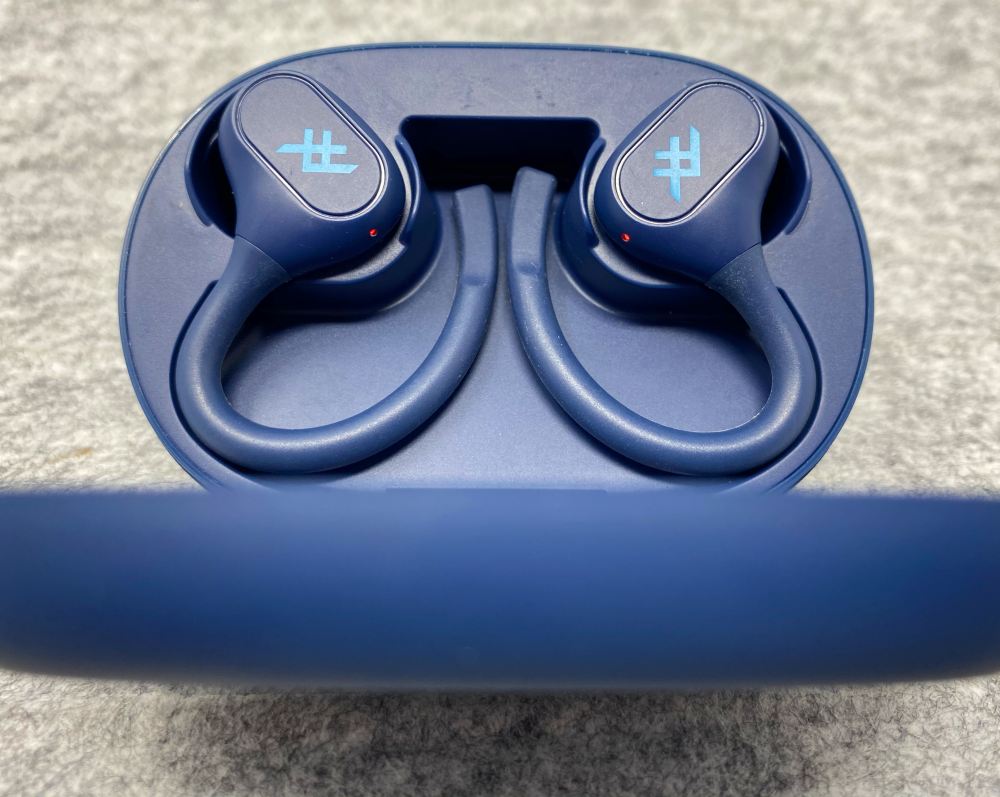 They're available in four colors; Black, White, Blue and Mint.

Setup
As with any electronic product, the first step is to charge it up. Place each of the earbuds into the case (they'll magnetically seat themselves) and connect the charging cable to your favorite power adapter. Alternatively you can set the case on a Qi compatible charger.
Once charged up, remove an earbud from the case and open bluetooth settings on your phone. Select "IFROGZ Airtime Sport" from available devices when it pops up and pairing will automatically complete. The other earbud will automatically pair when removed. Pairing to second device is also easy, just disconnect from your current device and repeat the process with a new device.
Slide the hook of the earbud over your ear and check the fit in your ear canal as you may need to switch the eartip size to get a good fit. You'll want to play some music to check (bass response improves dramatically with a good seal). If you need to change out eartips (medium size is pre-installed), pull the tips off and push on the size you need. It may help to flip the eartip inside out to see the fitting barrel.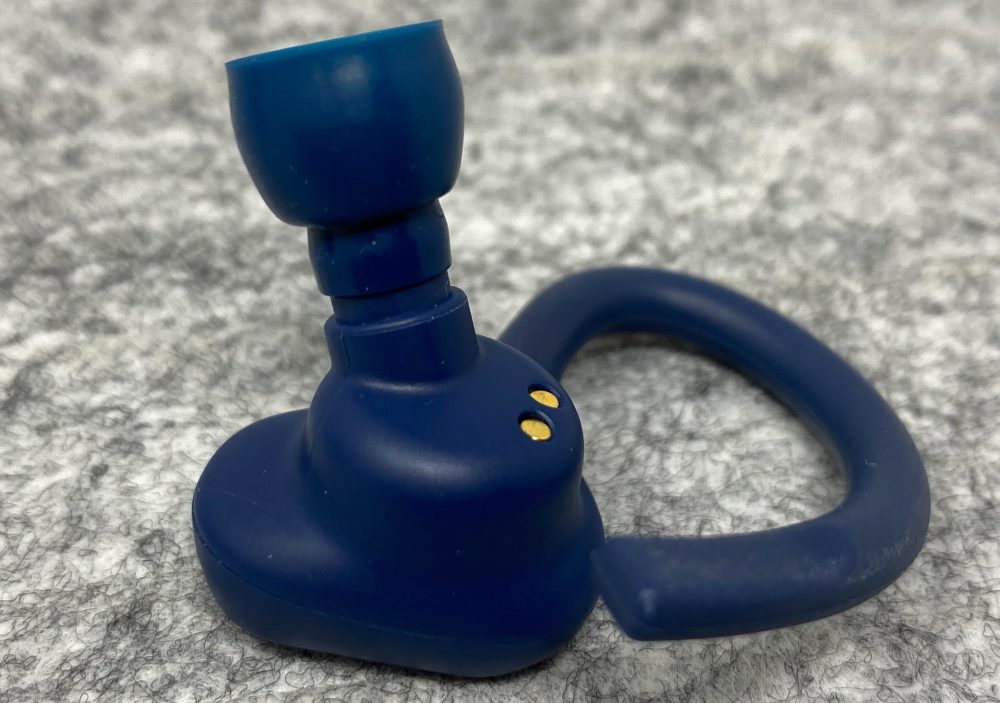 To recharge eabuds at any point, place them back in the case. 10 minutes will give you an hour of listening.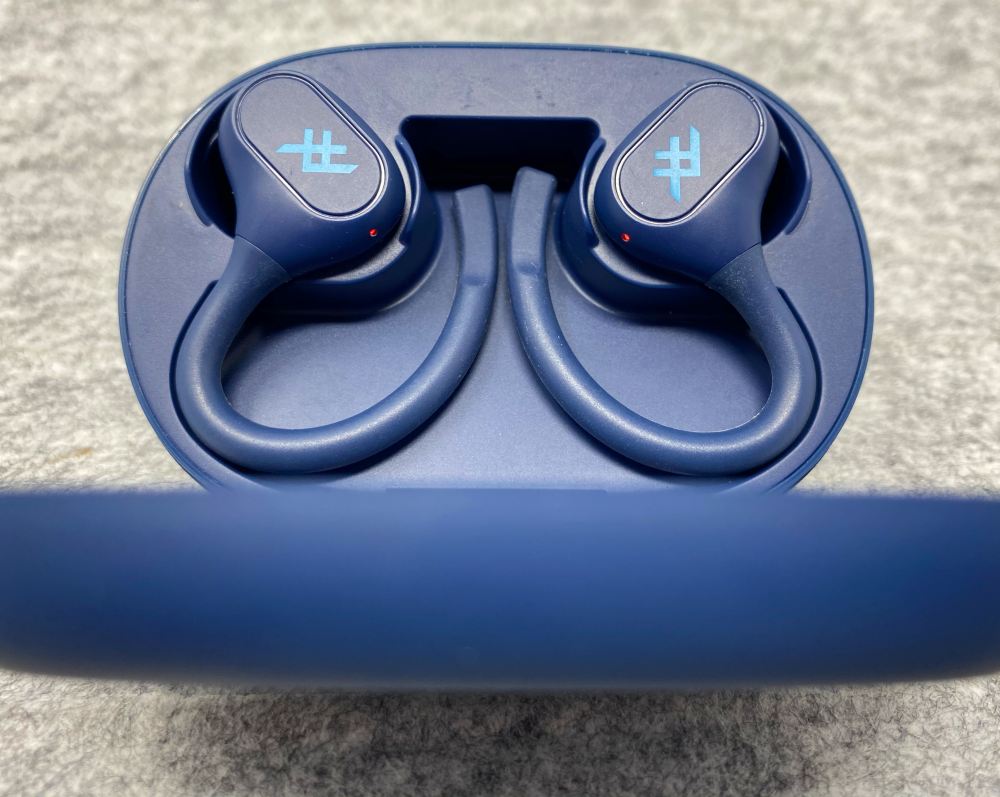 To control playback, the controls are as follows…
Left earbud
• 1 Tap – Play/Pause/Answer call
• 2 Taps – Rewind/Previous track
• 3 Taps – Siri or your phones voice assistant
• Long press – Volume down
Right earbud
• 1 Tap – Play/Pause/Answer call
• 2 Taps – Next track
• 3 Taps – Siri or your phones voice assistant
• Long press – Volume up
Performance
The first thing you notice on opening the box is the solid build quality. Everything feels sturdy from the ear hooks to the buds themselves including the charger and its hinged door.
From an ease of use point of view, iFrogz has done a great job. Initial pairing is easy, removal from case automatically connects to the last device and charging is simple with the wireless Qi compatibility.
The included eartip sizes should cover just about anyone with the foam tips being a fix for most edge cases. The exception here is the earhook. It's silicone and remarkably flexible while providing stability. If the hook fits your ear, you're golden. If your ear is on the larger side, the hook remains under tension and just pulls the earbud out of your ear canal no matter what you do. There's no embedded wire to change the shape and correct for this issue either.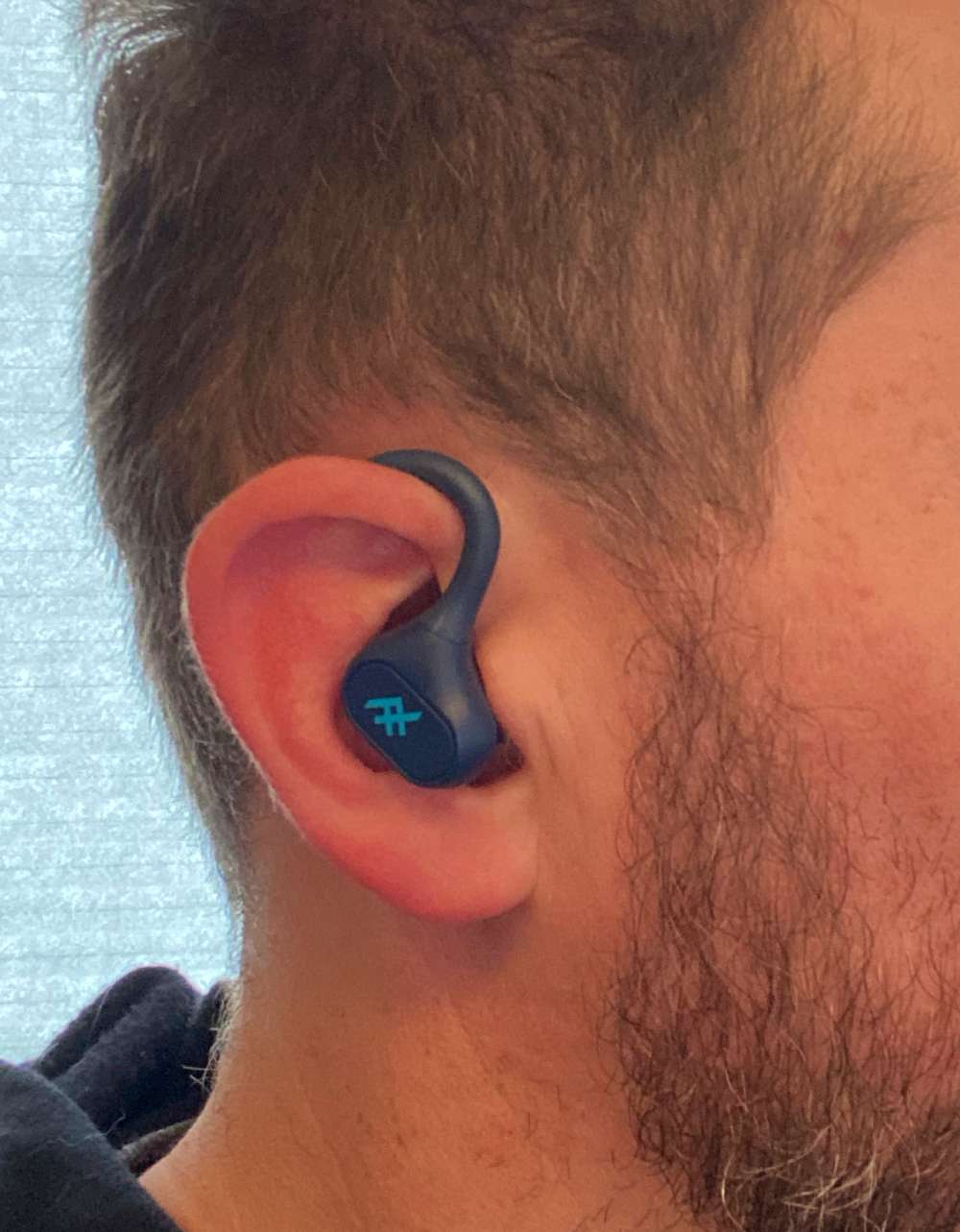 I apparently have larger ears. The silicone tips kinda held the earbuds in place until I opened my jaw or touched an earbud. The foam tips helped some, but just delayed the inevitable. They fit my wife much better whose been wearing them for her bus commute, running and spin class. She's been happy with the case constantly charging them as opposed to the over-ear ANC headphones which she'd forget to charge from time to time.
The case LEDs are probably the other area I'll comment on. If you want to see the battery level of the case there's only two options. One, you can drop it on a wireless charger (or plug it in) and you'll see status with solid and blinking LEDs. Or two, open the case door and lift and replace an earbud to see solid LEDs 1-4 to show status by quarters. It's not a deal breaker, but seems awkward. The LEDs turn off immediately if removed from power, but stay on for about a minute if you open the case and mess with an earbud. I feel like an external button would have been easier.
They sound great (with a good ear fit) in a way I'd describe as a flatter response without excessive bass. As a result I'd say that most people will be very happy with the output. You can also always adjust the EQ profile in your device settings to tweak further for your personal taste.
They'll work fine for a taking a quick call here and there or while working out, but you likely won't use these or conference calls or anything where your outbound clarity is critical.
One last thing; iFrogz backs up their product with a 1 year limited warranty and a unique program called "Earbud tips for life™" that will replace lost or damaged earbud tips. Just make sure you create an account on their website.
What I like
Price, build quality and color options
Touch controls (when not messing with fit issues)
Wireless charging case
Quick-charge – 10 minutes for 1 hour of listening
What I'd change
Add adjustable ear hooks to solve for ear sizing
Button on case for checking battery level
Final thoughts
The Airtime Sport earbuds look great and weigh next to nothing. They charge quickly and come in some fun colors. They're affordable, durable and sweat/water resistant. If you have medium to small ears they may be one of the best deals going. It was a frustrating review for me because the ear hooks simply do not fit my ears and made listening impossible. My wife loves them though as I expect a smaller eared version of myself would as well. If you want to check them out make sure to buy them from a retailer with a great return policy. Happy listening!
Price: $79.99
Where to buy: iFrogz
Source: The sample of this product was provided by Zagg Brands