We use affiliate links. If you buy something through the links on this page, we may earn a commission at no cost to you. Learn more.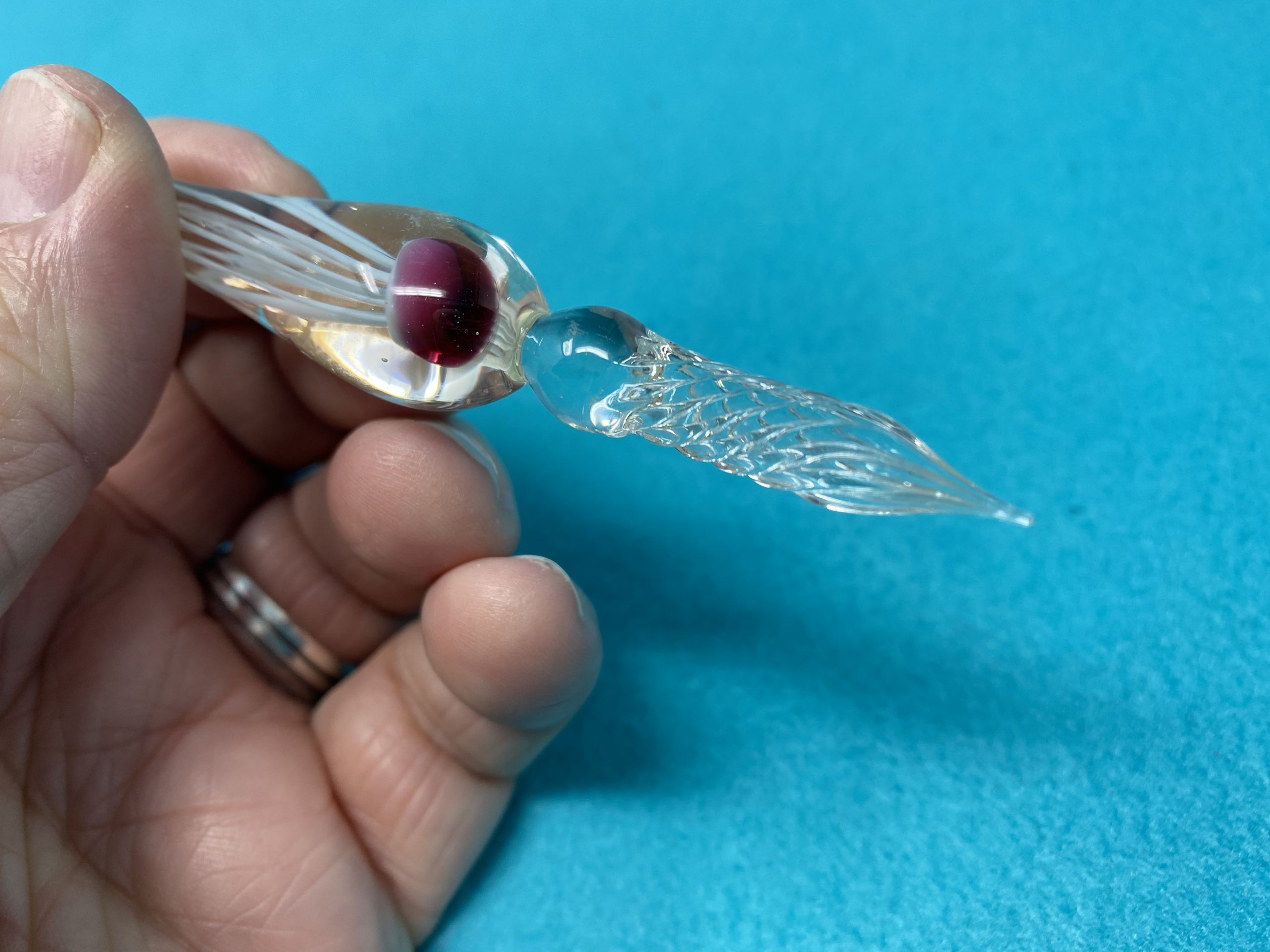 REVIEW – With all the creative graphics apps and devices at our disposal today, there is still something to be said for creating a card or letter by hand. It takes time, but also shows that the creator cares about the result in a way that a quick ecard or email message doesn't. I was recently sent a Jellyfish model glass dip pen from Glass Dip Pen company. It is individually hand made, and a true work of art in its own right. Let's see how it performs as a creation tool for my own artwork.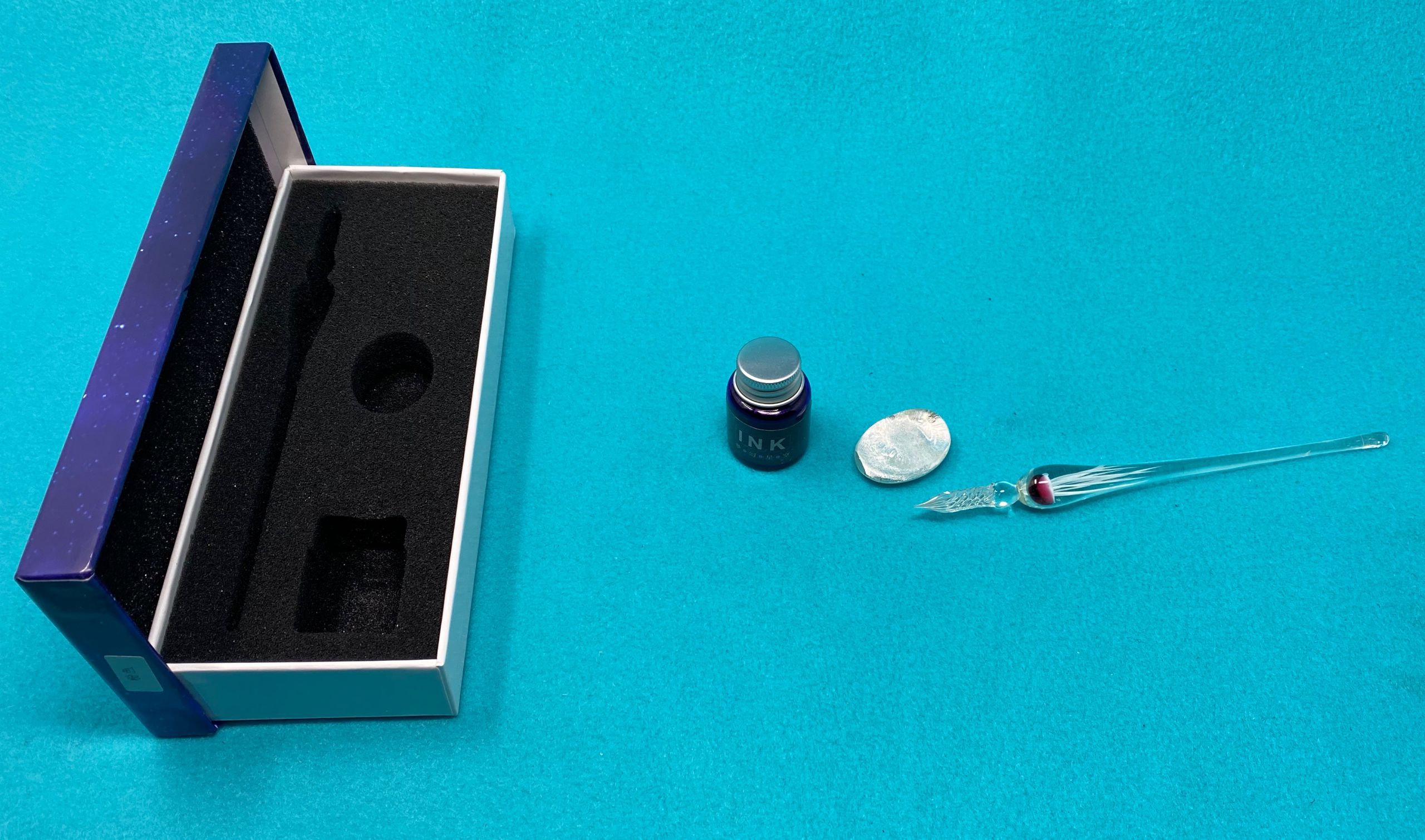 What is it?
Individually hand-crafted glass dip pen with a colorful insert in the grip.
What's in the box?
Glass dip pen
Glass stand to keep pen from rolling
Sample bottle of ink

Design and features
The glass dipping pen design has been around for many years. It is much more durable than quills, but more fragile that the steel nibs that replaced them. They are now mostly used by those who wish to have the full contact with paper and ink that a dip pen can provide, or for testing various ink formulas.
The pen is 7.5" long overall and has three main parts: the nib, the grip, and the tail. The tail of the pen extends up from your hand to give balance and control similar to a brush, pencil, or other writing utensil. The grip is the bulbous part between the nib and the tail that you grasp in your fingers to hold when writing or drawing. The nib is the twisted tip of the pen that has deep capillaries that hold ink and release it when touched to another surface. The nibs are fine, yet smooth, so the pen doesn't scratch on paper as some steel nibs tend to do. Since it is a single piece (rather than two pieces, like a steel nib or a quill), it doesn't catch on papers with more "tooth". (The texture of paper is referred to as "tooth". It's the difference between writing on glass and writing on paper. This is why some folks want a screen cover for their tablets, because the feel of glass is much too slick.)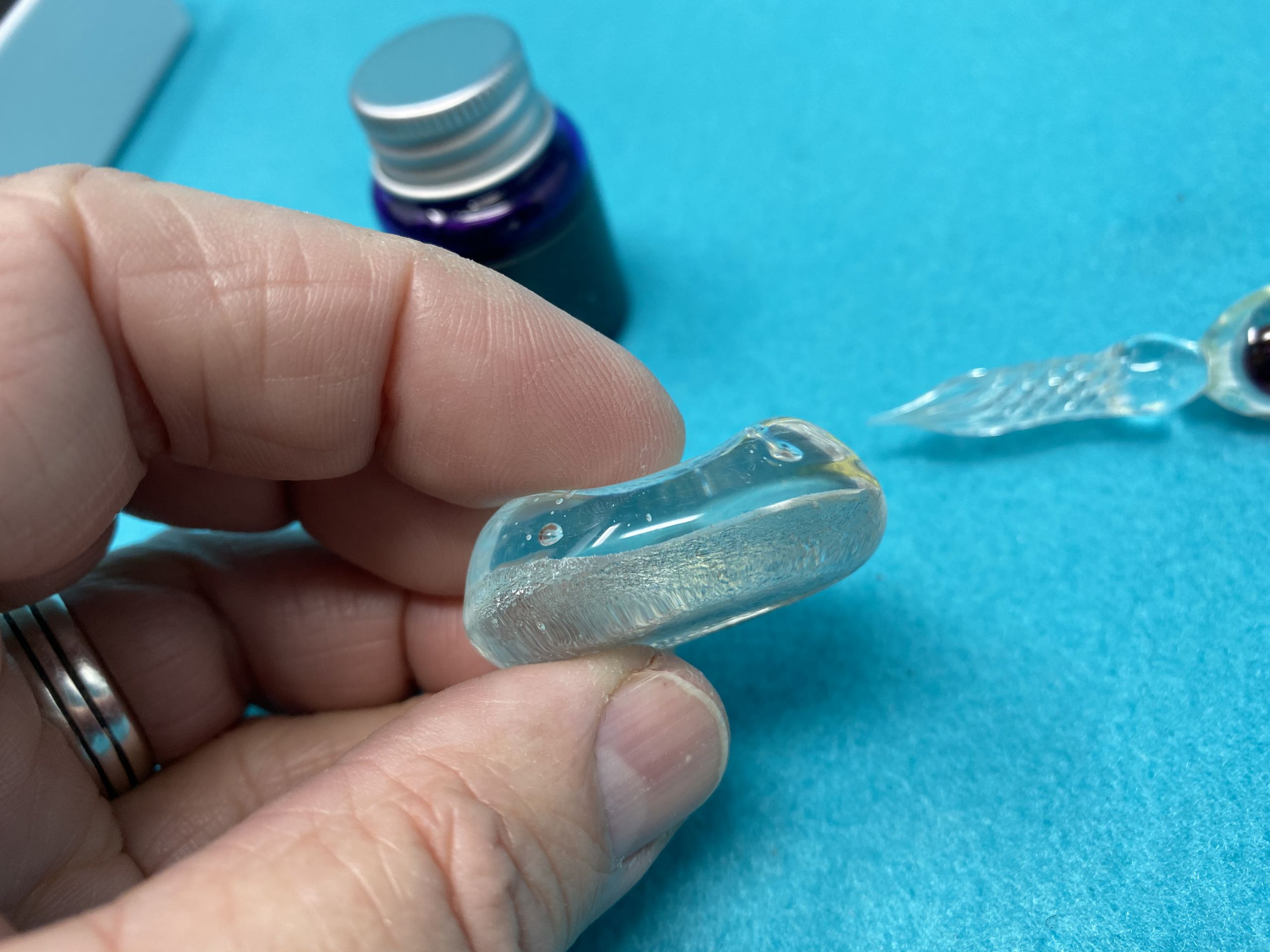 The grip area of the glass dip pen is where the pen I was sent shines. Embedded in this clear bulb are bits of opaque and translucent material that create a jellyfish, which stretches its tentacles toward the tail. They are available in many colors, but due to their hand-crafted nature, are all unique. There are also models that have starburst effects, crooks and fins and such wrought into their tails and other designs to delight the eye. This makes the choice as individual as the person you are, or the person you are buying one for.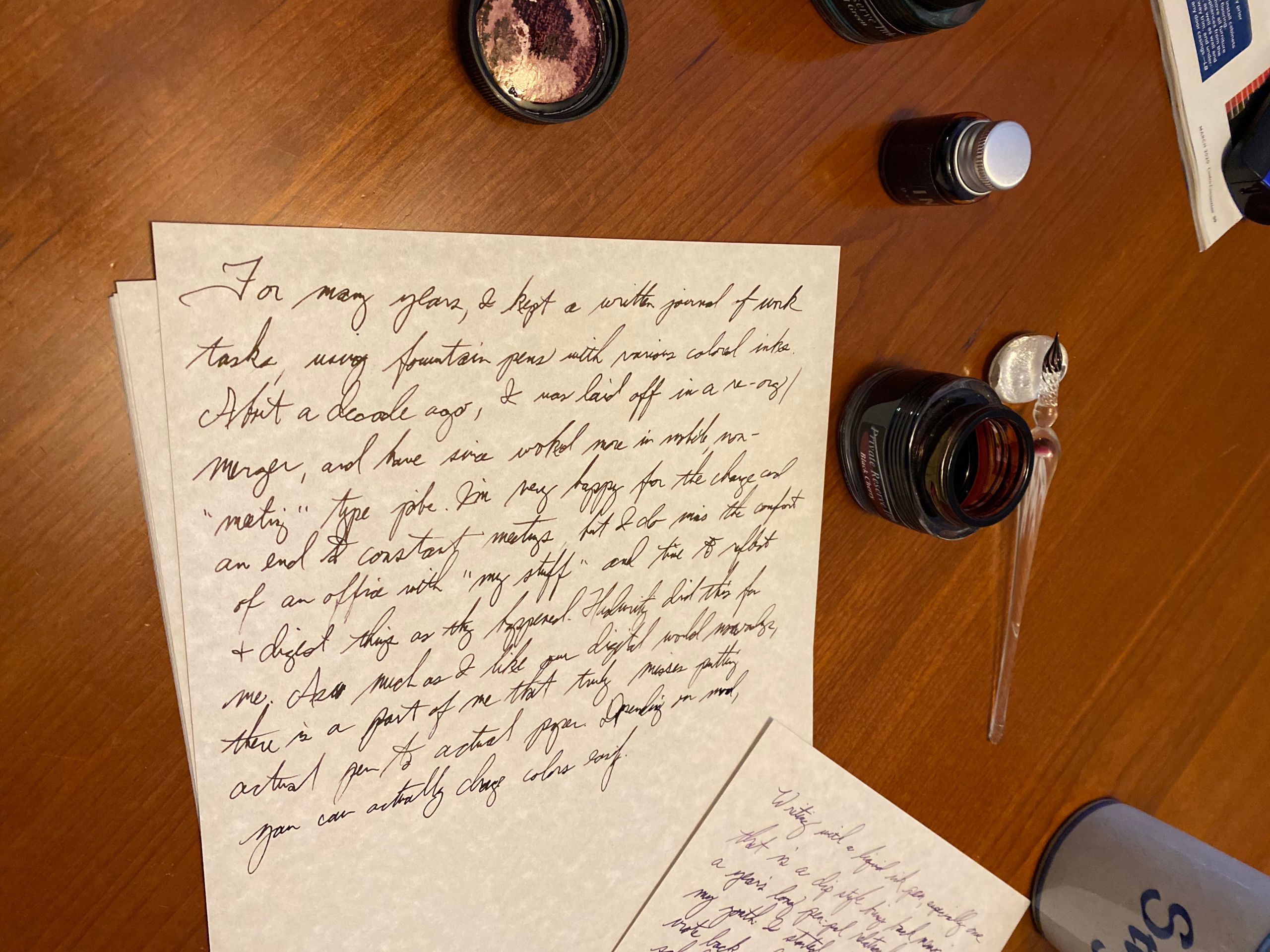 Performance
The pen holds quite a lot of ink. Using a dip pen is not difficult, but it is more time consuming and a bit more fiddly than using a gel pen or even a fountain pen. There is a bit of a learning curve, as there is with any art medium, but the feel of glass on paper is something I wasn't ready for, as a long-time writer with steel nibs. It is so much smoother, yet you feel in control of the pen and can feel the paper texture at the same time. I remember going to a stationer's shop years ago and the clerk was extolling the virtues of a glass pen over steel nibs. I sort of wrote it off as sales-speak, but after using one, I'll have to say she was right – it's a very pleasant experience, and turns out fewer snags and skips – if any! – than typical steel nibs.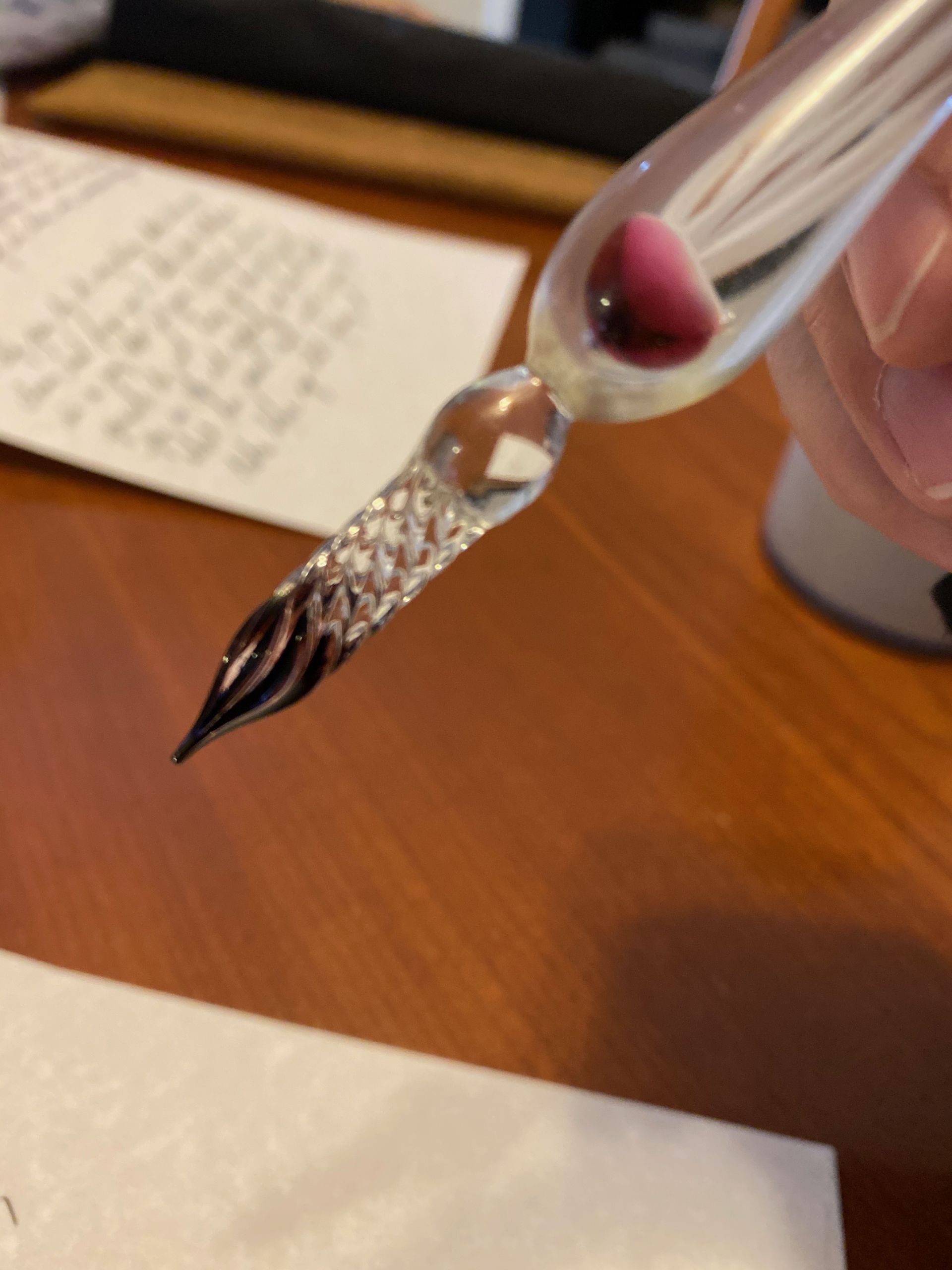 What I like
Beautiful display-worthy handcrafted artwork
Smooth writing experience
Included stand prevents pen from rolling on writing surface
Takes time to learn and use well.
What I'd change
Fragile
Takes time to learn and use well.
Final thoughts
In the age of instant emails, digital coloring books, and ecards, is there still a place for a glass dipping pen? I sure hope so. Even though I no longer carry around my fountain pen of the moment, there are times when I want to sit down and write by hand for the experience of creating ink marks on paper, and for the resulting unique item that I want to pass on to someone.
Price: Usually $27, on sale for $24.95
Where to buy: Glass Dip Pen website
Source: The sample of this product was provided by Glass Dip Pen.