We use affiliate links. If you buy something through the links on this page, we may earn a commission at no cost to you. Learn more.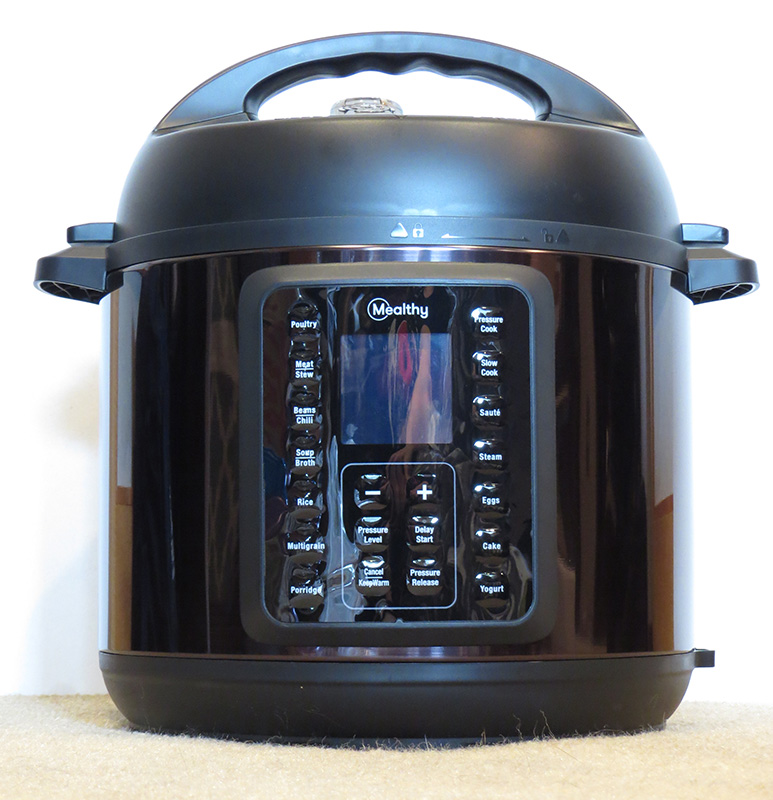 REVIEW – Pressure cookers have been a popular item for a few years now, and my mother happened to get one this past Christmas. With that, I started getting curious about how well it would work for my living situation, and so when the Mealthy Multipot 2.0 came around, I jumped at the opportunity to try it.
What is it?
The Mealthy Multipot 2.0 is a 6-quart multi-use pressure cooker for quick and easy meal preparation.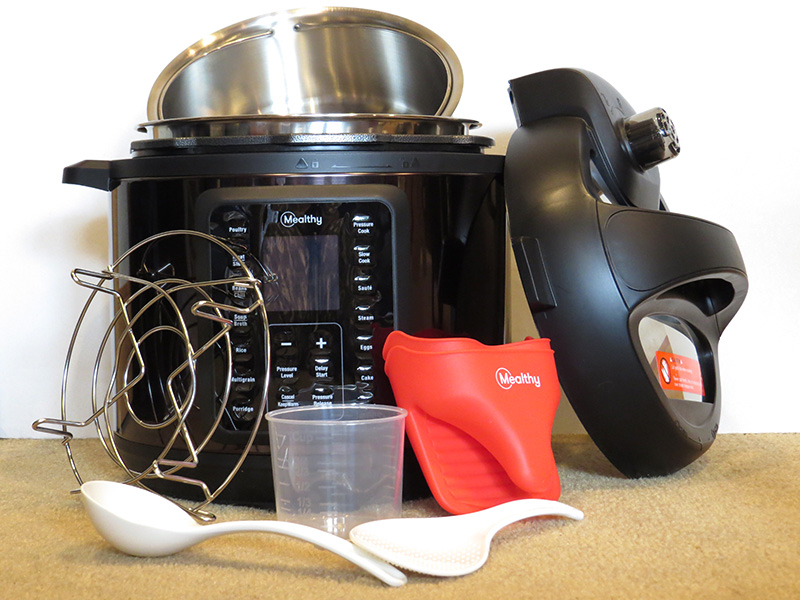 Hardware Specs & Features
Automatic self-sealing lid
33 Preset cooking programs
Delay start
3 ply stainless steel inner pot
Dishwasher safe
BPA-Free
Mealthy App companion
What's in the box?
In the box you'll find:
Mealthy Multipot 2.0
Oven Mitts
Soup Ladle
Rice Spoon
Measuring Cup
Extra Gasket
Steam Rack
Steam Basket
Recipe Book
Instruction Manual
Design and features
There are a lot of buttons on the front of the Mealthy multipot. They light up when you choose a setting and all of the buttons are easy to read. My mom was jealous of the different settings that were available. Some of the more useful ones that I used and will use were the poultry, standard pressure cook, saute, and soup/broth settings. Others available include Meat/stew, beans/chili, rice, multigrain, porridge, slow cook, steam, eggs, cake, and yogurt. That's a LOT of settings!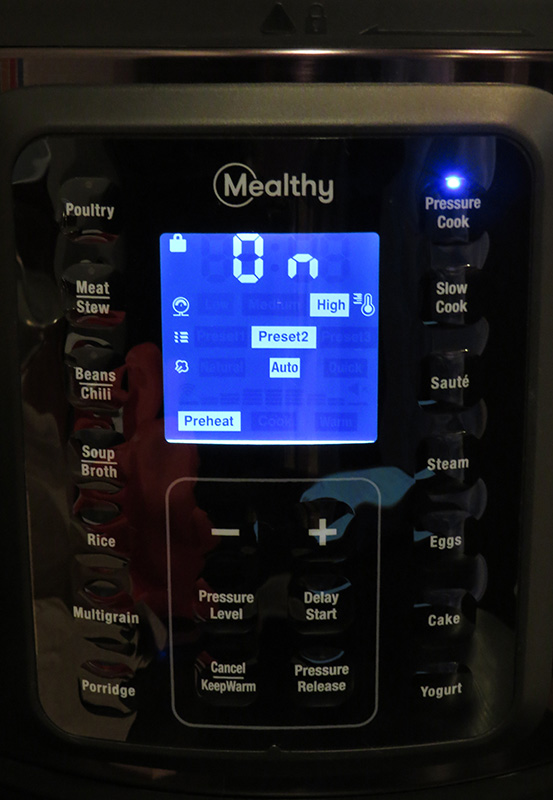 There is a companion app for recipes which was really helpful. It will need to be updated with the Mealthy 2.0 unit (currently some recipes don't utilize the different settings) but it was still very useful. The included recipe book had some decent recipes as well.
Overall, the design and features available are almost overwhelming to a new user, but I am not complaining. It's great to be able to do whatever I want when cooking.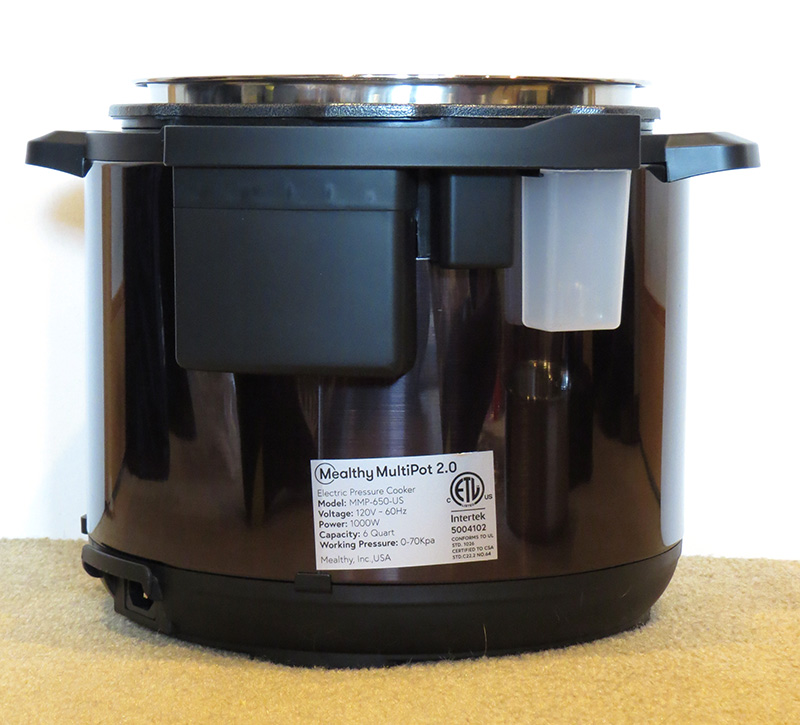 Setup
Setup was easy. With the pressure valve being automatic, I did not need to adjust anything there. I simply popped the ingredients into the pot, put on the lid, pushed a button, and set the cook time.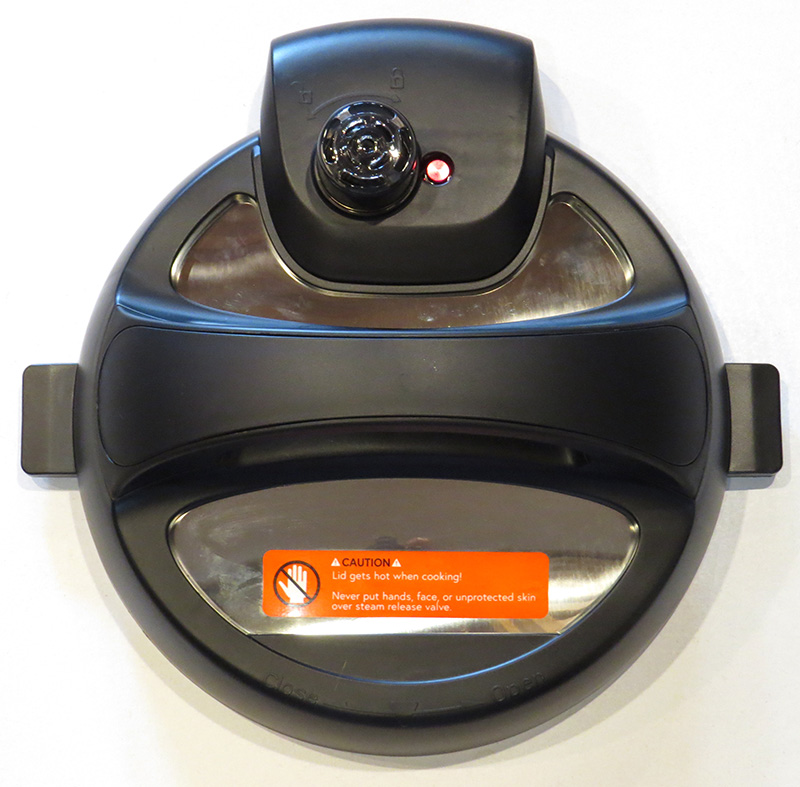 There's a detachable cord that is easy to plug in, thick, and well made. I wish it was a little longer, but it's no shorter than the average kitchen appliance. They mention that you should not plug it into an outlet below the unit.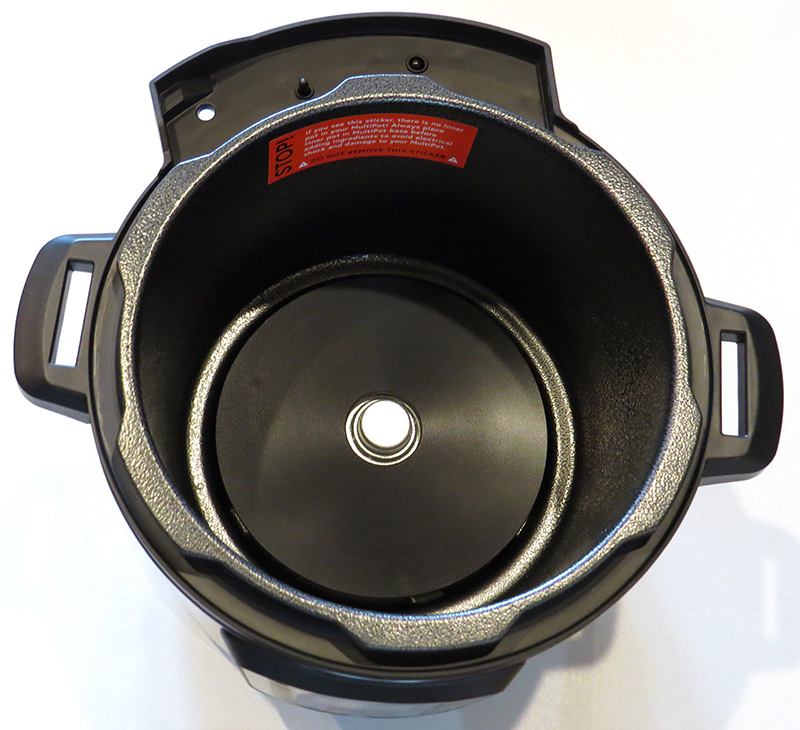 Performance
The first thing I did was try out the easiest recipe I could find. This happened to be salsa chicken tacos. All it required me to do was toss the chicken in, put some salsa in, and add a little salt. I also added some taco seasoning just because I love the taste. I followed the directions in the app and closed the lid, used the manual setting for 15 minutes, and let it go. It took a good 10 minutes or so to pressurize and then another 15 minutes to cook. The part that confused me was the pressure release. It is more automated in the 2.0 version it seems. The chicken was easy to pull apart and make into tacos. It was very, very simple to make and was something I would make again.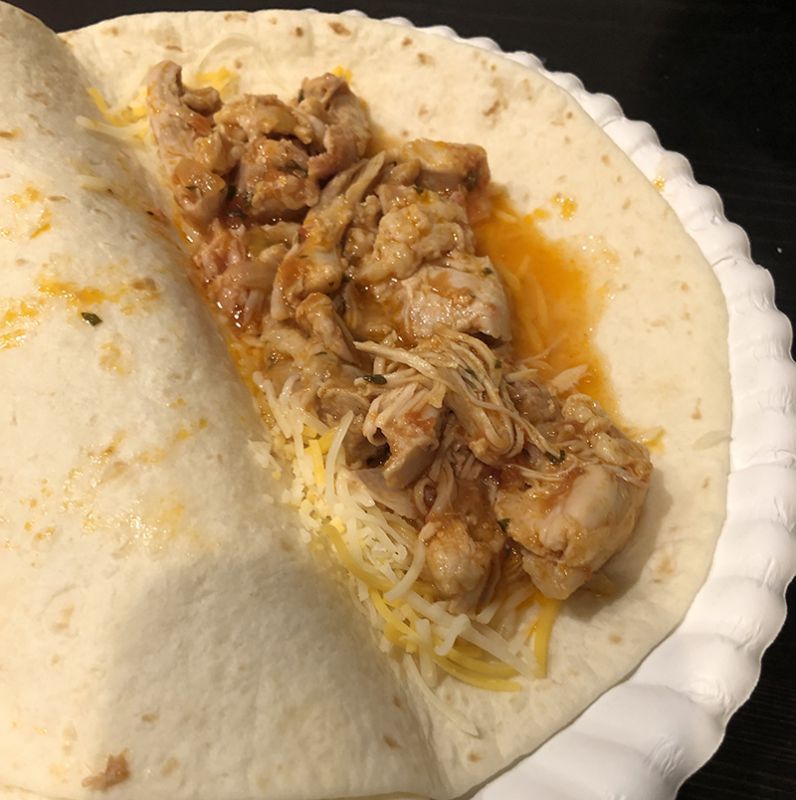 Next, I decided to make something outside the box. I don't have a stove-top handy, but I've wanted to make tomato tortellini soup. I decided to try to use the saute setting to heat up the soup, added in the cheese tortellini noodles, then pressure cooked it on soup setting for just a few minutes. The act of pressurizing the multi-pot did most of the cooking in this case. It actually turned out well!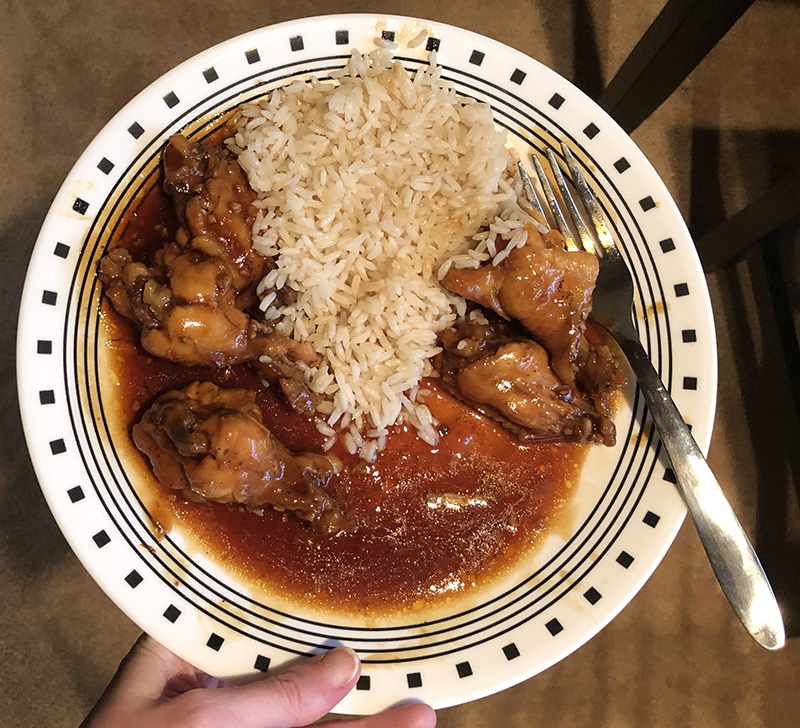 The third thing I made was teriyaki chicken wings. It was another recipe from the app. This one required a little more effort. I combined some ingredients together and added the chicken, then pressure cooked it on the poultry setting. After that was done, I removed the chicken and added in some corn starch to the liquid leftover in the pot and set it to saute. I then re-added the chicken and after that warmed up again and it was finished. The chicken was fall off the bone tender. I definitely liked this recipe as well.
I was definitely glad I used the included silicone mitts because the steam coming out of the unit is quite hot. The soup ladle, rice spoon, and measuring cup were a great benefit. I didn't have my larger ladle or measuring cups handy (you can see how much I cook) and it is great to be able to just keep the measuring cup with the pot at all times. All of the items and accessories fit within the pot with the lid on for storage.
Cleanup was a breeze. The stainless steel pot hasn't stained yet, which is better than my last stainless steel item. I was surprised that things didn't stick to the bottom either; especially the chicken wings.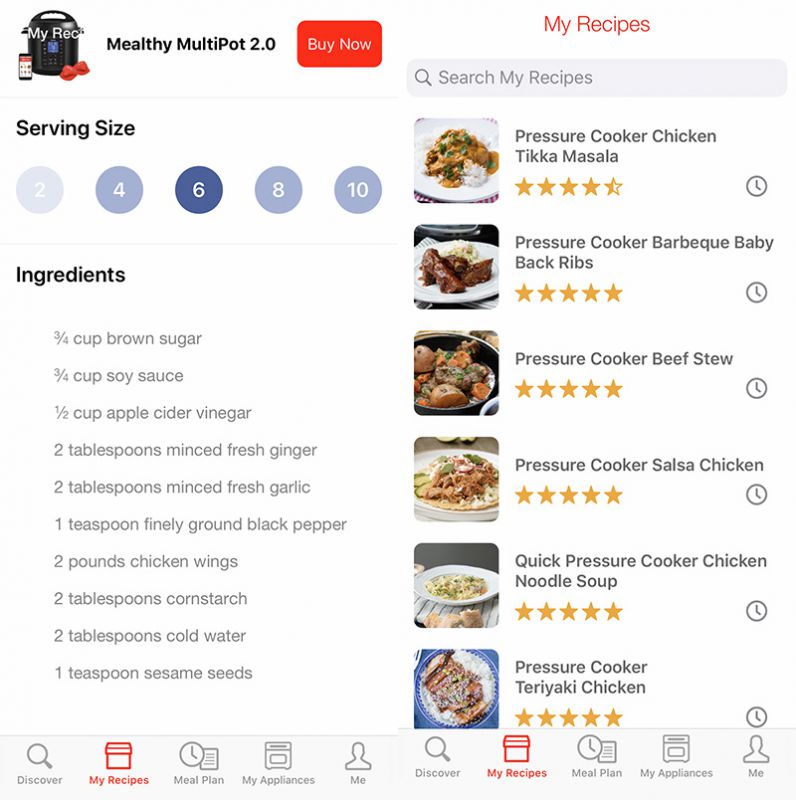 The Mealthy app had a pretty simple user interface. I noted that I had the Mealthy 2.0 and it would give me instructions based on my unit. I could also search for recipes that the 2.0 can make. All of the recipes that looked good to me were able to be saved in 'My Recipes' for later. My favorite part of the app was the ability to tap on the serving size and have the ingredients change based on your choice. As a single person, the ability to choose how much leftovers I had for the week was handy!
What I like
Loved the Mealthy app
Simple to use
Size is perfect for a single person or a small family
Useful accessories
What needs to be improved
Pressure release was a little confusing
Final thoughts
Overall, I think that the Mealthy Multipot 2.0 is a great product at a good price. With the companion app, I have made meals I never would have tried before, and it was so simple and easy to use. This is a product I would definitely recommend looking into.
Price: $119.95
Where to buy: Mealthy Website
Source: The sample of this product was provided by Mealthy.