We use affiliate links. If you buy something through the links on this page, we may earn a commission at no cost to you. Learn more.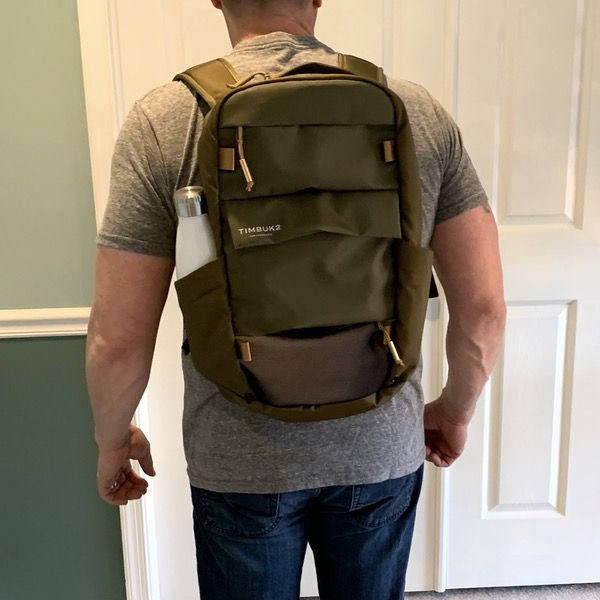 REVIEW – No wet laptops! That's what Timbuk2 is promising this season, and I've got several bags from their new lineup to check out. Today we're looking at the Lane Commuter Backpack, a smaller daypack built for style and protection from the elements. To the review!
What is it?
It's a slim daypack built for your tech essentials, with extra protection from the elements. It's also got an integrated rain hood for when things get really nasty.
Hardware specs
10.8″ by 17.7″ by 5.91″.
18 liter capacity.
Reflective panels for night safety.
Water-resistant drop liner.
Integrated removable rainfly for additional water protection.
Design and features
The Lane Backpack is made for the daily commute. I'm checking out the green version of the pack, called "olivine," which utilizes an olive colorway accented with black panels and gold trim. It's a contemporary design that looks great as the daily driver to the office.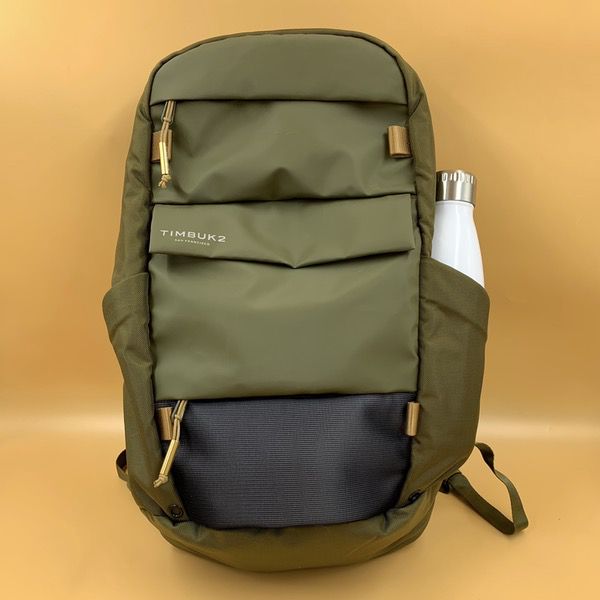 At 18 liters in total capacity, this is a slimmer bag with a tight profile. It's ideal for stashing under the seat on an airplane and great for maneuvers in crowds.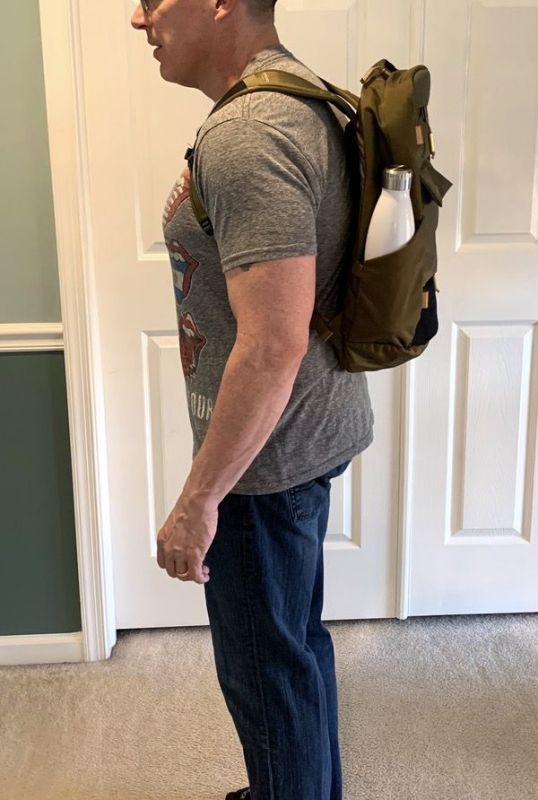 I like the attention to detail in the build. It's surprisingly burly for a small bag, with extra padding and waterproofing layers to protect your gear. Check out how the lower rear pocket is tucked under a flap of fabric to help keep the weather out. The zips are sealed as well.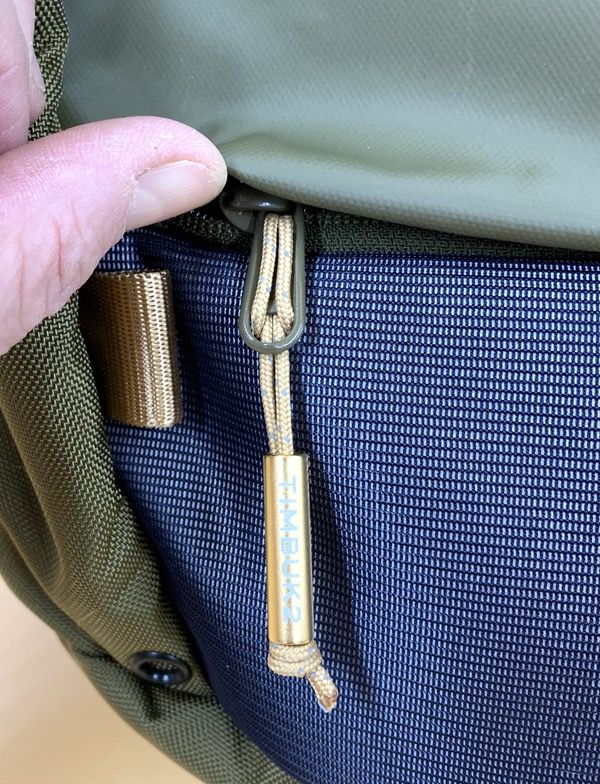 Here's another shot showing the zipper garage on the rear access to the laptop. I like the classy gold zip pulls as well. Finishing will vary depending on the color you choose.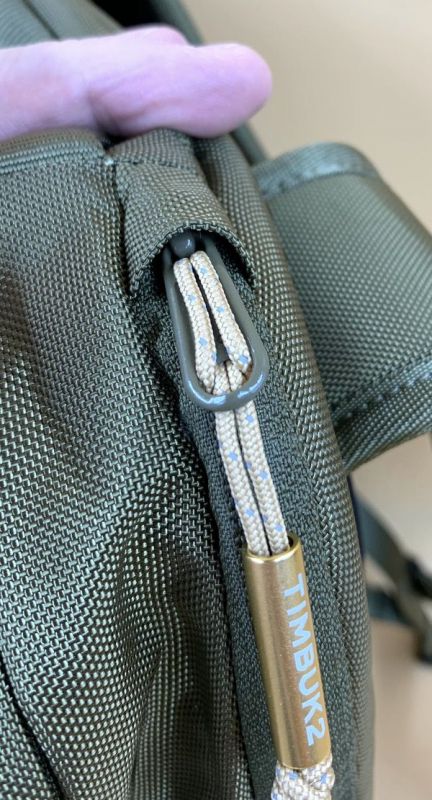 You'll find four loops on the back face of the bag (2 high, 2 low) that you can use as attachment points for a cord or carabiners to lash extra stuff.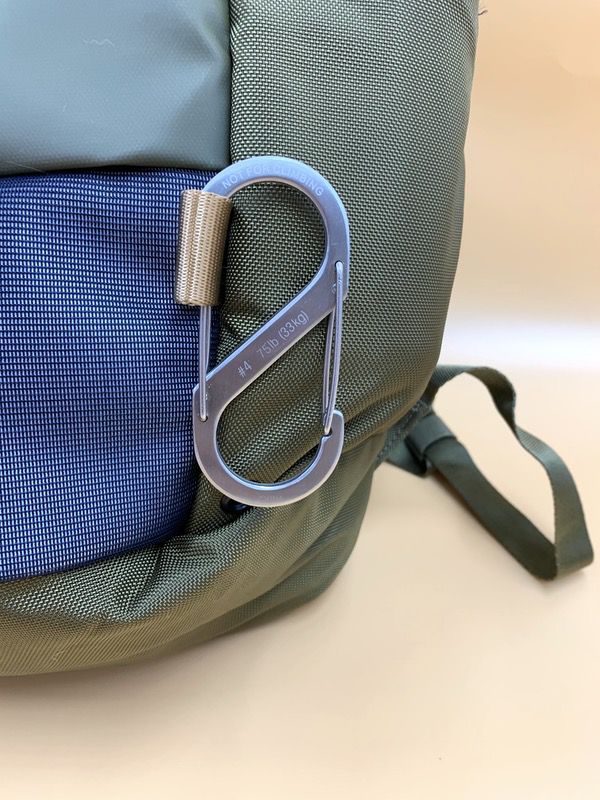 There's an expandable water bottle pocket on each side of the bag, plenty big enough for my hydration bottle. I like having two of these, as it gives me another pocket for a small umbrella or a sunglass case. Each pocket also has a drain hole that you can just see at the bottom of this photo.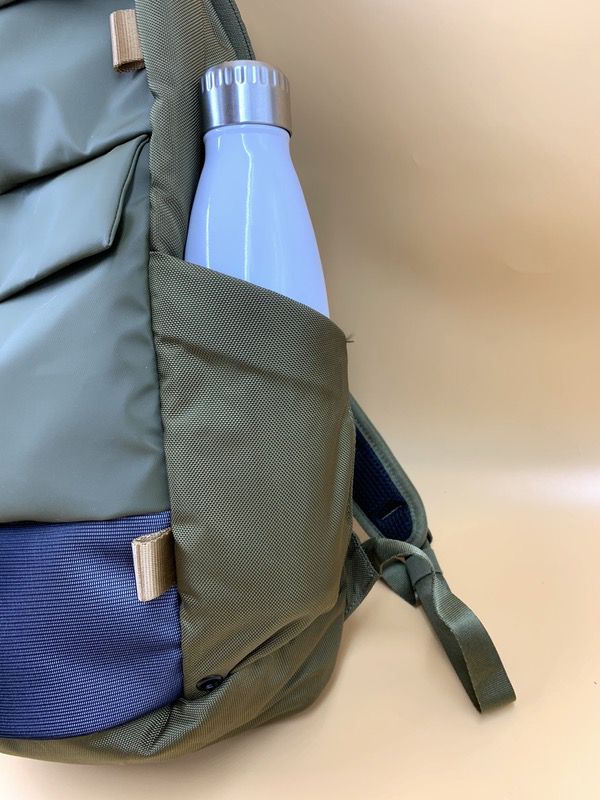 Three different pockets are stacked on the rear face of the bag. The lower pocket is 3.5″ by 7″ and has some nice padding to protect delicate electronics. That black panel on the face is reflective for night safety. I keep my power brick & cable in this pocket.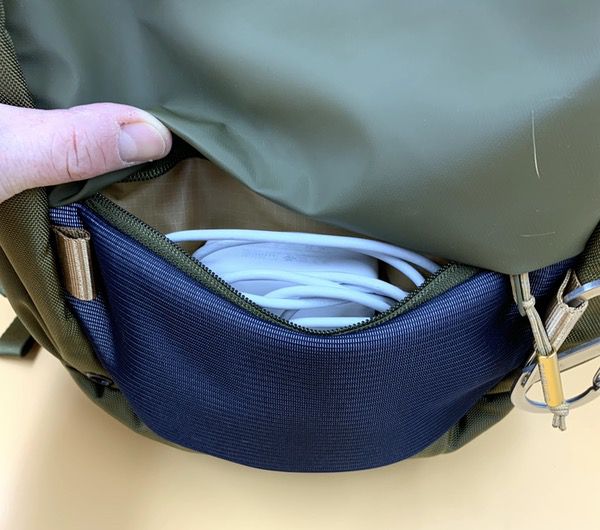 The main pocket at the center of the rear face is 9″ by 6.5″, and uses a magnetic flap for quick access. It's also generously padded, and includes a key lanyard. I love these things… keeping your keys from floating around in a sea of stuff is an essential for me.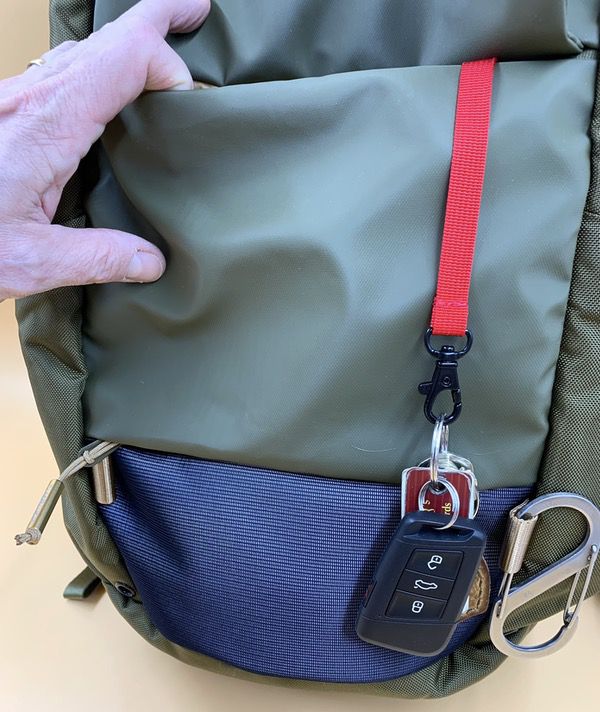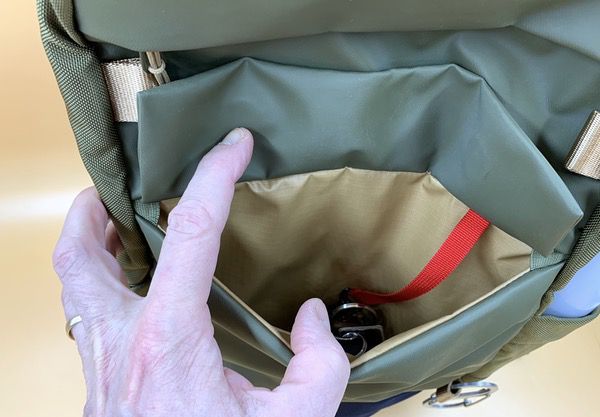 The top pocket is roughly 8.5″ by 3″, with a zip that is also protected by a water-resistant hood. This pocket is padded as well, and lined with a soft tricot material to keep your sunglasses or phone from getting scratched.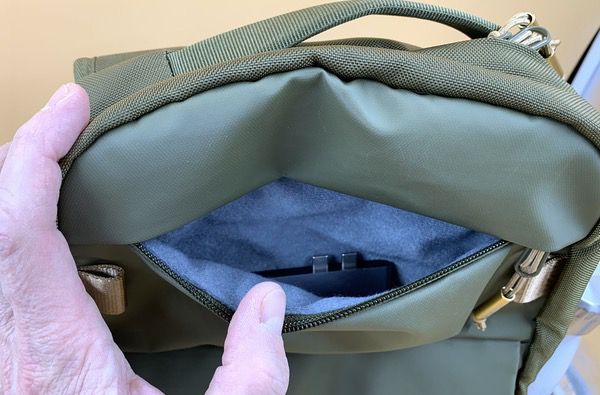 You can get to your laptop in two ways on this bag. A rear zip that runs the height of the bag gets you into the dedicated laptop pocket. I've got a 13″ MacBook Pro in here, and I'll stash my iPad or notebook in there as well. It will take a standard 15″ laptop. The full-length zip makes it easy to get to your laptop without any gymnastics.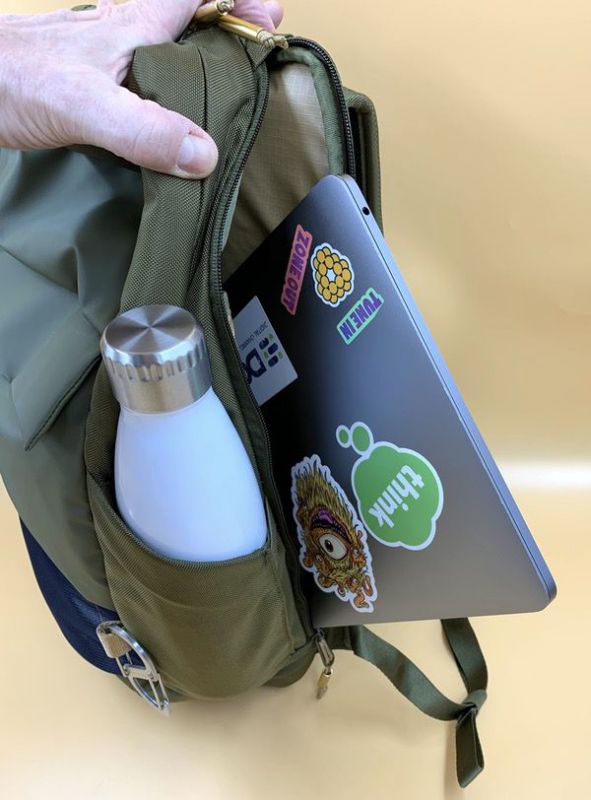 Double zips at the top of the bag give you access to the main chamber. That padded laptop sleeve keeps your moneymaker separate from your other gear, and you can slide your laptop in or out this way if you prefer. Other than that, the whole main chamber is wide open for whatever you're carrying.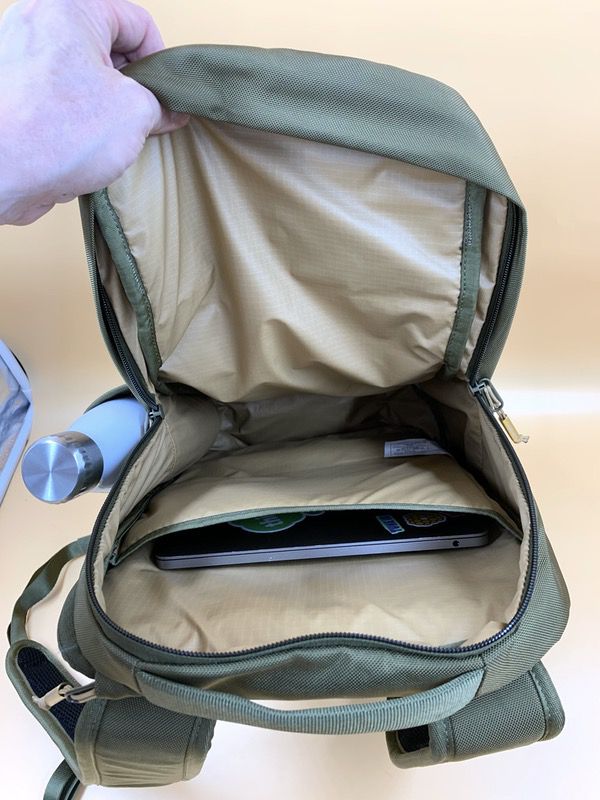 If you're familiar with Timbuk2 backpacks, the rigging should be no stranger to you. Lightly padded & contoured shoulder straps let you adjust the rig to just about any body type. Black reflective panels at the midpoints add nighttime safety. You'll also find a couple of extra loops for hanging stuff.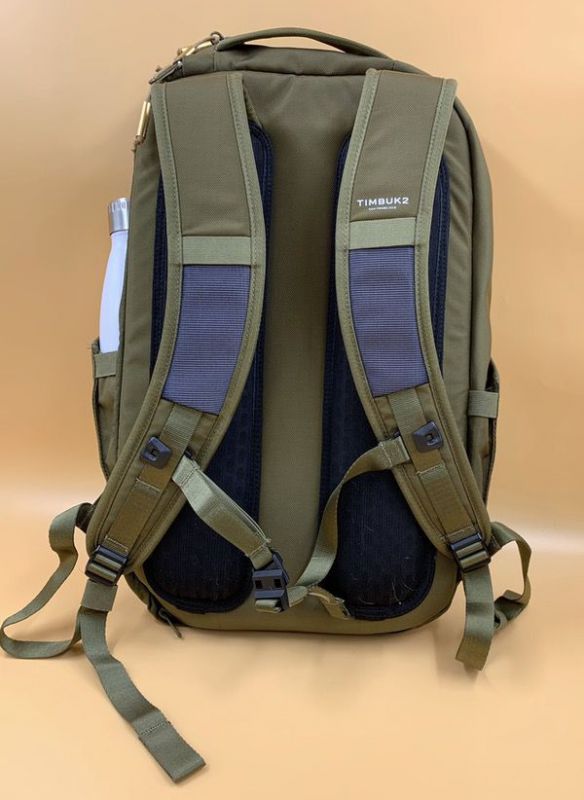 This bag utilizes magnetic clips to secure the sternum strap. They do require a twist to open up, but snap tight when they get close together. You can remove them if you don't want… they're not 100% necessary for a bag this size, but I like the stability for when I am dashing down sidewalks and through offices.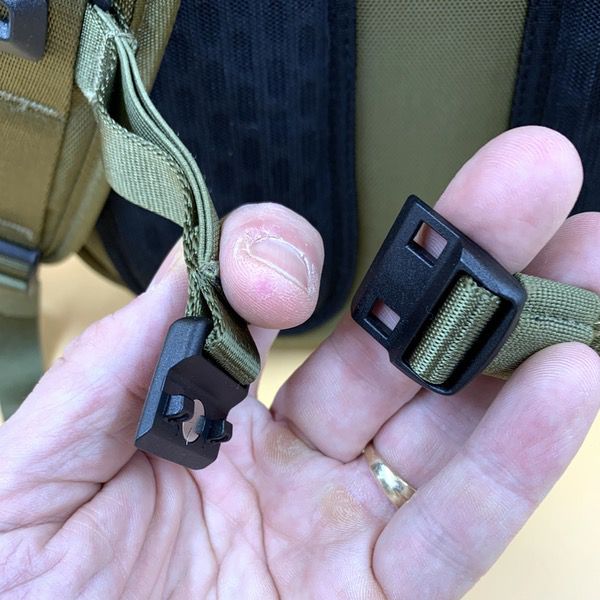 Here's a front view of the bag in action. Check out the slim rigging.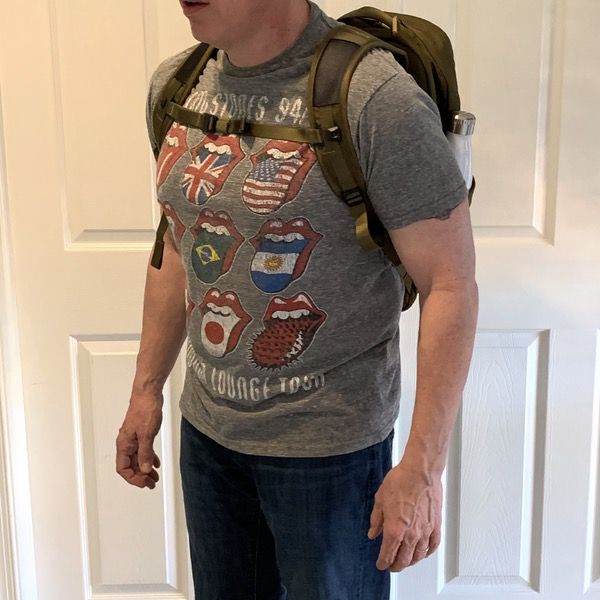 Construction on the Lane is excellent, and well in line with the premium-level price point for this bag. As I mentioned above the build quality surprised me. You've got lots of extra padding, reinforced materials throughout, an an extra drop-liner sewn into the bag for additional water resistance. It feels beefy for a such a streamlined bag, which gives you extra confidence when it comes to tech protection.
There's one final secret feature that the Lane Backpack has for us. That base seems extra padded… there's a zip on the base that, when opened, reveals a rainproof fly you can add for even more weatherproofing!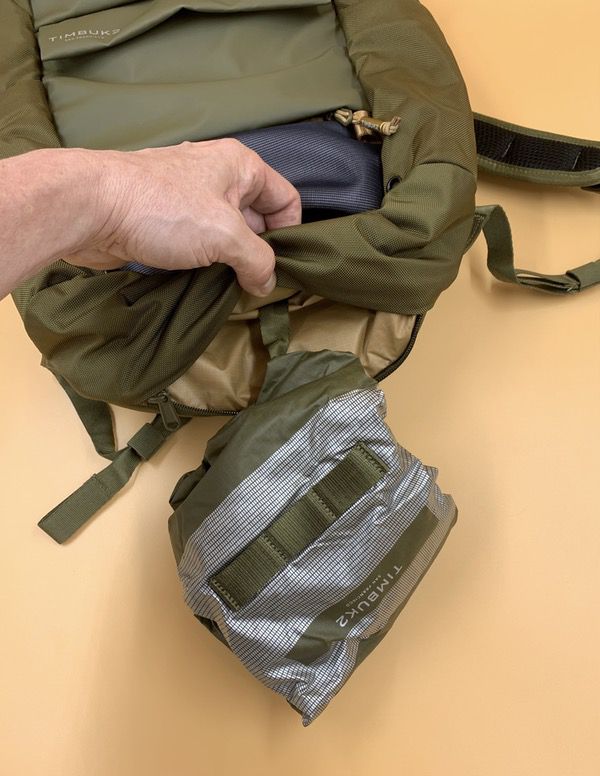 An elastic liner wraps completely around the bag, and includes reflective hits for safety.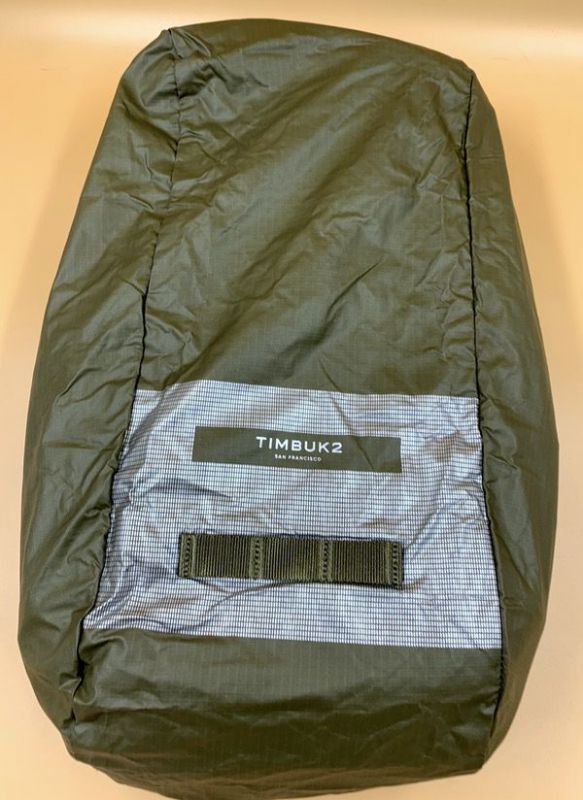 Performance
The Timbuk2 Lane Commuter ticks off all the boxes when it comes to what I look for in a work commuter. It's going to look great in any business environment. You've got quick access to your laptop and hydration at all times. The external pocketing is simple and accommodates all of your little extras. You've got full access to a separate main compartment for bigger stuff like snacks, a packed lunch, a light jacket, or whatever else you need. What's not to like?
I think the biggest issue with this bag will be the size for some. I personally like the compact sizing, and you'll really like the streamlined profile if you have a smaller frame. But at 18 liters this is not the bag for carrying your world on your back. You'll get your work essentials to the office with room to spare for some sundries, but this isn't a monster hauler for your gym clothes or a grocery store trip on the way home.
One of the nice features of the bag is that the internal space is wide open, and all of your little stuff rides in the external pockets. But those external pockets are a bit tight; it's a price you pay for the extra padding and slim profile. It is well sorted with three zones for organizing your smaller bits. If you like a bag that has a bunch of little pockets to sort out all of your tech, however, this may be overly simple for you. I'm trying to declutter my daily carry, so I like the layout.
Every Timbuk2 pack I have bought or tested always gets the rigging and padding right for comfortable carry, and the Lane Backpack is no exception. Not too bulky, padded in all the right places, and lots of adjustment to accommodate any frame. You'll wear this all day with nary a creak or groan in your back or shoulders.
You'll also laugh at the rain. The bag is highly water resistant to begin with, and the integrated rainfly makes its virtually unstoppable. If your life is spent walking and catching public transport, you're going to love this bag when the clouds turn nasty.
What I like
Contemporary style
Excellent protection against the elements as well as bumps and knocks
Supremely comfortable
Simple, functional layout
Integrated rainfly is there when you need it, but stays out of your way when you don't
What needs to be improved
Pockets may be tight for some
The simple layout may not be your thing if you like lots of pockets
Final thoughts
If you're looking for a compact & stylish bag for the daily commute that can take a beating from the weather, the Timbuk2 Lane Commuter Backpack will be your jam. The simple layout is extremely usable, and you won't need a roadmap to keep track of where all your stuff is stashed.  This is on the premium side of the Timbuk2 collection, but I think the price point is well in line with the quality and construction of the bag. It also comes in a grey and black colorway if the olive/gold isn't your thing.
Price: $179
Where to buy: Check it out at the Timbuk2 web site.
Source: The sample of this product was provided by Timbuk2.