We use affiliate links. If you buy something through the links on this page, we may earn a commission at no cost to you. Learn more.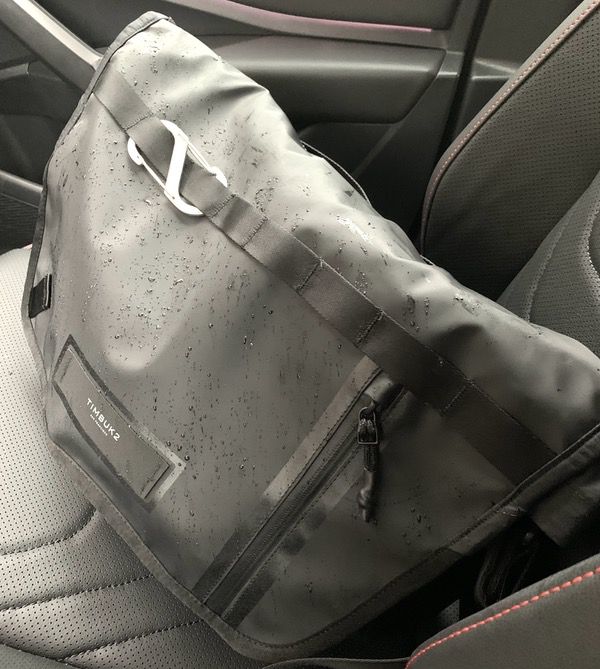 REVIEW – Rain happens, and sometimes you gotta deal with it. Am I scared? Heck, no… I'm rocking the Stash Messenger bag from Timbuk2's lineup of next-generation bags. My car got wet. I got wet. My bag got wet. But my gear is bone dry. To the review!
What is it?
It's a highly water-resistant messenger bag.
What's in the box?
You'll get the messenger and a stabilizer strap that can be attached for cycling.
Hardware specs
17.5″ by 12.2″ by 4.72″
20 liter capacity
2.2 pounds
Design and features
The Stash is part of Timbuk2's Especial series of next-generation messengers and backpacks, made for slick looks and hardcore water resistance. If you've had an older Timbuk2 Messenger, you'll find this one chock-full of nice upgrades and design enhancements.
The Stash crushes it in the looks department. I have three older generation Timbuk2 messengers that utilize Cordura as the primary fabric. Some like that rugged look, some don't. The Stash uses a black weatherproof material that is sleek and super sophisticated in a black or blue colorway. Either way you go, this bag is a smooth operator.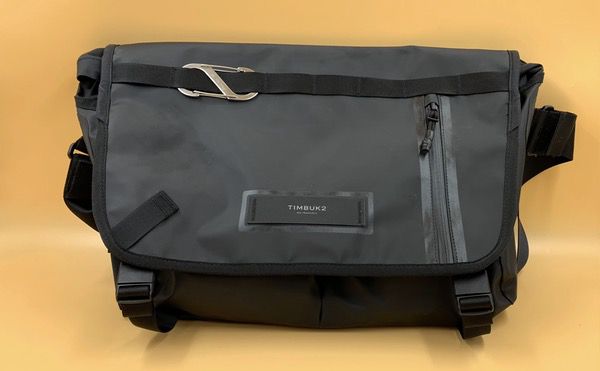 You'll notice a lot of little detail elements right away that demonstrate the upgrades over the classic models. Sealed zips and rubberized zip pulls, for example.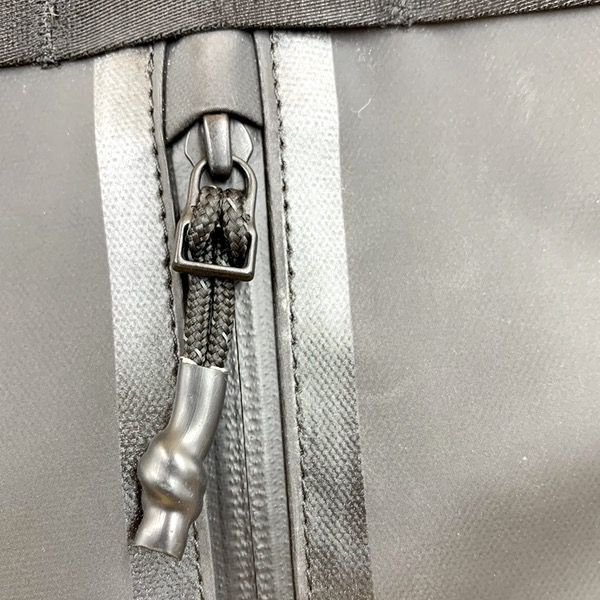 This design ditches the classic snap buckles for magnetic clasps under the hood.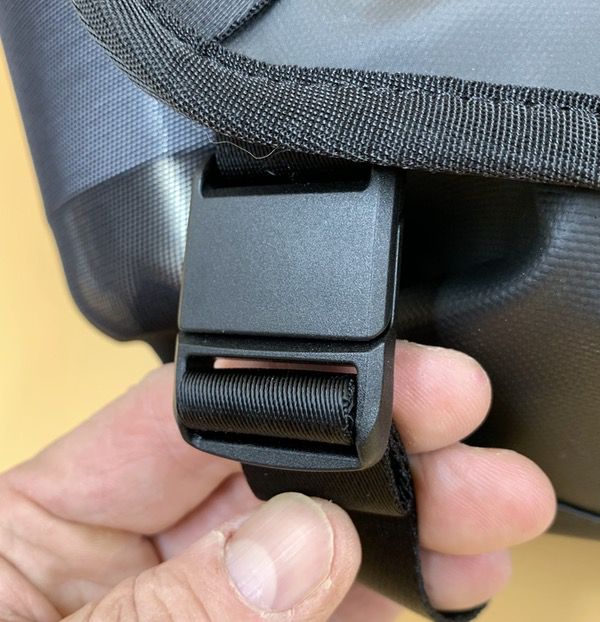 The new shoulder strap rig is no longer free floating. It attaches at the corner of the bag & has extra padding to stay anchored on your shoulder. It can also be switched for left- or right-shoulder configuration.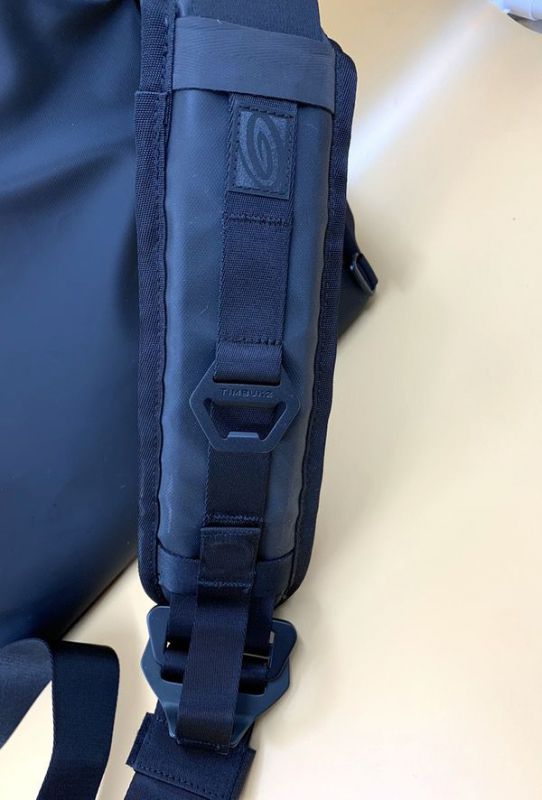 You'll find multiple attachment points for carabiners and such. A strip of vinyl provides attachment loops across the front face of the bag, and additional loops hang at each corner of the flap.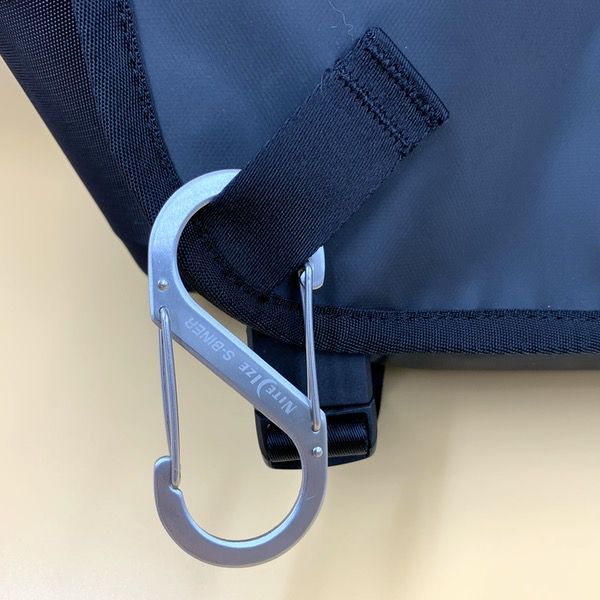 The Stash brings back the external elastic water bottle pocket, which I prefer for easy access. It's kind of short, so I wouldn't put a big hydration bottle in there. This is a 12″ tall 16 ounce bottle that I carry daily, and it stays put.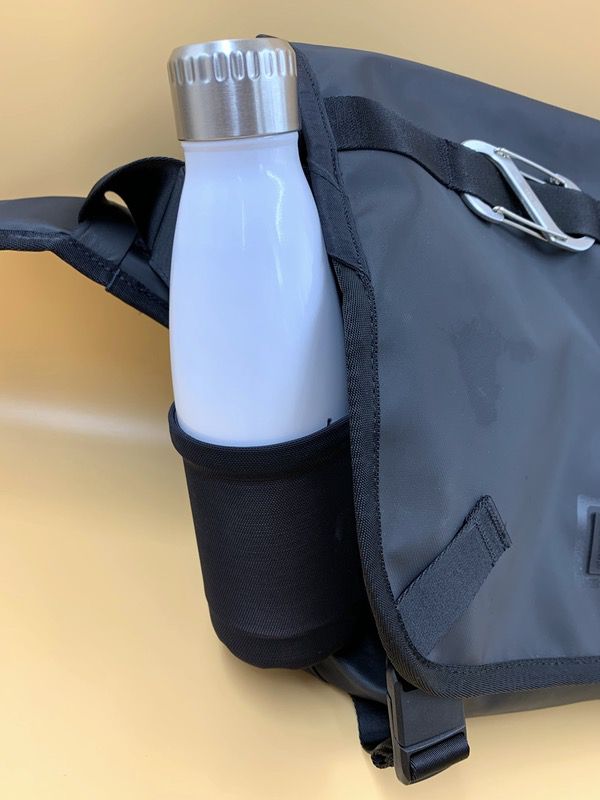 The Stash comes with an external pocket that opens with a vertical zip on the bag. This is super handy for quick-grab items. The bright green interior is great for seeing what you have in there, and the all-important key leash is attached in this pocket.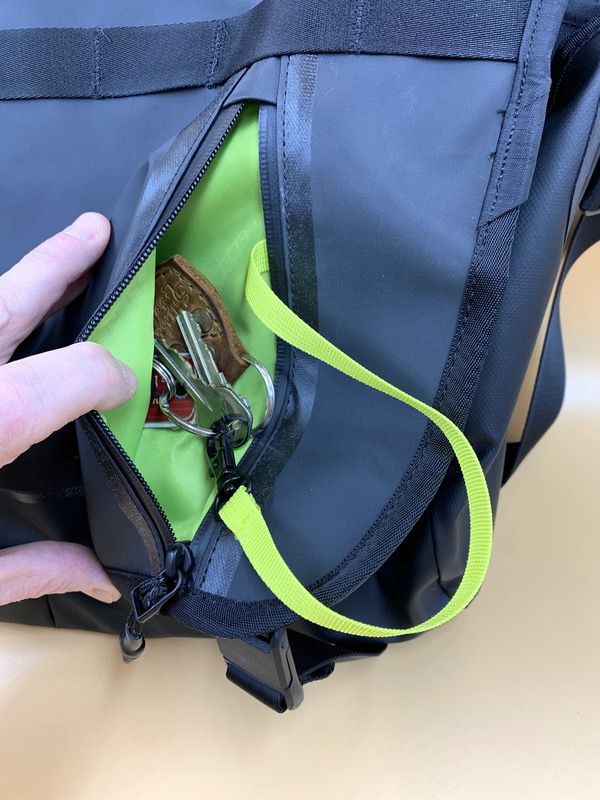 A twist of the buckle, and we're under the flap to get into the guts of the bag. Those clasps can be cinched up tight if you're traveling light.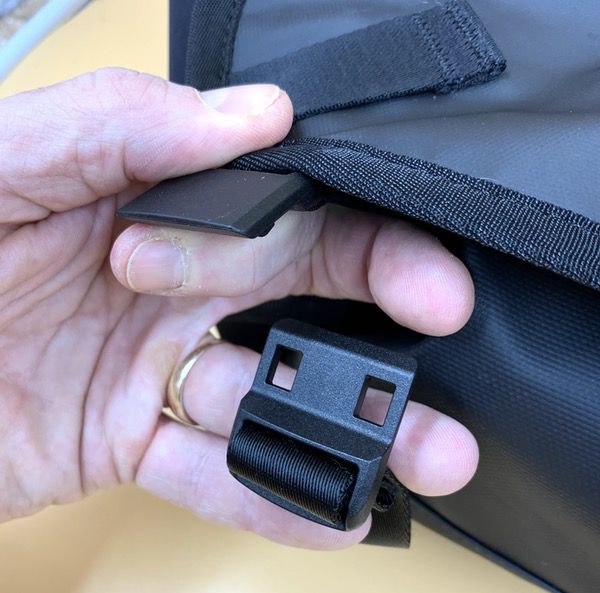 Timbuk2 has made some significant improvements to their standard messenger bag layout under the hood. Two drop pockets are found on the front face, with a zipped pocket behind them for little stuff. The bright green interior is repeated here, because finding your tiny bits is important.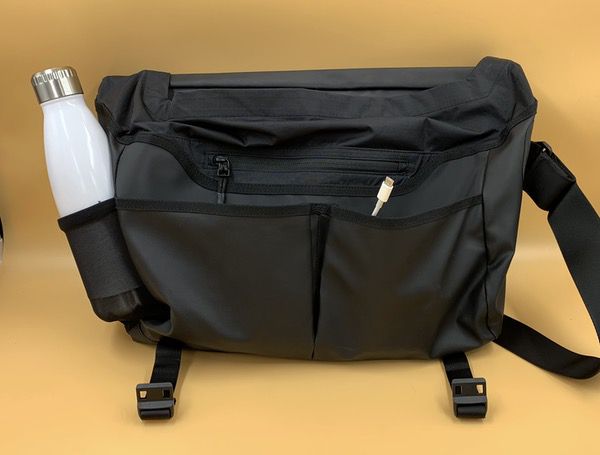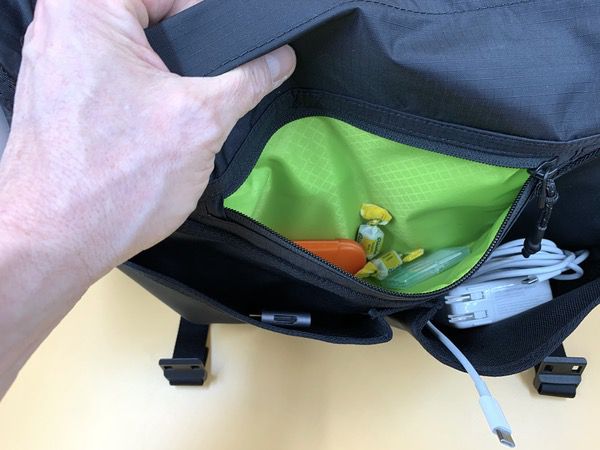 Moving into the main compartment, the organizer panel has been simplified. Two pen slots, a mid-sized slot, and a wider pocket give you options for pens, pocket knives, chargers, and your portable mouse or whatever else needs organizin'. Visibility is no problem.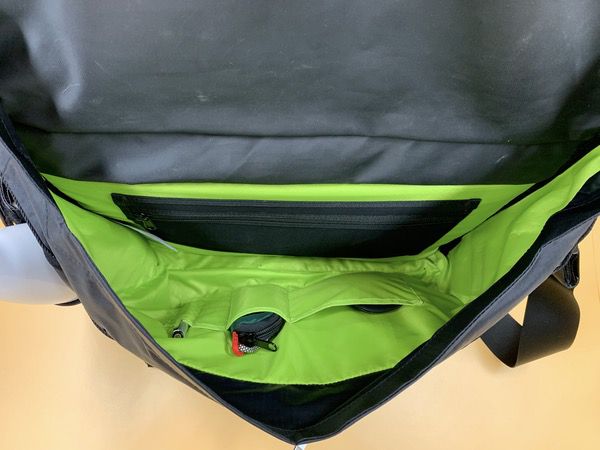 A generous zipped pocket on the rear face (the laptop sleeve) uses a mesh material so that you don't have to remember what you tossed in there.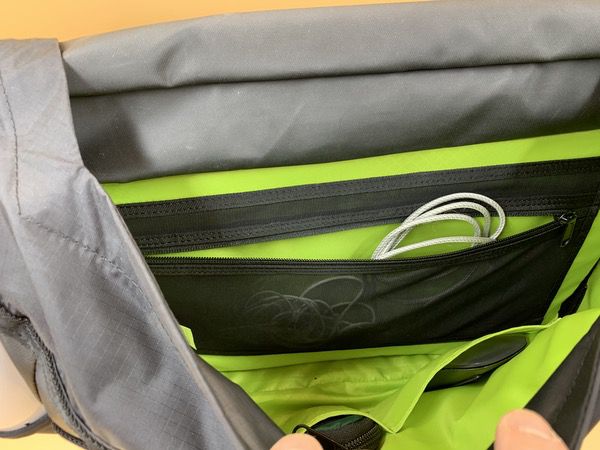 That laptop sleeve is nicely padded, good enough to keep your laptop safe. I have my iPad in there. And while we're here… see those flaps of fabric? Those are intentional. When you close the top flap those bits of fabric tuck under to prevent water from sneaking in the sides of the bag.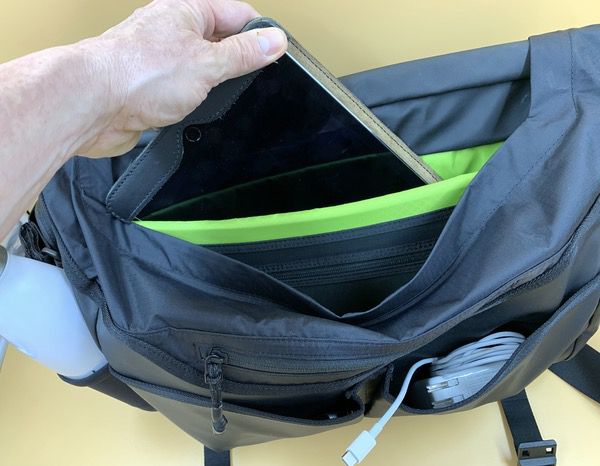 Behind that sleeve is fold of padding that hides a zip that runs the width of the bag. This is your totally water-protected laptop area. You could stash documents in either pocket if you like… but that rear pocket will keep your laptop safe even if you spill something in your bag.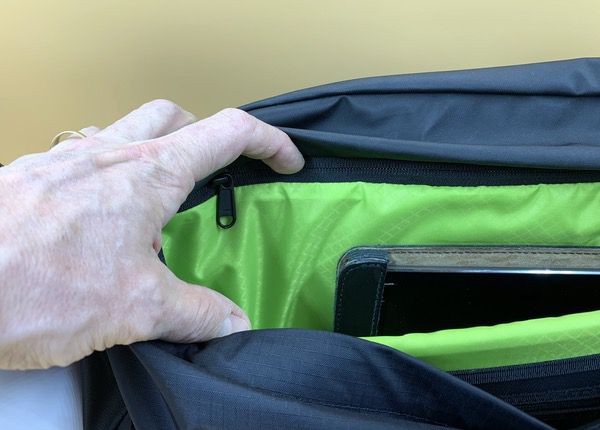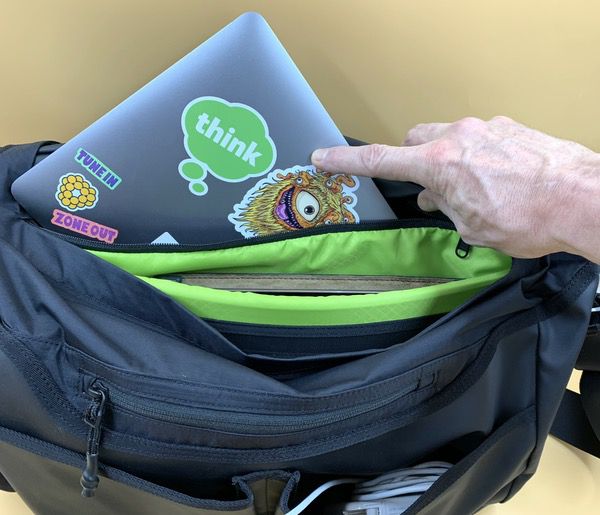 The rear of the bag packs a grab handle. It won't get in your way, and it's nice to have when you're making quick exit from a train seat or your car.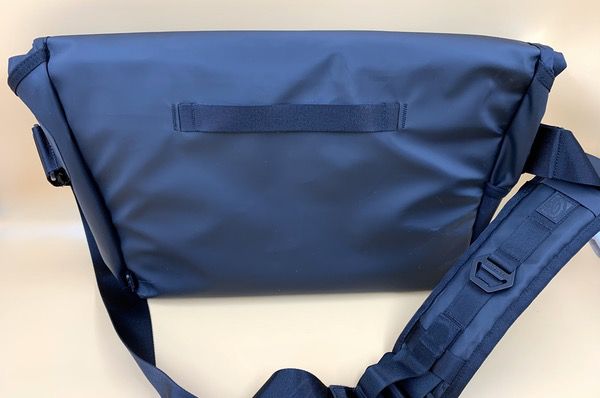 The shoulder strap is nicely padded, and designed specifically for cross-body use. Timbuk2 includes its ubiquitous bottle opener on the pad, but it's grown up a bit in look and style. I like it. It no longer stands out like a frat boy accessory if that kind of thing bothers you.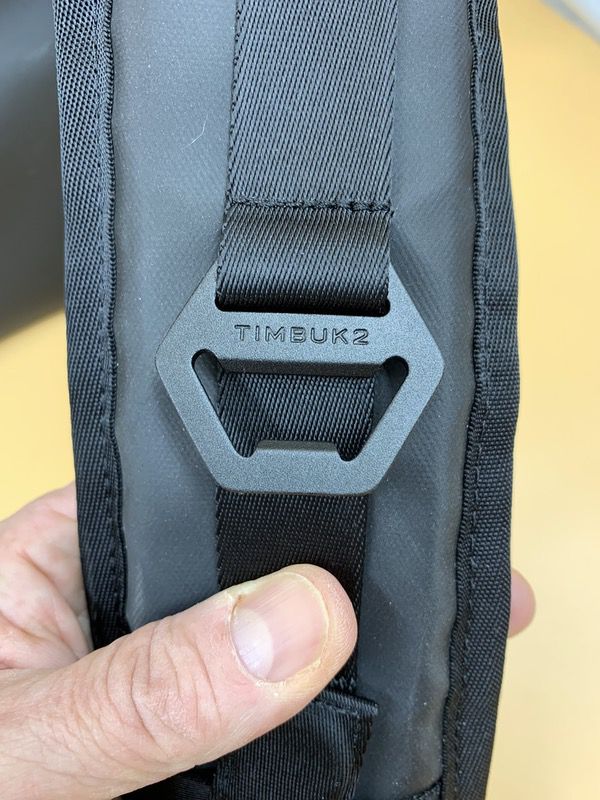 The new shoulder rig is interesting. It's got a nice clasp that attaches with a magnet. You'll pull it down to loosen up & adjust the strap length. This won't work when you've got weight in the strap, though, so it's not as quick and efficient to operate. On the plus side, however, a second loop keeps the adjustment strapping lassoed to the main strap for a tight appearance.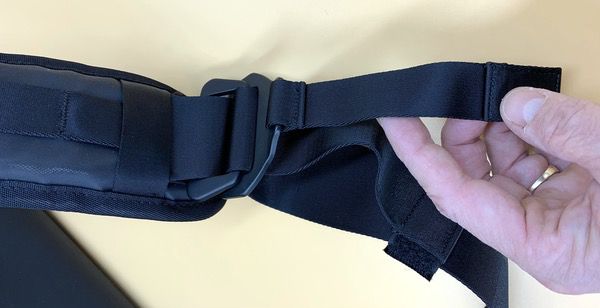 Two little rings on the bottom corners are used to attach the stabilizer strap to the bag if you're cycling. I don't have it shown here, but it attaches to the midpoint of the shoulder strap to keep the bag tight on your back.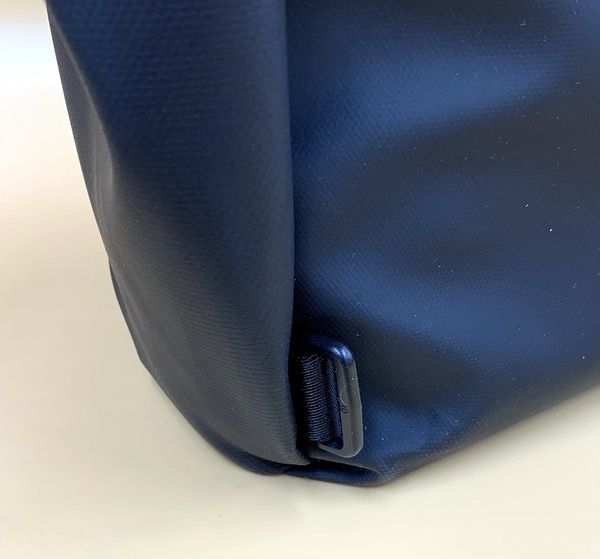 Here's the front view of the strap configuration. I like how the shoulder strap is anchored to the top corner of the bag, so it won't slip and slide around.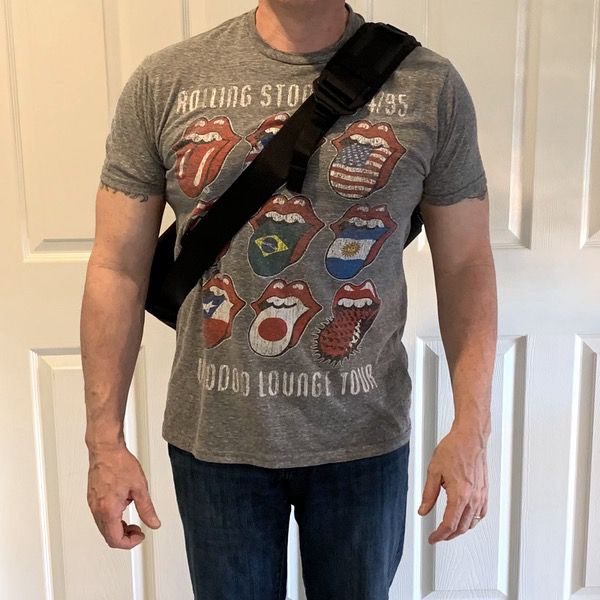 And here's the rear view. Classic messenger looks and maneuverability.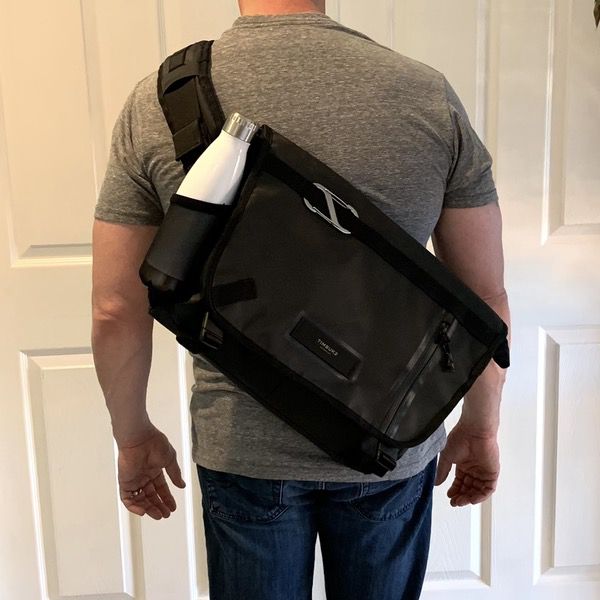 The overall build of the Timbuk2 Stash is really well executed. This is a premium model compared to the Classic Messenger, and it shows in the materials and construction details.
Performance
I have always loved Timbuk2 Messengers for their efficient layouts, rock-solid construction, and simple usability. I have several different iterations in my closet, and they are my go-to for general use. In my opinion, the Timbuk2 Stash may be the best design yet.
The overall usability of the Stash Messenger is excellent. That external pocket is ideal for quick access items, and the combination of drop pockets and zippered compartments under the hood are ideal for sorting out all of your things. Everything is easy to get to, but locks up tight when you're on the move.
Overall comfort is also great. This messenger manages to maintain its light weight while adding waterproofing in all the right places, and feels good to run with whether you're fully loaded or traveling light. The extra padding for the laptop is a welcome addition if you run into bumps along the way. I can stash my laptop, an iPad, a notebook and a water bottle with plenty of room for a packed lunch and a light jacket.
One thing that might be polarizing for some is the shoulder strap configuration. It's really made for cross-body use. The fixed position & length of the shoulder pad doesn't make it comfy for one-shoulder use except for emergencies. A few more inches of pad length would help with overall comfort in both cross-body and single shoulder mode.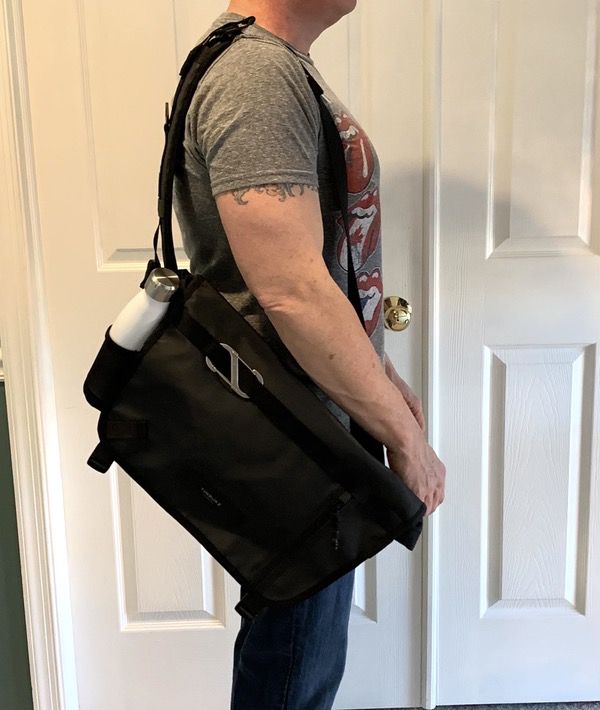 Speaking of which, here's a closeup of the anchor points for the strap. I like the reinforced anchors. If I wanted to switch shoulders, I can unlock that velcro and switch the pad to the other shoulder easily.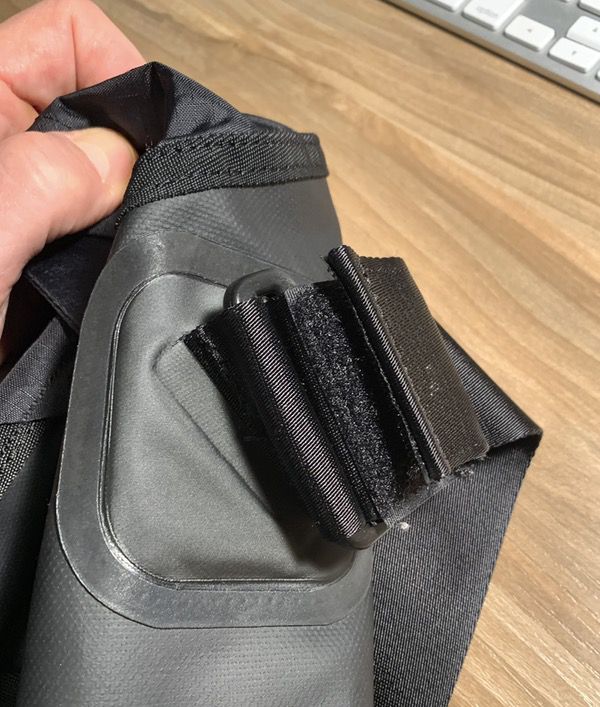 Here's a closeup from the shoulder strap side. I would like a little more length here in the adjustment, as the shoulder pad can get twisted up under that buckle when you throw it over your shoulder. A minor irritation, but I'll take the fixed configuration to ensure the pad doesn't slide around on me.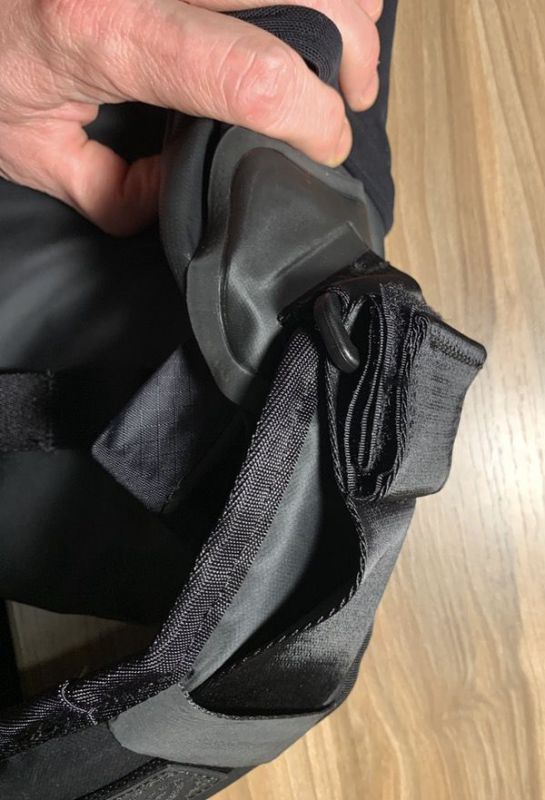 What I like
Excellent usability
Versatile pocket layout
Multiple layers of water resistance
Comfortable
Slick looks for work & play
What needs to be improved
The shoulder pad could use for a little refinement
Not easy to adjust the strap length on the run
Final thoughts
The Stash is my favorite Timbuk2 messenger bag design yet. Timbuk2 has a well-earned reputation for lightweight, durable and versatile messenger bags. This model gives you everything you love from the classic design with some significant upgrades that make it even more usable and durable. I think it's well worth the premium price point.
Update 8/24/20
This bag jumped right up to the top of my list of favorite shoulder bags. Lightweight, roomy, great organization plus impeccable weather resistance… It's a great all around messenger that deserves all the love. The shoulder strap system could use some refinement, but it's still super comfortable compared to previous models. This bag is in my regular rotation.
Price: $179. A larger version (34 liters!!) is available at $199.
Where to buy: Get it at the Timbuk2 web site and Amazon
Source: The sample of this product was provided by Timbuk2.