We use affiliate links. If you buy something through the links on this page, we may earn a commission at no cost to you. Learn more.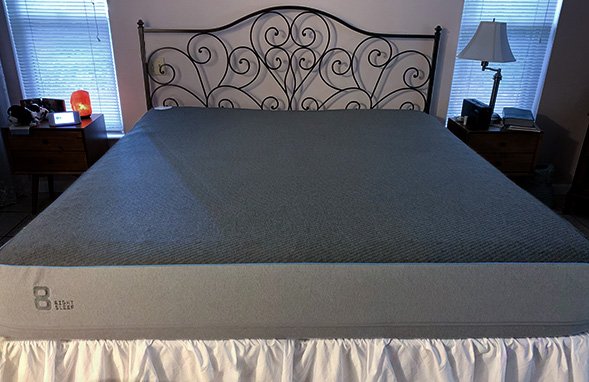 REVIEW – Years ago, my wife and I had a cheap solid block of foam mattress which sagged in places after only a couple of years. Since then, we only bought "normal" innerspring mattresses—afraid to go the foam route again. However, science marches on and we again considered getting a foam mattress to replace our 11-year-old king-sized innerspring mattress (complete with pillow topper!) that practically required a ladder to climb onto. Timing and serendipity were on our side and the Eight Sleep Pod mattress became available to review.
I was intrigued by the tech involved—what Eight Sleep calls sleep fit. It's more than just a mattress. It involves temp control, sleep tracking, coaching, metrics and all kinds of other measurable things. The mattress can also be used for helping you feel better if you're sick or help you recover from overdoing it on exercising. In today's increasingly busy world, sleep has become much more than flopping down on a bed and zoning out.

What is it?
The Eight Sleep Pod is a mattress with an attached "hub" that programs bed temperatures as cool or warm as you want. Water flows from the hub through what Eight Sleep calls an Active Grid—rows of tiny tubes laid out along a fitted topper that fits the mattress. Temperatures are programmed and controlled by a smartphone app. The Active Grid is divided in half, so each side of the bed can be individually set, or combined into one setting for those who sleep alone. An 8+ lifetime membership is included with the Pod.
Specs
Active Grid technology
Separate Hub control
Four layers of fabric-covered adaptive foam
Tracking sensors for heart, respiratory rates, and sleep patterns
Downloadable Eight Sleep app

In the box
Mattress
Hub
Active Grid cover
Wiring and water connector
Design and features
This review won't cover everything (there's a lot) about the Eight Sleep Pod, but I'm going to go over some things to consider if you're interested in this type of bed. And then my wife and I will give separate opinions of the Pod after a month of use.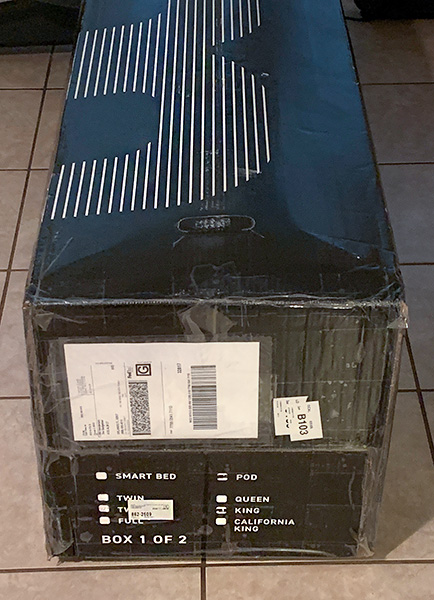 The Eight Sleep Pod arrived in one large (and heavy) box and two smaller boxes. We've always used king-sized beds, so because the Pod was also king-sized, I thought this mattress was going to be a hassle to set up. I was wrong.
Eight Sleep requires that their smartphone app (iOS and Android) be downloaded first. Doing this allows you to register the mattress right away and also includes all setup instructions—photos with clear text or video if you choose—all very easy to follow. It turns out that the hardest part of the whole setup was dragging the huge, old mattress to the street curb.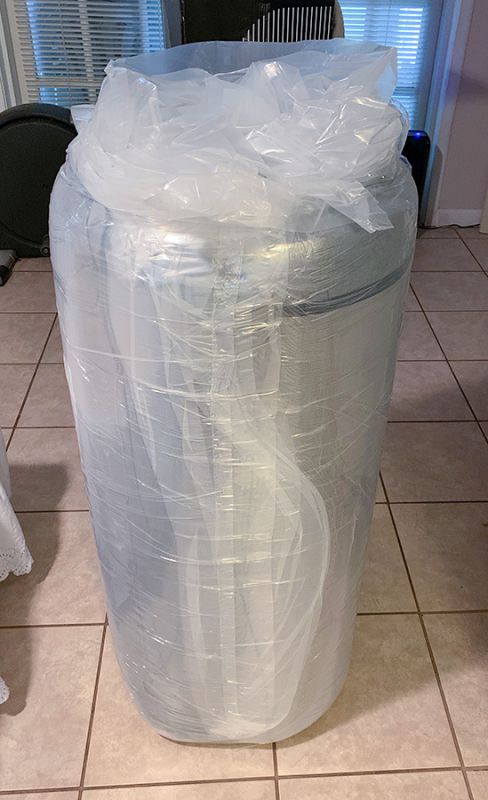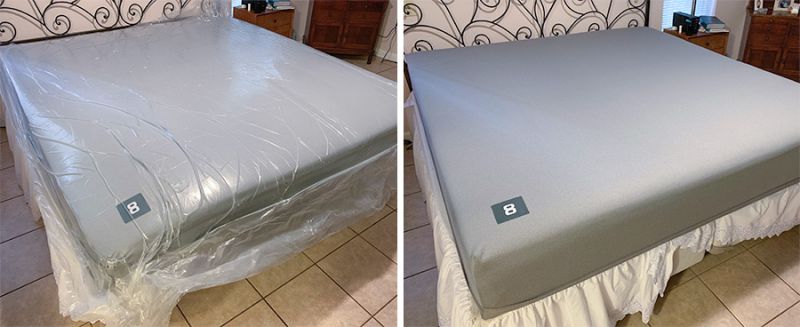 With my son's help, we opened the large box and removed the mattress. Note: try to use two people—it will be much easier. The Pod was tightly wrapped in a plastic roll with all the air sucked out of it. It's amazing how small it was considering how large it became later. We then cut the plastic being careful not to slice the mattress. It began to expand immediately and within 20-30 minutes, it was completely flat and ready to complete the setup. I had read in many reviews about an off-gassing odor during foam mattress unpacking that could take days to dissipate. That's not the case with the Pod. There was no odor of any kind that I or my son could detect.
Note that Eight Sleep sells an optional wooden slatted foundation. To save money, we decided to forgo the foundation and keep our box spring.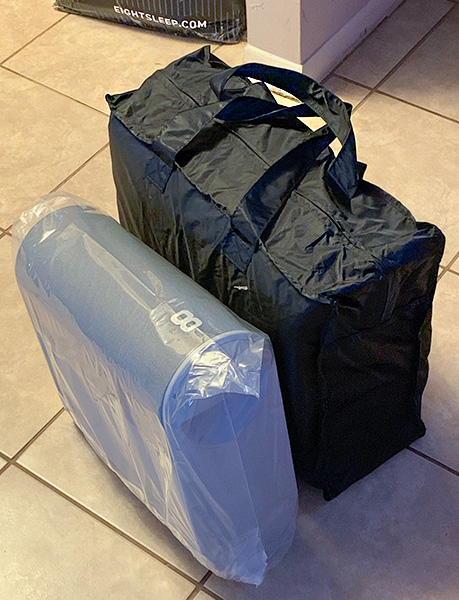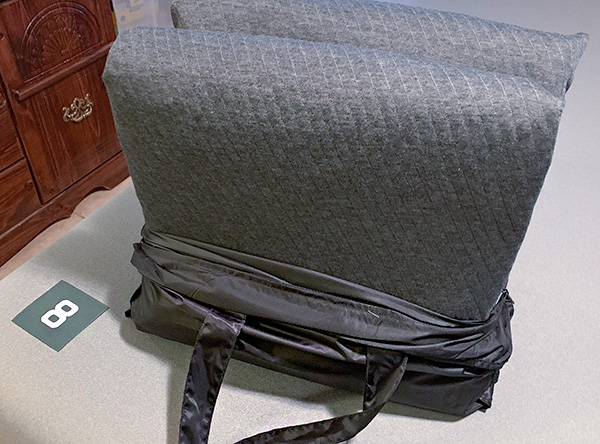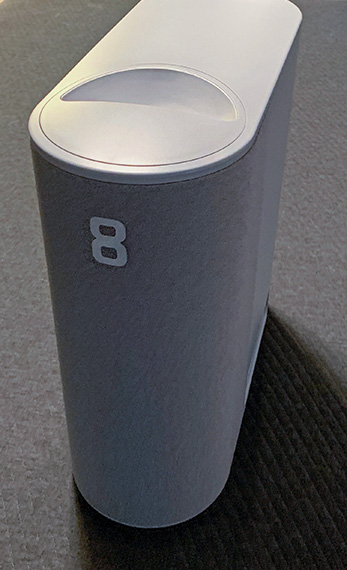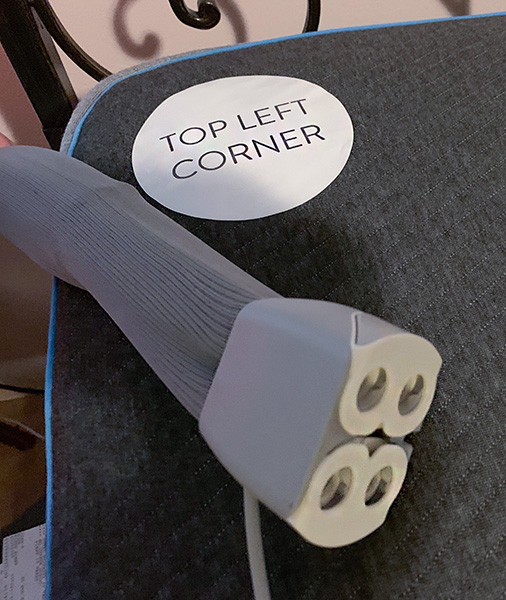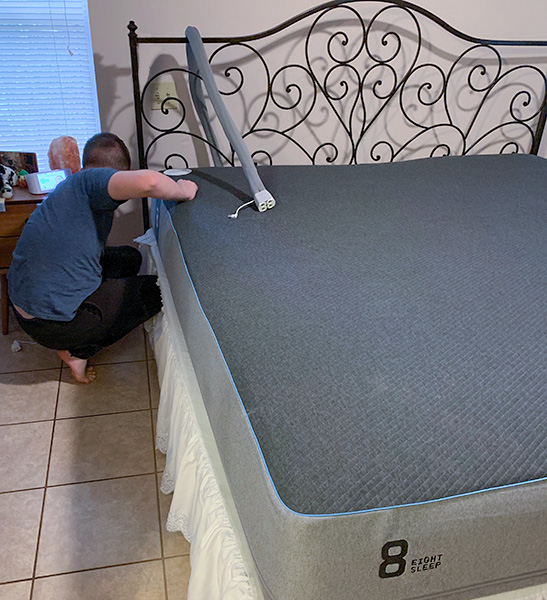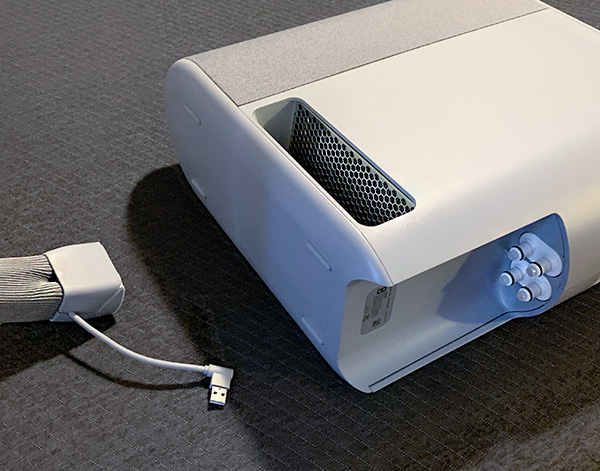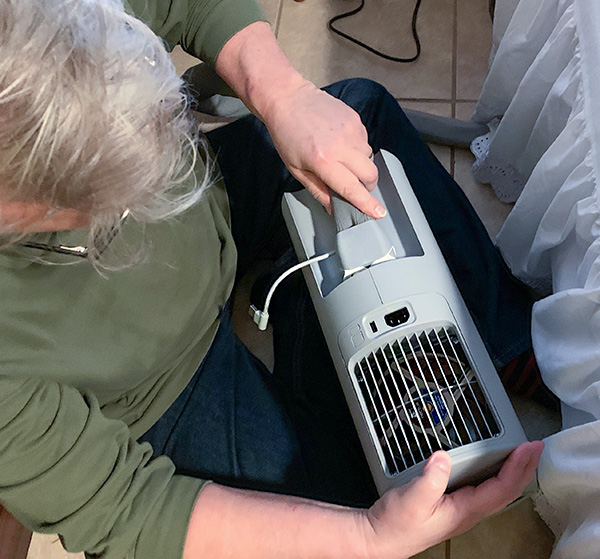 Once the bed was in place, we unboxed the Active Grid and hub. We fitted the Grid over the mattress and zipped it in place. We then connected the hoses (and a USB plug) from the Grid to the hub. It's designed so hoses stay out of the way. It's a "set it once and forget" process. The mattress is labeled so that you cannot make a mistake figuring out which end is the head or foot.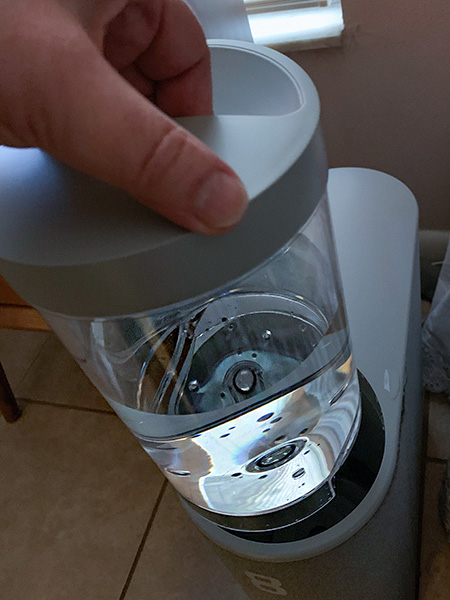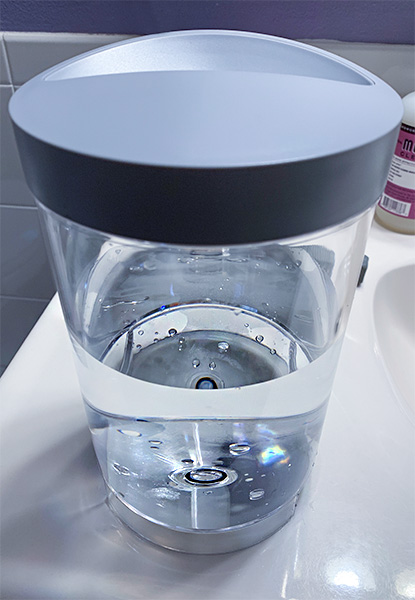 Once everything is connected and plugged in, the app prompts you to fill the hub's removable water container with distilled water and then asks you to prime the hub. This priming begins circulating the water through the grid system. And that's it! From there, it's all controlled through the app.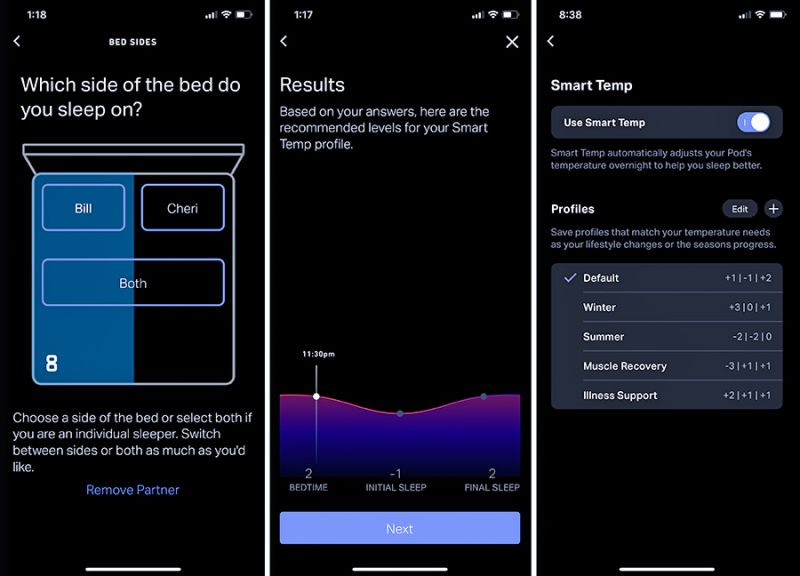 The Eight Sleep app handles everything regarding the Pod and more. Once set up, you can program the temperature to fit your sleep pattern or use one of the preset profiles supplied in the app. Understand that the first few nights using the Pod are going to be hit and miss as you find a profile setting that fits you. So ironically, your sleep may suffer a bit in the early days of using the Pod. My first night started out warm, but I woke up in the middle of the night cold as the temp dropped. Yes, I programmed the app to do that, but I needed to learn what profile fit my preferences. Also, temps can fluctuate like crazy in Florida during the winter, so coming up with an ideal temp profile proved frustrating. I found that I prefer a warmer setting throughout the night with a slightly higher temp at bedtime. One of the coolest (pun intended) things about the Pod is that it is infinitely customizable—for each side of the bed.  
The built-in profiles are a good starting point, but as I said, Florida is just plan weird so profiles may need to be revised constantly. There are also two health-related profiles: Muscle Recovery and Illness Support. The Illness numbers look perfect for someone in bed with the flu and chills.
There are a lot of smartphone settings that work with Alexa. So if you're into all that smart home stuff, you will be happy with the Pod. The Hendersons don't use Alexa or any other smart home items that you can talk to. Call me old school but I believe in privacy and there's been too many breeches with smart devices listening when they shouldn't be.
As you use the app day to day, it keeps a record of what Eight Sleep calls a sleep fitness score. I question its accuracy. For instance, one night I slept almost 8 hours (a rarity in my life) and my score was 80 out of 100. The next night, I slept a much less 6.75 hours and my score was 96. I know there are other factors that can determine the score, such as sleeping heart rate, respiratory rate (how does it know that?), toss/turns, and when you get out of bed for a bathroom break. It just seemed that the score sometimes does not reflect how I feel when I wake up. I do expect that the Pod will learn more as weeks and months go by, but opinions are based on one month's use.
Below are both my wife's and my impressions of using the Eight Sleep Pod. Since I am an enthusiastic snorer, sometimes I have to leave the room and finish sleeping in the guest room so my wife can sleep peacefully. Those nights are not part of my opinion. The Pod does not decrease my snoring, darn it.
The rest of this review is broken into a "he said-she said" format. Many of my thoughts are mixed into the previous paragraphs, so my wife's comments will be longer.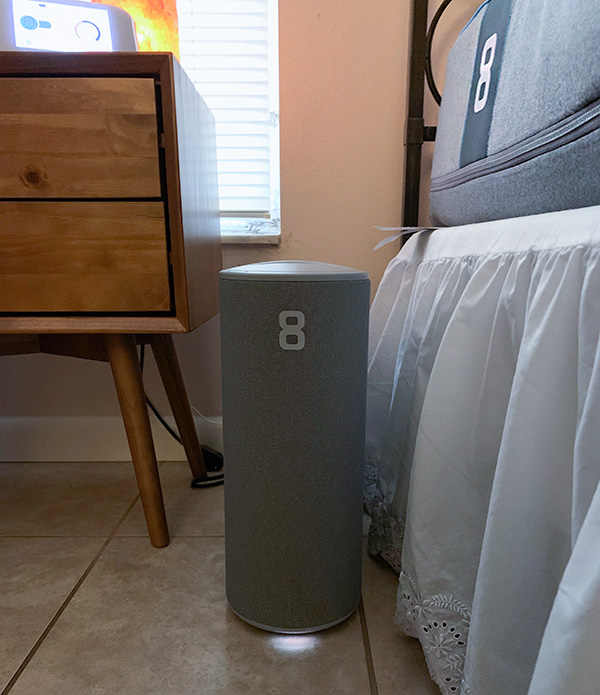 My Side of the Bed
Bottom line: What do I think about the Eight Sleep Pod? I like it. Once I got my profile settled, I sleep quite well through the night. More importantly, I wake up a bit less sore than I did on the innerspring mattress. While the Pod initially feels more firm than our old mattress, it's not. Our old mattress had a pillow-top set on a rock hard mattress, so while it felt soft at first, the feeling wasn't there when you woke up. 
The Pod feels more firm when you first lay down, but it conforms to the body throughout the night—though it can't be considered a "soft" mattress. Couple that with the Pod's ability to keep the bed warm (or cool) and it makes a big difference for long-term comfort.
I would prefer the ability to add a pillow-top to the Pod for even more softness (don't judge), but adding anything thicker than a sheet negates the Pod's effectiveness at temperature control. Oh, well.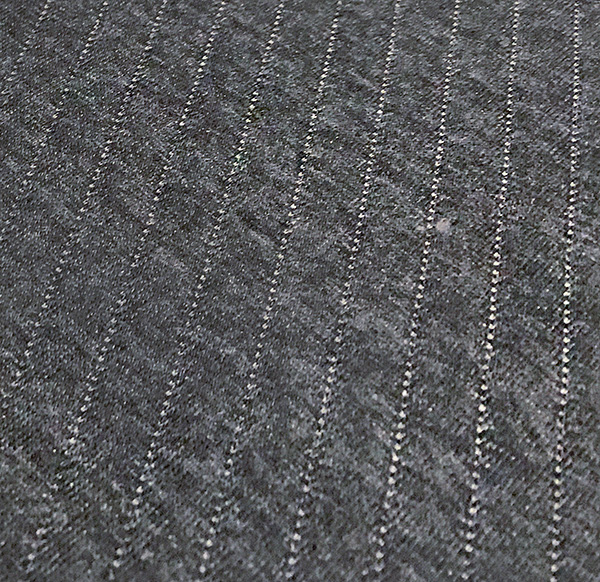 When you first lay down on the Pod, you can slightly feel the grid system under the fabric covering. It doesn't take long to get used to it and it does not interfere with my sleep.
Even though I woke up cold during that first night, all I had to do to change that was look at the app on my iPhone and turn up the temp a bit. The change was immediate and welcome.
My wife tosses—a lot—during the night. While her movement wasn't as bothersome on the Pod, it was still enough to wake me up. Since the Pod mattress was warm and cozy, I always fell back asleep.
In the month we've had the Eight Sleep Pod, we haven't had time to fully utilize the free 8+ lifetime membership. There is much more available that we will need to explore in the weeks ahead.
Below are my wife's thoughts on the Pod:
Her Side of the Bed
Let me preface my review with this: I'm an insomniac. I can go for days with very little sleep. It's as if a light switch goes off in my mind late at night, and I'm awake—not because I'm preoccupied with some pressing problem or experiencing pain, but just because. The fact we had an 11-year-old mattress probably didn't help things. Florida's mercurial weather probably doesn't help much either.
So one night at dinner, Mr. Headphones starts telling me about this new smart mattress. It quizzes you via an app to find your ideal sleep temperature during different phases of the night. Not only does it keep the bed at the ideal temperature, but the app also evaluates your sleep. Plus if you are too warm or cold during the night, you can change the temperature using the app.
"We're getting one to review", he said.
A couple of weeks later, the bed came. We couldn't set it up until our son was free to help Bill get the old mattress to the road and set up the new one. I conveniently had plans to meet a friend for lunch, and I was thankful because I imagined much weeping and gnashing of teeth with the physical labor and the mattress setup.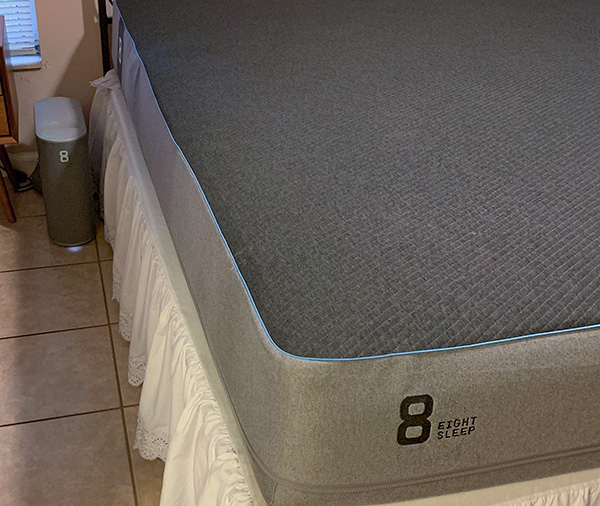 How surprised I was when my son texted me a photo of the new mattress during lunch. "How did it go?" I asked him. "It was easy," he responded. When I got home, I downloaded the app and took the quiz in just a few minutes. I also noticed no off-gassing from the mattress, and I have the nose of a hound dog. So the new mattress and app passed the first few tests.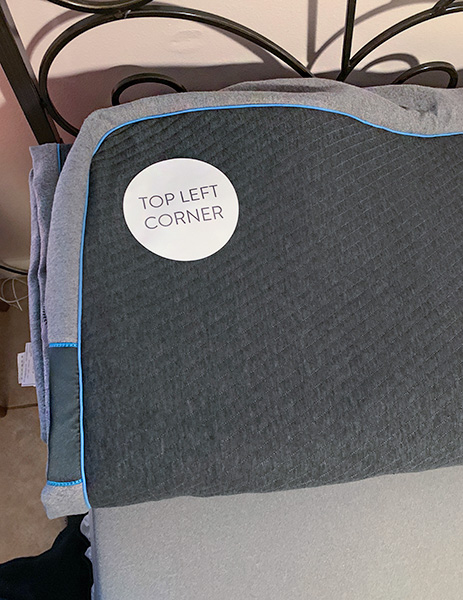 I could not make the bed using my brand-new plush mattress pad. Because the mattress cover contains the vascular network through which the mattress is water-cooled or heated, you can't use a mattress pad any thicker than a sheet between the mattress and the fitted sheet. After some queries to customer service and Amazon customers, I finally found this cover to protect against allergens such as dust mites and also to protect the mattress, whose surface can only be cleaned with a damp cloth. I later learned a more expensive version is available right on the Eight Sleep website. The customer service rep didn't mention this in his email to me.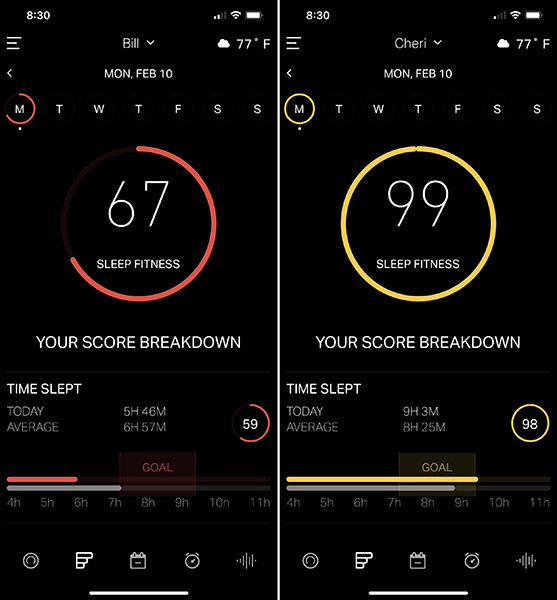 The first night, I had obviously misjudged my ideal sleep temperatures, so I kept going on the app throughout the night to adjust it. (Yes, I'm a middle-aged woman.) Despite my wakefulness, tossing and turning, and time spent on the app during the night, I got a sleep score of 100. The second night, though I was physically comfortable, I still couldn't sleep well. However, I was relaxed and lay still for long periods. I got a sleep score of 87. Not only do I not always find the sleep score accurate, but the app often fails to sense when I get up in the middle of the night. I wonder if the sensors are negatively affected by my relatively small size. If Mr. H couldn't sense my movement, maybe the mattress couldn't either.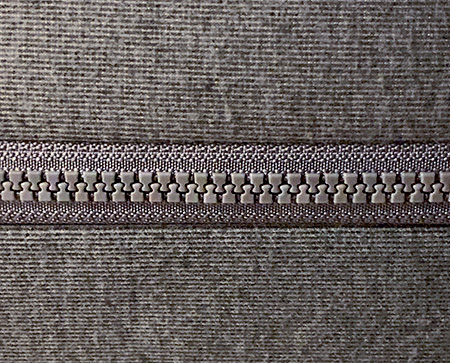 That brings us to movement isolation. Before getting our Eight Sleep mattress, we watched some online reviews so we could know what to expect. Many reviewers talked about movement isolation—how your sleep partner is unlikely to be disturbed by your movement at night, and vice verse. I have noticed less of Mr. H's movement than on our previous conventional mattress, but I wouldn't call it movement isolation. Light sleepers like me will still find their partners' movement disruptive. Heavy sleepers like Mr. H will not.
An important point to keep in mind is that any smart house or appliance is only smart when connected to WiFi. The fifth night, a bad storm knocked our Internet offline, and I was unable to change the temperature settings when I went through one of my midlife moments. That is the one downside of only being able to control the temperature via an app. 
Around that time, I began to notice I wasn't waking up with back or hip pain. Not only am I middle-aged, but I'm an old jock with osteoarthritis in multiple joints from sports injuries. I often used to wake up feeling as if I had been beaten up during the night on our old mattress. I believe the firmness of the Eight Sleep bed has resulted in greater comfort—at least for me. I'll let Mr. H speak for himself because he and I have very different preferences when it comes to mattresses.
Over the past few weeks, I have modified my sleep profile multiple times in an attempt to establish my ideal sleep temperatures. I'm much closer now than I was, though I still will tinker with my settings occasionally during the night. Then one day I got an email from Eight Sleep about profiles you can set up within the app according to seasons or health status, such as when you're feverish. I began to check the app daily for the update.
However, one night when I went into the app to modify my temperature settings when I should have been sleeping, the app wouldn't let me do anything until I set up profiles. It was 3 a.m., and I just wanted to get comfortable and get back to sleep. I would deal with that in the morning, I decided. However, the profile settings have not shown up since. Honestly, I'm not sure how helpful seasonal profiles will be in a Florida winter anyway, seeing how we can cycle through four seasons in one winter day. Finally, I found the profiles hidden in the first screen on the app. Once you click on the default button, you're given several temperature options: default (a custom setting), winter, summer, muscle recovery, and illness support. I plan to try a profile setting once Florida summer comes, which really happens in early spring.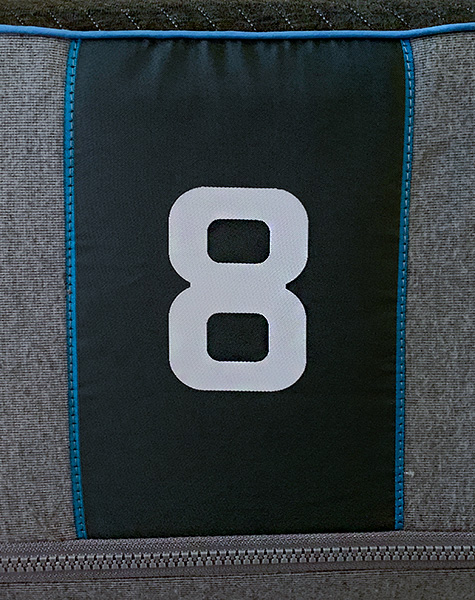 For the most part, I do feel as if I'm sleeping better on my Eight Sleep mattress than on my worn-out, 11-year-old one. But I must admit part of me can't help but wonder how the mattress will endure over the long haul. It's foam, and it can't be turned over or rotated. My side must remain my side, and Mr. H's side must remain Mr. H's. Perhaps that will make it more comfortable over time as the foam conforms to our bodies. But for now, I'm a pretty happy camper. Come summer, when Florida temperatures remain in the high 70s overnight and humidity is at a zillion percent, I expect to be even happier as I get into my pre-cooled bed each night. Instead of counting sheep, I plan to be counting my blessings. 
What I like
Super easy to set up
Independent temperature controls for each side of the bed
Extremely comfortable mattress
No off-gassing
Hub is whisper-quiet
Temp control will spoil you
Lifetime membership to 8+
What I'd change
It's quite expensive
Some things are hard to find on the app.

Final Thoughts
Do we prefer the Eight Sleep Pod over our previous mattress? No Contest, it's much better. I can't say enough how the Pod will spoil you, allowing you and your partner to be comfortable—each in your own temperature-controlled cocoon. Since Florida can be hot and miserable 6 months out of the year, I can't wait until summer so I can try out an air-conditioned bed. How cool will that be?
Price: $2,595 (Full), $2,795 (Queen), $3,095 (King and Cali King)
Where to buy: Eight Sleep
Source: The sample for this product was provided by Eight Sleep.