We use affiliate links. If you buy something through the links on this page, we may earn a commission at no cost to you. Learn more.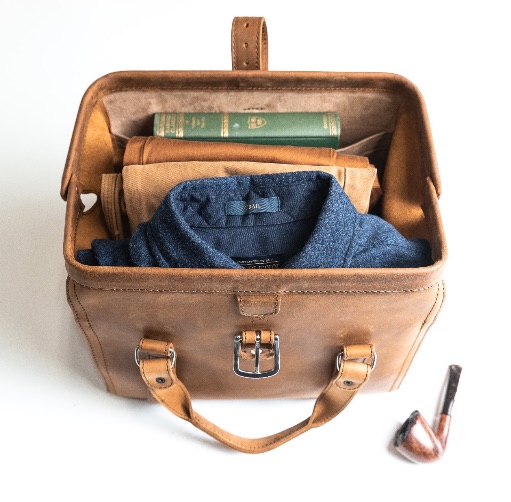 NEWS – Remember doctor's bags? Those old-school leather beasties with the big opening? I have my dad's bag from years ago, and Saddleback Leather has brought back that wide-mouthed design in a series of bags over the past couple of years. Today they announced the introduction of the Big Mouth Duffle to add to the lineup.
The Big Mouth Duffle is a simple beast: flat bottom, a couple of interior pockets, and a big ol' clamshell opening to wrangle your gear with a leather strap & buckle to lock it all down. A pair of carry handles and a shoulder strap round out the package. This guy is sized at 14″ by 10″ by 9″ and weighs in at 4.8 pounds.
I've seen the Flight Bag (same clamshell opening in briefcase form) in person, and love the format for easy access & packing. I like the size and versatility of this particular design. It's a scaled down version of the Doctor's Duffle Bag, which is more of an overnighter. This fella seems a bit more flexible as a gym bag, a tool bag, or a gear bag depending on your needs at the time.
The Big Mouth Duffle Bag retails for $449 and is available in Saddleback's 4 colors (tobacco, chestnut, dark coffee, and black). Check it out on the Saddleback Leather Web Site!