We use affiliate links. If you buy something through the links on this page, we may earn a commission at no cost to you. Learn more.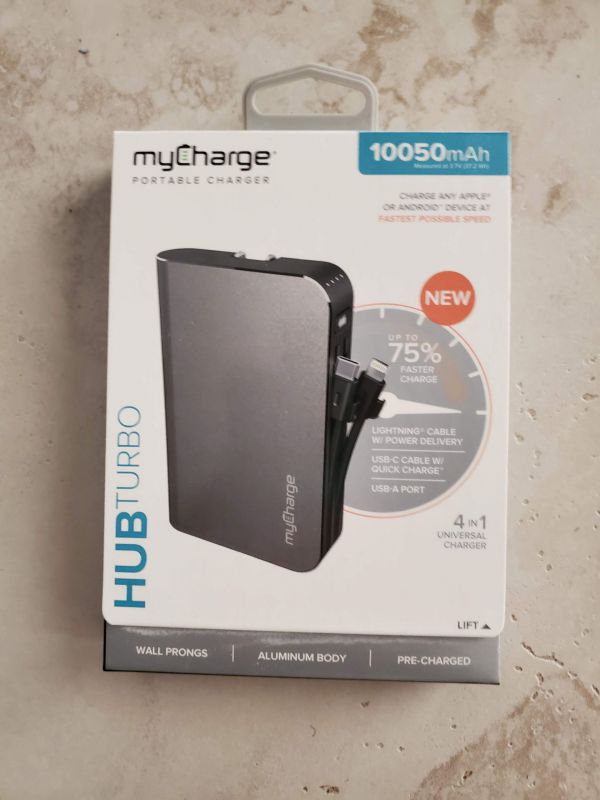 REVIEW – There must be a million portable charging devices out there for your phone, tablet or laptop.  When the MyCharge Hub Turbo 10050 came across my email to review, I jumped at it because it seems to offer a lot more than your traditional portable charging device.  Let's see if it meets my expectations.
What is it?
The MyCharge Hub Turbo 10050 is a 10050 mAh external battery pack.  It has a built-in wall plug, lightning cable,  USB-C cable, and a standard USB port.
What's in the box?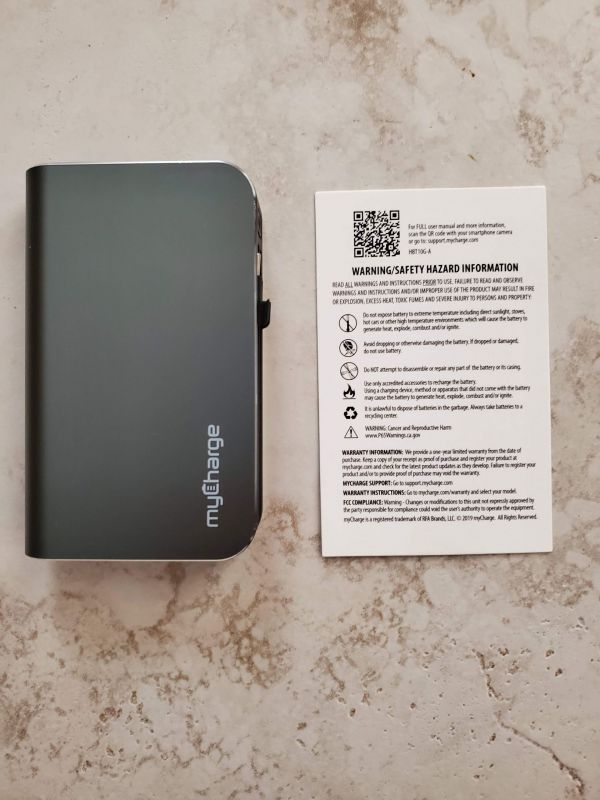 The MyCharge Turbo external battery
Safety card that also has a bar code that takes you to the MyCharge website for more information
Hardware specs
Battery: 10050mAh Lithium-Ion
Product Dimensions: 4.6 in x 2.8 in x 0.9 in
Product Weight: 0.6 lbs.
Output: 3.4A shared
Turbo: charge your smartphone up to 75% faster
Smart-sense: ensures complete device compatibility
Power-stay: maintains battery power for up to 1 year
Max-power: maximum power transfer from powerbank to device
High-density battery: the smallest and lightest powerbank
Safe-cell: provides the highest level of battery safety
Rapid-recharge: powerbank recharges up to 50% faster than competitors
Pass-Through Charging: will charge the powerbank and connected device simultaneously
Design and features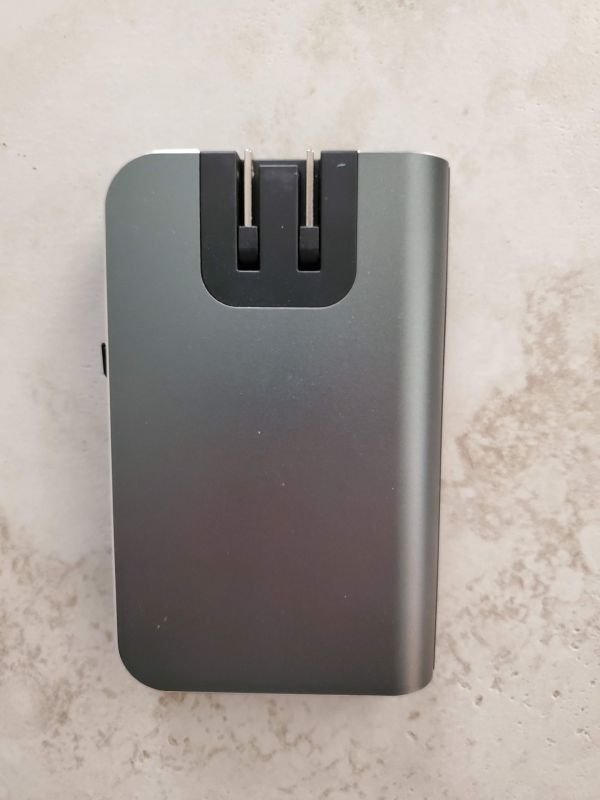 The MyCharge Hub Turbo has a lot of built-in features as I mentioned earlier.  The above picture shows the built-in wall plug folded up into the device.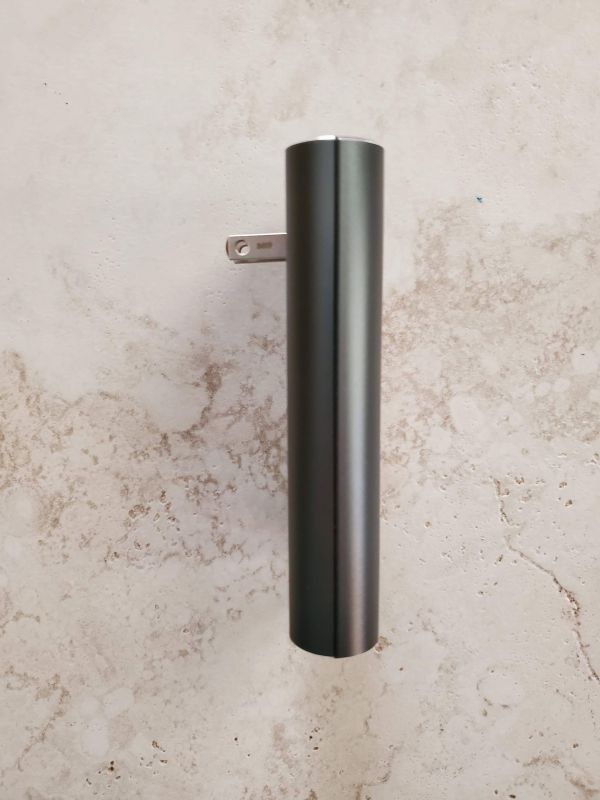 This next picture shows you the wall plug popped out and ready to use to charge the battery.  It also gives you a good idea of the size of the device.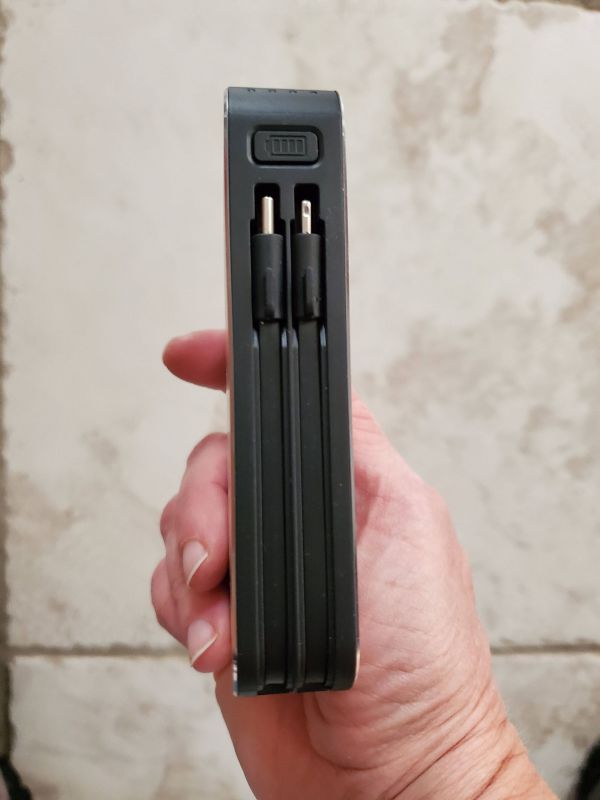 The picture above shows you the two built-in charging cables.  The one on the left is the USB-C cable that many new Android phones use, while the cable on the right is the Apple lightning cable to use on your iPhone.   Above the cables, there is a button you can press to light up the battery level indicator.  The web site mentions that you may have to press the button to activate charging, but I never had to do that.  The moment I plugged in my Samsung Note 10, or my husband's iPhone 11, they started charging right away.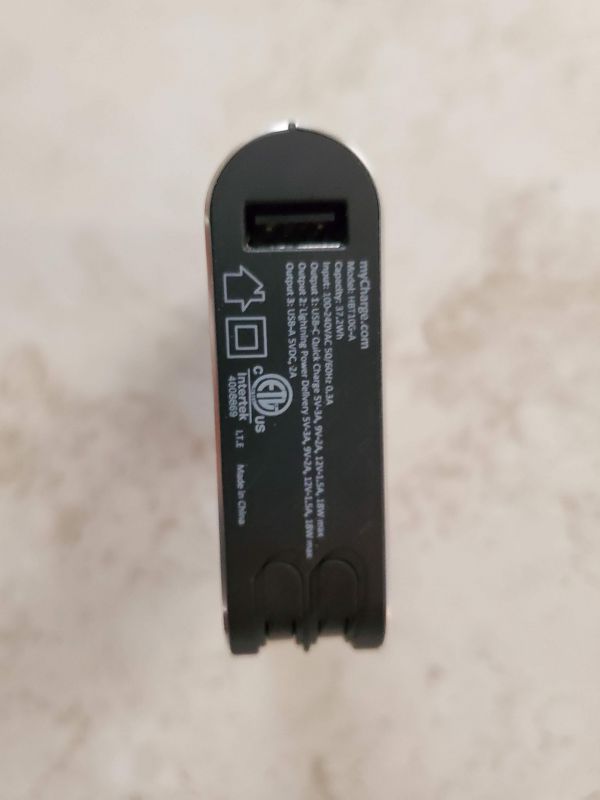 The bottom of the battery has a standard USB port.  With this port, you could technically charge three devices at the same time.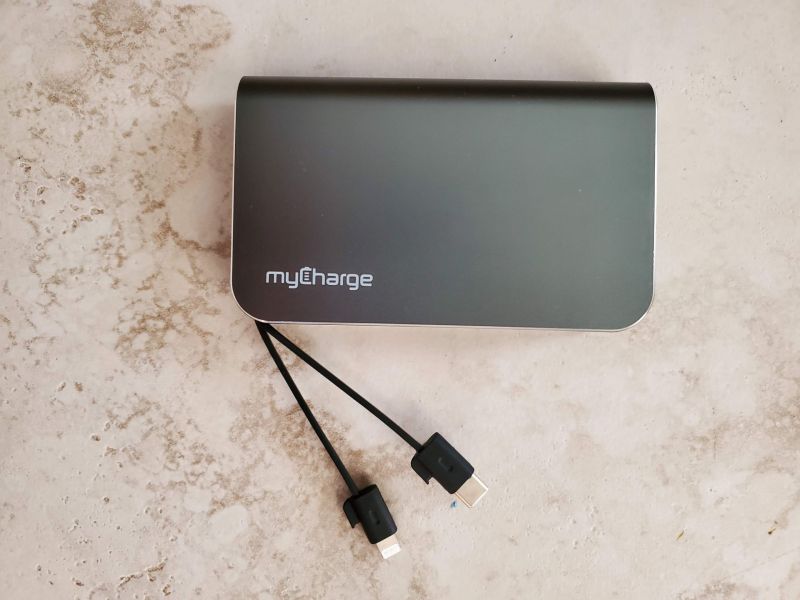 I took a picture of the battery with the two cables popped out so you could get an idea of how long they are.  They are not very long.  They are right at three and a half inches long including the charging tips.  You can see the wings that are on the side of each charging tip.  Those allow you to easily pull them out of the external battery.  Because they make pulling the cables out easier, they do stick out just a bit from the side of the battery.  I found they never caught on anything, and once I put them back in their slots, they tended to stay in place.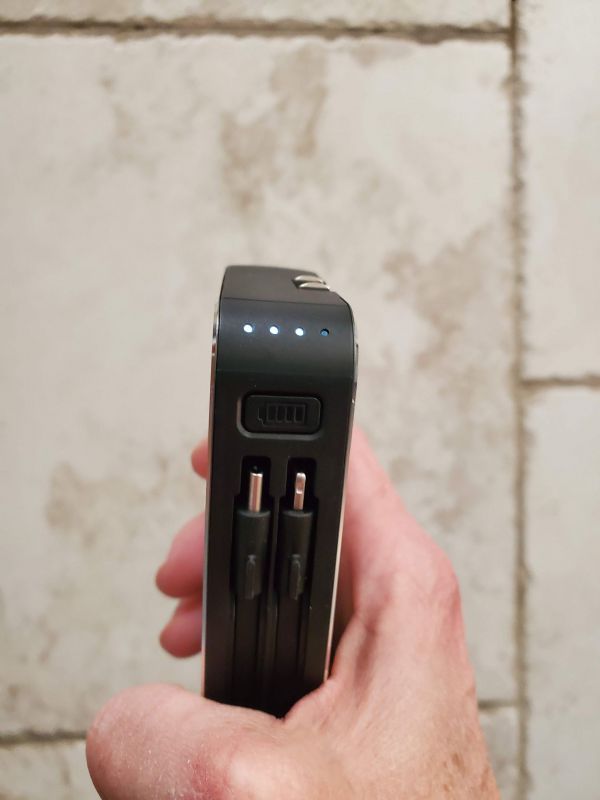 This last show shows you the four battery indicators that lit up when I pressed the battery indicator button.  In this case, only three have lit up indicating I have about 75% power left.
Performance
I have to say that I have found my new favorite external battery.  With previous batteries, I always had to worry about bringing the cord with me to charge my phone, and another if necessary to charge the device itself.  No one wants to carry around an external wall charger in addition to the battery itself.  I used the battery four nights in a row to top off my Note 10 which was sitting around 50% at the end of each day.  I know I could have gotten a lot more charges out of it, but I plugged in my phone every night and just went to sleep, so it kept topping off my phone all night long.
The device can charge other devices while it is recharging itself which is a nice feature.
The other thing that makes this battery a favorite for me is that it supports fast charging on my Samsung phone.  It has built-in Qualcomm Quick Charge which rapidly charges both iPhone and Android phones that support that feature.  Finally, the other great feature of this battery is that it will hold its charge for quite a long time in standby mode.  According to their website, the battery will maintain battery power for up to a year!  I had it sit around for about two weeks without using it, and it is still showing a full charge on the indicator lights.
What I like
Everything I need in a portable battery in a single package.  No power cords, wall chargers or charging cords needed.
Supports rapid charging
Holds charge on the battery for extended periods of standby mode.
A huge amount of battery power in the device – 10050 mAh
Small and portable
What needs to be improved
If I truly want to nitpick, I would love it if the USB port was a USB 3.0 port.  That is just a nice to have since I personally would just use the USB-C cable for most of my needs.
Final thoughts
If you have been thinking about getting an external battery, don't wait any longer.  Rush out and get this one.  Huge battery capacity, rapid charging, and everything you need in a single device with no extra cords or cables needed.  It is on sale on Amazon right now and there is also an extra $5 coupon off available.
Price: $99.99
Where to buy: Amazon
Source: The sample of this product was provided by MyCharge.