We use affiliate links. If you buy something through the links on this page, we may earn a commission at no cost to you. Learn more.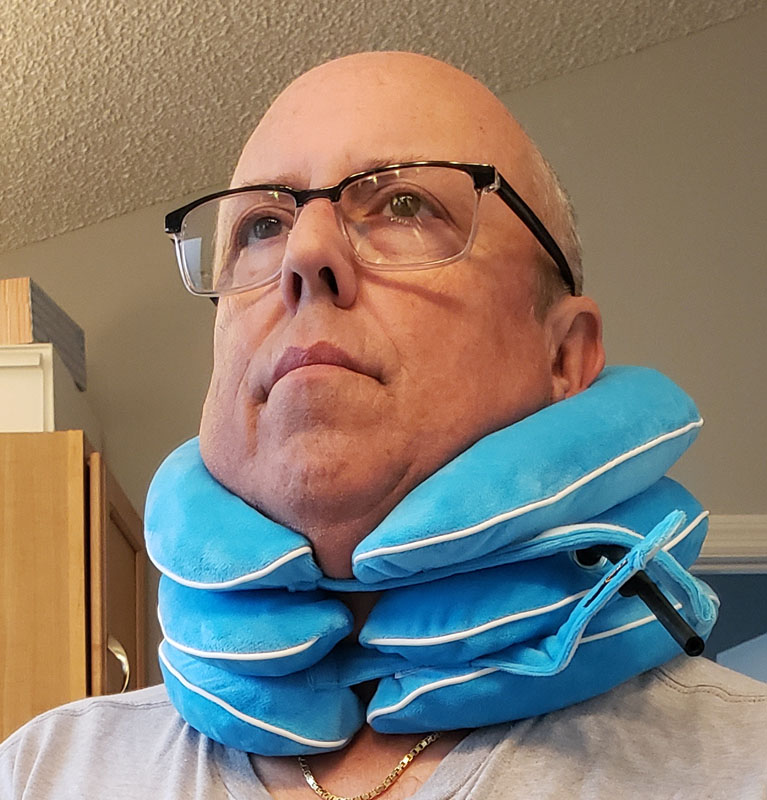 REVIEW – Traction.  What comes to mind when you hear that word?  For many of us, we think of snow, rain, or gravel, when our vehicle tires lose adhesion send us into spins. But traction has another meaning. Per Merriam-Webster, traction is also a pulling force exerted on a skeletal structure (as in a fracture) by means of a special device. This is a review of just such a device.
What is it?
From NeckFix's downloadable ebook (I take no credit for the grammar or lack thereof):
NeckFix is a cervical traction device used to help relieve pain associated with neck root compression by relieving pressure on the spine and skeletal system. It is gently stretching the tight muscles and soft tissues of the spine area. By helping to open the space between the compressed vertebrae, a traction device assists in releasing the tension and pressure of the vertebrae structure.
What's in the box?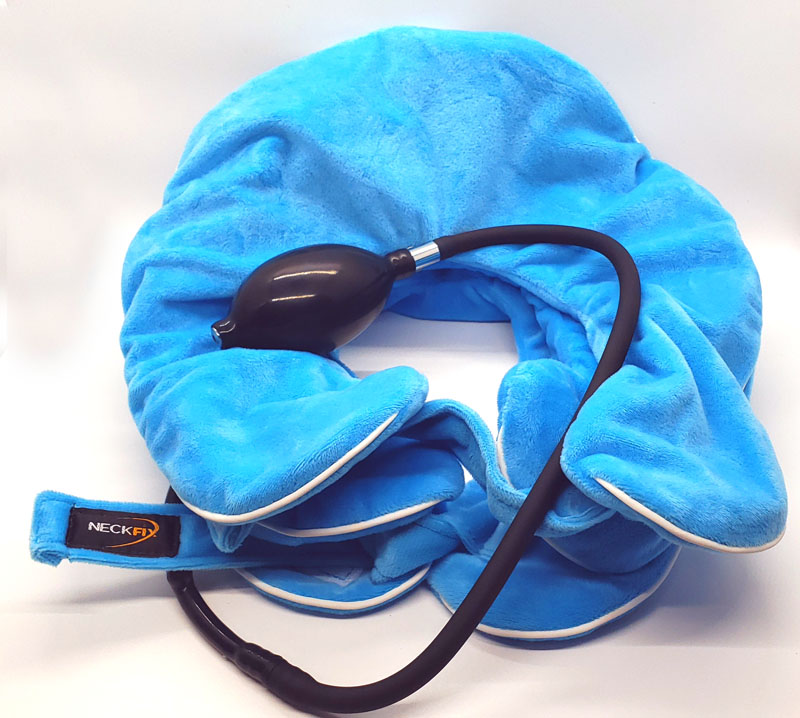 NeckFix cervical traction device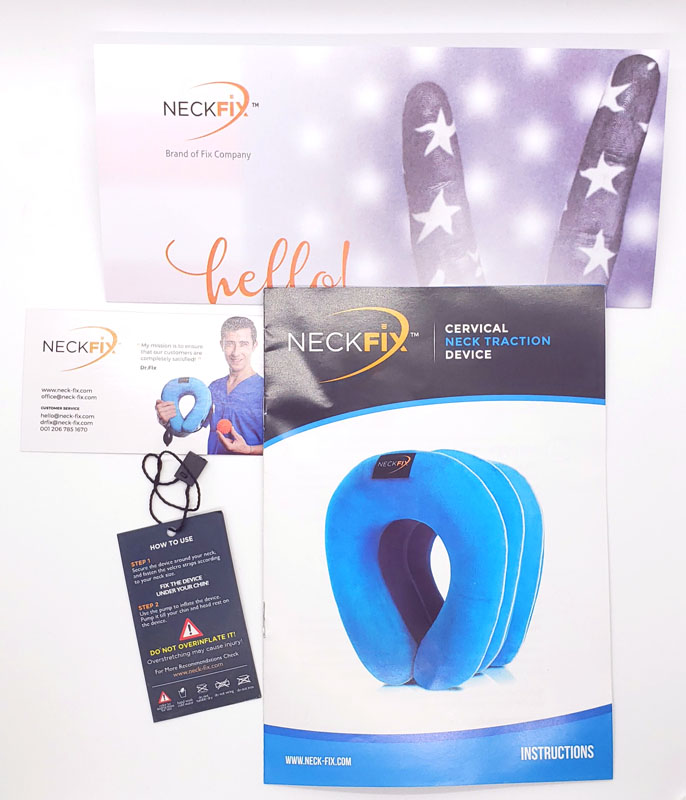 Welcome letter
Contact info business card
Use card (initially attached to the inflator tube)
Instruction booklet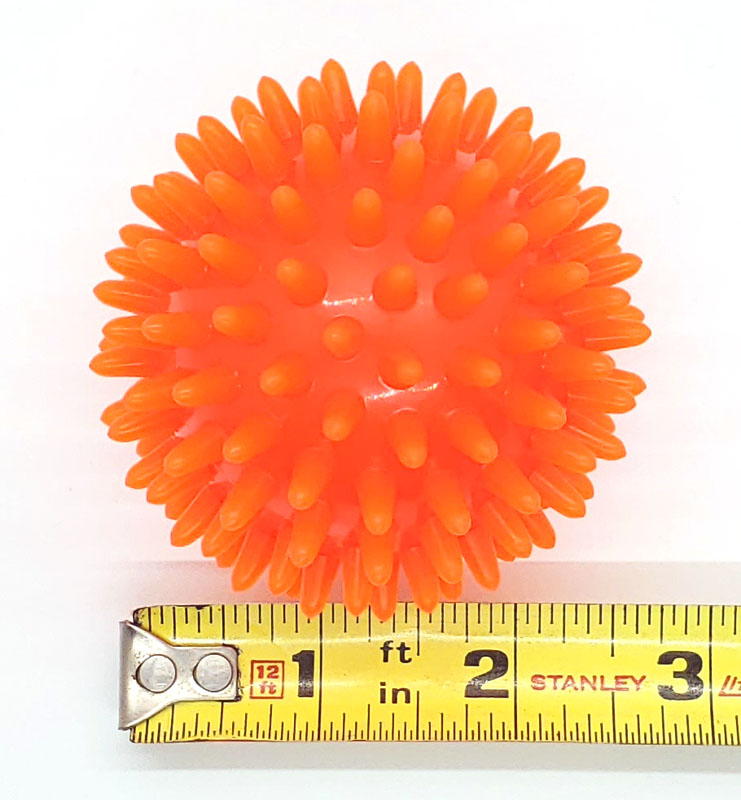 Trigger point therapy massage ball
Design and features
The device comes in two sizes, the standard size fits 12″-17″ necks and the large size fits 17″-20″ necks, based on the website description.  I was sent both sizes and the labeling on mine says the large size fits 18″-20″ necks. What's an inch, here or there?
The device is covered is very soft velvety fabric and has three inflatable expansion chambers.  They are inflated with a squeeze ball and tube.  If you've ever had your blood pressure taken, it's exactly that type of inflation process.  The inflation squeeze ball design was the only difference between the two sizes.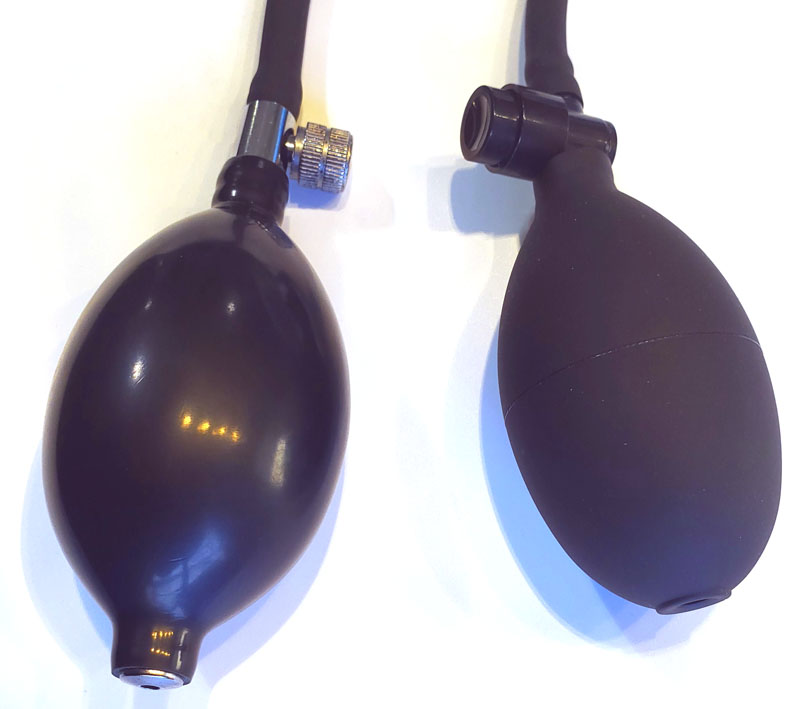 The larger model comes with a smooth rubber squeeze ball and a thumbscrew valve, like a typical blood pressure cuff, to close off the airflow and seal the device. The smaller model has a matte finish rubber squeeze ball and a pushbutton air release valve.
Since you are supposed to wear this for 10-20 minutes at a time, dragging that inflation ball around would be a pain…in the neck.  NeckFix thoughtfully added a disconnect so you can remove the tube and ball.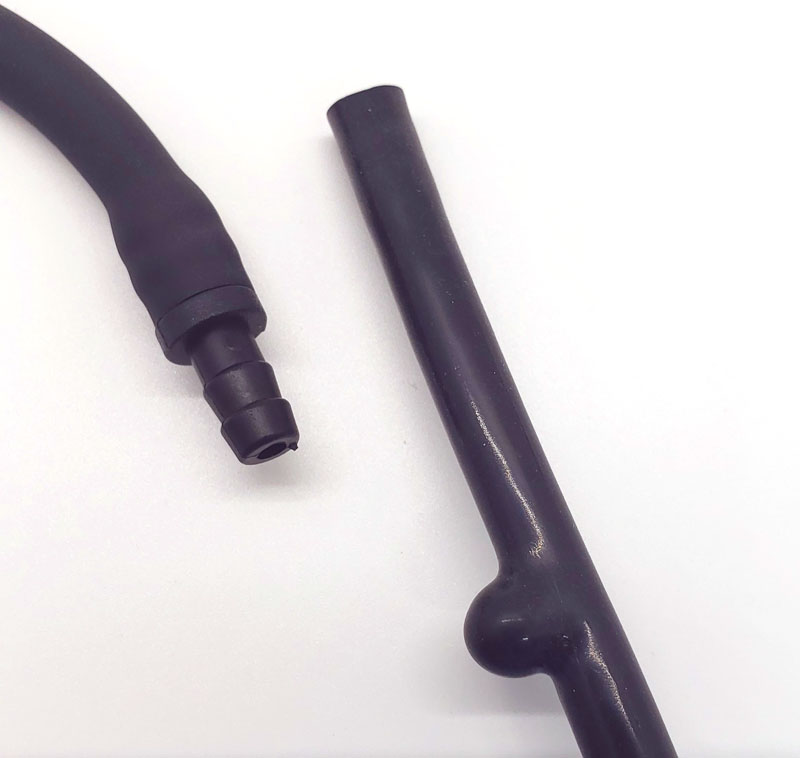 That bump is another sealing device.  Inside that bump is a small ball.  Before disconnecting, you squeeze the ball from the bump and into the main tube, effectively sealing the airway and preventing the device from deflating.  Here you see the ball wedged into the airway tube.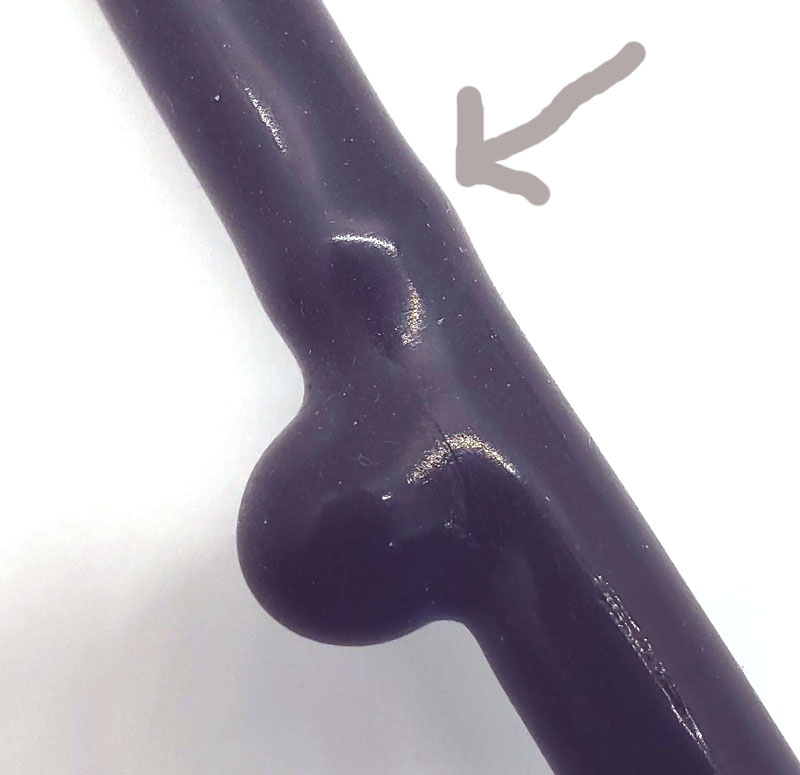 When you're ready to deflate, squeeze the ball back into the bump and open the airway. It sounds cumbersome but turned out to be pretty easy to do after a couple of tries. Still, you'd think there has to be an easier way.
The NeckFix attached with two Velcro straps in the front – you can see them in the cover photo.  It's pretty easy to size properly with the Velcro.
Performance
Deflated, the NeckFix is essentially flat, making it easy to store or pack.  Inflated, it expands quite a bit.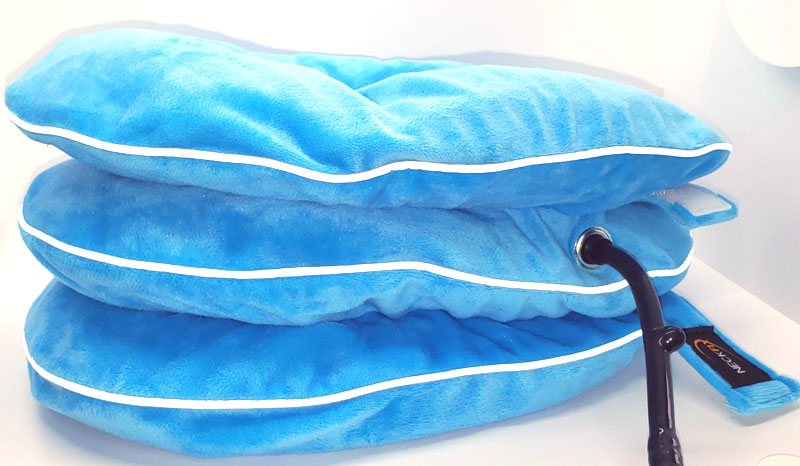 Because it is soft, it's hard to measure as pressure on one side pushes air to the other side.  Once in-place, inflating provides even pressure all over your neck, stretching the structures in the neck.
One major issue I have with the device is that the following warning is plastered all over every single piece of documentation provided as well as on their website:
Do not overinflate – overstretching may cause injury.
But…nothing in the documentation defines exactly what overstretching means.  So, it was up to me to determine how much to inflate it to get the benefit without overinflating and causing injury. No, I'm not a doctor, but I did stay at a Holiday Inn Express last night…
Here's the extent of the instructions provided:
Use the device 2-3 times a day initially (first 5 days) for 10 minutes, then increase to 15 minutes, up to 3-4 times a day as shown below:
Secure the device around your neck and close the Velcro Straps
Fasten the air-release screw before pumping
Use the pump to gradually raise the level of air to a comfortable stretch.
So again, it's up to me to figure out what is a "comfortable stretch".
Based on my own over-inflated neck, I opted for the larger of the two models. I strapped it around my neck, closing the ends together with the two Velcro straps, closed the thumbscrew, and started squeezing the inflator ball.  It takes a while to inflate.  I didn't accurately count, but I was somewhere in the 70ish squeeze range when I really started to feel the stretch.  In an overabundance of caution, I didn't go much further.
The device felt tight around my neck. I was able to really relax my neck muscles as the NeckFix device completely supported my head.  I sat and watched TV for a while. After about 15 minutes, I deflated the device. My neck felt extremely relaxed.
I occasionally suffer from a stiff neck.  Not sure what causes it.  Perhaps it's just a side-benefit of being 60. While NeckFix doesn't cure it, after using NeckFix, my neck does feel better.  Also, after I've been sitting with my laptop on top of my lap, looking down, I find that NeckFix does help ease the crick in my neck that I usually wind up with.
My lovely wife tried the smaller model and agreed that is is very soft and comfortable. She doesn't have any neck issues to speak of, so her feedback was just that it did feel relaxing not having to hold her head up for a period of time.
NeckFix also included the trigger point therapy ball.  According to the documentation, therapy massage ball is a great choice for targeted relief. It's easy to apply pressure directly to the point where discomfort is felt by using the floor, wall or any hard surface to stabilize the ball. For best results, build pressure and then roll the therapy massage ball from side to side or in circles to release knots and kinks. Great as a quick pre-workout warm-up or anytime you need relief.
Let's be clear here – the therapy ball is not, and I repeat, not comfortable to use.  It is hard, and the points jab. But, that's what it is supposed to do.  It is designed to push beneath the skin surface and stimulate the structures below. I don't like using it, so I can't offer much feedback on it. For me, if I want to release trigger points, I will use the Theragun G3Pro.
What I like
Comfortable
Easy to use
The therapy ball is a nice inclusion if you like that sort of thing
What I'd change
With the included caution about overstretching, a better description of correct use would be nice
The method to seal the airway could be improved
Final thoughts
I was skeptical that this device was like so much snake oil. After using it for multiple days, my neck does feel somewhat better, especially after long periods of looking down at my laptop or phone.  I can't say it is a cure-all for neck issues, but for me, it does seem to provide a measure of benefit.
Price: $19.97/$23.97 based on size (additional 10% discount for Prime members)
Where to buy: Amazon; also available directly from NeckFix for $27.97/$29.97 based on size
Source: The sample of this product was provided by NeckFix.