We use affiliate links. If you buy something through the links on this page, we may earn a commission at no cost to you. Learn more.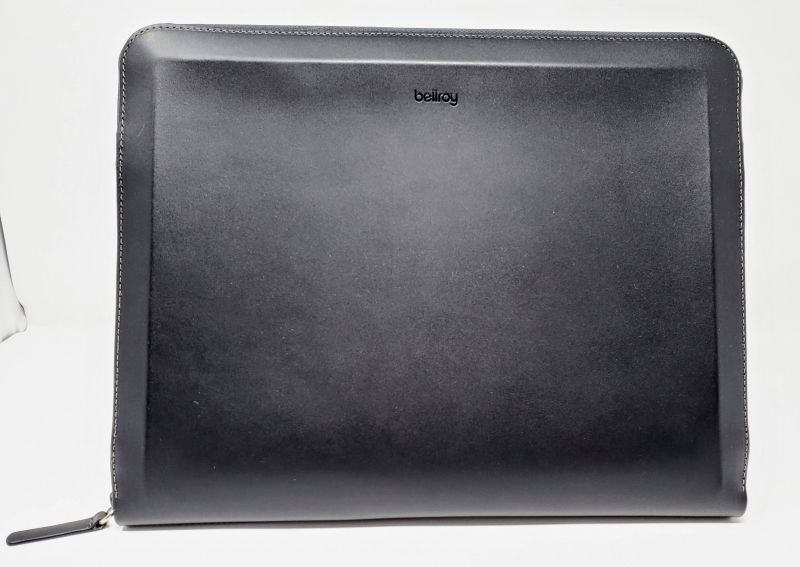 REVIEW – First impressions are everything.  Making a good one can boost your credibility and making a great one can seal the deal.  When you walk into a business meeting you want something at your side that will hold your gear and the tools necessary to cement that impression while simultaneously looking good.  The Bellroy Tech Folio takes aim at that goal, but does it deliver?  Read on to find out…
What is it?
The Bellroy Tech Folio is a zippered case that holds a small(ish) laptop, a tablet, a phone, pens, paper and other necessities for a mobile office lifestyle.  The folio is made from leather and comes in both black and caramel.
How it works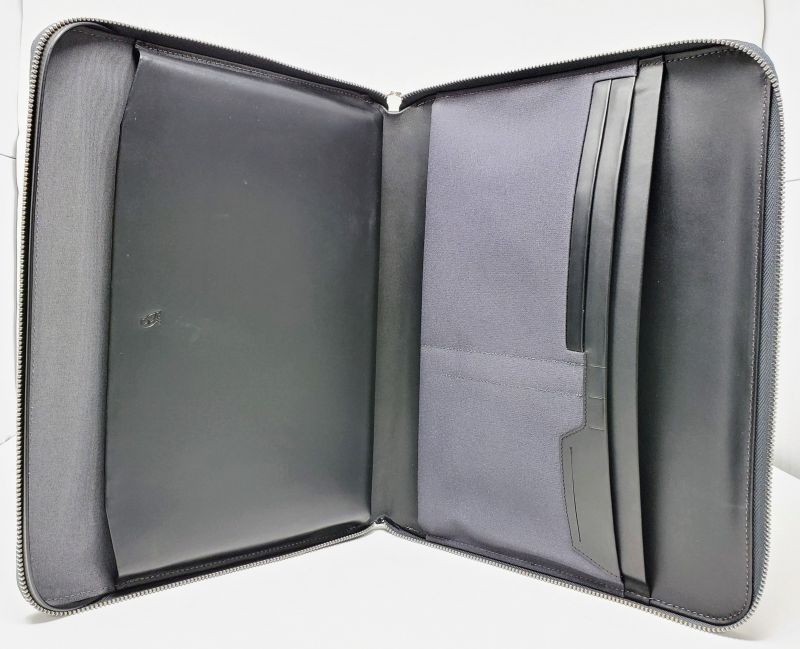 When you open the Tech Folio you are greeted with a laptop compartment on one side and an office compartment on the other.  Bellroy claims that the laptop side can handle up to a MacBook Pro 13 and is padded to protect.  The opposite side has padding as well and can handle a small tablet, a phone, some pens, and maybe a Field Notes-type notebook.
I recently had the opportunity to attend a workshop in Austin, TX, and thought this would be the perfect opportunity to try out the Tech Folio in the real world.  Normally I stuff all my gear into a backpack – plenty of room for everything, but if you have ever been to a crowded workshop, less than optimal for getting around.  If I could get all my gear into the folio, problem solved.
So here is what I carry:
Microsoft Surface Pro 7 plus power brick (and it lives up to the term "brick")
Samsung Galaxy Tab S6 (LTE via T-Mobile)
Samsung Galaxy Note 10+ (the smallest phone out there – not!)
Fisher Space Pen (because I live in Houston and it's the law)
Field Notes Pitch Black (3.5 x 5.5 dot graph style with 48 pages)
Time for the stuff test!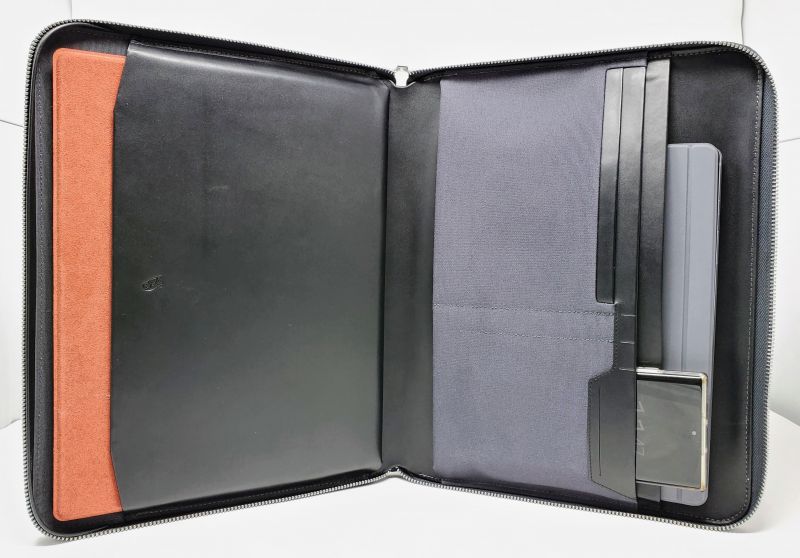 All of the items in the case – the important ones, at any rate – are pulled out slightly so you can see they are present.  All items fit snugly in the case.  On the left you can see the Surface Pro 7 with the red Type Cover.  On the right in the back is the Samsung Tab S6 and up front the Note 10+.  Behind the tablet is the Field Notes book (put there to give a little extra padding to the tablet).  Missing at the moment is the Space and Surface pens, but they go very nicely in the slot above the phone.
When loaded like this, there is not an obvious spot for the power brick.  The folio is large enough, however, that I could put the brick in the middle and just zipper the folio.  This is what the folio looks like when closed and loaded for business:

Pretty slim, right?  For reference, here is what the folio looks like when empty and closed:

Not much of a difference.  Stuff test: passed.
A couple of warnings, though:
First, when you load up this much, the folio (naturally!) becomes heavy.  Without a handle or hooks for a shoulder sling, it can be a little awkward to carry.
I don't know about you, but in the real world, my phone would likely never be in this case.  I would carry that on my person rather than tucked away somewhere hard to get at.
This may be a matter of breaking in, but I would hope that someday (soon) when opened the folio will lay flat.  I would love to be able to use the top of the laptop side to be my laptop stand, with all of my other stuff conveniently available just behind.  Right now, though, even loaded the case rests in a V making it hard to use as a portable desk.
In the end, though, is it worth the money?  Depends on your need.  The Tech Folio is really well made and has a casual business elegance to it, but that comes at a price – $339, to be exact.  I will leave it up to you whether this is the right price.  If you are routinely in front of clients (as I am), this is a great investment and one likely to be with you for many years to come.
What I like
The Tech Folio is almost TARDIS-like (bigger on the inside than on the outside)
It feels and looks very well made, and will likely take a beating and come out looking better for it
It's a mobile office without feeling like you are dragging your real office behind you
What I'd change
I'd add obvious business card slots, probably outside the laptop compartment
Provide some sort of personalization option (monogram, identity plate) – this is a premium case, so this omission is a little strange
Final Thoughts
The Bellroy Tech Folio is a great mobile office solution.  The price appears a little high, but once you get the folio in your hands, you'll see why it is priced as it is.  And it is versatile, so I can carry only what I need no matter the occasion (business trip, vacation, or any combination of the two).  If you are looking for a mobile office solution that will give you the tools you need and the style you want, the Bellroy Tech Folio should be at the top of your list.
Price: $339
Where to buy: Bellroy and Amazon
Source: The sample for this review was provided by Bellroy.  Visit their site for more information.