We use affiliate links. If you buy something through the links on this page, we may earn a commission at no cost to you. Learn more.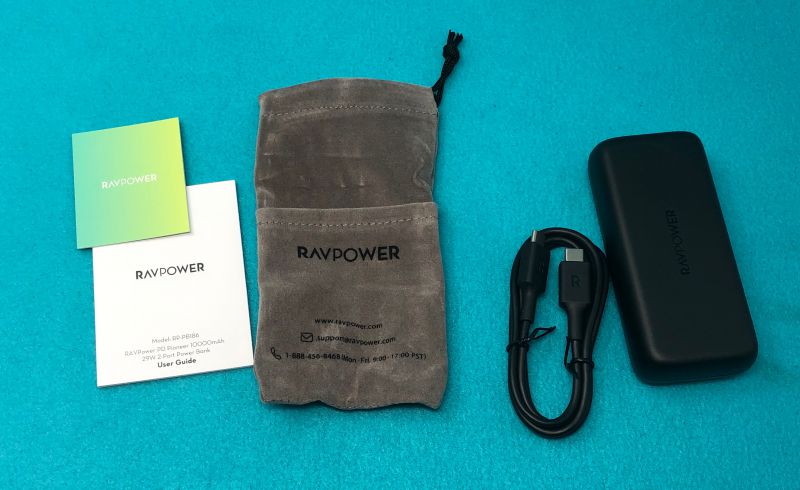 REVIEW – The world of power banks is changing. Manufacturers are using newer circuits to better protect your devices while allowing them to get the full measure of power offered by the various batteries they are connected to. RAVPower, no stranger to this website, has recently released the smallest 10,000 mAh battery pack I have ever been sent, and it sports both Power Delivery and iSmart charging, as well as having a USB-C charging port. Amazing! Let's take a look at this small wonder and see how it performs.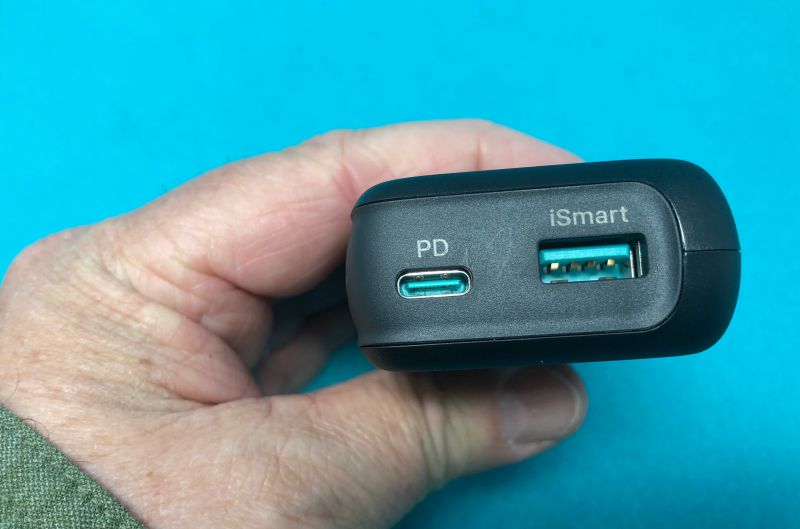 What is it?
A small, smooth battery pack that packs enough punch to power your phone and/or tablet all day.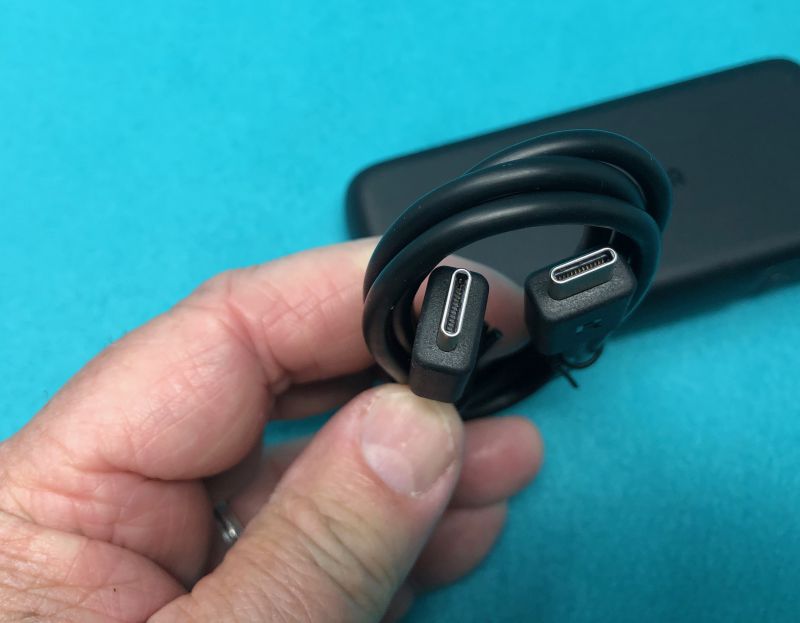 What's in the box?
Power Bank
USB-C <-> USB-C cable
soft drawstring carrying bag
Hardware specs
(From company website)
29W total output: dual output ports (total 29W) allow simultaneous charging of your devices without sacrificing charging speed
Small size massive power: a compact 10000mAh portable charger provides 4 charges for iPhone 8, 2.1 charges for iPhone 11, 2 charges for Samsung S10, or 2.2 charges for Pixel 2
Full recharge in 3 hours: power-up in just 3 hours with the included USB-C to C cable connected to a USB-C 18W power delivery wall charger (not included)
Better than ever: using LG 21700 battery cells, measuring 4.4 x 2.0 x 1.0 inches and weighing 6.7oz, This small portable charger is perfect for every day carry
Certified safe: built to strict jeita specifications, Ensures total safety including overcharging, overheating and short circuit protections
Note: the package only includes the USB-C to USB-C cable. And the lightning to USB-C cable is sold separately.

Design and features
The RAVPower Pioneer is a small, rounded rectangle that measures only 4.4" x 2.0" x 1.0", but puts out power like Thanos himself. On one small side, there are two ports, one PD (which is also the power input port) and one iSmart USB-A port. On one of the long narrow sides, there is a button with 4 LEDs beside it – the ubiquitous "gas gauge" that tells you how much power is stored in the device via soft blue LEDs. I like that these are very, very dim, so they don't blind you when you're trying to sleep beside your phone in a hotel room or a tent in the woods. Pretty spartan, right? Yet the performance rivals any other power pack I've ever reviewed.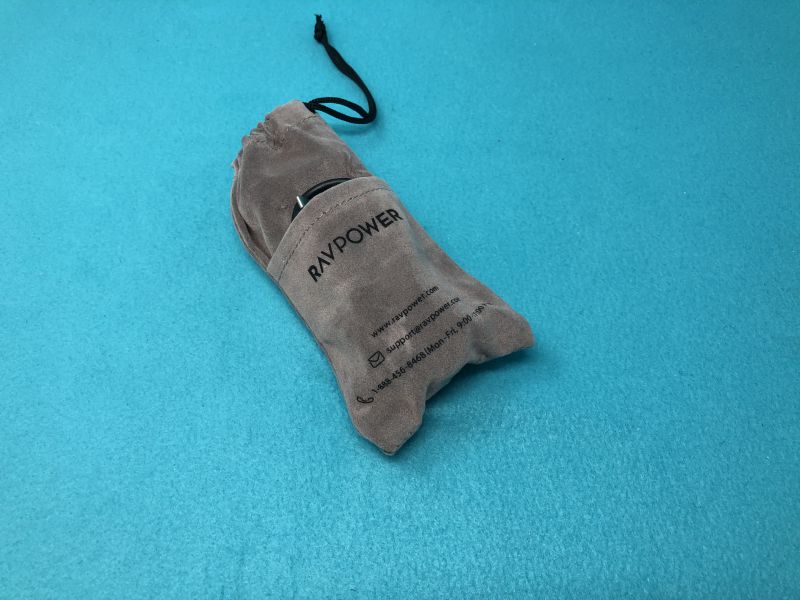 Performance
I found the Pioneer to be very fast in recharging our iPhones, especially while they were in constant use on a recent trip. We were using phones for navigating, taking pictures, looking up places that we wanted to go to (as one does on a trip), but we were in a place with intermittent cell service and several long stretches without much land in sight. (North Carolina's Outer Banks are beautiful, but not for the technologically faint of heart!) The Pioneer kept both our phones up to usable levels for two full days of birding among several National Wildlife Refuges. After the car charger failed to keep up with her use, the Lovely Bride was quite impressed with the performance of the Pioneer, which boosted her iPhone 8 from 11% to over 35% in the space of an hour of constant use.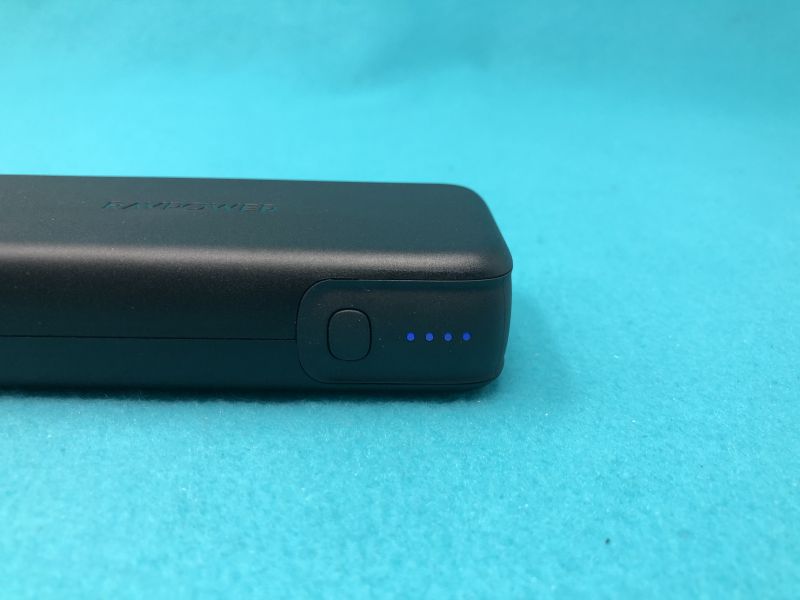 What I like
Small and sleek
USB-C
Lasts a long time when not in active use.
What I'd change
I can't think of a thing.
Final thoughts
Battery chemistry is currently on everyone's radar, as car manufacturers try to get us further down the road with electric cars, and information device manufacturers push and jostle each other to get to the top of the "Best Battery Life" pile. This, of course, benefits us as users of technology, but it also makes it difficult to know when to jump in to purchase a new unit. At this price point, however, the time is now. Under $45 for a 10,000 mAh power bank was unthinkable just a few years ago. Now, it's almost table stakes. The Pioneer is a great small device that holds a huge amount of potential energy in a tiny package. If you're needing a way to top up on the go, you would do well to invest here, now.
Price: $27.19
Where to buy: Amazon
Source: The sample of this product was provided by RAVPower.