We use affiliate links. If you buy something through the links on this page, we may earn a commission at no cost to you. Learn more.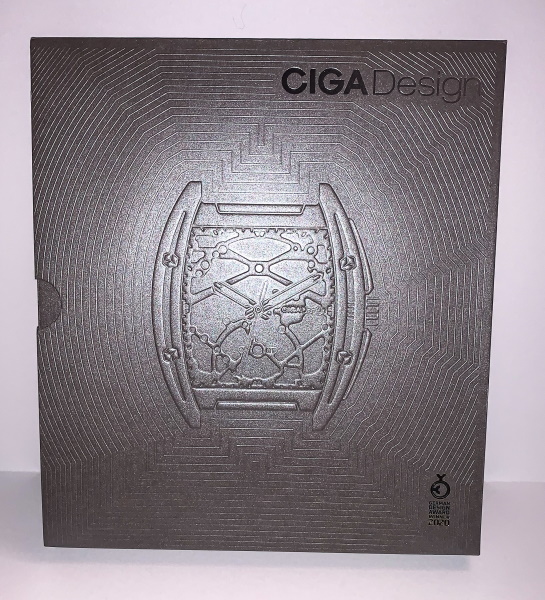 CROWDFUNDING REVIEW – For at least three decades, I have been a big fan of mechanical automatic watches, and have made a great effort to stay away from battery operated watches. I probably own a few more than a dozen automatic watches, and for the most part, I have had a good experience with them. Some of them do lose a bit of time at night when they are at rest, while others never skip a beat. No matter how long I have not worn them, with a few shakes and a time reset, all is well and they have all been good to go. I now get the chance to test, review and add the CIGA Design Z-Series Mechanical Titanium Watch to my collection. Let's see if I am still happy after wearing it for a while.
What is it?
The CIGA Design Z-Series Mechanical Titanium Watch is a transparent, fully automatic, water-resistant timepiece made from Titanium and Sapphire Crystal that is designed for men.
What's in the box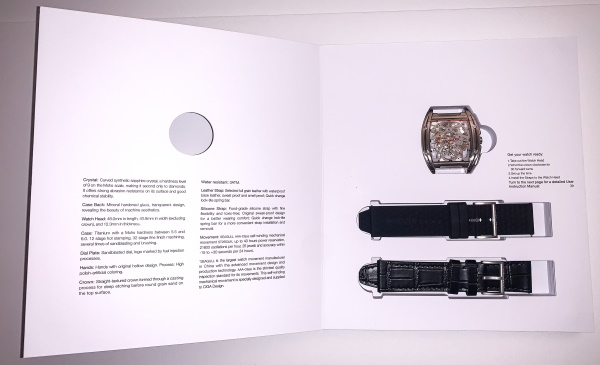 1 x CIGA Design Z-Series Mechanical Titanium Watch
1 x Leather Watch Band
1 x Silicone Watch Band
I x Presentation box with Printed Instructions
Design and features
Specifications
Customized SEAGULL AAA-Class movement ST2553JK
Energy storage of 40 hours
Movement frequency of 21,600 times/hour
Movement error range: -15 to +30 seconds/ 24 hours
Features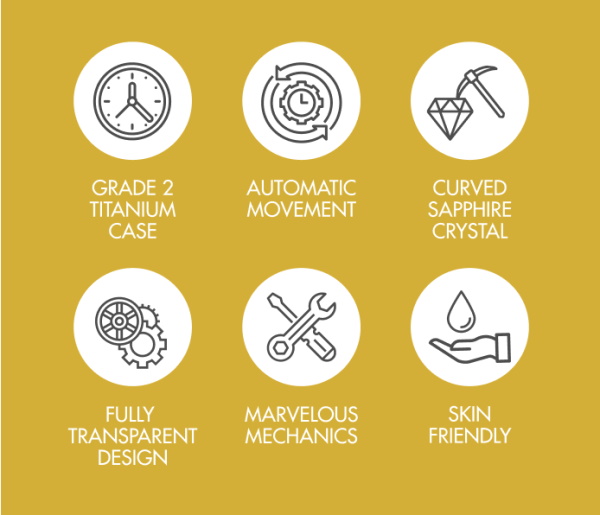 Before I discuss the watch, I must mention the box that it comes in. The sort of titanium-colored slim box and sleeve make it a simply beautiful package. If the presentation was everything, this watch gets 100%. And with the instructions printed as a page within the box, there is no waste and no extra booklet to lose. Now, on to the watch!!
The body of the watch includes an attractive titanium case, with a completely see-through mechanism. The watch came with 2 bands, one leather and once from a hypoallergenic silicone composition. I chose the latter since I have always found leather bands not to be my thing. The red marking on the hands makes the time readable in both low light and overly bright conditions. The back of the watch has the same see-through reveal and the markings that indicate the material composition of the case and the water-resistant specifications.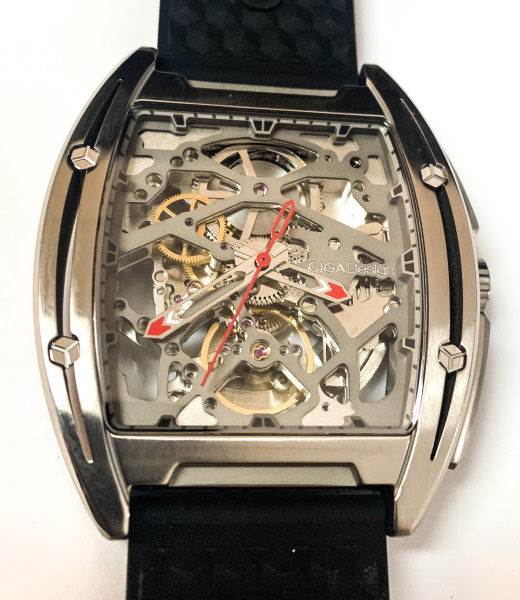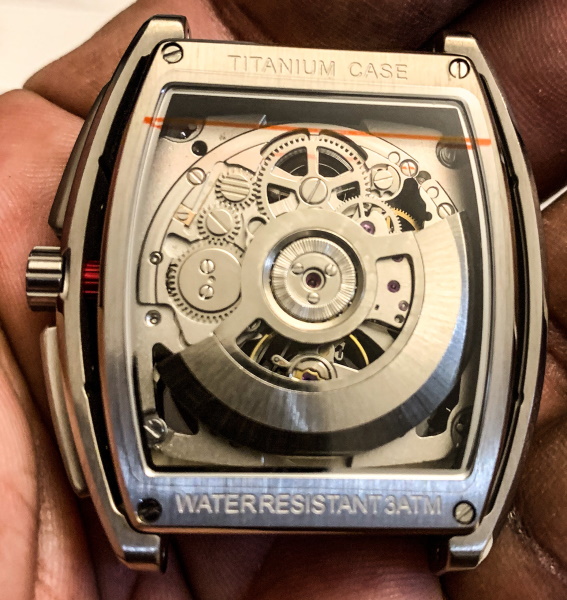 The edges of the case are nicely designed and the crown feels solid. Its design makes it is easy to turn with your fingers. On the edge of the case that is opposite the crown, there is the branding.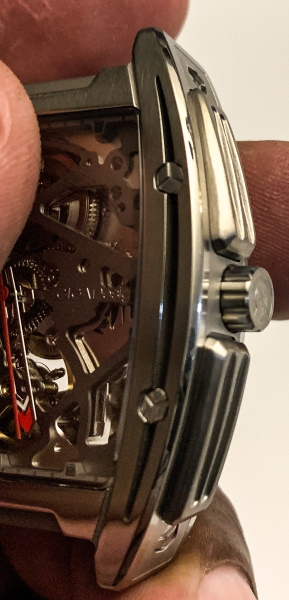 Performance
The instructions direct you to wind the crown approximately 30 revolutions and then attach the band of choice and you are good to go. Just as instructed, it is simply that easy to get going. The titanium case is beautiful, and the sapphire glass is clear and according to CIGA, it is scratch -proof. It is lightweight and a pleasure to wear. The inclusion of 2 different bands allows for nice user options. The see-through case that showcases the internal design and function is great, and I can say without any doubt that after weeks of wearing it, the time remains accurate.
"The Seagull AAA automatic self-winding mechanics keep your watch charged without the need for batteries. The natural movement of your wrist literally energizes your watch and makes its wheels and gears move. As you move, the spring winds, storing energy for up to 40 hours. No manual winding required!"
Movement from the front view
Movement from the back view
This is a really nice watch that is well made and I expect it to last a long time.
What I like
The build quality and materials used
The included watch bands
The water resistance feature
The design
The mechanical automatic movement
The fit, finish, and style
What I'd change
I  like the design. Nothing to complain about
Final thoughts
I usually wear witches that are round in design and over the years I have not been a fan of cases that deviate from that design. However, I have to say that I really like this watch. It is very attractive and I get regular compliments when wearing it. As a matter of fact, I have received offers from friends to purchase it from me. However, they are out of luck because this watch is now a permanent member of my collection. It maintains time perfectly even overnight, and is very comfortable to wear, being lightweight, I sometimes forget that it is on my wrist. I am giving it a very well done, and two thumbs all the way up!!
Price: Available from $249
Where to buy: Indiegogo
Source: The sample for this review was provided by CIGA