We use affiliate links. If you buy something through the links on this page, we may earn a commission at no cost to you. Learn more.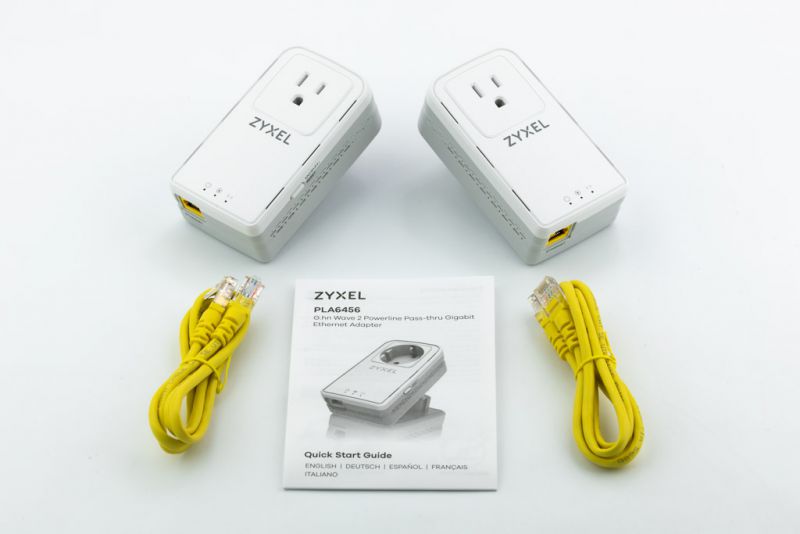 REVIEW – I've always been skeptical of powerline ethernet technology. When the chance came along to review the Zyxel PLA6456 powerline pass-thru gigabit ethernet adapter, I figured it would be the perfect time to see if my preconceived notions were valid. Read on to find out if I was correct!
What is it?
The Zyxel PLA6456 powerline pass-thru gigabit ethernet adapter is a pair of devices that transmit a network connection over the powerlines in your home or office.
What's in the box?
Two PLA6456 adapters
Two 3′ ethernet cables
Quick start guide
Safety warning and DoC
Hardware specs
Ethernet interface
One 10/100/1000 Mbps RJ-45 connector with auto MDI/MDIX support
LED Indicators
+ Powerline network quality (Green: Best, Amber: Better, Red: Good)
+ Ethernet link/activity
Button
Encrypt/Reset Button
Transmission Speeds
Powerline up to 2400 Mbps, Ethernet up to 1000 Mbps
Power rating
100 to 240V AC, 50/60 Hz
Socket/Connector
US outlet (15A Max. 110V) / EU outlet (16A Max. 240V)
Design and features
The Zyxel PLA6456 powerline pass-thru gigabit ethernet adapter installs simply by plugging them into a wall outlet. One adapter connects to your modem/router (internet source) via the included network cable. The other adapter is connected to the device you need a connection on elsewhere in your home. It's pretty simple, you pretty much plug everything in, and it works.
My initial skepticism was based on my electronics background, and from things I heard many years ago. I must admit, I was wrong about this technology. It works great.
The PLA6456 has an advertised range of up to 500 meters. As a reference point, I ran a speed test with my wired desktop computer, which returned a result of 300Mbps download, 24Mbps upload (300/24) with a ping of 21ms.
I connected the first adapter to my router, located in my basement office. I plugged in the second adapter into an outlet about 30 linear wall feet from the router, on the other side of my office. It's hard to tell precisely how much distance wiring-wise this is. A speed test returned a speed of 299/24 with a ping of 33ms. I was impressed. I little longer of a ping time, but nothing that you would notice.
For my next test, I took the second adapter upstairs directly above my office and plugged it into a different circuit. The speeds dropped to 200/24 with a ping speed of 25ms. This is a very respectable speed and right on par with what I get with my wireless connection in that location.
My third test took me to the far end of the house, the furthest main floor bedroom outlet. The speeds dropped to 150/24 with a ping speed of 27ms. That would be plenty of speed for my wife's office.
My next test was something I was really targeting with this review. My garage is detached and sits proximately 30 feet behind the house and about 70 linear feet from the router and who knows how many feet of wiring. My garage is right on the edge of my wireless distance, so I often have difficulty with signal out there, especially for low power smart devices like cameras.
Plugging the second device into the garage outlet netted a speed of 130/24 and a ping of 28ms. Call me impressed. 130Mbps is faster than my main internet connection was just a couple of years ago.
One thing to note is that because this transmits over the powerlines in your home or office, it's ability can be limited by the quality of the wiring in your home or office. The speed can also be reduced if there are any electrically noisy appliances or devices.
What I like
Easy of use, pretty much plug and play
Respectable speeds
Pass-through outlet
What I'd change
Final thoughts
It's always refreshing when you are impressed by technology that you were skeptical about. Honestly, I was surprised at not only how well it worked, but the respectable speeds it was capable of. This would be the perfect device for any location in your home that has difficulty with wireless signals.
Price: $99.99
Where to buy: Amazon
Source: The sample of this product was provided by Zyxel.