We use affiliate links. If you buy something through the links on this page, we may earn a commission at no cost to you. Learn more.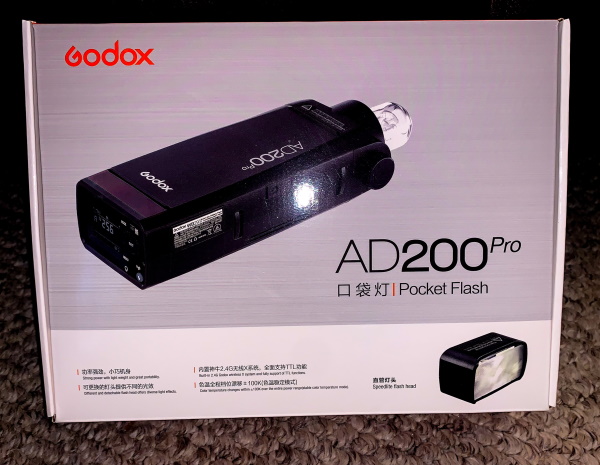 REVIEW – Every photographer that I know loves new camera gear and loves to try any gear that will help to produce the best photos. Flashes are an integral and very important part of photography for many reasons ranging from the simple need for light to fulfilling the art of creativity. A compact, efficient and capable flash strobe is one of the usual desires for a complete gear bag. The Godox AD200 Pro is known as a small and compact but exceptionally capable pocket flash/strobe flash. Let's see!!
What is it?
The Godox AD200 Pro is a TTL Pocket Flash that offers the choice of using either a standard Speedlight head or a bare bulb head to give you the option of two distinctly different qualities of light. It features 200Ws of power adjustable in 9 steps from 1/256 to 1/1, recycling from 0.01 to 2.1 seconds, and flash durations as short as 1/15,380 sec., and 3 flash modes: Manual, TTL, and Multi (Stroboscopic). The flash runs on a removable, rechargeable lithium battery that will give you up to 500 full-power flashes and thousands of lower power flashes. Firmware updates are offered on the Godox website.
What's in the box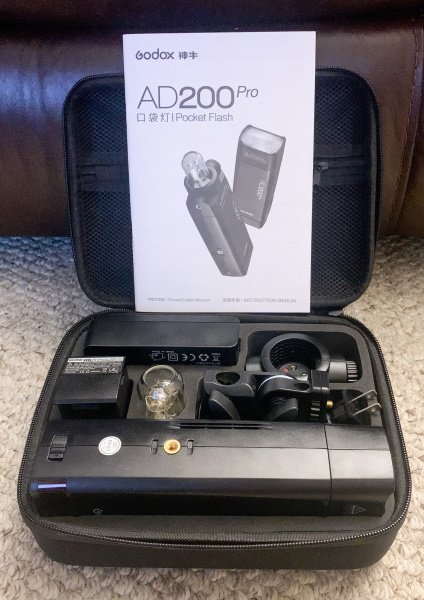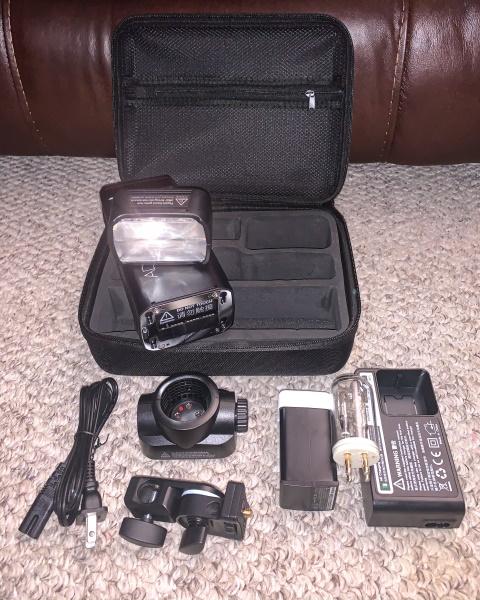 1 x Godox AD200 Pro Pocket Flash
1 x Speedlite Flash Head
1 x Bare Bulb Flash Head
1 x AD-E2 Holder
1 x Battery Charger
1 x Lithium Battery Pack
1 x Storage Case
1 x User manual
Design and features
Technical Data: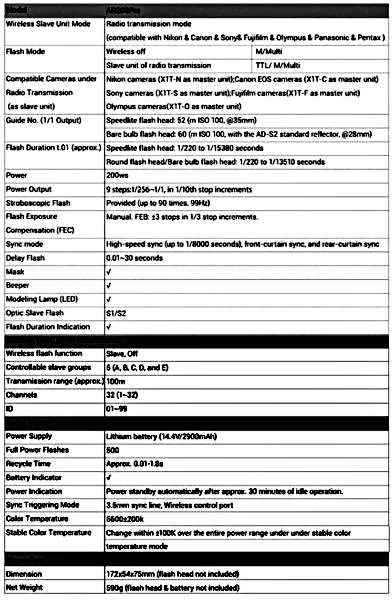 Features
Dedicated Stable Color Temperature Mode: which improves color consistency to within +/- 100K throughout the entire power range
Expanded nine stop power range: From 1/256 to 1/1, with 1/10th-stop increments
Faster full-power recycle time:  1.8 sec
Inclusion of a USB Type-C port: For updating the flash's firmware
Upgraded metal flash holder/umbrella mount: For more secure and stable attachment to light stands
Enhanced control panel: Includes a recessed design, additional navigation buttons, and a revised On/Off switch
Wireless: Built-In 2.4 GHz Wireless X System
Built-in wireless receiver: control triggering power level, alert beep with an optional wireless transmitter. Compatible with Nikon, Canon, Sony, Olympus, and Fuji TTL
Bare Bulb and Speedlight Flash Heads: Bare bulb and Speedlight flash heads are included to vary your quality of light. Color temperature is a steady 5600K over the entire power range
Large Capacity Lithium Battery Pack: The 14.4V / 2900mAh battery pack gets 500 full-power flashes with 0.01 to 2.1-second recycling
AV Panel: Easily readable digital panel displays your adjustments
The top and bottom larger flat sides of this flash are quite simple. On the back of the top side, there is the light sensor and on the opposite side, there is a 1/4-20″.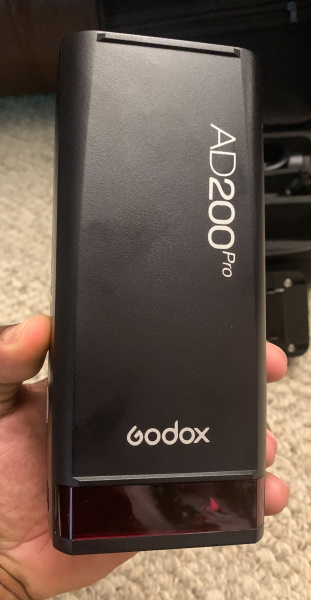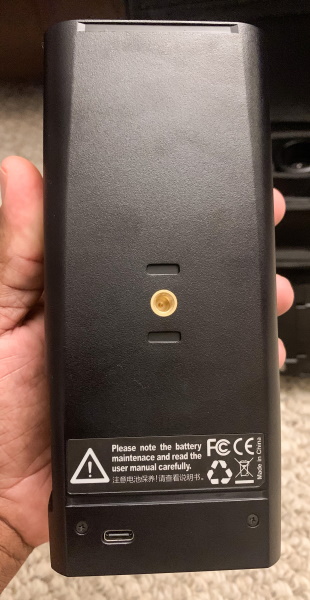 On one long side of the flash body, there are 2 release buttons for the head and the battery, a wireless control port, a sync cord jack, and the battery compartment. On the opposite long side, there is a 1/4-20″ mount.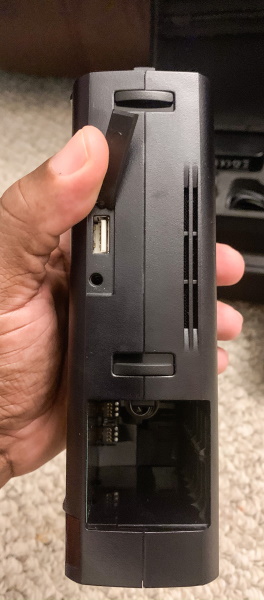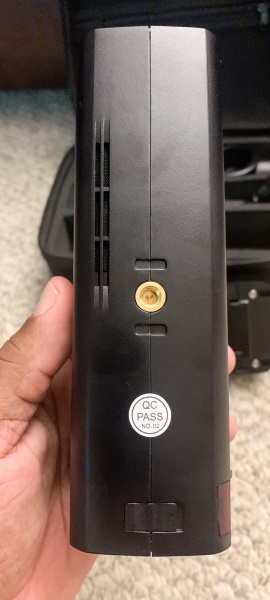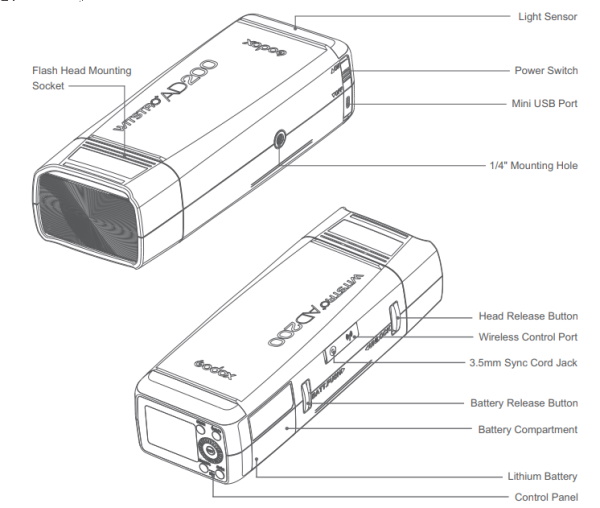 The front side has the connector for the heads and on the rear, there is the control panel.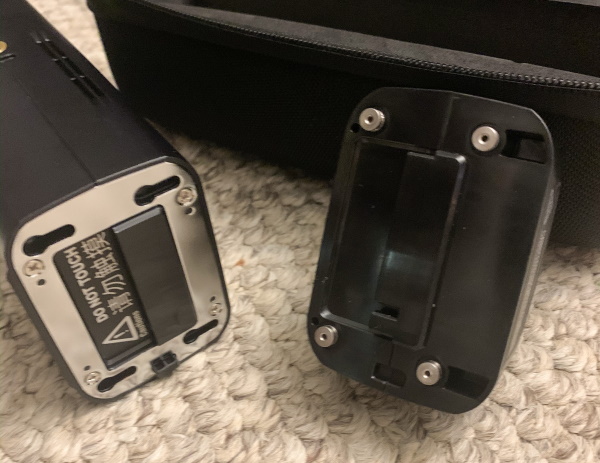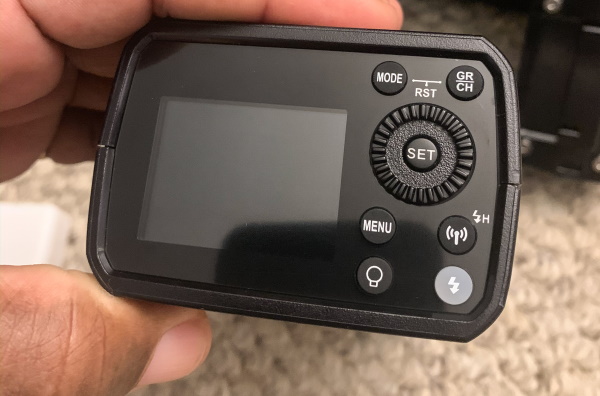 The photos below show the 2 heads that come with this kit as well as the bare flashbulb and its connectors.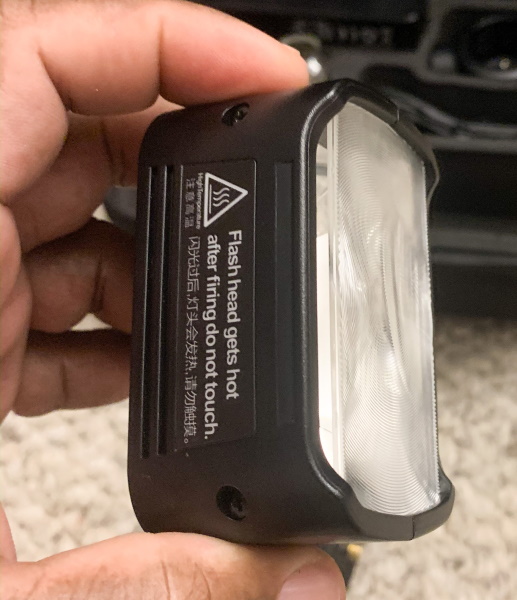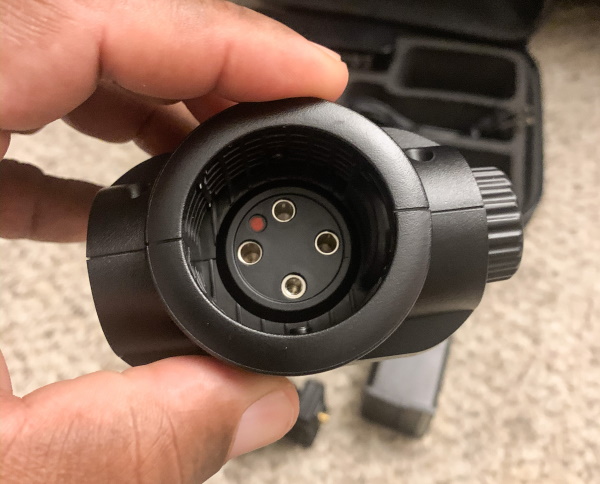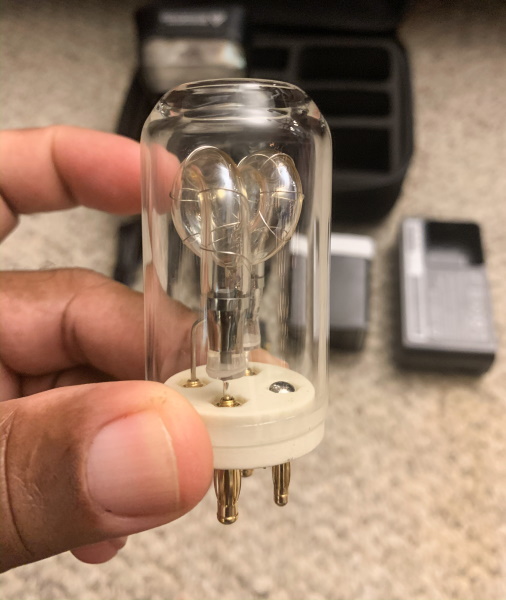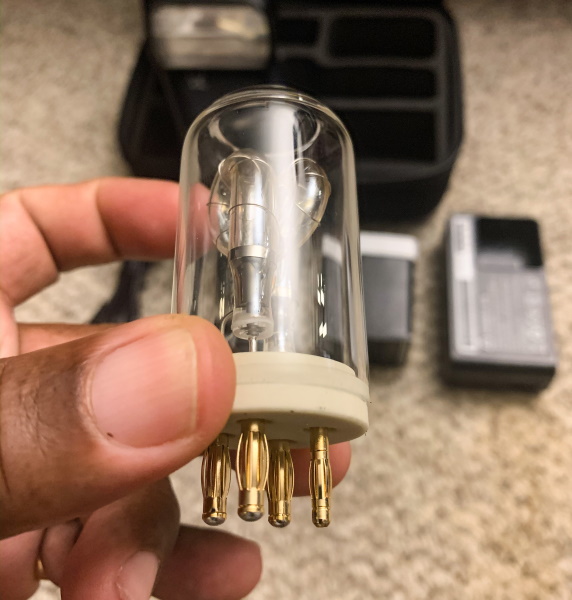 Performance
This flash is very easy to set up and use. Once you charge the battery, you push it into the battery compartment and push the power switch. The control panel lights up and from there you can adjust the settings to suit your shoot. I am not going to go through a settings tutorial, but I have included a link to the User Manual at the end of this section.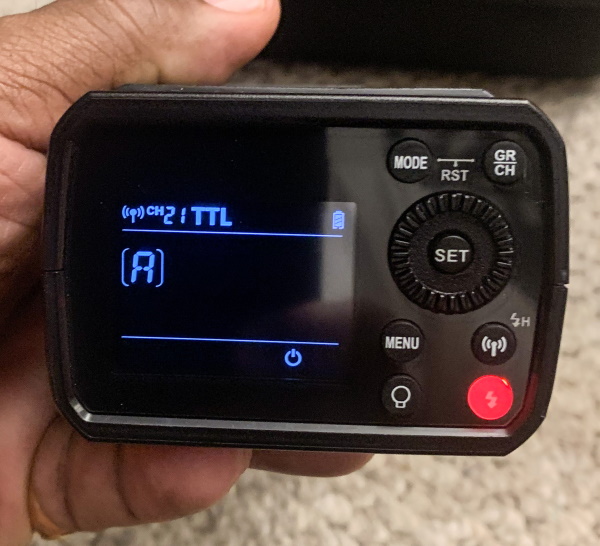 You can push the red button to test the flash.
The photo below shows a setup for one of my photoshoots at a client's location. On the left, there is the AD200 Pro mounted in a Bowens bracket with a 22″ beauty dish. That all sits on a C-stand.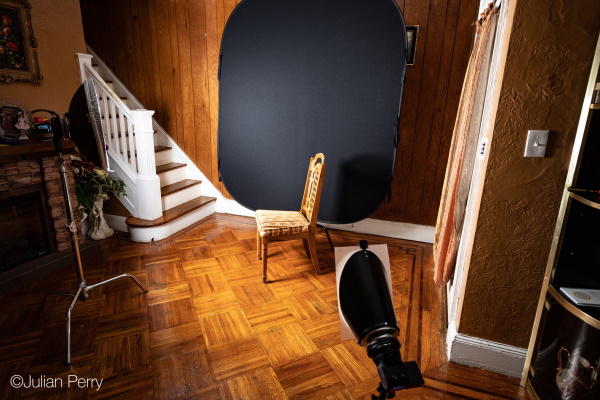 The following are some of the photos taken with the AD200 Pro using the setup above.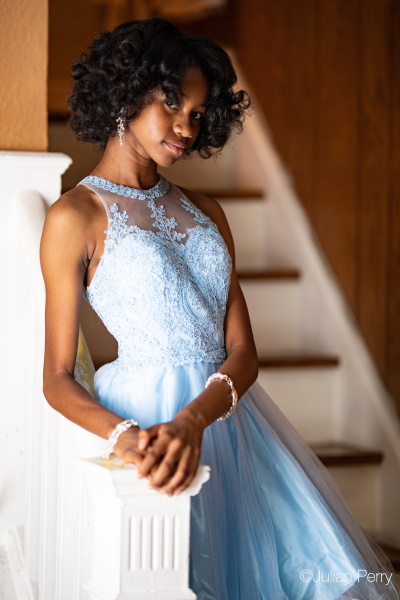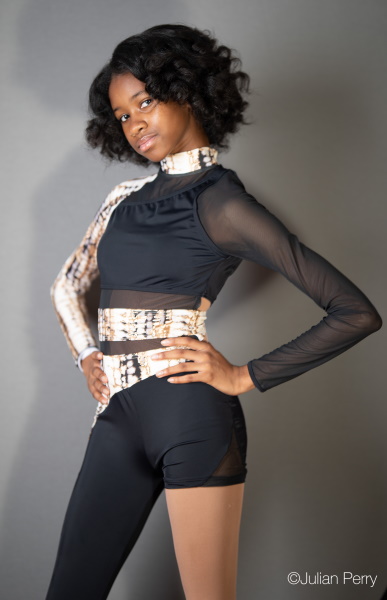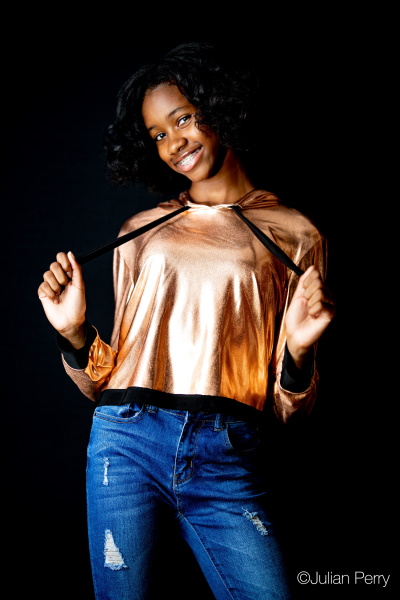 Notable optional accessory:
The Dual Power Flash Bracket for AD200 from Godox allows you to mount two AD200 Pocket Flashes together to double the flash power. The bracket has a Bowens S-type front accessory mount and a 5/8″ receiver for light stands.
Godox AD-B2 Dual Power Twin Head Bowens Mount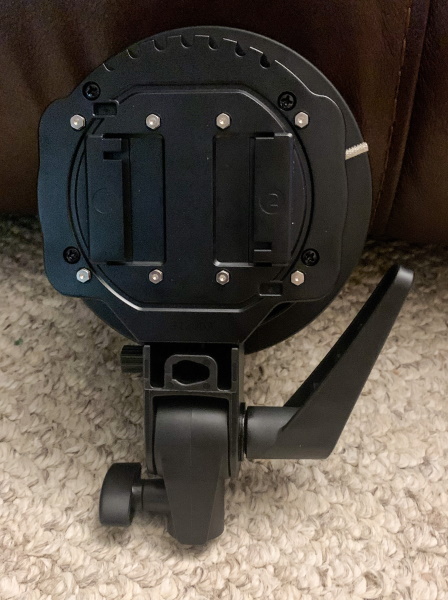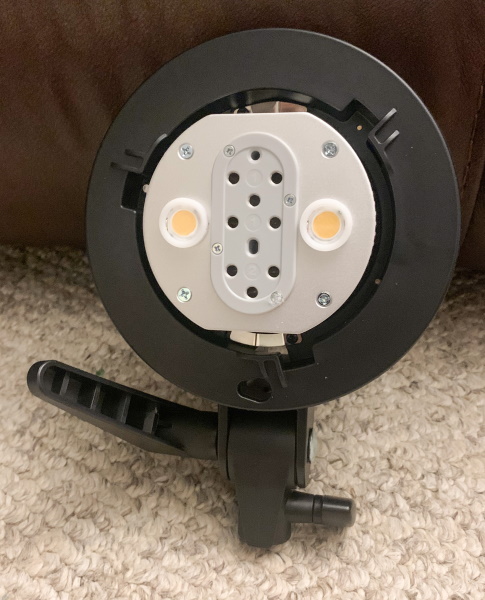 Click here to read the Godox AD200 user manual.
What I like
The compact size
The convenient and functional design
The built-in versatility
The flash output
The overall quality
The portability
What I'd change
Nothing that I can think of at the moment
Final thoughts
The Godox AD200 Pro is an amazing and capable flash strobe, that delivers enough flash power for both indoor and outdoor shoots, and it is light and compact enough to use in-studio and on the road. While you do have to be careful when handling it, there are options like the dual power twin head mount that allow you to easily double your power when battling outdoor light. There is also an optional flash head extension that allows you to secure that actual flash body to the upright of the stand and just mount the extension head as needed. This helps to protect the flash body if your light stand falls. I use heavy-duty but portable C-stands, to minimize this risk and to protect all of my mounted gear. I give the Godox AD200 Pro a well done and two thumbs way up!!
Price: $349
Where to buy: The Pergear website and Amazon
Source: The sample for this review was provided by Pergear