We use affiliate links. If you buy something through the links on this page, we may earn a commission at no cost to you. Learn more.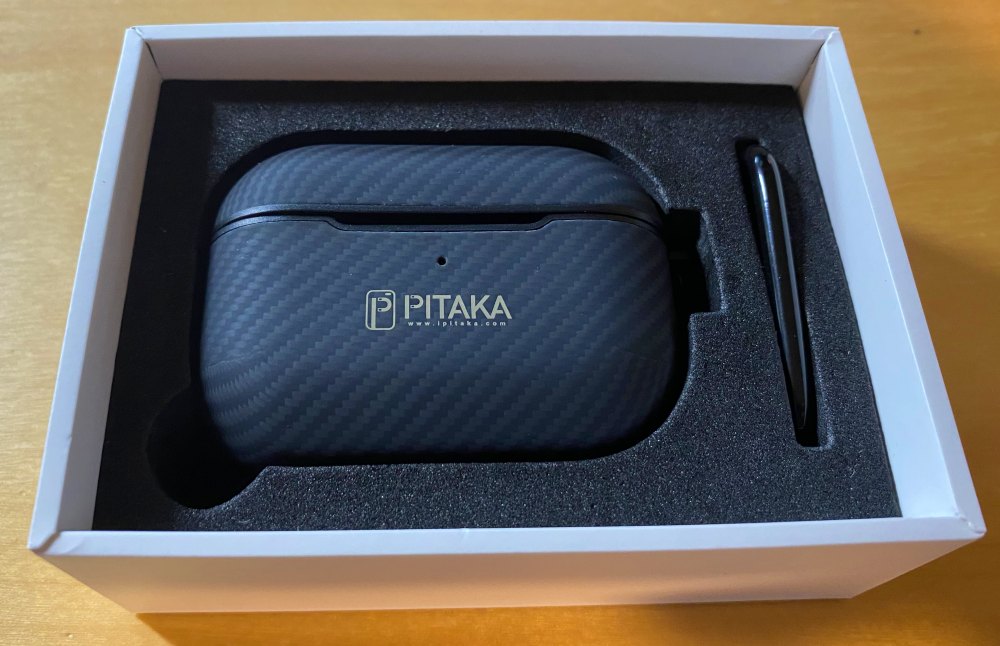 REVIEW – Did you get a pair of AirPod Pros over the holidays? I'm betting a good number of you did. If so, Pitaka has you covered. They've got an updated version of their Air Pal Mini just for the AirPod Pros. I've been using it for the last month and would like to share my experience.
What is it?
Air Pal Mini is a two-piece protective cover for your AirPods Pro charging case.
What's in the box?

Air Pal Mini (2 halves)
Carabiner and split ring
Thank you envelope and card
Hardware specs
Material: Made from 600D Aramid fiber
Charging: Supports both wireless and wired charging (through lightning connector)
Compatibility: AirPods Pro (Separate design available for AirPods 1 & 2)
Design and features
Air Pal Mini is vacuumed formed to precisely fit the contours of the AirPods Pro charging case. It does not increase the size much and adds drop protection, an anti-slip finish and a handy carabiner. Aramid is used in body armor and aerospace applications. There's plenty to read about on Pitaka's site.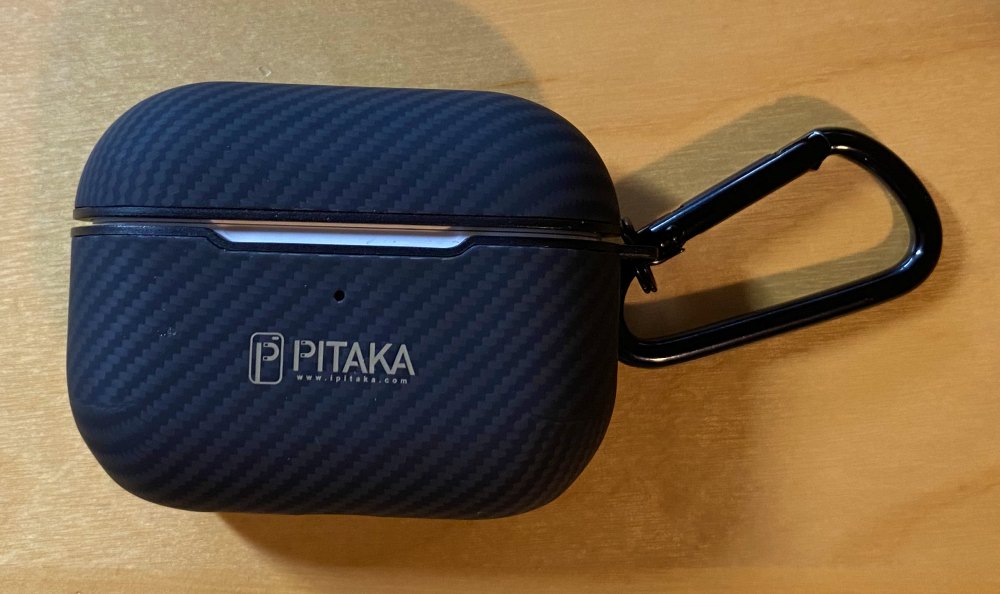 The smaller cutout on the front (above) makes the newly covered case easy to open.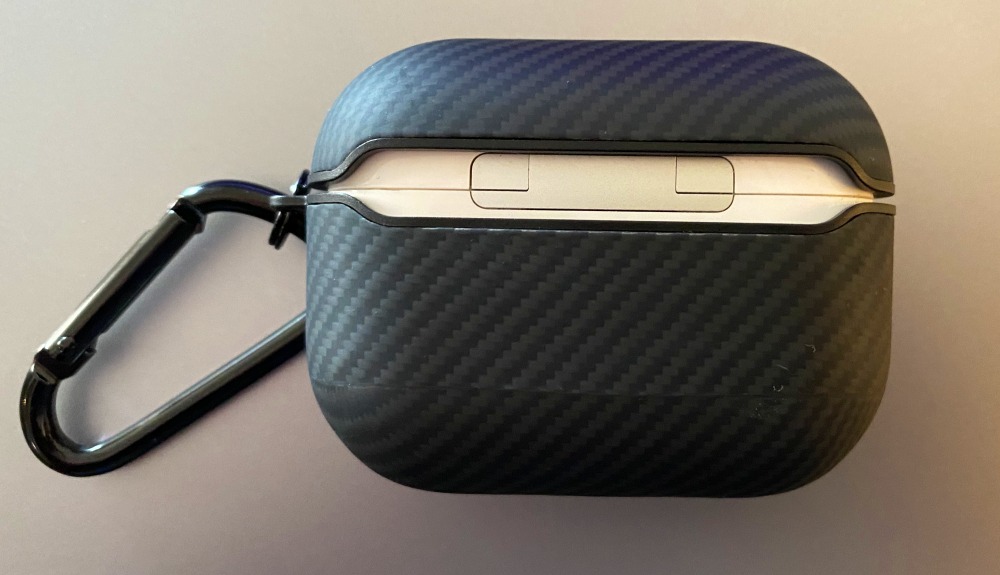 The larger cutout at the rear happens to look like a ninja to me…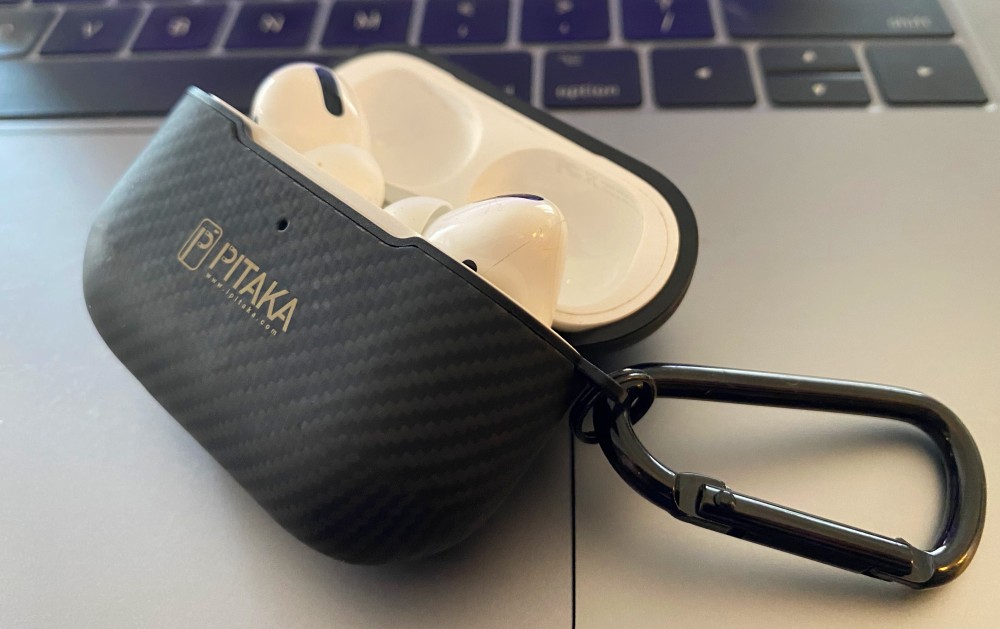 but allows the charging case to open fully, as it should.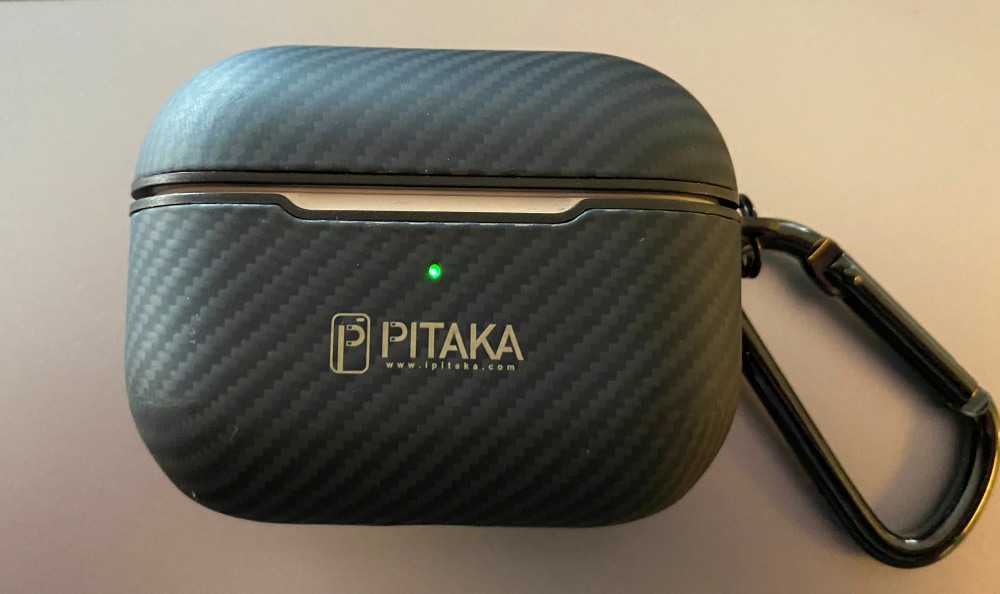 A small pinhole lets you see the status LED for the brief period Apple has it lit.
Setup
Installing the Air Pal Mini is a quick 2-step process, but first you should wipe down and fully dry your AirPods case to make sure it's as clean as possible.
The bottom cover has a Pitaka logo front and center and a small hole just above it for letting the status LED show through. You'll want to make sure that lines up with your AirPods case.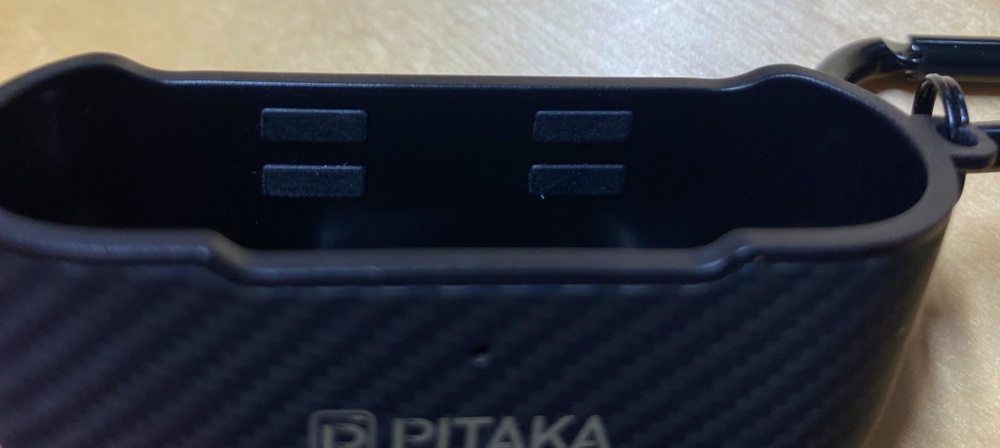 Inside, you'll see 4 small rubber pads on the front and the back which will keep the cover in place. To install, push the cover onto your AirPods case. When fully seated, the top edge lines up with the split in the AirPods case.
The top cover has a big notch that will face the rear to allow the hinge on your AirPods case to function properly. Inside the top you'll see a larger sticky pad with clear film over it.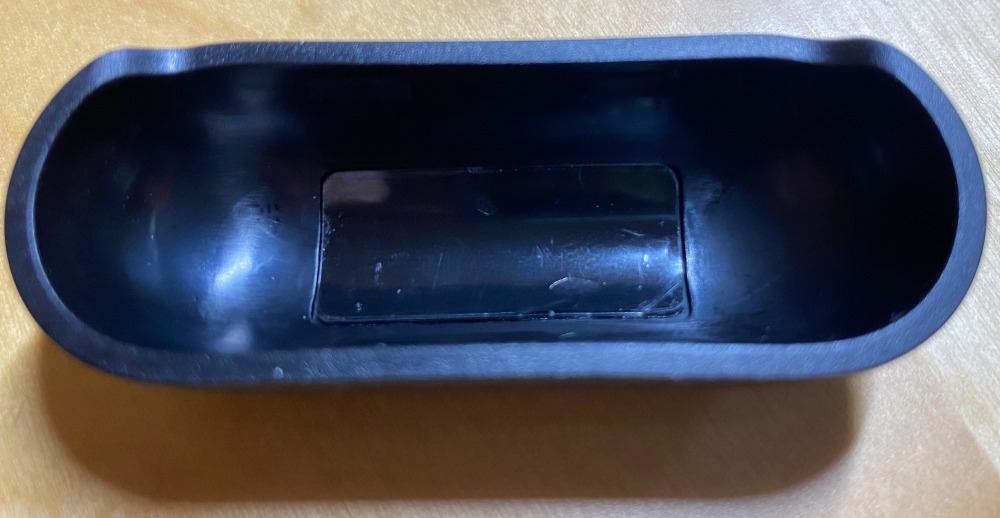 Peel the plastic off the inside sticky pad inside the top of the cover and then push the cover onto your AirPods case, applying good pressure to make sure the pad sticks.
Performance
Here's what my AirPod Pros looked like before getting the Air Pal Mini to review. Yep, that's a bit of gaffer's tape. I found the case to be way too slippery and this was an easy fix. It doesn't offer any additional protection however and that's where the Air Pal Mini comes in.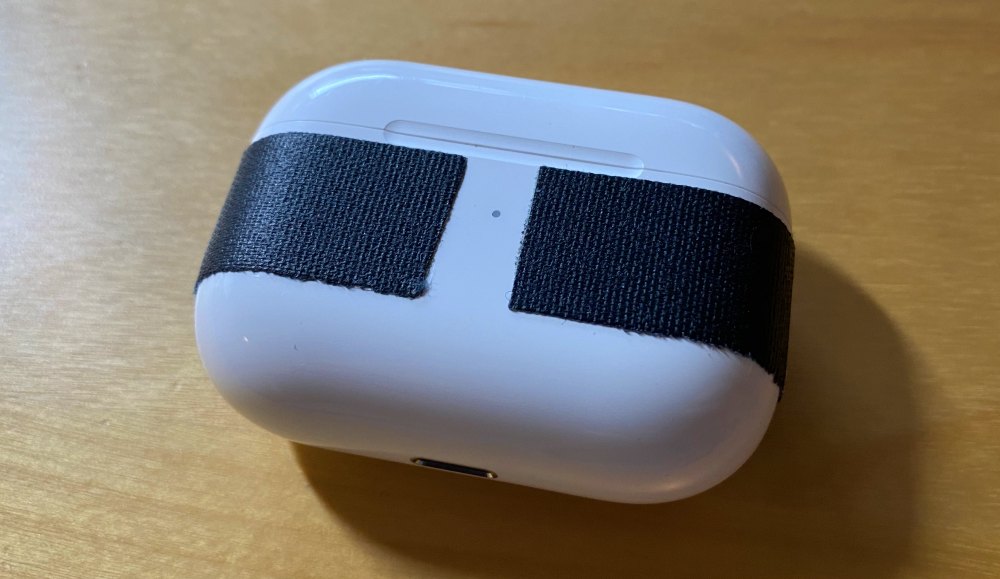 The Air Pal Mini does what it sets out to do. The Aramid material and finish is on brand for Pitaka and like their other products feels really good to hold. The carabiner can be super useful and is easy to remove if it's not something you'll use.
The opening for the lightning port is perfectly centered, and works best with the standard Apple supplied cables.

If you're using cables with a little more bulk around the male connector you'll likely find they don't fit as this opening is pretty small.
The bottom case stays put very well, but has some lateral play. It's most noticeable as you play with the case in one hand and I can best describe it as a creaky feeling with a similar sound to it. I did have the top fall off while in a pocket of my bag. I cleaned both the sticky pad inside the top cover and the top of my AirPods Pro case and then reinstalled. It has not been a problem since.
Lastly, the hole for the charging LED allows the full brightness to show through, but only from a mostly direct angle. Look from more than a few degrees and you will not be able to see it. I'd say it it's around the 45º angle where you lose visual.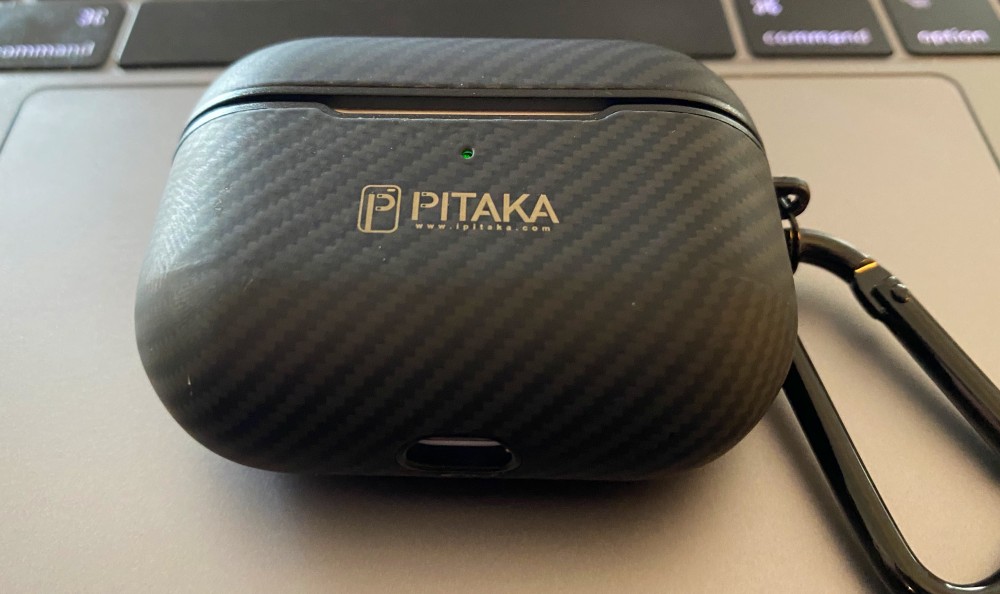 What I like
The protection
Not much additional weight or size
Smooth Aramid feel with a non-slippery surface
What I'd change
Add a sticky pad to the inside of the bottom half to eliminate the lateral play
Bevel the LED hole to allow for better angle visibility
Enlarge the lightning connector hole for more cable compatibility
Expensive at $20 more than their MagEZ phone case
Final thoughts
AirPods Pro are a pretty hefty (and worthwhile) investment, so it makes sense that you'd want to cover them much like you do your phone. Pitaka has a great track record for protection and the Air Pal Mini is no exception. I'd like to see Pitaka improve the lower half to fit better and accept more charging cables, but if you primarily charge your AirPods wirelessly and like that carbon-fiber look, this is a solid option.
Price: $69.99
Where to buy: Pitaka and Amazon
Source: The sample of this product was provided by Pitaka