We use affiliate links. If you buy something through the links on this page, we may earn a commission at no cost to you. Learn more.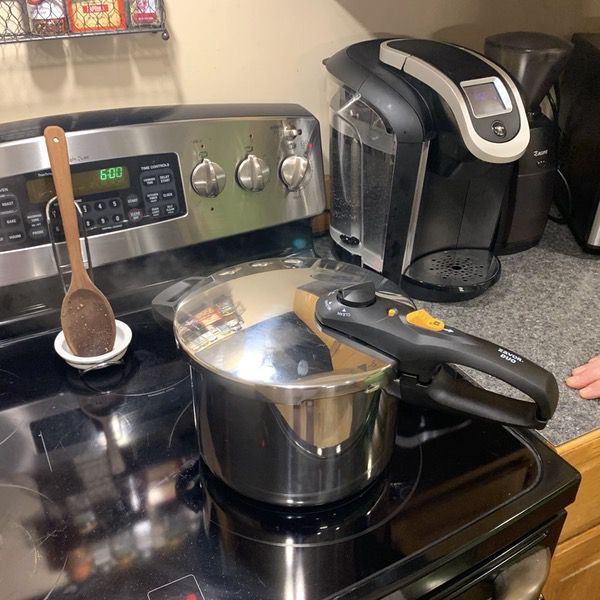 REVIEW – The holidays mean lots of cooking at Bob's house, and I've got a new toy to play with! I'm been putting the ZAVOR Duo Pressure Cooker to the test for weeknight meals, parties, and family gatherings over the past month. How does it handle the daily culinary adventures? Bring your fork and spoon. We're going in!
What is it?
It's a stovetop-powered pressure cooker.
What's in the box?
I'm testing the 6.3 quart model, which comes with the cook pot and sealable lid. The package also contains a steaming rack insert and a  wire trivet to keep that rack above the liquid, which I'll demonstrate in the review.
Hardware specs
18/10 stainless steel
6.25 pounds
Compatible with all cooking surfaces (gas, electric, glass top, and induction)
2 pressure settings (High – 15 PSI, and Low – 8 PSI)
Design and features
As opposed to all-in-one electric cookers, the ZAVOR Duo Pressure Cooker uses your stovetop as a heat source. The unit itself is made from a beefy 18/10 stainless steel, which means it also does double-duty as an excellent stock pot if you don't plan on using it for pressure cooking all the time. A burly plastic grip and a grab handle provide options for maneuvering and control.
For my first test, I made a chili recipe that takes advantage of both its searing and pressure cooking abilities. We started by firing the pot up to a medium heat and adding a mix of diced peppers, garlic and onions for a quick saute. The 9″ wide pot makes it easy to slide my prepped veggies from the cutting board right into the pot.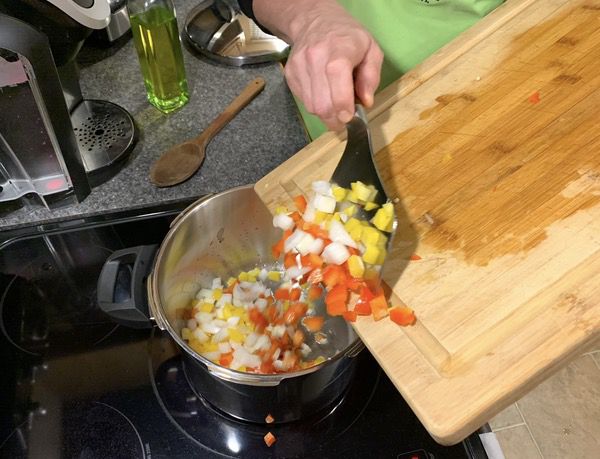 I really like how you can adjust the heat levels on your stovetop to get the right heat for this process. I did add some olive oil before I started to prevent sticking, and had a nice saute in about 5 minutes.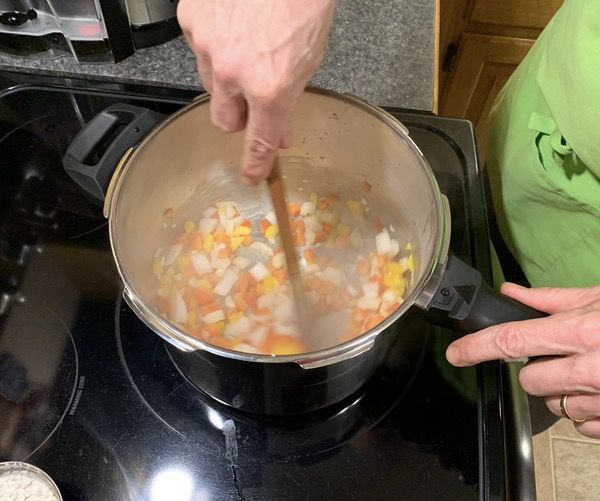 Next came the browning of the meat. I'm using a lean ground beef here. The stainless steel surface is great for browning, and does a far better job than nonstick for searing your proteins. It also retains heat really well with those thick walls.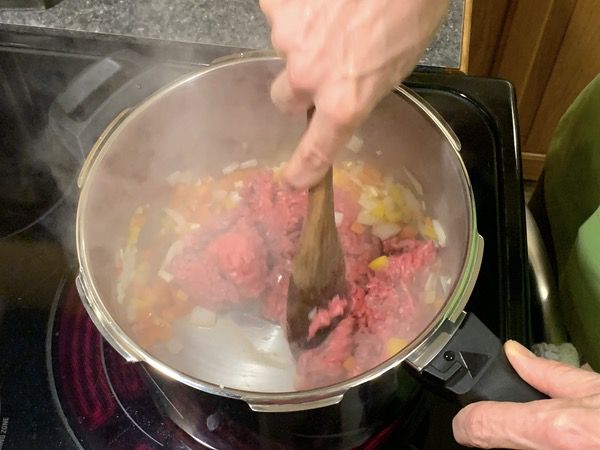 The pot is 6.5″ deep, and includes a fill line so that you don't overload the cooker for pressure cooking (2/3 of the pot is your maximum). After searing the meats I added beef broth, beans, diced tomatoes, and a mix of spices & flour for thickening. Plenty of room to work, and no extra pots required!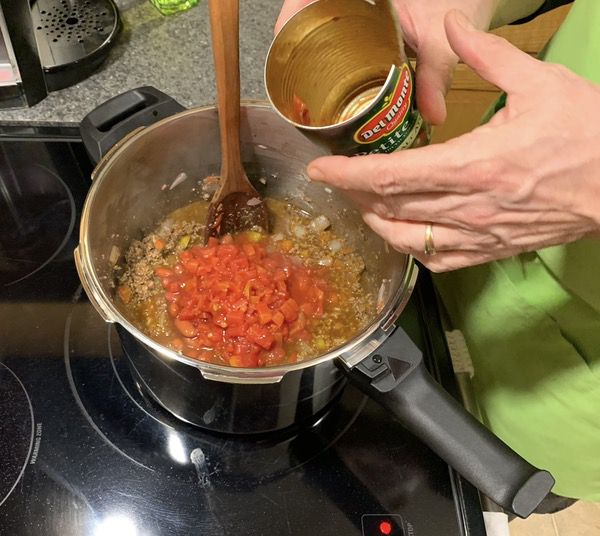 Now we get to the pressure cooking. I brought the heat up and stirred things around. Once I got the whole mass bubbling, the lid goes on. This lid has a silicone gasket underneath, and sealing is a snap. You put the lid in place and rotate until it locks with an audible "snick" into the handle, as shown here.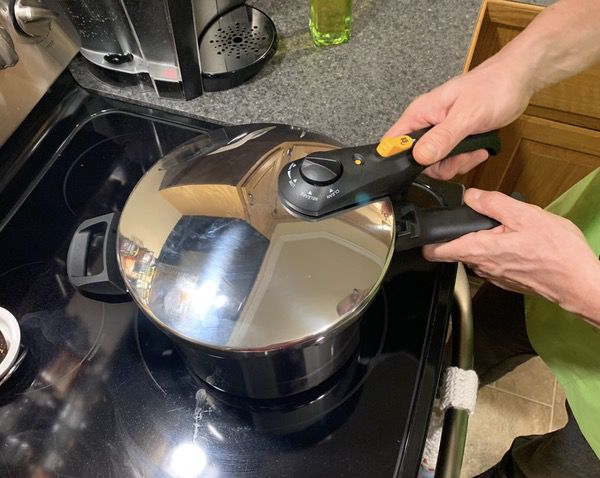 You have two different pressure levels, adjustable with a big friendly dial on the handle. I'm going for high pressure (15 PSI), so I set the dial and cranked the heat up to get things working.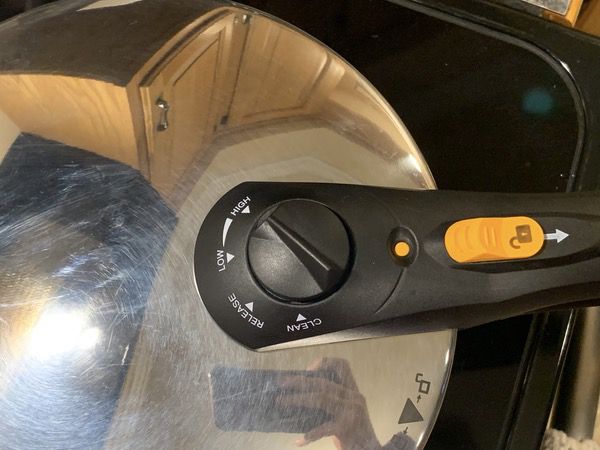 After a few minutes, you'll see steam sputtering around the handle. That little yellow peg pops up, indicating that you're pressurized. You then drop the stovetop to a low heat and let the cooker do it's thing.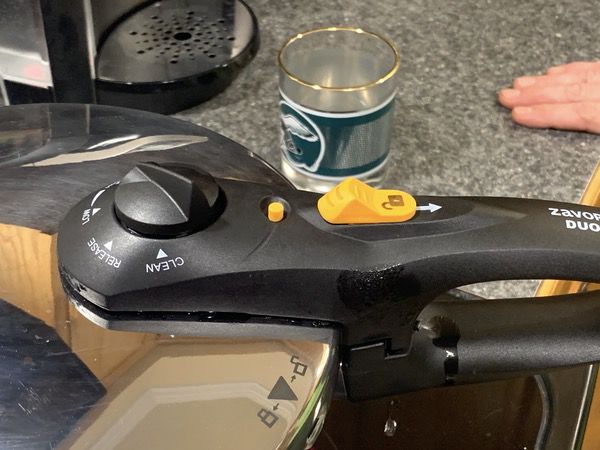 For this recipe I am doing a 15 minute pressure cook. When the timing is complete you can take the pot off the heat at that time and let the pressure naturally come down, or flip the dial to "release" and drop the pressure in about 30 seconds. I chose that route. See how the vent directs the steam away from my hand? That's good. That means I wont risk burning myself.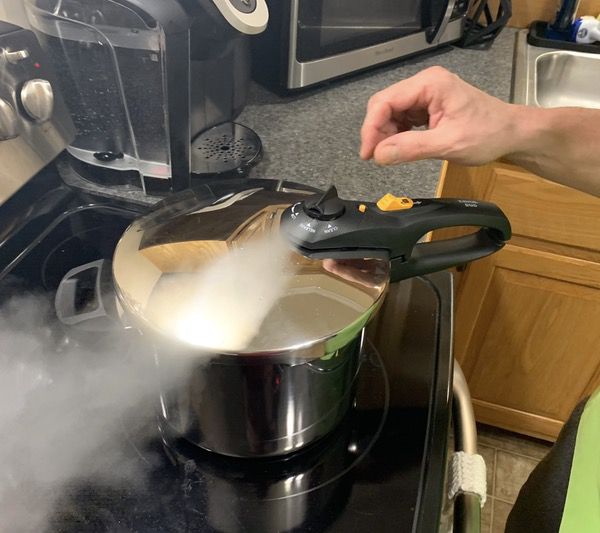 When the yellow peg drops back into the handle, that means it is safe to open the lid. You slide that yellow button on the handle with your thumb to unlock the lid, twist, and lift the lid free.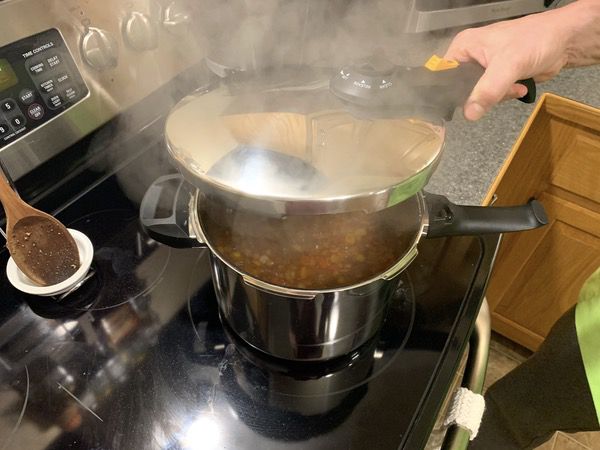 When cooking was complete I found the chili to be a bit watery for my liking, so I turned up the heat to cook out some liquid for about 10 minutes. The stovetop model makes this easy to manage, as opposed to fiddling with controls on the electric models.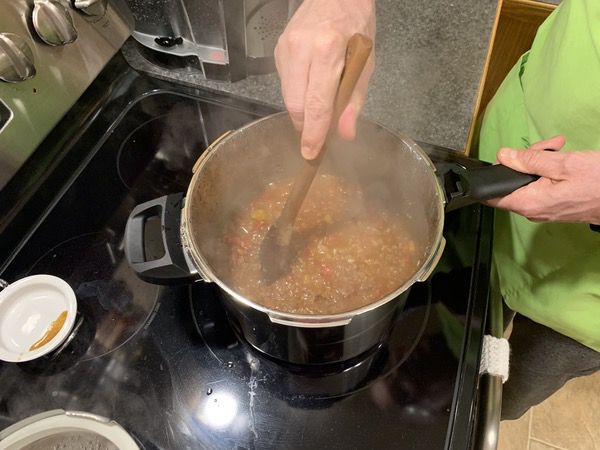 And here's the finished product. About 40 minutes from start to finish, in a process that would normally take two hours of cooking. Cleanup of the pot afterwards is super simple since you don't have to mess with pulling out inserts and cleaning electric components. Just pop it in the sink and scrub it out.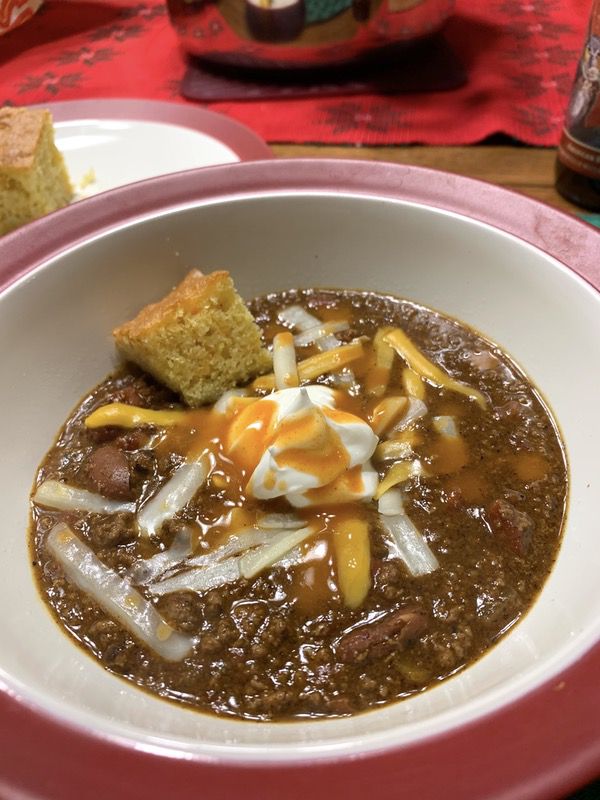 The ZAVOR Duo Pressure Cooker also comes with a steamer rig that I used several times over the holidays. We were asked to bring a vegetable side dish to several events, so I went with green beans as the healthy choice option. You'll start by placing the included wire trivet on the bottom of the cooker.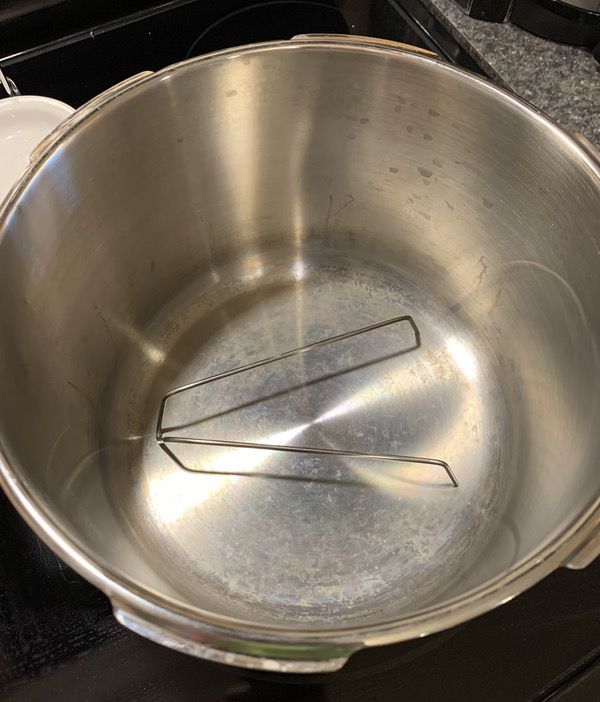 The steamer rack goes on top of that. The rack includes a pair of wire handles for grabbing if you have a smaller payload in the cooker; it also helps when lowering the rack into the pot. I tossed a handful of garlic cloves on the steamer for flavor.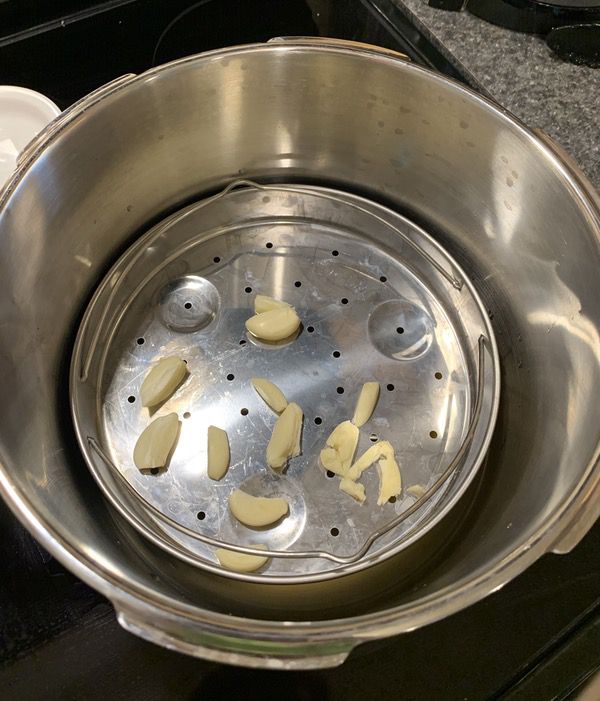 For my green bean dish I add about 1-1/2 cups of chicken stock instead of water to do the steaming for extra flavor. 2 pounds of fresh green beans follow. I cranked up the heat to get the broth to a boil, then followed the procedure I used for the chili to get a high pressure steam.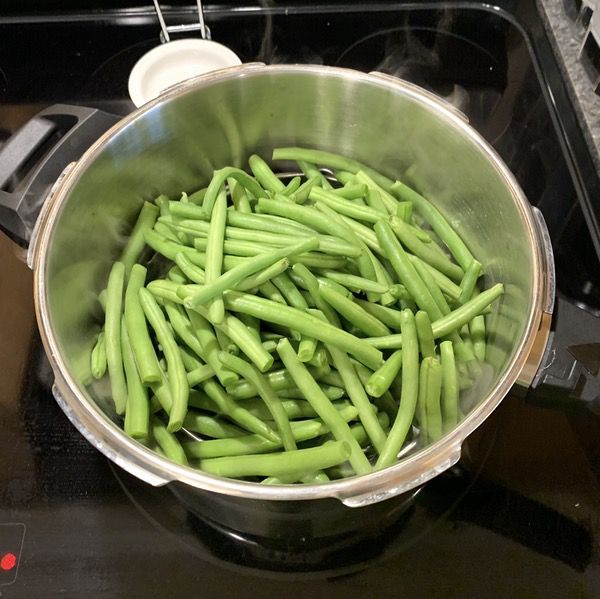 Here's where the beauty of pressure cooking shows itself. These beans were only done on a 2 minute cook at high pressure, followed by a quick release. I moved the beans to a colander to drain off the excess fluid. A quick toss in olive oil with some chopped bacon and black pepper, and you have nice al dente beans that can be reheated later in the oven without turning to mush. The pressure cooking process also infuses the beans with that garlic flavor. Here's the finished product.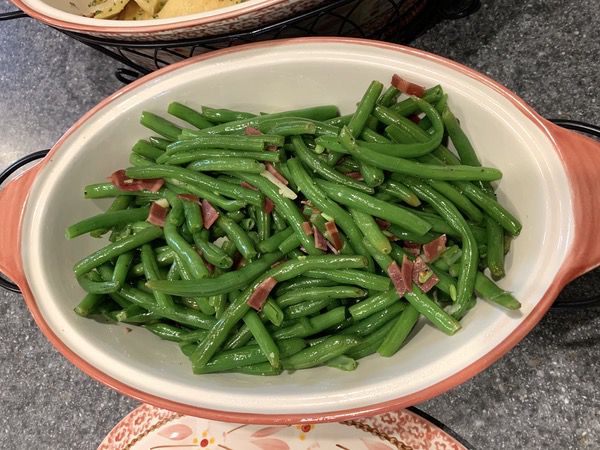 I'll note that those handles on the wire rack aren't really useful for larger quantities. They just got buried under all those beans. If I was doing half that amount (or smaller payloads) they would be more useful; in this case I just dumped everything into my colander and fished out the steamer basket. On the plus side this was far easier than trying to get the food & rack out of the insert you find in most electric pressure cookers.
I made this dish for three different parties between Thanksgiving and Christmas, and it was a hit every time. And the whole cooking process was 15 minutes start to finish! I've got a host of recipes to test out with this one over the winter, so I'll keep you posted on the progress!
What I like
Thick heavy-duty build will last a long time in your kitchen
Doubles as a stock pot, saving space
User-friendly handles and controls
Very easy to manage for searing, pressure cooking, and cleaning
Works on all cooking surfaces, including induction cooktops
What needs to be improved
The handles on the wire rack could be longer for easy removal after cooking
Final thoughts
A quick Google search shows some excellent reviews for the ZAVOR Duo Pressure Cooker, and I agree. I prefer this model to the all-electric devices I have tested. I find most of the preprogrammed options and controls are much more difficult than managing your own heat to get the results you want. And it's completely user friendly when it comes to multi-step processes that include searing, sauteeing, simmering, and pressure cooking in one pot. The electric models may be more convenient for freeing up stovetop space, but the ZAVOR Duo Pressure Cooker is the one that will earn a permanent space in my kitchen.
One final note on buying options: I'm seeing this product at many locations including Amazon, Macy's, and Bed Bath & Beyond. Some packages include different sizes and/or accessories. The official ZAVOR link is provided below.
Price: Varies depending on purchasing location and size; the 6.3 quart starts at $109.95.
Where to buy: Amazon
Source: The sample of this product was provided by ZAVOR.