We use affiliate links. If you buy something through the links on this page, we may earn a commission at no cost to you. Learn more.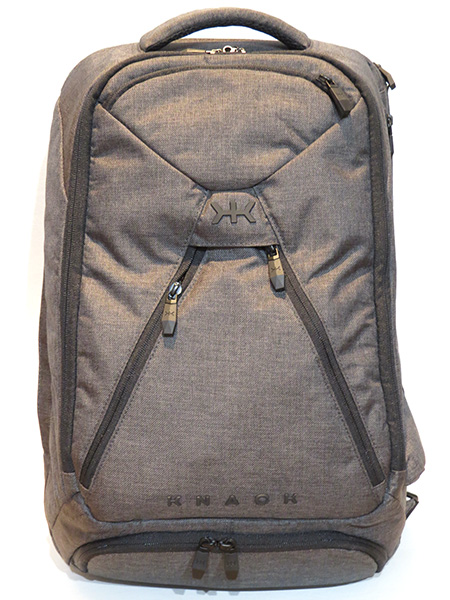 REVIEW – After trying out the first Knack Pack earlier this year, it's been in use daily as my school/work bag. It was just the right size and I modified the features to fit my use. Now Knack has come out with their second version of the Knack Pack; it looks almost identical but has many tweaks and changes to hopefully make it better. Were they? Let's see.
What is it?
The Knack Pack is an expandable backpack that can be used for both everyday use and for travel.
Key Specs
Unexpanded Dimensions: 19″ x 12″ x 4.5″
Expanded Dimensions: 19″ x 12″ x 9.5″ (Five inches more in depth)
Weight: 2 lbs 11 oz
Laptop Size: 15″ or less (Medium backpack)
Water Resistant
Lockable Zippers
Removable Chest Strap
Design and features
So, the overall design of the Knack Pack V2.0 is nearly identical to its first version. The color (at least, grey) is the same, the material feels the same, and the size is the same. It still has well made zippers, a sturdy lining, and a rugged yet nice looking exterior.
There are two pockets on the front of the backpack. One is up top to hold your sunglasses, phone, or any small electronics or knick knacks. Half of this pocket is made up of a soft fabric to protect said electronics, while the other half is made of the orange lining found in other locations on the backpack. One huge improvement they made was making this pocket deeper. I could barely fit my phone and work lanyard within this pocket before, and now I feel much more at ease when I toss my phone in.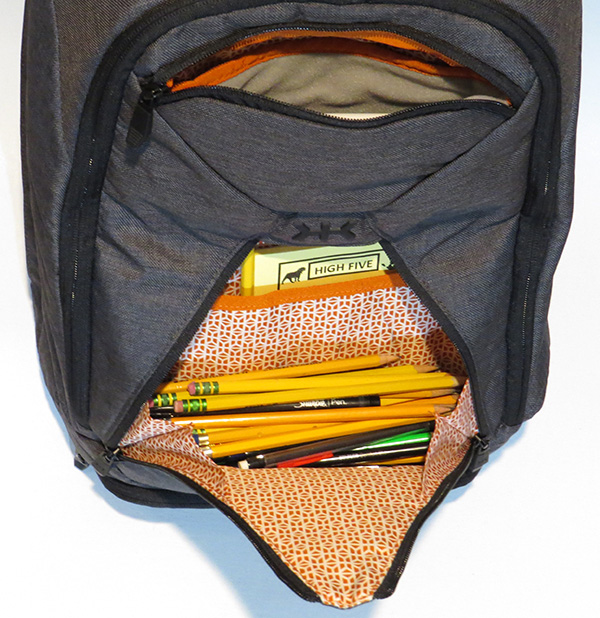 The second pocket down below, also dubbed by me as the 'triangle pocket', was modified as well. Instead of having pencil/pen slots on the front, they added in card holders inside. I miss the pencil/pen slots because now when I need to write something down, I have to dig around for my nice pens rather than having them right there. It's still a useful pocket, but it just is a giant utility pocket now rather than the sorted pocket that I had before. Why all the pencils to dig through you may ask? Middle school kids are terrible at bringing their own.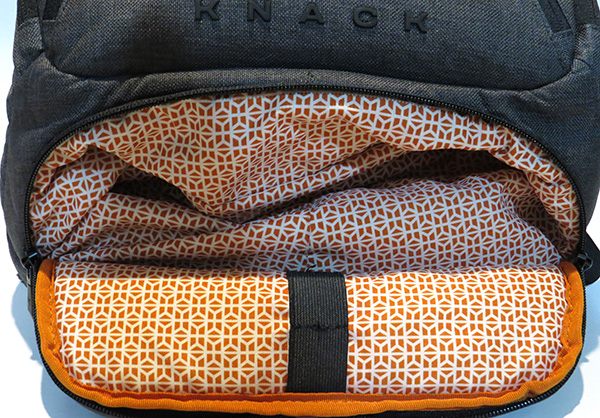 At the bottom of the backpack you'll find the same cord pocket that has a single change to it, which is to add in two elastic bands to hold your cords in place. This is definitely an improvement since the pocket is at the bottom of the backpack and if opened in the wrong way, will distribute cords everywhere. I currently use it as my purse pocket for work so I can access it easily. If I was on a plane I would toss my cords in there instead.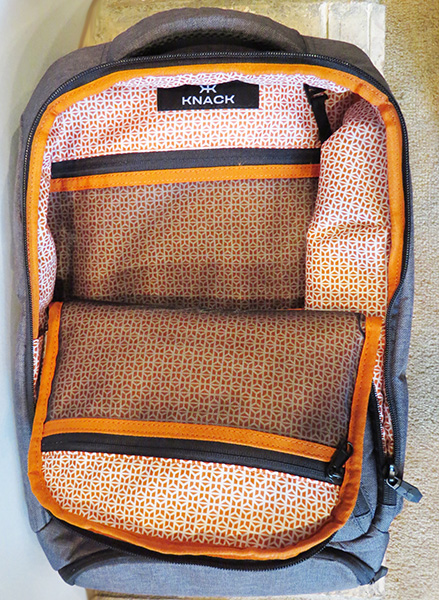 The inside, main compartment has the same two zippered mesh areas to keep whatever you need separated from the big pocket. It still holds my lunch bag and jacket during the day. I did notice the key chain is now easily removable which is quite convenient. The size of this compartment goes hand in hand with the size of the backpack, which is medium. It's not large, but it fits enough.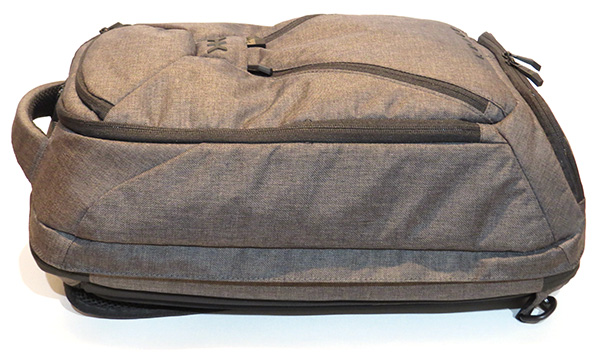 If you look at the backpack, you'd never know that it expanded like a suitcase. Knack did a good job of hiding this section for when not in use. I actually use it to hold my notebooks and folders, since it's flat and easily accessible when not expanded. If I ever needed to stuff my bag full, however, it expands out a good five inches which is easily enough for a couple of pairs of clothing.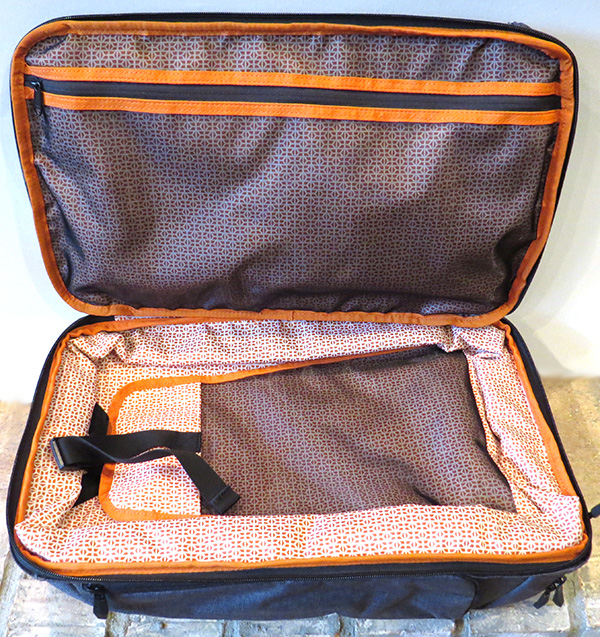 The strap in the suitcase compartment was changed for the better in my opinion. While I didn't mind the standard X straps that meet in the middle, they got in the way when I would slide my notebooks and folders inside. With the change to the single long fabric strap in the middle, I was able to roll it down and keep it at the bottom. That made this pocket so much more convenient to use during work.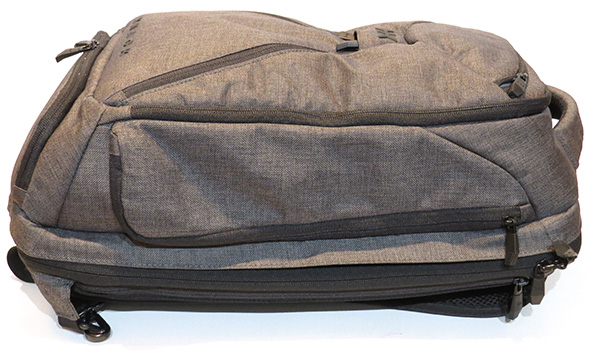 I didn't notice any difference in the laptop compartment. It still is easy to slide my 13″ Macbook Pro in and out of it, and, during school, a whiteboard and accessories. It also is just as protective as the previous version, which is something I really liked about it.
While I can't be certain, I feel as though the water bottle pouch is just a fraction smaller than it used to be. My normal sized hydro-flask just barely fits now, and I can't pull it out as easily as I could with the previous backpack due to how tight it fits. It would fit a standard plastic water bottle just fine but if you have anything taller than a 24 oz hydro-flask it most likely will not fit.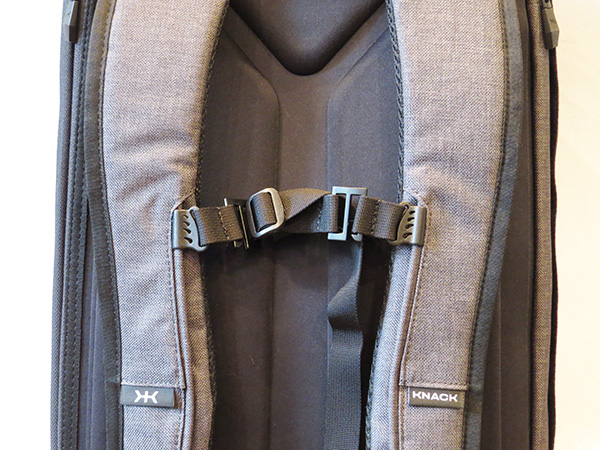 I found the V2.0 just as comfortable to wear as the old version. One change they made was to the chest strap, and I feel half of it was positive while half was a negative change. The positive change is that you can now remove the chest strap when you don't need it. This is perfect for when you don't need to wear it for very long. The negative change is that they changed the buckle from the standard snap in buckle to a hook like connector. It is not nearly as easy to use as the standard version.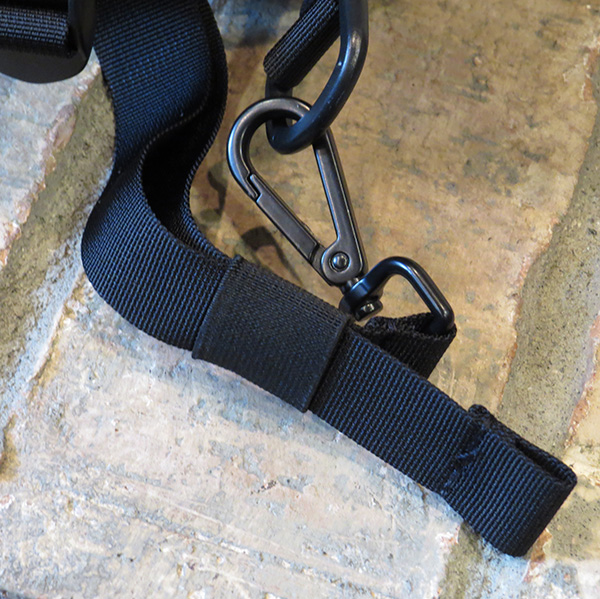 Another positive change they made was simple, but very convenient. They added an elastic loop around the adjustment straps at the bottom of the shoulder straps which keeps the end from dangling around. It wasn't something I thought of as necessary before having it but I love it now.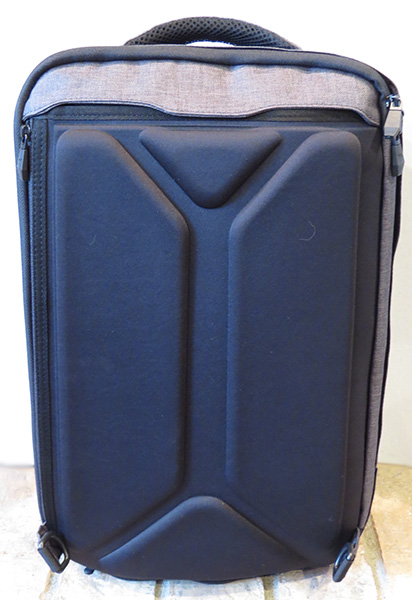 Not only can you tuck the shoulder straps away when you don't need them, (such as when you put it in checked luggage) but you can also slide it on your carry-on handle when you are walking through the airport. Both use the same section of the backpack, right behind the padding for your back. It was easy to slide on and off of the handle of my carry-on.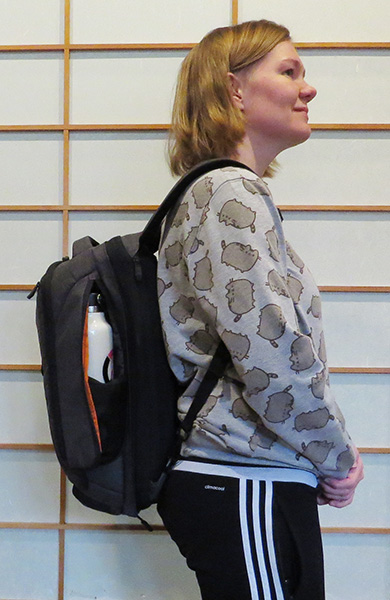 I carry this around as often as a middle school student would, since I go to different classrooms throughout the day. The Knack Pack is comfortable and withstands being tossed on the ground several times a day. It is easy to toss on my shoulders and remove, and still is my go-to backpack for work/school.
What I like
Genuinely water resistant in the rain
Deeper sunglasses/phone pocket (compared to previous version)
Doesn't look like an expandable backpack
Laptop is well protected
What needs to be improved
The water bottle pouch needs to be just a bit larger
Chest strap is more difficult to use
Pricey
Final thoughts
While I wouldn't recommend upgrading if you have the original Knack Pack, I would still recommend this backpack for anyone needing a solid, well built, and versatile backpack. It may be a little pricey for some, but having a single backpack for travel and every day use may be worth it for the convenience factor. The Knack Pack V2.0 will still continue to be my daily backpack.
Price: $195
Where to buy: Knack Website
Source: The sample of this product was provided by Knack.