We use affiliate links. If you buy something through the links on this page, we may earn a commission at no cost to you. Learn more.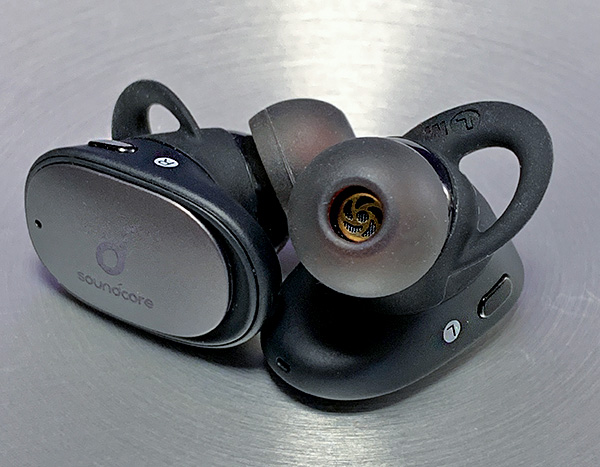 REVIEW – It seems that any new totally wireless earbuds/earphones promise that they sound better or are less expensive than Apple's AirPods. Here's the truth: Unless the earphone has Apple's W1 or H1 chip, it's never going to be an AirPod killer. Convenience is king and AirPods rule that kingdom. Strangely, it's why I appreciate Soundcore's new Liberty 2 Pro earphones. They only play to their strengths, without trying to be AirPod killers. Soundcore has taken what made their previous Liberty earphones good and made them great. 
What is it?
The Anker Soundcore Liberty 2 Pro earphones are totally wireless hybrid earphones designed to concentrate on audio quality.  
Specs
Battery capacity: 65 mA x 2 (earbuds); 500 mA (charging case)
Playtime (depending on volume level): Up to 8 hours (32 hours total with charging case)
Charging time: 1.5 hours
Bluetooth: SBC, AAC, aptX
Driver size: 11 mm Dynamic driver plus Balanced Armature

In the box
Liberty 2 Pro
Charging Case

 

7 Ear tips XS/S/M/L/XL/M+/L+
3 Ear wings S/M/L

 

USB-C Cable

Design and features
When Anker spun off Soundcore as its own audio branch, they became even more serious about sound. Their Liberty line of earphones is all about ease of use, but it's the newest Pro model that deserves the most attention. The Liberty 2 Pro earphones raise the bar significantly for other totally wireless earphone makers to match. 
The Liberty 2 Pro earphones are oval-shaped which helps them fit comfortably in the ear. They slightly resemble the (much) more expensive Sony WF-1000XM3 Wireless In-Ear Headphones—which is a compliment.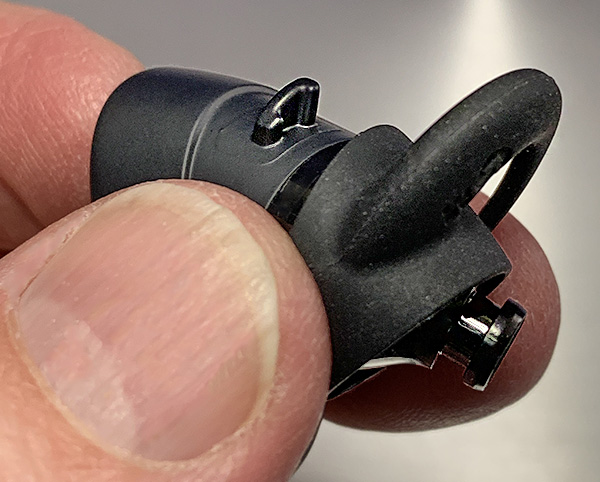 On the top of each earphone sits a small button that can be used to control music, phone calls or voice assistant and also adjust the volume. There's a bit of a learning curve for these buttons. I generally ignore them and use my iPhone controls, but I'm old-school that way.
The earbuds are water-resistant (IPX4 rating), so it's not a problem if you get caught in the rain—just don't go swimming with them.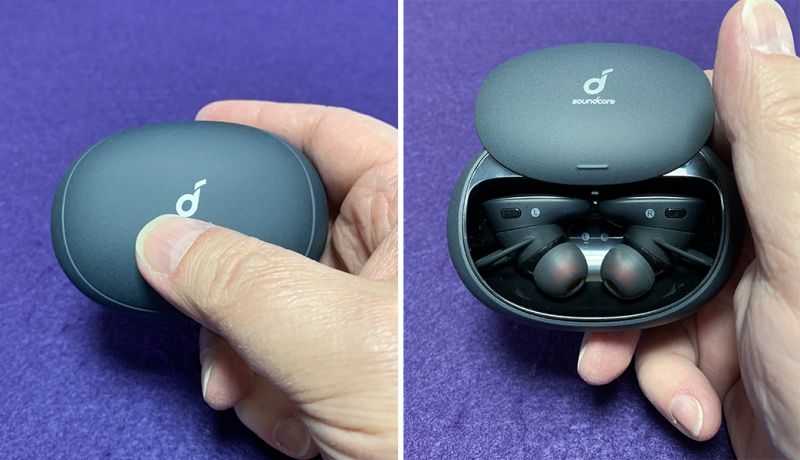 The build quality of these earphones is as good as I've encountered in this price range. The case is a tasteful matte black—the only color offered— and it feels nice to the touch. One downside is that the case's interior is as black as the earphones, so it's difficult to orient how they should fit when returning them to the case. Once in, magnets hold them in place perfectly. It also took me a minute to figure out how to open the case. I'm used to the lid of any earphone case lifting up. However, the liberty 2 Pro's lid glides out of the way. Once I realized how it worked, it became a fidget toy—fun to open and close.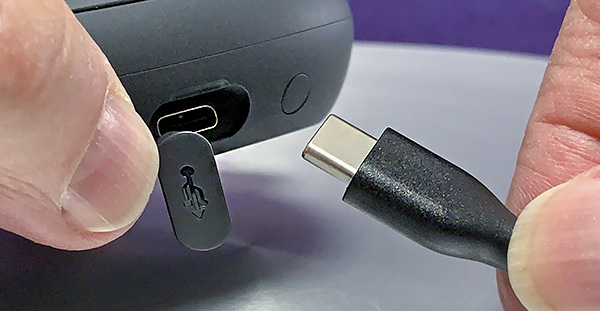 The case will charge the Liberty 2 Pro earphones 4 times before the case itself needs recharging, providing a total of 32 hours of life. 10 minutes of charging will provide 2 hours of playtime. There are three lights on the front indicating the case's battery strength. Charging the case is either by USB-C (cable included) or Qi-compatible wireless charger. It doesn't get any easier than this. When the earphones are fully charged, a female voice announces, "Battery high." When I hear that the battery is high, I can't help thinking, "What is this, the 60s?"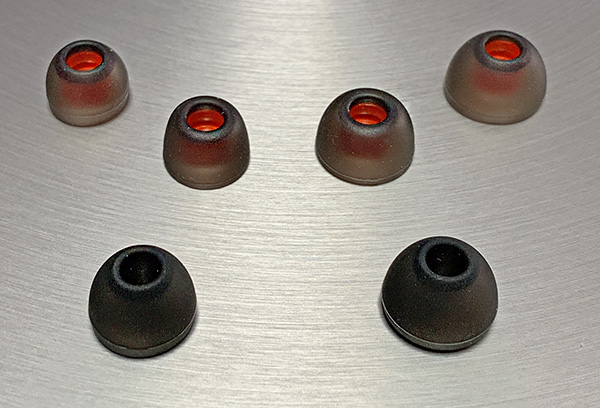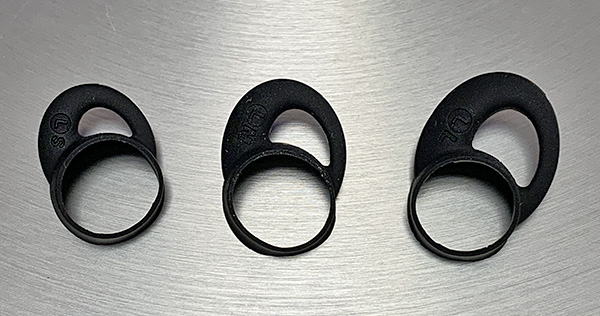 Included with the Liberty 2 Pro earphones are 7 differently sized silicone ear tips and 3 ear wings. I've previously had fitting issues with both ear tips and ear wings that sit in the concha bowl of the ear. With these earphones, I've not had any problems finding tips and wings that fit. Remember that properly-sized ear tips provide a proper seal that makes all the difference how good (or bad) audio sounds. The ear wings have a hidden slot that fits over a protruding bump on the earphone. Look for it, because it holds the wing securely in place. It's a thoughtful design touch.
Pairing is done by pressing and holding the previously mentioned small (but easy to find by feel) button at the top of each earphone. This is actually a better approach than just touching or tapping the earphone itself, as with some other earphones. With real buttons, it's easier to tell if it's working. 
Unfortunately, pairing is not as straightforward as I would have liked. There's Bluetooth 5 with aptX and AAC—a great combination for top-notch audio. However, each earphone would sometimes pair individually, unlike other wireless earphones that paired together. Another issue is that if the earphones are removed while music is playing, music will not automatically pause, which is what should happen.
Call quality is great—for me. Anyone I talked to could hear and understand me fine but said I sounded distant—even with Liberty's four 4 mics and call noise reduction. Again, Apple beats every wireless earphone I've tried regarding phone call quality. However, audio is a different story.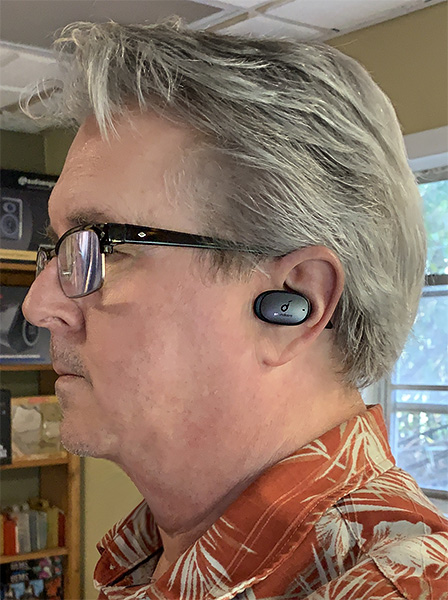 The Liberty 2 Pro earphones contain a few novel improvements that you can hear. First, these are hybrid earphones. This design combines both a dynamic and armature speaker into each earbud. Theoretically, it takes the strengths of each speaker design providing the best of both worlds, so to speak. This approach looks good on paper, but in reality, success has been hit or miss for many others who've tried. Soundcore succeeded in matching an 11mm dynamic speaker with a Knowles balanced armature. 
Note: Dynamic speakers look like tiny versions of standard speaker cones that you see everywhere. They generally are better at bass. Armature speakers come from the hearing-aid industry. They are extremely small and do not look or act like traditional speakers. Their strength is accuracy among the mid to higher frequencies.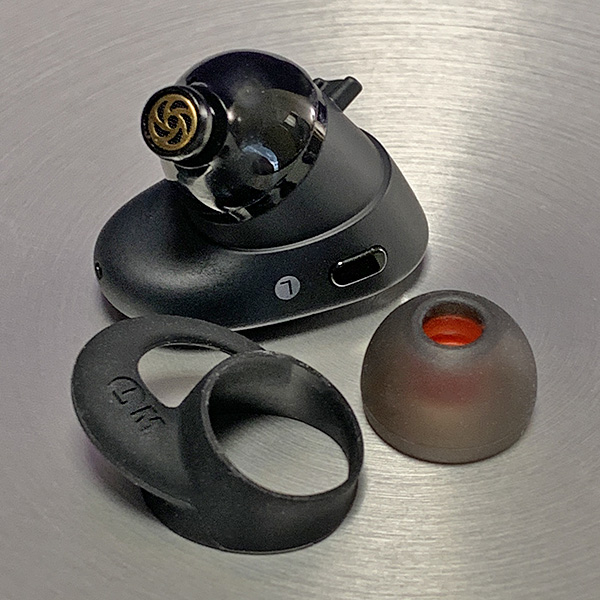 Two things are happening here: 11mm is large for dynamic earphone speakers. Plus, Knowles is a respected maker of tiny armatures. This combination works on many levels when reproducing music. Bass—which is hard to produce in small earphones—is potent, warm and clear-sounding. Highs are present, but not too bright sounding, which can become tiring.  
Secondly, the Liberty 2 Pro earphones hybrid design utilizes what is called "Astria Coaxial Acoustic Architecture". Here's what Soundcore states, "Aligned direct-to-ear, Astria eliminates interference while creating harmonized treble and bass for the most natural and expansive sound ever heard from truly wireless earbuds. Music is played at a stadium scale with breathtaking clarity and fidelity." I don't know what that means either. What I do know is whatever Soundcore did to these earphones, it worked. 
Yet, as cool as Astria is, HearID is way cooler.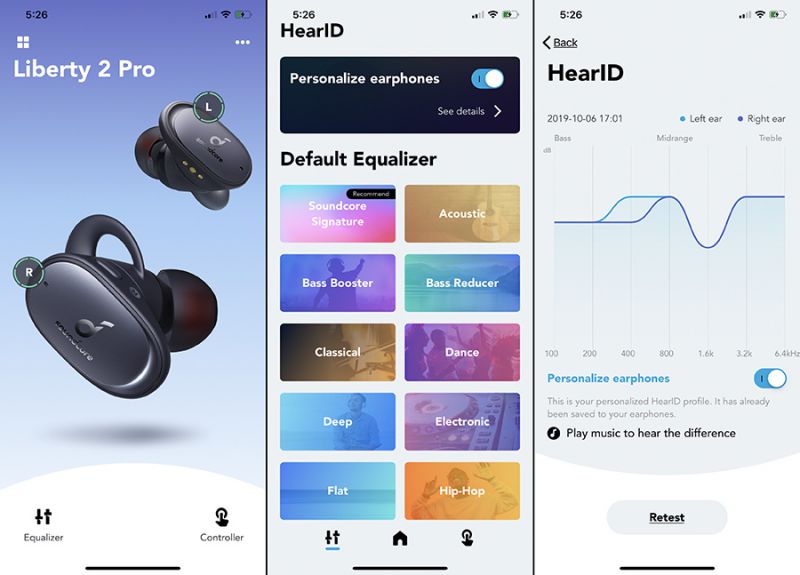 HearID is a free app available for Apple and Android OS that tests your hearing and then creates a personalized equalizer setting (EQ profile) based on its findings. Once your personalized EQ profile is saved and turned on, the Liberty 2 Pro earphones go from very good to great. It's a dramatic difference you can actually hear. Volume jumps a bit, but frequencies that were hard to hear are now accentuated, giving music a more rounded and balanced presentation. You have to hear it to fully appreciate how much of an improvement HearID makes.
The HearID app also offers many other EQ profiles to choose from. I tried all of them and gave up for two reasons. I couldn't find one I liked—which is why I usually leave EQ set to flat or off. Plus, the personalized HearID EQ profile is so good, it kinda makes all the other profiles a bit useless.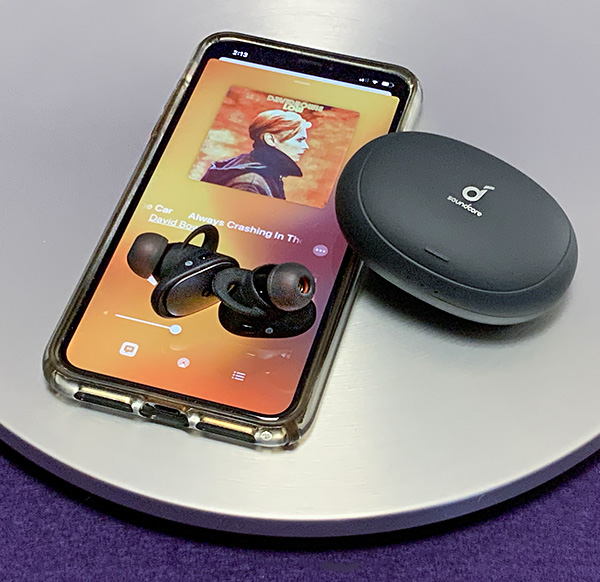 I've been trying out Amazon Prime's new Ultra HD music streaming and these earphones are a perfect test for this service. For instance, The Eagles Greatest Hits album sounds even richer and more involving than before. "Lyin' Eyes" is a sad story of a cold marriage resulting in an even sadder affair. You can just hear the ache of hopelessness the song evokes, yet the Eagles somehow give the song an uplifting vibe by providing an "extra-voice quality" to their backing harmonies that the Liberty 2 Pro earphones exploit.
It's easy to listen to the Liberty 2 Pro earphones for an extended period of time—especially with Amazon's HD streaming! They are comfortable enough to leave in the ears for hours—even using their 8-hour rated listening time. It's something I'm finding myself doing more and more with these earphones.
What I like
Build Quality
Sound quality
HearID app
Bluetooth 5
USB-C charging
What needs to be improved
When using Bluetooth, each earphone sometimes pair separately
Auto-pausing the music when removed

Final Thoughts
I love being pleasantly surprised when reviewing audio gear and the Anker Soundcore Liberty 2 Pro earphones were one of the best surprises I've had in a while. They tick all the boxes by being priced right, sounding phenomenal and staying comfortable for hours. They are a new benchmark in this price range—and beyond.
Price: $149 US
Where to buy: Amazon
Source: The sample of this product was provided by Soundcore.