We use affiliate links. If you buy something through the links on this page, we may earn a commission at no cost to you. Learn more.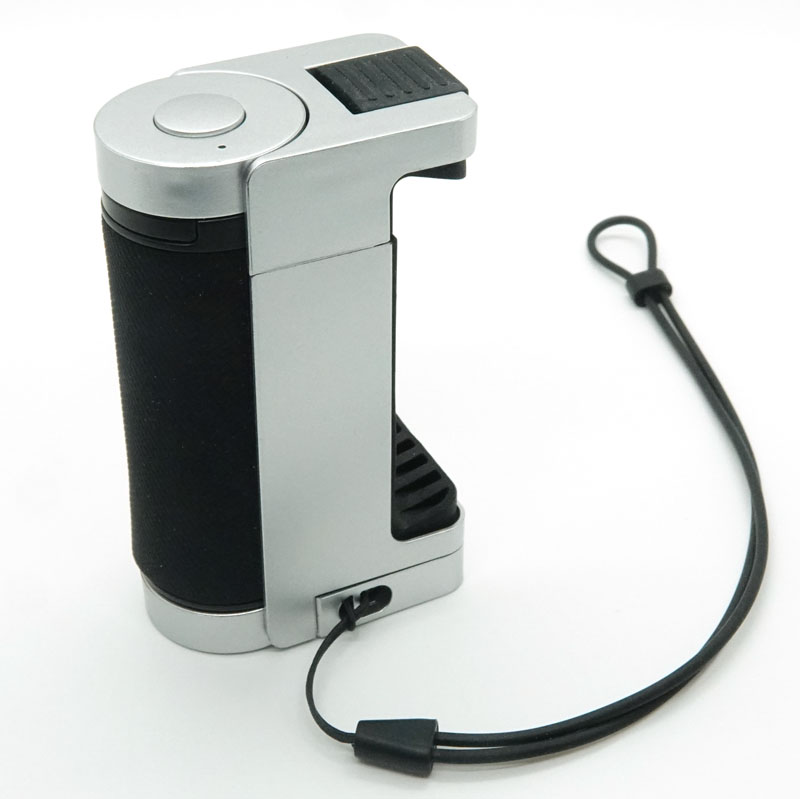 CROWDFUNDING REVIEW – Cameras.  Does anyone use them anymore?  Well, I do, specifically for nature and long-range photography, but for nearly everything else, I just use my phone.  The cameras on phones these days are pretty amazing.  Their one shortcoming is that phones just are not easy to hold steady in a lot of shooting scenarios.  If you're taking video, it gets even more difficult to produce nice, steady results.  You can carry a selfie-stick, but those are typically long and not very pocketable. Back in March 2018, we reviewed Just Mobile's ShutterGrip, a former successful Kickstarter campaign. It is a small phone grip and shutter release with Bluetooth connectivity.  It attached to most phones, giving them a camera-like grip and shutter release. Just Mobile has completely redesigned the ShutterGrip and is launching ShutterGrip 2 on Kickstarter. Is it just a cosmetic upgrade or did Just Mobile make some substantive changes? Let's see if we can get a grip on the new design.
What is it?
ShutterGrip 2 is a Bluetooth remote shutter release for smartphones. It provides a camera-like grip for your phone along with several other useful features that I will explain below.
What's in the box?
I was sent a pre-production unit with only the sample ShutterGrip 2 and lanyard.  They did send a battery a few days later, but I did not get a chance to see the promised carry pouch.
This is the expected package that will be delivered for Kickstarter rewards.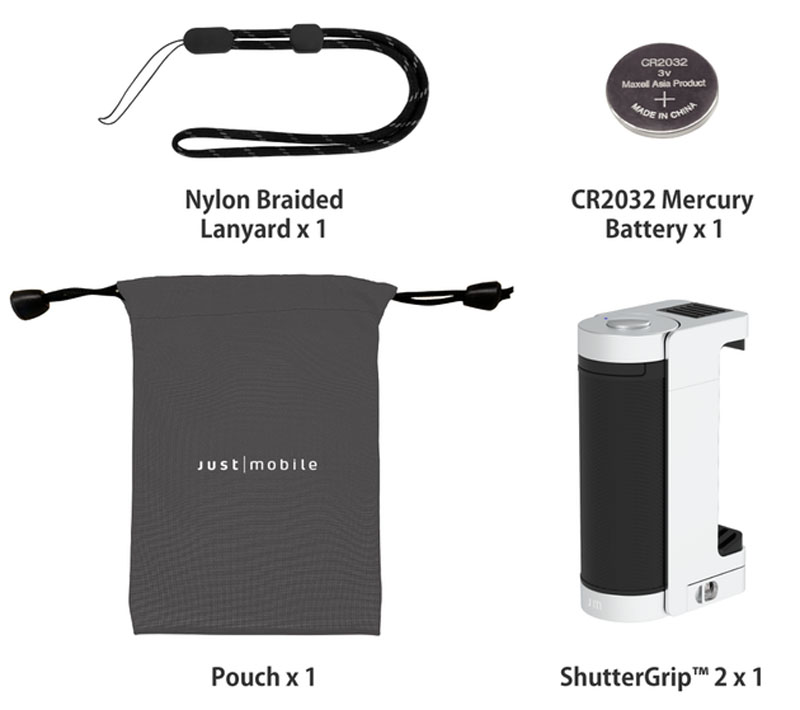 Hardware specs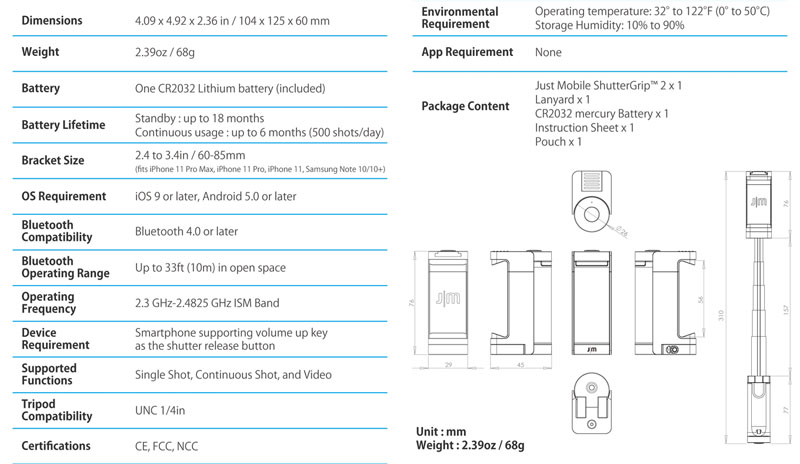 Design and features
I will start by answering my earlier question – yes! Just Mobile did make substantive changes for the ShutterGrip 2! Again, a reminder – this was a pre-production sample, so there may be some minor design changes once rewards start shipping. Let's get into the design and how it works.
Setup
Setup is straightforward. You start by pulling apart the grip jaws. This releases the handle so you can access the shutter button assembly.  Twisting the shutter button allows you to pull it off the grip, exposing the battery compartment.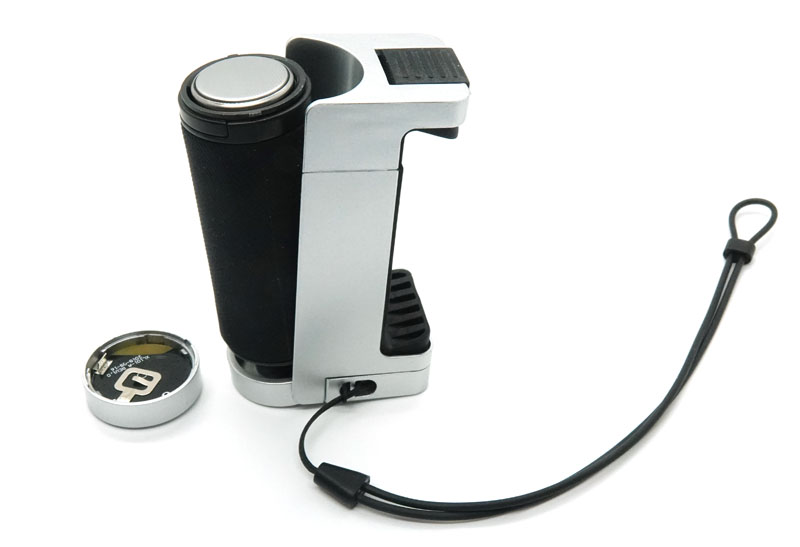 Drop in the included CR2032 battery, twist the button back on and it starts Bluetooth pairing.  Pair it with your phone and you're good to go.  The only other setup is to attach the included wrist lanyard if desired.
Design
To mount the phone, expand the spring-loaded jaws, slip in the phone and let the rubber grips clamp on to your phone. Be sure to avoid clamping on any of your phone's buttons. The grip itself is a black rubbery textured cylinder. It provides a nice purchase on the phone, making it easier to hold.  It allows your index finger or thumb to plop right down on the shutter button, just like a traditional camera.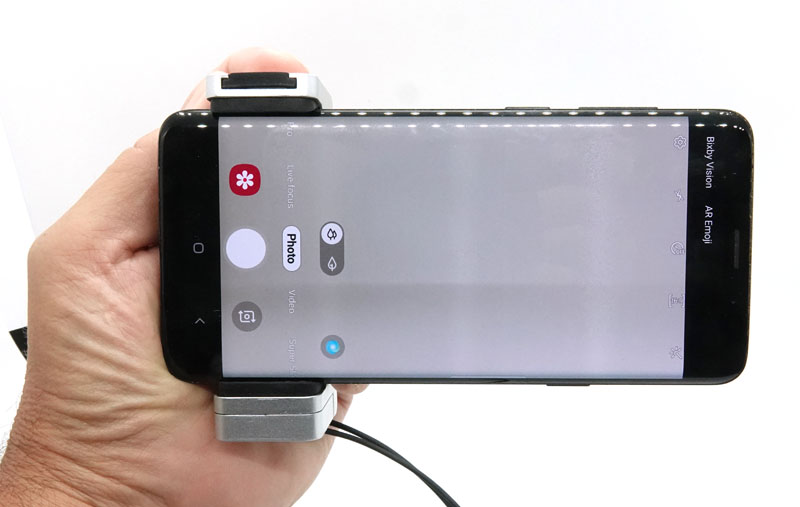 You can mount it on either side, making simple to use for both righties and lefties. I'm right-handed, but I mounted it for left-handed use so I could take a photo of it, ironically with my camera.
The shutter button works for single shots, bursts (if your phone supports bursts like my Samsung Galaxy S9+ does), and video start/stop. When the button is pressed, a small indicator lights blue.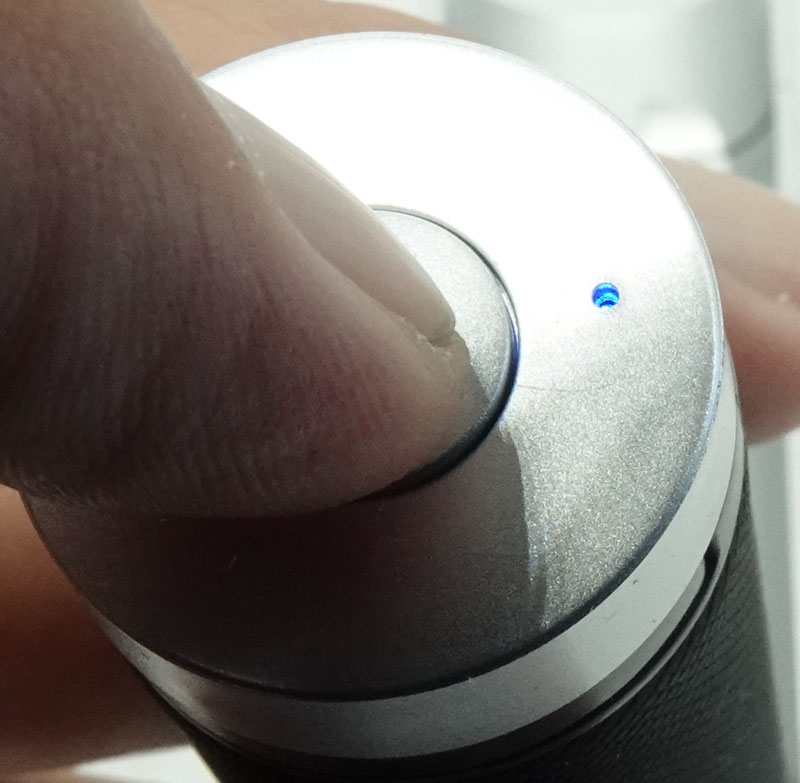 The grip handle extends slightly when you expand the jaws.  You can then push the grip back into place where it locks with a small tab.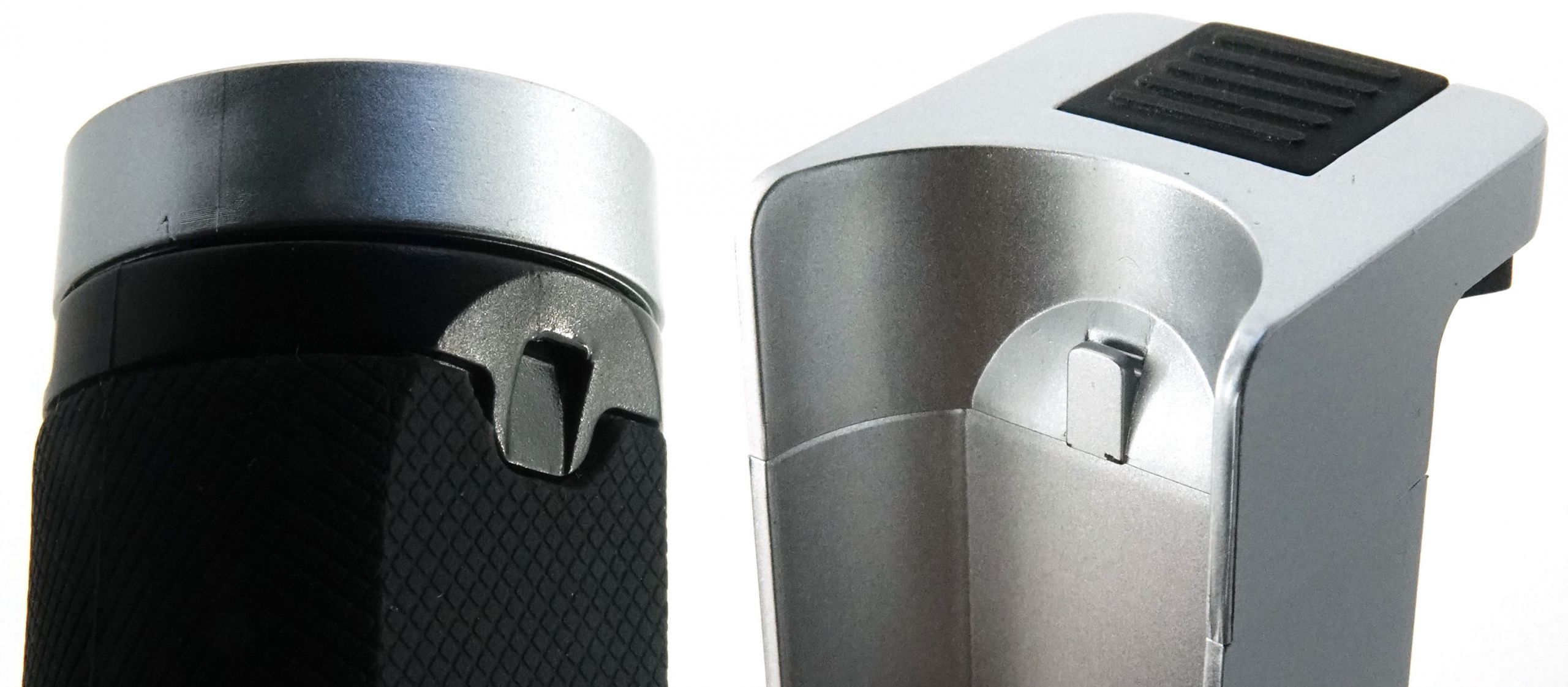 The jaws expand to accommodate even the largest smartphones out there, even with a case installed. I use a wallet-style case for my S9+, and that covers the camera lens when fully open, so I removed it for this review.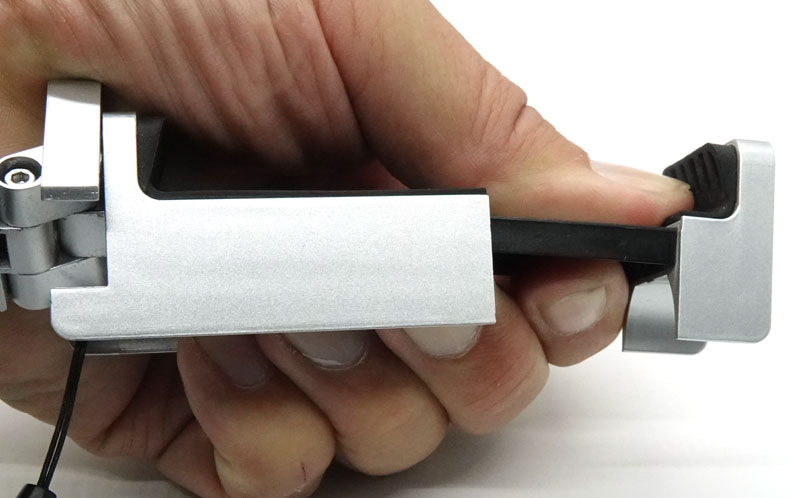 The jaw grips are angled in to provide a secure grip on your phone.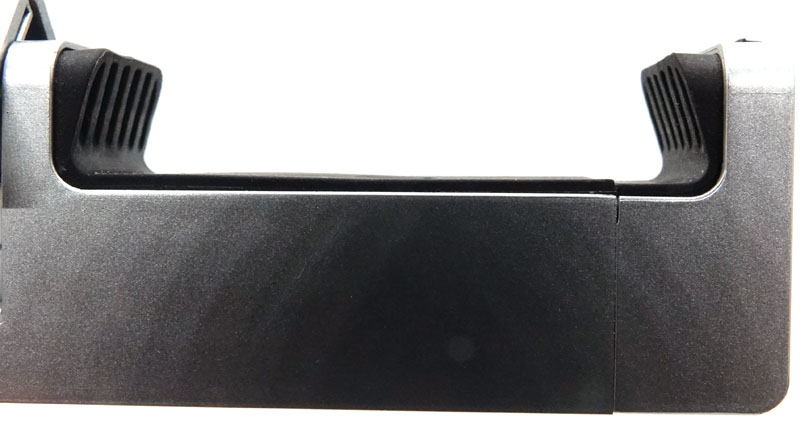 Here is my Samsung Galaxy S9+ attached to the ShutterGrip 2.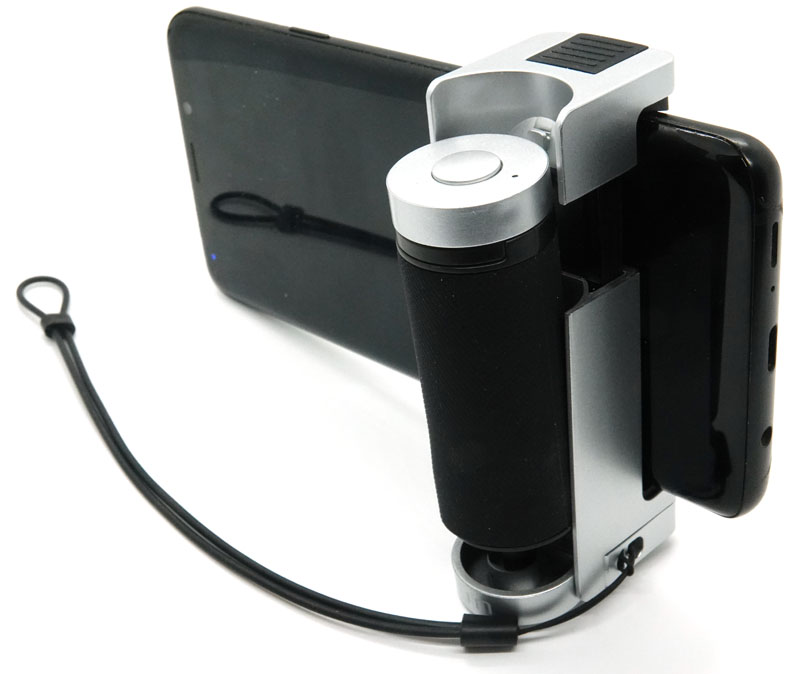 The shutter button itself slides off the top of the grip.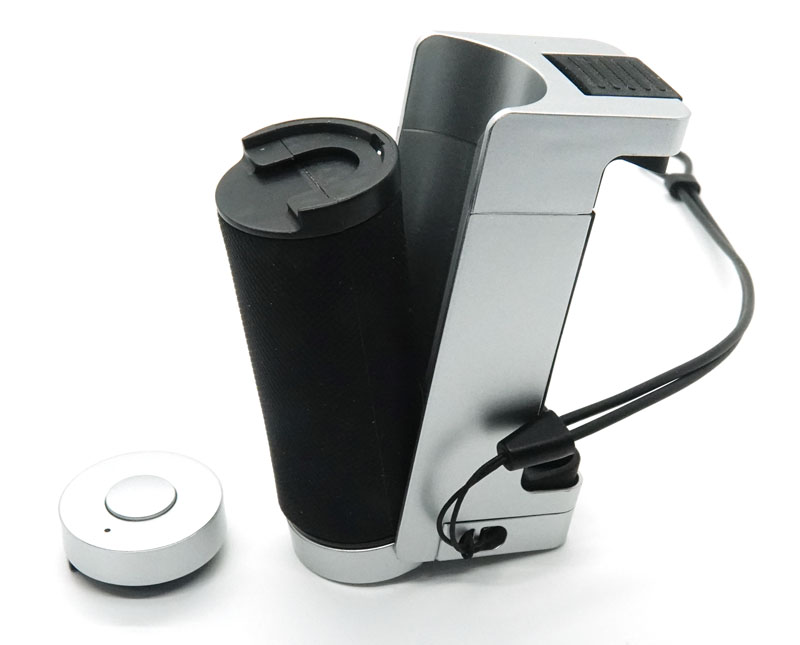 There is another mount for it on the grip handle – more on that later.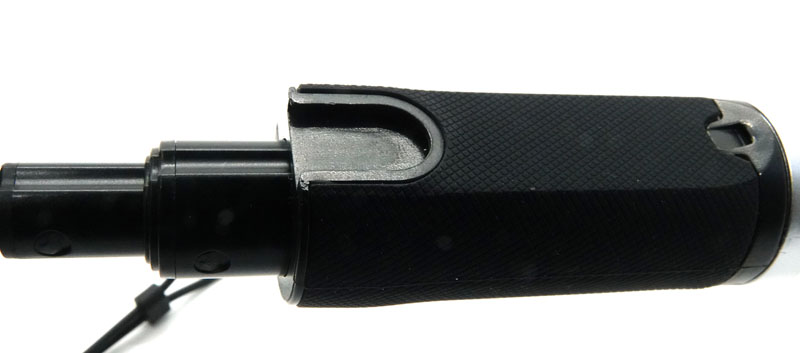 You can also just carry the shutter button with you to use remotely, up to 33 feet away in perfect conditions.  10-20 feet is a more realistic range. But what will you do with the phone, you ask? How will you stand the phone up to take the photo? On the bottom of the grip, Just Mobile included a tripod mount to use with your favorite 1/4″ tripod head.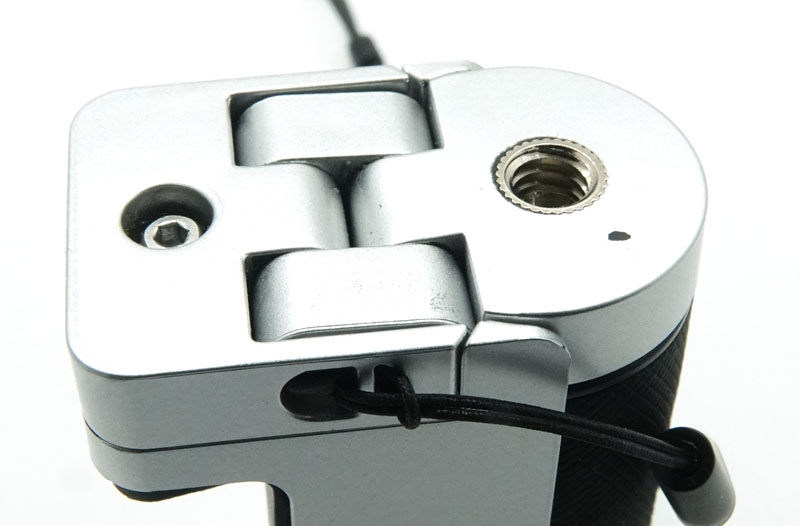 Here it is mounted on a small tripod I had around the house.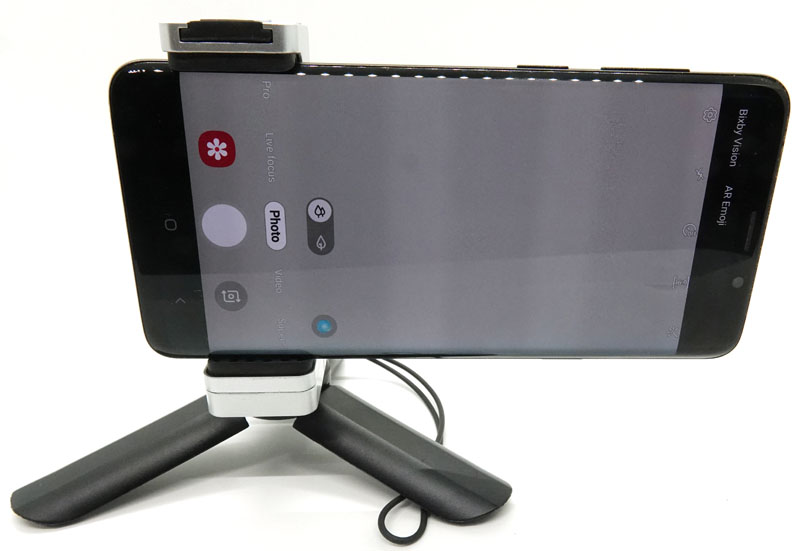 Nearly everything on the ShutterGrip 2 is articulated.

The grip handle itself can be flipped a full 180-degrees, creating a lower grip handle perfect for videos.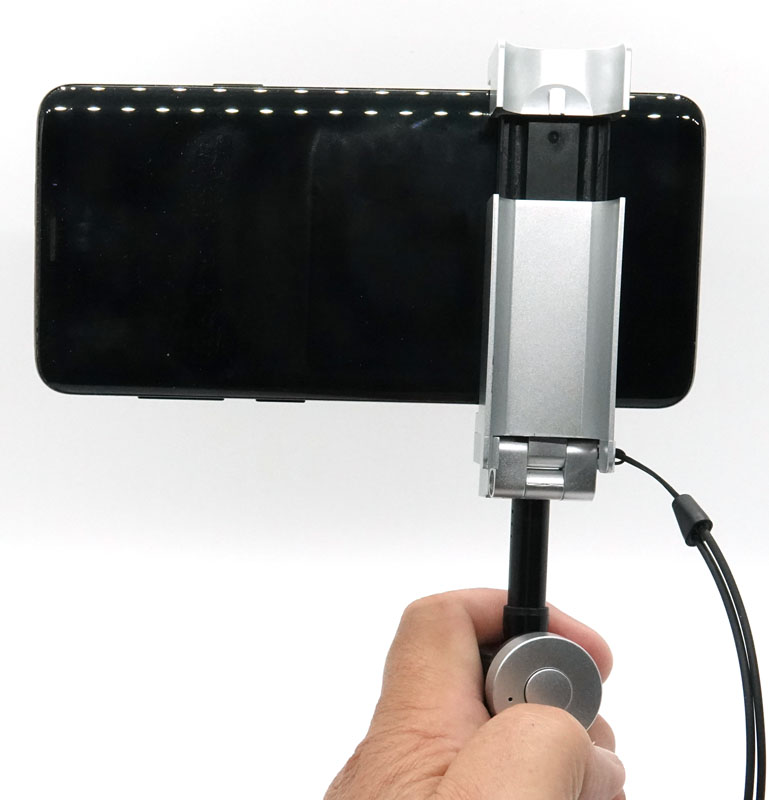 You can also see the shutter button mounted in that extra slot, falling right at your thumb.
What if you want to take that all-important selfie? The grip handle expands!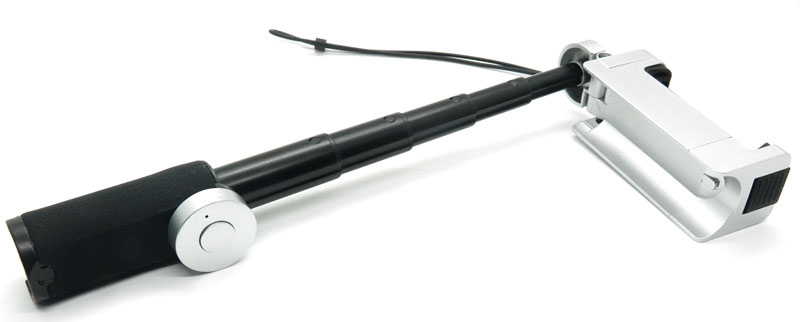 It creates that familiar selfie-stick experience with about nine inches of additional reach.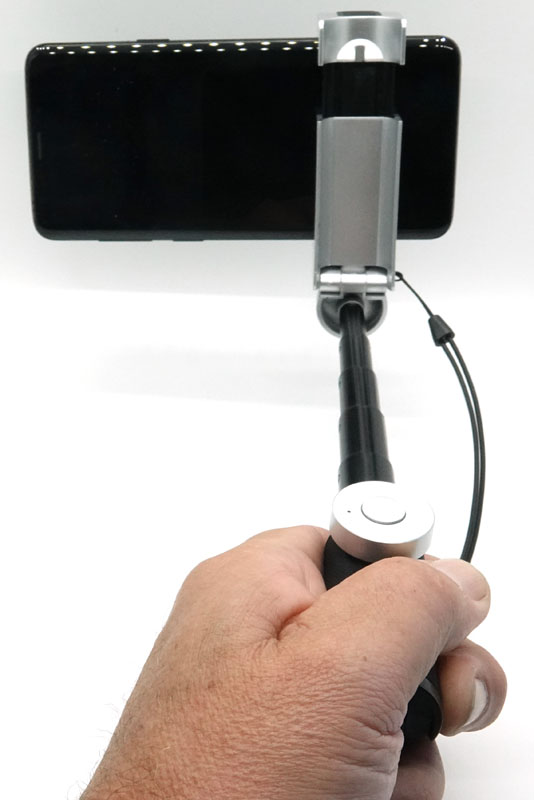 Since the handle is articulated, you can also use it for that periscope view over your head.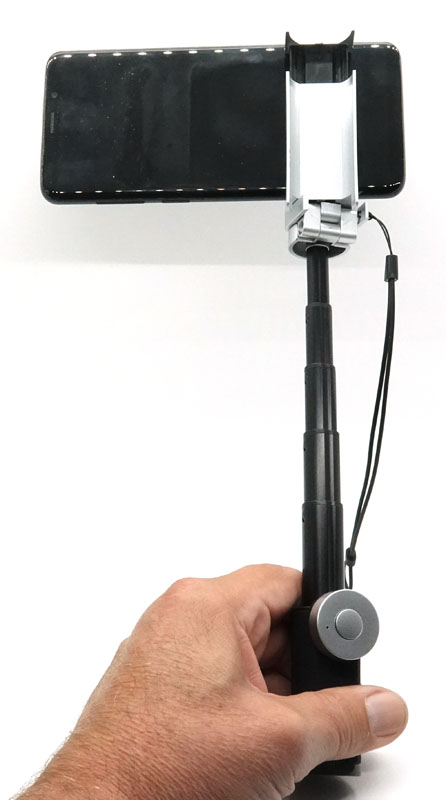 What if you need more light? Sliding out the rubber piece on top reveals a cold (non-powered) accessory shoe.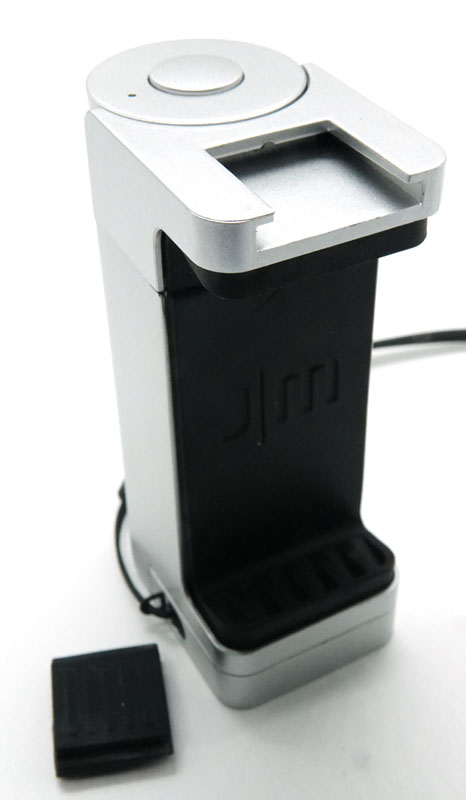 You can slide in your favorite video light, an action camera, microphone, or any other accessory that can be attached to a standard shoe mount.
All those articulations will eventually come loose.  What to do, what to do?  Remember the rubber cover for the accessory shoe?  Just Mobile cleverly hid a hex wrench under the rubber cover!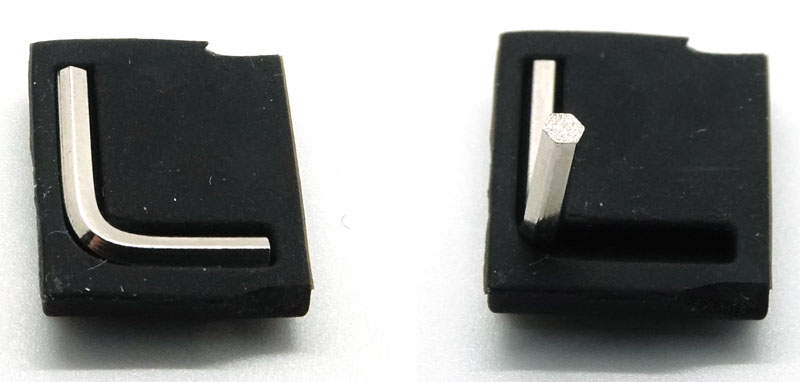 It is sized to allow you to tighten any loose hex bolts when needed.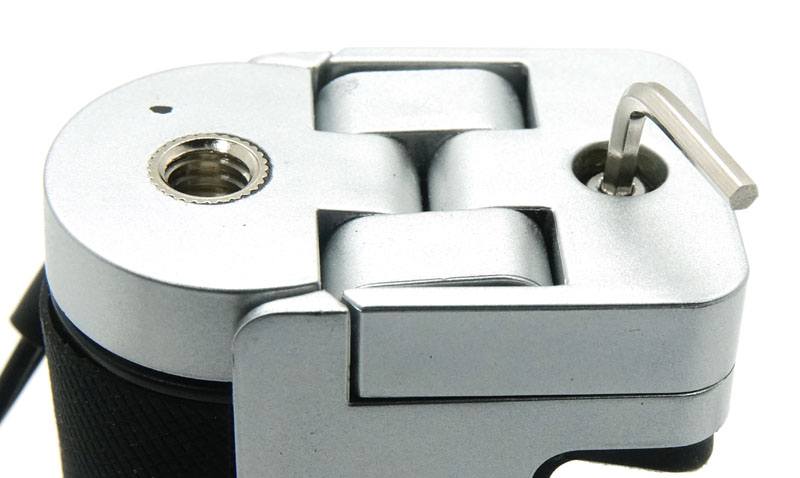 After a long day of shooting, you just want to sit back with something to drink and watch your cinematic masterpieces. Of course, that means you have to find a way to prop up your phone for hands-free viewing. You've been using the ShutterGrip 2 all day.  Could it be your solution? Of course!  The ShutterGrip 2 can easily be configured as a phone holder.
It supports vertical orientation.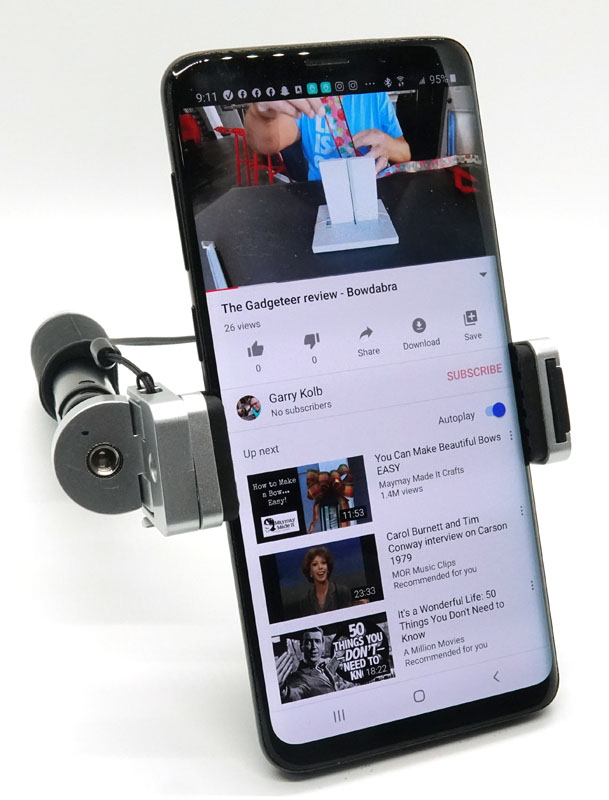 It also supports horizontal orientation.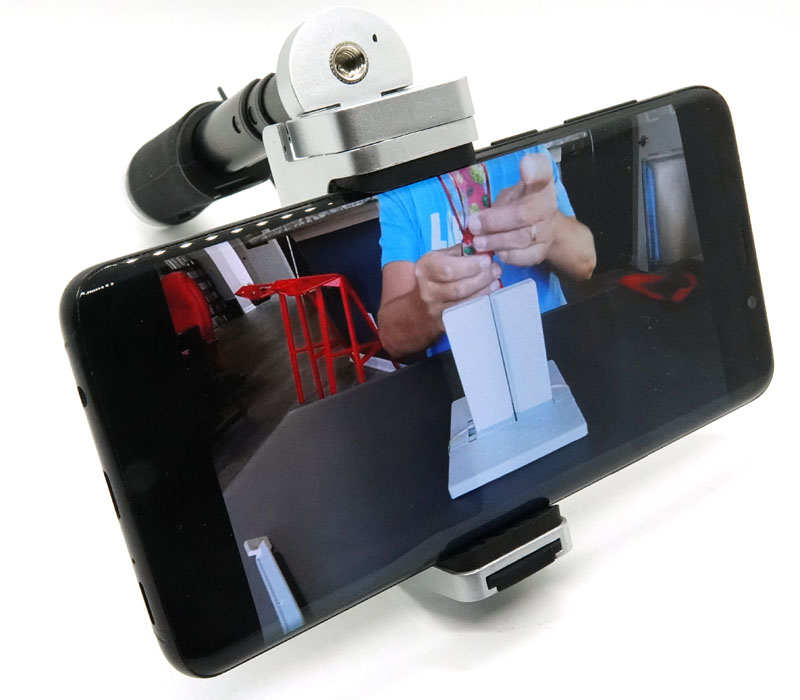 Here is an animation provided by Just Mobile demoing all the features of the ShutterGrip 2.
Performance
We took a trip to St. Augustine, Florida to view the Christmas lights and the ShutterGrip 2 went along for the ride.  I used it to take selfies and short videos as well as using it as a remote shutter release for group photos. It worked great.
The only thing that I needed to work through is that every time the grip powers up and pairs with my phone, I get the following Android notification on the first button push before it will actually release the shutter:

Also, the shutter button doesn't work unless you have your camera app open.  Pressing the button raises then lowers my media volume if I'm not in the camera app. Of course, having the button launch the camera app would require app-specific coding, so I get why it works that way.
These are minor quibbles, and now that I know, I can plan for them.
What I like
Small size
Wide range of features included
No app required
The removable shutter release is quite handy
Long expected battery life
Handy hex wrench included for the inevitable loose bolt
What I'd change
I'd improve the battery compartment access – getting the button off and then back in place is a little finicky – but, this is a pre-production unit, so I expect that will be addressed in production units
The lanyard mount gets in the way when rotating the handle
Going USB-rechargeable rather than battery-powered would be nice, even at a slightly higher price point
Final thoughts
Just Mobile absolutely improved on their ShutterGrip with the ShutterGrip 2. Having a camera-style phone grip, video grip, selfie stick, remote shutter release, and phone stand in a 2.39-ounce package that fits into the palm of your hand is a great thing.  For me, this product is a winner.
It will be available in silver and pink when their Kickstarter rewards are ready to ship.
Price: $35
Where to buy: Kickstarter (shipping in February 2020)
Source: The sample of this product was provided by Just Mobile.