We use affiliate links. If you buy something through the links on this page, we may earn a commission at no cost to you. Learn more.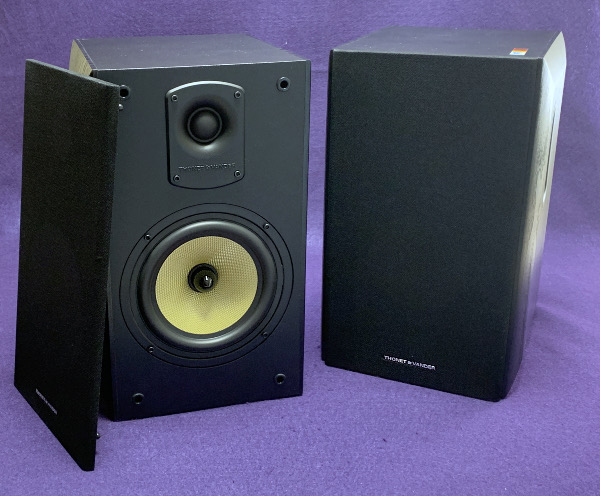 REVIEW – One of the fun aspects of reviewing audio is getting to play with and write about different kinds of speaker gear—from earphones to Bluetooth to "real" speakers. Because there are more choices today than ever, everyone benefits. In 2015, I reviewed one of those "real" speakers from a German audio company new to the US at the time—the Thonet & Vander Kubis Kürbis Bluetooth speaker. I concluded that review with, "Seemingly out of nowhere, Thonet & Vander has delivered an impressive speaker that rivals and betters other similarly sized speakers." This is my review of Kugel, Kürbis speaker's bigger, more powerful—and more expensive—big brother. Does Kugel justify its status over Kürbis?
What is it?
Kugel is what Thonet & Vander call one of their hi-end speakers. It's self-powered by a whopping 700 watts peak power (140 watts RMS). Kugel has 4 audio inputs: Wireless 4.0 Bluetooth, RCA, mini plug and even optical (my favorite). A remote is included.
Specs
Weight: 27.85 lbs
Dimensions: 22.52 × 12.24 × 16.61 in
RMS watt: 140 (70 + 70)
Peak power: 700 watts
Frequency response: 45Hz – 20 kHz
Bluetooth: 4.0 aptX
Bluetooth range: 65ft – 100ft
Silk tweeter: 1in.
Glass – Aramid Fiber Subwoofer: 6.5 in.
Color: Black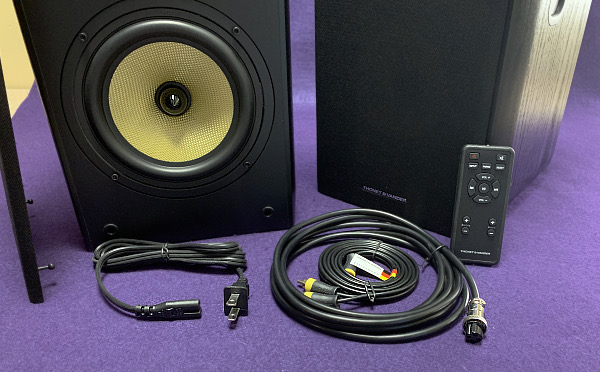 In the Box
Powered and passive speaker
Remote control
3.5mm mini plug to RCA cable
Passive speaker cable
Power cable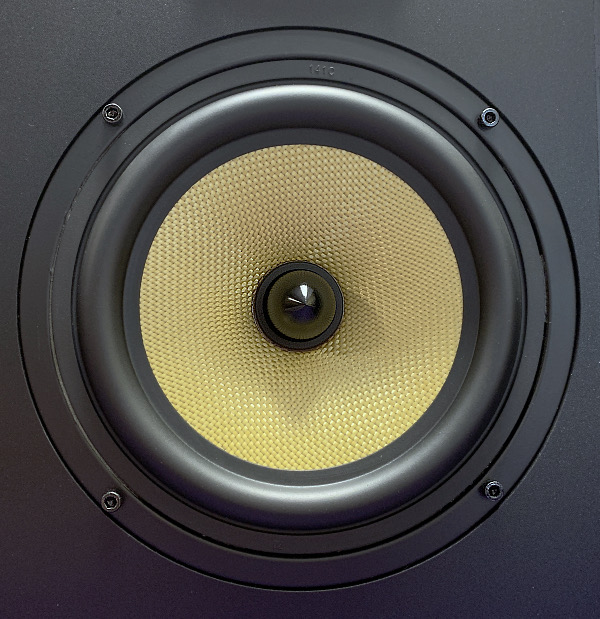 Design and features
Thonet & Vander's Kugel speakers take a "mama bear" approach—not too big and not too small. They are sized perfectly for a small to a medium-sized room but have enough power for larger rooms if necessary. The black color helps them blend into almost any decor without calling attention to themselves—until you remove the grills. The large woofer is golden yellow, which seems to be Thonet & Vander's signature color.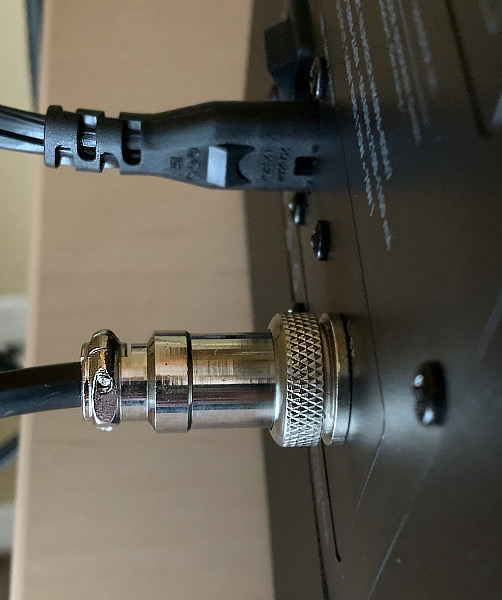 Kugel speakers are self-powered speakers, meaning that one speaker is self-powered with a built-in integrated amp. The other speaker is passive, receiving power from its amped sibling. This setup has its pros and cons. Powered speakers can be placed anywhere, independent from any stereo receiver or amp. It's possible to have only a smartphone combined with these speakers for a complete home hi-fi system. Music for the home can be a much simpler process than just a decade ago! The downside is that there's a complicated component built inside the speaker that will most likely have a lifespan shorter than the speaker itself. That's true of every powered speaker, regardless of brand or price.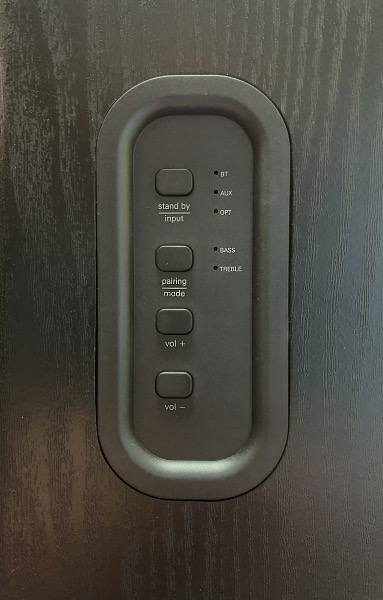 Embedded into the side of the main speaker are controls for input (Bluetooth, AUX, Optical), Bluetooth pairing/bass/treble, and volume up and down. These side buttons work great and have LED input lights, but they are not very user-friendly unless the speaker is within an arm's reach—which brings us to the remote.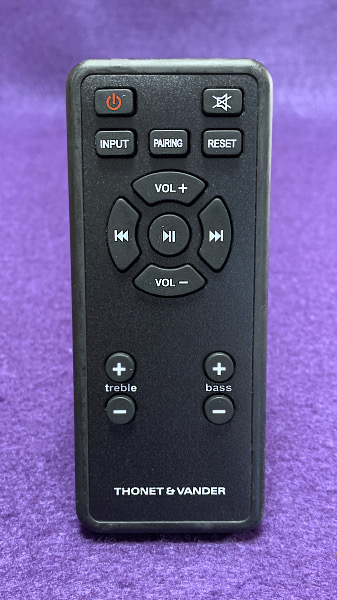 The small Kugel remote has the same controls as does the side panel with some extra features. There are additional on/off, mute, play/ pause, and skip forward and back buttons. You can also adjust both bass and treble from across the room. The remote is so handy, I'm not sure if the buttons on the side panel are even necessary. I haven't used them since the speaker was initially set up. I use the remote control exclusively. 
The sides and back of the remote are rubberized for easy gripping. For some reason when I unboxed it, the rubberized coating was quite sticky to the touch—as if it had been left in a too-hot environment for a long time. My first thought when I held it was, "Ick" (don't judge). However, since it's been in an air-conditioned room, the stickiness has subsided.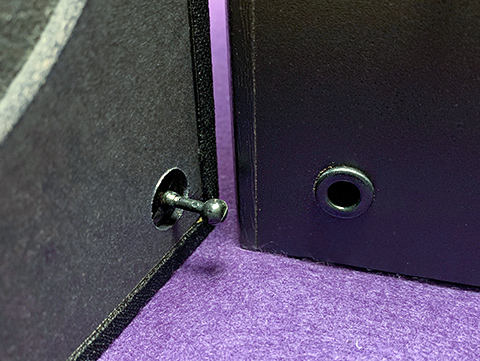 The front of each Kugel speaker has an optional grill for protection from poking little fingers. As I said, with the grill on and covering the yellow woofer, the speakers visually disappear into whatever decor you have.
Kugel speakers box is made of what Thonet & Vander call "Wood HDAA—a high density natural polymer that generates a rigid and dense material preventing vibration and loss of sound." Despite this hyperbole, I will say that the speakers are solidly built, even if it's not an all-wood construction. They are wrapped in matte black rough and woodgrain patterned vinyl. Keep in mind that a speaker made of solid wood can cost much, much more. The HDAA material is also heavy, helping the speakers stay firmly in place regardless of how low the bass may go. 
Let's go through the various audio inputs: Bluetooth pairing was fairly straightforward and my iMac (and iPhone) paired quickly. It's Bluetooth 4.0 (not the newer 5), which is both good and bad. It's good because Bluetooth 4 is more compatible with older devices. It's bad because Bluetooth 5 has better range and will sound a bit better—although the difference may be negligible with bookshelf speakers. Kugel does incorporate the aptX codec giving optimal audio quality for 4.0 Bluetooth. Note that not all devices have aptX (I'm looking at you, Apple). Quibbles aside, Bluetooth on these speakers sounds way better than any portable Bluetooth speaker ever will—regardless of cost.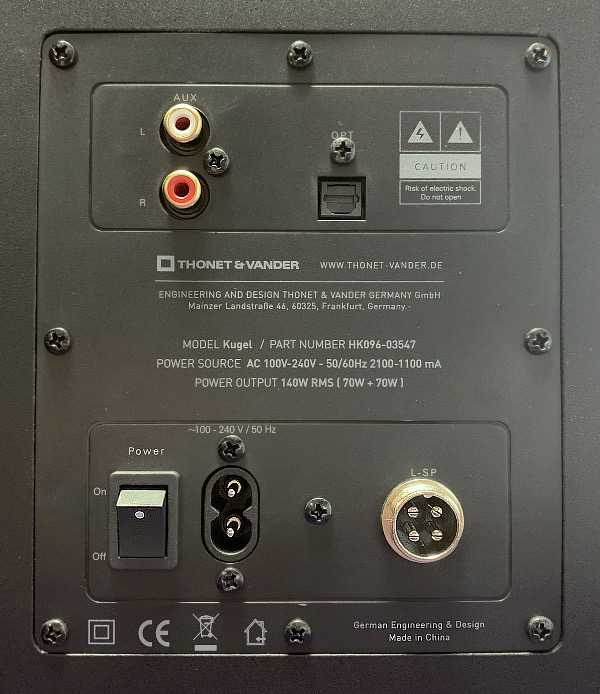 There is standard RCA input for connecting directly to a television with RCA outputs. However, no RCA to RCA cable in included. What is included is a mini plug to RCA cable, which allows connection to the headphones port of any device, whether it's a TV or older smartphone. Keep in mind that a wired connection will always sound better than wireless.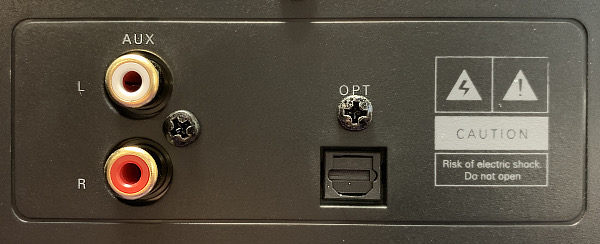 There is no HDMI input on Kugel, but there is S/PDIF optical input (cable not included), which I prefer over any input. Optical input brings out the best in Kugel speakers. It's louder and sounds clearer than RCA, and especially Bluetooth—which should be used for convenience only or when wiring is not practical. There are a couple of optical cables to choose from depending on your source, so you need to know what kind of cable will work.
Since Kugel speakers are self-powered, you do not need—or want—to connect Kugel to a receiver or amp. It's not necessary.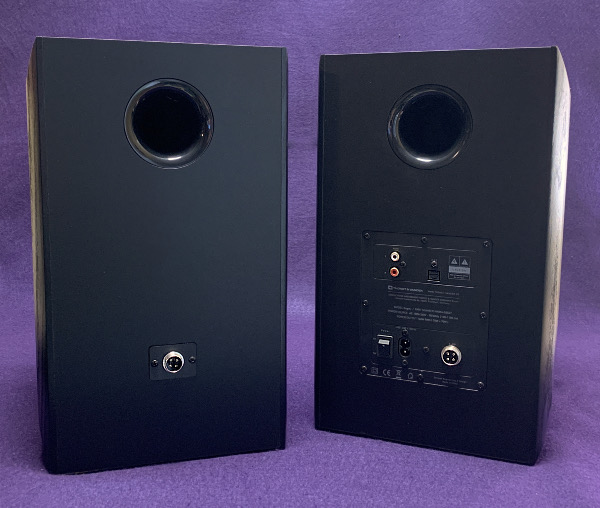 Listening to Kugel speakers is a treat because the powerful built-in amp packs a punch. The 700 watts peak power delivers the necessary volume to blast any indoor party and get people dancing. Keep in mind that mere power isn't everything— it's clean power that matters. This is where Kugel shines. Audio is tamed and clear. There' are bass reflex ports at the rear of each speaker allowing maximum air movement to make the bass sound even more potent. Bass on Kugel is not the sharpest I've heard (you need a dedicated subwoofer for that), but at Kugel's price range, it really can't be beaten. Unfortunately, there is no sub-out port should you wish to connect a subwoofer for even deeper bass.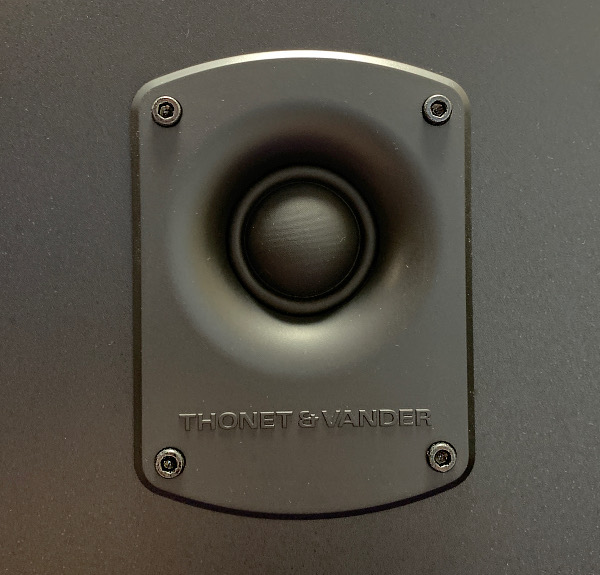 Kugel's silk tweeters deliver the necessary higher frequencies that add clarity and snap to music. The cool thing is that there's no harshness from the tweeters, no matter how loud the volume is. You can crank up the speakers without degrading audio quality—something not easy to do with many affordable speakers.
When testing speakers, one thing I like to do is play my Favorites Mix that Apple Music curates for me. They seem to nail it every week. It's a good test for two reasons: I have eclectic taste, so the Apple's Favorites Mix is a hodgepodge of different styles which tells me which genre sounds better on which speaker. It's also streaming quality, which shows me how well speakers sound using this "less than the best" input. Sure, I could attach a dedicated hi-res musical source to Kugel speakers (which I have), but more and more people stream music so I do to when listening.
Even though I prefer optical input using higher resolution music files, I gotta say that Kugel speakers handle streaming quite well. They are still able to capture the emotion and drama inherent in all genres of music, whether wired or streamed. 
As much as I liked the Kürbis speakers, Kugel betters them in every aspect. They are bigger, (far) more powerful, clearer sounding, and come with the useful remote. 
What I like
Design doesn't call attention to itself—unless you take the grills off.
Affordable
Solidly built
Clean audio from a powerful amp
Handy remote
What I'd change
Side buttons not intuitive
No sub-out port
Some connection cables not included
Final Thoughts
Thonet & Vander's speakers fit perfectly into that middle range of speakers. They are affordable, but not cheap. They are solidly built, attractive (if you like yellow) and—as I said—can pack a punch when the music demands it. Kugel speakers can visually—and audibly—disappear into a room when reproducing music. That's something I appreciate.
Price: $369.99 US
Where to buy: Amazon
Source: The sample for this product was provided by Thonet & Vander.