We use affiliate links. If you buy something through the links on this page, we may earn a commission at no cost to you. Learn more.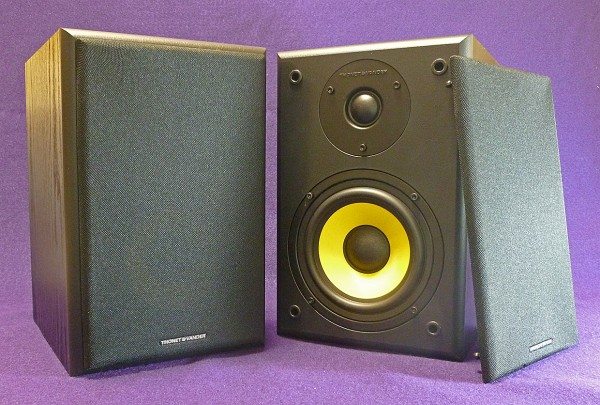 Over the past couple of years, I've become a fan of small (and not so small) portable Bluetooth speakers. Yeah I know, they don't have the audio chops to qualify as anything near "audiophile" and stereo separation is almost nonexistent. But despite all that, they are portable and that counts for a lot. But what if someone wants a decent pair of desktop or bookshelf speakers plus the convenience of built-in Bluetooth and want to pay no more than what some of those portable wonders cost? That hasn't been much of an option until a German speaker company decided to fill this niche. Thonet and Vander have entered the US market and released the Kürbis Bt Bluetooth speakers.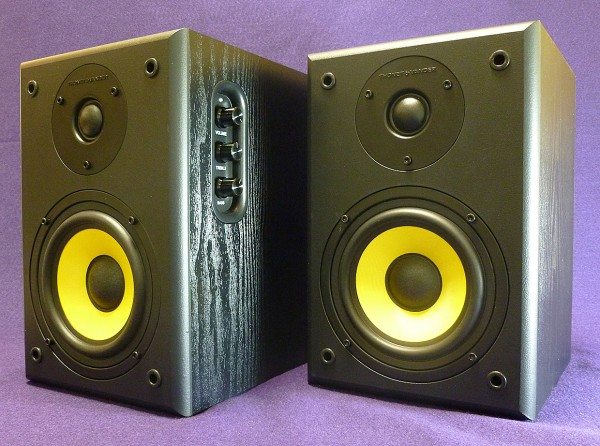 Lets get this out of the way: The Thonet and Vander  Kürbis Bt speakers are not the best desktop speakers I've ever heard. That honor goes to the huge Audioengine A5+ or the petite Bowers and Wilkins MM-1 speakers—neither of which have Bluetooth.
And this is why the Thonet and Vander Kürbis Bt speakers are so cool. Not only can they double as a desktop or bookshelf speaker, the Kürbis Bt speakers—with Bluetooth—sound way better than smaller, portable Bluetooth speakers. The Kürbis Bt speakers offer true stereo because there is a left and right speaker that can be positioned on both sides of a laptop or monitor. Since portable Bluetooth speakers come in a single enclosure, they don't do stereo well, no matter the cost. These do.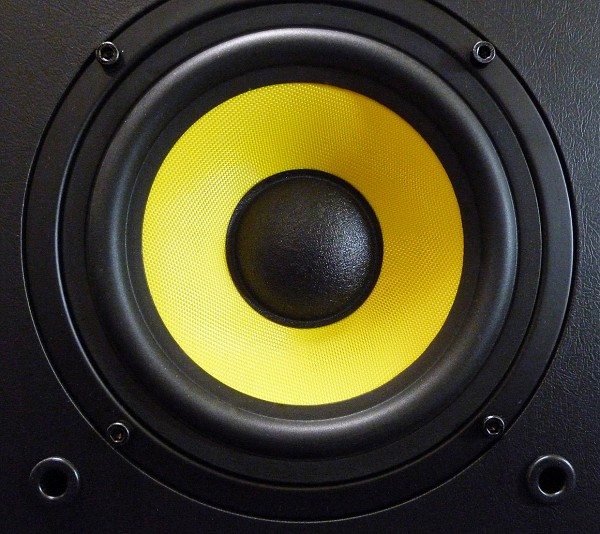 The Thonet and Vander Kürbis Bt speakers look and sound like more traditional speakers. They are business-like in their appearance. The unassuming black exterior (white is also available) blends into almost any decor. The only dramatic element is a large, bright yellow  woofer which sits below a black-on-black tweeter and even then, it's only seen if the grill covers are removed. So, the Kürbis Bt speakers are kinda ho-hum visually. But they're not ho-hum when turned on.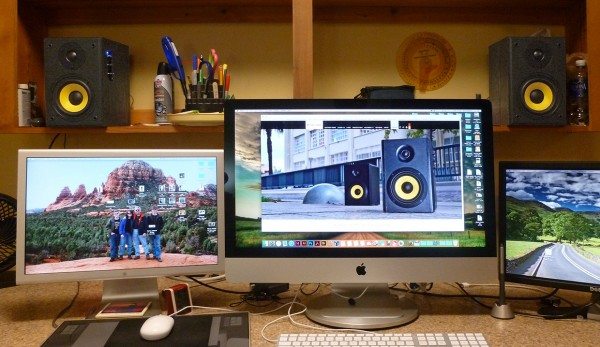 The setup I used for the Kürbis Bt speakers was simple, I set them on a shelf that sits above and behind my oversized iMac surrounded by two smaller monitors. It's not the best looking setup because the Kürbis Bt speakers are a bit too deep for my shallow shelves and hang off about a half an inch. But it works. Although the speakers can be hard-wired, I opted for Bluetooth since this is the speakers' main selling point. After about 3 seconds of audio, it became clear that the Kürbis Bt speakers absolutely blow away any other single Bluetooth speaker I have. Their 5.5 in. woofer packs a good punch without becoming boomy or muddled. Despite Thonet and Vander's Marketing about "Hammer Bass", some may think the bass sounds a bit weak. That would be a wrong assumption. Yes, I can understand why someone from the younger bass-is-everything crowd would think that but the bass from the Kürbis Bt speakers is accurate, not weak.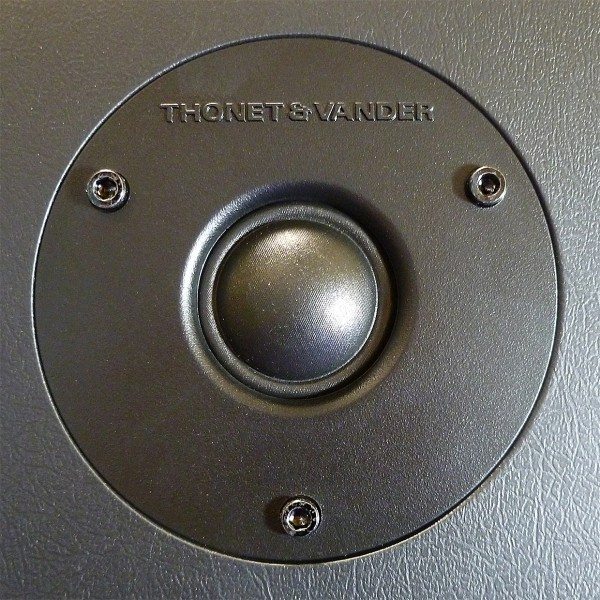 The 1 in. silk tweeter is very good at portraying higher frequencies with little of the harshness or brittleness of some tweeters when pushed. In fact, I pushed these speakers to the max and there was little distortion. What I could hear was a reluctance to get punishingly loud, meaning there must be some kind of built-in protection to prevent speaker damage. The Kürbis Bt speakers just wouldn't go to "11" when turned up all the way when using Bluetooth.
However, when hard wired to my iMac through a digital audio converter (DAC) and amp, the volume kicked up a couple of notches and the bass changed from a polite Dr. Jekyll into Mr. Hyde. It was so much fun and would have been my preferred way to listen to the Kürbis Bt speakers, but unfortunately the treble also crossed over to becoming slightly harsh with certain music—most notably, many Brian Eno albums which I listen to frequently. So, I (almost) reluctantly reverted back to Bluetooth.
The construction of the Thonet and Vander Kürbis Bt speakers is better than I expected in this price range. What looks like stained wood is actually vinyl over a High Density Acoustic Absorber board. This is a polymer-based material which Thonet and Vander says is more dense and rigid than MDF—known as particle board—the stuff many speakers are made from today. Keep in mind that these speakers sell for only $200, so you are not going to get solid wood. The speakers are magnetically shielded, meaning they can be placed close to computers without any video or audio disturbance to either.
The Kürbis Bt speakers include a 50 watt (25 W per speaker) amplifier. Not only is this plenty of power for any desktop, it's also enough power for a small home office, dorm or bedroom. There are standard RCA inputs as well as AUX for direct connection to any non-Bluetooth device, such as an older iPod Classic. The speakers are not wireless with each other, so they must be wired together the old-fashioned way. They are only wireless to the main audio source. All the necessary wiring is included.
The Kürbis Bt speakers are more vocal-friendly than many speakers. This simply means that the middle frequencies (most vocals) are more present than the bass or higher frequencies which is good for most music. Jazz and hip-hop fans may want to look elsewhere. Since I'm a classic rock fan, these speakers were a good match for my tastes.
The more I listen to the Kürbis Bt speakers, the more amazing they sound. Along with the previously mentioned woofer and tweeter, each speaker has a bass reflex port at the rear. Placing the speakers closer to a wall can accentuate the bass a bit. The side of the left speaker has Volume with basic Bass and Treble controls for slight customization.
Since I tested the Thonet and Vander Kürbis Bt speakers using Bluetooth, I decided to use the new Apple Music as my main source. Apple Music is hands-down my new favorite way of listening to music. Their daily suggested playlists are scarily accurate to my tastes. The Kürbis Bt speakers have gotten quite a workout with songs that I love, some I'd forgotten about and even newly discovered music I normally wouldn't have sampled. Through it all, the Kürbis Bt speakers have performed admirably. They have a fun-sounding quality to them that doesn't get tiring as some less expensive speakers can.
There are a few speakers/headphones/earphones I review that make me think to myself how surprisingly good they sound. The Thonet and Vander Kürbis Bt speakers are in that category. Seemingly out of nowhere, they have delivered an impressive speaker that rivals and betters other similarly sized speakers. It's when you factor in the added Bluetooth and other extras at the same price of many small, portable Bluetooth speakers, that you realize what a bargain the Kürbis Bt speakers are.
NOTE: After writing this review, I connected the Kürbis Bt speakers to my mainstay Audioengine W3 wireless system bypassing Bluetooth completely. This setup consists of the Kürbis Bt speakers at the front and Audioengine 5+ speakers at the rear for a faux-surround system. The 5+ speaker's ability to handle deeper bass coupled with the Kürbis Bt' frontal accuracy is intoxicating. I'm hooked.
Source: The sample for this review was provided by Thonet and Vander. Please visit their site for more information or Amazon to buy a pair.

Product Information
Price:
$199.99 U.S.
Manufacturer:
Thonet and Vander
Retailer:
Amazon
Pros:

Extremely good value
Excellent Bluetooth sound
Powerful audio

Cons:

A bit boring looking
Bluetooth is for music source only, speakers must be hard-wired together